Nine Favorite Things.
Thanks for joining me for another Nine Favorite Things post.

Hey, hi, and welcome to the very last Sunday of October. This time next week marks November 1st and the start of the crazy, but wonderful holiday season. Honestly? I can't really wrap my head around the fact that we're entering the final week of October, that Halloween is this coming Saturday, and that we have only two short months left of 2020. I'm excited for all that's to come, but also just wondering where time is going. It feels like just yesterday that I was getting ready to head to NYC for the release of the HBH Super Simple Cookbook and make my first national live TV appearance on Good Morning America. It was such a fun and exciting time, and as I've said, I miss it a little!
Everything that has followed since the book's release has been truly amazing. I can't believe it's been a year and I really, really can't believe all that's happened in a year. It's fun to look back on!! I'm so thankful for all of you guys, your support, and the fact that even though I ramble on daily, you still come back to hang. I know I say this a lot, but you guys feel like family!
Anyway!! This week! It was quite a week, to say the least. It threw us some very major, but very exciting (and happy) curveballs on the family front (more on that next Sunday). There's also some fun and exciting work stuff ahead. It's been all over the place and busy. What's new right?
My family has been in town this week, so per usual when everyone is in Colorado, it's really just chaos. That said, I love having them around and it's been especially helpful this week. My parents ended up having to take a last-minute trip to Texas. They couldn't take Asher with them, so she is being bounced around between my siblings and me. And you know something? She misses my mom and dad, but she's having the time of her life.
She spent the weekend in Denver with my brothers and sister-in-law, Lynds, but tonight she's stuck with me. My plan is to get everything checked off my Sunday to-do list during the day so that I can surprise her with that Halloween movie night she's been begging me to put on my to-do list all month long. That poor girl wants nothing more than a night of spooky movies and time with her sister. It the absolute sweetest thing I've ever seen. She even spent Thursday night with me helping me clean the studio kitchen after cooking all day. What twelve year does that? She said, "Tieg I just want to spend time with you, so I'm gonna help you clean".
I mean? She's just the cutest and I love her. So, I'm going to make sure that Halloween movie night happens tonight. My dad should be back home tomorrow night, so tonight is the perfect night. Any suggestions for movies? She already has a full list and will be demanding a mocktail pomegranate ginger paloma (aka pomegranate juice with lots of lime and topped off with ginger beer) with a side of popcorn.
So that's my Sunday for you! It's going to be busy, but will end in the sweetest best way possible. How about all of you? What are you up to today? Is anyone making a batch of my cider pumpkin waffles this morning?
Coming up this week on HBH, we'll have lots of fall comfort foods! Monday is a new one pot pasta. Tuesday is all about a new game day appetizer that will also be great for the upcoming holidays. Hoping to share a warming vegetarian soup on Wednesday. Then, a quick dinner on Thursday with an Asian Twist. And for Friday? Jumping ahead a little and sharing something sweet that will be great for the chilly months of November and December. Saturday's cocktail is a wildcard…I haven't got a clue what it is yet, but it will be good…my autumn/holiday cocktail list is a mile long.
In addition, if you're catching up on blog posts from the week, be sure to sign up for our daily newsletters. They'll help you to stay up to date with everything that's happening here, as well as fun content you'll only get via email. If you're meal planning today, don't forget to check out my menu below (it's # 9 on the favorite's list). You can grab the full grocery list for this week's menu in our special Sunday newsletter.
1. A few favorite questions for you…
I have questions for you! I did one these way back in April and thought it was so much fun. So I'm doing it again, but the fall version! Excited to hear what you're up to, how you're doing, and what you're looking forward to!!
Where are you currently at in the world? Anywhere you're excited to travel to…soon(ish)?
What's making you the happiest this month?
What fall recipes are you loving most right now? Tell me one savory and one sweet!!
Name one product or service you're loving most this month?
What do you love most about fall?
What are you looking forward to the most for the upcoming holidays?
Are you going to be entertaining this holiday season or keeping things much smaller?
Bonus Question: Is there anything you need from me this coming month? Tell me everything you want, I am open ears!
My answers…
1. Where are you currently at in the world? Anywhere you are excited to travel to soon(ish)?
I am home in Colorado! But very excited for a trip to LA just before Thanksgiving. I'm filming some fun things and can't wait!
2. What's making you the happiest this month?
So many things! You know I love this time of year. I love Halloween, the crisp cool fall air, the colors on the trees, and the coziest recipes. But the thing that's making me the happiest is my special bond with my little sister, Asher. I feel really lucky that even though we're fifteen years apart, we have the closest relationship. She's my best little friend!
3. What fall recipes are you loving most right now? Tell me one savory and one sweet!! 
Hard to pick only two, but off the top of my head, I love this Slow Cooker Creamy Tortellini Vegetable Soup and my Vanilla Chai Pumpkin Latte Cupcakes with Cinnamon Brown Sugar Frosting
4. Name one product or service you're loving the most this month?
I have a lot, but narrowing it down to three. I LOVE this candle so much. It's the biggest splurge, but to me, a candle is worth it. Don't judge, I have a candle obsession. Then, Violet Grey! They are my go-to source for beauty products. I love the Dewy Skin Cream and the Dewy Skin Night Concentrate by Tatcha. I use this essence, and this oil from Vintner's Daughter, and then the Dewy Skin Cream. My skin has never looked healthier…even though it's very tired. And lastly, I am still obsessed with this cozy knit sweater, I can't stop wearing it.
5. What do you love most about fall?
Wearing cozy sweaters, the leaves, pumpkins, apples, crisp weather, burning candles, and the excitement for the upcoming holidays.
6. What are you looking forward to most for the upcoming holidays? 
Decorating, cooking, and spending time with my family. And finding my mom's gifts. I love gift giving!
7. Are you going to be entertaining this holiday season or keeping things much smaller?
It's just my siblings and cousins this year. So the normal group. We don't usually have extended family out to Colorado for the holidays, but we do always have stray friends! We keep it close-knit and I love it so much!
2. Nine favorite fall recipes to bake today.

Cinnamon Swirl Chocolate Chip Pumpkin Butter Bread

Vanilla Chai Pumpkin Latte Cupcakes with Cinnamon Brown Sugar Frosting

Brown Butter Apple Blondies with Cinnamon Maple Glaze


Glazed Brown Sugar Maple Cookies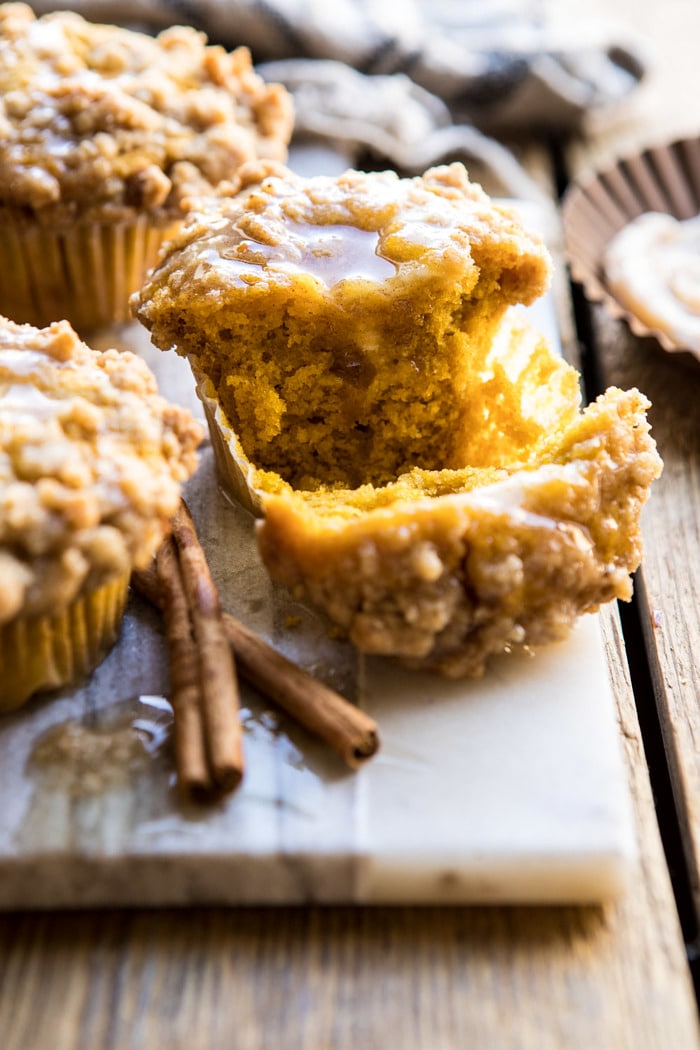 Pumpkin Coffee Cake Muffins with Cinnamon Honey Butter

Milk Chocolate Stuffed Jack-O'-Lantern Cookies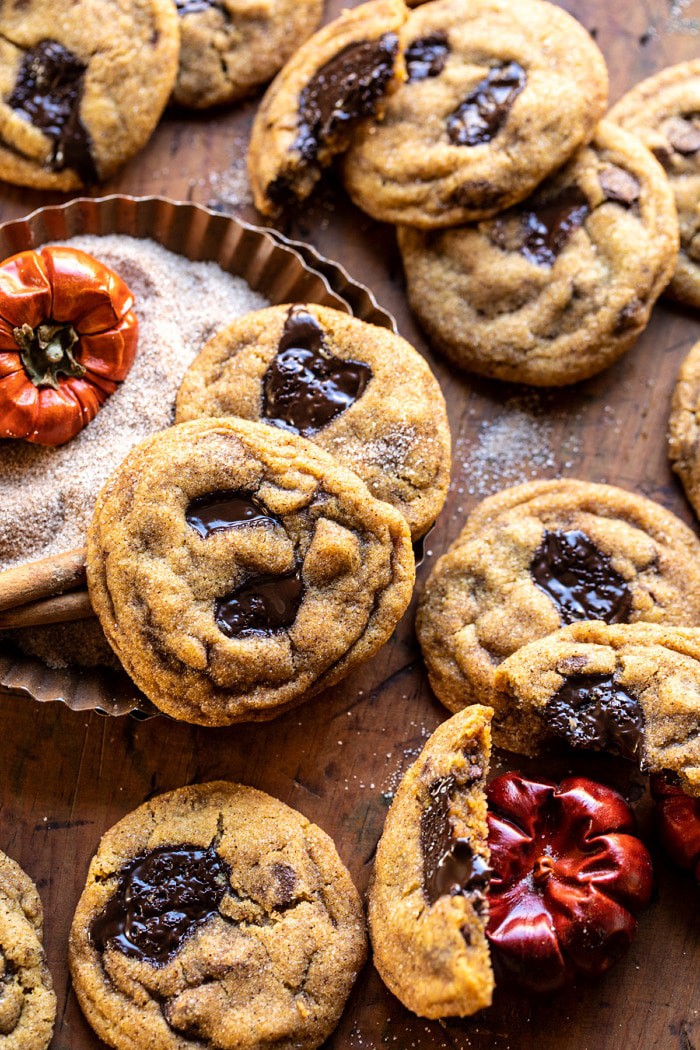 Pumpkin Butter Chocolate Chip Cookies

Cinnamon Spiced Apple Fritters with Vanilla Coffee Glaze

Bonus: Spiced Pumpkin Maple Latte

Bonus: 6 Ingredient Spiced Pumpkin Butter
Question: so what are you baking then?
3. For The November Home…
4. Favorite question of the week…
q: Do you wear an apron over those luscious sweaters when you cook?
a: The truth? I only put my sweater on when I am in front of the camera. When I am really cooking, I am in one of my favorite hoodies. I LOVE my sweaters, but I am a messy cook and I don't want to ruin them. That said I've started to wear an apron ever since our aprons launched on Etsy this month.
5. It's snowing today sooo…
Cozying up to my Boll & Branch sheets. I switched to these in early September and I am obsessed with them now. They're the softest, and I love knowing that the sheets are made with 100% organic cotton and are free of chemicals. The knit blanket I got is perfect for our frigid cold Colorado nights!
I shared this on Instagram, but not yet with you guys! If you use the code 20HALFBAKED you'll get 20% off your order. The code is valid until November 1st! Perfect for holiday gifts too! The next items on my to-try list are their bath linens. They look so soft!
PS. while I did work with Boll & Branch this past month on Instagram, this is not sponsored. I'm just sharing because I really do love these sheets. I want you all to be able to use the discount while I've still got it!!
6. A few photos from the week.

Asher…and all her animals.

Bren and Lynds, dropping off my new surfaces.


Our neighbor's horses.


Asher and her camel…just a normal father-daughter outing.

New wallpaper in our kitchen cabinet.
7. Favorite links i'm loving…
How To Make a Haunted Cookie House for Halloween…oh my gosh. I have to make this with Asher today.
Finished Binge Watching Emily in Paris…here's what to stream next. I'm watching Gossip Girl yet again.
How to Determine the Right Foundation Shade Every Time…this is so helpful. I never know how to pick my shade.
Monique Gibson's New York City Home Is a Live-Work Dream…I love this space and never would have guessed it's in the city.
Plan a Greenhouse Wedding in 7 Weeks? No Problem…this would be my ideal wedding. Small and cozy.
Cameron Diaz Takes AD Into Her Kitchen, Wine in Hand…loved this interview and am excited to try her new brand of wine, Avaline.
7 Chef-Approved Jarred Pasta Sauces to Keep in Your Pantry at All Times…Raos Homemade is my favorite sauce.
Look Inside This Eclectic English Countryside Escape…
Shop Madewell's Black Friday Sale This Weekend…love this cozy cardigan and crewneck sweatshirt.
How Jennifer Garner Keeps Her Spirits Up at Home While Navigating 2020…fun Sunday read. Also the "Pretend Cooking Show" is a must-watch.
What's The Most Charming Thing Someone's Ever Done For You…love this post. So many sweet notes.
Inside Supermodel Elsa Hosk's Vintage-Filled SoHo Loft…such a fun open floor plan. I love the loft bedroom.
8 Facts You Need to Know About Immune Health…always good to know.
A Surreal New Bookstore Has Just Opened in China…wow. That's a serious bookstore.
12 Things I Wish I Could Tell My Single Self…if you're struggling with being single, read this.
6 Items at the Grocery Store with the Biggest Markups…and what to get instead.
8. Cozy and Affordable finds from H&M…
9. this week's favorite dinners…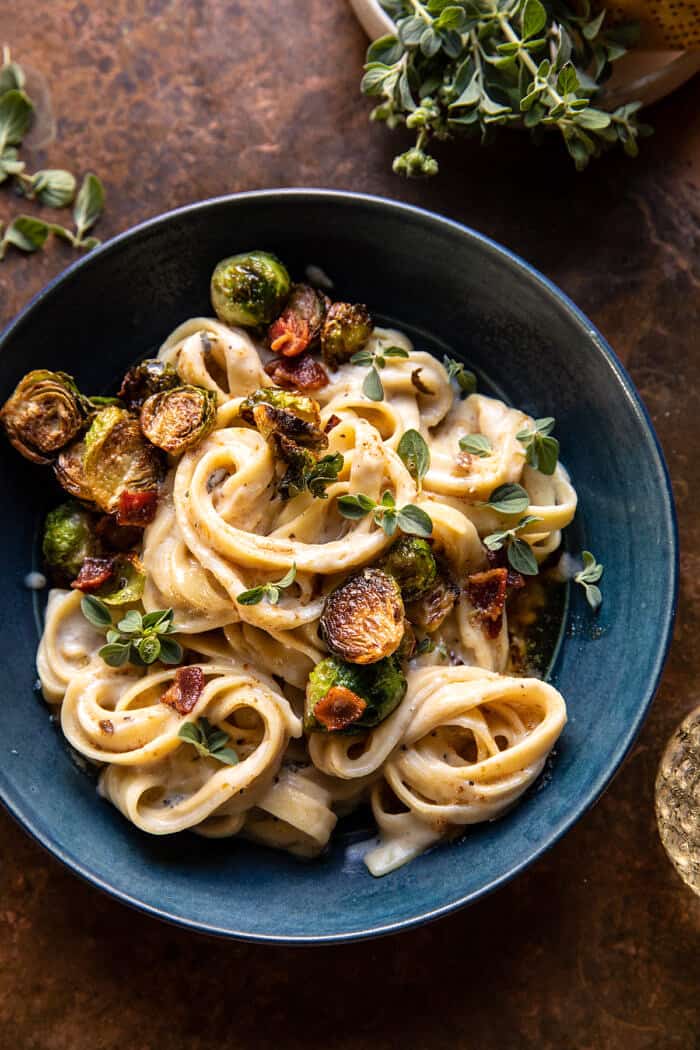 Monday: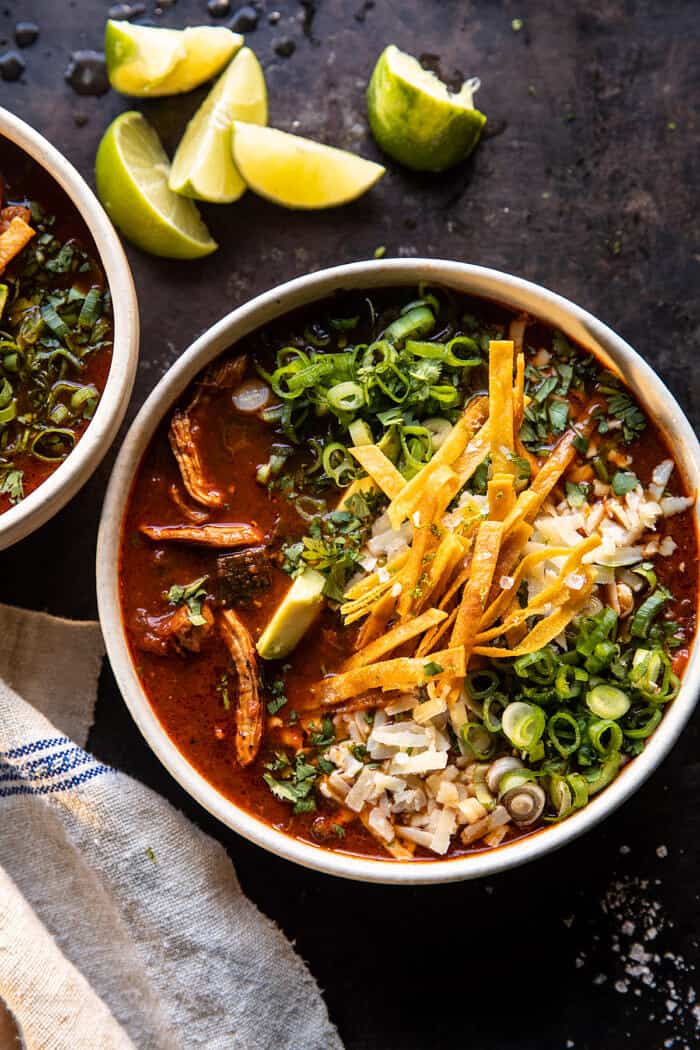 Tuesday:

Wednesday (breakfast for dinner):

Thursday:

Friday:

Saturday: Ginger Apple Moscow Mule

Sunday:
Finally, check out all the past Nine Favorite Things posts here.