Brown Butter Brussels Sprout and Bacon Fettuccine Alfredo.
This cozy bowl of Brown Butter Brussels Sprout and Bacon Fettuccine Alfredo is THE best any night of the week fall pasta. I'm taking a classic pasta recipe and updating it with a rich and creamy sauce, crispy Brussels sprouts, and bacon. Every twirl of pasta has delicious fall flavors that melt in your mouth. It's the coziest, creamiest bowl of Fettuccine Alfredo that's fancy enough for the weekend, but easy enough to make any night of the week. And most importantly, it's delicious.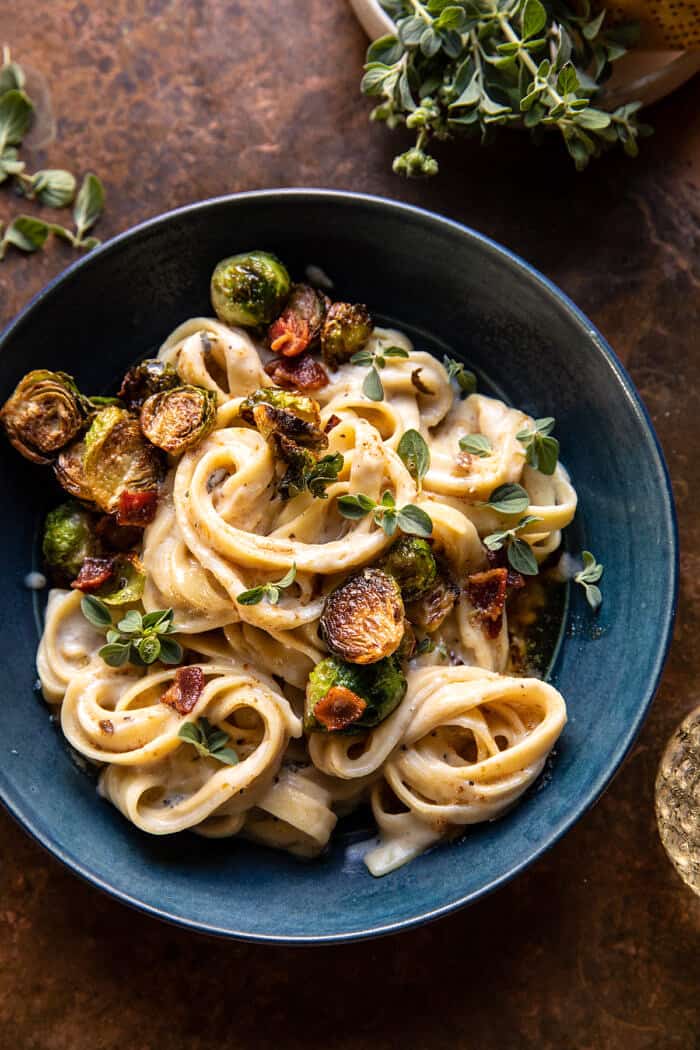 Growing up, Friday and Saturday nights were always reserved for pasta or pizza dinners. Most Friday nights my dad would make his Friday night pasta dish, which to this day is one of my favorite dishes. It could be due to the fact that it's my dad's recipe, but regardless it's a delicious pasta dinner that I really love.
When dad wasn't making his pasta dish on Friday night, he was making his Fettuccine Alfredo pasta. A dish both my mom and I always loved. Since he didn't make fettuccine as often as his other dinners (i.e chicken, rice, and tacos…and then more chicken and rice), fettuccine nights always felt special. Especially in the fall when we'd cozy up by the fire while eating.
Twas' the best, and I love these memories!
Sidenote, as my mom reads this she'll also think back to those days. I can already see the smile on her face, we miss those cozy nights by the wood-burning fire.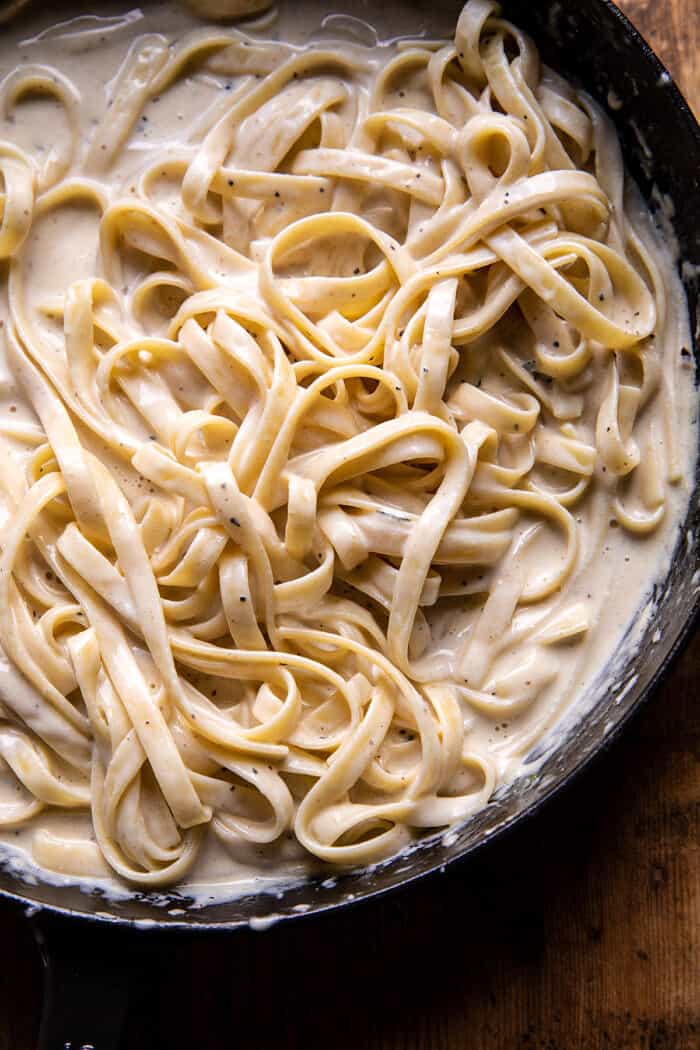 Here's the thing, my dad is a great cook, and I believe I take after him when it comes to anything in the kitchen, but the thing about dad's recipes?
They're simple as can be, meaning there is no recipe. The way my dad cooks is simple, he takes what he has in the fridge and makes dinner out of it. He doesn't cook from cookbooks or google anything. He just cooks to eat and hopes it all turns out ok. Thankfully for us, it always did.
The point here is that my dad just winged it in the kitchen, which I swear always creates the very best recipes. My inspiration for this fettuccine was very much my dad (I even used his "secret" ingredient, that's not traditional), but with my twist, crispy brussels sprouts, and bacon too.
I like to think of this as the fall edition of Fettuccine Alfredo. It's rich, creamy, swirled with browned butter, and topped with brussels sprouts that taste almost chip-like, plus crispy salty bacon too.
It's indulgent…but so delicious.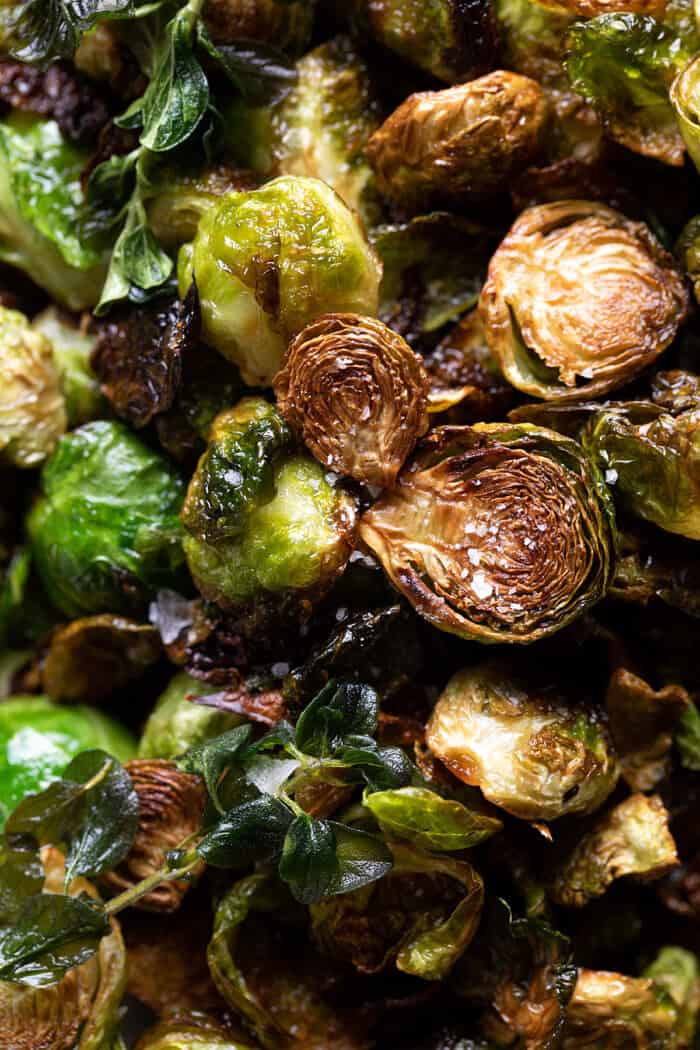 Finally, the details…those sprouts!
Start with pasta. Use classic fettuccine for this. Yes, any cut of pasta will work and be delicious, but Fettuccine Alfredo isn't Fettuccine Alfredo without the right cut of pasta. So use the fettuccine.
While that pasta water is coming to a boil, start and finish the recipe. Yes, this is a one-skillet, one-pot, thirty-minute dinner.
Cook up your bacon until it's extra crispy. Now do the same with the Brussels sprouts. You want to get them extra crisp, so cook the sprouts cut side down and avoid stirring for the first four or so minutes of cooking. Once the cut side of the sprouts are crisp, toss and cook until the outside is crispy too, then remove from the skillet. This will ensure they stay crispy, instead of just fading away into the buttery creamy sauce.
Onto the cream sauce. Browned butter, garlic, herbs, a splash of milk, and lots of Parmesan, plus dad's secret ingredient…the tiniest amount of cream cheese.
This is easy, brown the butter, add the garlic and herbs, then add a splash of milk. I usually just use whole goat's milk with a light splash of cream or canned coconut milk. If you want to make this a little lighter, simply use all milk or all canned coconut milk. Or if you want to make this less heavy on the dairy, use all canned coconut milk. Promise you don't taste the coconut at all.
Once you add the milk, whisk in the cream cheese. Now, I know this isn't typical in fettuccine, but my dad used to make fettuccine as follows: one whole stick of butter, a couple cups of whole milk or cream, and then one eight-ounce package of cream cheese. He'd toss in the pasta, then add more Parmesan than you'd ever think could be added (he loves parmesan). Of course, it was delicious!
It was a heavy sauce, but it was so good, and I think the cream cheese was the reason. It creates a silky smooth sauce every time. I'm only using the tiniest amount, but it seems to do the trick!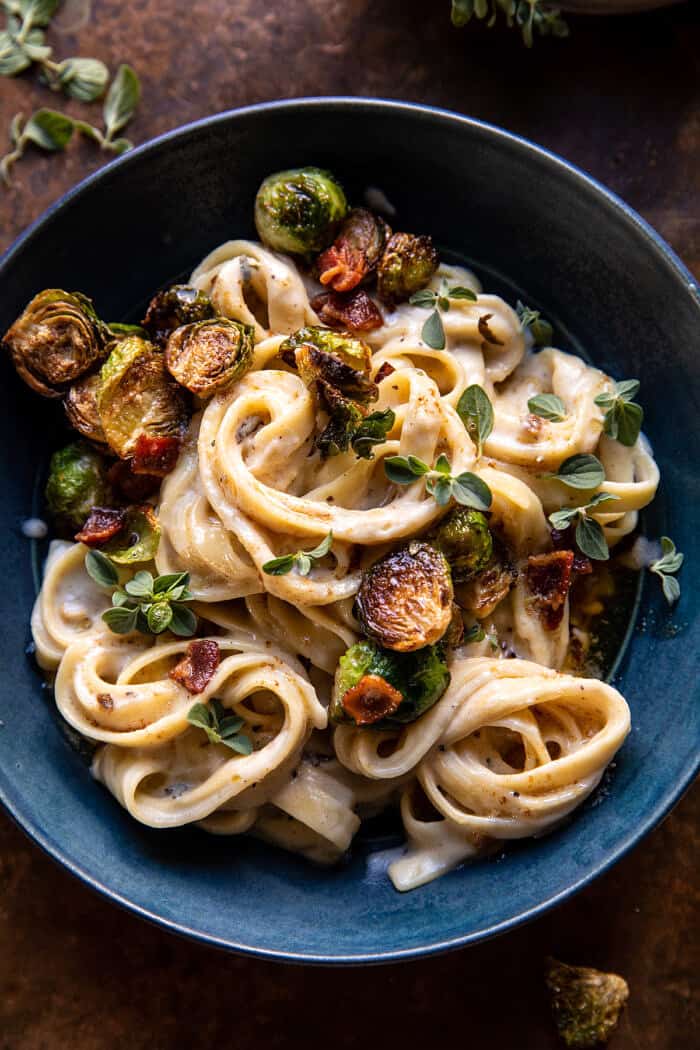 Finish it up!
Add the pasta to the sauce, and toss it! As you add the pasta to the sauce, it will immediately begin to thicken and become very creamy. Let the pasta cook in the sauce a minute or two, then serve immediately.
Yes, fettuccine is one of those dishes that should be eaten right off the stove. Simply plate it, and top with those crispy sprouts and bacon. Adding an extra dusting of parmesan never hurts either.
This recipe is all about the sauce, the sprouts, and the bacon. The sauce is buttery, a touch garlicky, herby, and so creamy. It's my favorite combo.
The crispy Brussels sprouts are a game-changer. Their flavor is intense, but the texture is almost chip-like. And the bacon? Well, it adds a saltiness that keeps everyone coming back for seconds.
Nothing beats this one. Perfect for an autumn Wednesday night, or maybe save it for a Friday night? Honestly, it's delicious any night of the week…so make when this dish when it suits you best…and enjoy!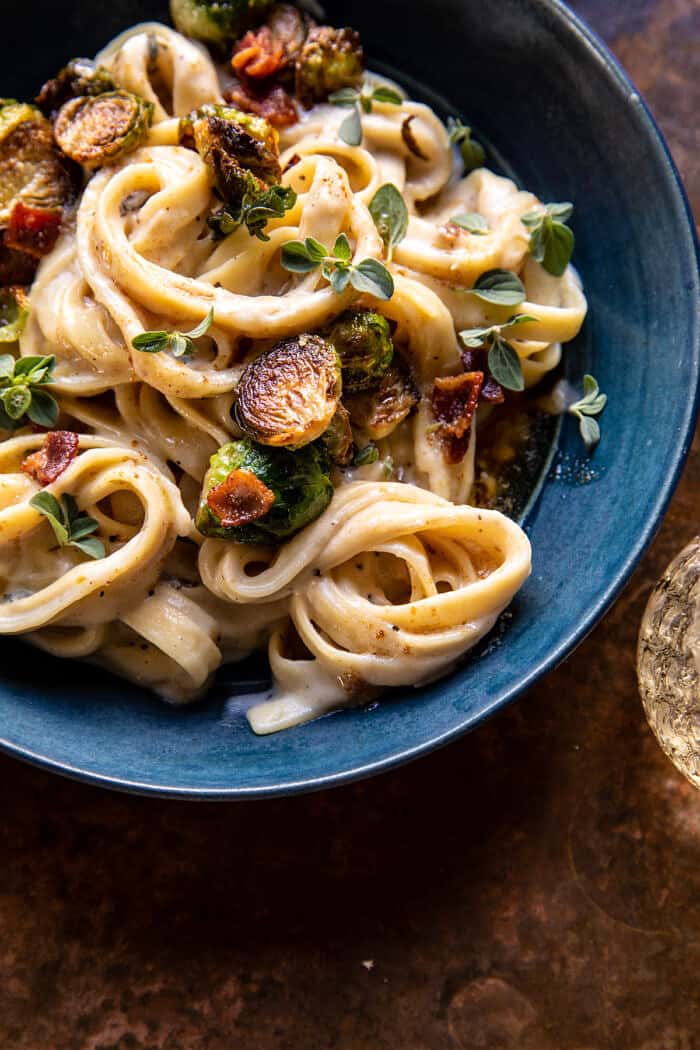 Looking for other fall pasta recipes? Here are a few ideas: 
Butternut Squash Pasta Carbonara with Rosemary Bacon
Browned Sage Butter Chicken Piccata with Mushroom Pasta
Slow Cooker Saucy Sunday Bolognese Pasta
Lastly, if you make this Brown Butter Brussels Sprout and Bacon Fettuccine Alfredo. be sure to leave a comment and/or give this recipe a rating! Above all, I love to hear from you guys and always do my best to respond to each and every comment. And of course, if you do make this recipe, don't forget to tag me on Instagram! Looking through the photos of recipes you all have made is my favorite!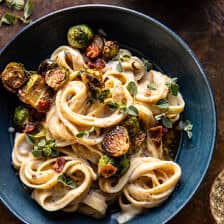 Nutritional information is only an estimate. The accuracy of the nutritional information for any recipe on this site is not guaranteed.
The Recipe
Brown Butter Brussels Sprout and Bacon Fettuccine Alfredo
Just one skillet and 30 minutes and you'll have delicious pasta full of fall flavors!
Prep Time 15 minutes
Cook Time 15 minutes
Total Time 30 minutes
Servings 6
Calories 538 kcal
Ingredients
1 pound fettuccine pasta
4 thick-cut slices bacon, chopped
2 tablespoons extra virgin olive oil
3/4 pound Brussels sprouts, thinly sliced or halved, if small
4 tablespoons salted butter
3 cloves garlic, minced or grated
1 tablespoon chopped fresh oregano (or 1 teaspoon dried oregano)
1 tablespoon chopped fresh sage (or 1 teaspoon dried sage)
1 pinch crushed red pepper flakes
2 ounces cream cheese, at room temperature
1 1/2 cups grated Parmesan or Pecorino Romano 
1/4 teaspoon ground nutmeg
Instructions
1. Bring a large pot of salted water to a boil. Cook the pasta according to package directions until al dente. Drain.

2. Meanwhile, cook the bacon in a large skillet over medium heat until crisp. Drain onto a paper towel. Add the Brussels sprouts, cut side down, and season with salt and pepper. Cook until the sprouts are crisping on the edges, 3 to 4 minutes. Toss the sprouts, add the olive oil and cook another 2-3 minutes, until crisp. Remove the Brussels sprouts from the skillet to a plate.

3. To the same skillet, melt the butter over medium heat, cooking until the butter begins to brown, about 3-4 minutes. Reduce the heat to low, add the garlic, oregano, sage, and a pinch of crushed red pepper. Cook 1 minute, then pour in the milk and cream. Add the cream cheese. Whisk until smooth. Bring the sauce to a gentle simmer and cook 5-8 minutes, until thickened slightly. Stir in the parmesan and nutmeg. Season with salt + pepper. Toss in the pasta and cook 3-5 minutes, then remove from the heat.

4. Divide the fettuccine between plates and top with crispy Brussels sprouts, and bacon. Eat and enjoy immediately.
Recipe Notes
To Make Vegetarian: simply omit the bacon and start the cooking process with the olive oil and brussels sprouts.