Southern Style Creamy Parmesan Chicken Pasta.
This Southern Style Creamy Parmesan Chicken Pasta is THE best any night of the week pasta. Lightly breaded parmesan chicken pan-fried until golden and crispy. The chicken is served over a big bowl of creamy southern-inspired cajun pasta. Every bite is layered with spicy flavor, bell peppers, crispy chicken, and creamy pasta. It's the easiest, creamiest bowl of pasta that's fancy enough for the weekend, but easy enough to make any night of the week. And most importantly, it's delicious…especially with an extra sprinkling of parmesan on top!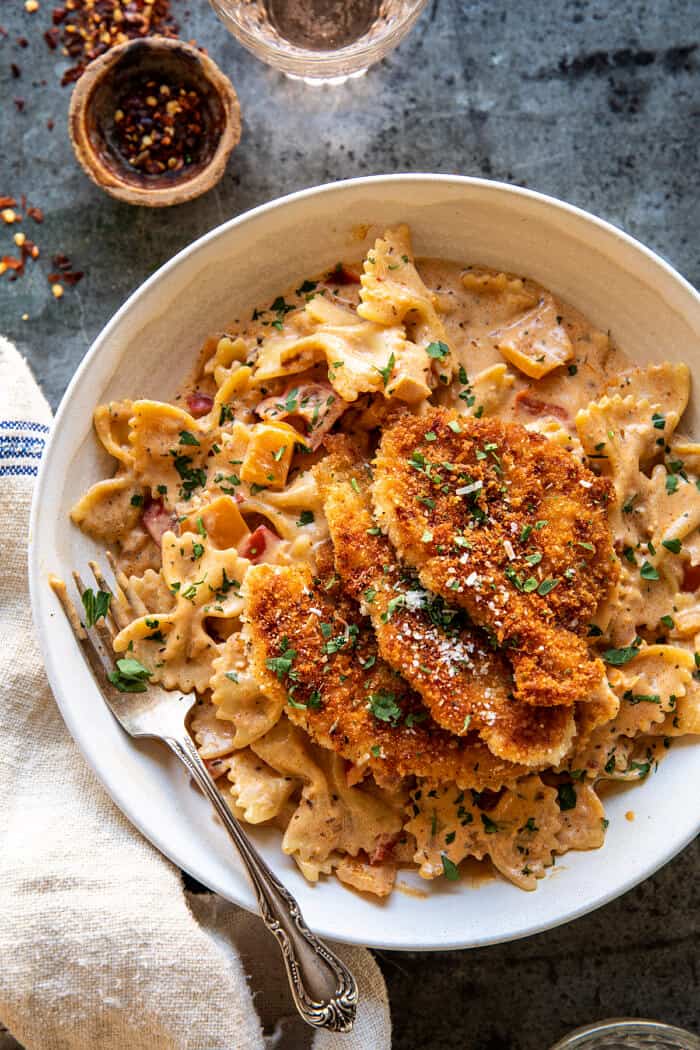 Switching things up tonight with this creamy pasta! So, this wasn't the recipe I was planning for today, but it's all ok because this bowl of pasta is delicious… shockingly delicious. The story?
Well, as I said, I had something else in mind for today, but after thoroughly messing up big time with my other recipe, I pulled out this pasta. It literally saved the day. It's not the most traditional pasta, but it's fun, easy, and so great for a weeknight!

The idea.
This recipe was actually inspired by The Cheesecake Factory. I know this is a chain restaurant that so many of you love, but I've actually never been. Or if I have, I don't remember it. Regardless I'm pretty unfamiliar with their menu…or I was.
After coming up with the idea to do a spicier cajun style pasta, Google somehow brought me to The Cheesecake Factory's Louisiana Chicken Pasta. I was pretty curious to learn more about it, so I read the description. Breaded parmesan crusted chicken served over creamy pasta with bell peppers in a spicy New Orleans style sauce. I can't say it sounded incredible, but it was definitely interesting to me. It was either going to be totally weird, or it was going to be weird…and delicious.
I went back and forth about how I actually felt about a cajun pasta. In the end, my love of spices won and I decided to test out my own version. I have not a clue how they make the pasta at The Cheesecake Factory, but what I do know is that this creamy cajun pasta is so delicious.
A little different, for sure, but DELICIOUS.

The process.
What's amazing about this pasta is just how quickly it comes together. I like to start with the sauce, then pan-fry the chicken, and put it all together.
The sauce I adapted a bit from my Fettuccine Alfredo, really just adding in lots of bell peppers and my homemade cajun seasoning blend.
First, you'll need to cook up some onions, peppers, garlic, herbs, and spices. Then add a splash of milk and plenty of parmesan. Next comes my dad's secret ingredient…the tiniest amount of cream cheese…whisk it in!
I know cream cheese isn't typical, but my dad used to make his alfredo sauces this way. I swear it creates a silky smooth sauce every time. We're only using the tiniest amount, but that's all you need to do the trick!

While the sauce is simmering, pan fry the chicken. I made sure to keep the chicken simple and easy. I used chicken cutlets, then simply breaded them in Panko and parmesan (don't skip out on the parmesan!). Super simple, but when placed atop the creamy sauce? Beyond good.
Once the sauce has simmered, toss in the pasta. I like to use bow ties, but really any cut of pasta will do! And that's it! Serve the chicken over steaming bowls of creamy pasta. Top with additional parmesan and fresh parsley. Yummmm.
This recipe is all about the sauce and that crispy chicken. The sauce is buttery, a touch garlicky, slightly spicy, and so creamy. It's my favorite combo. And the crispy chicken? It's a game-changer. Tender and delicious when thinly sliced and tossed in with the pasta.
The perfect dish for livening up an average Wednesday night. Or maybe save it for a Friday night? Honestly, this dish will be a hit whatever night you choose to serve it up…everyone in the family agrees.

Looking for other weeknight dinner recipes? Here are some favorites:
30 Minute Spicy Sesame Noodles with Ginger Chicken
Shredded Brussels Sprout and Bacon Pizza
Slow Cooker Coq au Vin with Parmesan Mashed Potatoes
Lastly, if you make this Southern Style Creamy Parmesan Chicken Pasta be sure to leave a comment and/or give this recipe a rating! Above all, I love to hear from you guys and always do my best to respond to each and every comment. And of course, if you do make this recipe, don't forget to tag me on Instagram! Looking through the photos of recipes you all have made is my favorite!

Nutritional information is only an estimate. The accuracy of the nutritional information for any recipe on this site is not guaranteed.
The Recipe
Southern Style Creamy Parmesan Chicken Pasta.
The easiest, creamiest bowl of pasta...easy on a weeknight, but still perfect for the weekend!
Prep Time 15 minutes
Cook Time 15 minutes
Total Time 30 minutes
Servings 8
Calories 410 kcal
Instructions
1. Bring a large pot of salted water to a boil. Cook the pasta according to package directions until al dente. Drain.

2. Meanwhile, place the Panko and 1/2 cup parmesan in a shallow bowl. Dredge both sides of the chicken through the Panko, pressing to adhere by using your fist to really pound the crumbs in. Place the chicken on a plate. Set aside.

3. To make the pasta. Heat 2 tablespoons olive oil over medium high heat. Add the onion and cook until soft, about 5 minutes. Add the bell peppers, and garlic, cook another 5 minutes until the peppers are soft. Stir in the cajun seasoning, and a pinch each of red pepper flakes, salt, and pepper. Cook another minute, until the spices are fragrant, then pour in the milk and cream. Add the cream cheese. Whisk until smooth. Bring the sauce to a gentle simmer and cook 5-8 minutes, until thickened slightly.

4. To cook the chicken. Heat 2 tablespoons of oil in a large skillet over medium-high heat. Add the chicken and cook until golden brown, 3-4 minutes. Flip the chicken and cook until golden brown on the other side, 3-4 minutes. Transfer to a cutting board and season with salt. Slice into thin strips.

5. To the sauce, stir in the parmesan. Toss in the pasta and cook 3-5 minutes, then remove from the heat and stir in the parsley.

6. Divide the pasta between plates and top with slices of chicken. ENJOY 🙂
Recipe Notes
Homemade Cajun Seasoning: mix 2 1/2 tablespoons smoked paprika, 2 tablespoons garlic powder, 1 tablespoon onion powder, 1 tablespoon dried oregano, 1 tablespoon dried thyme, 1 tablespoon chili powder, 1 tablespoon cayenne pepper, 1 1/2 tablespoons kosher salt, and 1 tablespoon black pepper. Makes 3/4 cup.