Easy Southern Style Baked Mac and Cheese.
This Easy Southern Style Baked Mac and Cheese is THE best any night of the week, any occasion, mac and cheese. The secret to this simple, easy, and delicious cheesy mac is a couple of eggs, lots of cheese, and a touch of spice. Every bite is layered with southern flavor, creamy pasta, and cheese. It's the creamiest bowl of baked mac and cheese that's fancy enough for the weekend, but easy enough to make any night of the week. And most importantly, it's so delicious…especially with an extra sprinkling of basil on top.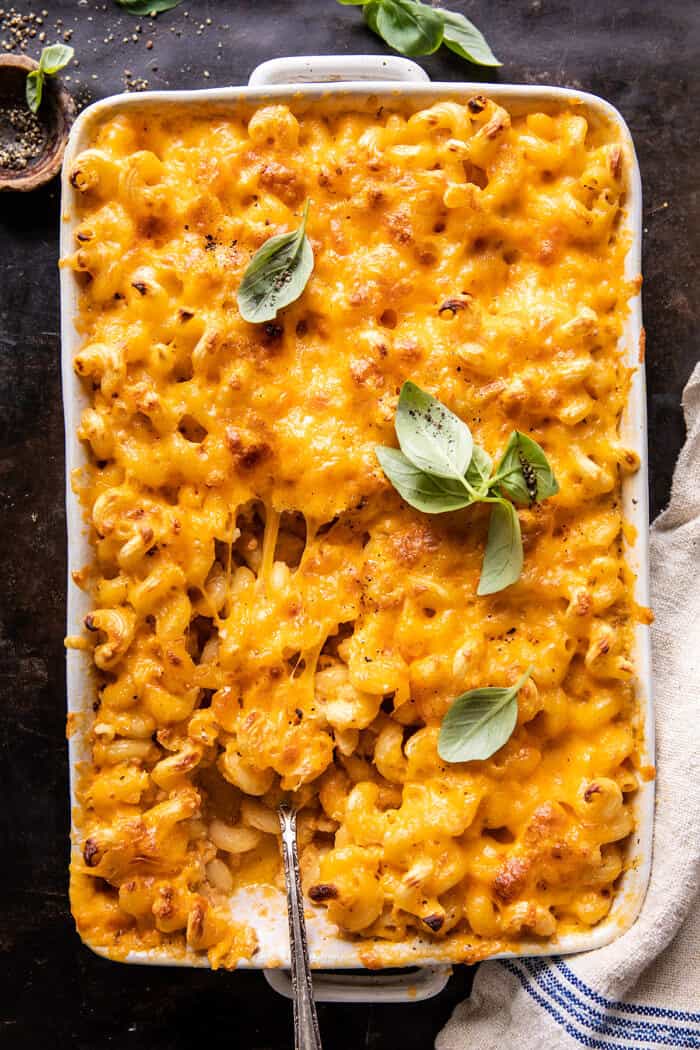 I'm not sure there's much that tops homemade mac and cheese. I mean, it's just so easy and delicious. It's definitely a staple dish around here. I've been talking for weeks about how inspired I am by vintage recipes. And while this recipe isn't technically "vintage".  It feels like something my mom or grandma could 100% get behind.
The other thing about this mac and cheese? It reminds me of the Stouffer's mac and cheese I used to eat all the time when I was a kid. I was an oddball child that didn't love junk food, passed on potato chips, and stuck to only Reese's peanut butter cups and Malley's chocolate bars. I ate carrots with ranch as a snack and all-in-all was a somewhat "healthy" eater who loved my vegetables.
But I also LOVE, LOVE, LOVE my mac and cheese. I didn't grow up on the Kraft Mac and Cheese, instead, my mom bought Stouffer's frozen mac and cheese that you could pop in the microwave. I ate a lot of those after school throughout my third, fourth, and fifth grade years. What I loved about them was that the top was always a bit more baked with crusty edges, but they had the creamiest cheesy pasta underneath. This mac and cheese is exactly that…but better…because it's homemade with more flavor and more cheese.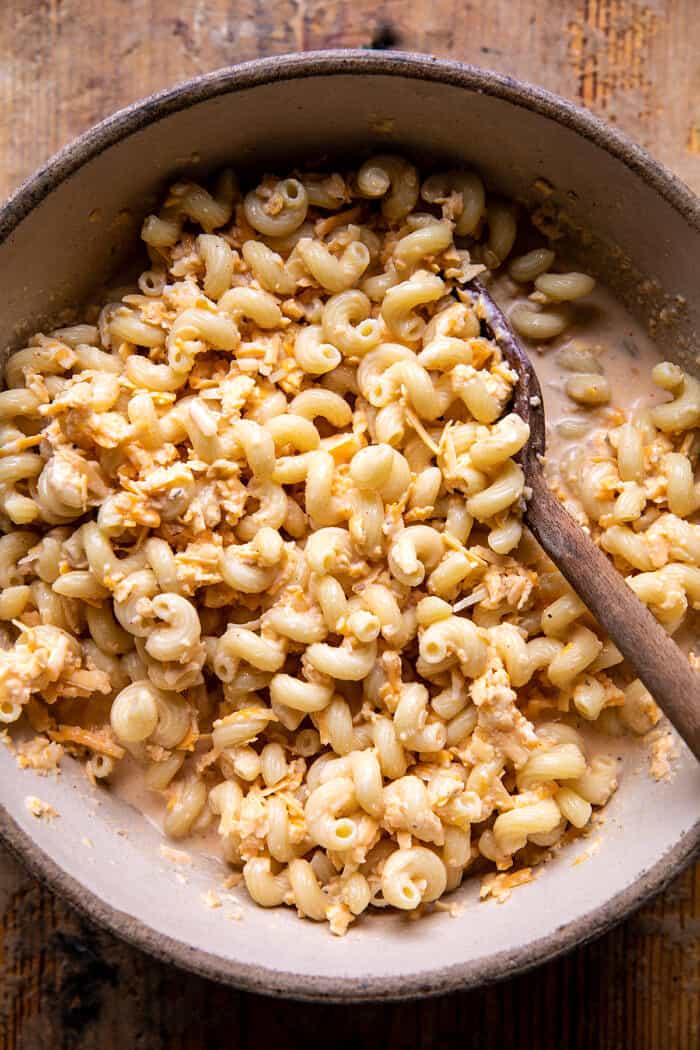 This southern mac and cheese is easy, here are the details
When it comes to a southern-style mac and cheese, there are a couple of things that are different.
First up, it uses eggs to help bind everything together, which makes it even simpler.
I also like to add a touch a cajun seasoning to mine, which adds a nice little southern kick. This is optional, but we find it extra delicious.
And lastly, the process. It's much simpler than you might ever imagine. Boil-off the pasta, while that's happening, whisk together the milk, eggs, the tiniest amount of sour cream, and that cajun seasoning. Now add the pasta and the butter and toss it all to combine.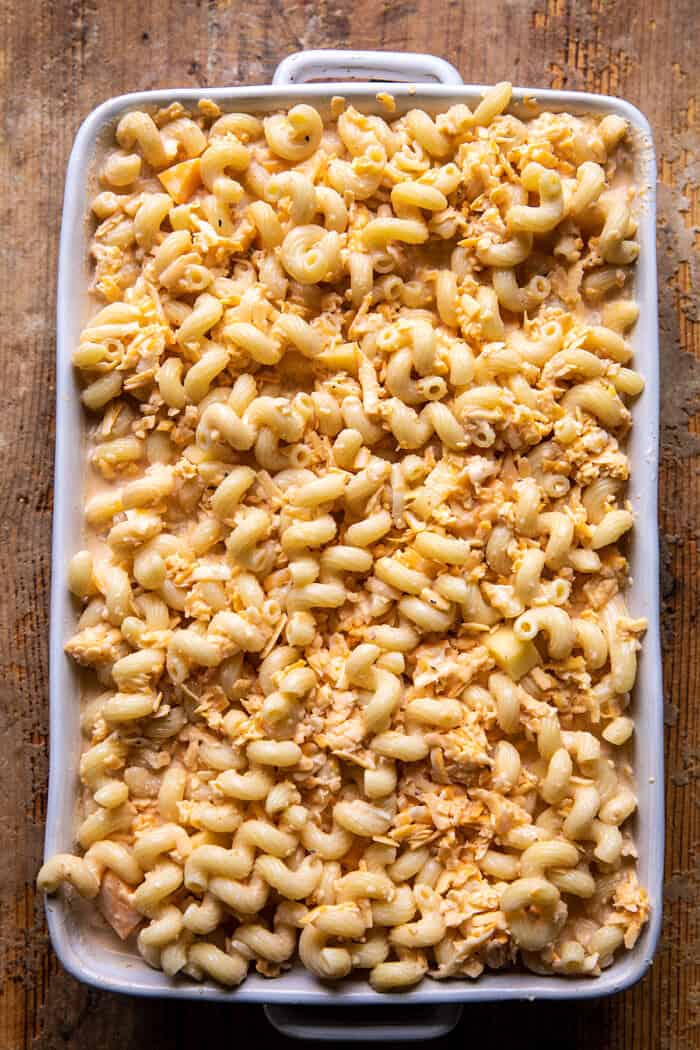 Bake then broil.
This is key. Bake the mac and cheese for thirty or so minutes to melt that cheese, then switch the oven to broil. Let the cheese start to bubble up, but be sure to watch closely, the broiler cooks quickly.
As soon as you pull this out from under the broiler, add a bit of basil, serve, and ENJOY.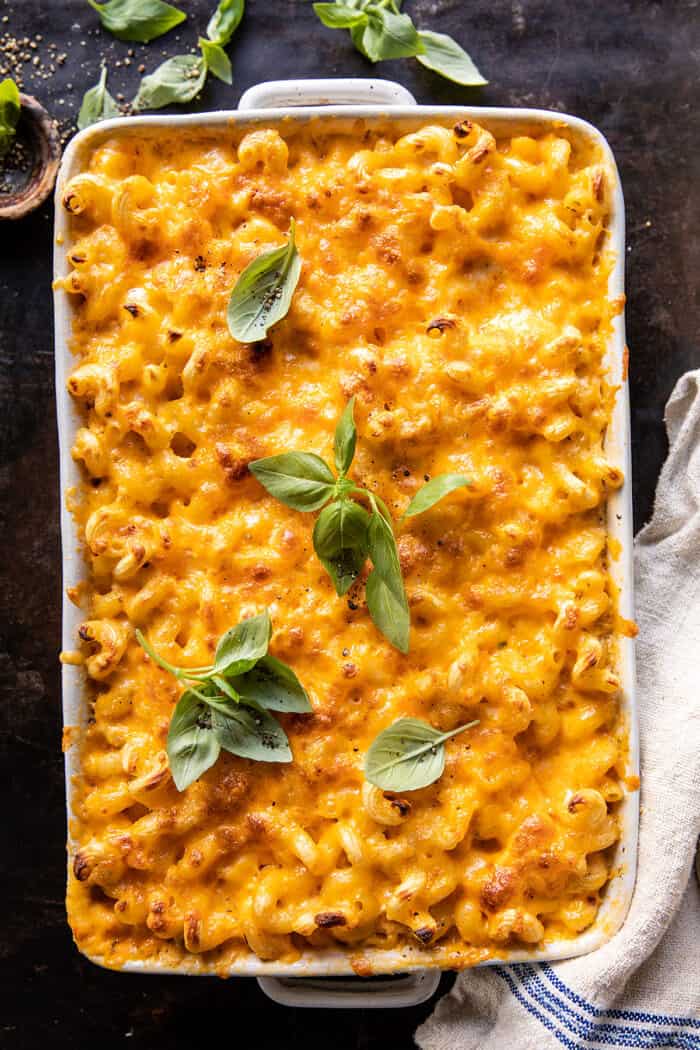 Super easy, right?
But yet so very good. The pasta underneath stays soft and creamy, while the cheese on top turns crispy and just the slightest bit crunchy. Yes, the corners of the dish will form an insanely delicious, cheesy crust.
Creamy cheesy pasta underneath, crunchy cheddar on top, a little bit of spice, and fresh basil over it all…
Just. So. Darn. Good!
And guys, that's pretty much it. Dinner in less than an hour, and something I feel like the whole family can really enjoy. Make this over the weekend for the Kentucky Derby, then make it for every other party that follows.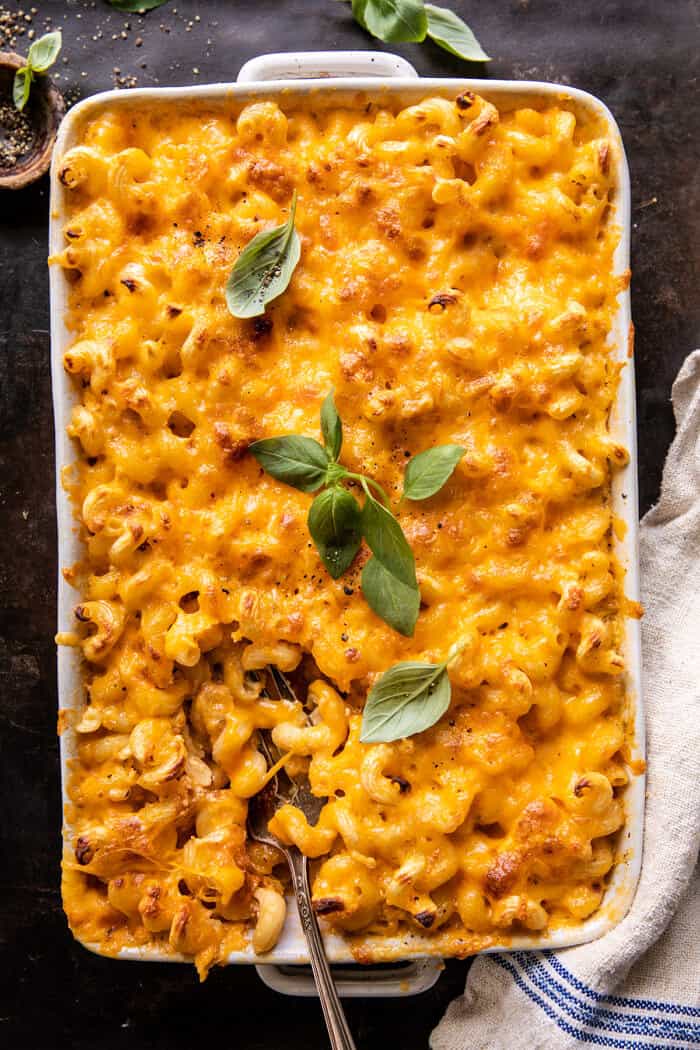 Looking for other easy pasta bake recipes? Here are a few ideas: 
One Pot 30 Minute Creamy Tomato Basil Pasta Bake
One Pan Baked Cheesy Basil Pasta
Lastly, if you make this Easy Southern Style Baked Mac and Cheese be sure to leave a comment and/or give this recipe a rating! Above all, I love to hear from you guys and always do my best to respond to each and every comment. And of course, if you do make this recipe, don't forget to tag me on Instagram! Looking through the photos of recipes you all have made is my favorite!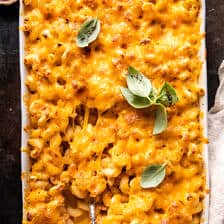 Nutritional information is only an estimate. The accuracy of the nutritional information for any recipe on this site is not guaranteed.
The Recipe
Easy Southern Style Baked Mac and Cheese
Soft and creamy underneath, crispy and slightly crunchy on top. Perfect for Derby Day!
Prep Time 10 minutes
Cook Time 35 minutes
Total Time 45 minutes
Servings 8
Calories 464 kcal
Ingredients
1 pound short-cut pasta
2 1/4 cups whole milk
2 large eggs, beaten
1/4 cup sour cream or plain greek yogurt
2-3 teaspoons cajun seasoning (optional)
2 tablespoons salted butter
3 cups shredded cheddar cheese
3 cups shredded Colby Jack cheese
fresh basil or parsley, for serving
Instructions
1. Preheat the oven to 400° F.

2. Bring a large pot of salted water to a boil. Cook the pasta according to package directions until al dente. Drain.

3. Meanwhile, in a large bowl whisk together the milk, eggs, sour cream, cajun seasoning, or 1/2 teaspoon salt and 1 teaspoon pepper. Add the pasta, butter, cheddar cheese, and 2 cups Colby Jack cheese. Pour the pasta into a 9x13 inch baking dish and cover with foil.

4. Bake 25 minutes, then remove the foil and top with the remaining Colby Jack cheese. Return to the oven and bake another 10 minutes, until the cheese is melted. Switch the oven to broil and broil 2-3 minutes, until just a little crispy on top. WATCH CLOSELY.

5. Serve the mac and cheese immediately with fresh herbs and black pepper. ENJOY 🙂