Brown Butter Pumpkin Fettuccine Alfredo with Fried Cheese + Video.
Who's down for some fall pasta?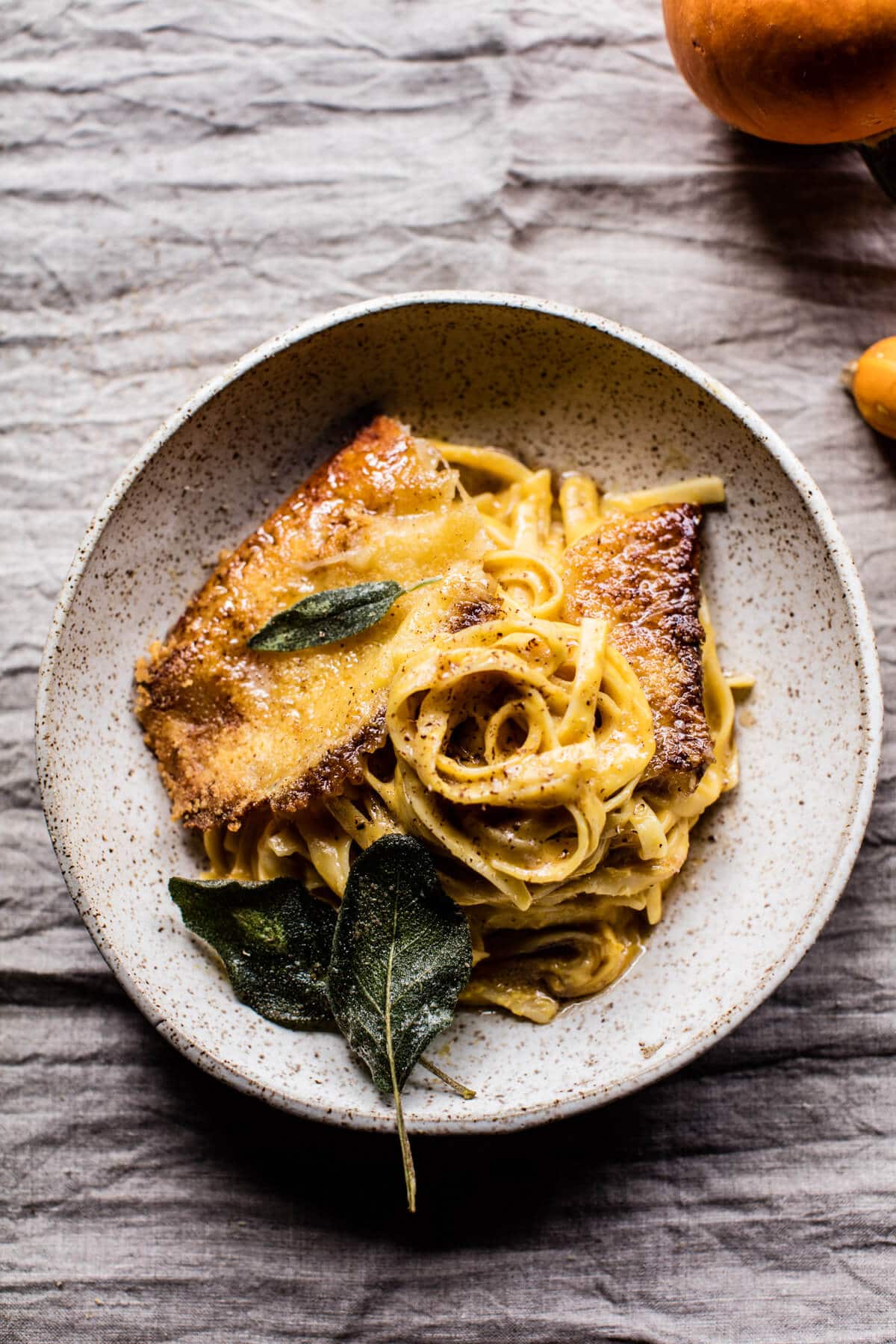 I know I'm ready. We returned home from Orlando late Tuesday night to super cold temps and a little snow on the ground. It was pretty different from the eighty-eighty degrees we were experiencing for the past three days. As I said I would in Tuesday's post, I made these pancakes on Wednesday, they were such a nice way to cozy back up to fall, and I have plans to make this fettucine again tonight for dinner. Perfect way to ease back into things!
WATCH HOW-TO VIDEO:
Pretty excited about it.
I grew up on classic fettuccine Alfredo and whenever my brothers are in town I make my own recipe. I will not lie, it's pretty rich, but it's honestly just perfection.



I'm going to get right into the recipe today as things are slightly crazy around here with all the catching up I need to do. Plus I feel like I may have talked your ears off over the last two days.
Ok, SO, here's how this brown butter pumpkin fettuccine Alfredo works, the recipe starts out just like any other Alfredo recipe. Cream + cheese, but then we veer off the recipe page a bit by adding some brown butter, pumpkin puree, a pinch of nutmeg and raclette cheese. If you've never had raclette cheese, oh man, you are in for a huge treat!
Raclette is a creamy melting cheese and you guys, it's beyond delish!


A little of the cheese is added to the cream sauce, but the rest is reserved for pan frying and adding to the top of your pasta.
YES. I did say pan frying. Which means, fried cheese! YUM.
Fried cheese on top of a creamy pumpkin Alfredo sauce over pasta… yeah, I think you can see why this will easily become one of your favorite fall pastas. It's quick, easy and so good!! If you cannot find Raclette cheese, I think something like brie or swiss cheese would also work.
Then just top off with a little fried sage and dinner equals done. Perfect for a Thursday night, or maybe a Friday night? I dunno, but I'm thinking this will be delicious any night of the week!


Nutritional information is only an estimate. The accuracy of the nutritional information for any recipe on this site is not guaranteed.
The Recipe
Brown Butter Pumpkin Fettuccine Alfredo with Fried Cheese.
By halfbakedharvest
Course: Main Course
Cuisine: Italian
Keyword: pasta
A rich and cheesy fall pasta dish
Prep Time 10 minutes
Cook Time 15 minutes
Total Time 25 minutes
Servings 6 Servings
Calories 568 kcal
Ingredients
6 tablespoons butter
3 cloves garlic minced or grated
1 1/2 cups whole milk
1 cup heavy cream
3/4 cup pumpkin puree
1 1/2 cup grated pecorino romano or parmesan
1/2 cup shredded Raclette cheese + 4 thin slices or other swiss style cheese
1/4 teaspoon nutmeg
kosher salt + pepper
1 pound fettuccine
6 leaves fresh sage
Instructions
Bring a large pot of salted water to a boil.

Heat a large skillet with sides over medium high heat. Add 4 tablespoons butter and allow the butter to brown, stirring often, about 3-5 minutes. Add the garlic and cook 15-30 seconds or until fragrant, then slowly pour in the milk, heavy cream, and pumpkin pure. Whisk until smooth. Bring the sauce to a gentle simmer and cook 5-10 minutes. Stir in the pecorino romano, 1 cup raclette and nutmeg. Season with salt + pepper.

Boil the fettuccine until al dente. Drain and add directly to the pumpkin Alfredo sauce. Cook until warmed through, about 5 minutes.

Meanwhile, heat a skillet over medium heat and add 2 tablespoons butter. Add the the raclette cheese slices and cook 2-3 minutes per side or until a crust forms and the cheese has "fried". Remove the cheese from the skillet and add the sage, fry 30 seconds. Remove the skillet from the heat.

Divide the fettuccine among plates and top with fried cheese + sage. Drizzle with any browned butter left in the pan. Eat!

Cheese, butter and pumpkin? Yes, please!