Mushroom Al Pastor Tacos with Garlic Lime Special Sauce.
Swapping out the meat and going vegetarian with these Mushroom Al Pastor Tacos with Garlic Lime Special Sauce. Best for when you're craving hearty Mexican, but want to keep things healthy. Sesame chipotle pineapple sauce, tossed with a mix of cremini and shiitake mushrooms (in place of pork), stuffed into charred tortillas and topped with the most addicting "special" sauce…that just so happens to be way healthier than the original. The perfect weeknight taco that's made in just about 30 minutes too. These are quick, simple, healthy, and so delicious.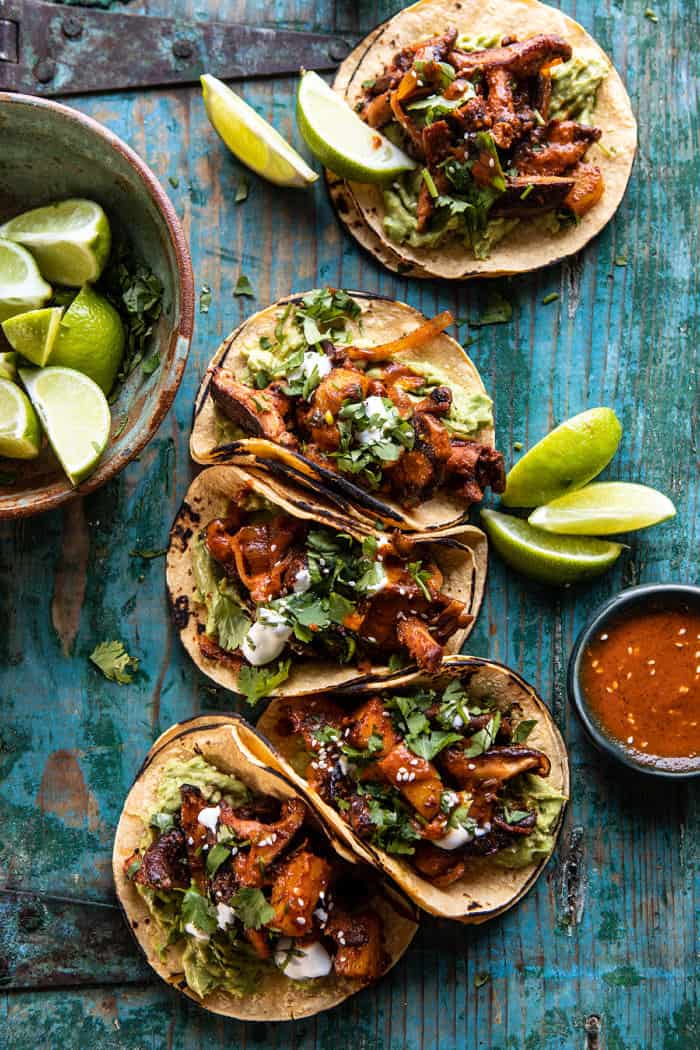 These are not your average Tuesday night tacos. And they're definitely not your traditional al pastor style taco. But hear me out, because these tacos are so good.
Growing up we'd have traditional ground beef tacos at least twice a week. It was a dinner that my dad could easily put together and knew that everyone would love. Even to this day, we all still love tacos.
But then who doesn't love a taco? I've made plenty over the years and have more taco recipes than I care to count up. But yet I still have endless ideas for tacos. Crazy right?
Anyway, when it comes to a vegetarian taco, I've always enjoyed using mushrooms. I know cauliflower is very popular right now, but in an effort to sweeten things up I thought I'd share this easy mushroom al pastor taco recipe. It's one of my current favorite recipes. And while my brothers will be rolling their eyes at these, I'm all for them. They're meaty – yet meat-free, spicy, sweet, and beyond good.
And the special sauce? Addicting.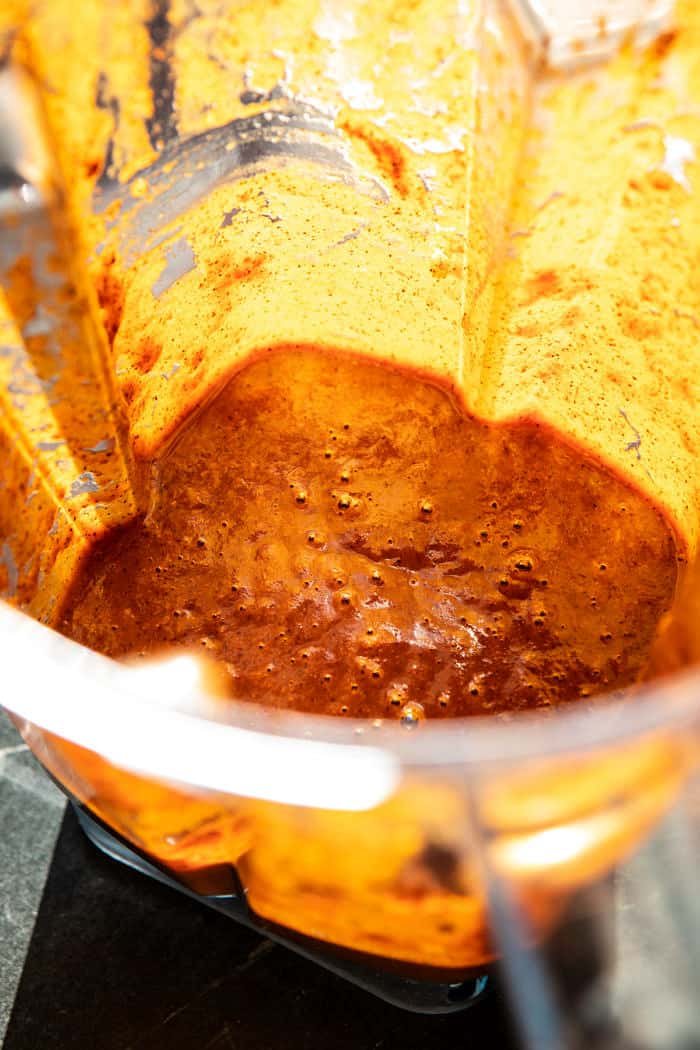 The story on al pastor style tacos.
As I said, these are not traditional al pastor tacos. For one, they're vegetarian, and tacos al pastor are most commonly made with marinated grilled pork.
Traditional al pastor tacos were created after Lebanese immigrants in Mexico introduced middle eastern lamb shawarma to the region. The tacos combine traditional middle eastern spices with spices used in central Mexico. Eventually, the lamb was replaced with marinated pork. I never knew all this until I did a little research. I love that they're a mash-up of two of my favorite cuisines.
The meat is marinated in spices, pineapple, chipotle or other dried chilies, and vinegar. It's then grilled and served in warmed tortillas. Toppings can vary, but they are most often topped with grilled onion, pineapple, cilantro, and cheese.
So that's the story behind traditional al pastor tacos. Now, let's talk about these mushroom al pastor tacos, which are truly just as delicious, but minus the meat.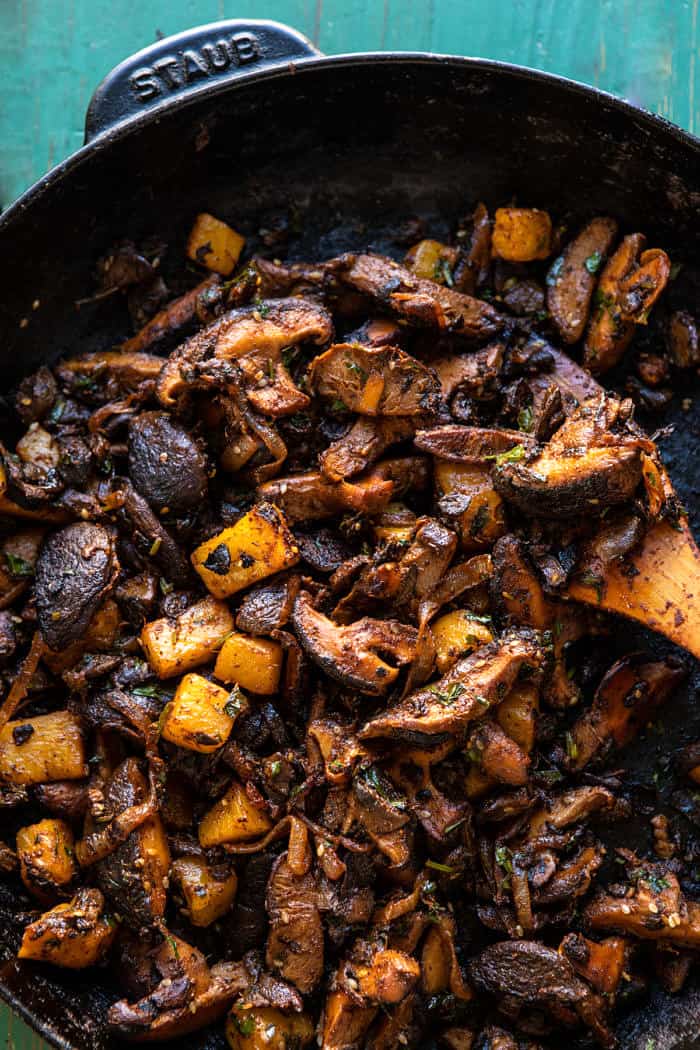 Here are the Details.
Start out by making the chipotle pineapple sauce. It's a simple mix of chipotle peppers, pineapple, garlic, and spices. I added sesame seeds for additional flavor, which actually ties in more of the middle eastern inspiration.
Basically you can think of this sauce as homemade enchilada sauce with the addition of pineapple. The sauce is mixed in the blender and is super easy to put together. And? It's probably one of my very favorite sauces. You only need about half of the sauce for the tacos, the other half you can save for serving.
Once the sauce is made, sauté the mushrooms with the onions, stir in the sauce and additional pineapple chunks, and simply cook a few minutes more. You now have mushroom al pastor. As the sauce cooks, it begins to caramelize over the mushrooms. It's sweet, spicy, a touch smoky, and truly so delicious. You don't even realize you're eating all vegetables! The mushrooms have such a meaty flavor that you really don't miss the meat.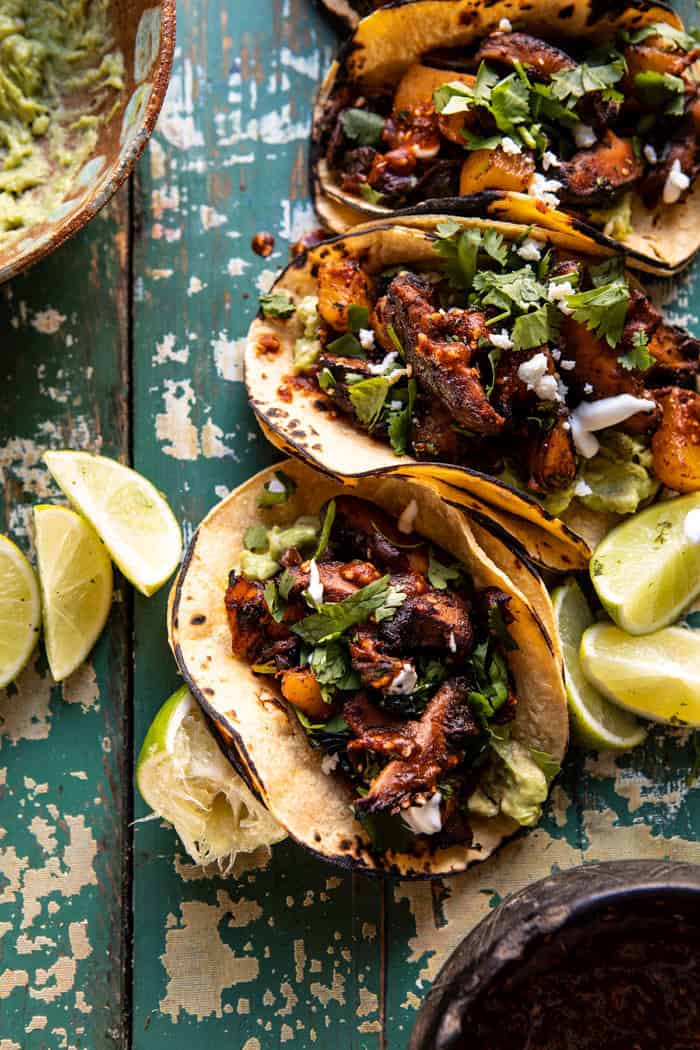 While the mushrooms are cooking, mix up the special sauce. While this sauce is simple, it's also addictingly good. It's creamy, heavy on the lime, a touch garlicky, and a little salty. It's a simple mix of plain yogurt, lime juice, and garlic, and a little sea salt to finish it off.
OK. Now for serving. Here is how I layer these up. Charred corn tortillas, avocado mashed with lime juice, then the mushroom al pastor, special sauce, feta cheese, and plenty of fresh cilantro. And lastly…serve alongside the remaining chipotle pineapple sauce for an extra saucy taco.
The best.
These take only about thirty minutes from start to finish. They use just one blender and one skillet. All-around, these are pretty quick and simple to make. Great for a weeknight taco night, but equally as great on Saturday with friends!
Looking for other tacos?
I have a lot of taco recipes on HBH, but here are a few of my favorites.
20 Minute Caribbean Shrimp Tacos with Roasted Jalapeño Pineapple Salsa Verde
Instant Pot BBQ Beer Pulled Chicken Tacos
Asada Mushroom Tacos with Lime Smashed Avocado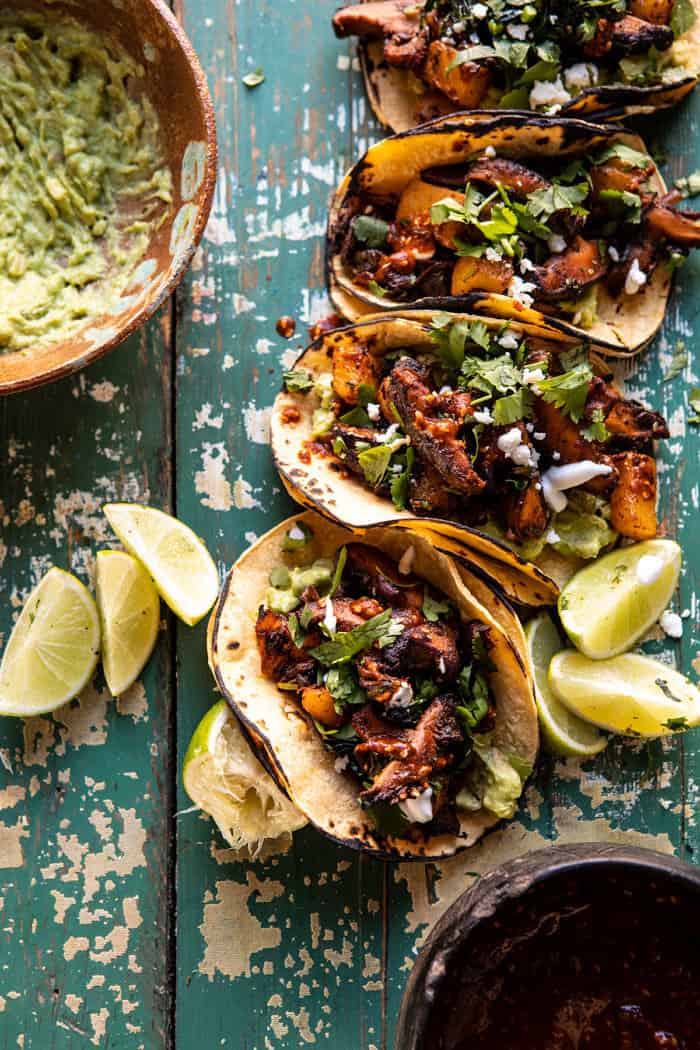 If you make these mushroom al pastor tacos, be sure to leave a comment and/or give this recipe a rating! Above all, I love to hear from you guys and always do my best to respond to each and every comment. And of course, if you do make this recipe, don't forget to tag me on Instagram! Looking through the photos of recipes you all have made is my favorite!

Nutritional information is only an estimate. The accuracy of the nutritional information for any recipe on this site is not guaranteed.
The Recipe
Mushroom Al Pastor Tacos with Garlic Lime Special Sauce
Swapping the meat and going veggie with these Mushroom Al Pastor Tacos...for nights when you're craving Mexican, but also want healthy!
Prep Time 15 minutes
Cook Time 15 minutes
Total Time 30 minutes
Servings 4
Calories 350 kcal
Ingredients
2 cloves garlic, minced or grated
2 tablespoons chili powder
2 teaspoons smoked paprika
2 cups fresh pineapple chunks
1 tablespoon toasted sesame seeds
2 tablespoons extra virgin olive oil
8 ounces cremini mushrooms, chopped
1 yellow onion, thinly sliced
3 cups shiitake mushrooms, sliced
1/2 cup fresh cilantro, chopped
12 toasted corn or flour tortillas
4 ounces feta or goat cheese, crumbled
mashed avocado and lime wedges, for serving
Garlic Lime Special Sauce
1/2 cup plain Greek yogurt or sour cream
1 tablespoon apple cider vinegar
1 tablespoon lime juice + 2 teaspoons lime zest
1 clove garlic, grated (use 2 if you love garlic)
Instructions
1. Make the chipotle pineapple sauce. In a blender or food processor combine the garlic, chili powder, paprika, chipotle chilies, 1/3 cup water, vinegar, 1 cup of the pineapple chunks, and a pinch of salt. Blend until completely smooth. Stir in the sesame seed.

2. Heat the olive oil in a large skillet over medium heat. When the oil shimmers, add the cremini mushrooms, onions, and a pinch each of salt and pepper. Cook for 5 minutes, until the mushrooms begin crisping on the edges. Add the shiitake mushrooms, and continue to cook another 5 minutes. Reduce the heat to low, stir in about 1/2 of chipotle pineapple sauce and the remaining 1 cup of pineapple chunks. Simmer for 5-8 minutes or until the sauce has reduced and coats the mushrooms, there will still be sauce left in the pan. Remove from the heat and stir in the cilantro.

3. To make the special sauce. Combine all ingredients in a bowl, adding 1-2 tablespoons water if needed to thin the sauce. Taste and season with salt.

4. Stuff the mashed avocado (if using), the mushrooms, and pineapple into the warmed tortillas. Top with additional chipotle pineapple sauce, special sauce, cilantro, and cheese. Enjoy!