Cauliflower Al Pastor Quesadillas with Lime Smashed Avocado.
Swapping out the meat and going vegetarian with these Cauliflower Al Pastor Quesadillas with Lime Smashed Avocado. Best for when you're craving hearty Mexican, but want to keep things healthy too. Smoky chipotle pineapple sauce, tossed with cauliflower (in place of pork), stuffed into flour tortillas, topped with a sprinkling of cheese and cooked until golden crisp. Top with salty lime smashed avocado and a little extra pineapple and you'll have the most delicious quesadillas!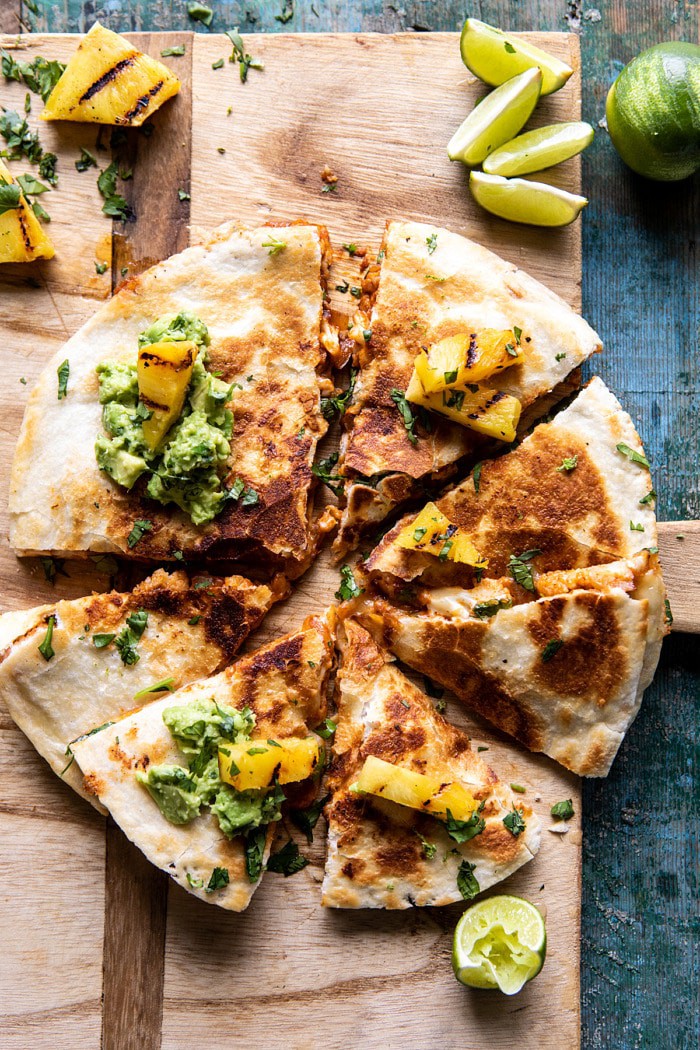 When it comes to food, the end of April and the beginning of May is one of my favorite times of the year. First of all, it's deep into spring which means that the produce is plentiful, and recipes have a much fresher feel to them. And two? Cinco de Mayo is May 5th, which means Mexican inspired recipes for the next week. Now I know Cinco de Mayo may not be a holiday that's actually very celebrated in Mexico, but it's heavily celebrated here in the US, and I'm all about it. I love any excuse to create spins on my favorite Mexican dishes. And today's quesadillas are hands down, one of my favorite Mexican inspired recipes I've created.
So much more Mexican on the way, with everything from tacos to margaritas. Its funny, some years I really get into certain holidays, while other years I just sort of move right past. This year I am really embracing Cinco! It's truly inspired me to think up some more creative Mexican dishes. It's always so much fun for me when I start to think outside of the box and get away from the more classic or "normal" dishes.

When it comes to quesadillas I hesitate making them, as I continually have such a hard time photographing them. I know, it's a stupid reason, not to make them. But ugly photos always put me in a bad mood. Therefore, I shy away from attempting foods that I know will give me trouble.
That said, if something sounds way too good not make, I am of course going to make it, and do my best to get great photos.
Obviously that was the case with these cauliflower al pastor quesadillas. They have all of the things I love most. A sweet and spicy element, lots of vegetables, lots of avocado, cheese, and even some carbs. Yep, hits all of my most favorite food groups. The minute the idea come to mind, I knew I would be giving them a try.
Good news for me is that I made these, loved them, and then made them one more time to photograph. I even ended up loving the photos too! So I am extremely happy with this recipe on all accounts…it's delicious and pretty!

Traditionally al pastor tacos are made using marinated, grilled pork. They're a sweet and savory mix of chili peppers, sweet pineapple, and pork. But today I'm swapping the meat for cauliflower! Honest opinion? Cauliflower al pastor is way better. I am a bit biased though, because I love vegetables…
My brothers are singing a different tune and looking down in disgust at these vegetable filled, meatless quesadillas. Oh well, can't please everyone.

Start out by making the chipotle pineapple sauce. It's a simple mix of chipotle peppers, pineapple, garlic, and spices. Think of it kind of like a homemade pineapple enchilada sauce.
Once the sauce is made, sauté the cauliflower with some onions, then stir in the sauce and the additional pineapple chunks. Then simply cook a few minutes more and you now have cauliflower al pastor. It's sweet, spicy, a touch smoky, and truly so delicious. You don't even realize you're eating all vegetables!
But, it actually gets better. Stuff the cauliflower al pastor into tortillas. My favorite are these Siete Cassava Flour Tortillas, they're the best tasting healthy tortillas. Then sprinkle with cheese, cook, and top each quesadilla with salty, lime smashed avocado. Simple. colorful, healthy, and seriously SO GOOD!
And yes, I did indeed top my quesadillas with grilled pineapple chunks too. What can I say, I really love pineapple.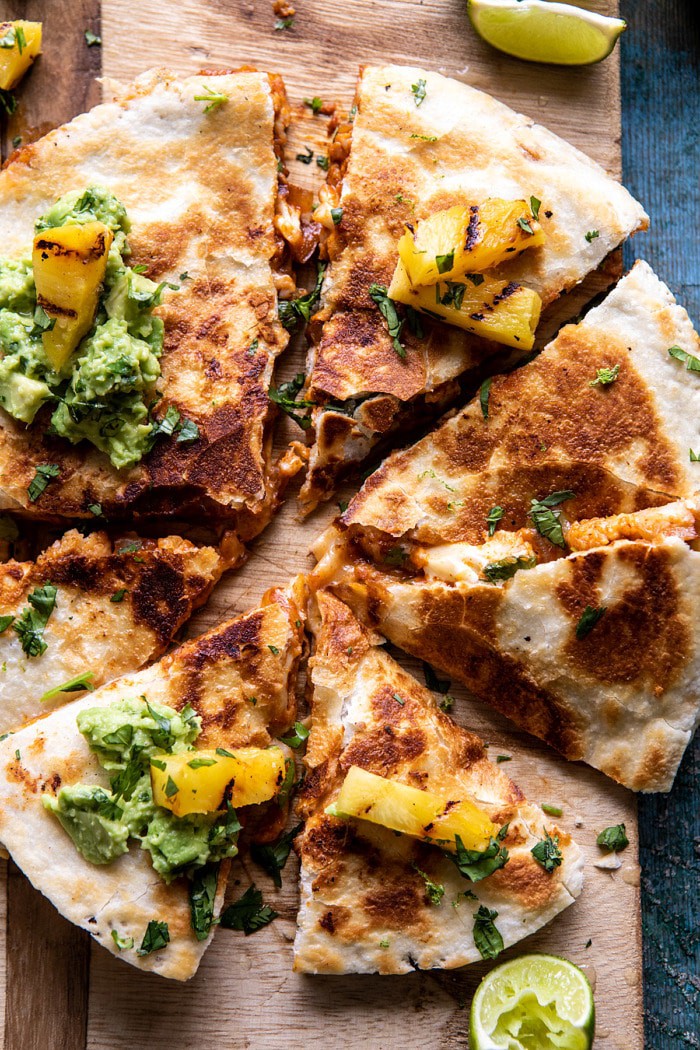 Serve these up as an easy meatless dinner any day of the week…with double the avocado and maybe a side of chips. Why not go all out and add a margarita too. Hey, make weeknights fun, you know!
Tip? Be sure to make more than you need, the leftovers are so good for lunch the next day. Especially with a light spinach salad, to add some extra greens!

If you make these cauliflower al pastor quesadillas, be sure to leave a comment and/or give this recipe a rating! Above all, I love to hear from you guys and always do my best to respond to each and every comment. And of course, if you do make this recipe, don't forget to also tag me on Instagram! Looking through the photos of recipes you all have made is my favorite!

Nutritional information is only an estimate. The accuracy of the nutritional information for any recipe on this site is not guaranteed.
The Recipe
Cauliflower Al Pastor Quesadilla with Lime Smashed Avocado.
When you're craving hearty Mexican, but looking for healthy too. Smoky chipotle pineapple sauce, tossed with cauliflower, stuffed in flour tortillas, then topped with cheese and salty lime smashed avocado.
Prep Time 15 minutes
Cook Time 30 minutes
Total Time 45 minutes
Servings 4
Calories 543 kcal
Ingredients
2 cloves garlic, minced or grated
2 tablespoons chili powder
2 teaspoons smoked paprika
1/2 cup pineapple juice
2 cups fresh pineapple chunks, plus additional pineapple chunks for serving
2 tablespoons extra virgin olive oil
1 head cauliflower, cut into florets
½ of a yellow onion, thinly sliced
1 jalapeño, seeded and diced
1/2 cup fresh cilantro, chopped
4 whole wheat or regular flour tortillas
1/2 cup shredded sharp cheddar cheese
1/2 cup shredded pepper jack cheese
extra virgin olive oil, for cooking
Lime Smashed Avocado
2 avocados, mashed
juice and zest of 1 lime
Maldon sea salt
Instructions
1. In a blender or food processor combine the garlic, chili powder, paprika, chipotle chilies, pineapple juice, vinegar and 1 cup of the pineapple chunks. Blend until completely smooth.

2. Heat the olive oil in a large skillet over medium heat. When the oil shimmers, add the cauliflower, onions, and a pinch each of salt and pepper. Cook for 12-15 minutes or until the cauliflower is tender and the onions have caramelized. Reduce the heat to low stir in the pineapple sauce, the remaining cup of pineapple chunks and the jalapeño. Simmer for 8-10 minutes or until the sauce has reduced and coats the cauliflower, there will still be sauce left in the pan. Remove from the heat and stir in the cilantro.

3. Meanwhile, stir together the avocado, lime juice and zest, and a pinch of salt.

4. Lay the tortillas flat on a clean counter. On top of 2 tortillas, evenly layer the cheeses and cauliflower, then lay the remaining 2 tortillas on top.

5. Heat the olive oil in a large skillet over medium heat. When the oil shimmers, place the quesadillas, one at a time, in the skillet and cook until golden on each side, about 4-5 minutes per side. Serve topped with avocado and grilled pineapple.