Baked Black Pepper Ranch Chicken Fingers with Honey Mustard.
Keeping Monday fun with these Baked Black Pepper Ranch Chicken Fingers with Honey Mustard. Breaded in corn flakes, seasoned with a homemade ranch seasoning blend, oven baked, and served with an addicting creamy, sweet, and tangy honey mustard sauce. These are the grown up version of the chicken fingers we all loved as a kid. And yes, healthier, and so much tastier too. Serve with oven roasted french fries and veggies for an easy dinner that's different, delicious, peppery, and full of flavor.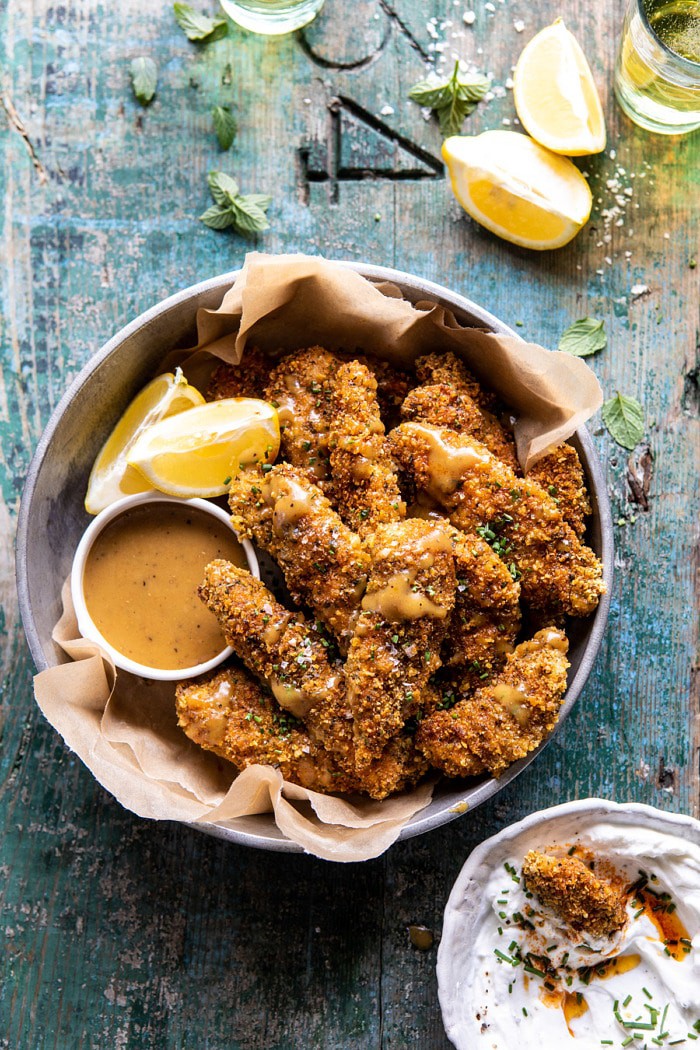 I figured we'd ease into Monday with a fun recipe. Be honest, who does not love chicken fingers, you know? I think we can all agree that even though chicken fingers are seen as a "kid" food, no matter your age, we all love them just as much as we did when we were 10…admit it.
With May just a day away, it's the time of year where my brain switches to the "end of the school year". I've been out of school for many years now. But the month of May will forever signify the end of school and the start to summer. It's a very exciting time of year. And when it comes to food. It leaves me inspired to recreate the foods I loved as a kid… Chicken fingers, preferably eaten by the pool. Pizza, preferably eaten outside on the deck during humid summer nights. And all the ice cream variations you can think of, preferably eaten…all day long!
We still have a few weeks until it's even close to becoming summer weather. But I was too excited about these chicken fingers to not share right away. Plus, I do feel like they're a really fun and non-boring Monday recipe…which we all could use!

When I originally set out to make these, I was not sure about the combo of ranch and honey mustard. I thought it might be weird, but after texting a handful of family members we all came to conclusion that it sounded way too good to not make.
So, with that confidence boost, I made some chicken fingers. And I made some honey mustard. And oh my gosh, it took me back to being a kid. But it was better. Because these chicken fingers actually have flavor.
And they're not fried, which means healthier too.
Yes, please.

Best part? These chicken fingers are so easy to make and every ingredient is a pantry/freezer staple.
Here are the details. Start out by soaking the chicken in some buttermilk. This will help the breading adhere nicely and adds a slight tangy flavor too.
Now, the breading. This is KEY. I use crushed corn flakes as my secret to getting that fried look and taste without actually frying a thing. It's my go-to when it comes to breading chicken. As you can tell from my recent Korean chicken and my southern chicken, it works like a charm. Every single time.
For the seasonings… Homemade ranch with a spicy kick, dried herbs, a good amount of black pepper, and a pinch of cayenne too. It's truly the perfect seasoning blend, and my family loves it so much. Spicy and herby! If you happen to dislike spices, or are serving to kids, just reduce the amounts of black pepper and cayenne to your taste.

While the chicken is baking, make the honey mustard. Traditionally honey mustard is made with mayo, but I wanted to try and keep things a bit healthier. So instead, I made more of a honey mustard vinaigrette, using olive oil in place of mayo. It's still extra creamy, but with more of a honey mustard flavor.
Basically, it's better.
The sweet and tanginess is perfect served alongside these spicy ranch baked chicken fingers. And if you want to take things a step further? Serve with two sauces, and mix up my homemade tahini ranch…
Double dipping…and lovin' it.

If you make this baked ranch chicken fingers, be sure to leave a comment and/or give this recipe a rating! Above all, I love to hear from you guys and always do my best to respond to each and every comment. And of course, if you do make this recipe, don't forget to also tag me on Instagram! Looking through the photos of recipes you all have made is my favorite!
Watch the How To Video:

Nutritional information is only an estimate. The accuracy of the nutritional information for any recipe on this site is not guaranteed.
The Recipe
Baked Spicy Ranch Chicken Fingers with Honey Mustard.
Key Ingredient: chicken
Breaded in corn flakes, seasoned with a homemade ranch seasoning blend, oven baked, and served with an addicting creamy, sweet, and tangy honey mustard sauce. The grown up version of the chicken fingers we all loved as a kid!
Prep Time 20 minutes
Cook Time 20 minutes
Total Time 40 minutes
Servings 6
Calories 371 kcal
Ingredients
2 pounds boneless chicken tenders
1 cup buttermilk
2 cups finely crushed corn flakes
2 tablespoons whole wheat, or all-purpose flour
1 tablespoon dried chives
1 tablespoon dried parsley
2 teaspoons dried dill
1 teaspoon each garlic and onion powder
1 teaspoon cayenne pepper, or chipotle chile powder, use more or less to taste
1 teaspoon kosher salt black pepper
chopped fresh chives or parsley, for serving
Instructions
1. Add the chicken to a gallon size zip top bag. Pour the buttermilk over the chicken. Toss well to coat.

2. Preheat the oven to 425 degrees F. Line a baking sheet with parchment.

3. Add the corn flake crumbs, flour, parsley, chives, dill, garlic powder, onion powder, cayenne pepper, and a pinch each of pepper to a medium sized bowl. Stir to combine.

4. Remove each piece of chicken from the buttermilk, and dredge through the crumbs, pressing gently to adhere. Place on the prepared baking sheet. Repeat until all the chicken has been used. Make sure not to crowd your pan, if necessary use two baking sheets. Lightly brush/drizzle the chicken with olive oil. Transfer to the oven and bake for 15-20 minutes or until the chicken is cooked through.

5. Meanwhile, make the honey mustard sauce. Combine all ingredients in a glass jar and shake or whisk until smooth and creamy.

6. Serve the chicken topped with flaky salt, fresh chives and honey mustard for dipping. Enjoy!