Ultimate Triple Layer Chocolate Bourbon Peanut Butter Buckeye Cake
And that's the short version……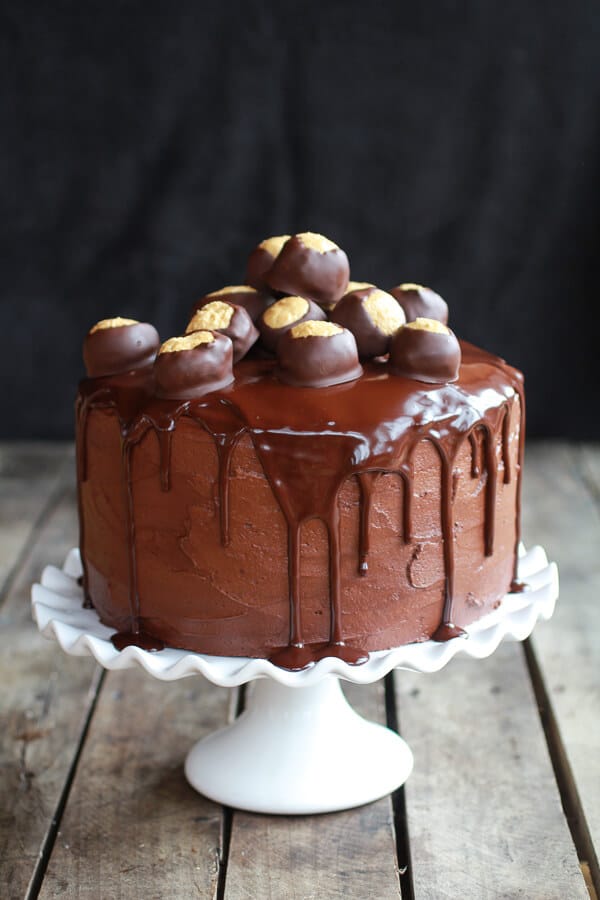 I spent like the last thirty minutes going back and forth in my head about the title for this post.
Keep it simple or go all out? I kind of feel like my recipe titles are always extremely long and I kind of hate that, but I just cannot leave anything out and this cake is no exception.
Although, the title still does not do this cake justice.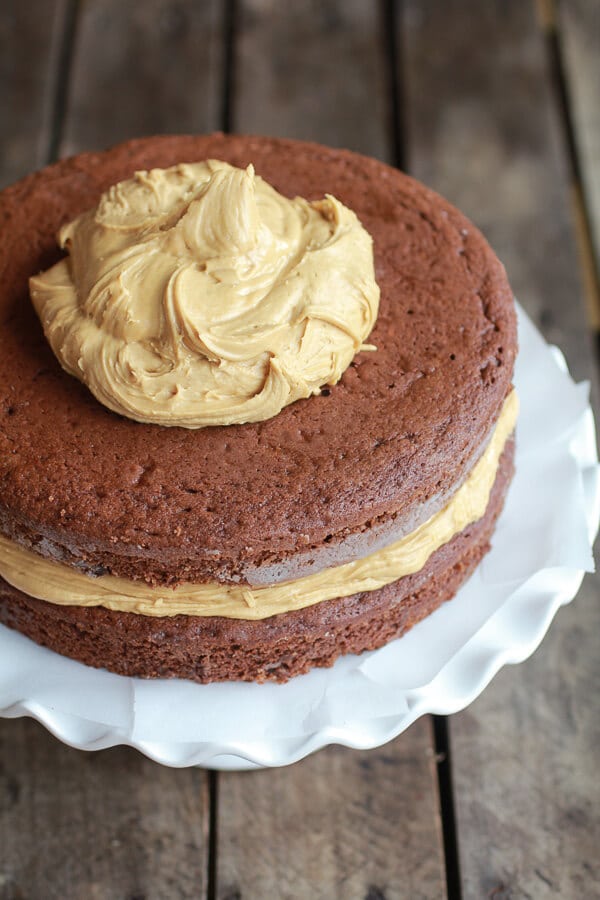 Like not even close.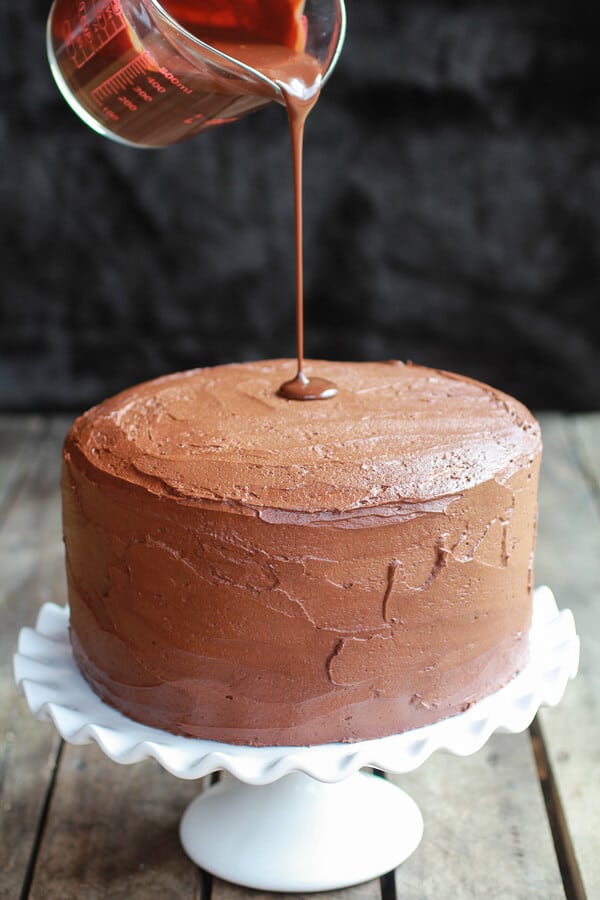 Hands down this is the best cake I have ever made.
Like ever, in all of my nineteen years.
And trust me, I have made my fair share of chocolate cakes. Granted they have all only been straight up chocolate cake and chocolate frosting, but still this cake is epic.
No joking around.
I do not joke about chocolate. Or cake.
Or buckeyes.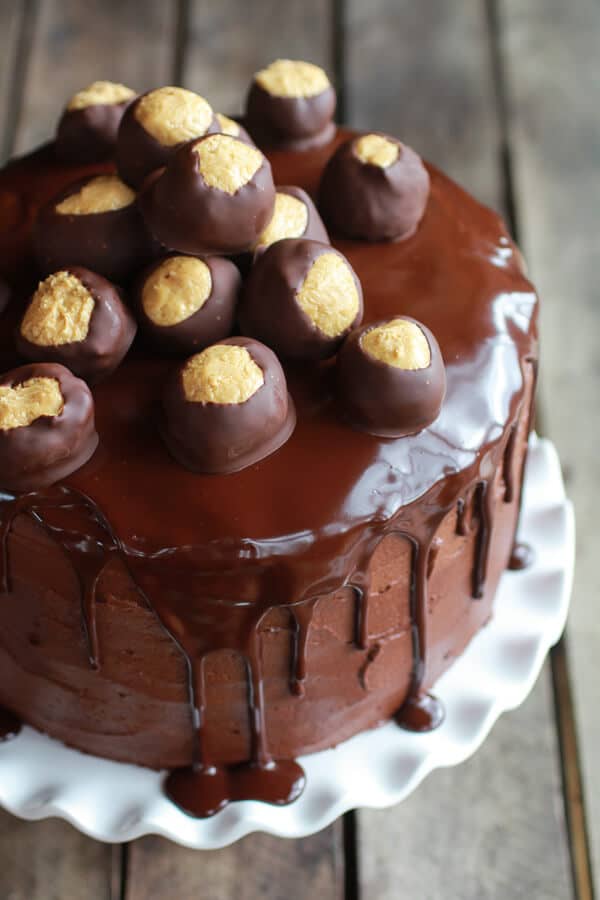 Please tell me you guys know what Buckeyes are?
No, not the things that are all over the ground in Ohio. Sure, those are cute, but I am talking about real Buckeyes. You know, the peanut butter balls that are covered in chocolate? Yeah, chocolate peanut butter lovers heaven.
Originally being from Ohio, I know all about Buckeyes. They were a staple dessert in our house basically any time of the year, but especially come fall when football starts back up. Actually, they are even crazy popular come Thanksgiving and Christmas, yeah I guess at our house they were popular all year around.

With football in full swing I thought it was time.
Time for cake!!
Ah cake, love cake!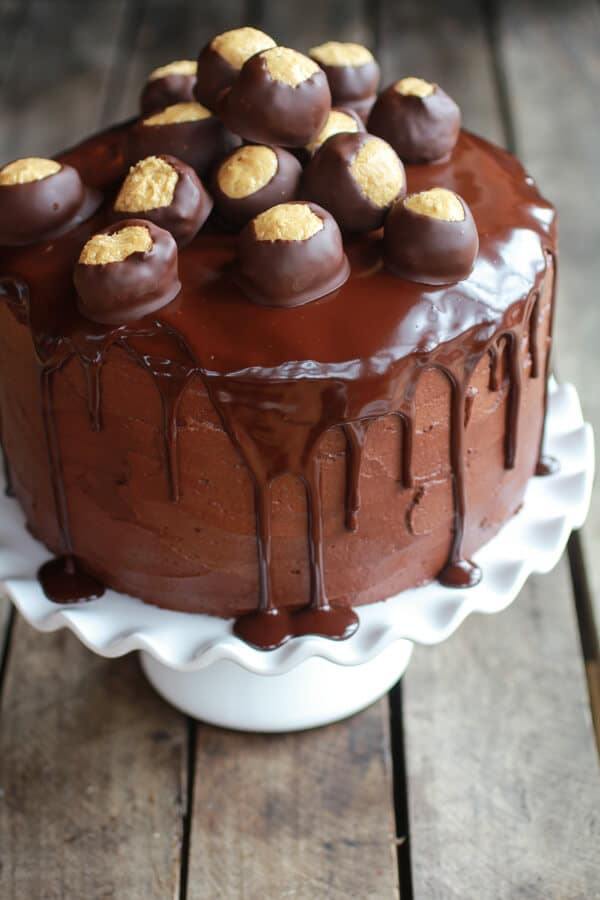 Lately though, I have been feeling like I want to challenge myself. Which is so crazy, since I am in over my head and have no time at all as it is.
So obviously, adding a giant triple layer cake to my to do list was necessary.
So logical, right?
Yeah, I do not think my brain thinks logically. Not sure it is even is capable of logical thoughts.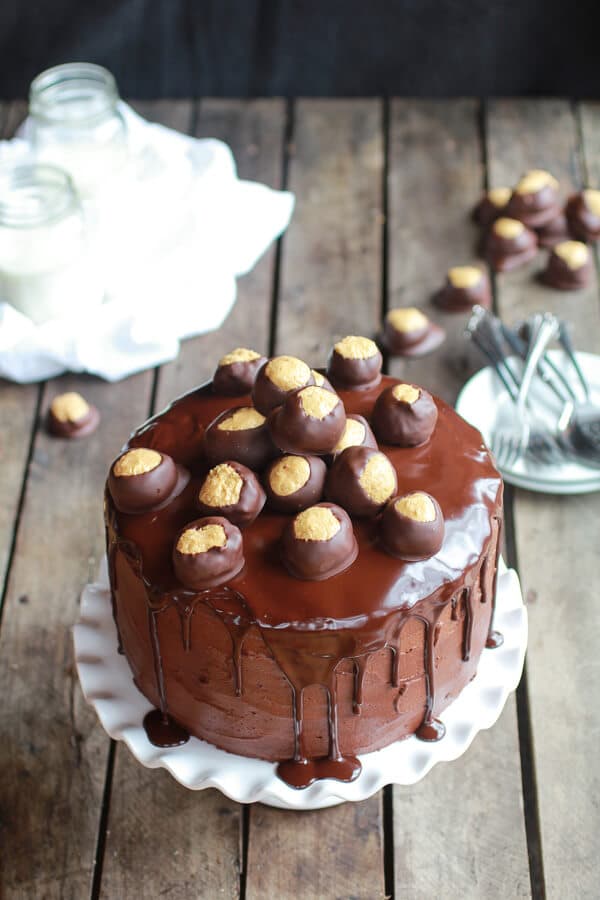 But once the idea was in my head, it was there. Ingrained into my brain just screaming at me, "make cake, make an awesome cake with three layers and two frostings and bourbon ganache, make cake now".
There was nothing I could do to silence my brain, it had to happen.
And it did.
And oh my gosh, it did not topple over.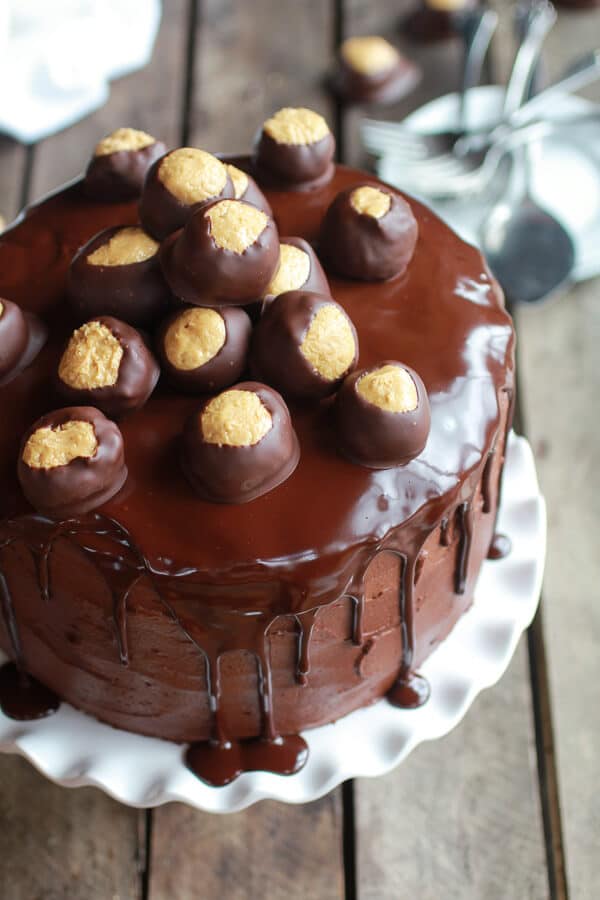 It actually worked and stood up tall with chocolate running down the sides.
It was just what I wanted.
And that? Well, that never happens.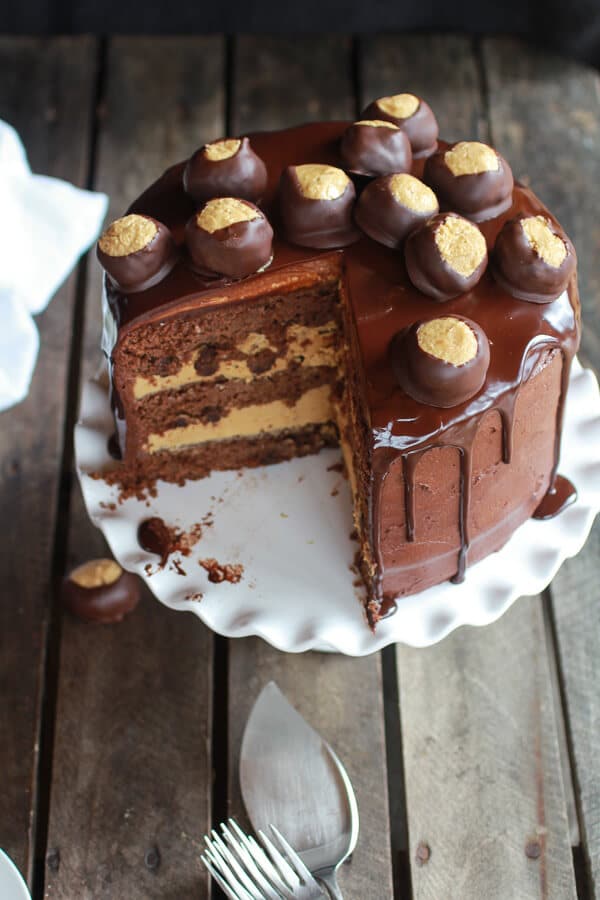 Ok, to be totally honest it did not turn out one-hundred percent the way I wanted, but I just never expect that to happen. My slices were not as perfect as those you see here and here, but I am ok with that. I am no cake master and geez, I am just happy everything stayed together for me!
Taste-wise though it is PERFECT! Seriously, it is going to be the best thing you ever tasted. It's just that good.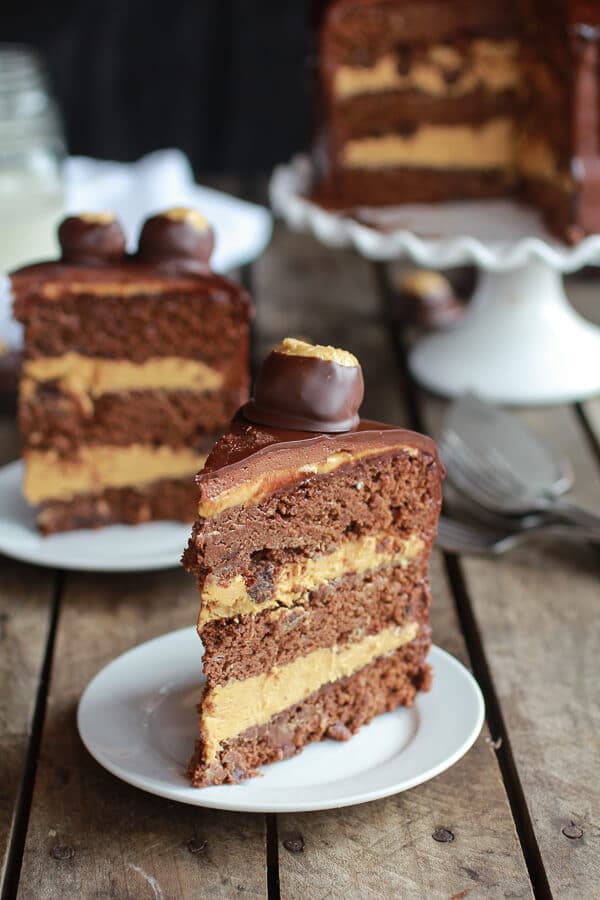 This is not one of those super quick, super easy recipes, but the time you are going to put into it will be SO worth it in the end. I promise.
Making the cake, the frosting and the ganache is nothing hard all, it is just a little time-consuming. Totally doable, you just need to carve out a couple hours to make it.
But again, SO worth it.
Just look at the thing.
Obsessed.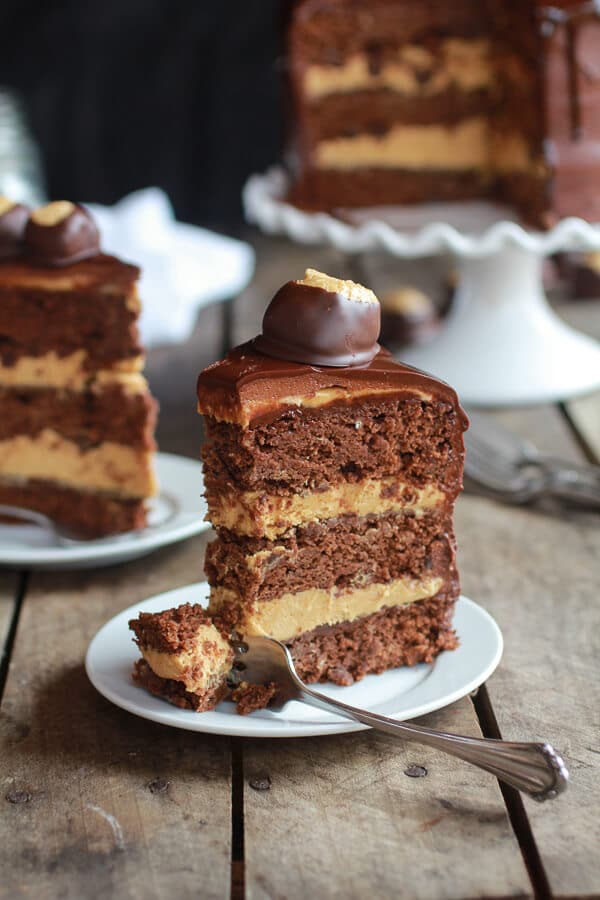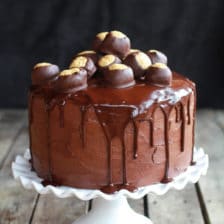 Nutritional information is only an estimate. The accuracy of the nutritional information for any recipe on this site is not guaranteed.
The Recipe
Ultimate Bourbon (Chocolate Peanut Butter) Buckeye Cake
By halfbakedharvest
Course: Dessert
Cuisine: American
Keyword: triple layer cake
Hands down this is the best cake I have ever made!

Prep Time 1 hour
Cook Time 20 minutes
Total Time 2 hours
Servings 30 slices
Calories 541 kcal
Ingredients
Chocolate Bourbon Ganache
3 ounces bittersweet chocolate chopped
4 ounces heavy cream
1 tablespoon bourbon
Chocolate Buckeyes for topping (optional)
Instructions
Preheat the oven to 350 degrees F. Grease 3 8-inch round cake pans.

To make the cake, add the flour, cocoa powder, baking powder and salt to a bowl.

In a microwave safe bowl, microwave the butter and chocolate on high for 30 second intervals stirring in between until melted. Once melted stir in the bourbon and coffee. Set aside.

In the bowl of a stand mixer add 4 eggs, 2 egg yolks, and the sugar. Beat on medium-high speed for about 4 to 5 minutes until light and fluffy and pale in color. Add the canola oil and greek yogurt. Mix to combine. Carefully add in the chocolate mixture until well combined and smooth. Scrape the bottom of the bowl and make sure everything is well mixed, beat one last time.

Add the flour mixture and stir until just combined. It is ok to have the batter be lumpy, but just make sure you do not have too many big chunks of flour in the batter.

Pour the batter among the three cake pans and bake 20 to 25 minutes, until the tops are just set and no longer wiggly in the center. Remove and let cool five minutes, then run a knife around the edges of the pan and invert the cakes onto cooking racks. Let the cakes cool completely before frosting. I like to stick my cakes in the freezer (well covered) for 1 hour or up to 1 day and then fill and frost the cake while it is frozen. Trust me it makes things much easier.

For the peanut butter frosting, add the butter and peanut butter to the bowl of a stand mixer (or you can use a hand held mixer) and beat until light and fluffy, about 3 minutes. Add the powdered sugar and vanilla and beat until combined and smooth. Remove from the bowl and set aside.

To make the chocolate frosting, in a mixing bowl add the butter, powdered sugar, cocoa powder, meringue powder, vanilla and 2 tablespoon milk. Beat on medium speed for 5 minutes, scraping down the sides until the frosting is light and fluffy. If the frosting is too thick add milk to thin. Cover the bowl with plastic wrap and set aside.

Now grab your cakes. Place one cake on a cake plate or platter and add a large dollop (about 1 cup) of the peanut butter filling. Using a knife, or offset spatula, spread the filling out to the edge of the cakes, but leave about 1/4 to 1/8 inch border. Now grab another cake, place it right on top of the peanut butter layer. Add another large dollop of filling and spread out to the edges. Grab the last layer and place it (rounded side down) on top of the peanut butter layer. Add a small dollop of the peanut butter filing and spread out in an even thin layer.

Now take the chocolate frosting and add a large dollop right on top of the cake. spread the frosting evenly on the top and sides of the cake.

To make the ganache, in a microwave safe bowl, microwave the chocolate and cream on high for 30 second intervals, stirring between each until melted. Once melted stir in the bourbon. Pour the ganache on to the middle of the cake and spread to just the sides, allow the ganache to drip down the sides of the cake. Let sit 30 minutes before decorating with buckeyes.

If desired, top the cake with buckeyes and store in the fridge, or on the counter.
Buckeyes
In a large bowl or bowl of a stand mixer, beat together 3/4 cup peanut butter, 1/2 cup butter, 1 tablespoon vanilla and 3 cups powdered sugar. The dough will look dry. Roll into 1 inch balls and place on a waxed paper-lined cookie sheet. Press a toothpick into the top of each ball and chill in freezer until firm, about 30 minutes. Melt 2 cups semi-sweet chocolate chips in the microwave on 30 second intervals (or in a double broiler on the stove), stirring until smooth. Remove the balls from the freezer and dip the balls in chocolate holding onto the toothpick. Leave a small portion of peanut butter showing at the top to make them look like Buckeyes. Put back on the cookie sheet and refrigerate until ready to put on the cake. Once the buckeyes are cold place a few on top of the cake.
Recipe Notes
*Cake adapted from here.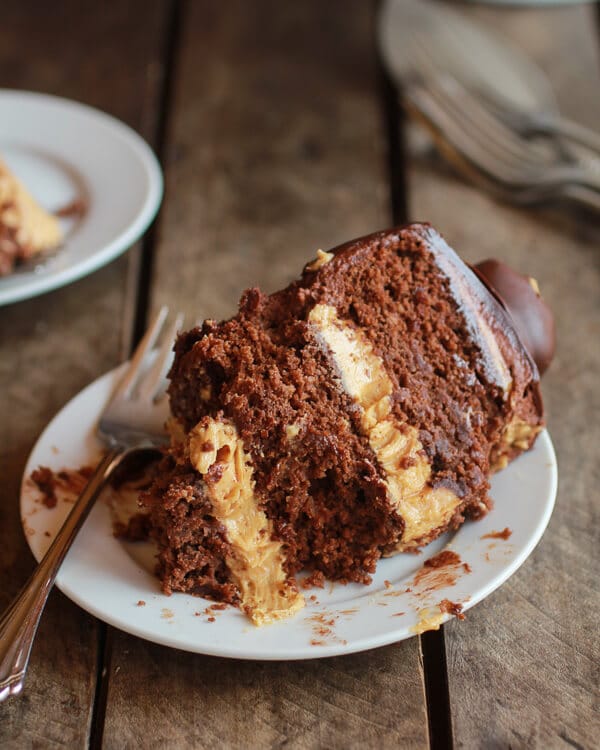 Ultimate Triple Layer Chocolate Bourbon Peanut Butter Buckeye Cake – Devoured.