Spinach and Artichoke Pizza
Oh yeah guys! I am calling today pizza Thursday!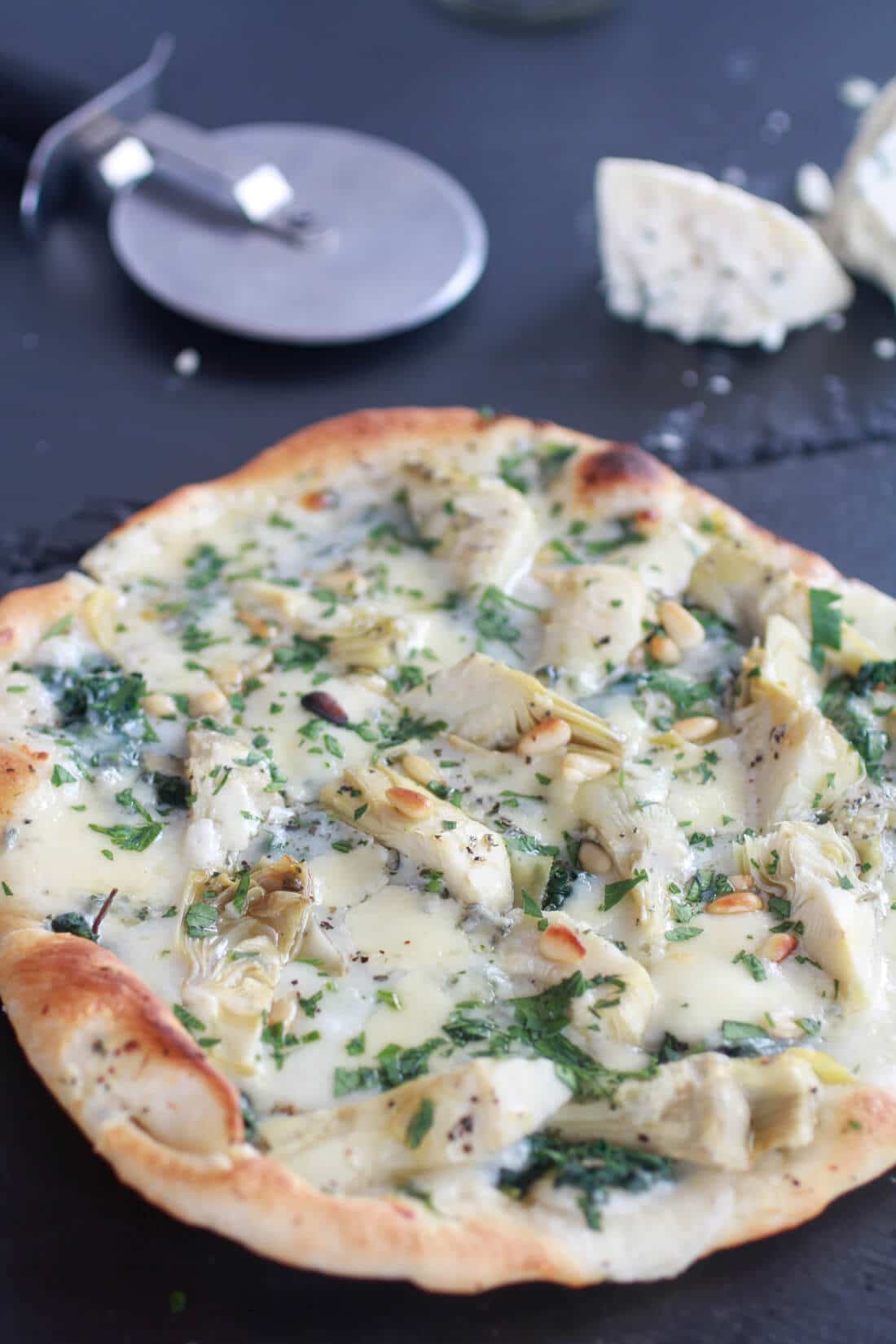 Cause I mean isn't Thursday almost as exciting as Friday?
Thursday is like the final three hours of high school before summer vacation (ok, that may be a bit dramatic). The anticipation is just so exciting!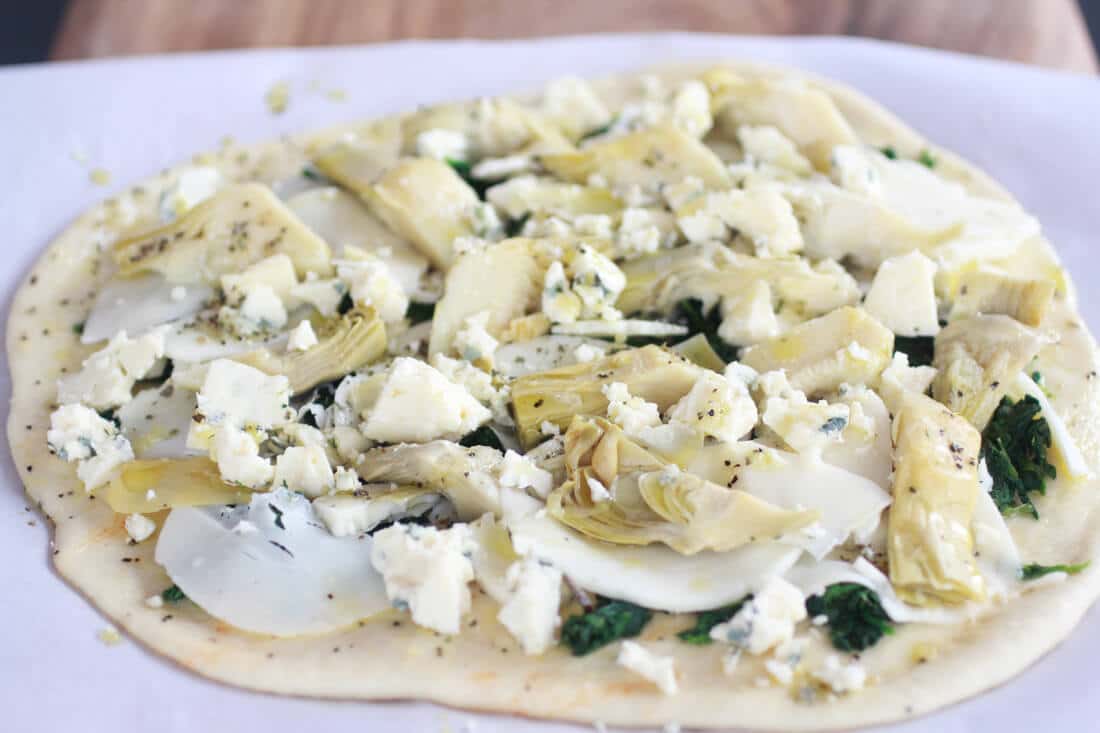 So I have decided that pizza is totally a Thursday meal!
Basically, it is going to get us really pumped for the weekend!
Like an anticipation builder.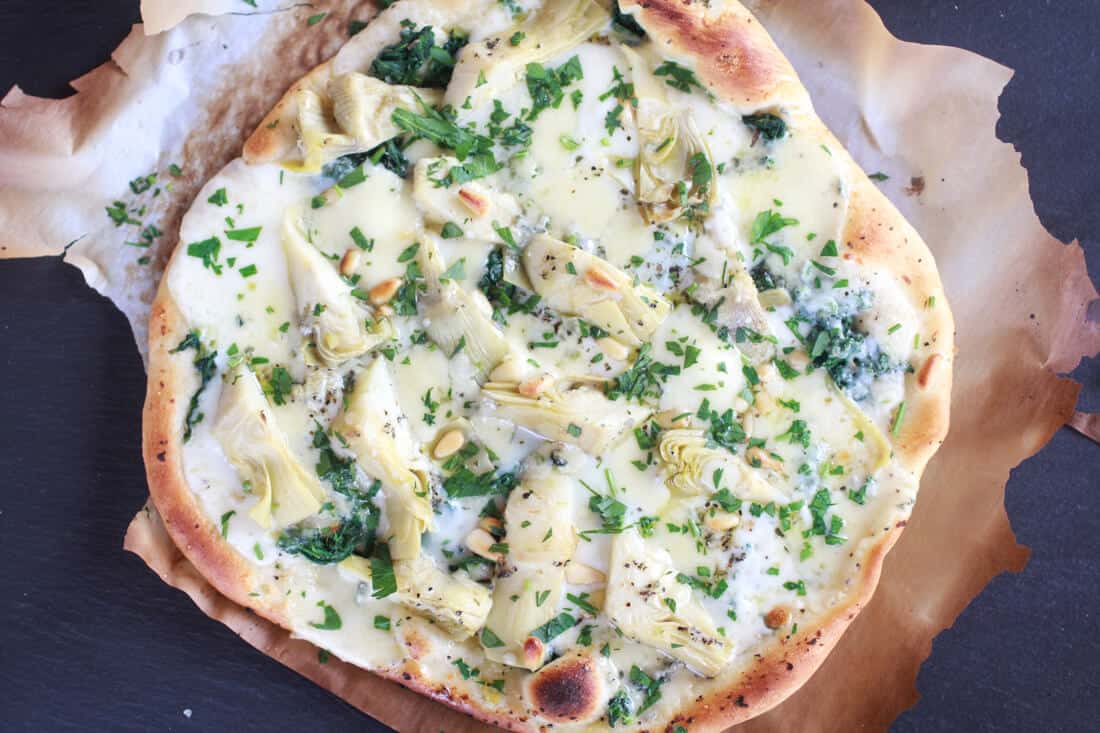 Don't cha feel it building?
Building, building, building…..Bamb!
It's Pizza time!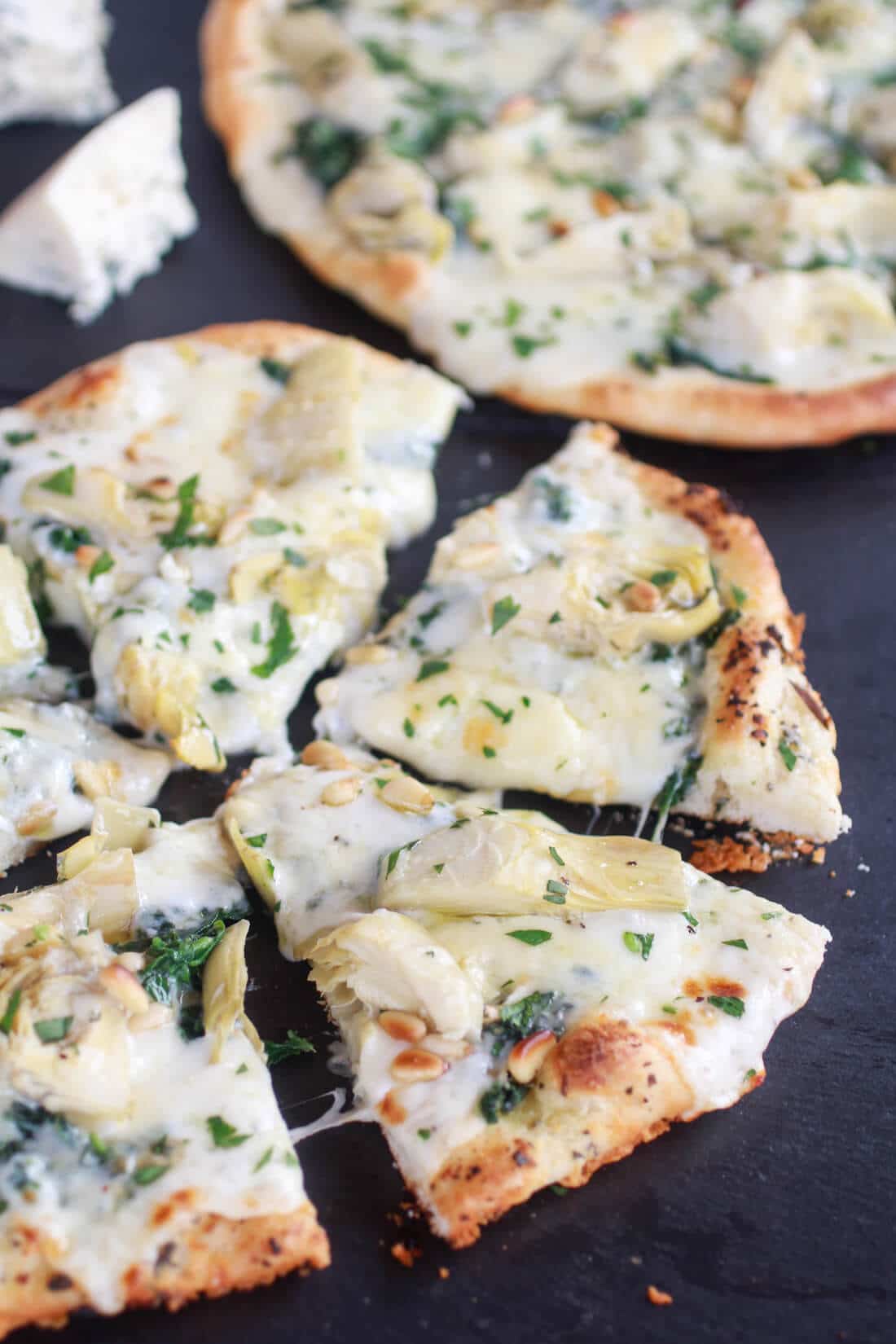 Oh, wow. I have no idea where that came from.
That was about as cheesy as this pizza. Which if you are wondering, I think I put too much cheese on!
Wait, it that possible? No, probably not. But for the sake of pictures it was, I covered all the artichokes in cheese! Oh, well you get the idea. It's a pizza and pizza has to have A LOT of cheese!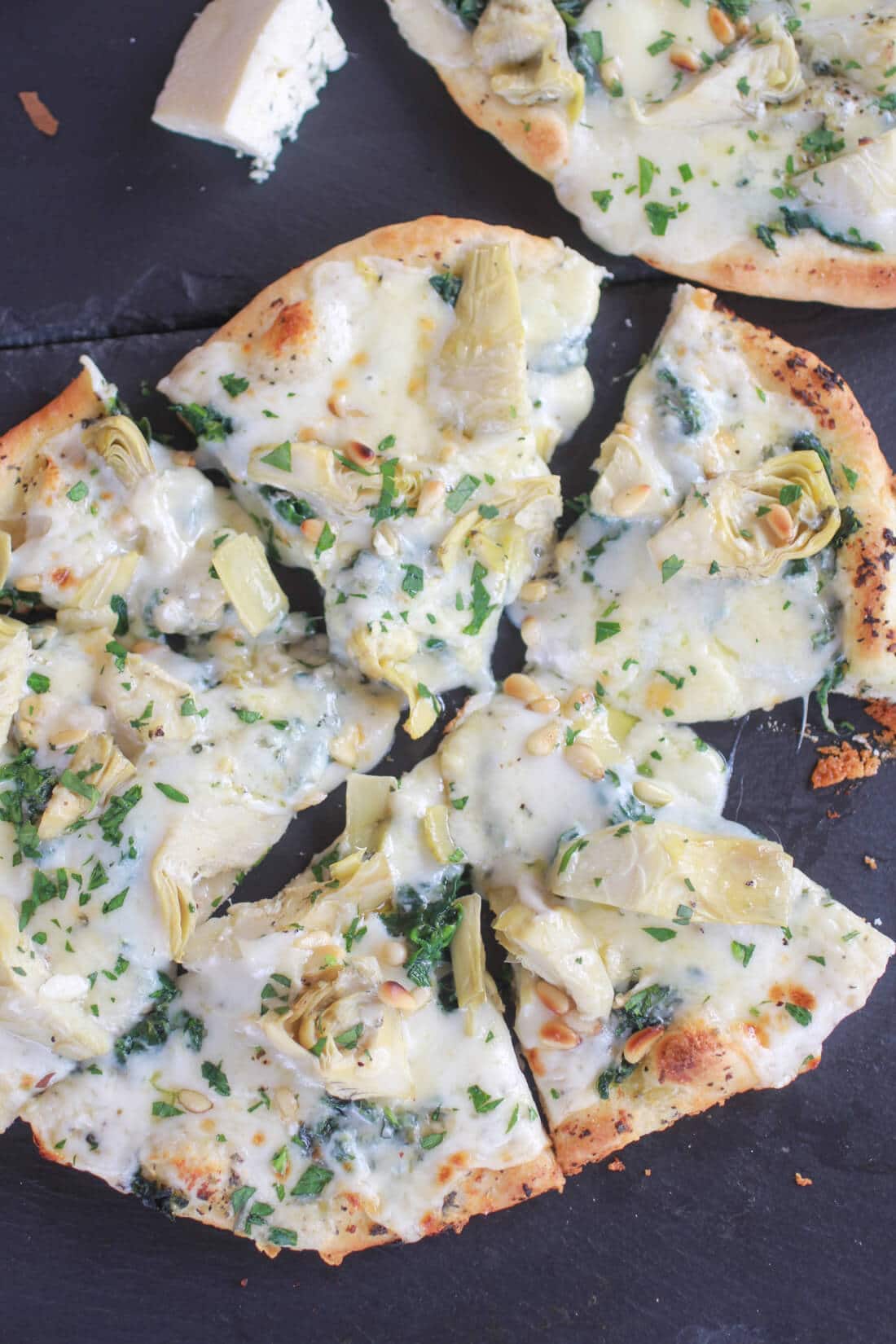 So here's the story. I spent forty five minutes going back and forth between two pizzas.
Seriously, my mind kept jumping from one pizza, back to the other and then back again. I could not decide which one I wanted to do. Finally, my head started to hurt and I decided I would sing Eeny, meeny, miny, moe.
Come one you know how is goes!
Eeny, meeny, miny, moe, Catch a tiger by the toe. If he hollers, let him go, Eeny, meeny, miny, moe.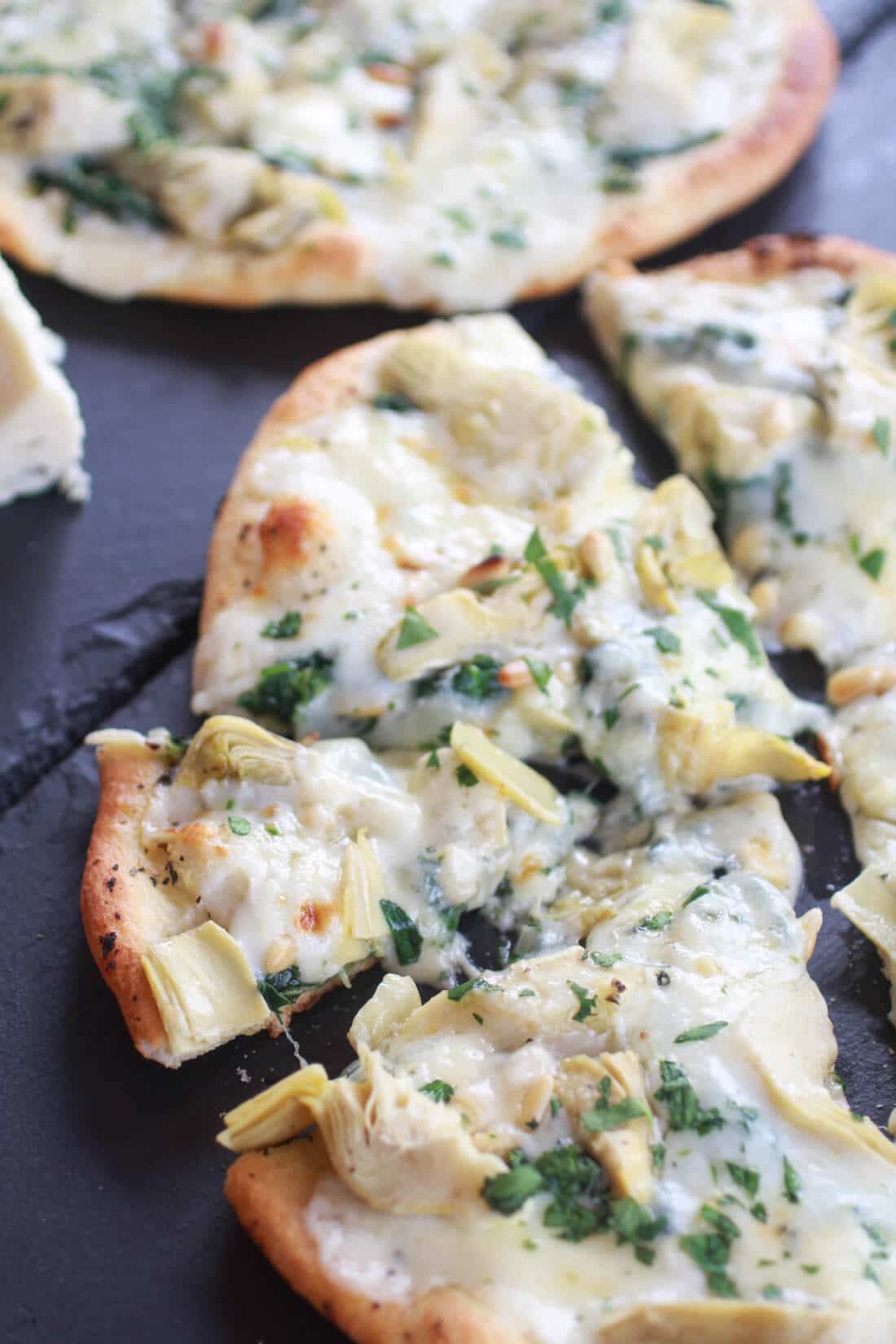 Yeah, apparently I am totally four years old.
Anyway, this pizza is really simple! Garlic infused oil, spinach, marinated artichokes, mozzarella cheese, blue cheese (or feta, because apparently there are people out there who don't like blue cheese!), some basil and some pine nuts. It is kind of a lot like spinach and artichoke dip, just minus the cream cheese and plus some blue cheese.
I am currently obsessed with cooking my pizzas in my skillet ever since this Green Olive Pesto Pizza with Feta Cheese Stuffed Crust (this pizza is so freaking good). I mean the crust is just amazing! However, if this method just isn't for you, feel free to throw your pizzas in the oven, just note that it will take longer. Whatever you do just make this pizza, the combination of flavors is spot on and it is cheesy, bready, deliciousness!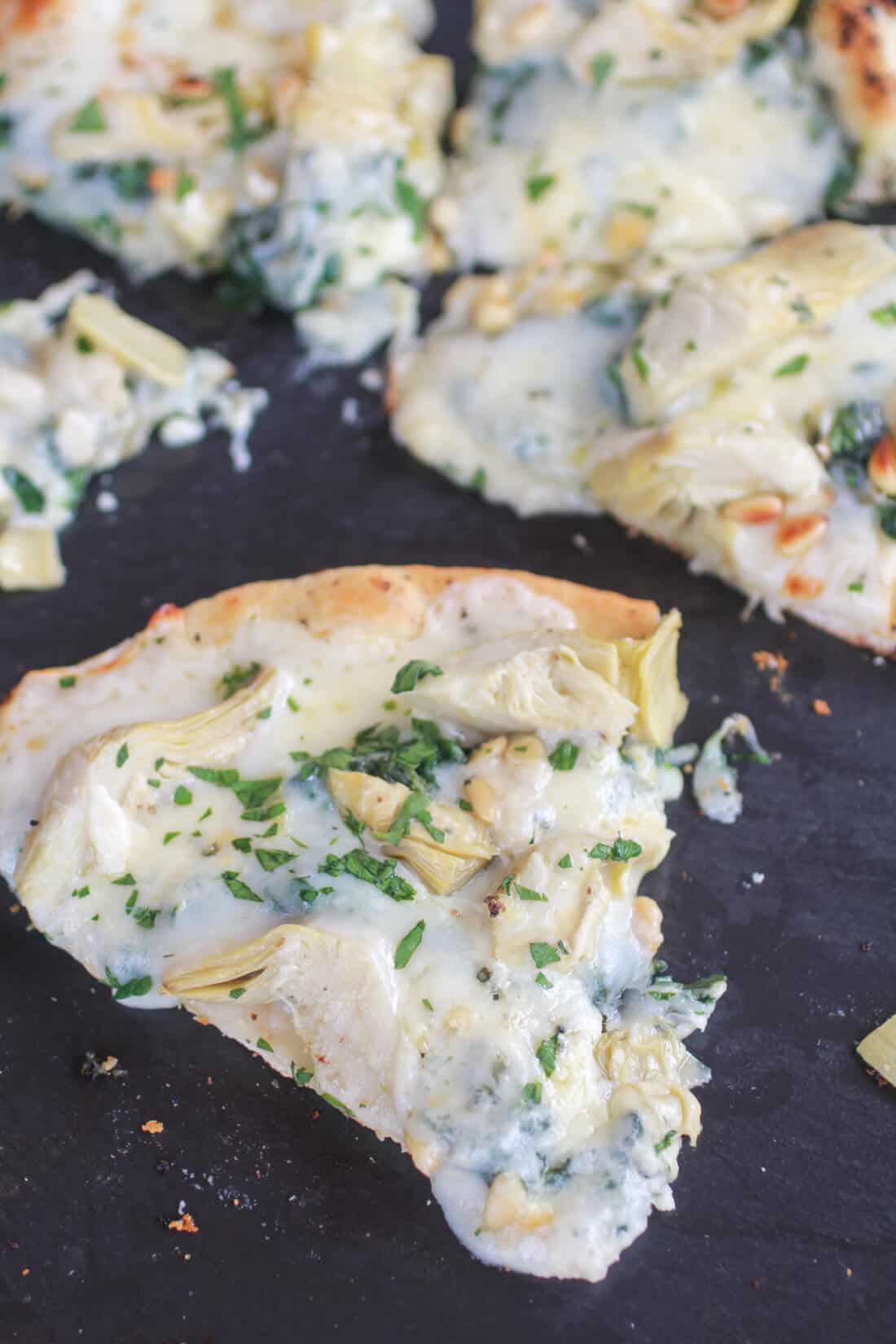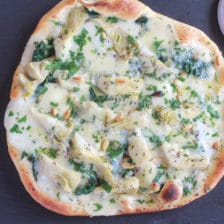 Nutritional information is only an estimate. The accuracy of the nutritional information for any recipe on this site is not guaranteed.
The Recipe
Spinach Artichoke and Blue Cheese (or feta) Pizza
By halfbakedharvest
Course: Main Course
Cuisine: American, Italian
Keyword: pizza
This delicious pizza is really simple! Garlic infused oil, spinach, marinated artichokes, mozzarella cheese, blue cheese, some basil and some pine nuts. It is kind of a lot like spinach and artichoke dip, just minus the cream cheese and plus some blue cheese.
Prep Time 1 hour 15 minutes
Cook Time 5 minutes
Total Time 1 hour 25 minutes
Servings 4 Servings
Calories 684 kcal
Ingredients
1 pound of [pizza dough|https://dev.halfbakedharvest.com/thai-pizza/]
1/4 cup olive oil
3 cloves large garlic minced
1 tablespoon fresh lemon juice
1 teaspoon dried basil
1 teaspoon freshly ground black pepper
1/2 teaspoon salt
1 ounces package frozen spinach thawed and drained, 10
2 cups marinated artichoke hearts drained, about two 7 ounce jars
4 ounces fresh mozzarella sliced thin or grated, about 1 cup
2-4 ounces blue cheese broken into chunks
2 tablespoons pine nuts
2 tablespoons fresh basil for garnish
Instructions
Heat a small skillet over medium heat, add the olive oil and the garlic. Cook for one to two minutes, until the garlic is fragrant (PLEASE - watch closely!! Dont burn the garlic.). Remove from heat and add the basil, lemon juice, pepper and salt. Set aside.

After the dough has risen, punch it down and place it back on the floured surface. This amount of dough yielded 2 pizza crusts for my 12-inch cast iron skillet. If you're using an 8-inch skillet, you may get 3 crusts. Divide the dough evenly in half (or thirds). Roll out your dough just a little larger than the size of your skillet. Place on a large sheet of parchment paper.

Place an oven rack directly under your broiler and preheat your broiler to the highest setting. Additionally, place your cast iron skillet on the stovetop burner, turning the heat on high. You want to heat the skillet for 10 minutes. If it begins to smoke a lot, you can reduce the heat a bit. But you want it HOT.

While the skillet is heating, begin placing your toppings on your dough. Brush half of the garlic oil on each pizza and then scatter the spinach (make sure you squeezed your spinach of any excess liquid) evenly among both pizzas. Top with the mozzarella cheese, then the artichokes, then scatter on the blue cheese crumbles and finish with a sprinkle of the pine nuts.

When your skillet is hot carefully lift the pizza (holding onto the sides of the parchment paper) and place it in the skillet. Let it cook for no longer than 25 seconds. After 25 seconds turn the heat off and grab the skillet and pop it in the oven, right under the broiler. Broil for 1 minute, then using the potholder, grab the handle and rotate 180 degrees, broiling for only 1 more minute. Remove immediately and place on the stovetop. Carefully lift or slide the pizza out and repeat with the other pizza. Top both pizzas with fresh basil. Slice and serve!

*If you prefer to make the pizza completely in the oven just skip the skillet and broiler. Instead heat your oven to 350 degrees and bake your pizza for 25 to 30 minutes. Remove and top with basil. Let sit five minutes and slice and serve.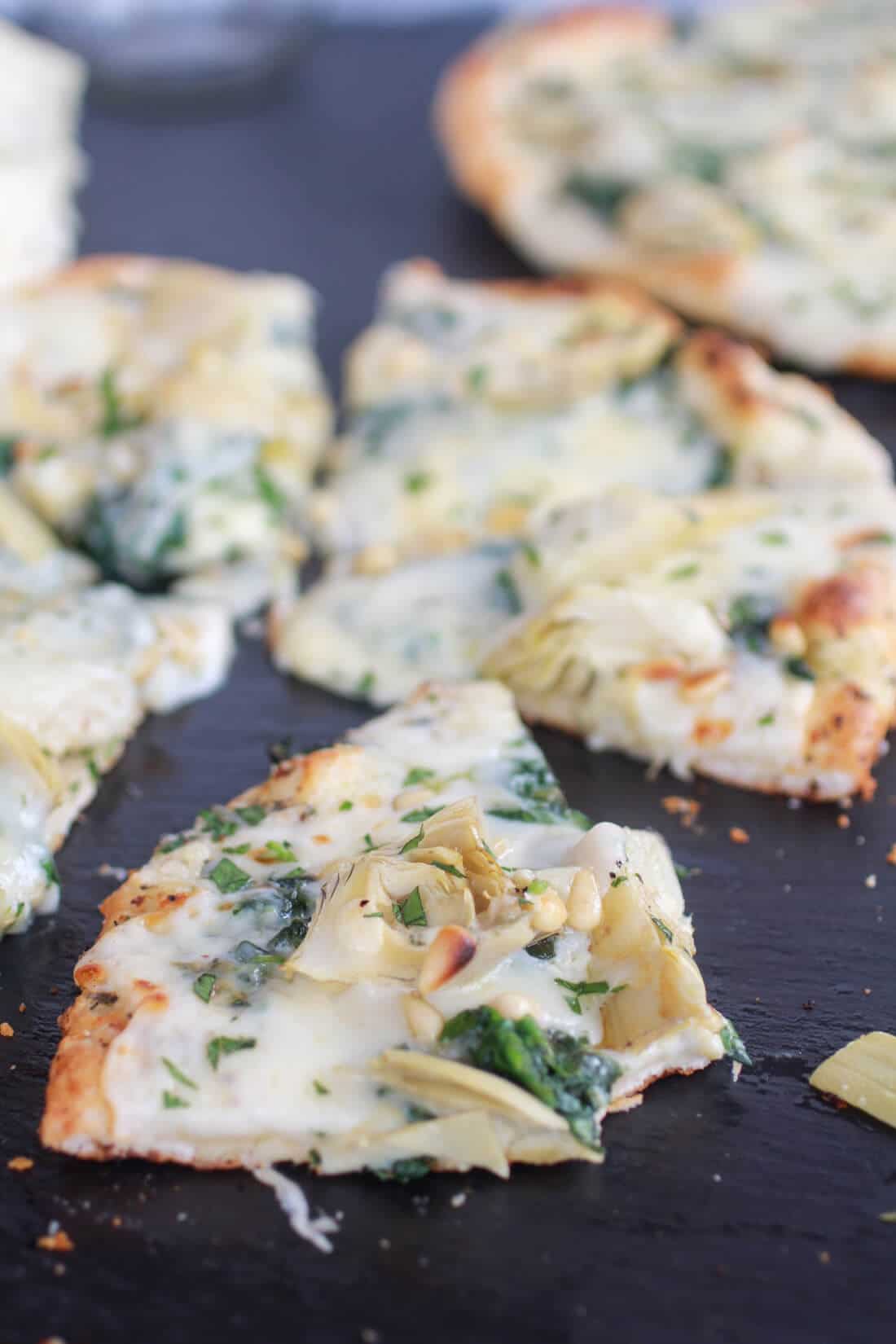 YAY for Thursday night pizza!
Thanks for reading and please keep in touch by Subscribing to Half Baked Harvest tand follow me on Twitter, Pinterest, Facebook and Bloglovin.

Shared with: Time to Sparkle, Lil Luna, Chef In Training, Buns In my Oven, Foodie Friday Friends, Tidy Mom, Taste and Tell, Cheerios and Lattes, Somewhat Simple, Mom on Timeout, I Heart Nap Time, Fine Craft Guide, The Country Cook, Whipperberry, Chef In Training, Thursday's Treasures, A Pinch Of Joy, Whats Cooking With Ruthie, Watch Out Martha