Green Olive Pesto Pizza with Feta Stuffed Crust, Roasted Red Peppers and Balsamic Drizzle
Did you guys watch the Oscars last night? Because, this Green Olive Pesto Pizza with Feta Stuffed Crust, Roasted Red Peppers and Balsamic Drizzle is SO Oscar-worthy!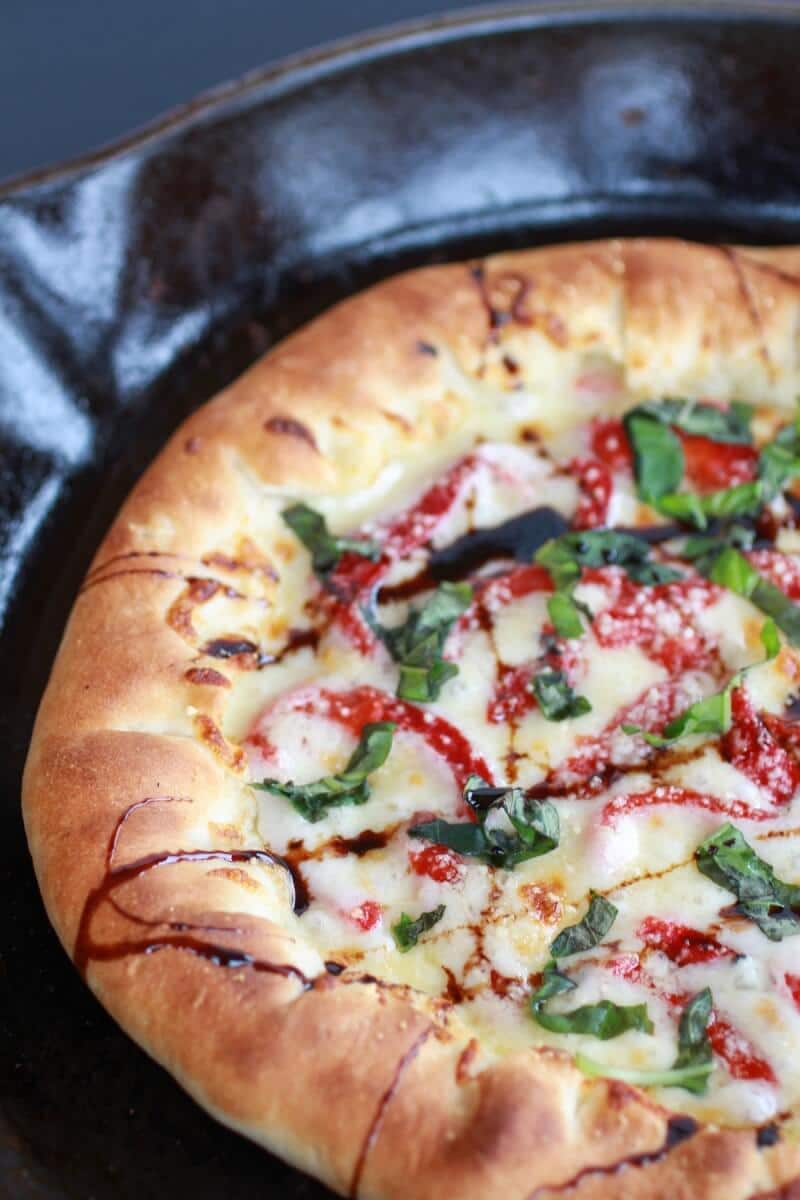 Cause I didn't. It was kind of one of those weekends. When everyone was getting on each other nerves and things just did not go right. It was busy and tiring. Come 7:00 last night all I wanted was my pillow and my big down blanket cause it is FREEZING and we just got like 3 feet of snow.
Can you fill me in? Were there any "Oh my gosh did that really just happen?" moments? Who wore the best dress? Who is going to be torn apart by that show on E News, Fashion Police?
Oh, man to be a celebrity I don't think I could do it. Everyone constantly judging you, it has to be awful!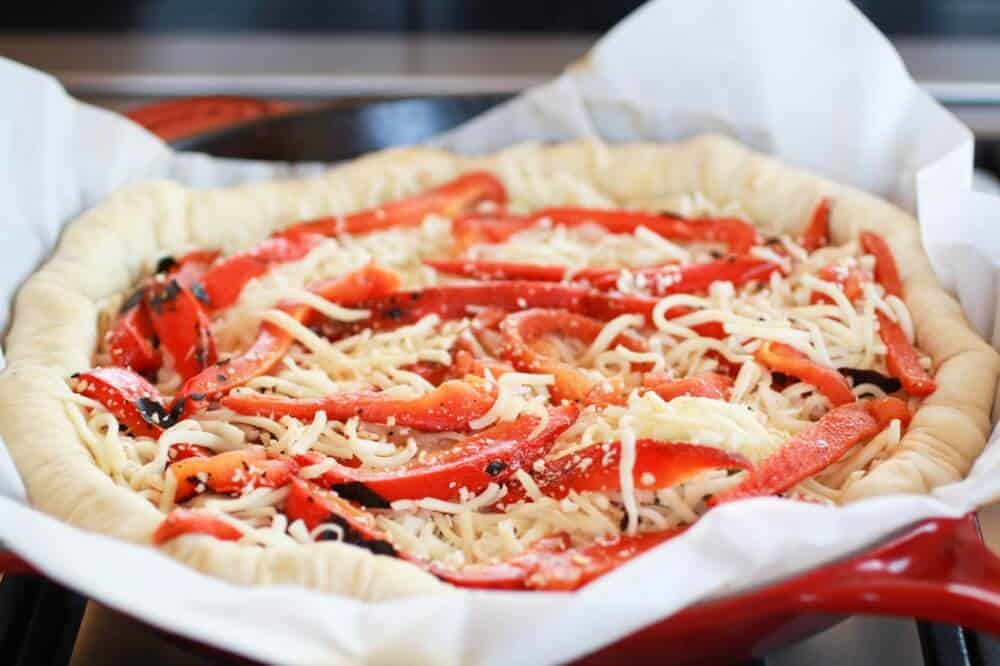 So, you know what I am just realizing?
This pizza is SO Oscar worthy. Too bad I am a day late!
Whatever, pizza is good anytime. Especially this one.

I do not even know where to start with this pizza. I guess with the crust. Well no, actually I should start with the method of cooking the pizza.
Guys, you are going to cook up this pizza in your cast iron skillet. Yes, in your skillet. Your screaming hot skillet.
It is kind of like making your own brick pizza oven at home. It is insane. I was so excited, you should have seen me. Like a kid who just learned they are getting a snow day.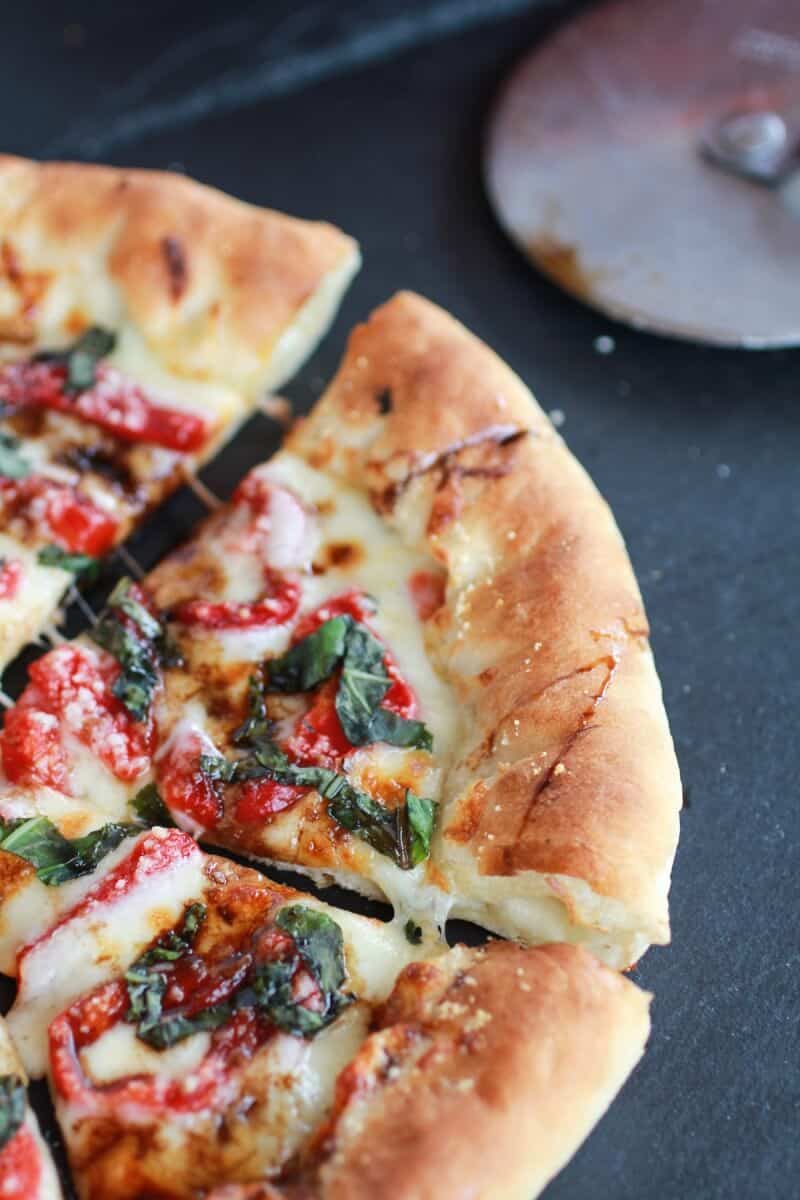 After I made that Greek Pita Bread using my skillet, I knew cooking a pizza that way would be delicious. I mean those things were awesome (and really they were so much better than anything at the store). It was kind of no brainer after that.
Let just say one screaming hot skillet does awesome things to bread dough. Awesome things.
Oh, yeah and then I stuffed the crust with feta cheese. It was good.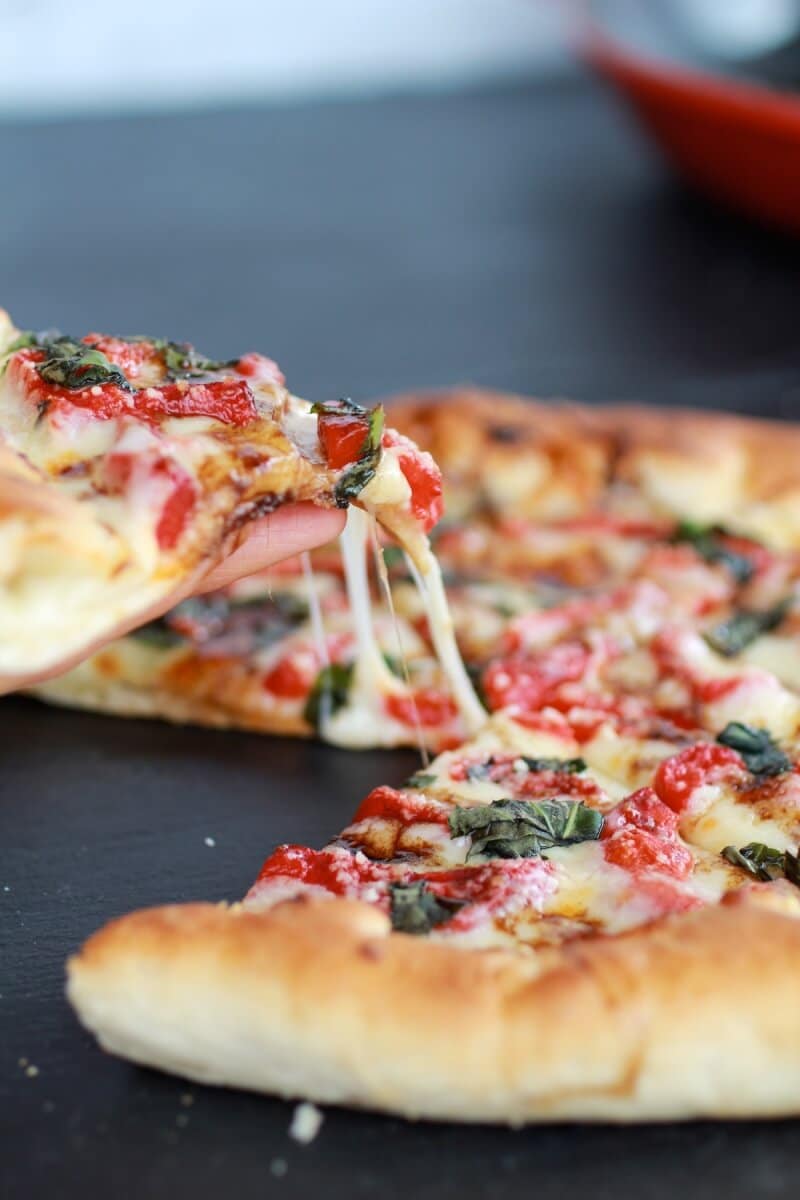 Ok, now the pesto.
It's not your traditional basil pesto. Nope, this is an Italian green olive pesto. Yes, I put olives in my pesto and it was pretty good. Even mom who hates olives loved it. Honestly, you would never know I used olives, except that I just told you. They give the pesto an awesome tang and a nice salty flavor that goes really well with the flavors of the pizza. Very Italian. Seriously, give the olives a try. Promise you won't regret it.

Lastly, (I know, there is more) I topped the pizza with some mozzarella cheese and roasted red bell peppers. Then once it came out from under the broiler a sprinkle of fresh basil and a drizzle of balsamic reduction. The balsamic reduction is the perfect finishing touch to this pizza. It complements the flavors so well.
Don't skip the balsamic reduction. It you want to make it at home just reduce one cup of balsamic vinegar with 1 teaspoon brown sugar until thickened to a syrup. That's it. Done.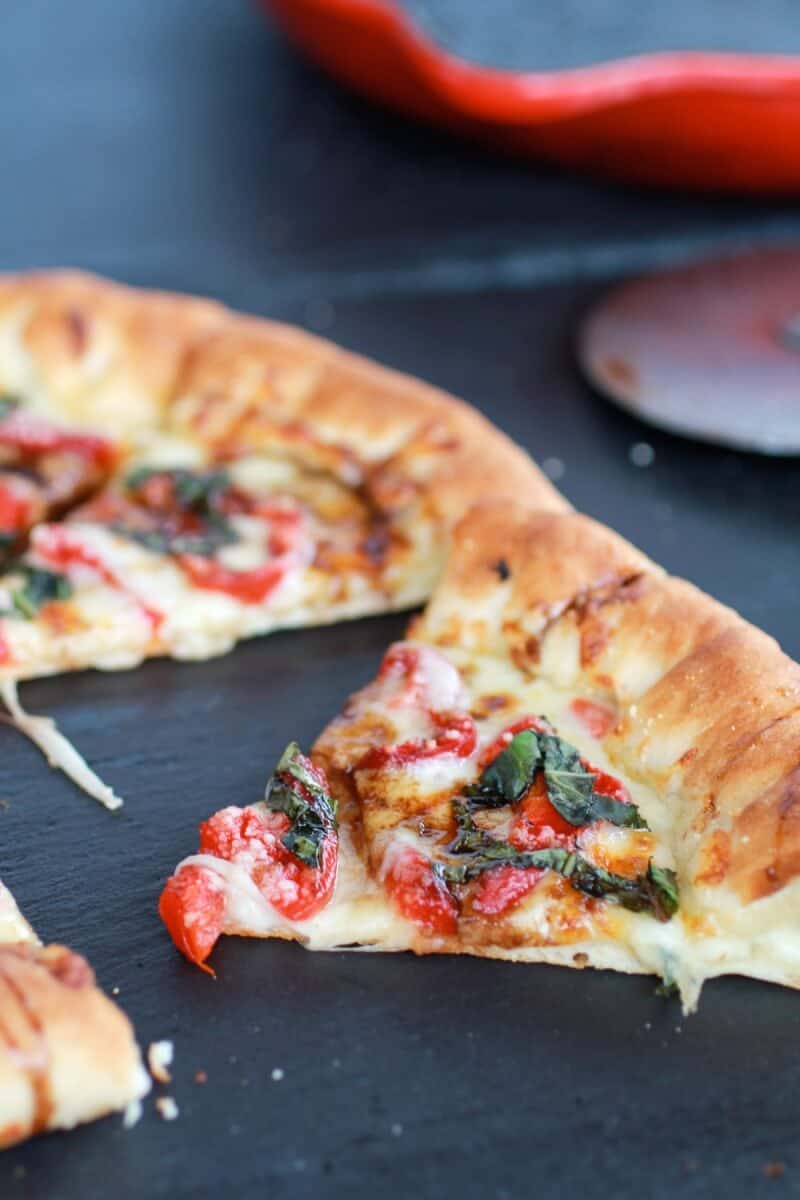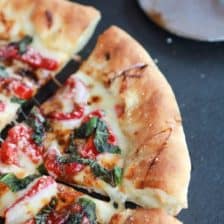 Nutritional information is only an estimate. The accuracy of the nutritional information for any recipe on this site is not guaranteed.
The Recipe
Green Olive Pesto Pizza with Roasted Red Peppers and Feta Stuffed Crust
By halfbakedharvest
Course: Main Course
Cuisine: Italian
Keyword: stuffed crust pizza
A stunning pizza with a special stuffed crust!
Prep Time 1 hour 30 minutes
Cook Time 3 minutes
Total Time 1 hour 33 minutes
Servings 2 pizzas
Calories 1282 kcal
Ingredients
1 pound pizza dough or your favorite dough recipe (makes enough for two pizzas)
Green Olive Pesto : makes enough for one pizza
1/2 cup green olives mine were marinated in Italian herbs
1/2 cup grated parmesan cheese
1/4 cups fresh parsley
1 clove large garlic
1 pepperoncini optional
1/4 olive oil or more depending on the consistency you want your pesto to be
Toppings:
1 cup mozzarella cheese
4 ounces feta cheese crumbled
1 ounces jar roasted red bell peppers* 6-8
6 leaves fresh basil
balsamic reduction for drizzling*
Instructions
To prepare the pesto: in a food processor, combine olives, parmesan cheese, parsley, garlic and pepperoncini and blend 1 minute. With motor running, slowly pour in olive oil until a thick, smooth paste is formed. Allow to stand 1/2 hour before using.

To make the crust: After the dough has risen, punch it down and place it back on the floured surface. This amount of dough yielded 2 pizza crusts for my 12-inch cast iron skillet. But I stuffed the crust with cheese, so if you skip this step make your crust on the thicker side. If you're using an 8-inch skillet, you may get 3 crusts. Divide the dough evenly in half (or thirds). Roll out your dough just a little larger than the size of your skillet. Place on a large sheet of parchment paper and then place on a pizza peel or large pan flipped upside down. Instead of using parchment paper you can just place the dough on an extremely well floured pizza peel, but I found it was easier to be able to lift the pizza into the pan rather than sliding it in (my toppings fell of first try). Once your dough is on the peel place half to three fourths of the feta cheese around the outer edge of the dough. Roll the edges up and over the cheese pinching the dough to seal in the cheese.

To make the pizza: Place an oven rack directly under your broiler and preheat your broiler to the highest setting. Additionally, place your cast iron skillet on the stovetop burner, turning the heat on high. You want to heat the skillet for 10 minutes. If it begins to smoke a lot, you can reduce the heat a bit. But you want it HOT.

While the skillet is heating, begin placing your toppings on your dough. Remember, the dough MUST be on a well-floured pizza peel (or use parchment paper) so you can simply slide the entire thing into the skillet. Spread all of the pesto on one dough round. Top with shredded mozzarella cheese, roasted red peppers and the remaining feta cheese. Place a potholder or thick towel on the handle of the skillet (it will be sooo hot). Carefully slide the pizza into the skillet (or if using the parchment paper carefully lift the pizza and place in the pan), dough side down. After about 30 seconds, turn off the burner, grab the skillet and pop it in the oven, right under the broiler. Broil for 1 minute, then using the potholder, grab the handle and rotate 180 degrees, broiling for only 1 more minute. Remove immediately and place on the stovetop. Top with fresh basil and let cool slightly for about 5 minutes, then use a large spatula or carefully slide the pizza out to remove and drizzle with balsamic reduction.

To roast your own red peppers you can either broil one in the oven or place it directly on a gas top burner and char all sides of the pepper. Once all sides are charred remove the pepper from the broiler or stove top and place in a bowl and cover. Allow to sit for 5 minutes and remove and peel the charred parts away. Slice and use. Balsamic glaze can be purchased in the Italian aisle of most grocery stores, or you can also make it yourself by simply reducing 1 cup of balsamic vinegar with a spoonful of brown sugar until thick and syrupy.

Skillet method adapted from

Bev

Cooks

I told you it was Oscar worthy.
Shared with: Inside BruCru Life, Lil Luna, Chef In Training, Buns In my Oven, Foodie Friday Friends, Tidy Mom, Taste and Tell, Cheerios and Lattes, Somewhat Simple, Mom on Timeout, I Heart Nap Time, Fine Craft Guide, The Country Cook, Whipperberry, Chef In Training