Homemade Blizzards with Reese's Peanut Butter Eggs!
So, it is totally Blizzard time!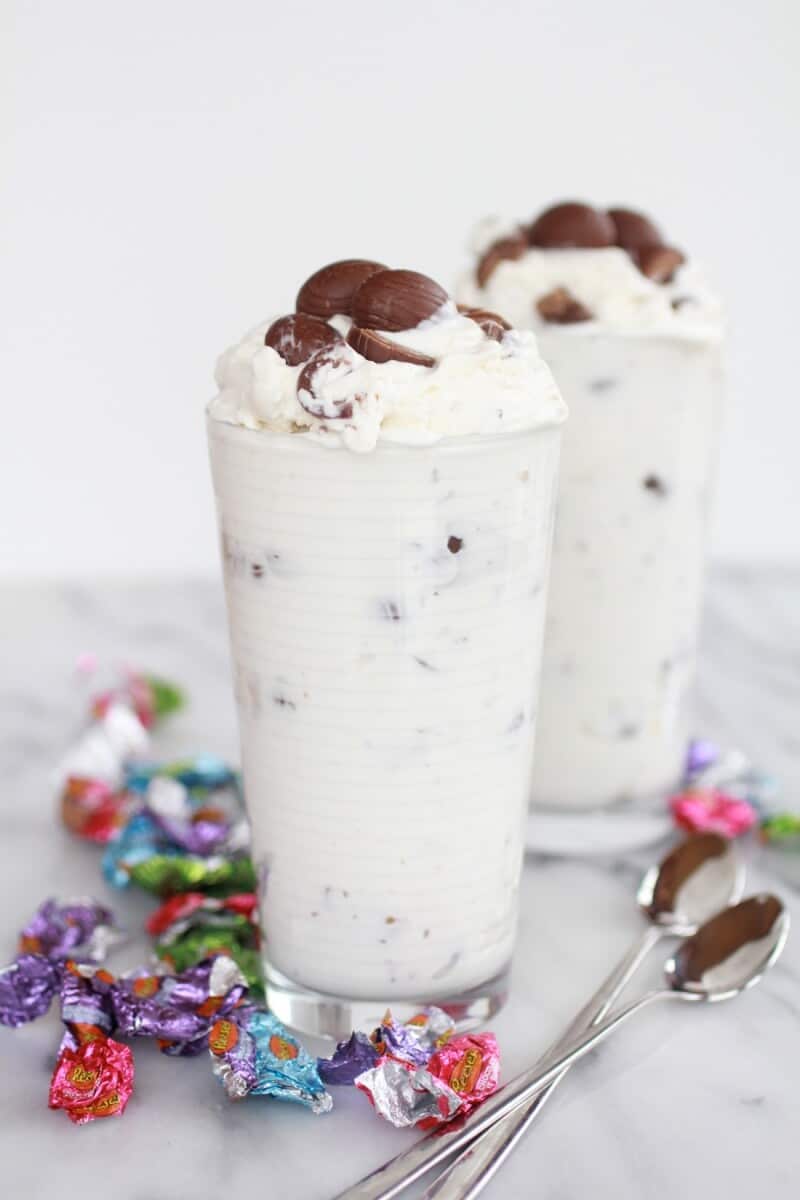 And I am talking the ice cream kind, not the snow kind.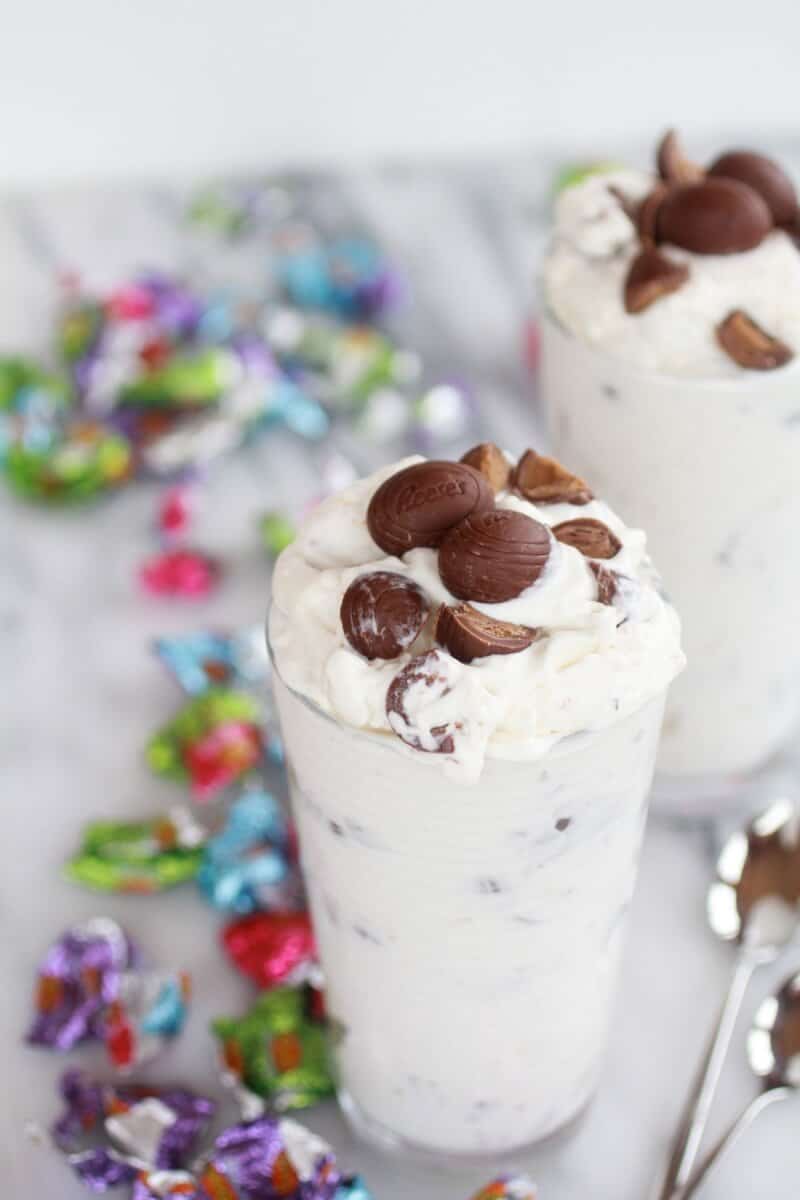 Although, it is currently snowing like crazy right now. There were times during the day today that there were white out conditions.
White out conditions!
Spring time in the mountains of Colorado = Major dumpings of snow.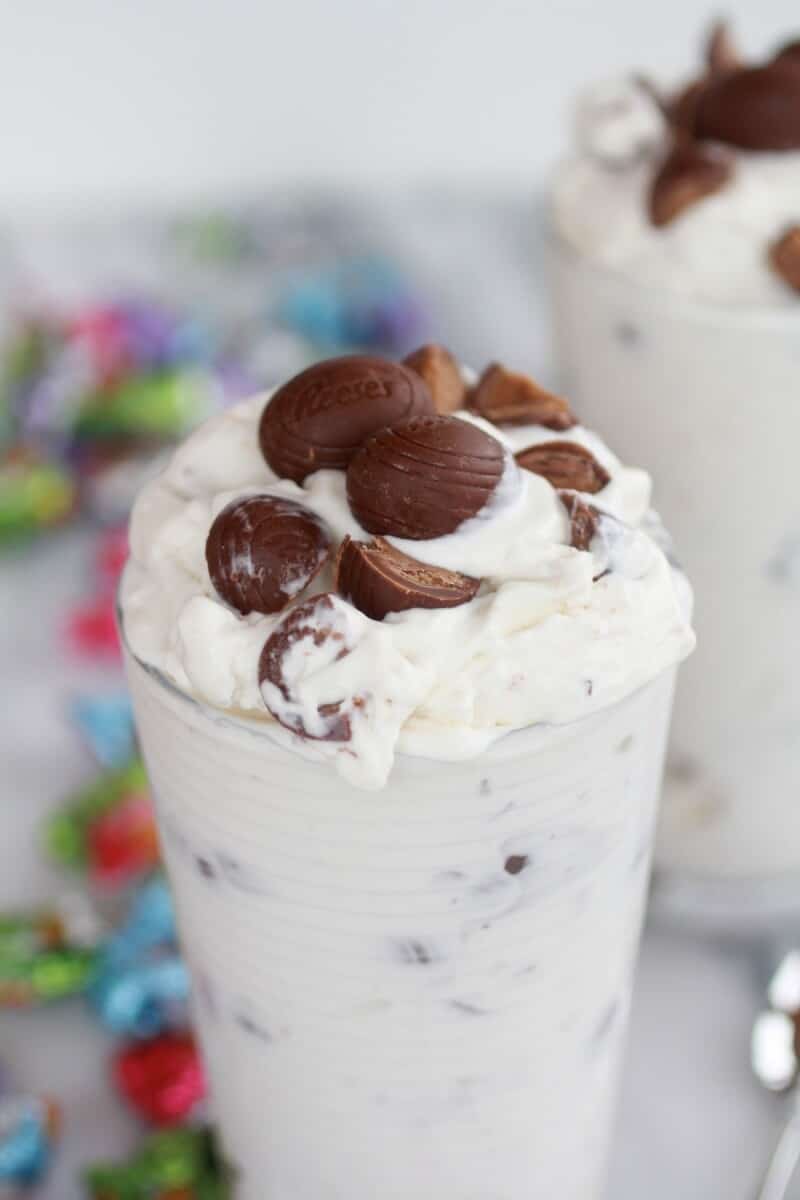 So why the heck am I making blizzards in the middle of one?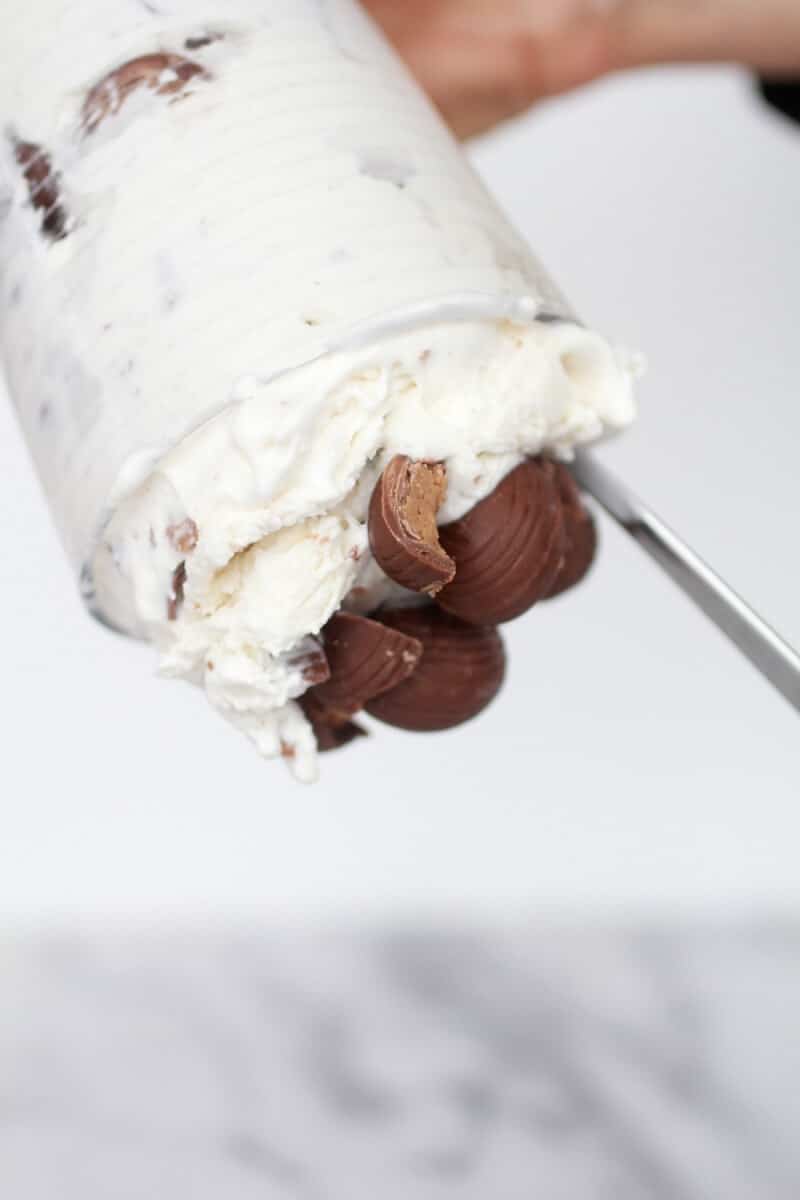 Truthfully, because I had already planned on making this today (me, very planned and organized). Wishful thinking on my part? Yeah probably, I definitely should know better, but hey, a girl can dream.
So I made a homemade Blizzard – just like the ones at DQ, but better!
Specifically, a Reese's Peanut Butter Eggs (for Easter!) Blizzard!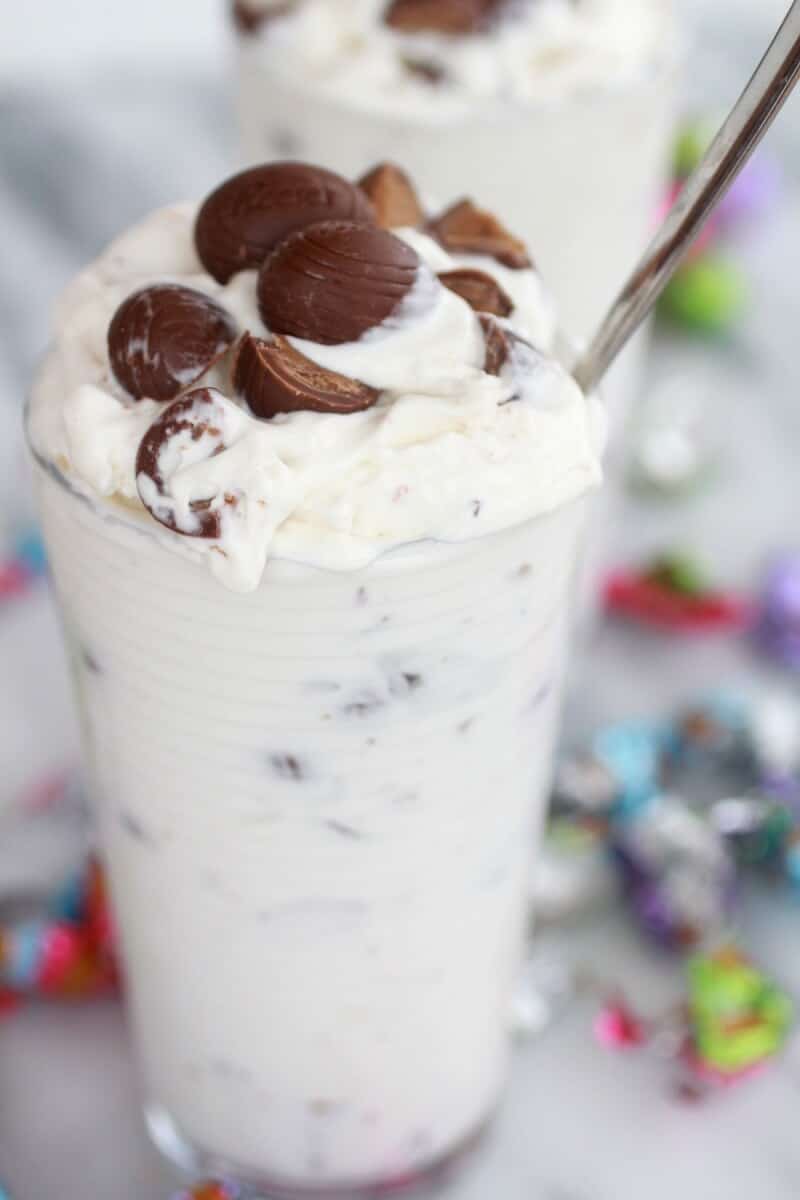 And there is nothing better!
Nothing.
Well actually, it would be better if it were 80 degrees and sunny. But that just is not going to happen, not here anyway.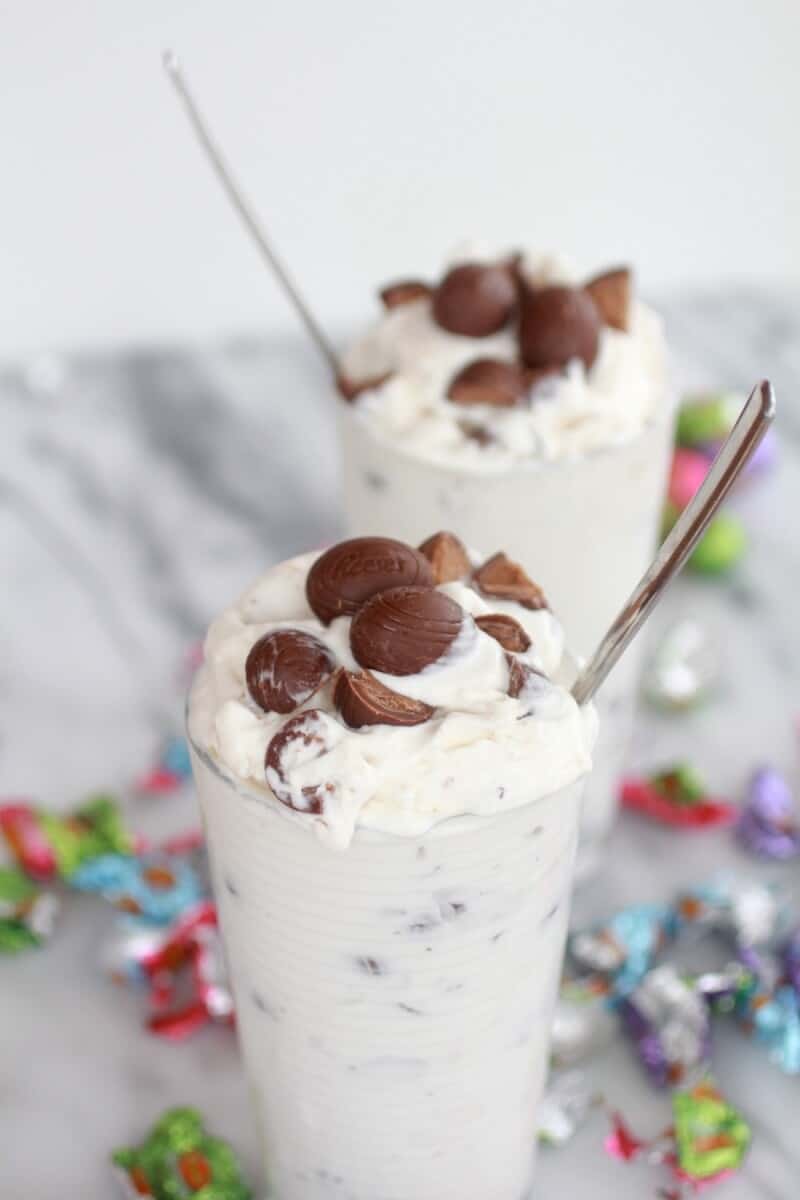 These are so simple. Like seven ingredients, simple. They are awesome, really I just don't even know what to say.
And while I definitely can't call these healthy, due to the massive amounts of Reece's I put in mine (the chocolate lovers around here will accept nothing less. In fact, they wanted me to make chocolate ice cream… next time). You can always cut back on the Reece's, or even cut them out all together. You will still be left with a delicious, very low in sugar, treat that won't leave you feeling guilty.  So go ahead, there's no reason to hold back. Make them now, make them this weekend, make them for Easter (using the Reese's eggs worked great and made them extra fun!), just make them! I mean they taste just like the original Dairy Queen Reeses Peanut Butter Cup Blizzards but with Reece's eggs (festive and cute)!
Oh and about the obsessive amount of pictures. I took exactly 277 picture of these blizzards (yes, I am totally aware of how insane that is). I just could not stop taking pictures. These things just looked too good. Choosing which photos to use was awful! I mean I could not leave any out, so I gave you a few extra. Really though, in my opinion a good recipe involves LOTS of photos anyway!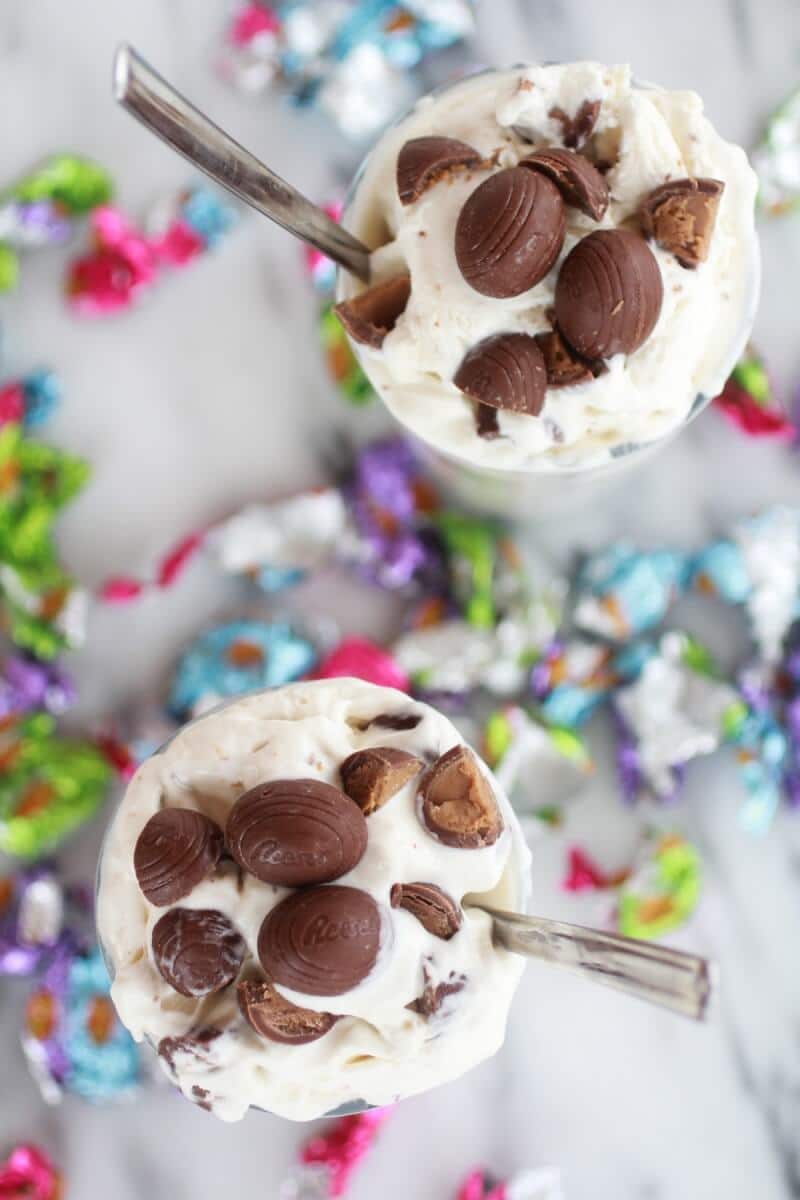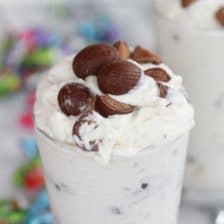 Nutritional information is only an estimate. The accuracy of the nutritional information for any recipe on this site is not guaranteed.
The Recipe
Homemade Blizzards with Reese's Peanut Butter Eggs
By halfbakedharvest
Course: Dessert, Snack
Cuisine: American
Keyword: ice cream
These are so simple. Like seven ingredients, simple. They are also awesome.
Prep Time 30 minutes
Cook Time 5 minutes
Total Time 1 day 35 minutes
Servings 2 quarts
Calories 990 kcal
Ingredients
1 envelope unflavored gelatin
1/4 cup cold water
2 cups milk I used 2%
1/4 cup + 1/8 granulated sugar
2 teaspoons vanilla extract
1/4 teaspoon salt
1 1/2 cups heavy cream
1-2 cups reese's peanut butter eggs or cups quartered
Instructions
First make sure you have frozen your ice cream maker's freezer bowl for at least 24 hours! You HAVE to do this guys!

In a small bowl mix the gelatin with the cold water. Set aside.

In a medium heavy sauce pan heat the milk stirring occasionally until just hot. DO NOT BOIL!

Remove from heat and add thickened gelatin, sugar, vanilla extract and salt Then stir in the heavy cream. Pour into a bowl, cover and refrigerate overnight.

Remove from the refrigerator and stir the mixture carefully to thin it out. Pour the chilled mixture into a 2 to 4 quart ice cream freezer bowl and process for 20 to 25 minutes.

Well the ice cream is churning chop the reese's eggs into halves and then into halves again. During the last five minutes of the churning process add the reese's. Churn for 3 to 5 minutes longer. Serve immediately and freeze any remaining ice cream.
Recipe Notes
Nutritional value based on quart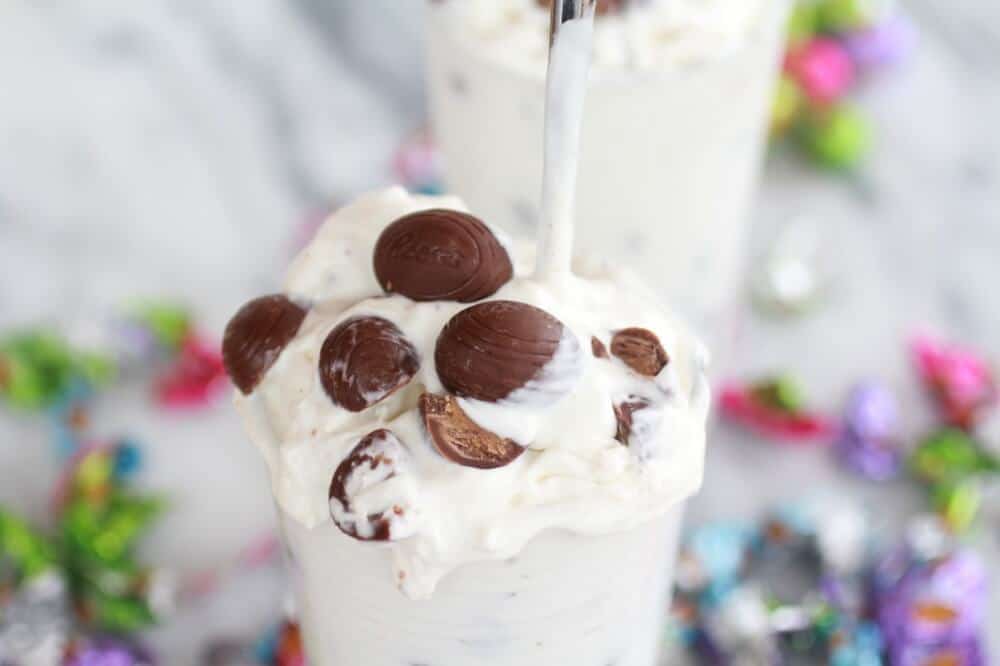 Let me just say, putting your spoon down is almost impossible. Impossible.
Shared with: Time to Sparkle, Lil Luna, Chef In Training, Buns In my Oven, Foodie Friday Friends, Tidy Mom, Taste and Tell, Cheerios and Lattes, Somewhat Simple, Mom on Timeout, I Heart Nap Time, Fine Craft Guide, The Country Cook, Whipperberry, Chef In Training, Thursday's Treasures, A Pinch Of Joy, Whats Cooking With Ruthie, Watch Out Martha