Pumpkin Beer Broccoli Cheddar Soup + Video
Warming up today with this pumpkin beer broccoli cheddar soup.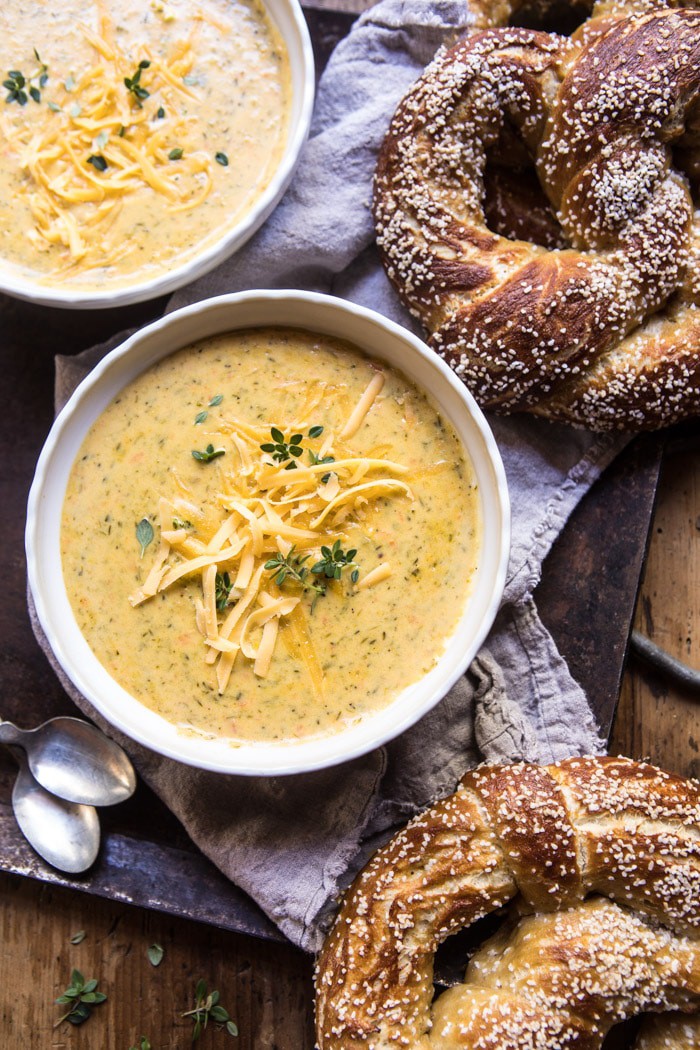 Did I happen to tell you guys that it totally snowed here on Sunday night? Yes, SNOW. We've had snow on the mountain tops for the last week, but Sunday night it actually snowed, hit the ground, and stuck. Meaning, the white stuff was on the ground when I went for my morning hike. Typical.
I know we are way ahead of the game over here, but I'm hoping you guys are in warm soup mode too!
Ever since this weekend I've been left craving a giant bowl of soup, so I thought today would be the perfect day to tell you all about my newest broccoli cheddar creation, PUMPKIN BEER broccoli cheddar soup. Sorry for the shouting, but I'm just so excited about this soup. It's warm, cozy, creamy, loaded with broccoli, cheesy, and flavored with the most delicious hints of sweet pumpkin.
Basically, it's October Soup. And yes, I know it is still September, but October is coming this weekend (how is that even possible?) and I think this soup should be on your to-make list. Just sayin'.
HOW TO VIDEO: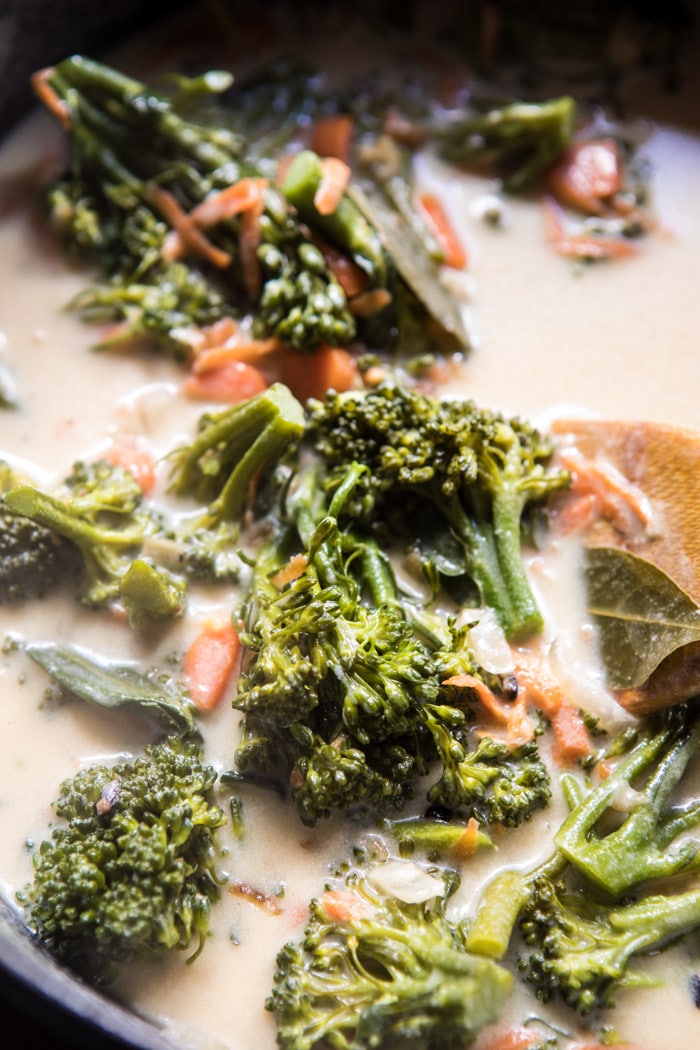 It seems as though every autumn I need to create a new broccoli cheddar soup. It's a flavor of soup that I love so much that going even one fall without making a new version is just not possible. See past versions…
Curried Butternut Squash Broccoli Cheddar and Goat Cheese Soup
Broccoli Cheddar Chicken and Dumpling Soup
Broccoli Cheddar Soup with Fried Cheese Curds
Extra Flakey Broccoli Cheddar Soup Mini Pies
See, I love broccoli cheddar soup, but then what's not to love? It's got your veggies, your cheese, and is the perfect soup to serve during the month of October, which typically starts to see a frost…or maybe even some snow…AKA soup weather!
Alright, so what makes this soup better than all the other broccoli cheddar soups out there? Um, the pumpkin beer…obviously.
I know it may sound a little odd to add a pumpkin beer to a creamy broccoli cheddar, but the pumpkin beer's warming tones add so much to this creamy, cozy soup. Just trust me, you will not be disappointed, and like all other broccoli cheddar soup recipes, this one is pretty easy.
Just one pot and ready to go in under an hour. Plus, I think we might even be able to get away with calling this healthy…ish with all the green broccoli in there. I mean, broccoli is one of they healthiest veggies out there.
Just go with it…and while you're making the soup, may I recommend making a batch of these pumpkin beer soft pretzels? Not going to lie, there's no better bread to pair with this soup than these pretzels. This is simply the best combination.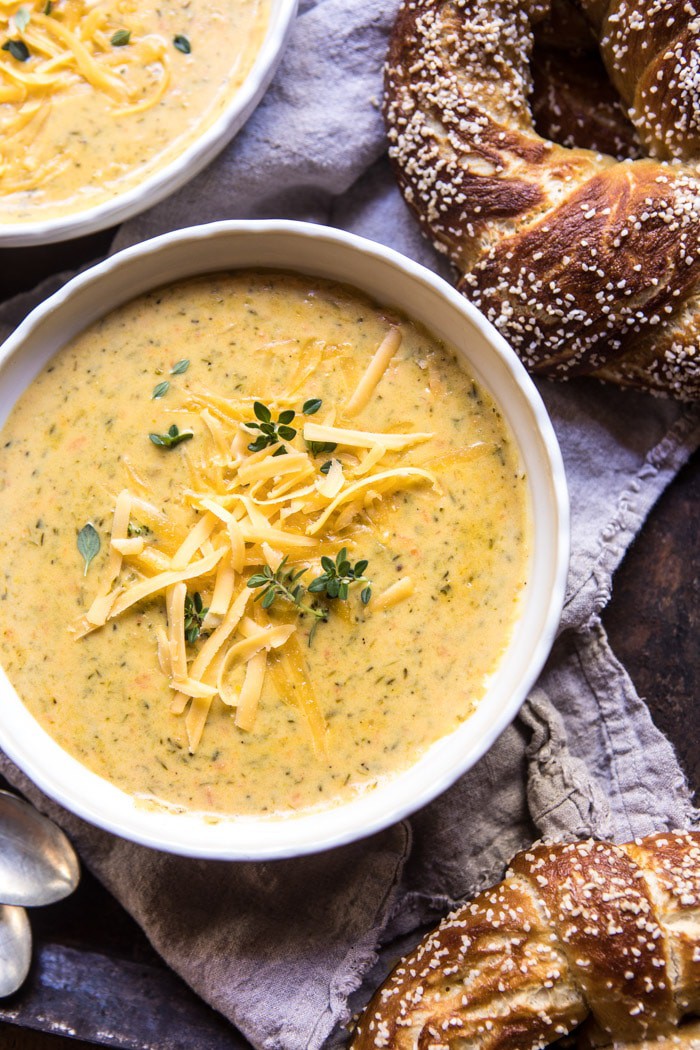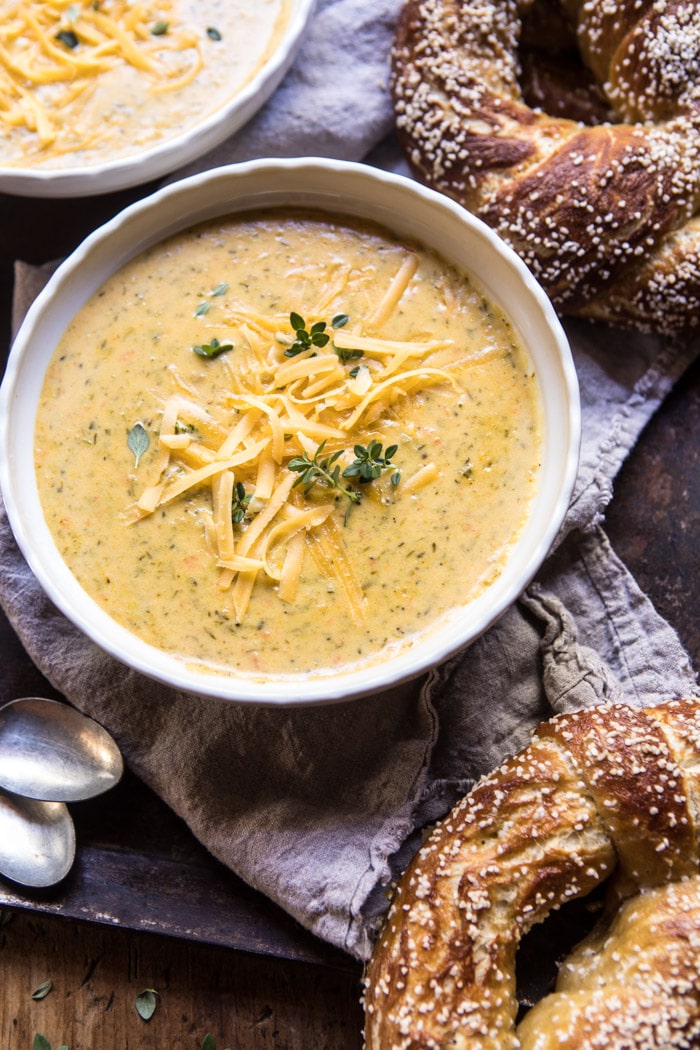 Oddly today I am headed out of the cold and on my way to Los Angeles where it is a high of eighty-five degrees. Ahh, totally not soup weather, but I'm excited to be heading out to LA for some fun cookbook press! I'm taping an episode of Hallmark Home and Family tomorrow that will air this Friday. So be sure to tune into that. I will be making my Nonnie's Dutch Baby from the Half Baked Harvest Cookbook. Pretty excited!
Then on Friday I'm working on a special project with My Domaine that I can't wait to tell you guys all about. Follow along with me on Instagram to see some behind the scenes!
Heading home Friday night, but let me know if there is anywhere in LA I should eating at over the next few days!
For now, I will just be sitting on a plane, dreaming about this pumpkin beer broccoli cheddar soup! Again, you guys have to make this soup. It's going to make your day so much better. It is delicious…especially with a side of these pretzels.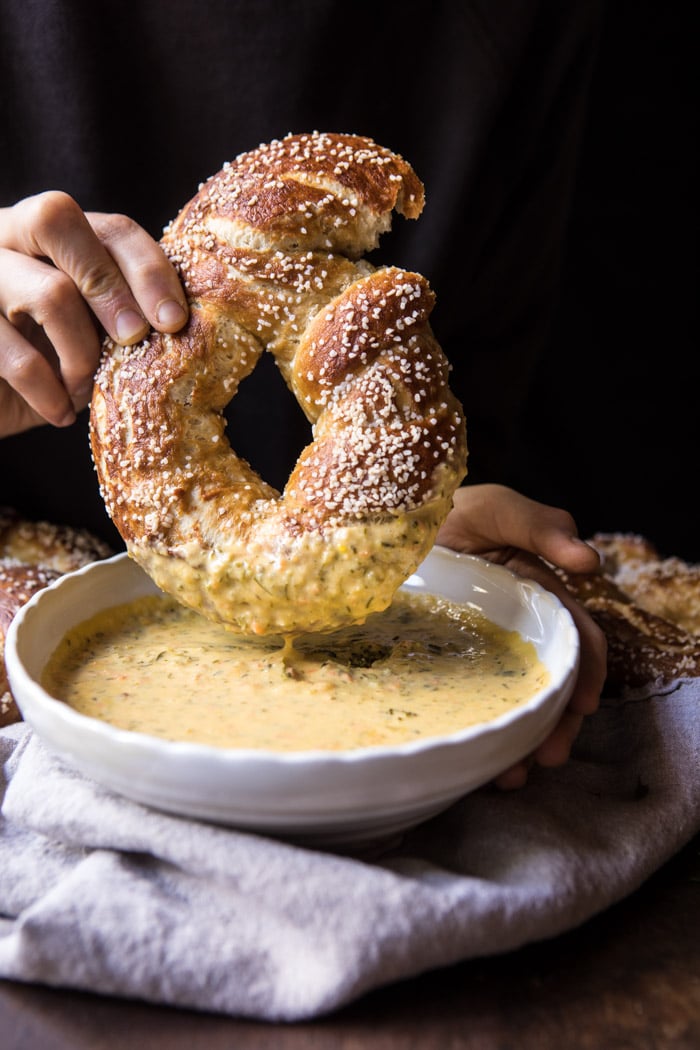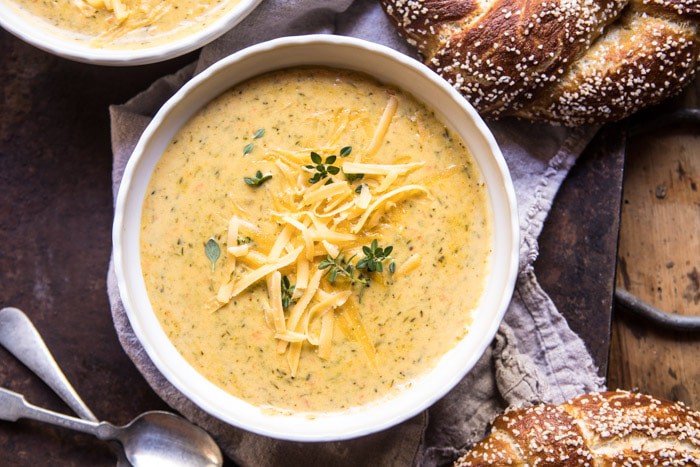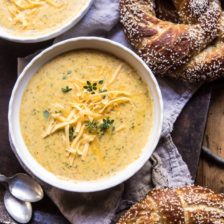 Nutritional information is only an estimate. The accuracy of the nutritional information for any recipe on this site is not guaranteed.
The Recipe
Pumpkin Beer Broccoli Cheddar Soup
By halfbakedharvest
Course: Soup
Cuisine: American
Keyword: beer soup, comfort food, fall soup
Warming up today with this pumpkin beer broccoli cheddar soup.
Prep Time 15 minutes
Cook Time 30 minutes
Total Time 45 minutes
Servings 6 servings
Calories 435 kcal
Ingredients
2 tablespoons extra virgin olive oil
3 tablespoons butter
1 small sweet onion, diced
1 carrot, diced
1/4 cup all-purpose flour
2 cups whole milk
1 12 ounce pumpkin beer
3-4 cups shredded sharp cheddar cheese, plus more for serving
1/4 teaspoon freshly grated nutmeg
1/4 teaspoon cayenne, or more to taste
1 large pinch kosher salt and pepper
4 cups broccoli florets
2 tablespoons fresh thyme leaves, plus more for serving
Instructions
1. Heat the olive oil and butter in a large pot over medium heat. When the oil shimmers, add the onion and carrot and cook until fragrant, about 10 minutes. Whisk in the flour and cook until golden, about 2 minutes, then gradually whisk in the milk until smooth. Add the broth, beer, broccoli, bay leaves, nutmeg, cayenne, and a large pinch each of salt and pepper. Bring to a simmer, reduce the heat to medium and cook, uncovered, until the broccoli is tender, about 20 minutes.

2. Remove the soup from the stove. Remove the bay leaves and puree in batches in a blender or use an immersion blender.

3. Return the soup to the stove and set over low heat. Stir in the cheese until melted and creamy. Add the thyme and cook another 2-3 minutes. Taste and adjust seasonings as desired. Laddle into bowls and top with a little extra cheddar and fresh thyme. Enjoy!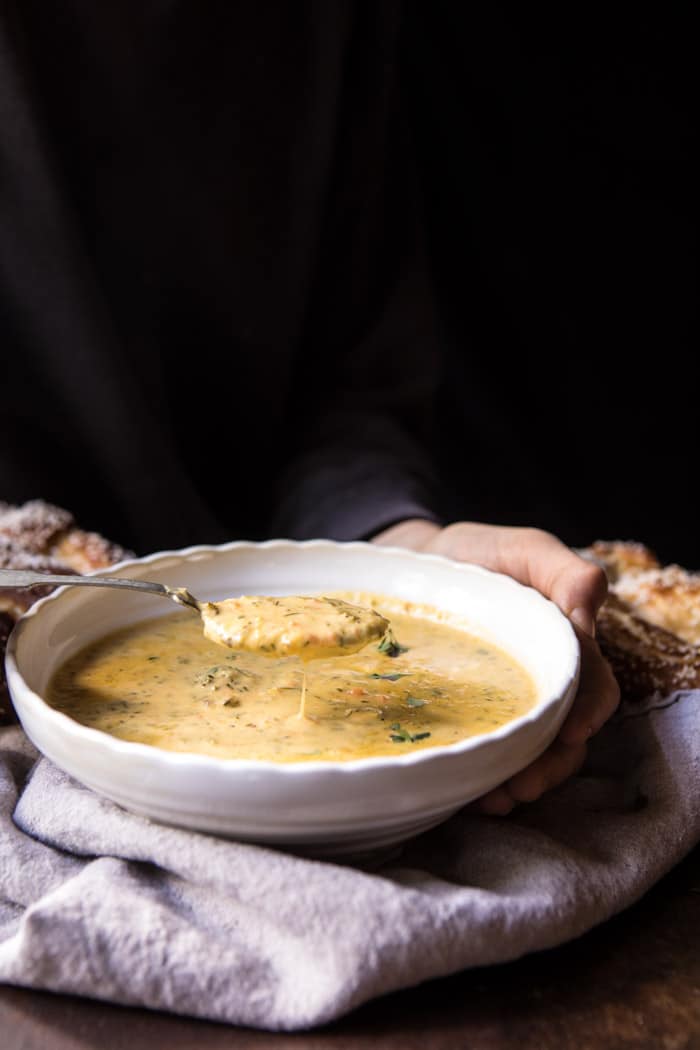 And again, there's broccoli involved, so you know, healthy…ish.