Sheet Pan Roasted Lemon Garlic Butter Salmon with Feta and Olives.
This Sheet Pan Roasted Lemon Garlic Butter Salmon with Feta and Olives is a flavorful update to the classic salmon dinner. Baby potatoes roasted alongside herby, lemon, and garlic roasted salmon. Topped with a tangy and slightly salty olive and feta dressing. It's a touch buttery, colorful, healthy, and beyond delicious. The perfect dinner to serve any night of the week. Or incorporate this healthy recipe into your weekly meal prep and enjoy it for lunches and dinners throughout the week.

It might have taken the whole month of January, but we finally have a new seafood recipe to talk about it! I will be the very first to admit that it's been a minute since my last recipe with fish. Actually, it's been since August, so quite a while.
I fell into a bit of a chicken and vegetarian focused recipe habit and I am just now breaking out. The truth is that I cook for the people around me and with everyone being in town the last few months, I've been cooking their favorites. And the thing is, around here, fish just isn't one of them. The good news is that I'm breaking out today and I'm back with one of my favorite salmon recipes.
This sheet pan salmon is hard not to love.
For one, the flavor is delicious. Two, it's the easiest to put together, making it perfect for busy weeknights.

The details.
You guys know how much I love an all-in-one dinner, so just like most of my other sheet pan recipes, I also included potatoes with this salmon. I like to start roasting the potatoes before the salmon is added to the pan to ensure that they have enough time in the oven to fully cook.
I keep the potatoes simple and just toss them with olive oil, salt, and pepper.
Now, on that same sheet pan, add the lemon halves and a handful of whole garlic cloves. Roast in the oven until the potatoes start to soften. If your lemons or your garlic cloves are on the smaller side, they may cook up faster than the potatoes. So just keep an eye on things towards the end.
That's part one….

While the potatoes get a head start cooking, rub the salmon with a little smoked paprika and fresh oregano. Pull the potatoes out of the oven, slide them to one side of the pan, and add the salmon to the other side.
Put the pan back in the oven and roast until the salmon reaches your preferred doneness, for me, it's usually about ten minutes.

The dressing.
While everything is roasting, you can start working on the olive dressing. It's an herby mix of parsley, basil, oregano, and all that roasted garlic from the sheet pan. Once the garlic is finished cooking, finely chop it/mash it and stir it into the dressing along with the olives.
My secret ingredient is a splash of fish sauce…if you enjoy it. Many recipes will use anchovies in their dressings, but I find anchovies annoying to work with. Fish sauce works in a pinch (its only ingredients are anchovies, water, and salt).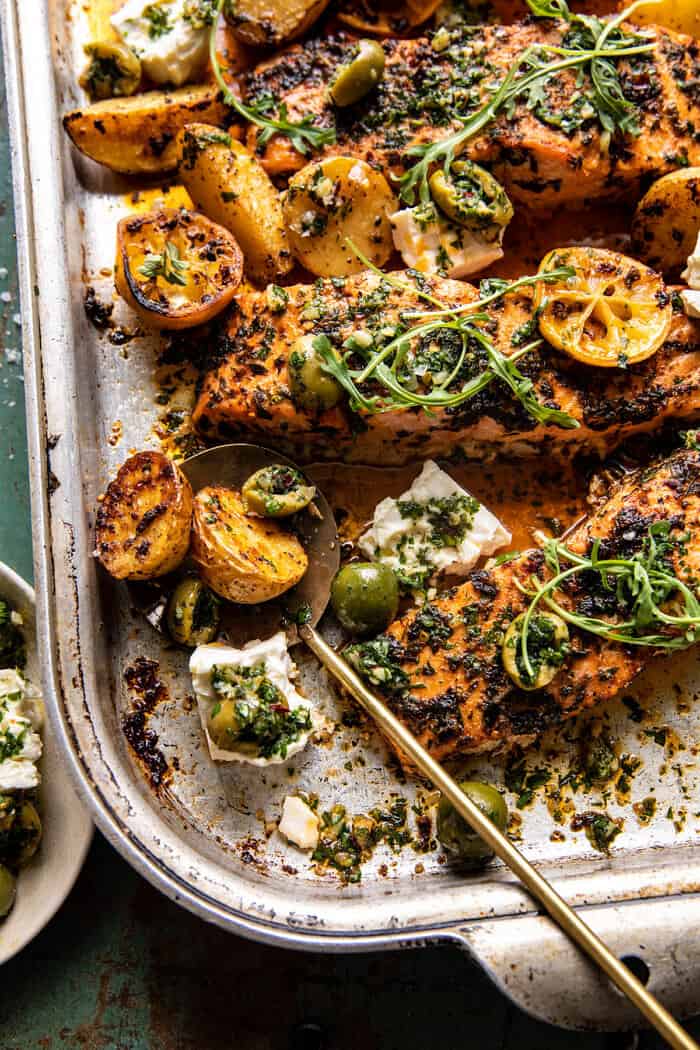 Finishing it up…
Once the salmon is finished I simply leave it on the sheet pan, remove the garlic, finish up the dressing, and add chunks of feta cheese to the warm salmon.
Then spoon the dressing over the salmon and cheese, and serve with the potatoes on the side. And that's it. It's not hard or time-consuming but leaves you with a complete all-in-one dinner and a pretty healthy one too.
The only thing I'd add is a good piece of crusty bread for moping up the garlic butter and sauce. You could also do a side salad for some greens!
It's pretty, kind of fancy, yet still simple. The salmon is perfectly buttery, herby, and garlicky, and the olives on top add a fresh, herby tang. 

Looking for other seafood dinners? Here are a few to try:
20 Minute Honey Garlic Butter Shrimp
Garlic Butter Creamed Spinach Salmon
20 Minute Caribbean Shrimp Tacos with Roasted Jalapeño Pineapple Salsa
Lastly, if you make this Sheet Pan Roasted Lemon Garlic Butter Salmon, be sure to leave a comment and/or give this recipe a rating! Above all, I love to hear from you guys and always do my best to respond to each and every comment. And of course, if you do make this recipe, don't forget to tag me on Instagram! Looking through the photos of recipes you all have made is my favorite!f

Nutritional information is only an estimate. The accuracy of the nutritional information for any recipe on this site is not guaranteed.
The Recipe
Sheet Pan Roasted Lemon Garlic Butter Salmon with Feta and Olives
Buttery, colorful, healthy, and so delicious. A flavorful update to the classic salmon dinner!
Prep Time 15 minutes
Cook Time 40 minutes
Total Time 55 minutes
Servings 4
Calories 555 kcal
Ingredients
1 pound baby potatoes, halved
1/4 cup + 3 tablespoons extra virgin olive oil
6 cloves garlic, 2 finely chopped, plus 4 whole cloves
2 lemons, 1 halved and 1 sliced
4 (5-6 ounce) salmon fillets
1/4 cup chopped fresh oregano
1 teaspoon smoked paprika
1 pinch red pepper flakes
4 tablespoons salted butter, sliced into 6 pieces
1/2 cup fresh parsley, chopped
1/2 cup fresh basil, chopped
1/2 cup green olives, roughly chopped
2 tablespoons champagne vinegar
1 tablespoon fish sauce (optional)
4 ounces feta cheese, broken into chunks
baby arugula, for serving
Instructions
1. Preheat oven to 425° F. On a rimmed baking sheet, toss the potatoes with 1 tablespoons olive oil. Season with salt and black pepper. Arrange the lemon halves and smashed garlic cloves around the potatoes. Bake 20 minutes, or until tender. 

2. In a shallow bowl, combine 2 tablespoons olive oil, 2 cloves chopped garlic, 2 tablespoons oregano, the paprika, the red pepper flakes, and a pinch each of salt and pepper. Add the salmon and toss to coat.

3. Remove the potatoes from the oven and push them to one side of the pan. Put the salmon on the other side, add a couple pats of butter to each filet. Arrange the lemon slices around the salmon. Return the pan to oven and bake for 10 to 20 minutes, until the salmon reaches desired doneness.

4. To make the dressing. Combine the remaining 1/3 cup olive oil, the parsley, 2 tablespoons oregano, the basil, olives, vinegar, and fish sauce (if using).

5. Remove the garlic cloves from the baking sheet. Finely chop/mash the garlic into a paste, stir the garlic into the dressing. Season with crushed red pepper and salt.

6. To serve, divide the salmon, potatoes, and lemon slices between plates. Gently crumble the feta around the salmon, then spoon the dressing over everything. Add a handful of arugula. Eat and enjoy!