Herbed Garlic Butter Scallops with Lemony Feta Dressing.
These quick Herbed Garlic Butter Scallops with Lemony Feta Dressing are a vibrant seafood dish to serve any night of the week. Pan-seared scallops cooked with butter, lemons, and garlic, and served with a tangy and herby feta dressing. This quick-cooking, easy skillet dinner comes together in less than 30 minutes. It's a touch buttery, colorful, healthy, and beyond delicious. Incorporate this into your weekly dinner or serve it up at your next dinner party. These scallops are easy enough for a weeknight, but fancy enough to serve to guests. Serve with steamed rice or creamy polenta and a simple salad.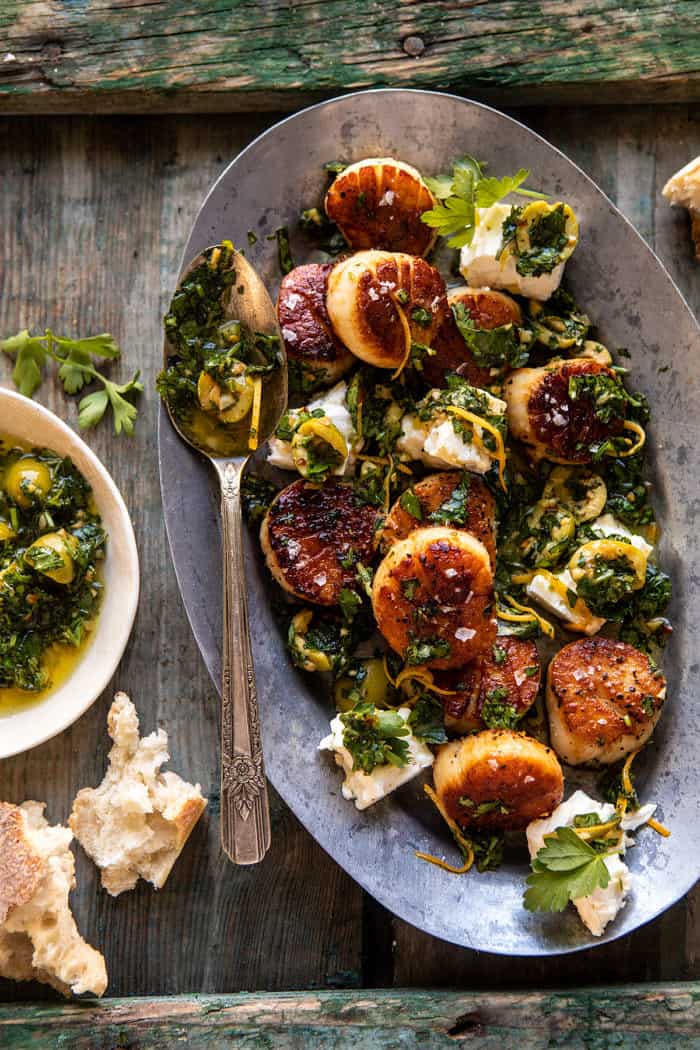 So often I associate seafood with the warmer months of the year and tend to forget about it when the weather is bitter cold. However, this year I'm really making an effort to use more seafood…even if we're experiencing below-freezing temperatures this week. Yes, it's freezing here, but that's why these scallops are the perfect recipe. They remind me of spring so much. And you guys…I've officially hit that point where I'm very much over the cold and ready for warmer days. Well, kind of…I'm still enjoying the "cozy" vibes. But at the same time…I'm longing for vibrant colors and fresh foods too.
So yes, I'm in this weird in-between phase. Still enjoying winter comfort, but yet wanting to add a touch of spring into my life as well. Enter in these Herbed Garlic Butter Scallops. I made these last week on a complete whim towards the end of the day. Originally, I was thinking I would share a scallop recipe before Valentine's Day, but I just never got around to it. When I saw scallops on sale at Whole Foods, I decided to pick some up. I was pretty unsure as to what I wanted to make with them, but I figured I'd think of something.
The thing about scallops…I always find them best when they're made simply…and with a touch of butter and garlic. And that's kind of this recipe. It's simple, but all done up with a slightly addicting lemon feta dressing. Delicious and so easy to toss together.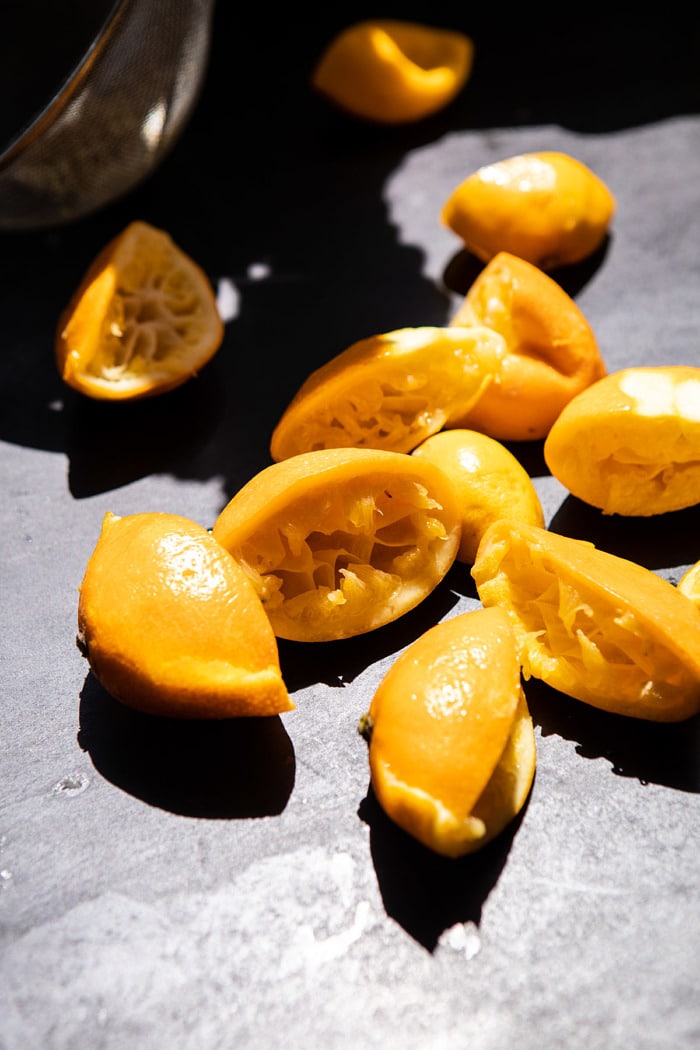 Everything you need to know about cooking scallops.
In the past, I've found scallops to be a little tricky, but only because I was cooking them wrong. Here is what I've learned.
First, you must pat each scallop completely dry before cooking. This step is essential. If the scallops have excess moisture on them, they'll never get that perfect golden crust we all desire so much.
Next, you have to use a hot skillet and you must not overcrowd the skillet. Again, this is KEY. A hot skillet with give you that perfect sear, but if you crowd the pan with too many scallops, they will steam instead of crisp. Be sure to cook the scallops in batches, if needed.
And finally, butter + lemon + garlic. But added towards the end of cooking so that butter has just enough time to brown, the lemon has time to fry, and the garlic gets perfectly golden, but not burnt.
So. Simple. SO. SOOD.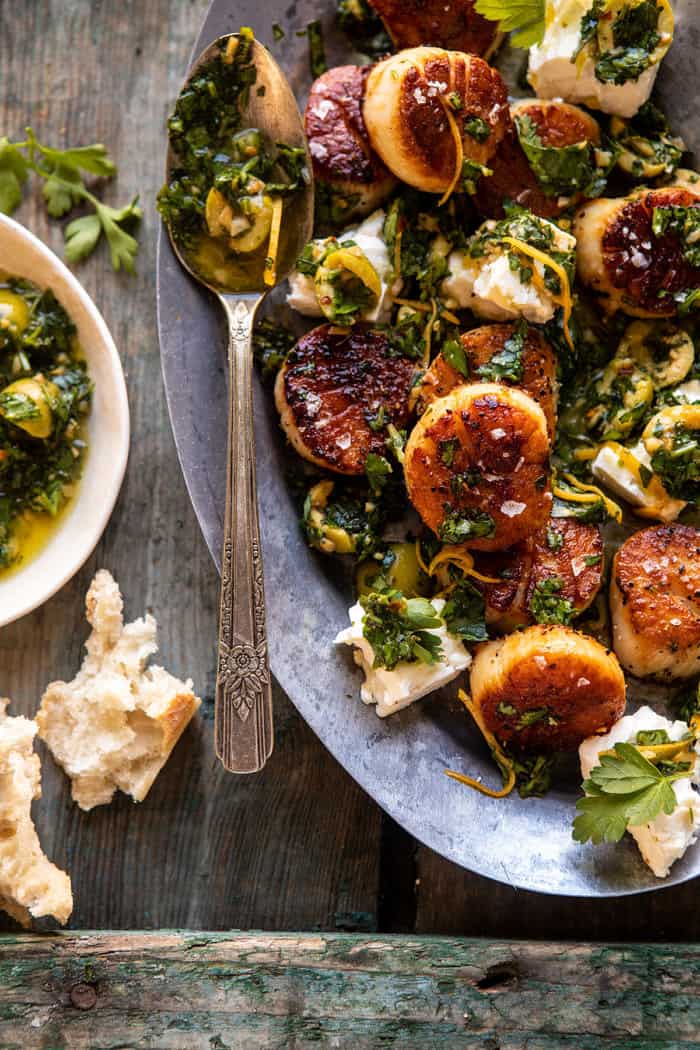 But that's not all, there is lemony feta dressing…
You guys know me. I love simple, but I love a good amount of flavor even more, and that's where this dressing comes in. It's actually more of a sauce or a marinated feta situation, but then kind of a dressing too. Honestly, I had no idea what to call this, but we're going with lemony feta dressing.
Regardless, this "dressing" is addictive. It's that feta and those herbs.
And…it's inspired by the dressing I made a few weeks ago for my roasted chicken. It's very, very similar, but incorporates some salty feta cheese.
This is a simple mix of olive oil, parsley, oregano, and basil, it's the perfect balance of flavors in addition to the salty feta. Then just add buttery olives to pull everything together. Honestly, this is one of my favorite dressings. It's so full of flavor, light and fresh, but also rich and cozy too. All the things I love so much.
So here is how this works.
Take those buttery, garlicky, seared scallops and plate them. Make sure you spoon out any buttery sauce left in the pan. Trust me, you want that sauce.
Now, spoon the lemony feta over each scallop. Be sure to be very generous with the feta and the herby dressing it's sitting in…this is where most of the flavor is.
Finish with flaky sea salt.
So is your mouth watering yet? Because these flavors will do that to you.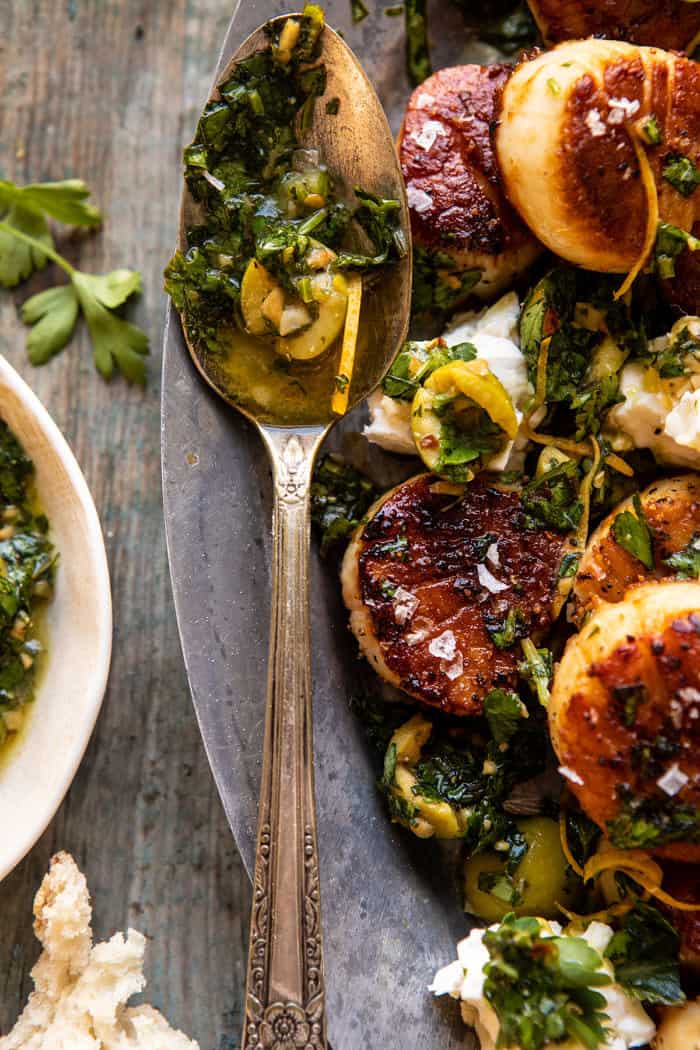 A few notes.
If you're not a fan of scallops, this recipe would work wonderfully with shrimp too. The cooking times would be basically the same, so simply swap out and follow the directions as they are.
I love to serve the scallops with crusty fresh bread for soaking up all the buttery sauce. Oh, and a side of orzo or steamed rice. Either or both would be so great!
These make for a really fun, fancy…ish weeknight dinner, but they're special enough to serve over the weekend too. Added bonus? Start to finish this is one of those recipes that comes together in less than thirty minutes. So quick and easy.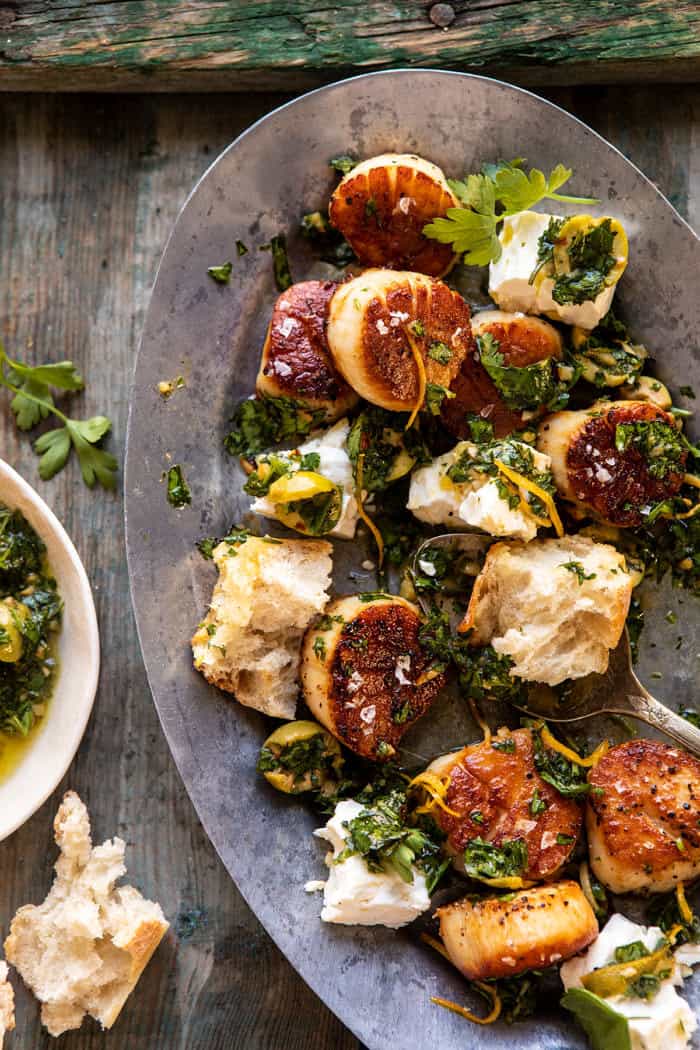 Lastly, if you make these herbed garlic butter scallops with lemony feta dressing, be sure to leave a comment and/or give this recipe a rating! Above all, I love to hear from you guys and always do my best to respond to each and every comment. And of course, if you do make this recipe, don't forget to tag me on Instagram! Looking through the photos of recipes you all have made is my favorite!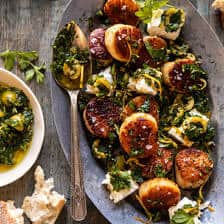 Nutritional information is only an estimate. The accuracy of the nutritional information for any recipe on this site is not guaranteed.
The Recipe
Herbed Garlic Butter Scallops with Lemony Feta Dressing.
This quick-cooking, easy skillet dinner comes together in less than 30 minutes. It's a touch buttery, colorful, healthy, and beyond delicious.
Prep Time 15 minutes
Cook Time 10 minutes
Total Time 25 minutes
Servings 4
Calories 431 kcal
Ingredients
1 1/2 pounds large scallops (about 16 scallops)
1/4 cup + 2 tablespoons extra virgin olive oil
4 tablespoons salted butter
zest and juice of 1 lemon (about 3 tablespoons lemon juice)
4-6 cloves garlic, minced or grated
1 pinch crushed red pepper flakes
1/4 cup fresh parsley, chopped
1/4 cup fresh oregano, chopped
1/4 cup fresh basil, chopped
2 green onions, chopped
1/2 cup green olives, roughly chopped
2 tablespoons red wine vinegar
4 ounces feta cheese, broken into chunks
toasted bread, for serving
Instructions
1. Pat the scallops dry. Season with salt and pepper.

2. Heat 2 tablespoons olive oil in a large skillet over medium heat. When the oil shimmers, add the scallops and sear on both sides until browned, about 2-3 minutes. Add the butter, lemon zest, garlic, and crushed red pepper flakes. Cook until the garlic is fragrant and the scallops are opaque, about 3-4 minutes. Remove from the heat.

3. To make the dressing. Combine the remaining 1/4 cup olive oil, parsley, oregano, basil, green onions, olives, vinegar, and lemon juice. Add the feta and gently toss to combine.

4. To serve, plate the scallops and spoon over the feta and dressing. Season with flaky sea salt. Serve with crusty bread.