Honey Butter Blackened Scallops with Herby Polenta.
These Honey Butter Blackened Scallops with Herby Polenta are simple and delicious. Pan seared scallops tossed with spices, honey, and a touch of butter, then served over a creamy herb swirled polenta. Serve with a simple salad and you'll have a quick and easy skillet dinner that's full of flavor. The perfect meal to welcome in spring!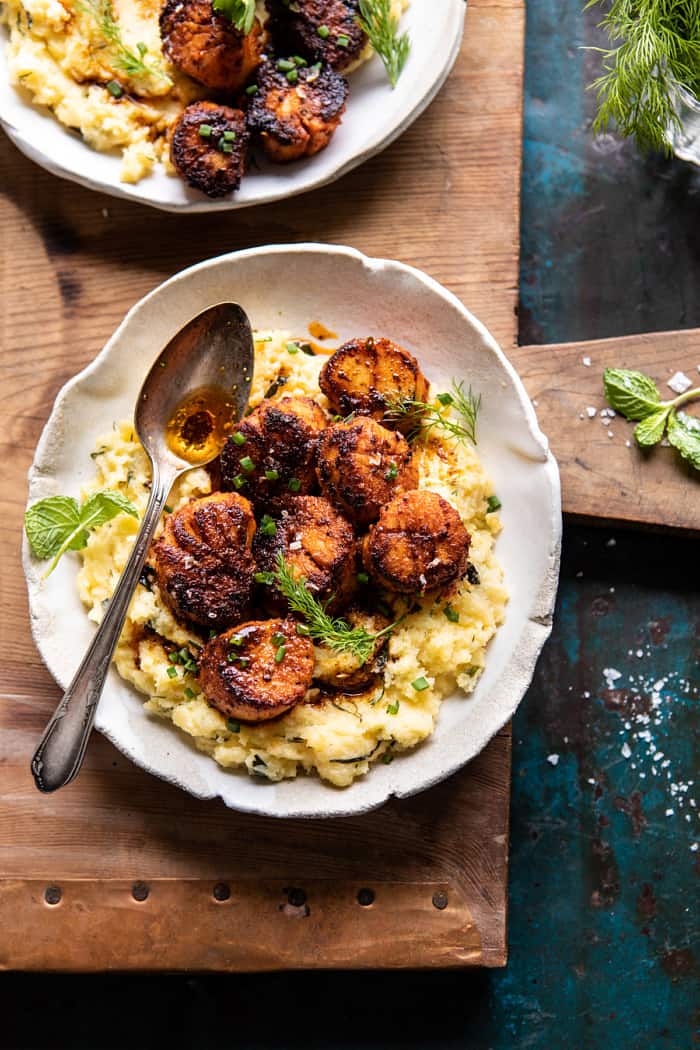 Happy first day of spring! Wow, it's insane to me that winter has come and gone and we are already moving right into spring. I'm very excited to be slowly heading towards warmer days. With warmer, longer days comes fresher recipes, more color, and new flavors…all things I love!
That said, we still have so much snow here in Colorado, so I'll being sharing a combo of cozy and fresh recipes. Kicking things off today with seafood! Like clockwork, spring rolls around and I'm ready for salad, seafood, and veggie filled dishes. Are you guys the same way? What foods/recipes are you looking forward to enjoying this spring?
Oh, and are you guys going on spring break? When I was a kid my family would always spend Easter in Florida, but once we made the move to Colorado, that tradition fizzled out…
But, I just got word that our family is planning a mid April vacation. Not exactly sure where to yet, but I have to say that I cannot wait. By then I will (fingers crossed) have turned everything in on the project I'm working on (that may or may not be the death of me…). So the trip will be perfect timing, and is really giving me something to look forward to!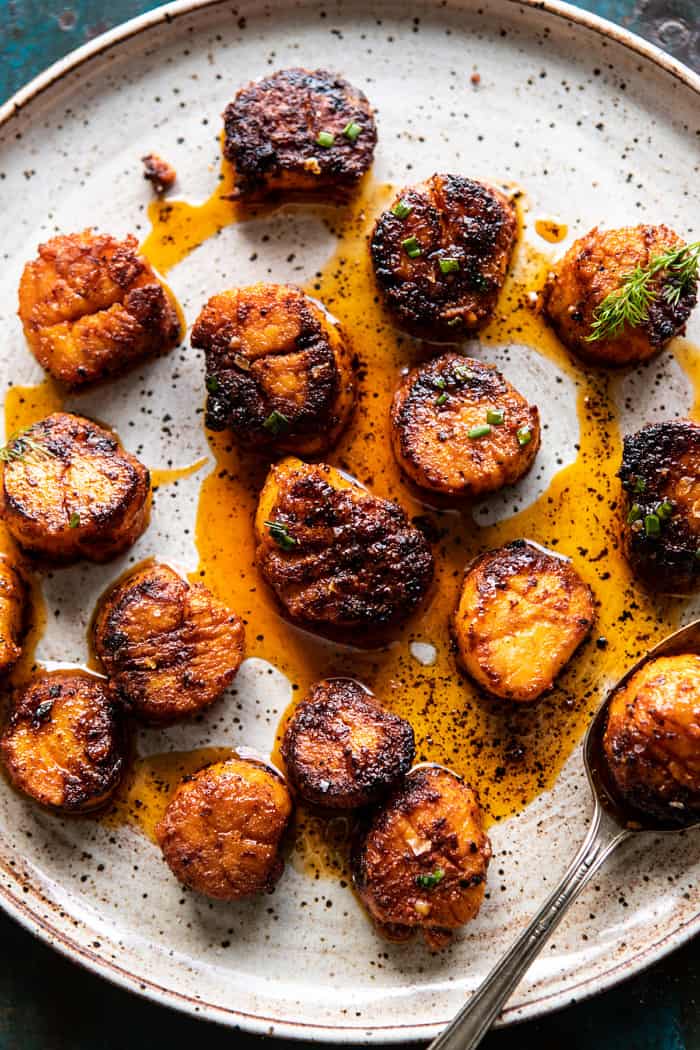 OK. So these scallops, let me tell you all about them.
I made these scallops a couple of weeks ago, but waited to share until today. Even though the recipes feel springy, they still have a cozy element thanks to the creamy polenta. This dish has the perfect balance for this time of year when the weather is trying to be warm and bright, but has it's dark and dreary days too.
As mentioned, this recipe is pretty simple (which is totally what we ALL need right now). I tossed the scallops with a good amount of smoky paprika, cumin, garlic and lemon. I love this combo of seasonings so much, and if you've been watching my Instagram stories, you know that smoked paprika is my secret ingredient when I want to add flavor to just about any dish.
These scallops are a touch smoky, a little spicy, and balanced out with some citrus. I pan seared them to give them a really nice crust, then tossed in some butter and honey to create a little sauce.
They're the kind of flavors that really make your mouth water…
Especially when paired with a creamy polenta, which I'm now thinking all scallops should be served with. I mean, the two are such a good paring and give the dish a touch of southern flair.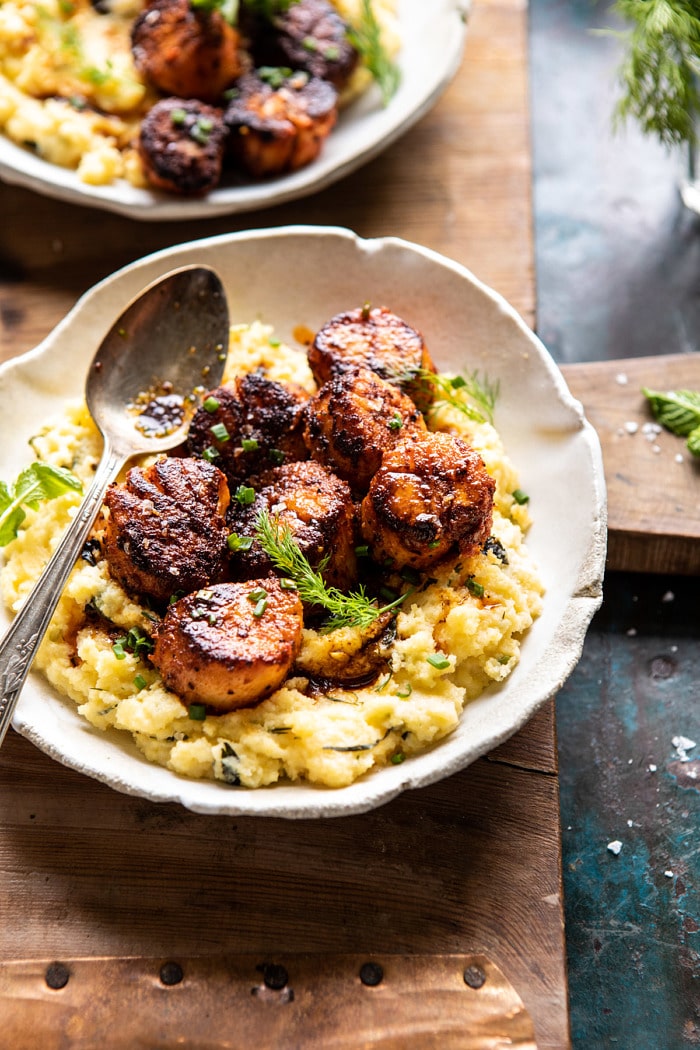 For the polenta, I wanted to keep it simple, but give it a pop of freshness. Enter the herbs. It's really no secret that I love fresh herbs, but come spring and summer months, I'm using them non-stop. Herbs can really add so much flavor and color to a dish, taking it from bland to beyond delicious.
Which is exactly what they've done for this polenta. Don't get me wrong, polenta is great on its own, but it can be just a smidge on the bland side. I used a mix of fresh basil, dill, and chives, then stirred in a couple spoonfuls of Crème Fraîche to make the polenta extra creamy, and a touch indulgent too.
I'm loving serving this dish with a simple salad or roasted asparagus and artichokes to add in some spring vegetables. In the summer, I will definitely be making these scallops with burst cherry tomatoes and grilled corn. Already excited about it.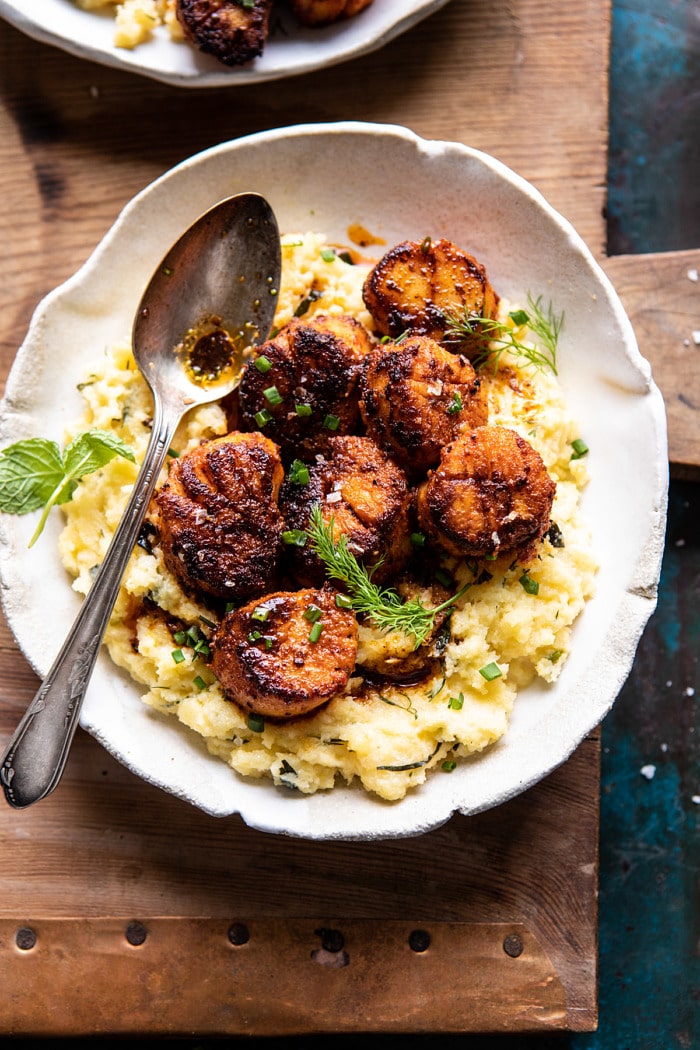 If you make these blackened scallops, be sure to leave a comment and/or give this recipe a rating! Above all, I love to hear from you guys and always do my best to respond to each and every comment. And of course, if you do make this recipe, don't forget to also tag me on Instagram! Looking through the photos of recipes you all have made is my favorite!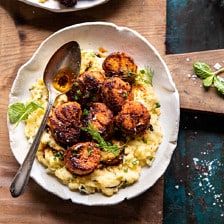 Nutritional information is only an estimate. The accuracy of the nutritional information for any recipe on this site is not guaranteed.
The Recipe
Honey Butter Blackened Scallops with Herby Polenta.
Pan seared scallops tossed with spices, honey, and a touch of butter, then served over a creamy herb swirled polenta. Serve with a simple salad and you'll have a quick and easy skillet dinner that's full of flavor.
Prep Time 15 minutes
Cook Time 15 minutes
Total Time 30 minutes
Servings 4
Calories 426 kcal
Ingredients
Herby Polenta
2 cups whole milk
1 cup instant polenta
1 tablespoon salted butter
2 tablespoons Crème Fraîche or cream cheese
kosher salt and pepper
1/2 cup fresh herbs, chopped, such as basil, parsley, cilantro, and or dill
Instructions
1. Pat the scallops dry. In a medium bowl, combine the scallops paprika, cumin, garlic, crushed red pepper flakes, and a pinch each of salt and pepper.

2. Heat the olive oil in a large skillet over high heat. When the oil shimmers, add the scallops and sear on both sides until browned, about 2-3 minutes. Add the butter, and honey. Cook until the butter is golden and the scallops are opaque, about 3-4 minutes. Remove from the heat, add the lemon juice.

3. Spoon the polenta into bowls. Top with the scallops and a sprinkle of fresh herbs. Squeeze lemon juice over top. Enjoy!
Herby Polenta
1. In a medium saucepan bring 2 cups water and the milk to a boil over medium heat. Slowly whisk in the polenta, stirring until the polenta is soft and thick, about 5 minutes. Stir in the butter, creme fraiche, and herbs. Season with salt and pepper. Serve warm.