Secret Ingredient Peanut Butter Stuffed Chocolate Chip Skillet Cookie.
Who could resist a warm chocolate chip cookie served in a cute little skillet?

With a super special secret ingredient, and so many perfect chunks of chocolate, plus swirls of yummy peanut butter (totally serious right now), honestly, who could resist?
After a whole months of extra healthy (but still delicious, indulgent and satisfying) desserts you guys knew something like this HAD to be coming. I mean, I just really needed a real deal cookie in my life. After a month apart, it was time… you know? OK, so I just lied a little. I totally did not go through all of January without cookies, but I blame it all on Asher, she MADE me make her cookie dough, and you didn't really think I could resist some cookie dough + milk with the little sis now did you?
I have discipline… but not that much.
SIDE NOTE: my cousin just sent me a snapchat of her eating seaweed snacks…my response was SIMPLE. Girl, you need to come eat my skillet cookies (picture included)! Duh.
Seriously though, if it weren't for that little girl Asher, I would have stuck out the entire month of healthy eating, no sugar, plenty of superfoods January thing. Darn you Asher… but um, THANK YOU too, cause cookies are never a totally bad thing. Plus, those cookies inspired these skillet cookies, so double thanks to the little sis today!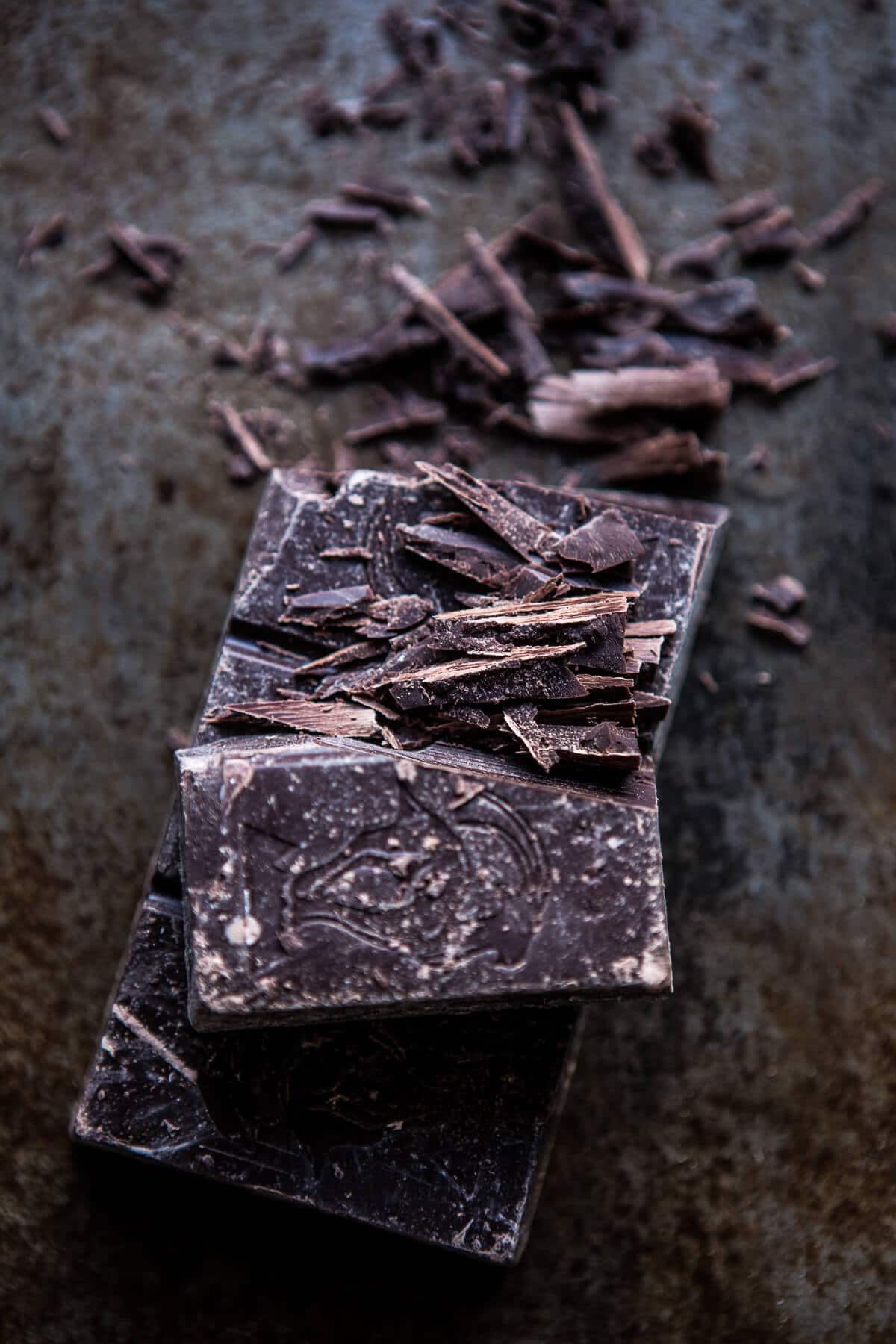 Wait, can I just tell you the sweetest thing that Asher did the other day? I really just have to, so if you are simply looking for the recipe please scroll down, otherwise prepare to have you hearts melt.
So you guys remember last week how I spent many, many one on one hours with Asher? We did the spa day, the playground (times three), the grocery, made pottery, watched countless hours of Harry Potter and made all the cookies you can dream of. It was fun sister time, and even though she is 15 years younger we can still have a good time, which I think is pretty awesome, and apparently so does she.
She came over on Sunday and handed me a note. Oh this note, I read it and all my worries went away. It is short (she's only in 1st grade), so I will share it with you guys.
Dear Tieghan,
You are the best sister ever. I love you so so much. Thank you for taking me to the spa and the play ground and for the heart shaped cookies.
Love Asher
She wrote it herself without even telling anyone what she was doing and walked herself over to my house to give it me. It's even better if you actually see her hand written note, because one, her hand writing is the cutest ever, and two, she drew little hearts and smiley faces all over the page. I mean, really? Saving this for all my life cause someday when she is a teen and hating me, I will SO be sticking this right in her face to remind her who took cake of her when she was little. Sister stuff, I never thought I would be one to love sister stuff, but now that I have a sister, I LOVE it. Brothers are awesome too (in their own way), but it's just not the same.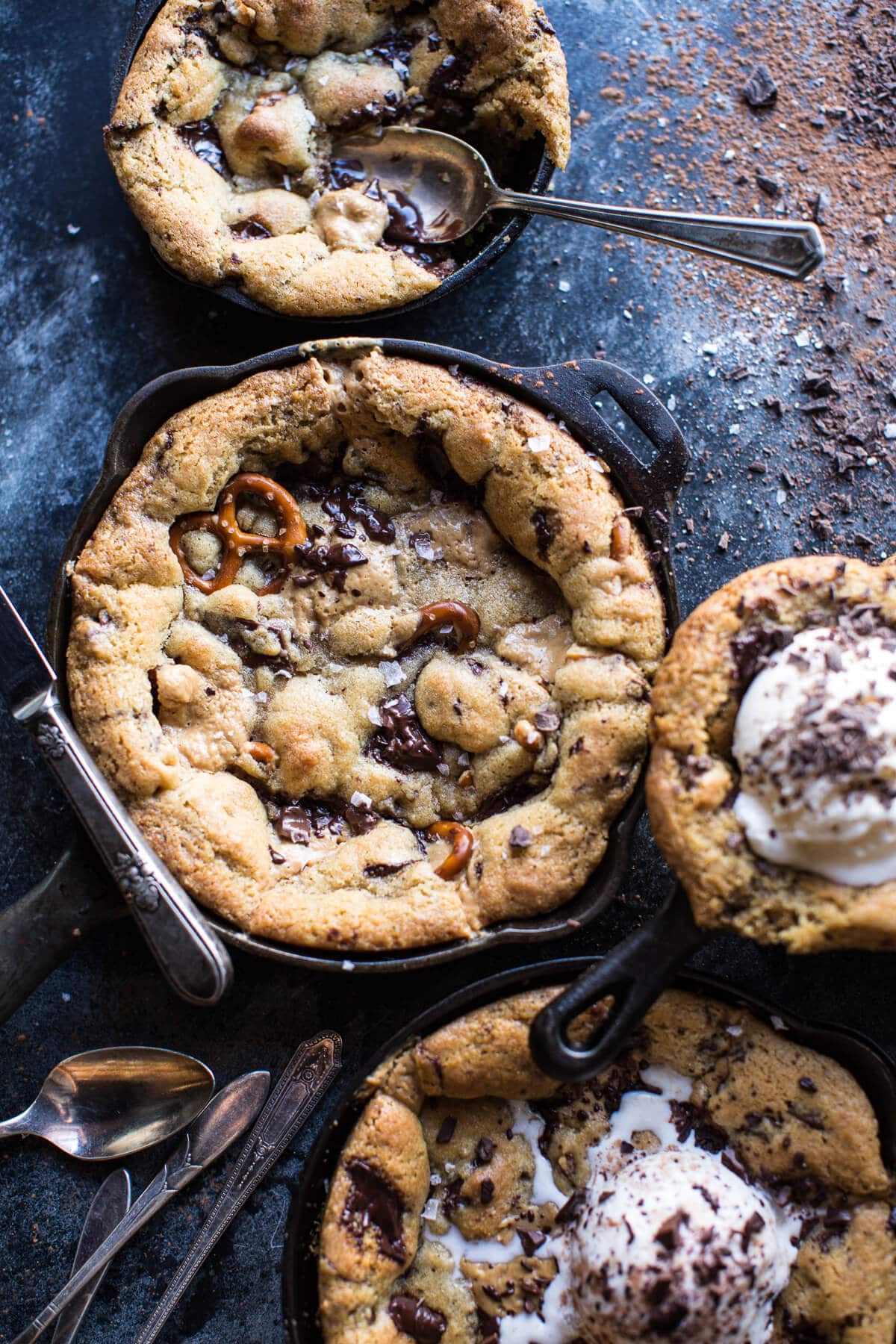 Cookies though, warm, gooey, secret ingredient, peanut butter stuffed chocolate chip skillet cookies.
Let's chat about them!
First off, let me just say that these cookies are beyond incredible. They are simple, full of chocolate and delicious swirls of peanut butter, AND they even have some salty pretzels chunks (if you are into that, which clearly I am). It's basically my ultimate cookie.
Second, let me reveal the secret ingredient. This may sound really strange, but you guys, just think about it, try it, and prepare to be amazed. The secret ingredient is white miso paste, YES, miso paste. I know it's odd, but miso paste is a great ingredient to use in both sweet and savory dishes. For example, these cookies! The miso paste adds a saltiness that makes you think, "hmm, what is that? It's so delicious, but I can't figure out what it is". The saltiness pairs SO well with the sweetness of the cookie and the luscious chocolate chunks. Seriously, just try it!! Plus miso is so good for you, just check out this link if you're looking for info on the health benefits of miso. I know you will soon be in love, and adding a little miso paste to all you cookies from here on out. I know I am!
IT'S THE BEST!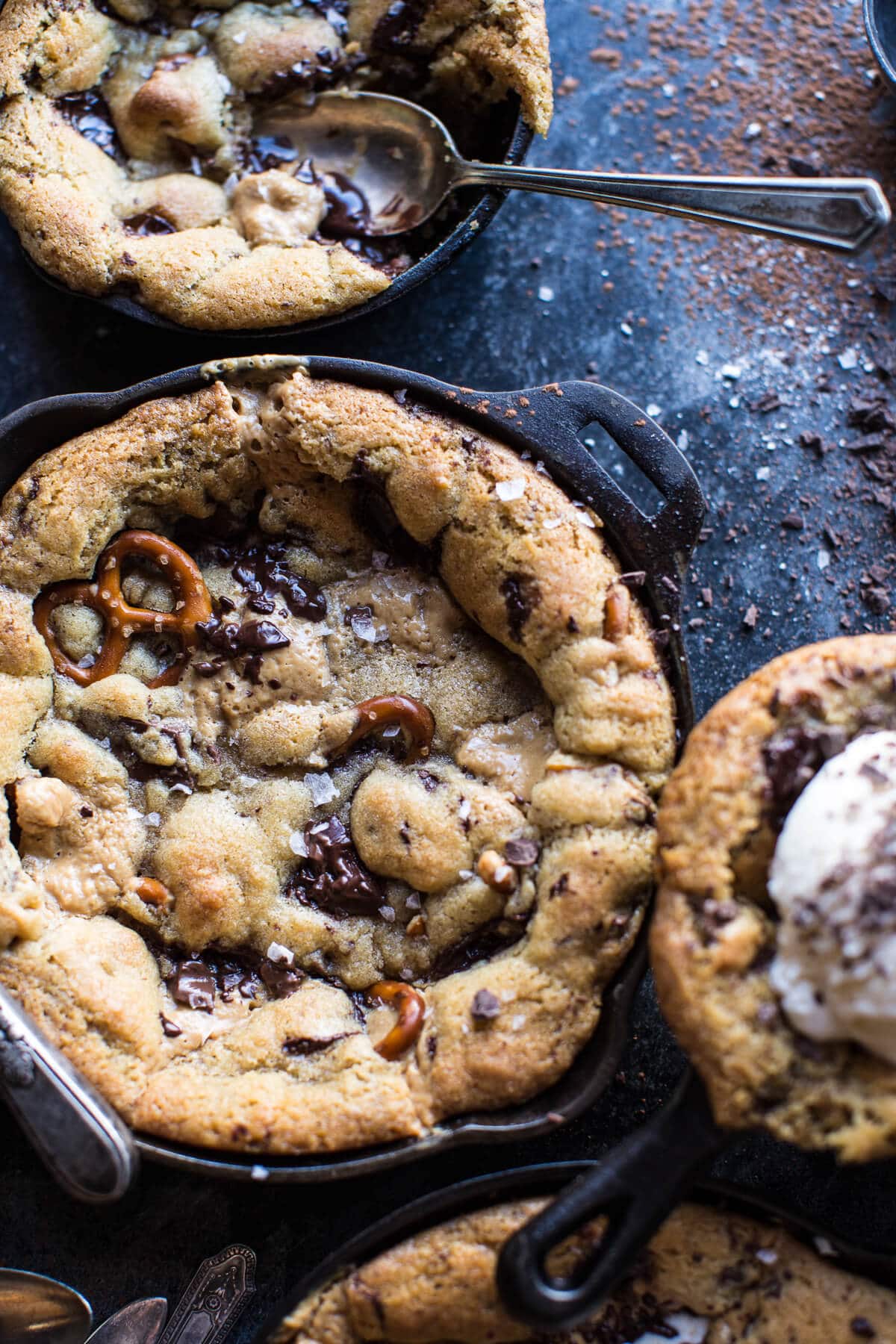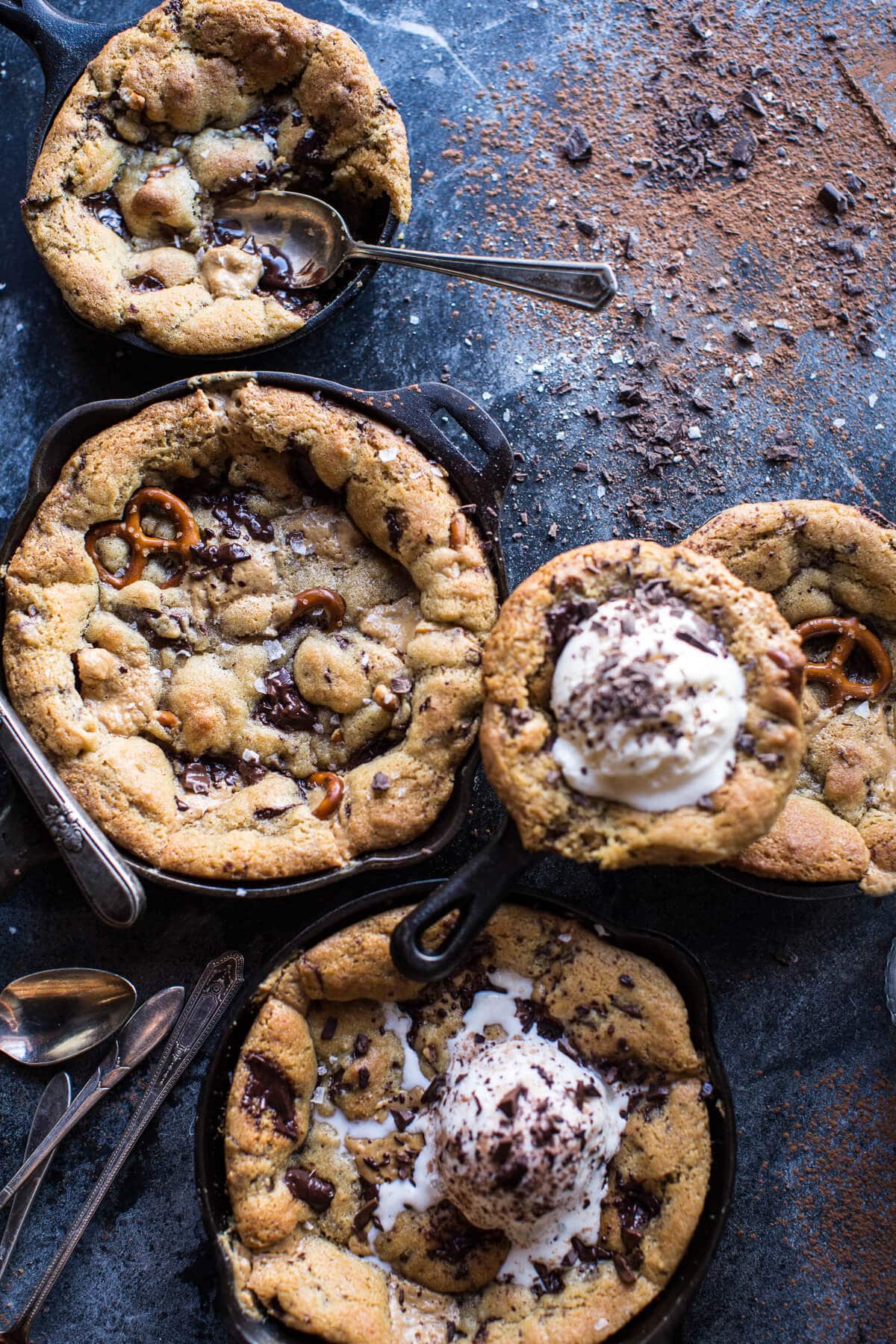 As are skillet cookies in general. I mean, any cookie that you can just take a spoon to and eat hot, is my kind of cookie. But a cookie that has peanut butter and pretzels in it too??
GAME CHANGER.
I used a bunch of mini skillets for my cookies, but if you do not have a slew of mini skillets just lying around your kitchen, this recipe also works for a 10-12 inch cast iron skillet. And if you don't have a cast iron skillet just divide the dough between cake pans. SO NO excuses to not make these, Mmmmm, k?!?
GOOD.
Lastly,  I have to say that I made these with the Super Bowl in mind, but then realized that they are not only amazing for the Super Bowl, which is um, THIS SUNDAY (if you need ideas on what to make, check out these cheesesteaks, these cauliflower buffalo bits, this pizza dip and these wing OR this post full of Super Bowl eats), but are equally perfect for Valentine's Day!! How romantic is that? What could be better than sharing a warm, gooey chocolate dessert??
Single? …keep it all for yourself!!
Yup. I am ALL in on that.


Nutritional information is only an estimate. The accuracy of the nutritional information for any recipe on this site is not guaranteed.
The Recipe
Secret Ingredient Peanut Butter Stuffed Chocolate Chip Skillet Cookie.
By halfbakedharvest
Course: Dessert, Snack
Cuisine: American
Keyword: chocolate chip, cookie, cookies, peanut butter, skillet
Who could resist a warm chocolate chip cookie served in a cute little skillet?
Prep Time 15 minutes
Cook Time 20 minutes
Total Time 35 minutes
Servings 8 Servings
Calories 468 kcal
Instructions
Preheat the oven to 350 degrees F. Grease one 10-12 inch skillet OR 4-6 smaller skillets.

Combine the flour, baking soda and salt (if using) in a small bowl.

Beat the butter, granulated sugar, brown sugar, vanilla and miso in large mixer bowl until creamy, about 3 to 5 minutes. Add the eggs and beat well until combined. Gradually beat in the flour mixture. Stir in the chocolate chips and pretzels.

In a small bowl, mix together the peanut butter, 1 teaspoon vanilla and a pinch of salt.

Spread half the cookie dough into your prepared skillet or skillets. Dollop the peanut butter onto the cookie dough in rounder teaspoons. Now place the remaining cookie dough gently over the peanut butter. Place the skillet or skillets on a cookie sheet.

Bake on the middle rack in the oven for 20-25 minutes for a large skillet, and 12-15 minutes for smaller skillets. It's very important to not over bake the skillet cookie, these are best eaten when the center is a little underdone. Remove from the oven and let cool 3-5 minutes...then DIG in. No plates required, just grab some spoons. If you like, add a scoop of ice cream, and/or a sprinkle of flaky sea salt. YUM.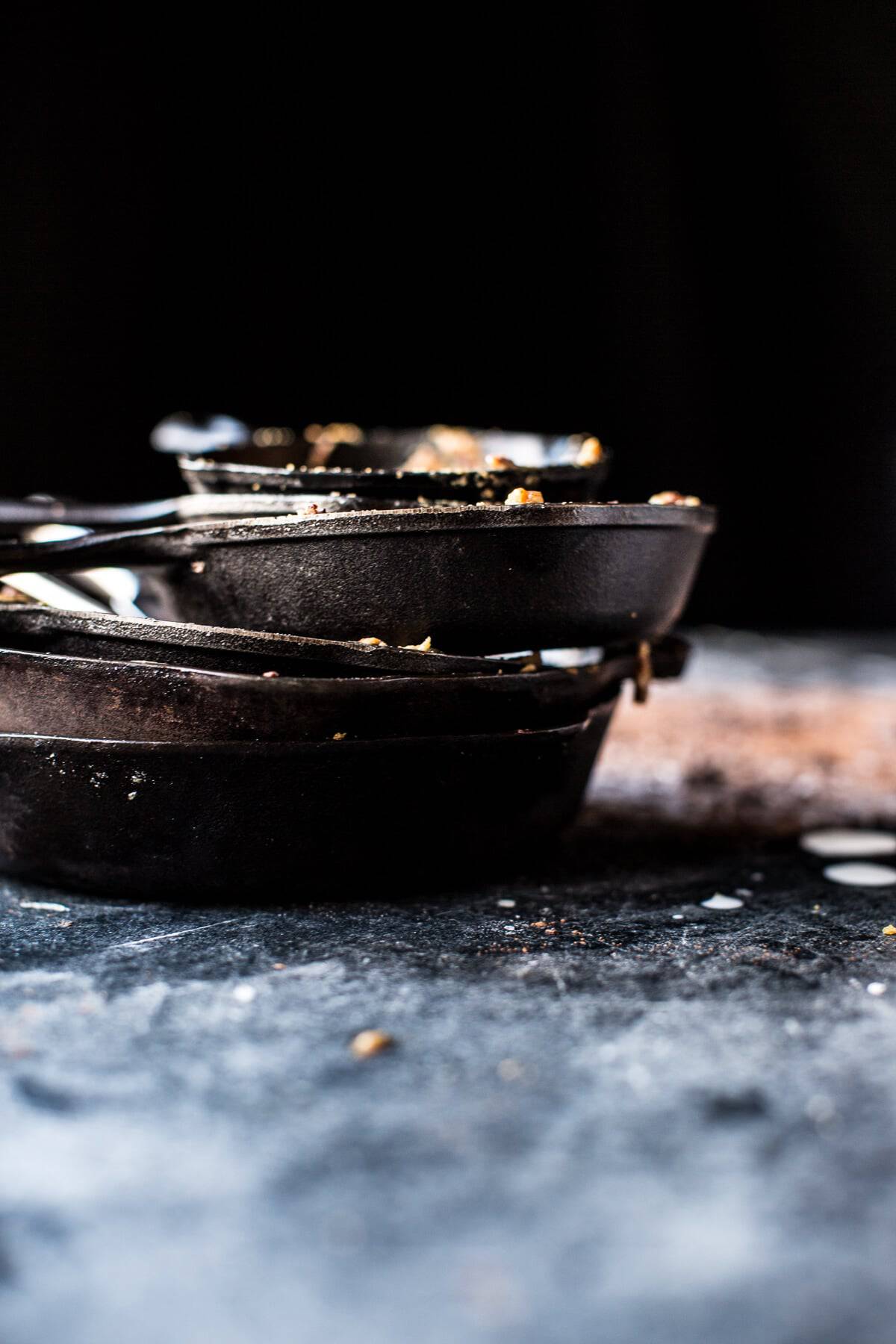 Peanut Butter Stuffed Chocolate Chip Skillet Cookies – demolished!