20 Minute Honey Garlic Cashew Chicken and Coconut Noodles.
Weeknight style 20 Minute Honey Garlic Cashew Chicken and Coconut Noodles. The super-fast chicken bowl that looks restaurant-style, but tastes even better…and is healthier too! Quick-cooking chicken tossed in a sweet and spicy honey soy sauce with mango jam, cashews, and lots of fresh basil. Serve this chicken over creamy coconut rice noodles and top with plenty of lime juice. Every bite is spicy-sweet, and the cashews add a nice little crunch. It's delicious, healthy, and so darn easy. Perfect for busy weeknights.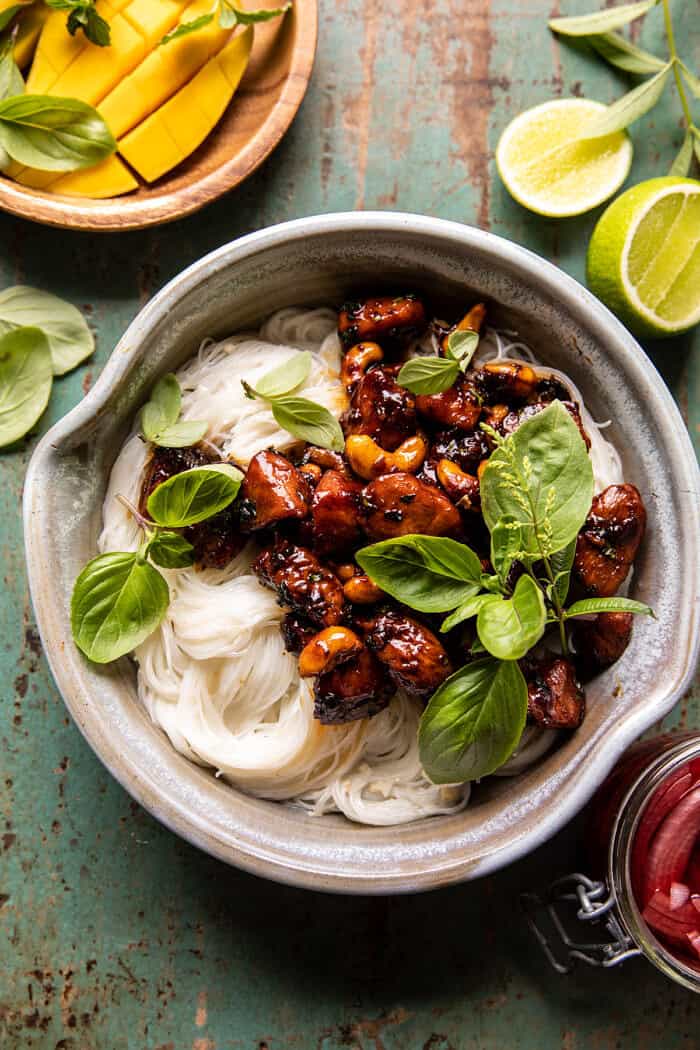 One of the questions I get asked most often is where I draw inspiration from. Unfortunately, the answer isn't always that simple. I get inspiration from almost everything. The littlest things can inspire an entirely new idea. Maybe it's a brother recommending his favorite T-Bell menu item. Or a pretty color palette that inspires everything from the recipe creation to the way I style the dish. Honestly, there are so many things, which is why I feel like I'll never fully run out of new ideas. You just never know where new inspiration will come from.
But for today's recipe? The inspiration was simple and so easily explainable. A couple of fresh Thai basil plants found at Whole Foods. Along with some pretty champagne mangos picked up there as well. Two, simple ingredients inspired this quick-cooking honey garlic cashew chicken. And while it's simple, it's so flavorful and fun too!

Since it's such a quick dish, let's jump into the details…
With Thai basil being my inspiration, the flavors within this chicken are heavily Thai influenced. I always start out with the noodles. I like to use vermicelli rice noodles, but you could use any variety of rice noodles or even angel hair pasta. Cook them according to the package directions, and while that's happening, start prepping the chicken. By the time the water has come to a boil you should be able to have everything prepped and ready for the chicken.
Next, drain off those noodles and start in on the chicken. For the sauce, there are just three ingredients…low sodium soy sauce (though I prefer to use low-sodium tamari – but either works), honey, and sweet mango jam. If you don't have mango or pineapple jam on hand, try using apricot preserves. Mango jam is ideal, but apricot will work in a pinch!

I grab my mango-pineapple jam from The Little Market. I've worked with the Little Market for years. I love all the incredible things they do for women. They're a fair trade organization that supports dignified income opportunities for women in need. They sell exclusive hand-crafted, ethically sourced, products from over 70 women-led artisan groups and social enterprises. Right now I am obsessed with their new line of jams and hot sauces. Every last one is so flavorful and delicious, yet made with simple, real ingredients. The Little Market jams actually come from women artisans in Eswatini Africa!
Alrighty…next, cook up the ginger and garlic, then add the chicken and a splash of soy sauce. The key is to caramelize the chicken and get the garlic nice and crispy, but not burnt. So, make sure to watch it closely as the chicken cooks.
Once the chicken has caramelized, pour in the sauce and simply simmer until the sauce glazes the chicken. This happens quickly, about five minutes or so.
While that's happening, finish up the noodles
I toss them up in a hot pan full of sesame oil and garlic. Yes, noodles, oil, and garlic…but then add a touch of coconut milk for a little more sauce and additional creaminess. These are SO GOOD. A little unusual I guess, but so good.
By the time the noodles have cooked, the chicken should be done as well. The noodles are meant to be saucy, so once you toss them with the coconut sauce, be sure to serve them right away.

Spoon the noodles plus the sauce into bowls, then add the chicken. Finish each bowl off with a squeeze of fresh lime juice and Thai basil. Then, toss in some mango chunks too. Only if you'd like of course, but I wouldn't skip them. I love mango…and spicy-sweet + fruity recipes are the best.
Now enjoy…immediately, it's that simple, and that quick-cooking. Honestly, this will take you no time at all to make and it uses mostly pantry staples too.

And most importantly, this is just a really delicious, fresh, flavorful, and healthy dinner that you can mix up any night of the week. You might even already have all of the ingredients on hand too!
Pretty hard to beat that.

Looking for more super fast dinner recipes, try these…
15 Minute Cajun Hot Honey Butter Shrimp
15 Minute Garlic Butter Ramen Noodles
20 Minute Orzo Carbonara with Crispy Prosciutto and Burrata
Lastly, if you make this 20 Minute Honey Garlic Cashew Chicken and Coconut Noodles, be sure to leave a comment and/or give this recipe a rating! Above all, I love to hear from you guys and always do my best to respond to each and every comment. And of course, if you do make this recipe, don't forget to tag me on Instagram! Looking through the photos of recipes you all have made is my favorite!

Nutritional information is only an estimate. The accuracy of the nutritional information for any recipe on this site is not guaranteed.
The Recipe
20 Minute Honey Garlic Cashew Chicken with Coconut Noodles
Sauteed chicken in a sweet and spicy honey soy sauce, with mango jam, cashews, and fresh basil!
Prep Time 5 minutes
Cook Time 15 minutes
Total Time 20 minutes
Servings 6
Calories 513 kcal
Instructions
1. Cook the rice noodles according to package directions.

2. In a glass jar, whisk together 4 tablespoons soy sauce, the mango jam, and honey.

3. In a large skillet over medium-high, cook 2 tablespoons oil, 4 cloves garlic, the ginger, and red pepper flakes until fragrant, 30 seconds. Add the chicken and 1 tablespoon soy sauce, cook 5 minutes until lightly caramelized. Stir in the cashews. Add the honey-soy sauce and cook until the sauce glazes the chicken and is cooked through, about 5 minutes. Remove from the heat and stir in the basil.

3. Meanwhile, set a medium skillet over medium heat. Add 1 tablespoon sesame oil and 1-2 cloves garlic. Cook 1 to 2 minutes, until golden. Stir in the coconut milk, cook 3 minutes until warmed through. Remove from the heat and toss the noodles with the sauce.

4. Divide the noodles between bowls and spoon the chicken over. Serve with basil, mango, and limes.