Healthier Homemade Nutter Butter Cookies.
Sharing a healthier take on everyone's favorite peanut butter sandwich cookie…Healthier Homemade Nutter Butter Cookies…dipped, dunked, and drizzled in chocolate. Lightly sweetened, buttery, peanut cookies, sandwiched with creamy peanut butter filling, then finished with a dip in sweet chocolate. Every last bite is sweet, peanutty, and so DELICIOUS. Absolutely nothing not to love about these homemade Nutter Butter cookies. Bonus? These cookies are easy to make, use only 7 ingredients, have no processed sugars, and can even be made vegan.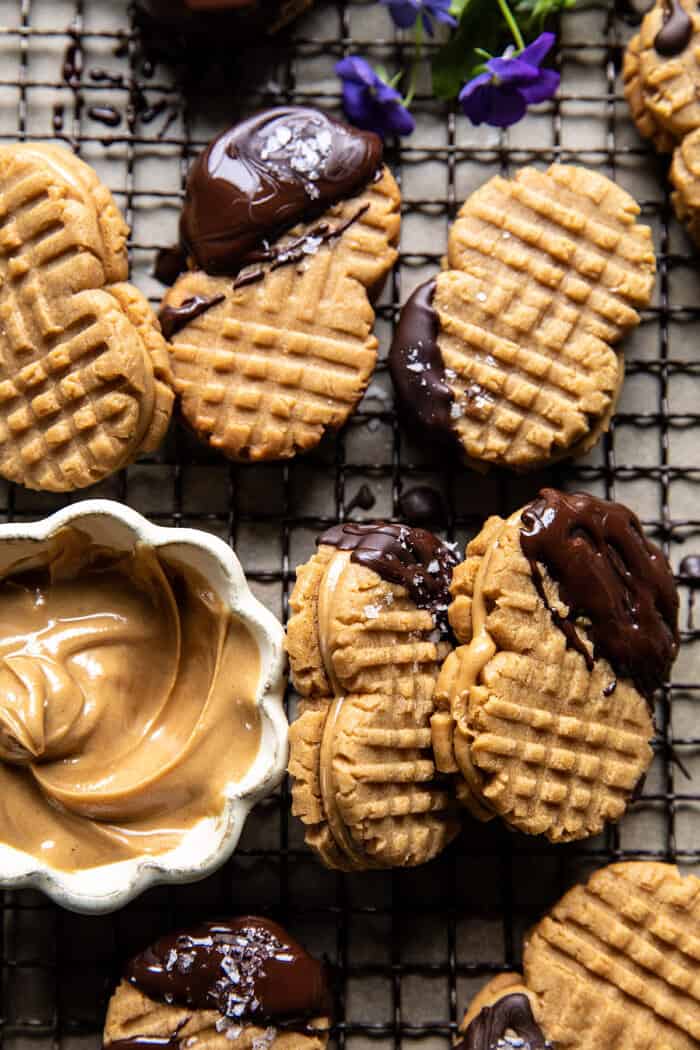 Surprise, surprise, I'm taking it back to my childhood days yet again today with these homemade Nutter Butters. And I could not be more excited. You guys, not only are these cute and fun, but they're so good. No, they're delicious.
This is one of those recipes that I wasn't planning on creating. In fact, I had completely different plans for today's recipe. But after I mentioned the idea of homemade Nutter Butters to my mom, she convinced me that this idea was worth pursuing. In fact, she said she really liked the idea a lot. She's not normally one to try and sway me in another direction, but she was adamant about these.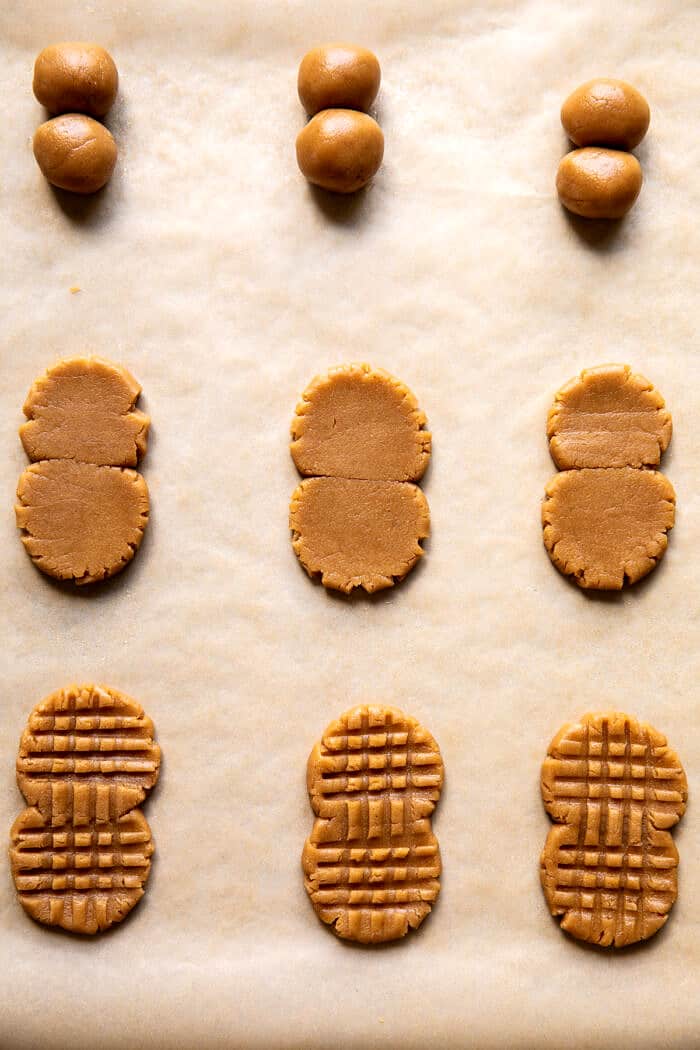 I wasn't sure if you all would think these are boring or be tired of peanut butter after Friday's lunchroom chocolate peanut butter bars, but (shockingly), I listened to mom…and like always, mom was right.
These cookies were the thing to make, and I could not be more excited to tell you all about them.

The nitty, gritty, details.
And by that, I mean EASY details, because these cookies are the simplest to make. The process is just a matter of mixing, rolling, baking, dipping, and dunking. Simple. Simple.
The dough is a mix of butter, peanut butter, and maple. When I set out to make these, I wasn't sure if I could achieve a "healthier" cookie, but to my surprise, these came out almost perfect the first go around. The butter keeps the cookie from drying out and the maple just perfectly sweetens them. I used whole grain pastry flour to keep the cookie free of white flour.
If the dough is feeling dry, add a splash of water to help it come together. If the dough feels too wet to roll, add a sprinkling of additional flour. Everyone's climates are a bit different, so these adjustments will ensure the cookies turn out great for everyone.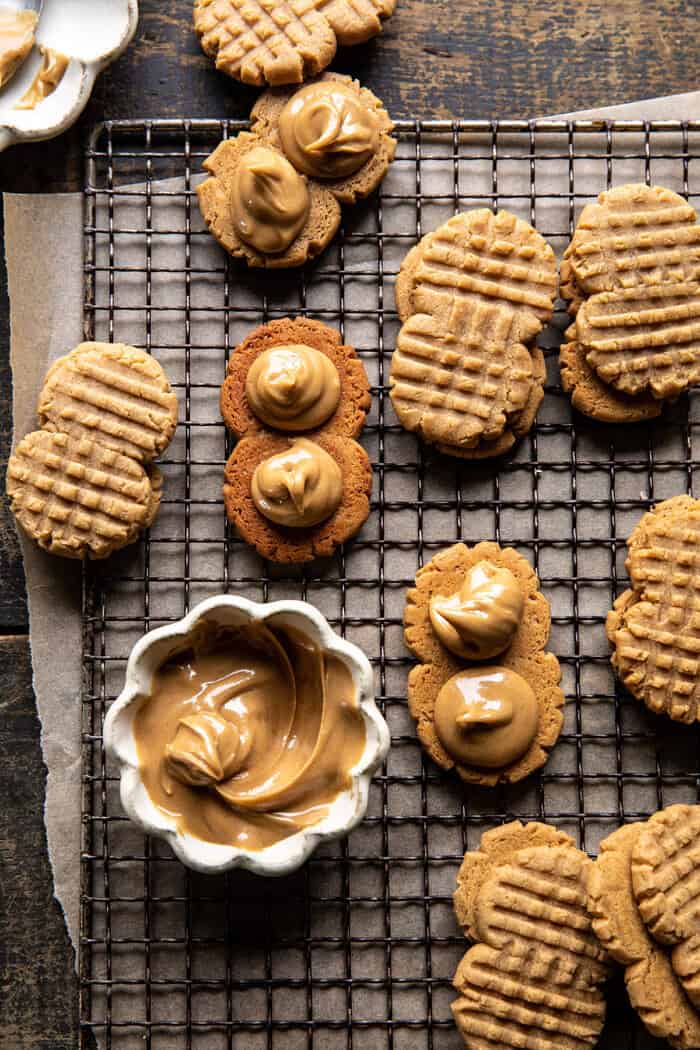 Additionally, if you're gluten free, I would imagine a gluten free flour blend could also work well.
After you finish making the dough, roll each little peanut cookie into small balls. To create that classic Nutter Butter look, you'll want to press two of the dough balls together, gently flatten them down, then use a fork to create that pretty crosshatch pattern. Since I'm such a visual person, I took a bunch of photos. My hope is that they'll help to guide you a little better than my words!
Once you've formed the cookies, simply bake um up until they're lightly toasted.
Simple as that.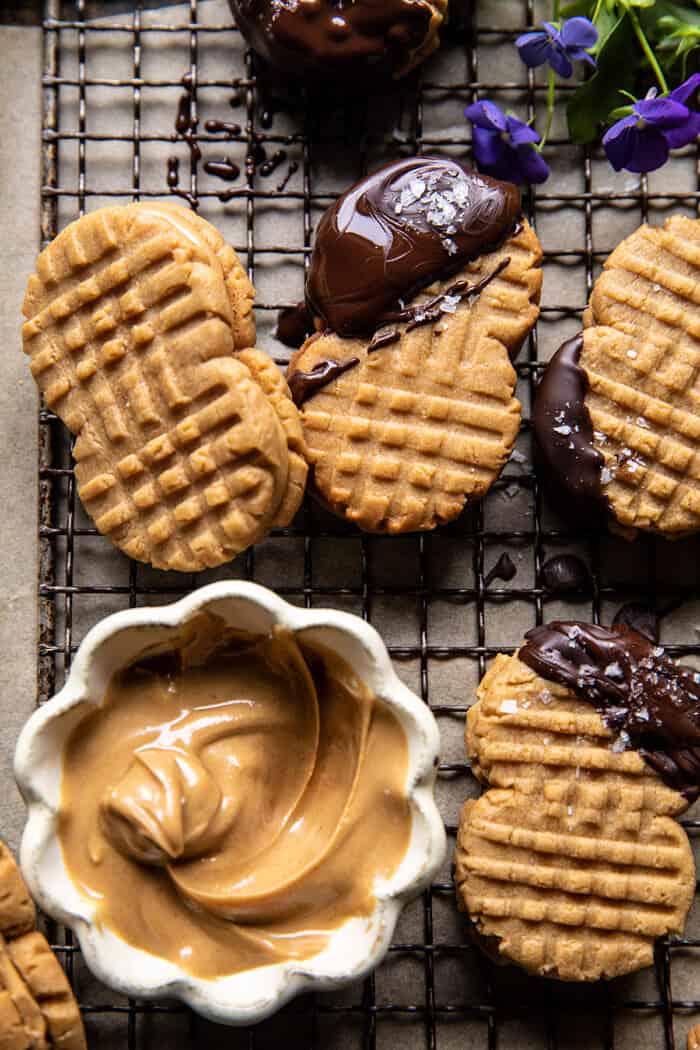 For the filling, just mix peanut butter, butter, and maple together until combined. For an extra special touch, I always add a pinch of flaky sea salt too.
When the cookies have cooled completely, simply frost one cookie, then sandwich another cookie on top. Let the filling stiffen up and then? Dip um, dunk um, and drizzle them in a little melted chocolate…
Not a classic Nutter Butter….but still, yummm.
Of course, you can choose to leave the chocolate off, but you all know how it goes over here, the more chocolate the better. You can also dip just half the cookies for those who prefer theirs without chocolate. Once the chocolate hardens, store the cookies in an airtight container. Then you'll have them on hand for easy snacking and late-night desserts. They'll also make the perfect lunchbox cookie for any kids heading back to school!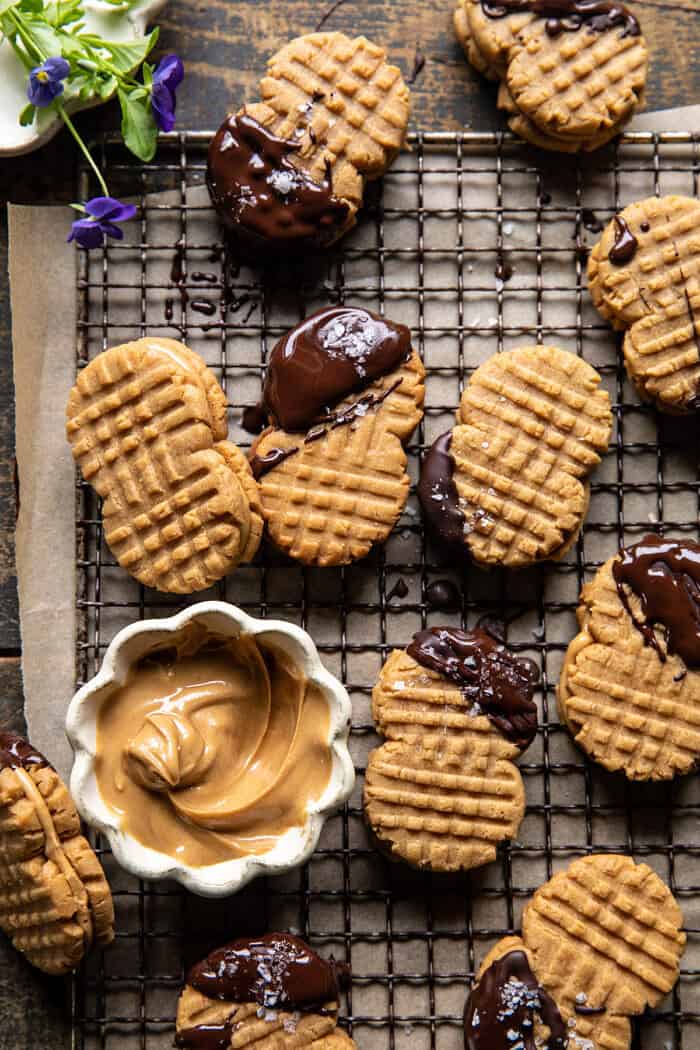 A few tips for success…
Tip one, take your time when rolling and forming the cookies. You want to make sure each dough ball attaches to the other. This will really help to ensure the cookies don't break apart from each other.
Tip two, make sure the cookies are thoroughly chilled before dipping them into chocolate. This is probably my biggest tip. If the cookies are chilled, the chocolate will quickly set up and be just a little less messy to work with.
Tip three, double the recipe. These go fast…kids love them, adults love them. And since they're made on the healthier side, a two cookie snack is A-OK.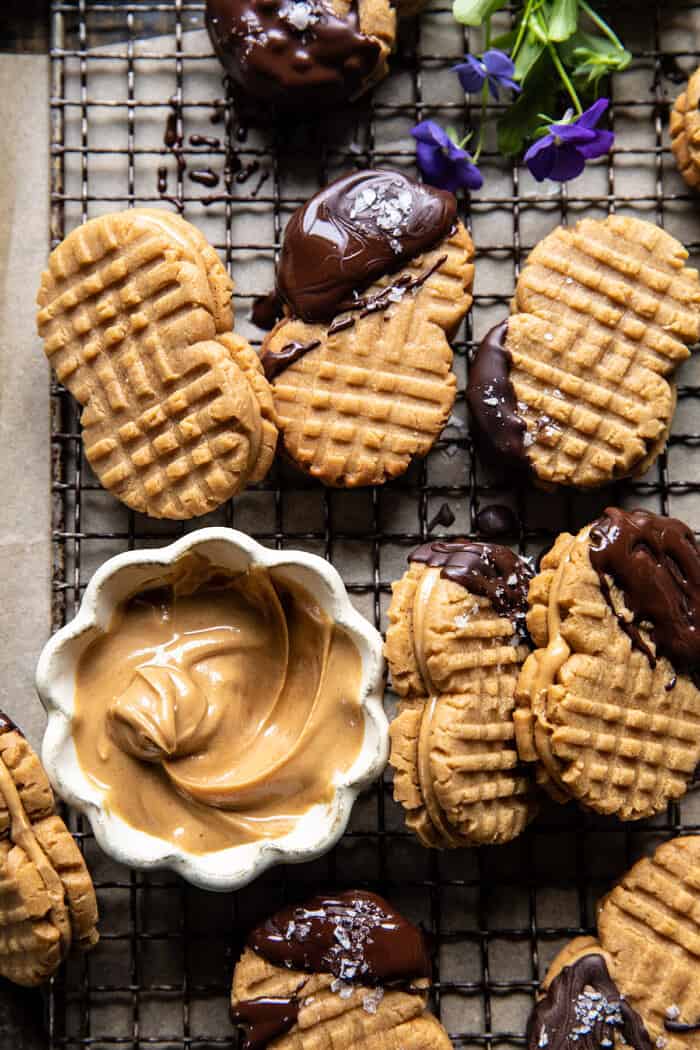 Great for back to school, great for fall…an all-around great cookie that everyone will love!
So with that, can we all agree to bake up some healthier Nutter Butter cookies tonight? I think our Tuesday needs a good cookie so why not take it back to childhood with a fun and delicious cookie. Promise, it's going to be great.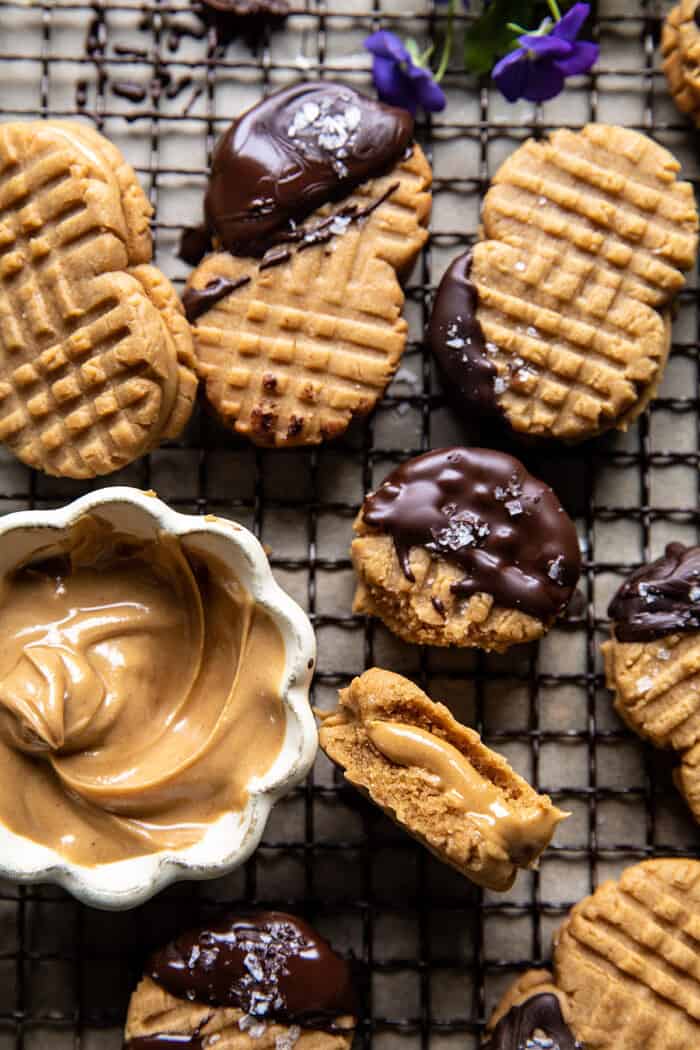 Looking for other homemade back to school recipes? Here are a few ideas: 
Frosted Brown Sugar Cinnamon Pop Tarts
Lastly, if you make these healthier homemade nutter butter cookies be sure to leave a comment and/or give this recipe a rating! Above all, I love to hear from you guys and always do my best to respond to each and every comment. And of course, if you do make this recipe, don't forget to tag me on Instagram! Looking through the photos of recipes you all have made is my favorite!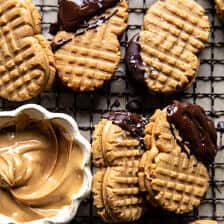 Nutritional information is only an estimate. The accuracy of the nutritional information for any recipe on this site is not guaranteed.
The Recipe
Healthier Homemade Nutter Butter Cookies...Dunked in Chocolate.
Easy to make, uses just 7 ingredients, has no processed sugars, and can even be made vegan.
Prep Time 20 minutes
Cook Time 10 minutes
Total Time 30 minutes
Servings 12 cookies
Calories 293 kcal
Instructions
1. Preheat the oven to 350 degrees. Line 2 baking sheets with parchment paper.

2. In a large bowl, cream together the butter, peanut butter, maple syrup, and vanilla until smooth. Add the flour and baking powder, beat until combined and the dough begins to form a ball. If the dough is crumbly, add 2-3 teaspoons water. If the dough feels moist, add 1-2 tablespoons flour.

3. Roll the dough into tablespoon size balls. Cut each ball in half, press the 2 balls together, and place them on the prepared baking sheet. Gently flatten each cookie. Using a fork, create a crosshatch pattern (see above photos). Transfer to the oven and bake for 9-10 minutes.

4. To make the filling, beat together the peanut butter, butter, and maple syrup until combined. Spread an even layer on one cookie and sandwich another on top.

5. To make dipping easier, freeze the cookies for 10 minutes. Then drizzle or dip the cookies into chocolate. Sprinkle with salt if desired. Eat...or let the chocolate harden and store in an airtight container for up to 5 days. Enjoy!
Recipe Notes
To make Vegan: use your favorite vegan stick butter.
To Make Gluten Free: I have not tested using GF flours, but I would recommend using an equal amount of your favorite gluten free flour blend in place of the whole wheat flour. I recommend Cup4Cup gluten free flour. I have not had success using only almond or only coconut flour. I recommend a blend for best results.