Lunchroom Chocolate Peanut Butter Bars.
Retro-style Lunchroom Chocolate Peanut Butter Bars…taking it back to grade school today with these DELICIOUS peanut bars. Picture a doughy buttery, peanut butter cookie base, layered with creamy peanut butter, and the most delectable, roll your eyes back good chocolate frosting that's rich and fudgy. The added bonus is that these bars require only pantry staple ingredients and take almost no effort to make. They're sweet, salty, heavy on the peanut butter, extra chocolatey, and every last bite is truly delicious. The perfect treat to enjoy as an afternoon/after-school/homeschool snack and for any upcoming fall gatherings with family or friends.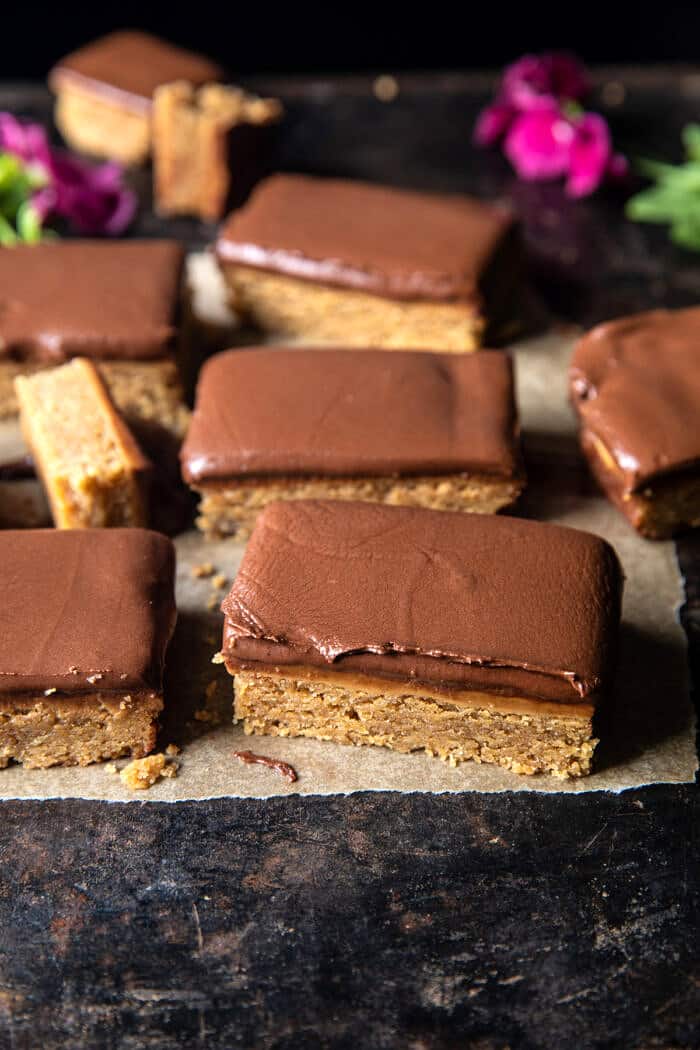 The truth really is that I love each and every recipe I share with you guys. I work endlessly to only share the best of the best with you guys. There are many, many…and I do mean many…recipes that you never see because they just aren't good enough. The recipes I share with you guys have to be really good, so because of this, I love them all.
That said, I of course have some recipes I might favor slightly more than others.
Case in point, these peanut bars. It's no secret that my favorite desserts include chocolate and peanut butter. That's fairly obvious from the amount of peanut butter and chocolate recipes that can be found on the site. I could not love these chocolate frosted peanut bars more. If you could see me typing away, you'd see my excitement
It's dorky, I know, but I love it when I really LOVE a recipe. That said, I have so many reasons why I love this recipe…and it's not just about the taste.

So here comes the story.
I've been talking about this all week, but it's back to school time, and for me, that brings back a lot of feelings. For as much as I hated school growing up, I always somewhat enjoyed this time. Back to school meant, new clothes, new supplies, and the excitement of the fall season ahead.
And also? Lunchroom desserts. YES, you guys know what I'm talking about.

For me personally, I never bought a school lunch. Mom always packed our lunches when we were younger. But the one thing we did always get to enjoy was pizza day. Oh, pizza day. If I'm remembering correctly, it only happened once a month (if not it seemed like it was a month!). It was a day we looked forward to all month long. We loved pizza day!
I mean of course, we got to eat cheesy pizza (yumm), but even better than the pizza?
The "lunchroom" desserts that came with it. Also known as the desserts that all the PTA moms would bring in. Enter the giant chocolate chip cookies and the generously frosted chocolate peanut butter bars. Again, yumm!
Today I took inspiration from my grade school days and really thought back to what I loved most about those "lunchroom" peanut bars.
They were doughy, heavy on the peanut butter, and frosted with the most delicious fudgy chocolate frosting. The frosting was a cross between fudge, frosting, and icing. Hard to explain, but I get the feeling many of you know what I'm talking about.
Who else enjoyed a good ole' chocolate peanut butter bar on pizza day? Any of you? I can't be alone on this one.

Lunchroom Chocolate Peanut Butter Bars…the details.
For once, this dessert didn't take me forever to perfect. Though I did have to make the frosting about four times to get it JUST right.
These bars are easy…so easy…and very hard to mess up.
Start with the peanut cookie base. I used my favorite blondie recipe that's pretty much foolproof. It doesn't even require a mixer, just mix with a spoon and bake. So simple. As soon as the peanut bars come out of the oven, dollop them with a hefty amount of creamy peanut butter. The key is to add the peanut butter while the bars are still warm. The heat from the bars allows the peanut butter to melt into one even layer and make spreading the peanut butter out very simple.
Now let the bars chill completely.

In the meantime, make the frosting.
I have some words on this frosting.
When I set out to make these I had a picture of the frosting in my head and I needed to recreate that picture. The frosting needed to be thick and fudgy, but yet soft and almost runny. Think of a just set top that has glazed over and stiffened, but then underneath is fudgy, loose frosting.
Very old school, very vintage, that's what I was going for. Like the kind of frosting your grandma would make.

Yummm (apparently, this is today's word of the day. Just go with me on it).
What is the secret?
The mix of ingredients is basic…butter, sugar, cocoa powder, vanilla, and milk.
So what's the trick? Using warm to almost hot milk. The heat from the milk warms the butter and turns the cocoa powder into a rich creamy chocolate. It's so hard to explain, but I promise, it's beyond good. Just sweet enough, extra chocolatey, smooth, and very fudgy.
Once the bars are cooled, just spread the frosting over top. And that's it, easy.
You can let the frosting set up or just cut and enjoy, preferably with cold milk, because that's the best pairing with chocolate and peanut butter.

Nothing too fancy, but all things incredibly delicious.
I know that things look different this year. But whether you or your kids are heading back to the classroom, or just homeschooling, these bars make for the perfect dessert to enjoy anytime, mid-school day, after school, late night. They all work. Just bake, eat, and enjoy all the deliciousness.
And if your kids are home, these are easy enough for them to help bake up too!

Looking for easy "lunchroom" style back to school desserts? Here are a few ideas: 
Chocolate Peanut Butter Pretzel Blondies
Giant Salted Espresso Hot Fudge Cookies
Lastly, if you make these lunchroom chocolate peanut butter bars be sure to leave a comment and/or give this recipe a rating! Above all, I love to hear from you guys and always do my best to respond to each and every comment. And of course, if you do make this recipe, don't forget to tag me on Instagram! Looking through the photos of recipes you all have made is my favorite!

Nutritional information is only an estimate. The accuracy of the nutritional information for any recipe on this site is not guaranteed.
The Recipe
Lunchroom Chocolate Peanut Butter Bars.
Taking it back to grade school today with these yummy simple bars made with pantry staple ingredients.
Prep Time 20 minutes
Cook Time 20 minutes
Total Time 1 hour 40 minutes
Servings 24 bars
Calories 253 kcal
Instructions
1. Preheat the oven to 350 degrees F. Line a 9x13 inch baking dish with parchment paper.

2. In a microwave safe bowl, melt together the butter and 1/2 cup peanut butter, stirring every 30 seconds until melted. Stir in the brown sugar, sugar, eggs, and vanilla. Add the flour, baking powder, and salt.

3. Press/spread the dough out into the prepared dish. Transfer to the oven and bake for 18-22 minutes, until just set in the center. Remove from the oven and dollop tablespoon size spoonfuls of the peanut butter over the bars, lightly spreading the peanut butter in an even layer. Let cool completely.

4. To make the frosting. Add the butter, 2 cups powdered sugar, cocoa powder, vanilla, and 1/4 cup warm milk to the bowl of a stand mixer. Beat until smooth, adding additional warm milk until the frosting becomes thicker, but still drizzly. Taste, adding more sugar if needed. Spread the frosting over the bars. Let set for 1-ish hour...or slice, snack, and enjoy!
Recipe Notes
To Make Gluten Free: Use an equal amount of your favorite gluten free flour blend in place of the all-purpose flour. I recommend Cup4Cup gluten free flour.
Storing: these bars keep well for 3-4 days at room temperature or in the fridge. 
To cool the bars quickly for frosting: place in freezer for 15 minutes. Remove and frost.
To Bring Eggs to Room Temperature: place the eggs in a bowl and fill with warm water. Let sit 5 minutes.