Fudge Brownie and Chocolate Liqueur Crème Brûlée Pie
I have a love hate relationship with this pie.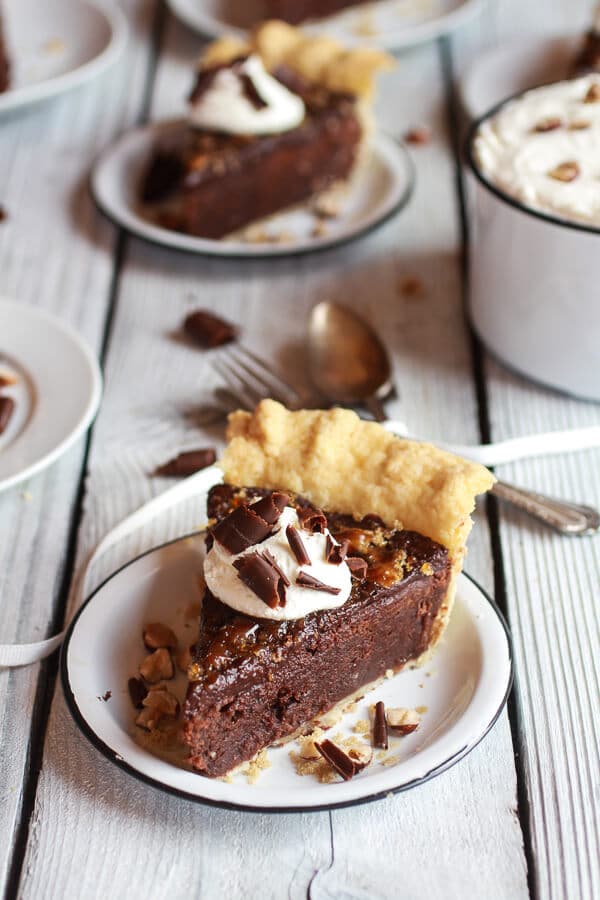 I mean I stinkin love it. It is the pie of Thanksgiving this year. Like THE pie. It is so good.
First there is the pie crust, that in my opinion is one of the best. Then there is an entire layer of thick fudgy brownies. Then for the best part, the boozy, silky smooth chocolate Crème Brûlée layer. It is definitely a pie for chocolate lovers or lovers of pie. It's just a darn good pie.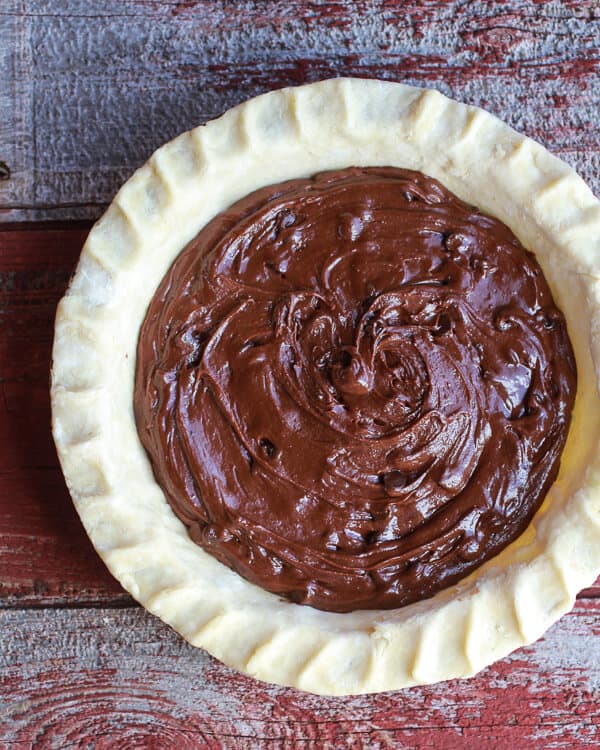 So, for as much as I love this pie, I also hate it.
I made it three times over the course of three days. Yes, that is three full pies in three days. Ok, the middle pie was never fully finished, but it was a half pie complete with the brownie layer.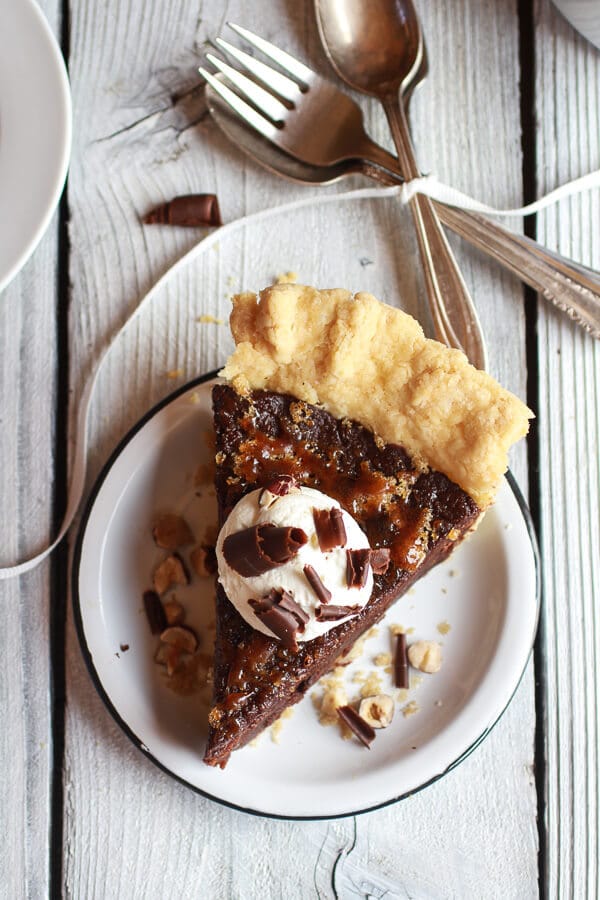 The first pie turned out great. The crust looked perfect and the pie was delicious, but it was 3:30pm by the time I got everything all cooled and ready for photos. The sun sets behind the mountains by 4:10pm and basically, I just lost the light and took some seriously horrible photos.
They were so bad.
I do not even like thinking about it.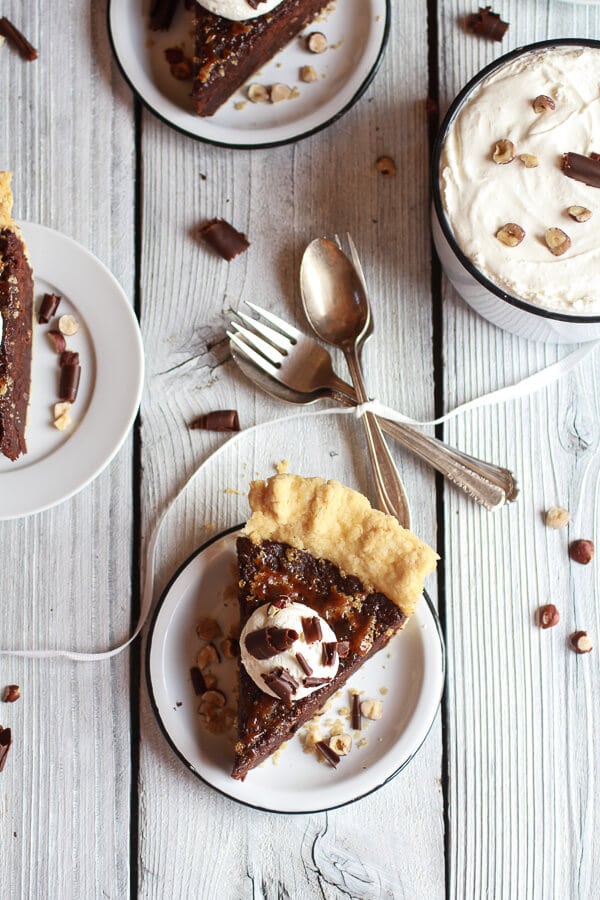 For the second pie I totally screwed the crust up.
I tried to get all fancy with it and spent like a good thirty minutes on it. It looked awesome, until I put the pie in the oven and pulled out a sunken-in pie crust. Ugh. This one was a bummer. I threw in the towel on that pie and did not even attempt to add the Crème Brûlée layer.
I just gave the brownie pie to they boys. They loved it… they're like dogs, I know I can count on them with anything sweet (or with bacon) to lick the dish clean and make it disappear. Bye bye bad pie!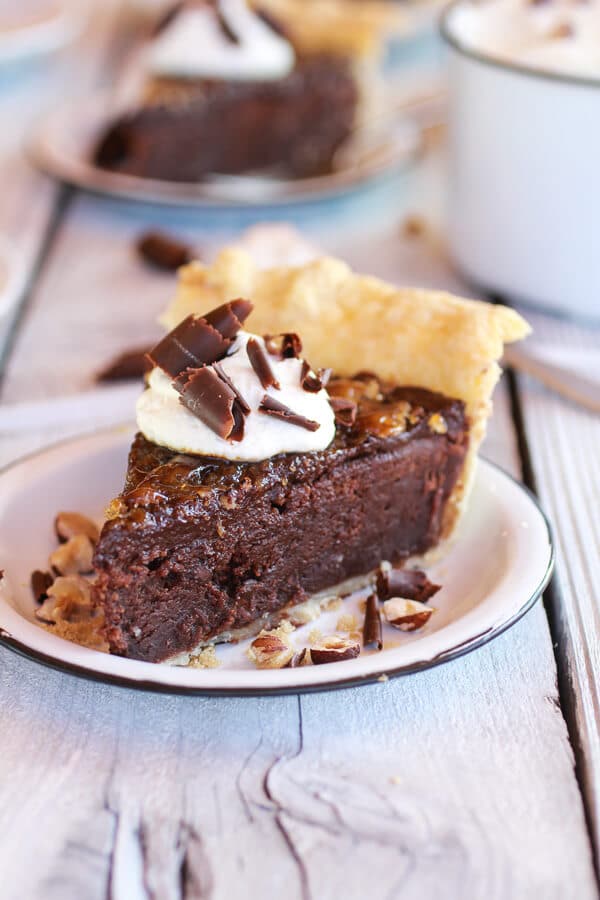 The third pie?
Yeah, I still messed it up, but it was workable and just as delicious as the first. This is what I am calling a rustic pie. It may not look perfect, but it tastes better than any picture perfect store-bought pie out there.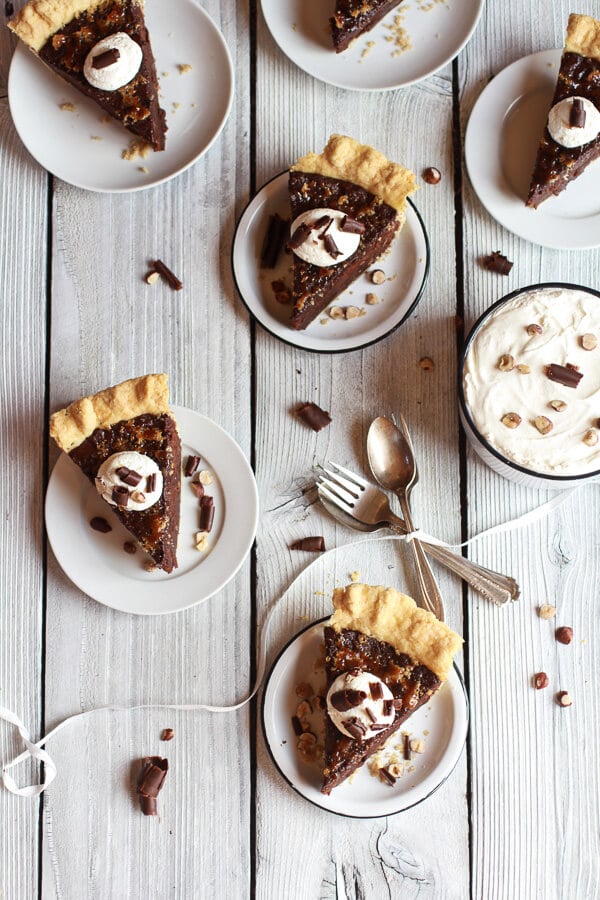 Oh, but wait, I almost forgot to tell you about the big incident with the third pie.
Ahh, well actually I did not almost forget. I have just been debating in my head whether or not to tell you guys. I mean, I cook for a living so you would think I would have the smarts to not do stupid stuff. But seriously, I should not be allowed anywhere near open flames.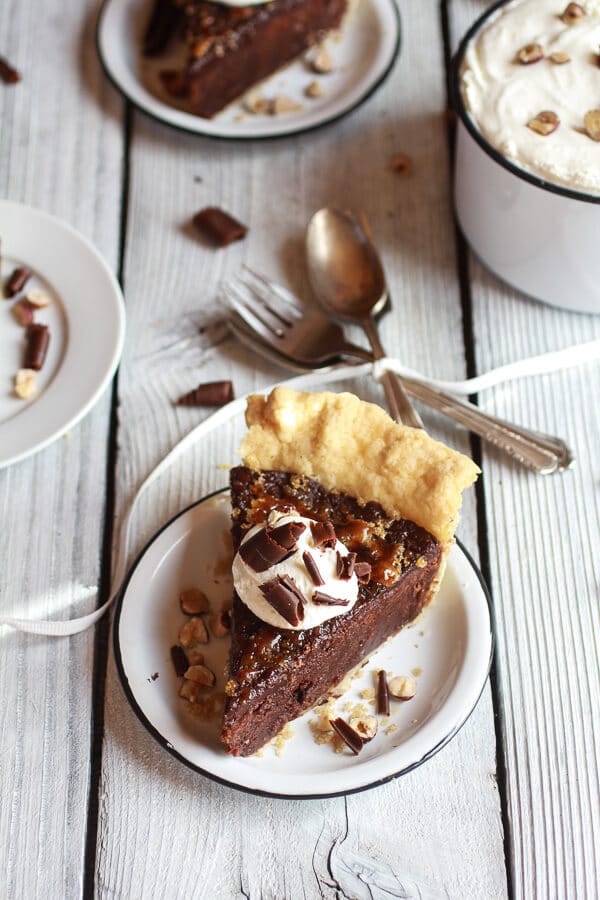 See, I have this blow torch thing, and it's not a kitchen torch, it is a real torch.
I was brûléeing the top of the pie and set the torch down on the counter, flame still on. Oh man, never leave the flame on.
Like NEVER.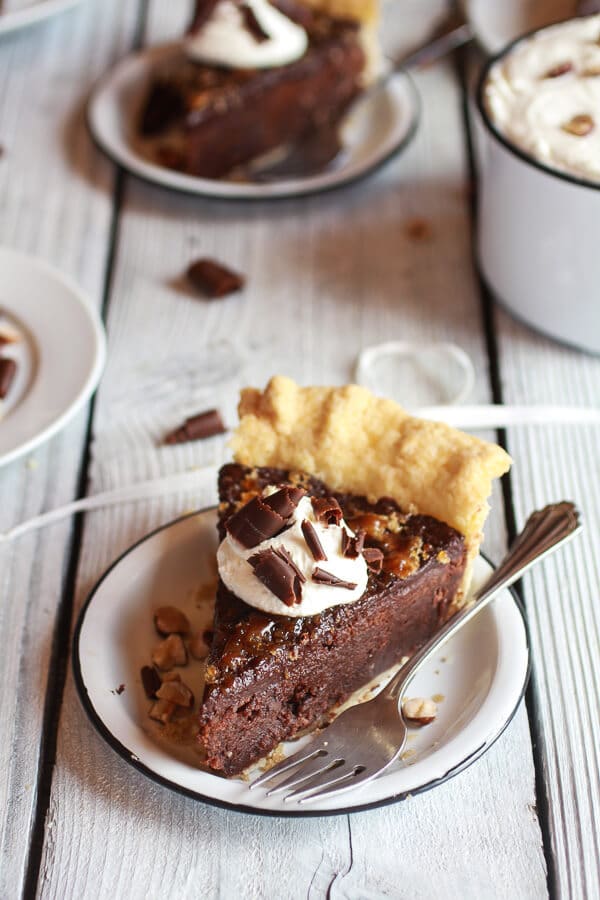 I almost burned my whole head of hair off.
Alright, that is a major exaggeration, but it so could have happened if I did not smell the ends of my hair fringing. There was even a tiny flame for like a millisecond on the end of my hair. Lucky for me, my head and my long hair (that I would be not very attractive without) that I was able to blow the flames out. There is just a little bit of the end of my hair missing. I really need to get it cut anyway, it is ridiculously long.
Fudge, that one was just too close.
I need a brain and to never play with torches again….NAH! I need the brain, but I have to say I am loving being able to brûlée things. I feel pretty bad ass while doing it. Just sayin.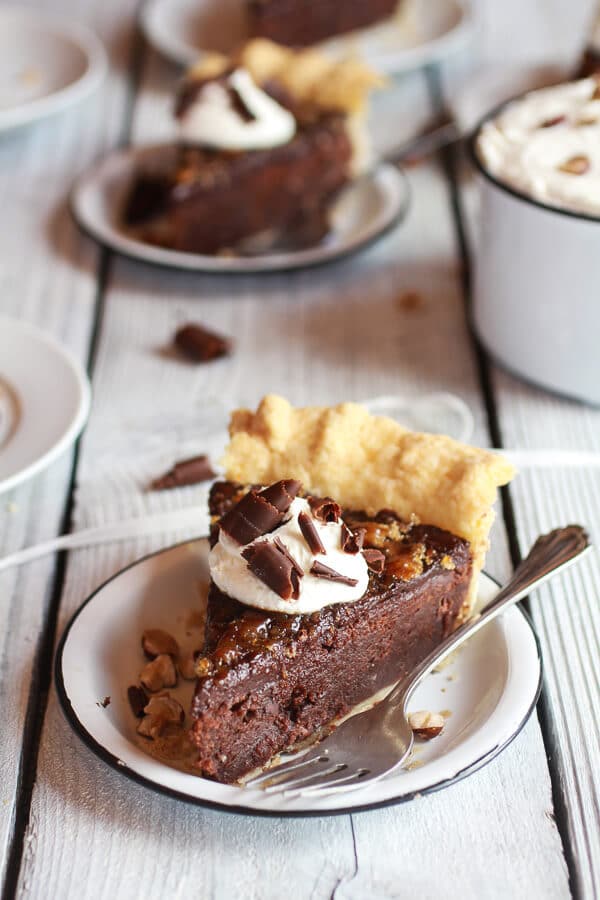 So this pie. Like I said, it is a chocolate lover's dream, gorgeous for that Thanksgiving table and believe it or not, pretty quick and easy for a pie.
So do not be afraid of the Crème Brûlée layer. I promise it is SO easy and nothing to fret about. If you do not have a kitchen torch (get one!!) you can brûlée the top under the broiler, but be super watchful of it!! The broiler and I, we are not always the best of friends either.
Oh, and the pie crust. You can use your favorite crust recipe or even a store-bought one, but I have to say that I LOVE this crust. I do use all butter, which I know some people will highly disagree with. But we like butter over here and shortening kind of grosses me out a bit. Promise though, this crust it so incredibly flakey. It is actually so good and so flakey that I am thinking of doing a "how to" on it. What do you think. Yeah? Nah?
Oh, and the booze! Yes! I used a hazelnut liqueur, which smells incredible! Seriously, it just screams holiday dessert!
Ok, I am done now.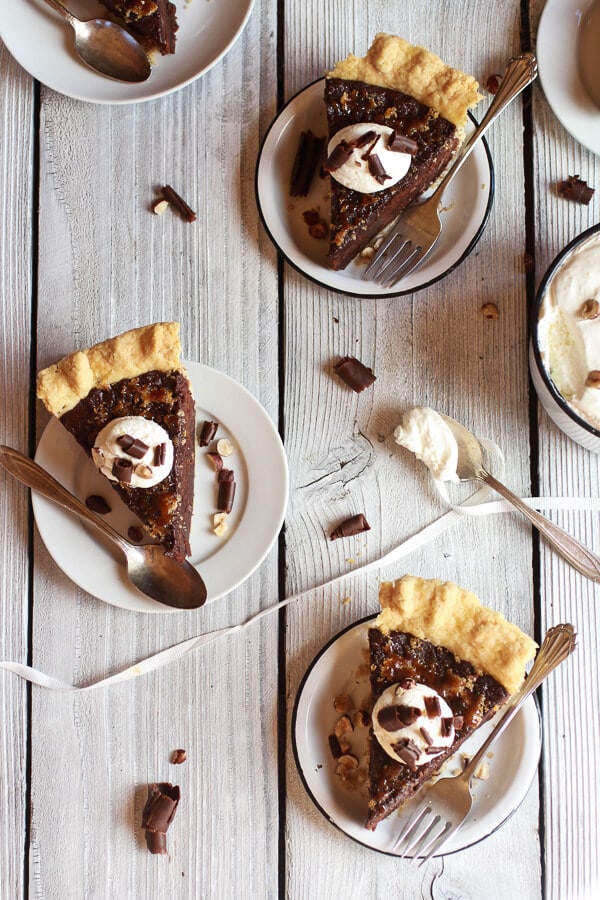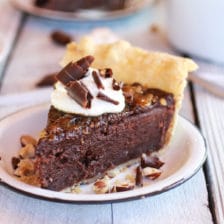 Nutritional information is only an estimate. The accuracy of the nutritional information for any recipe on this site is not guaranteed.
The Recipe
Fudge Browne and Chocolate Frangelico Crème Brûlée Pie
By halfbakedharvest
Course: Dessert
Cuisine: American
Keyword: brownies, chocolate, fudge
So this pie is a chocolate lover's dream, gorgeous for that Thanksgiving table and believe it or not, pretty quick and easy for a pie.

Prep Time 20 minutes
Cook Time 1 hour
Total Time 3 hours 35 minutes
Servings 10 Servings
Calories 845 kcal
Ingredients
Instructions
To make the pie crust. In a large bowl, with a pastry cutter, gradually work the butter into the flour until it resembles coarse meal. In a small bowl, beat the egg with a fork and then pour it into the flour and butter mixture. Add 5 tablespoons of cold water, 1 tablespoon of apple cider vinegar and 1 teaspoon of salt. Stir together gently until all of the ingredients are incorporated and dough forms a ball.

Separate the dough ball into thirds. Form 3 evenly sized balls of dough and place each dough into a large Ziploc bag or wrap with plastic wrap. Using a rolling pin or your hands, slightly flatten each ball of dough to make rolling easier later. Seal the bags and place them in the freezer until you need them. If using the dough right away, remove 1 of the rounds of dough from the freezer after 15 minutes, then remove from bag or wrap and roll the dough out. Leave the remaining pieces of dough in the freezer for another use.

On a floured surface roll the dough, starting at the center and working your way out. (Sprinkle some flour over top of the dough if it's a bit too moist.) If the dough is sticking to the countertop use a metal spatula and carefully scrape it up and flip it over and continue rolling until it's about 1/2 to 1 inch larger in diameter than your pie plate. Now carefully fold the dough in half and then in half again to make a large triangle. Carefully lift the triangle into a pie plate and unfold. Press the dough into the pie plate and shape the edges as desired.

To make the brownie layer. Pre-heat oven to 325 degrees F.

Mix canola oil and butter, add cocoa and stir until well blended. Beat the eggs with a mixer. Add sugar and vanilla, beat well. Add the chocolate mixture and continue to beat to combine. Slowly add in the flour and salt. Stir in chocolate chips.

Spread the brownie mixture evenly into pie plate. Bake at 325 degrees for 45-50 minutes or until the top of the brownies are set. Remove from the oven and allow to cool while you make the Crème Brûlée Layer.

For the Crème Brûlée, add the heavy cream, hazelnut liqueur, chopped chocolate and vanilla bean seeds to a medium sauce pot. Heat the mixture over medium heat, stirring frequently until the chocolate is melted and the mixture is smooth. Once smooth and melted remove from the heat and let sit 5 minutes.

In the meantime add the eggs, sugar and cornstarch to a small bowl and whisk until smooth. Once the chocolate has set for 5 minutes whisk the egg mixture into the chocolate until smooth. Return the mixture back to medium heat and whisk consistently for 5-10 minutes or until the mixture is thickened. Don't worry if some of the alcohol separates from the chocolate, just keep whisking. Once the mixture is thick like pudding remove from the heat and pour over the brownie layer, smoothing out the top. Let cool slightly for 5 minutes and then cover with plastic wrap, pressing the plastic wrap against the chocolate Crème Brûlée. Refrigerate the pie for at least 2 hours (in a pinch the whole pie can be placed in the freezer for 1 hour) or until ready to serve.

Before serving, whip the cream. Pour the cream into the a large bowl or bowl of a stand mixer and whip cream until stiff peaks are just about to form. Beat in the hazelnut liqueur and powdered sugar until peaks form. Make sure not to over-beat, cream will then become lumpy and butter-like.

When ready to serve slice the pie into your desired amount of triangles. Sprinkle the brown sugar over each piece and use a kitchen torch to brûlée the top (do not brûlée the top until just before eating). Hold your kitchen torch two inches above the sugar and move it in a circular motion until the sugar creates a caramelized top. If you don't have a kitchen torch, you can use the broiler for two to three minutes. Just make sure you watch the pie closely!! You do not want it to burn and you may need to rotate it to help it evenly caramelize. Also, you can brûlée the whole pie instead of doing individual slices, but I found that doing the slices made things easier to cut.
Recipe Notes
*The pie can be made 2 days in advance and kept in the fridge. Just do not brûlée the top until ready to serve. *I like to remove the pie 30 minutes prior to eating to help the brownies soften a bit. *Pie crust measurements based off the [Pioneer Women. | http://thepioneerwoman.com/cooking/2007/12/p-p-p-pie_crust_and_its_p-p-p-perfect/]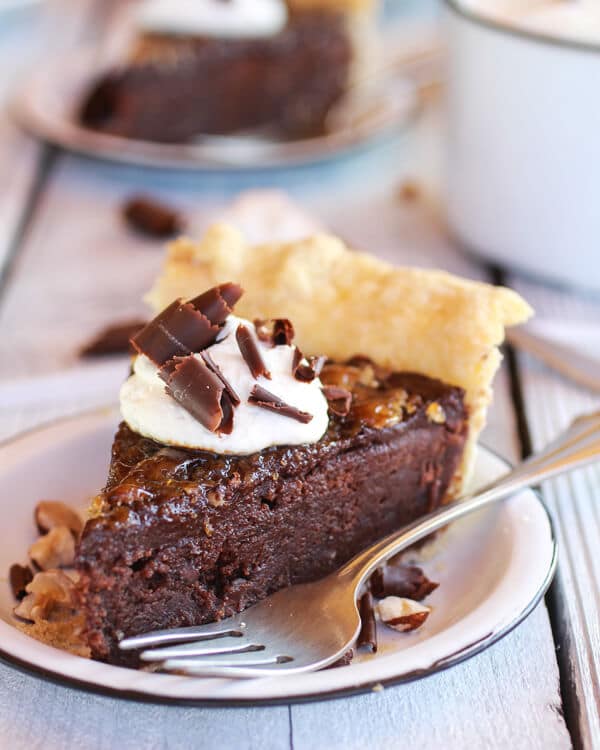 Bring on the pie!