Dark Chocolate Dipped Crunchy Coconut Cashew Sesame Bars.
I've got chocolate covered snacks today!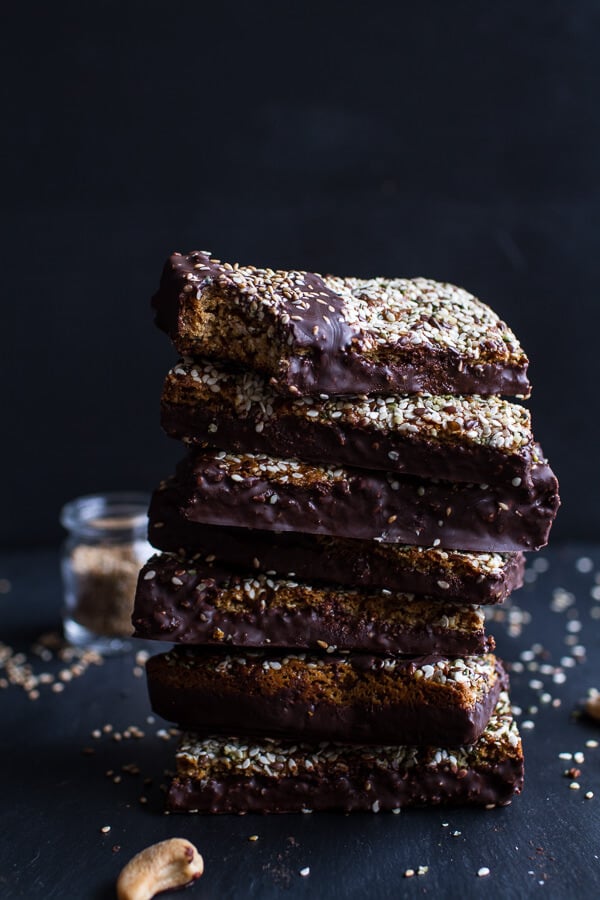 Surprise, surprise right?
But when in doubt, always go with chocolate covered. Not that I was in doubt or anything. I mean, dipping these bars in chocolate was honestly the whole reason behind making these extra healthy bars. Duh.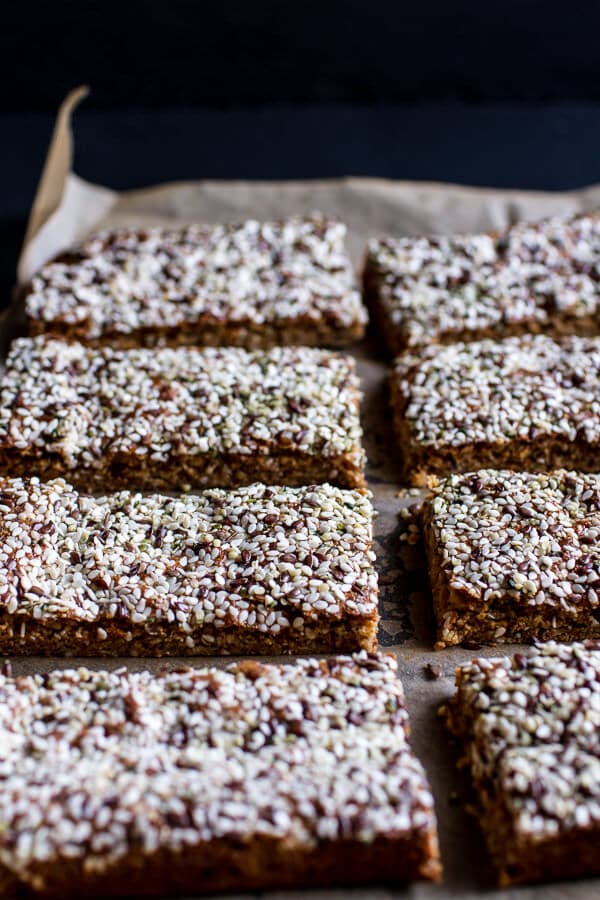 I have actually had these dark chocolate dipped crunchy coconut cashew sesame bars (whew) sitting on my computer since before New Years, but for some reason, things like chia pudding and peanut butter chocolate bars got in the way. Well, it's not that they got in the way (because they are all freaking delicious), it's more that I was saving these bars for the very right time because, well that's just what I do. I save favorite recipes until I am ready to share them. And yeah, sorry if you have heard this before, but I feel I need to explain my freakish ways once more.
But hey, at least there is a method for my madness, I'm giving you healthy chocolate bars that you can totally feel good about eating. That's gotta count for something, right?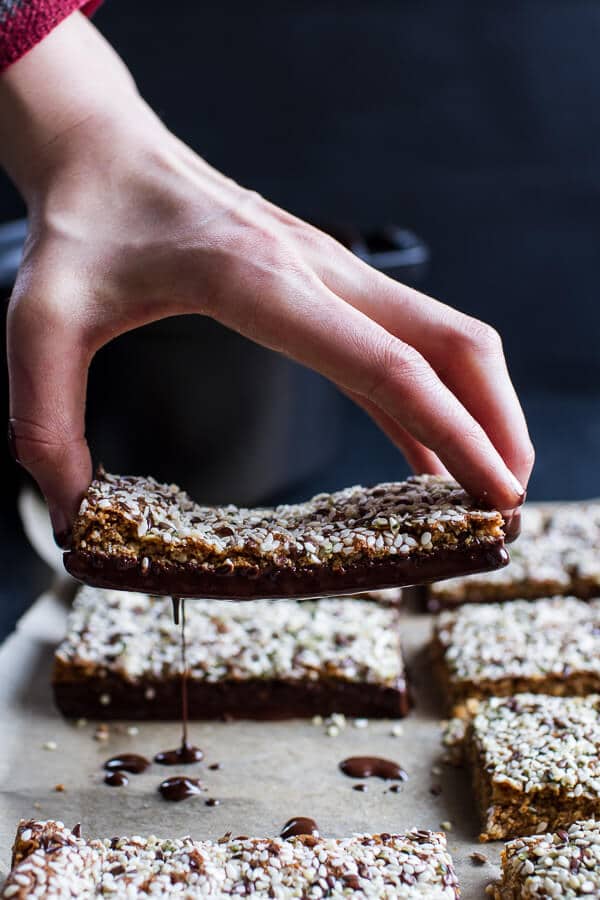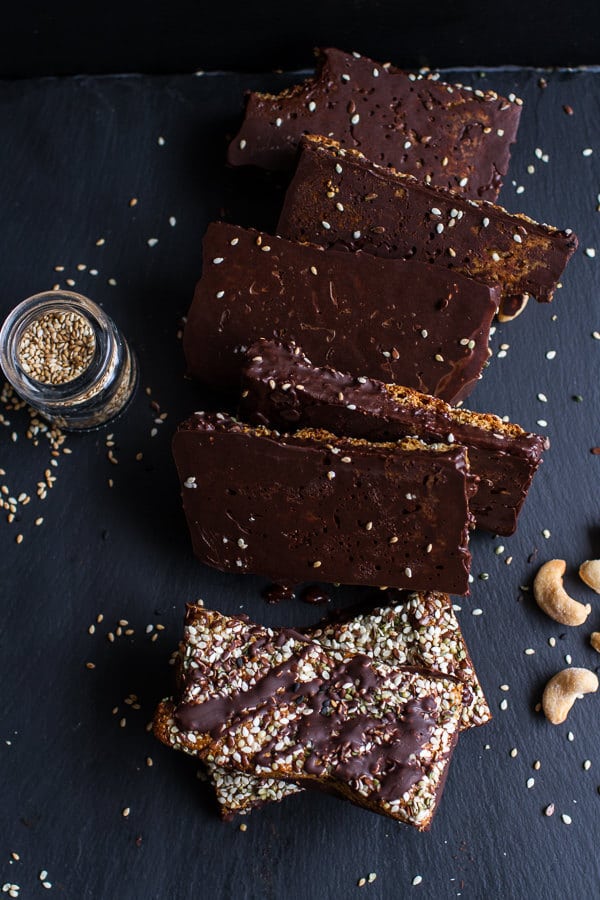 So, these bars are basically a bunch of healthy ingredients (but still really great tasting!) piled into a bar. They are gluten-free, vegan and full of healthy fats and protein. Which is obviously why these are acceptable at any given point throughout the day.
Can you say a little chocolate for breakfast? Ahhhh, yes pleeeaase.
See, your Tuesday is already looking up.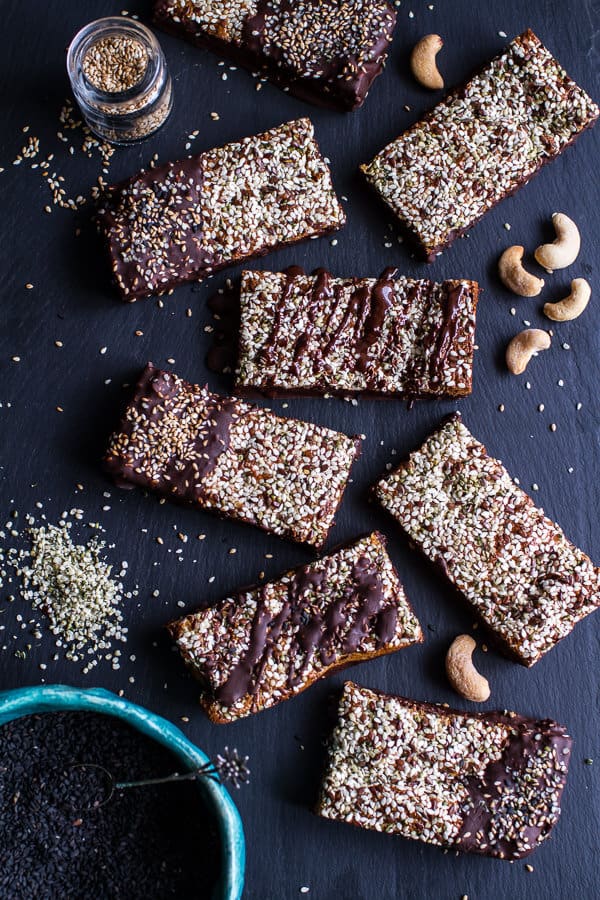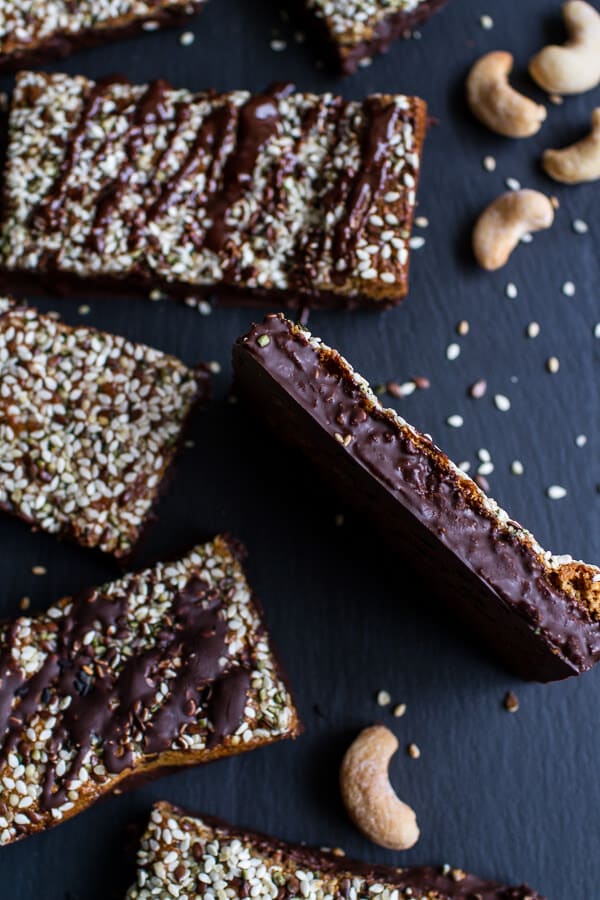 The bulk of these bars are a base of cashews, coconut and boat loads of seeds. I chose to use a mix of black and white sesame seeds, flax seeds and hemp seeds. They seemed to be the perfect mix and added just the right amount of CRUNCH to the bars.
Start off by toasting everything to get that delicious roasted flavor. Then just blend together, mix with a little maple syrup or honey, a touch of vanilla and salt, and bake, cut and dip….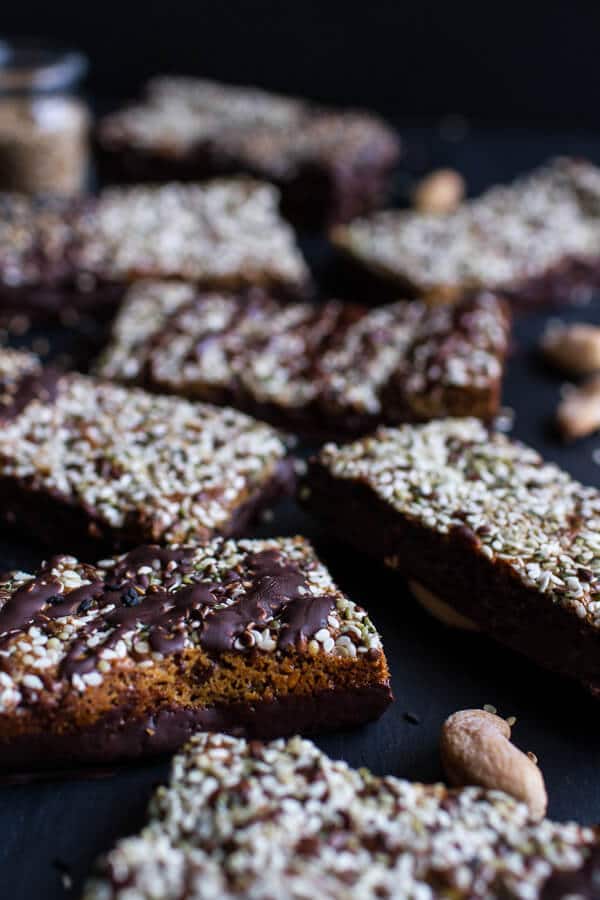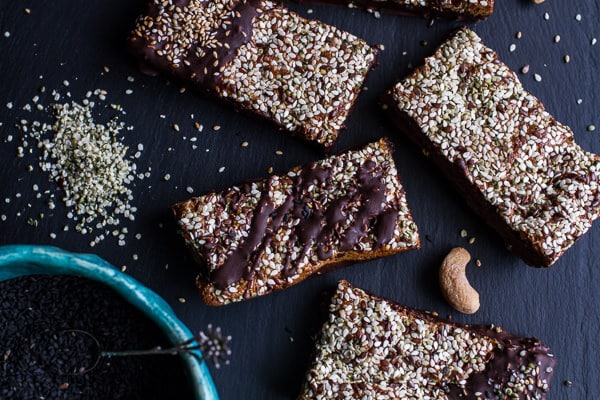 Or in my case, double dip. Then drizzle on some more. I just couldn't help it. You should never go lite on chocolate layers. Just never.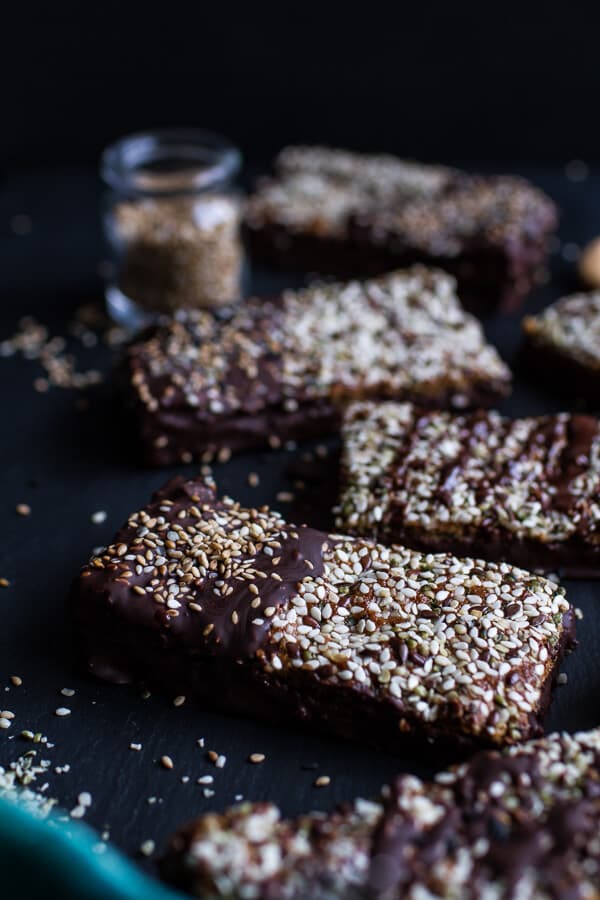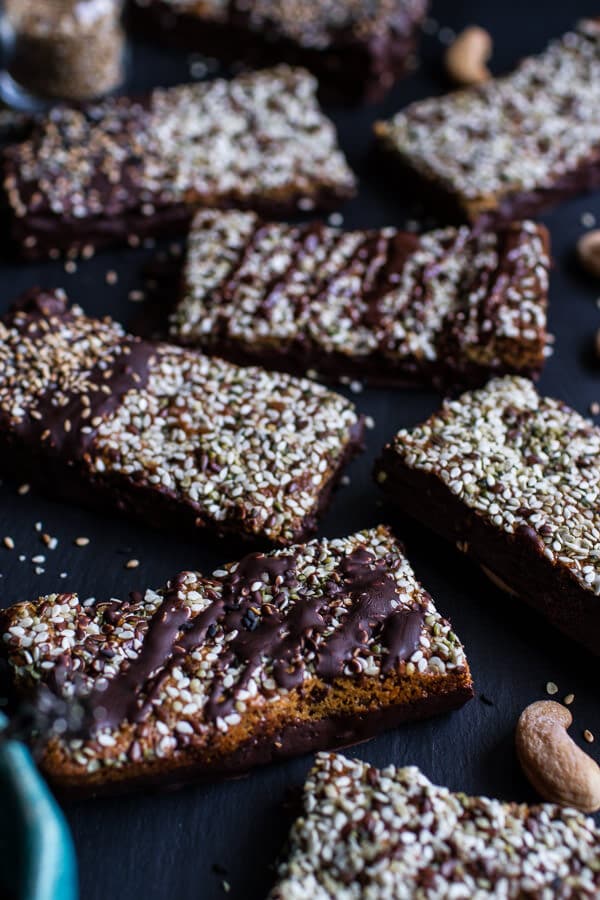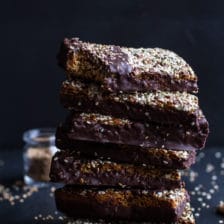 Nutritional information is only an estimate. The accuracy of the nutritional information for any recipe on this site is not guaranteed.
The Recipe
Dark Chocolate Dipped Crunchy Coconut Cashew Sesame Bars.
By halfbakedharvest
Course: Dessert, Snack
Cuisine: American
Keyword: bars, cashew, dark chocolate, sesame
I've got chocolate covered snacks today!

Prep Time 10 minutes
Cook Time 40 minutes
Total Time 55 minutes
Servings 8 CHOCOLATE CRUNCHY CASHEW BARS
Calories 532 kcal
Instructions
Preheat oven to 350 degrees F. Coat 8x8 inch baking pan with cooking spray and then line with parchment, leaving overhang on all sides. Set aside.

Toast cashews, coconut, sesame seeds, flaxseeds and hemp seeds in separate areas on a rimmed baking sheet, stirring occasionally (but not mixing the seeds and nuts), until golden brown, about 10–12 minutes. Let cool slightly and measure out 2 tablespoons sesame seeds, 1 tablespoon flaxseed and 1 tablespoon hemp seeds. Set these seeds aside to top the bars with later.

Add the cashews, the coconut and the remaining sesame, flax and hemp seeds plus the salt and wheat bran to a food processor or high powdered blender. Process until finely chopped. Place in a medium bowl.

Bring maple syrup (or honey) and the coconut oil to a boil in a small saucepan. Cook, stirring, for about 1 minute. Remove and stir in the vanilla. Pour over cashew/seed mixture and stir to coat.

Press the mixture firmly into the prepared 8x8 pan with the back of a greased measuring cup or wet hands. Top the bars with the reserved seeds from earlier. Press the seeds gently to adhere. Bake until golden brown, 25–30 minutes. Let cool, then cut into the bars.

Dip the cooled bars into the melted chocolate and place on a parchment lined cookie sheet. Freeze 5 minutes for the chocolate to harden. Store in an air tight container at room temp or in the fridge.
Recipe Notes
*Recipe adapted from Bon Appetit January 2015 Issue.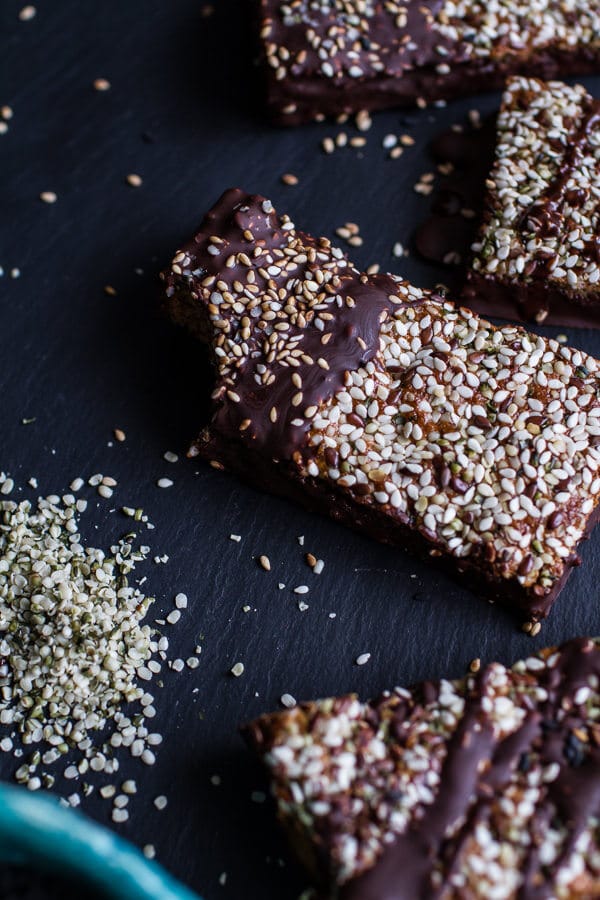 And now we snack….and snack a lot.