Cheesy Chipotle Adobo Chicken Quesadillas.
If only all Mondays could include these quesadillas.

Wouldn't that be amazing?! Well, now they can, because I have pretty good feeling you guys are going to LOVE this recipe. I mean, cheesy Mexican food on a Monday?
Yes, please!
These quesadillas are such a fun way to start the week. My weekend was pretty non-eventful, but still a great weekend. I spent a little sister time with Asher watching Mary-Kate and Ashley movies (more on these later…I still love them at 23 years old), planning her summer trip to Italy after watching When in Rome (I like the way the girl thinks), and working on a food photography presentation for an upcoming conference I'm speaking at (yeah, nervous times like ten!). I didn't really do anything too fun food-wise, so this recipe just felt kind of perfect for today!
And really when is Mexican food ever a bad idea? Hint…it's always a the best idea…duh.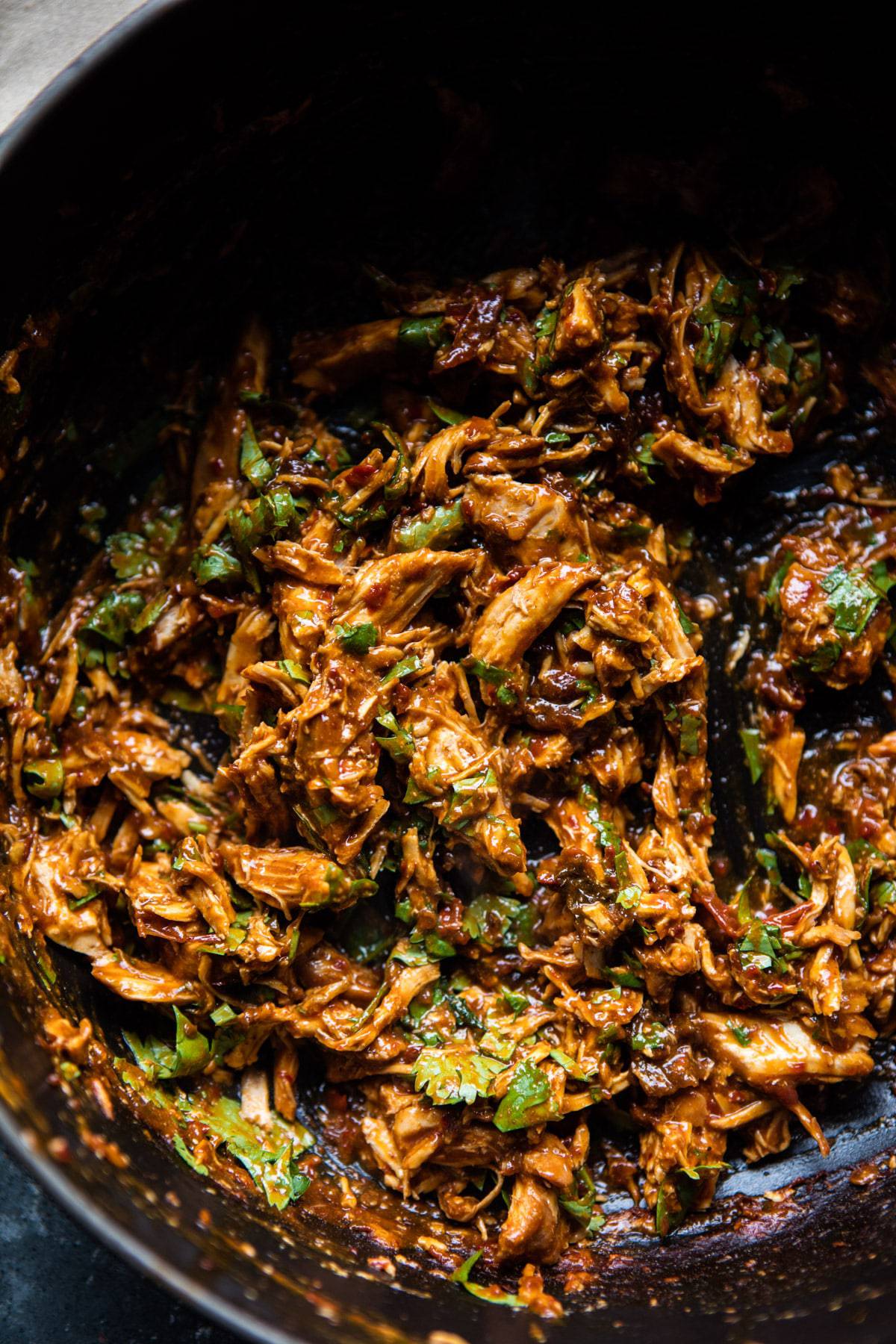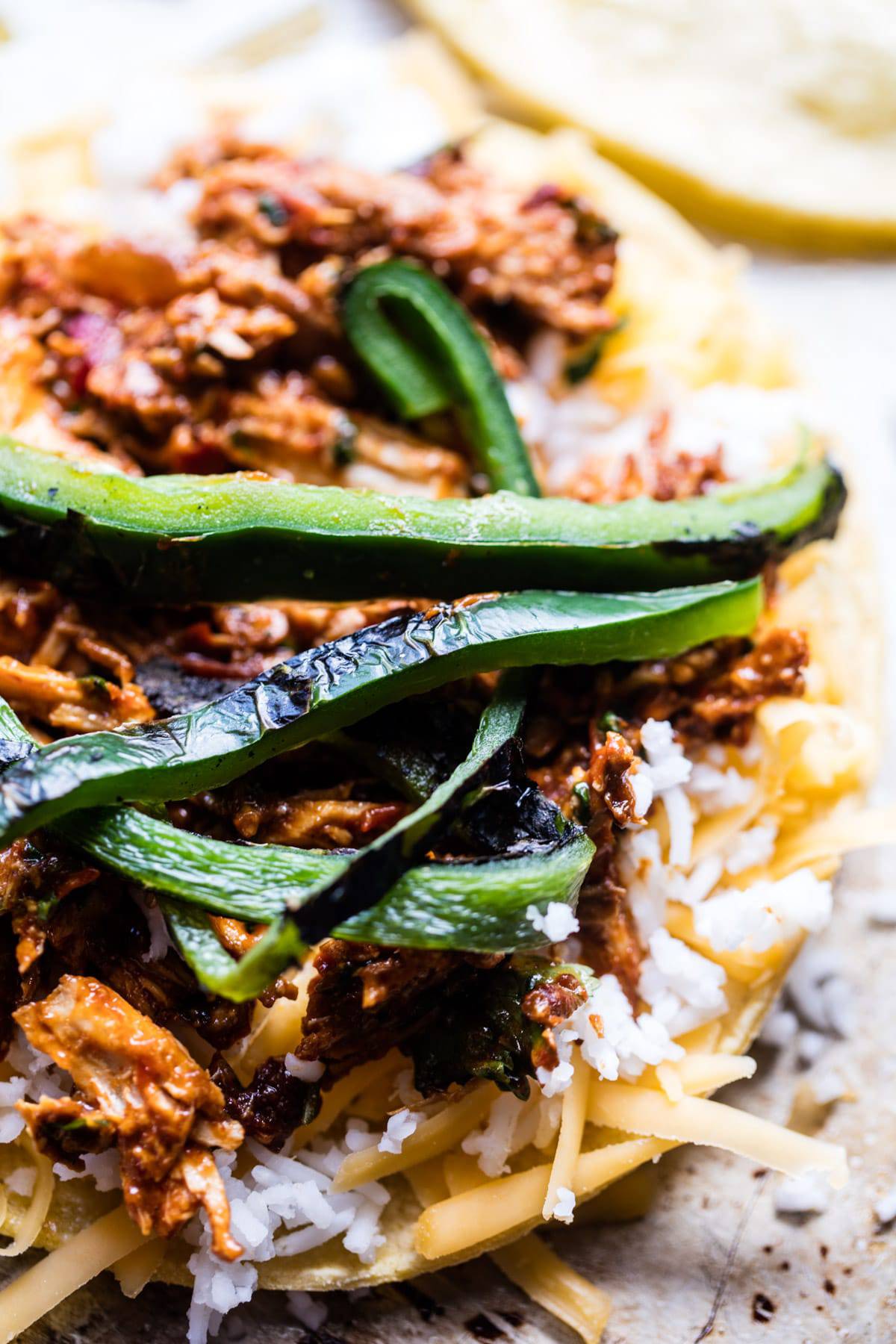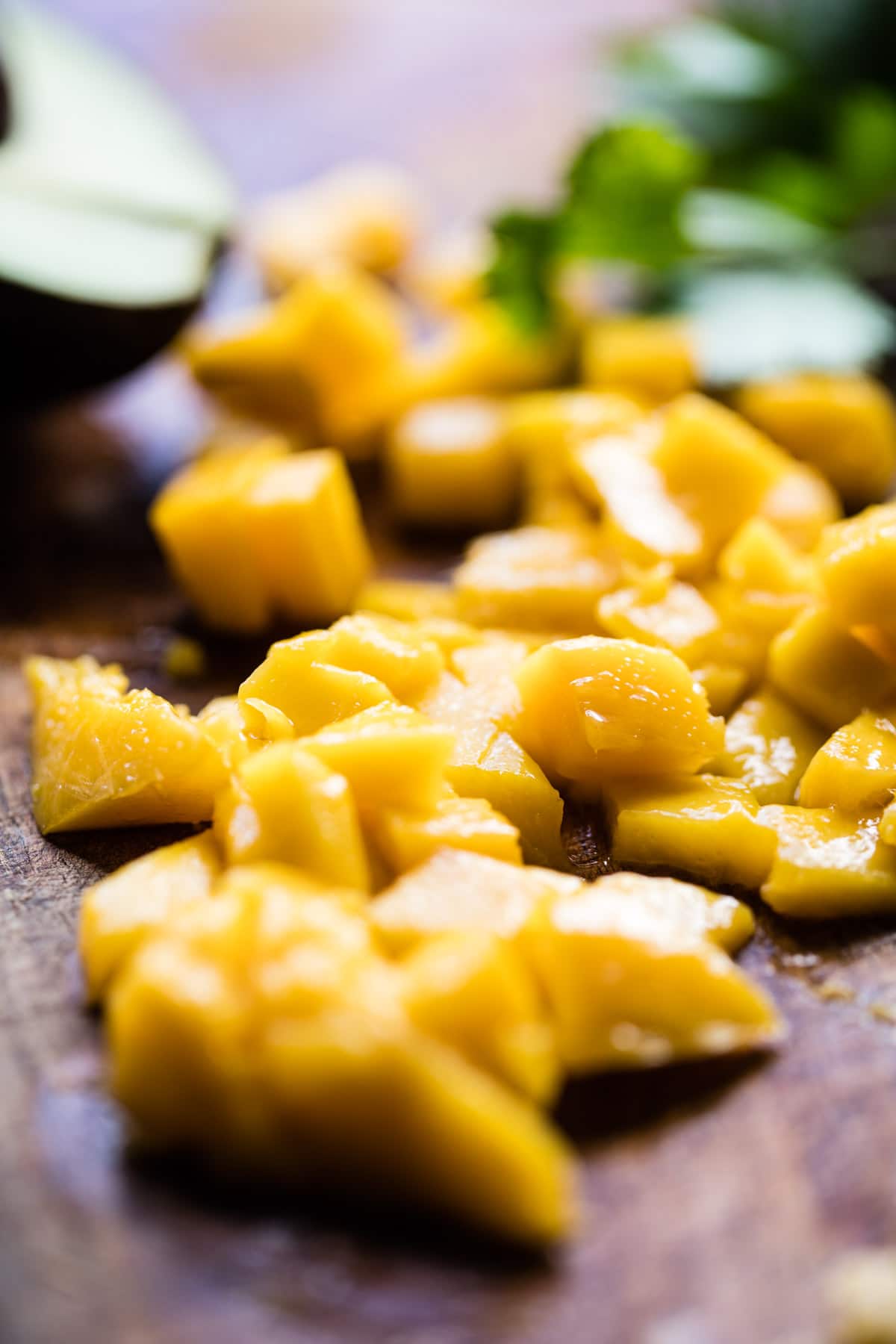 So I have to tell you guys a little secret…I know that Cinco De Mayo is still a few weeks away, but I've been secretly planning for it for weeks now, I am SO excited. And I have so many Mexican-ish recipes to share between now and May 5th (which happens to fall on a Friday this year making it all the more fun) that I figured I might want to start now and spread them out a bit. Didn't want to completely overwhelm you guys with my Cinco inspired recipes the entire first week of May, so we'll start today!
Plus, I feel like there's been so much talk of Easter, that you guys just might be looking for a delicious and easy dinner for tonight. Hoping you are, because these quesadillas, filled with chipotle chicken, peppers, rice, and lots of cheddar, need to happen in everyone's kitchen's soon. <–for real.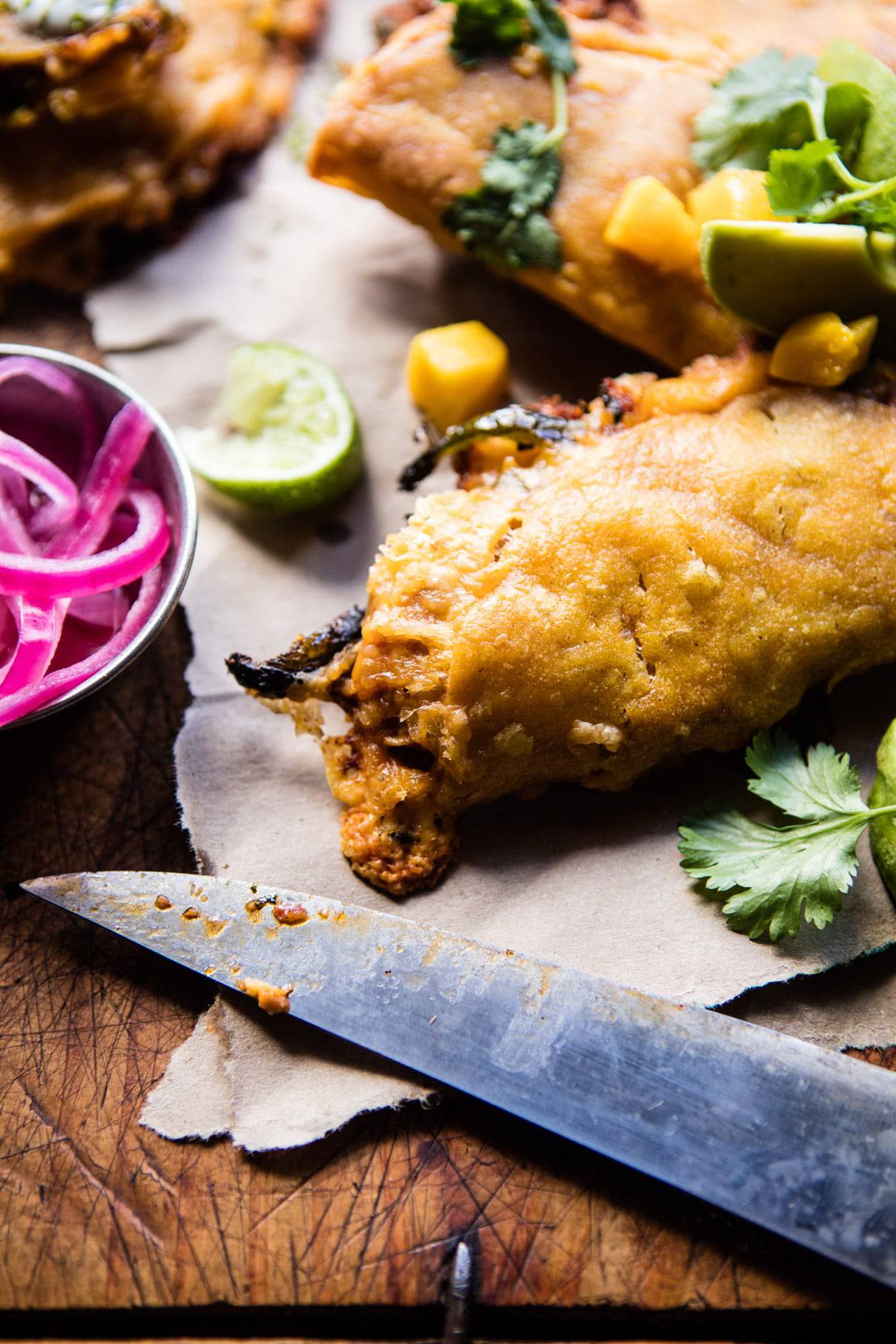 Let me explain these quesadillas and how they came to be. It's kind of rare that I don't always have food ready for eating in the fridge at any given time. I'm constantly cooking and baking (and making messes in the process), but then there are those times when I either don't cook for a day or I tested a bunch of baking recipes and only have desserts on hand (my mom's kind of dinner…fortunately I don't think she would actually go there).
These are the nights I improvise and use whatever I have on hand. I'm pretty sure I've probably told you guys this same story a time or two before, but honestly some of my best recipes come out of just throwing things together. It takes me back to the days when I first started to cook and I'd just use the odds and ends that were in the fridge at the time. My Dad taught me pretty well how to just throw a bunch of ingredients into a dish and pray for the best.
With these cheesy quesadillas I had an idea of where I wanted them to go, and how I wanted them to taste, so I grabbed what I had, which was rice (I always have rice in the fridge around here), chicken, one poblano pepper, a can of tomatoes and some seasonings. In less than an hour, these quesadillas were ready. I knew the second I pulled them out of the oven that they were going to be so freaking good. I mean, the cheese oozing out from inside practically had me jumping for joy.
A few important factors to these…
…instead of just cooking the chicken in a skillet with spices, I decided to sear the chicken and simmer it with fire roasted tomatoes and chipotle peppers. I wanted an extra saucy chicken (surprise, surprise), and a chicken that would be anything but dry. Once the chicken is fully cooked, just shred it right in the pot and toss with the sauce.
…with every quesadilla I make you will notice two things, there's always rice and plenty of cheese! And typically peppers too. These have all the three.
…typically quesadillas are pan-fried on the stove, but I'm going to be honest, I was just lazy and didn't feel like dirtying up the stove top. So instead I opted to cook these in the oven, and you know what? They actually turned out amazing. The tortillas got crispy on the outside and the cheese that oozed out got that nice golden, almost fried like crust, so good.
…to finish, I drizzled them with a little lime yogurt and topped with fresh mango, cilantro and sliced avocado. Perfection.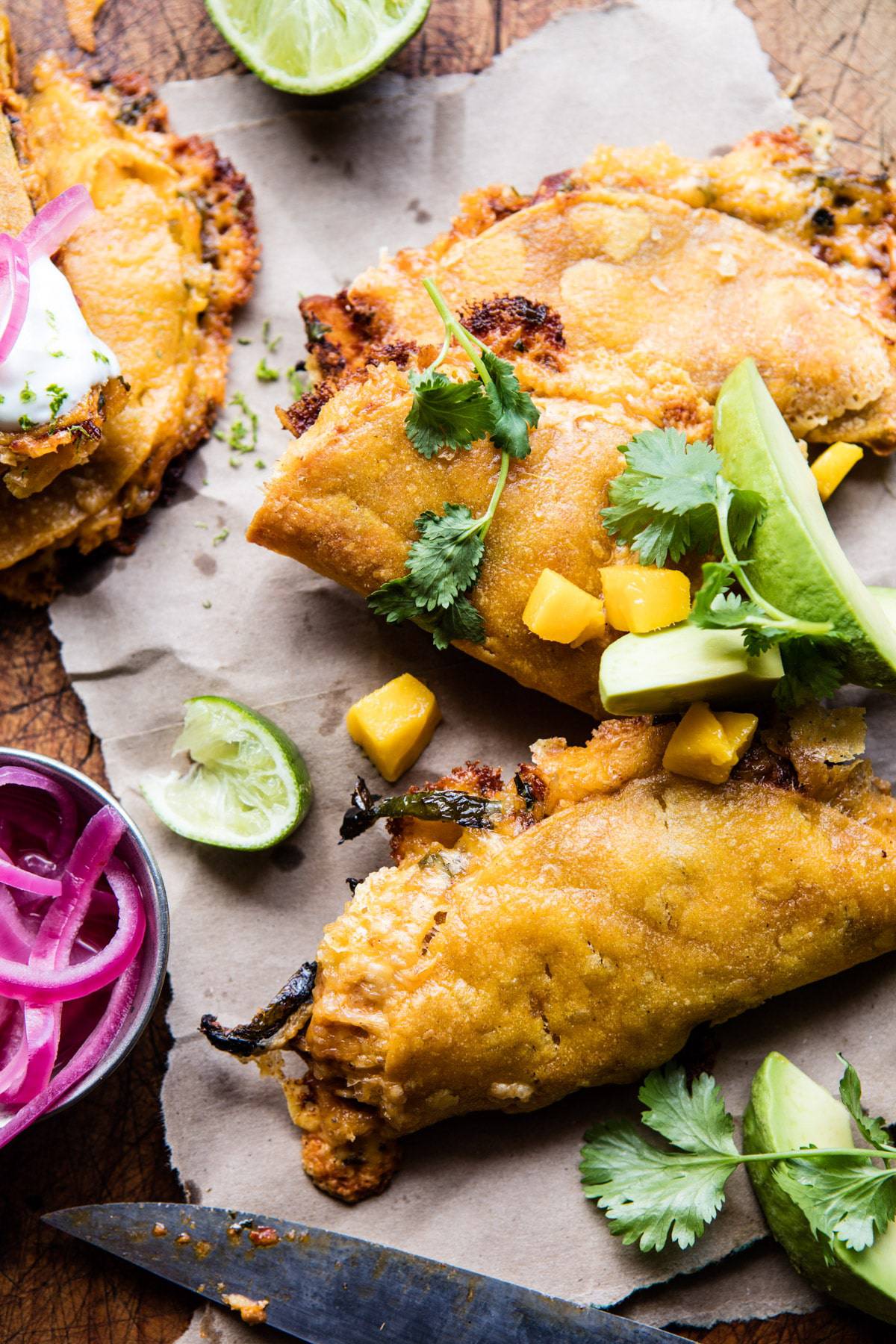 Now come on, after reading all that you guys have to admit these sound perfect for dinner tonight, right?
Yes, yes, YES!
Cheesy Mexican dinner for the win!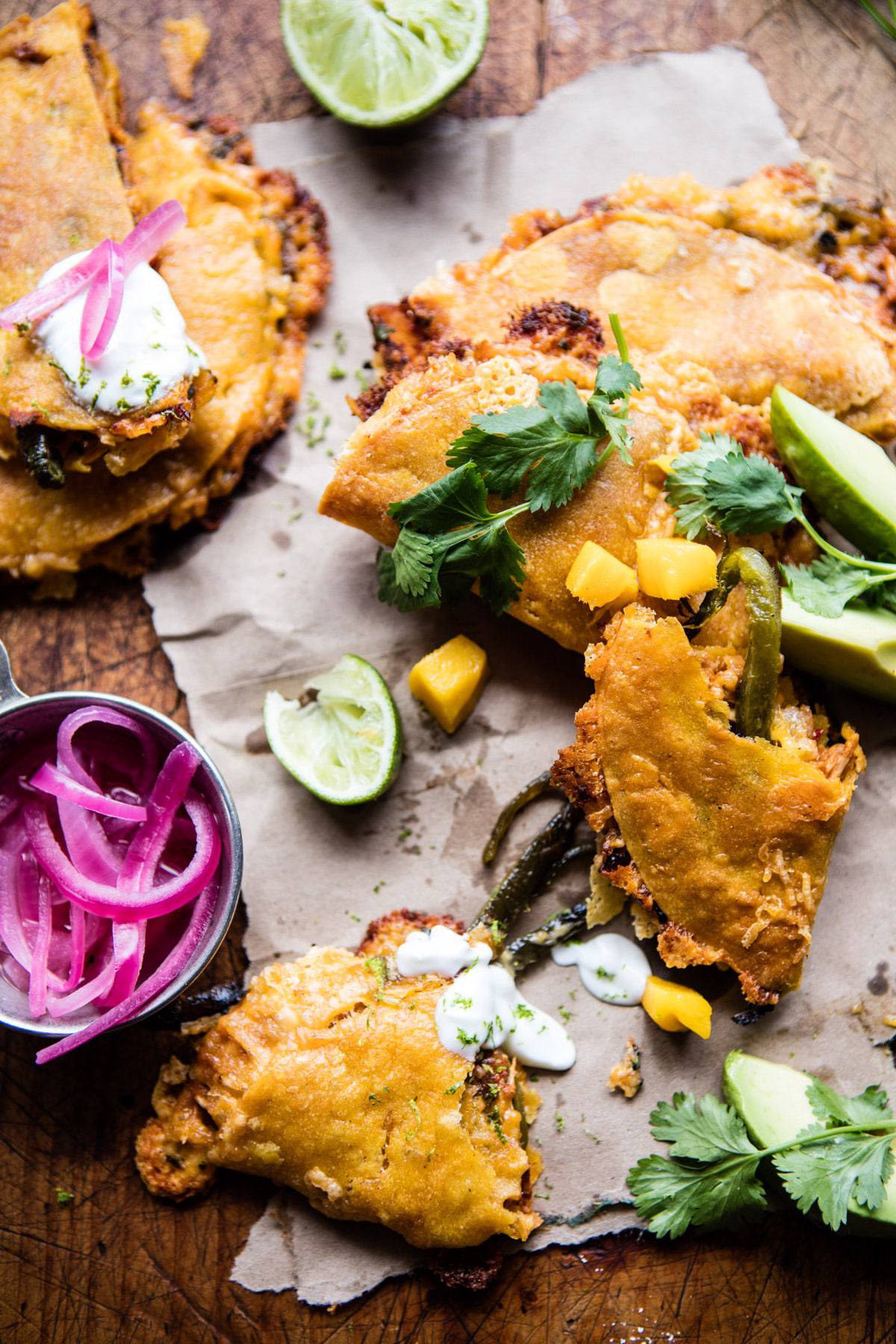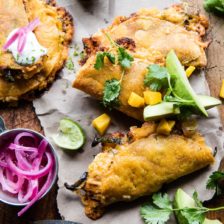 Nutritional information is only an estimate. The accuracy of the nutritional information for any recipe on this site is not guaranteed.
The Recipe
Cheesy Chipotle Adobo Chicken Quesadillas
By halfbakedharvest
Course: Main Course
Cuisine: Mexican
Keyword: Chicken Quesadillas, chipotle chicken
These chicken quesadillas are packed full of flavor and cheesy goodness!
Prep Time 15 minutes
Cook Time 30 minutes
Total Time 45 minutes
Servings 4 servings
Calories 553 kcal
Ingredients
2 tablespoons olive oil
1 pound boneless skinless chicken tenders or small breasts
1 poblano pepper, sliced
1 (14 ounce) can fire roasted diced tomatoes
2 chipotle peppers in adobo, chopped
1 teaspoon chili powder
1 teaspoon dried oregano
1 teaspoon cumin
1 teaspoon kosher salt and pepper
1/4 cup fresh cilantro, chopped
8 small corn or flour tortillas
1 cup white or brown rice
1 cup shredded cheddar cheese
1 cup plain Greek yogurt
zest of 1 lime
diced mango, pickled red onion, jalapeños, cilantro, and limes, for serving
Instructions
1. Heat 1 tablespoon olive oil in a medium size pot over high heat. When the oil shimmers, add the chicken and season with salt and pepper. Cook until seared on both sides, about 3 minutes per side. Add the poblano pepper and cook 3-4 minutes or until just charred.

2. Reduce the heat to medium. Add the tomatoes, 1/2 cup water, the chipotle peppers, chili powder, oregano, cumin, salt and pepper. Stir to combine and then simmer 15-20 minutes, or until the chicken is cooked through and shreds easily. Shred the chicken in the pot. Remove from the heat and stir in the cilantro.

3. Preheat the oven to 450 degrees F.

4. On a baking sheet, rub the tortillas with the remaining 1 tablespoon olive oil. Lay 4 tortillas flat and then layer evenly with cheese, rice, and chicken. Add the top tortilla. Transfer to the oven and cook for 5-8 minutes, then flip and cook another 5 minutes more, or until the cheese has melted and the tortillas are crisp.

5. Meanwhile stir together the yogurt and lime zest. Season to taste with salt.

6. Serve the quesadillas topped with diced mango, jalapeños, fresh cilantro, and drizzled with yogurt. EAT!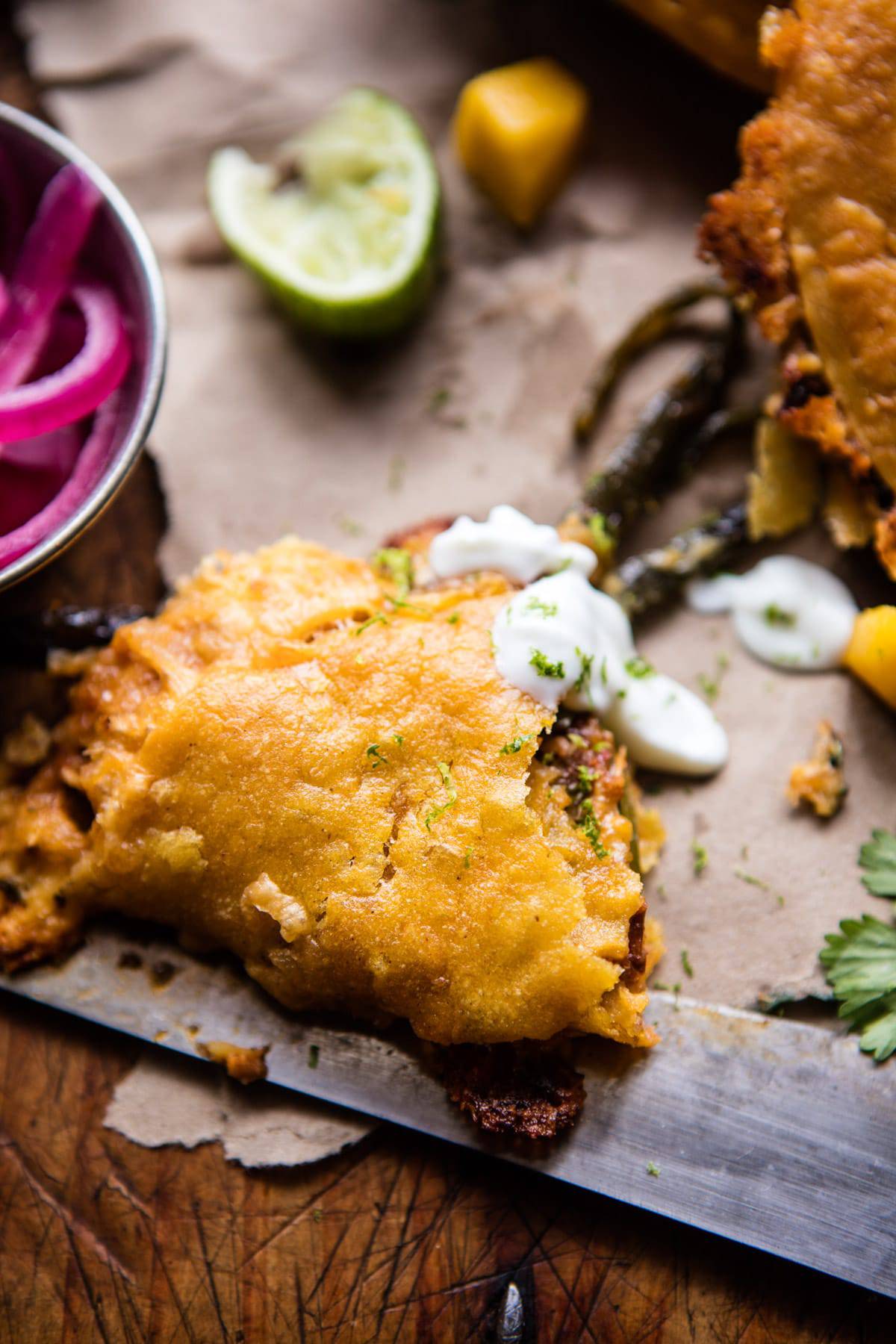 PS. Margaritas on a Monday may or may not be the best idea ever. <–maybe just one.