Berry and Cream Cheese Croissant French Toast Bake.
There's no better way to serve French toast than this Berry and Cream Cheese Croissant French Toast Bake. Not only is this french toast incredibly easy, it's also better than any other french toast you've ever had. Soft, buttery, flaky croissants layered with sweet fruit jam and extra creamy, cream cheese. Then baked in an eggy french toast "batter". It's the perfect (make ahead) brunch entrée for both spring and summer, and super pretty when topped with fresh berries. No one will pass up this french toast!

As you'll see later this week, I am very much into spring brunch foods right now. Today I'm sharing something sweet. Later this week I'll be sharing something more on the savory side. I am really excited about both recipes. With Easter being this weekend, I figure you can never have too many brunch recipes. I'm also just really happy to be back in the kitchen creating recipes that are full of spring color. Finding inspiration in each of the seasons is the best!
Which brings me to this french toast. While slightly over the top with the flaky croissants, sweet jam, fresh berries, and pockets of cream cheese (yes pockets of cream cheese). This bake is honestly so delicious and the perfect breakfast/brunch to serve over Easter weekend, for upcoming Mother's Day, and really any other day you please.
I have been dying to make a good spring French toast for weeks now. You guys know I love a good French toast recipe, but I wanted something a little different. Something that hasn't been overdone, and that would be easy for us to throw together. Something that can be made either the night before, or quickly in the morning. Trust me, I get that holidays can be insanely hectic with family and friends crowding up the kitchen and demanding attention. I've made the mistake of playing short order cook one too many times. It's really only been within this last year that I finally got smart and started coming up with recipes like this french toast bake.


When hosting a brunch, you need a few dishes on the menu that can be made almost entirely in advance. This french toast bake can be prepared the night before. Then simply bake it off in the morning. It's the recipe every hostess needs.
Tip: I'd also recommend a good pitcher style cocktail…because cocktails are almost always the first thing people are looking for when they walk in the door. It's true.
I obviously have a few french toast recipes here on HBH, but this one is surely the easiest of them all. And while I will not say it's my all time favorite (because I really love all the French toast recipes I have shared!!), I will say that this croissant french toast bake is very high on my favorite's list.
Because what's not to love about this recipe? Every ingredient is a special one…again, croissants, jam, berries, and cream cheese.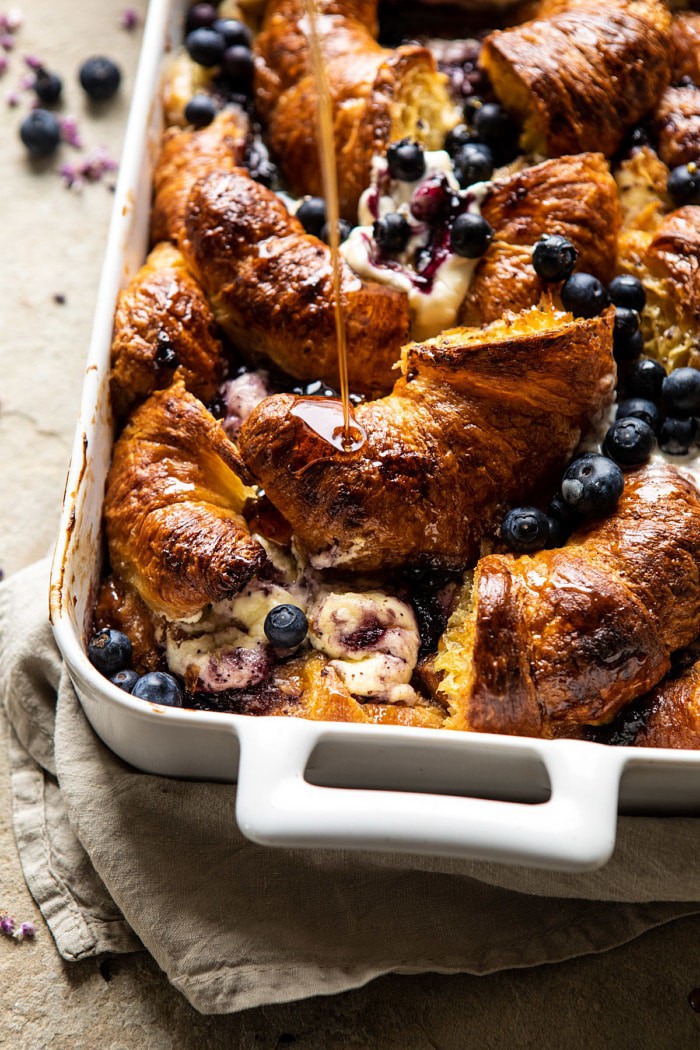 This recipe starts out like any other baked french toast recipe. Make the eggy batter, which is an easy mix of milk, eggs, good vanilla, and a touch of cinnamon. It's as simple as it gets, but for whatever reason it creates the best eggy french toast.
PS. who do you think first thought to dip bread in beaten eggs and then pan fry it? I will forever be curious about how that genius mind thought this concept up. I'm also very grateful for whoever this person was.
Croissants are one of my favorite pastries, and one of the best breads to use in a french toast. Their light, buttery, and airy layers really soak up that eggy batter. As the french toast bakes, the croissants stay soft in the center, but slowly caramelize on the outside and form a bit of a crunchy crust. It's the best of both worlds, soft in the middle with a nice crunch on the outside.


Now, here's the important step. The croissants are layered with sweet jam and cream cheese. The layering creates pockets and swirls of both jam and cream cheese throughout this french toast bake. I really cannot even begin to describe just how good every bite it.
If you love spreading toast with jam, and if you love a cream cheese bagel, you will 100% love everything about this french toast.
As soon as the french toast comes out of the oven, finish it off with a handful of your favorite berries and a drizzle of real maple syrup. Again, nothing not to love here.
And of course, one of the best things about this recipe, is just how easy it is to make and serve. Simply assemble and chill until ready to bake…then bake and serve. Simple, pretty, and delicious!

If you make this baked croissant french toast, be sure to leave a comment and/or give this recipe a rating! Above all, I love to hear from you guys and always do my best to respond to each and every comment. And of course, if you do make this recipe, don't forget to also tag me on Instagram! Looking through the photos of recipes you all have made is my favorite!
Watch the How To Video:

Nutritional information is only an estimate. The accuracy of the nutritional information for any recipe on this site is not guaranteed.
The Recipe
Baked Berry and Cream Cheese Croissant French Toast.
Soft, buttery, flaky croissants layered with sweet fruit jam and extra creamy, cream cheese. Then baked in an eggy french toast "batter". Super pretty when topped with fresh berries.
Prep Time 15 minutes
Cook Time 45 minutes
Total Time 1 hour 30 minutes
Servings 8
Calories 437 kcal
Ingredients
6 large eggs, beaten
1 1/2 cups whole milk
2 tablespoons real maple syrup
1 tablespoon vanilla extract
1 teaspoon cinnamon
1/2 teaspoon kosher salt
12 cups roughly torn, day old croissants (about 12-16 croissants)
1 jar (10 ounce) high quality fruit preserves, such as blueberry, strawberry, or blackberry
8 ounces cream cheese, cut into small cubes
6 tablespoons cold salted butter, thinly sliced
1 cup fresh berries, such as blueberries, strawberries, or blackberries
1 cup heavy cream
powdered sugar and maple syrup, for serving
Instructions
1. Grease a 9x13 inch-baking dish with butter.

2. In a large bowl, whisk together the eggs, milk, maple syrup, vanilla, cinnamon, and salt. Add the torn croissants and gently toss with egg mixture. Arrange half the croissants in the prepared baking dish. Dollop the jam and cream cheese over the croissants. Add the remaining croissants overtop. It's OK if not all of the jam and cream cheese are fully covered. Pour the remaining egg mixture over the croissants.

3. Cover and place in the fridge for 30 minutes or up to overnight. When ready to bake, preheat the oven to 375 degrees F.

4. Lay the thinly sliced butter over the croissants. Transfer to the oven and bake for 45-50 minutes or until the French toast is golden and crisp. If the tops of the croissants begin to brown too quickly, loosely cover the french toast with foil.

5. Meanwhile, in a mixing bowl, whip the cream until stiff peaks form. Stir in 1 tablespoon powdered sugar or maple syrup, if desired.

6. Serve the french toast warm, topped with whipped cream, fresh berries, and maple syrup. Enjoy!