Coffee Caramelized Croissant French Toast Sticks.
Words cannot describe these french toast sticks.

I mean, they obviously can describe them, but they will never be able to do them justice.
This is without a doubt one of my favorite breakfast posts on this blog.

So, did you guys ever have those frozen french toast sticks when you were a kid? I did and while they weren't my favorite breakfast food, I still liked them. Especially dipped in some syrup. I gave up eating those frozen french toast sticks a long time ago because I realized there was nothing good about them, at least ingredient-wise, BUT ever since then I have wanted to make my own.
For the last year I have been searching high and low for Texas Toast they used in those french toast sticks, but I haven't been able to find it anywhere. Finally, the other week it hit me that I could just make my own variation of french toast sticks. And a better variation at that.

FYI, buttery croissants trump Texas Toast any stinkin' day.
Go big or go home, right?

And caramelizing french toast?
Just wow, it's honestly the best thing ever.
But coffee caramelized too? Yeah, so good.

I know some of you do not do coffee, and in that case you can simply leave it out, but I am not even a coffee drinker and I loved this. It's not over powering in any way, but adds awesome flavor that works with the brown sugar/butter combo.

So I know that some of those sticks may look burnt, but they're not. That's just the beautiful caramelization.
These sticks are ever so slightly crunchy on the very outside and super soft and buttery on the inside. It really is an awesome thing.

And that gif up there? Yeah, it may be my new favorite thing to stare at. I mean, the french toast sticks just look so good, and I swear they taste even better.

I also have to say that my siblings loved these. There was not one thing they complained about. They dipped, ate and where happy. That in itself is a miracle.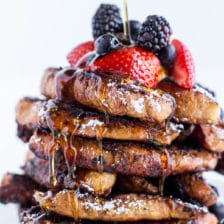 Nutritional information is only an estimate. The accuracy of the nutritional information for any recipe on this site is not guaranteed.
The Recipe
Coffee Caramelized Croissant French Toast Sticks.
By halfbakedharvest
Course: Dessert, Snack
Cuisine: American
Keyword: coffee, french toast, homemade croissants
This is without a doubt one of my favorite breakfast posts on this blog.

Prep Time 15 minutes
Cook Time 25 minutes
Total Time 40 minutes
Servings 6 Servings
Calories 602 kcal
Ingredients
7 tablespoons salted butter at room temperature, almost a whole stick
6 tablespoons brown sugar or a 1/4 cup + 1/8 cup
2 teaspoons instant coffee
1 1/2 cups canned coconut milk or whole milk
3 large eggs
1 tablespoon vanilla extract
1 1/2 teaspoons ground cinnamon
8-12 [croissants | https://dev.halfbakedharvest.com/homemade-croissants-step-step-photos/]
fresh berries for serving
Coconut Whipped cream (optional but highly recommend!)
Instructions
Coconut Whipped Cream
Flip your cold can of coconut milk upside down and open it. There should be around 1/2 cup of coconut water at the top. Pour this into a container and save for another use. Scoop out the coconut cream and place in a bowl. Whip the cream for 3 to 5 minutes, until soft peaks form. Beat in the powdered sugar and vanilla. Place in the fridge while you make the french toast.
Coffee Maple Syrup
Combine the syrup and coffee in a small saucepan and place over medium-high heat. Gentle cook the syrup until the mixture comes to a low boil. Reduce the heat to low and simmer five minutes, remove from the heat and set aside.
French Toast
Slice the croissants into 2 to 3 long strips.

Mix butter, brown sugar and instant coffee in a small bowl to combine.

Whisk milk, eggs, vanilla, and cinnamon in large bowl to combine

Melt 2 tablespoons of the brown sugar/butter mixture in a large nonstick skillet over medium-high heat. Dip croissant sticks a few at a time into egg mixture to coat. Add 4-6 sticks to the skillet. Cook until bottoms are deep brown, 2 to 3 minutes, turn and repeat until all sides have been caramelized adding more of the brown/sugar butter after every other flip. I turned my sticks about 3 times per stick. Divide French toast sticks among plates and sift powdered sugar over. Serve hot with coconut whipped cream, berries and the coffee maple syrup on the side for dipping. Enjoy!
Recipe Notes
*Caramelized French Toast Adapted from [Bon Appetit | Coffee Caramelized Croissant French Toast Sticks.]

Ok, so let's start dippin.