2 Ingredient Pumpkin Pasta with Balsamic Sage Brown Butter Sauce.
I warned you it was coming, and today's the day, 2 ingredient pumpkin pasta with balsamic sage brown butter sauce.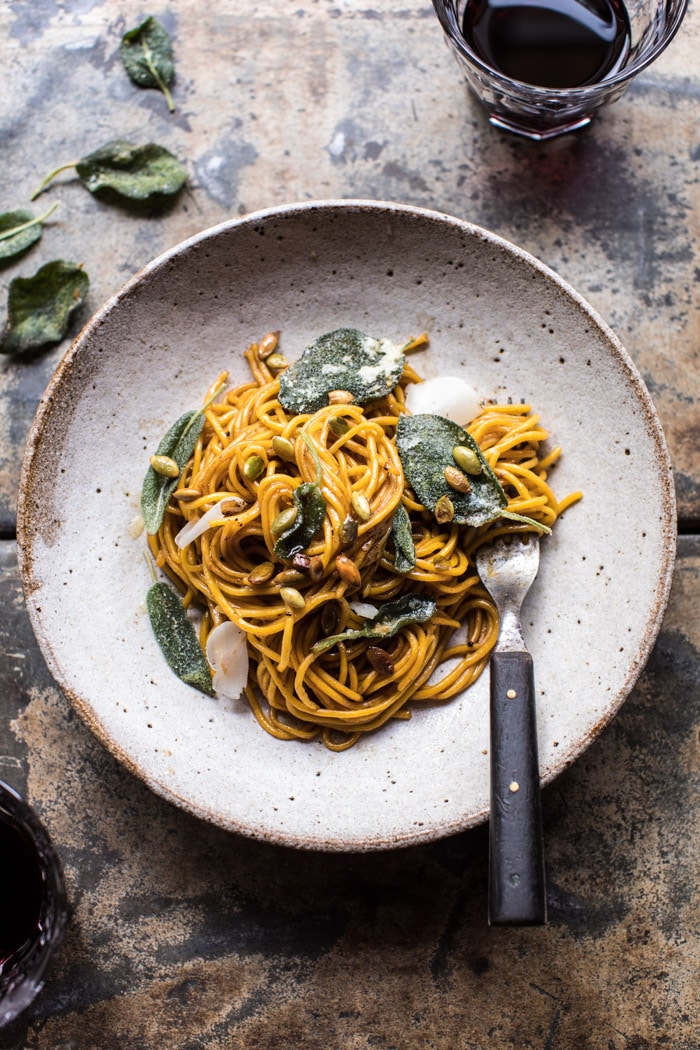 There's no denying it, this fall I am on a pumpkin kick. Somehow last fall I managed to post just the right amount of pumpkin recipes, but this year? I have too many ideas and I love them all…so you'll be seeing lots of the orange stuff this season.
I am personally pretty excited about it, and I think you guys will be too. Especially after your reactions to Tuesday's pumpkin spice oatmeal latte…sure seems like you guys are into the pumpkin recipes.
YES.
And everyone? This pumpkin pasta is like no other you've ever had. One, it's REAL pumpkin pasta, and two, balsamic brown butter sauce.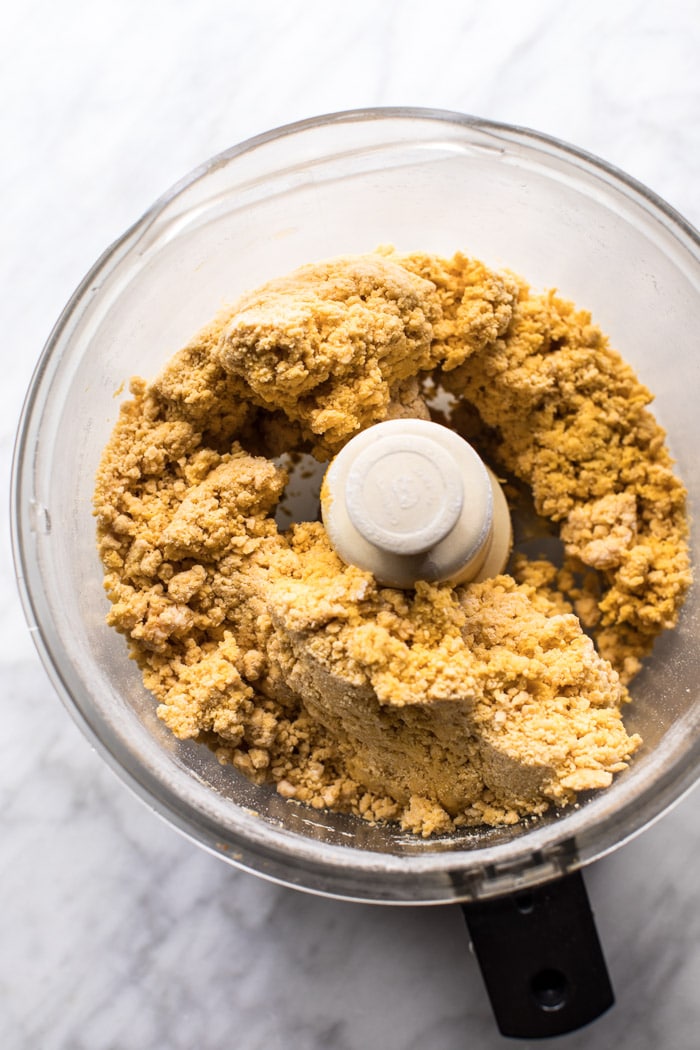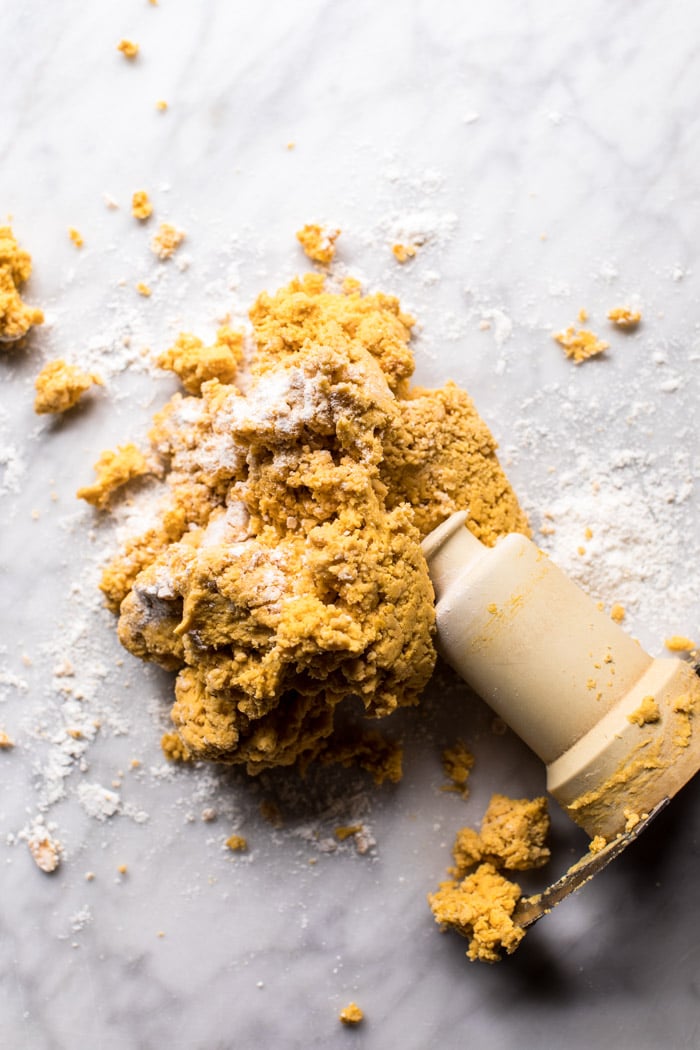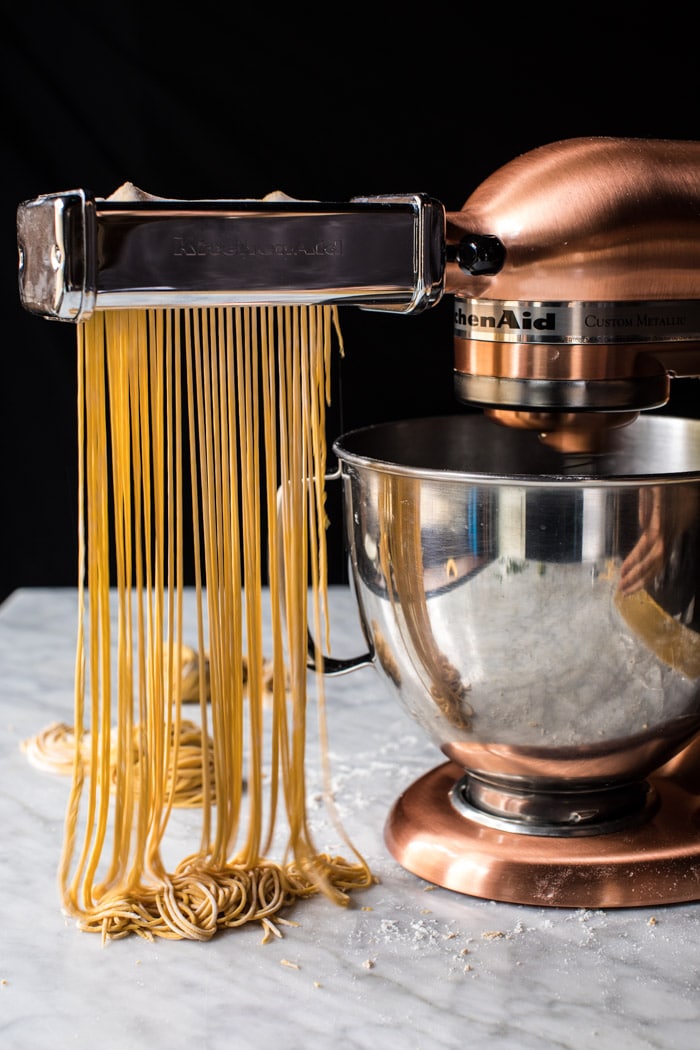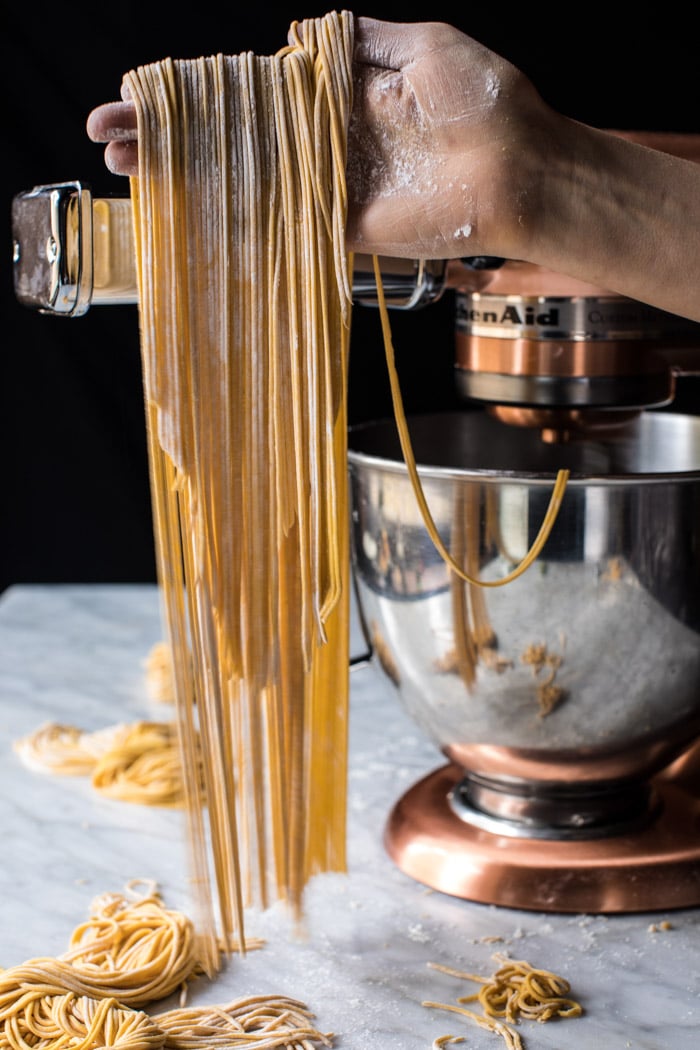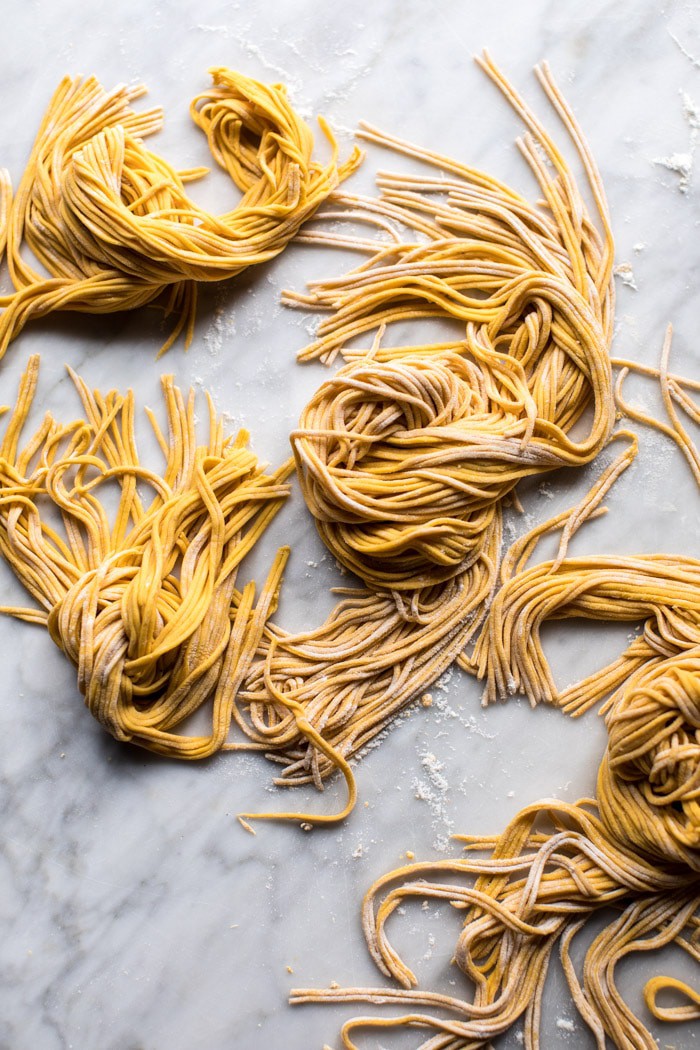 I know that homemade pasta can be scary, time consuming, and at times leave you wanting to you pull your hair out. Trust me, I've been there. But this pumpkin pasta is by far the easiest homemade pasta I've ever made, and it also happens to be delicious.
The pasta is almost too simple, pantry staple ingredients…just pumpkin (I always have twelve cans of pumpkin on hand…year round…honestly) and all-purpose flour.
Yup, just pumpkin and flour, simple as that, and you don't even need to add water. The pumpkin acts as the magical binding ingredient and leaves you with the perfect pumpkin pasta every single time. Best part? You don't have to have a pasta machine or any other fancy equipment. A mixing bowl, rolling-pin, and knife is really all you need…
BUT I will tell you that making homemade pasta is definitely a lot easier and quicker with a pasta machine. Sorry, just being honest. Yes, you can do this all by hand, but it's totally going to take you twice as much time than if you used a pasta machine. I love the KitchenAid pasta attachments. They work so well and if you plan to be making pasta this fall (you should, you should) then I recommend investing in them. Trust me, they make making pasta fun and painless.
You know, just sayin'.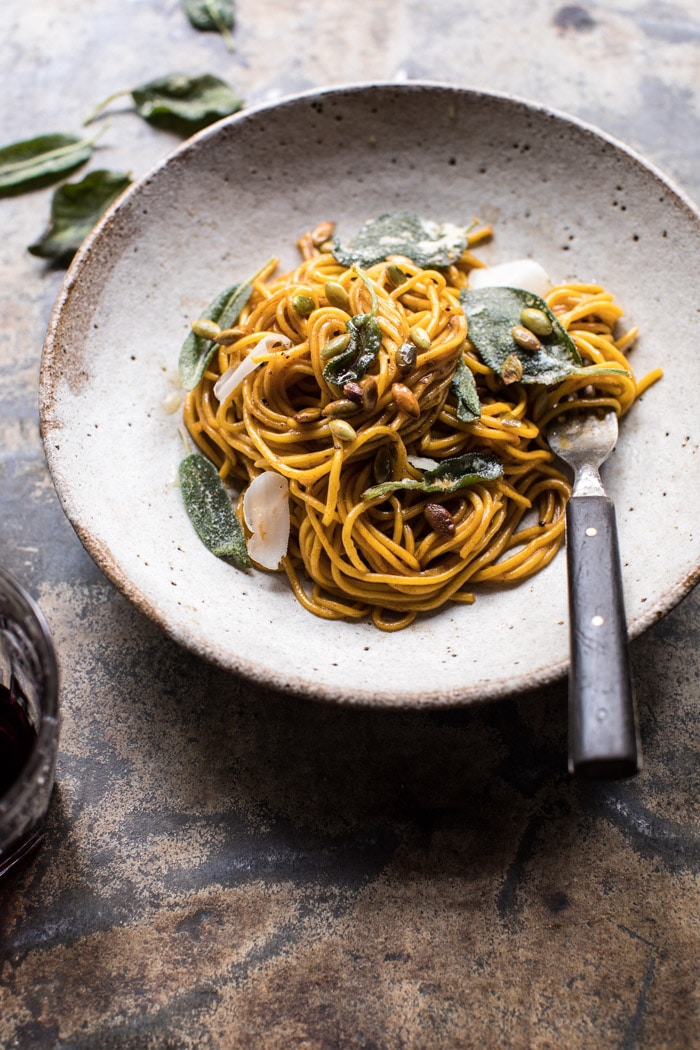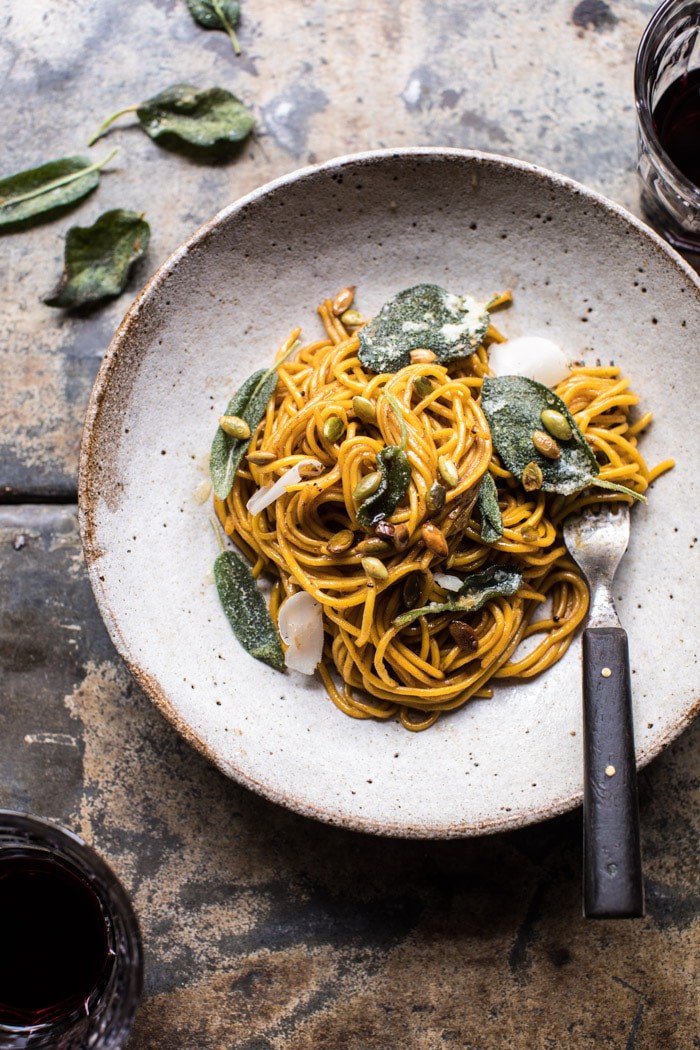 I left the size of the pasta up to you. I went with more of an angel hair size, but I think fettuccine would work equally well with this sauce.
And speaking of the sauce.
It is so good. That's really all I have to say. It. Is. So. Good.
Salted butter, caramelized garlic, fried sage, a little white wine, a little balsamic…perfection. Especially when paired with this pumpkin pasta
I've made this three times now and I am still so excited about it. It's just the perfect warming fall dinner.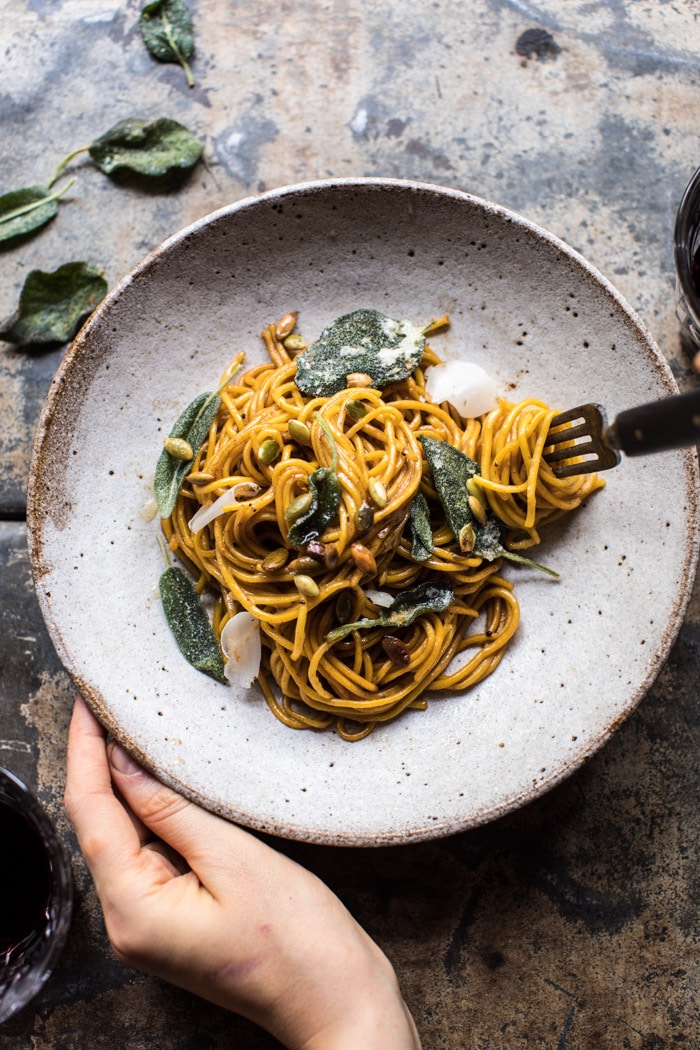 Also, speaking of being excited, happy Thursday! Anyone else totally ready for the weekend? My week started out a little, um, odd I guess. I was supposed to head to Louisiana for work early Monday morning, but our semi-out of season snowstorm (yes, snowstorm) closed the highway down and I was not able to make my flight. Asher had a snow day, there were power outages all over the county, and plenty of white flakes falling from the sky all day.
Totally serious.
Not sure what it is about me and flights these days, but we're just not meshing all that well. It actually ended up working out ok. I stayed inside, caught up on work, and prepped for filming recipe videos today, tomorrow, and through the weekend. I have Kai in town and it's go time for videos, so if there's any fall/holiday recipes you guys would like to see please let me know in the comments!
For now, let's all agree that our Thursday night needs some buttery homemade pumpkin pasta. Sound good?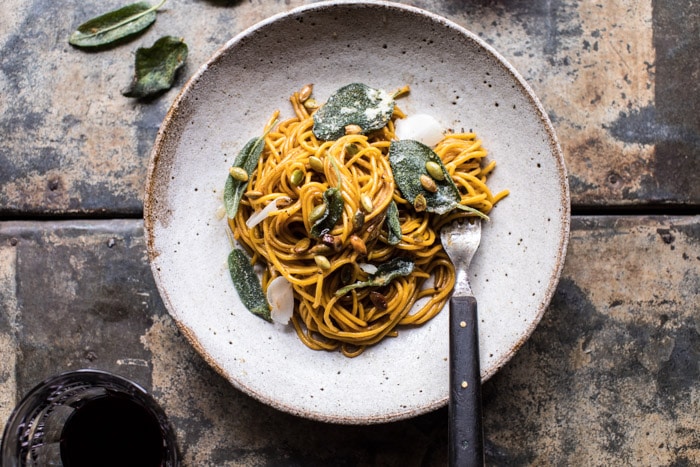 Shop This Post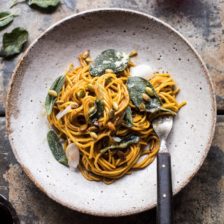 Nutritional information is only an estimate. The accuracy of the nutritional information for any recipe on this site is not guaranteed.
The Recipe
2 Ingredient Pumpkin Pasta with Balsamic Sage Butter Sauce
By halfbakedharvest
Course: Main Course
Cuisine: American, Italian
Keyword: homemade pasta, pumpkin and sage
Yup, just pumpkin and flour. Simple as that and you don't even need to add water. The pumpkin acts as the magical binding ingredient and leaves you with the perfect pumpkin pasta every single time.
Prep Time 15 minutes
Cook Time 15 minutes
Total Time 30 minutes
Servings 6 servings
Calories 488 kcal
Ingredients
Balsamic Sage Brown Butter Sauce
1 stick (1/2 cup) salted butter
2 cloves garlic
8 fresh sage leaves
1/2 cup white wine
3 tablespoons balsamic vinegar
kosher salt and pepper
manchego cheese and roasted pumpkin seeds for serving
Instructions
Pumpkin Pasta
1. Bring a large pot of salted water to a boil. Generously dust a baking sheet with flour.

2. In the bowl of a food processor, combine the pumpkin and flour and pulse until a dough forms. Alternately, this can be mixed by hand or in a stand mixer.

3. Dump the dough out onto a flour surface and cut into quarters. Roll and cut the pasta into your desired shape by using either a pasta machine or rolling pin and a sharp knife. Transfer the cut pasta onto the prepared baking sheet. If not cooking right away, cover and refrigerate for up to 4 hours.

4. Drop the pasta into the boiling water and cook until al dente, being careful not to overcook the pasta. Drain.
Balsamic Sage Brown Butter Sauce
1. Heat the butter, garlic, and sage in a large skillet over medium-high heat and cook butter until it begins to brown, about 3-5 minutes. Remove the garlic and sage from the skillet.

2. Slowly pour in the wine. Add the balsamic and season with salt and pepper. Simmer the sauce for 2-3 minutes. Add the pasta and gently toss. Cook another 2-3 minutes or until the pasta is warmed through. Divide the pasta among plates and top with sage, manchego, and pumpkin seeds. EAT.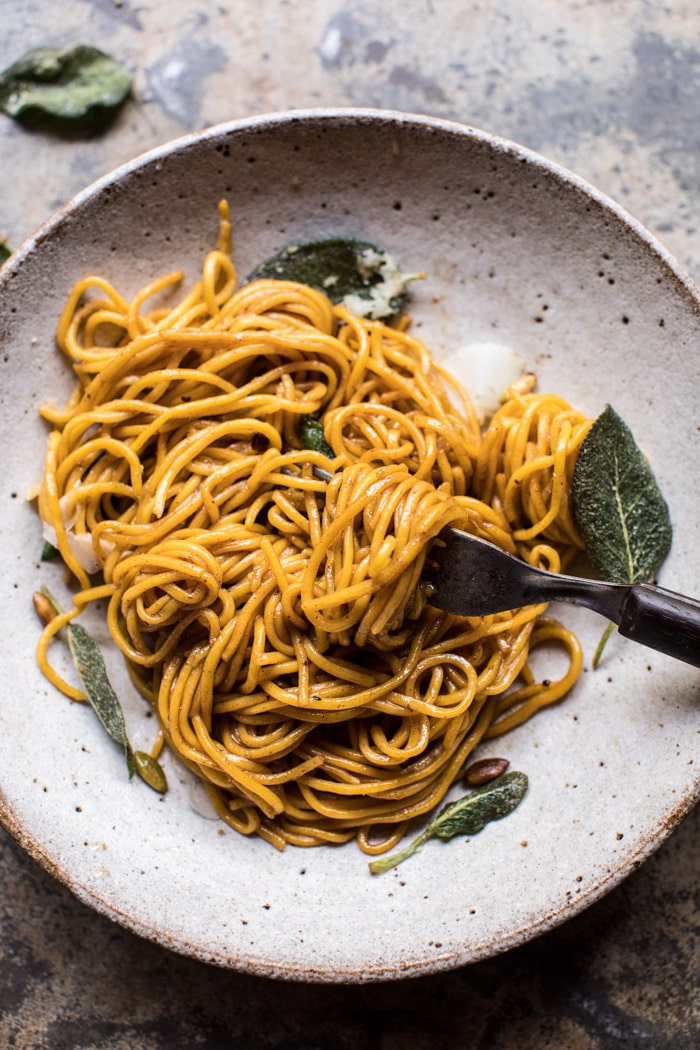 K. Cool. Let's make this pumpkin pasta then!