Whipped Feta and Roasted Jalapeño Greek Pizza
Oh boy, oh boy, oh boy!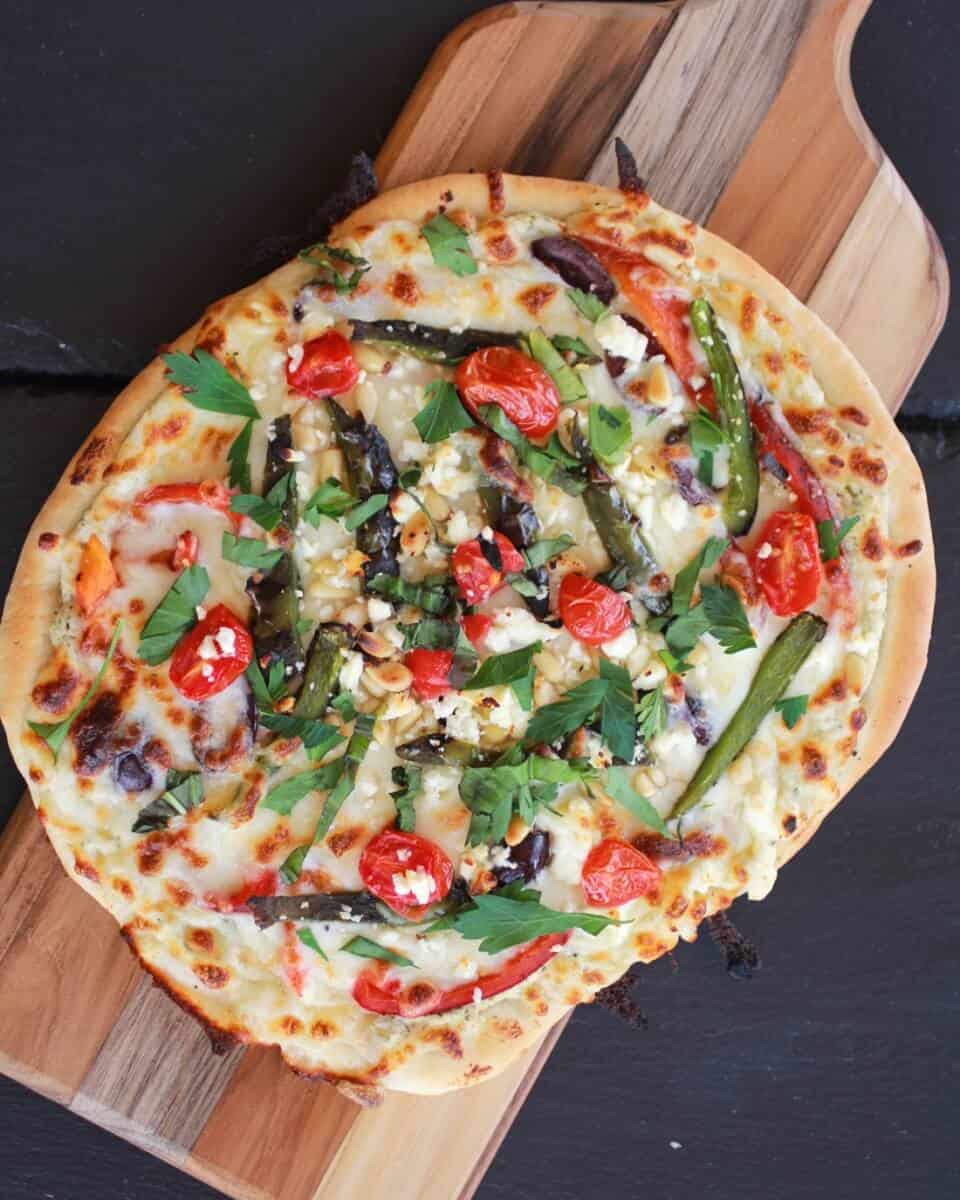 I am excited about this one.
Can't you tell?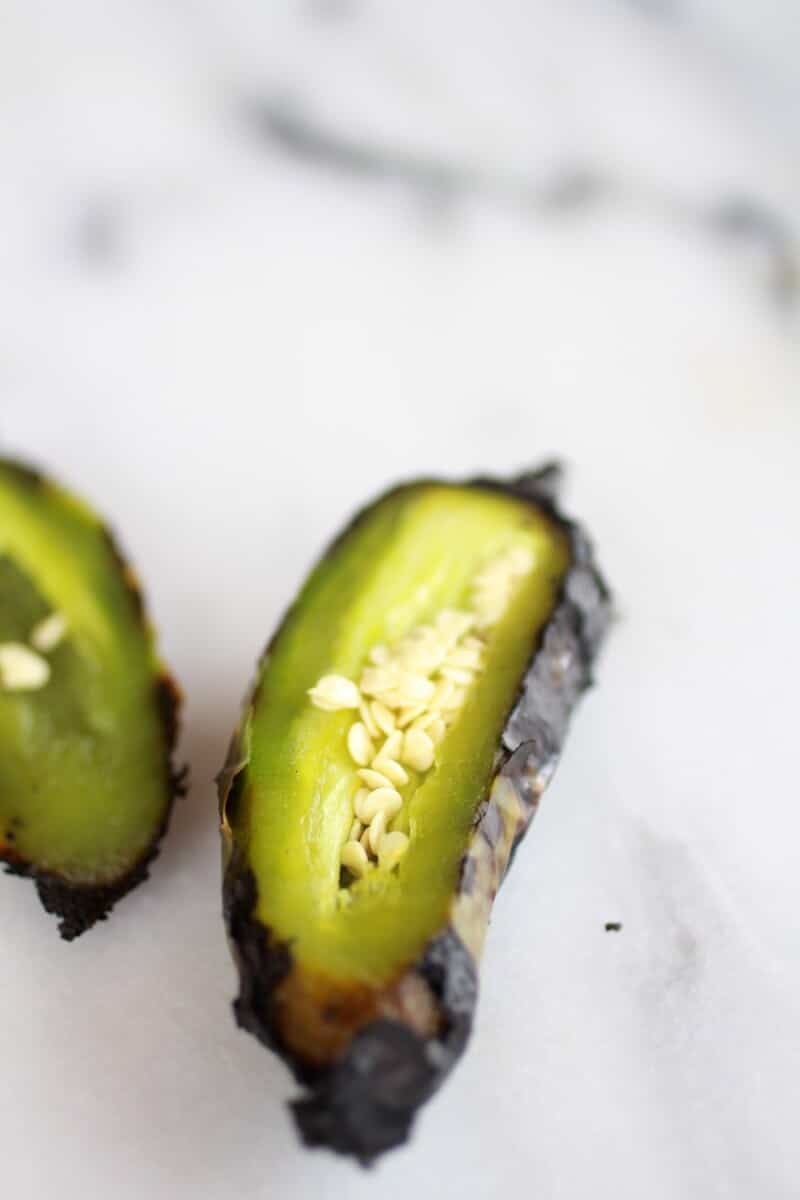 But first a little story.
Yeah, this pizza has a story and it's pretty embarrassing.
You guys like my stories right?
Ok, maybe you shouldn't answer that. Unless by some miracle you do. Then go right ahead.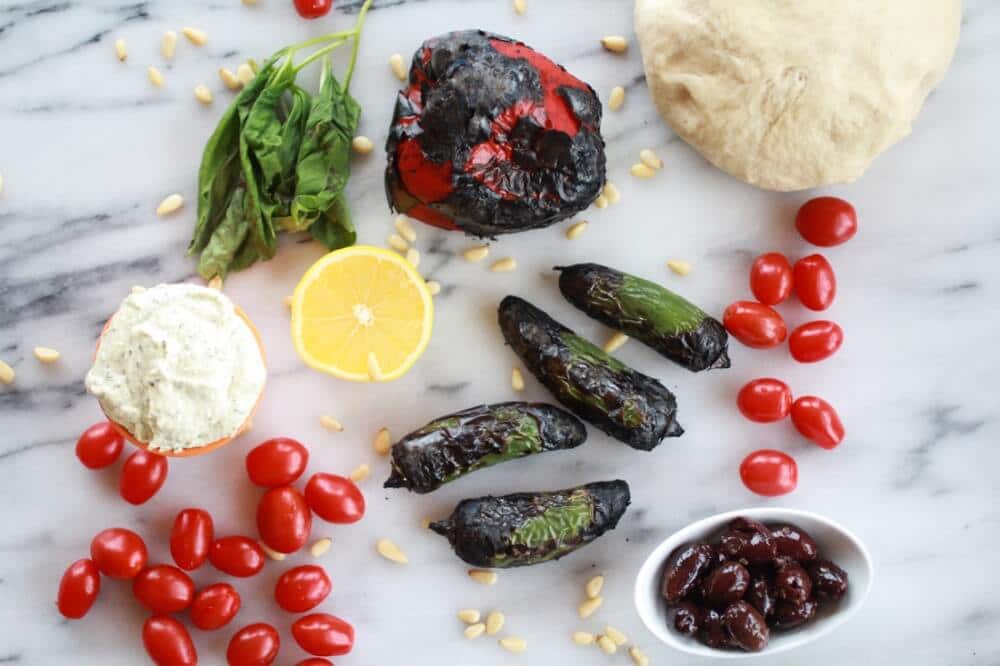 I am really lucky and have a kitchen surrounded with GIANT windows. Actually, they are technically doors and they go all around our kitchen. I alway's set up my little make shift "studio" at the end of the kitchen table where it is closest to the window. Our table is one of those long ones with supports only in the the middle of the table.
Yeah, do you see where this is going yet?

The boards I use to shoot my food photos on top of are HEAVY. I have one large marble slab and two slate cheese boards, plus a white wood board to use as a back drop. For some reason on this particular day I had all three of the boards at the one end of the table, plus my super heavy cast iron skillet, plus my large wooden cutting broad, plus a whole bag of pine nuts and a glass of water.
I promise I do not normally have this much stuff, especially heavy stuff, all out at the same time. This was just a weird day.
Alright, so here is where I just get plain stupid.
I get the pizza out of the oven and throw it on my cutting board (not the small one you see in these photos), which for some reason I have sitting on top of the marble and both slate boards. Then I grab my camera. Then I step up on the table for an overhead shot like I always do, except today the weight was just too much……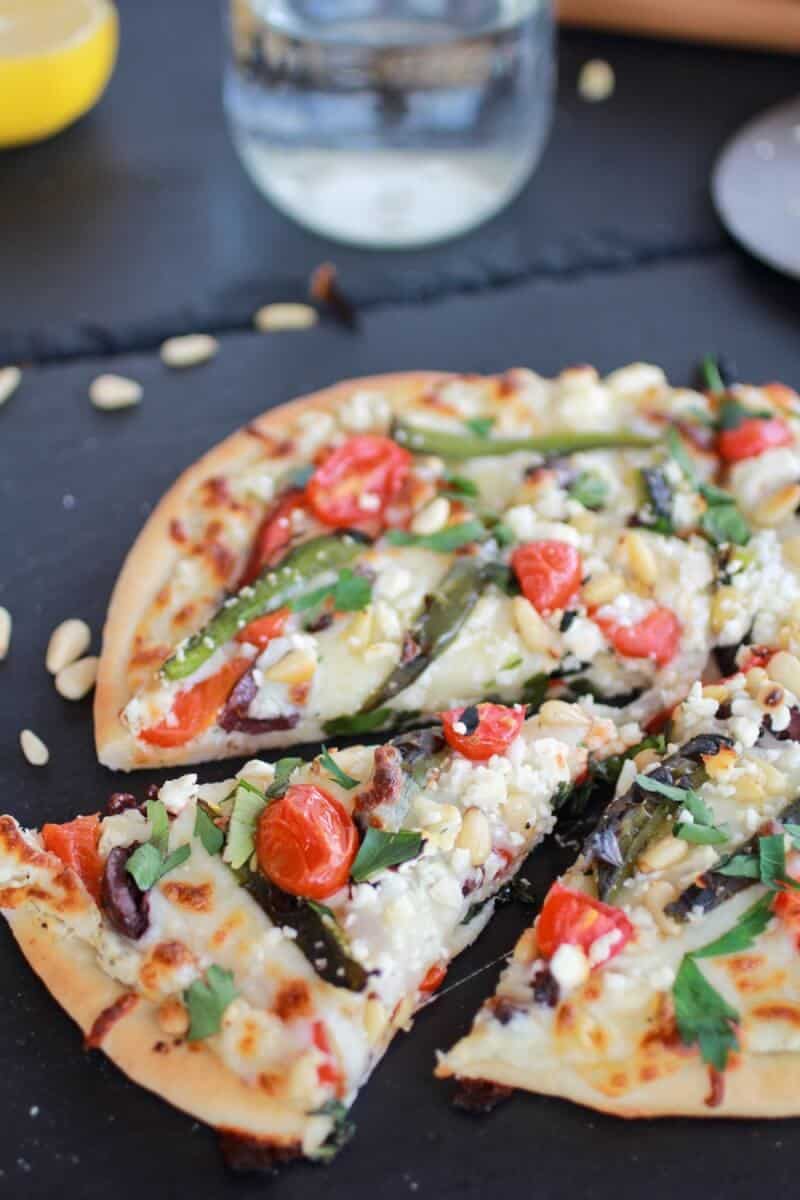 Ah huh.
It was like a teeter totter. One end went up and the other went down. Except the heavy end just stayed down. Really it was quite the site. Luckily I jumped to the side with my precious camera in my hands (I guess the ninja like qualities run in the family) and was completely fine. My pizza?
Yeah, it survived, but it sure did not look the same. Edible and still totally delicious, but not pretty.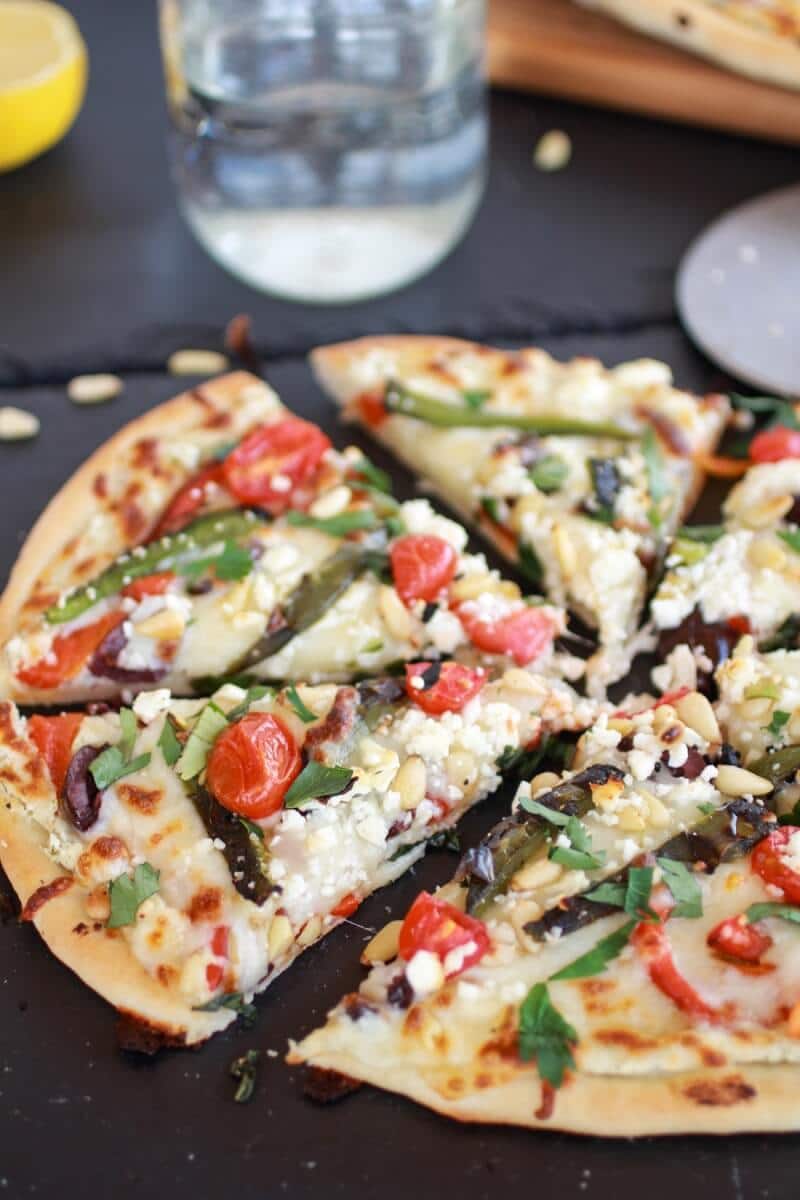 Seriously, I am sitting here laughing about this.
I am. Why the heck did I think that table could hold so much weight all in one spot? Maybe it was because I do this EVERYDAY without any problems. See, I am not a big person. My mom's tiny, my sister's tiny, my little brother is tiny and one of my older brothers is tiny. My dad and my three other brothers? They're big, but only because they are into that whole weight lifting thing. Yeah, they totally do the protein shakes too.
I never worried that I would actually tip the table over, but today? Today I pushed my limits way too far. Oh well, at least I got a story out of it and ya know what? The second pizza turned out better than the first anyway.

Now this pizza!! Man is it so so so good! The whipped feta is my new thing. I could slather it on everything, dip anything into it or, heck just give me a spoon. Basically it's feta cheese, roasted garlic, basil and lemon and it is KILLER. So good. Oh gosh and the roasted jalapeño's? Holly yum!
Greek pizza with a Mexican kick.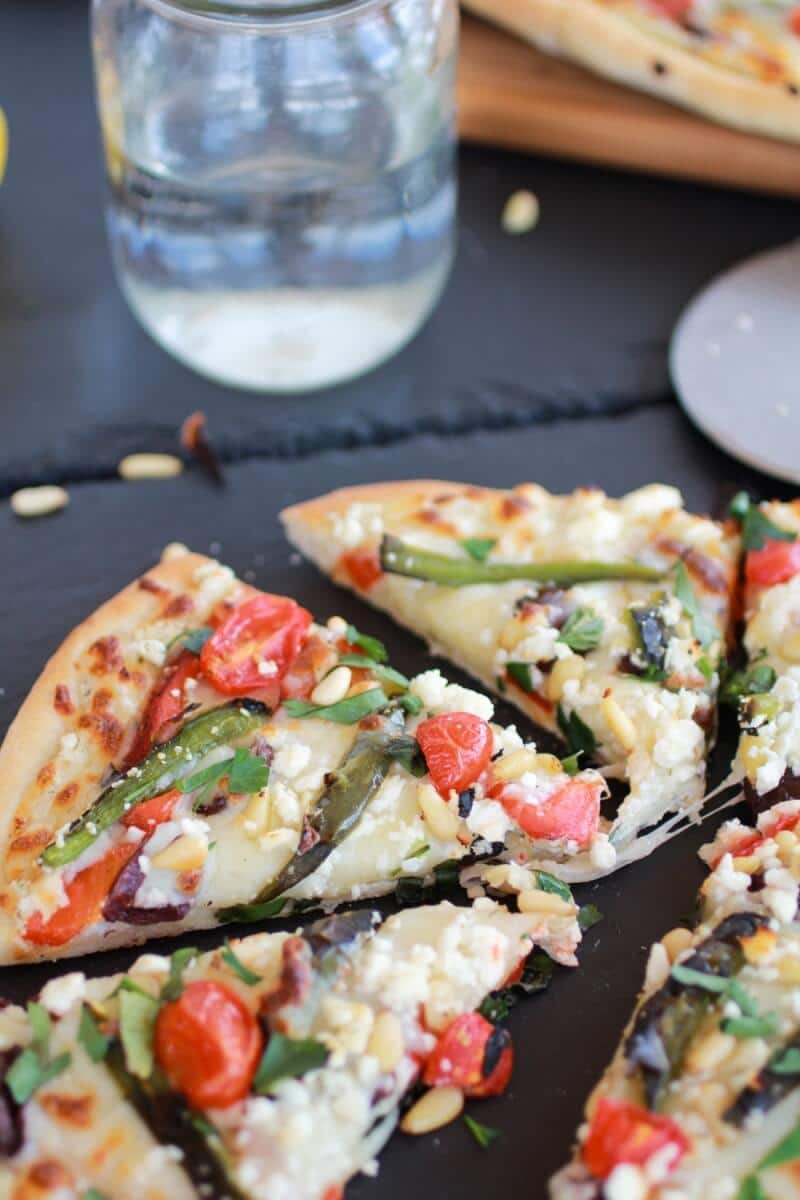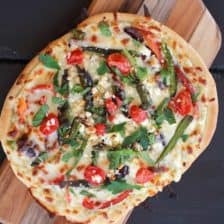 Nutritional information is only an estimate. The accuracy of the nutritional information for any recipe on this site is not guaranteed.
The Recipe
Whipped Feta and Roasted Jalapeño Greek Pizza
By halfbakedharvest
Course: Main Course
Cuisine: American, Italian
Keyword: feta, pizza
The whipped feta is my new thing. I could slather it on everything, dip anything into it or, heck just give me a spoon. Basically it's feta cheese, roasted garlic, basil and lemon and it is KILLER. So good. Oh gosh and the roasted jalapeño's? Holly yum!

Prep Time 2 hours
Cook Time 45 minutes
Total Time 2 hours 45 minutes
Servings 4 Servings
Calories 692 kcal
Ingredients
Creamy Whipped Feta
6 ounces feta cheese
2 ounce light cream cheese
1 tablespoon olive oil
1/2 lemon juiced
1 teaspoon lemon zest
6 cloves garlic peeled
8 leaves fresh basil
1 teaspoon dried dill
1 teaspoon pepper
Toppings
1 red pepper
4 jalapeño peppers
3/4 cup chopped kalamata olives
3/4 cup freshly grated mozzarella cheese
1/4 cup crumbled feta cheese
1 pint grape tomatoes quartered
2 tablespoons pine nuts
fresh basil sliced, for garnish
Instructions
For the Dough: In a large bowl, combine water, yeast and honey. Mix with a spoon, then let sit until foamy, about 10 minutes. Add in 2 1/2 cups flour and olive oil stirring with a spoon until the dough comes together but is still sticky. Using your hands, form the dough into a ball and work the additional 1/2 cup flour in to the dough, kneading it on a floured surface for a few minutes. You can also do all the mixing and kneading in your stand mixer with the dough hook attachment. Rub the same bowl with olive oil then place the dough inside, turning to coat. Cover with a towel and place in a warm place to rise for about 1 1/2 hours.

While the dough rises make the whipped feta and roast the garlic and peppers. Preheat the oven to 425 degrees. Wrap the the garlic cloves in foil and drizzle with olive oil. Roast for 20-25 minutes or until the garlic is soft. At the same time, brush the red pepper and jalapenos with olive oil and sprinkle with salt and pepper. Then either grill or roast them – I stuck them in the oven with garlic and just watched until they were charred. Remove both from oven and let cool. Once they are cooled, remove skins, cut in half and discard the seeds (I left some seeds in) and slice.

Add crumbled feta and roasted garlic cloves to a food processor and pulse until small crumbs remain. Add in the cream cheese and puree for 4-5 minutes, scraping down the sides when necessary, until feta is super creamy. Add in the olive oil, lemon juice, basil, dill and pepper. Puree until combined and smooth.

After the dough has risen, punch it down and place it back on the floured surface. Cut the dough in half and either freeze the other half, save for another day or double the toppings listed above to make two pizzas (there is probably enough whipped feta for 2 pizzas). Using a rolling pin or your hands, form it into your desired shape and place on a baking sheet or pizza peel.

Preheat oven to 375 degrees or follow the [cast iron skillet method|https://dev.halfbakedharvest.com/green-olive-pesto-pizza-with-roasted-red-peppers-and-feta-stuffed-crust/].

Spread a nice thick layer of the whipped feta (I used about half to three-fourths) all over the pizza crust. Scatter the sliced roasted red pepper, sliced olives and 1/3 of the roasted jalapeños on top. Cover with the mozzarella cheese and then top that with the chopped tomatoes and the remaining roasted jalapeños. Sprinkle on the crumbled feta and pine nutes. Place in the oven and bake for 25-30 minutes, until cheese and crust is golden and bubbly. Remove and immediately top with the fresh basil. Let cool five minutes, slice and serve.
Recipe Notes
Whipped Feta inspired by [How Sweet It Is| http://www.howsweeteats.com/2013/02/how-to-make-amazing-whipped-feta/]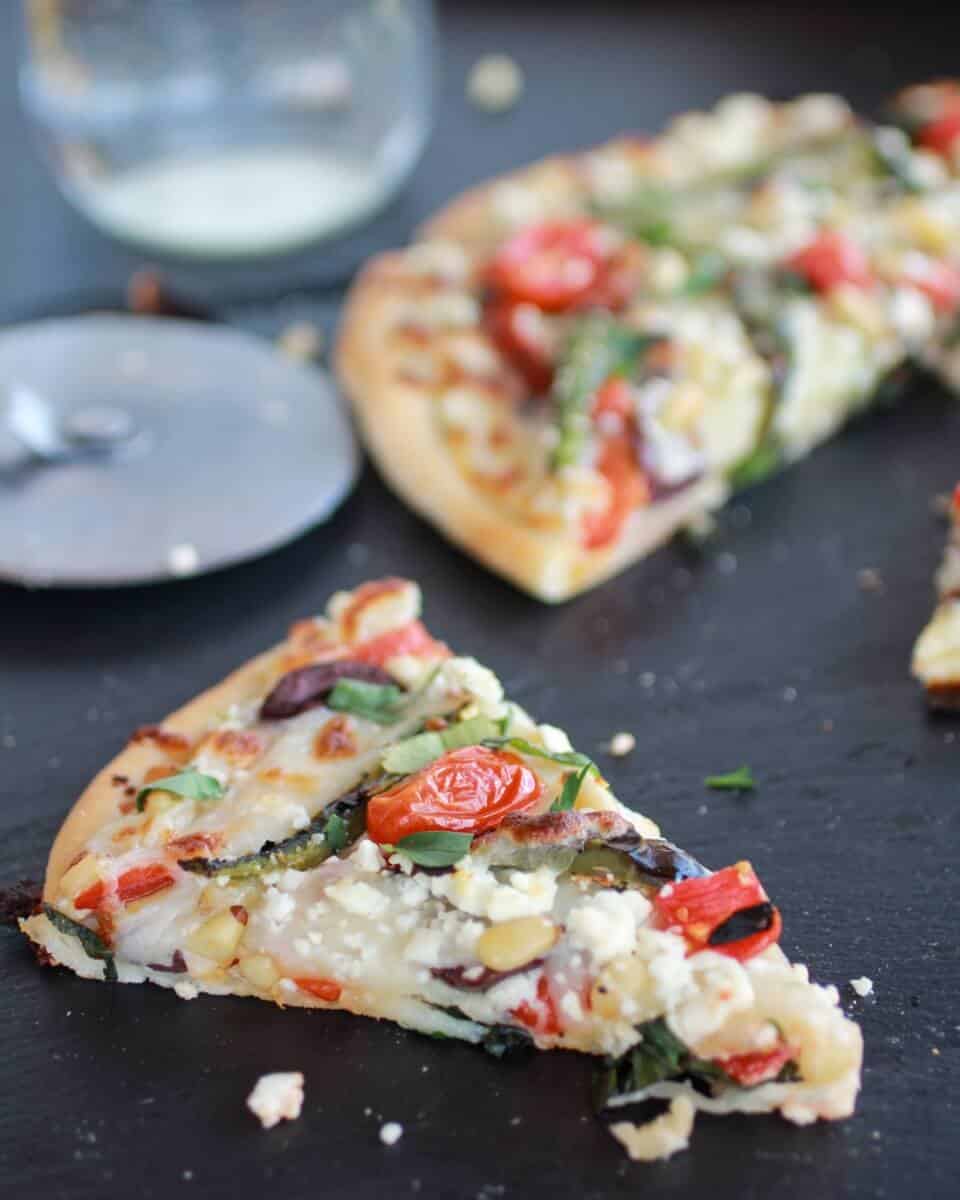 Hey it's Thursday! It's pizza time people!