Vegan Gooey Chocolate Doughnuts (& A Giveaway!)
Doughnuts for everyone!

Literally!
Not only are these gooey chocolate baked doughnuts vegan, but they are also gluten-free. I know, I know! So crazy, but seriously guys do not go running. The down right genius Ashley, the cray awesome writer/photographer/recipe developer/cookbook author(!!) behind the food blog Edible Perspective decided it was time to make some doughnuts that everyone could eat.
Yup, she wrote an entire cookbook all about gluten-free baked doughnuts.
Like I said, she is a wickedly talented genius.

The book is gorgeous.
I am actually flipping through it now, just in awe of the amazing recipes and photographs. Every last recipe is perfect to a T and every last photo should be on the cover of Bon Appetit. Not even joking. The girl is a killer photographer. If you are looking to improve your photography head over to her photography page. It is so helpful.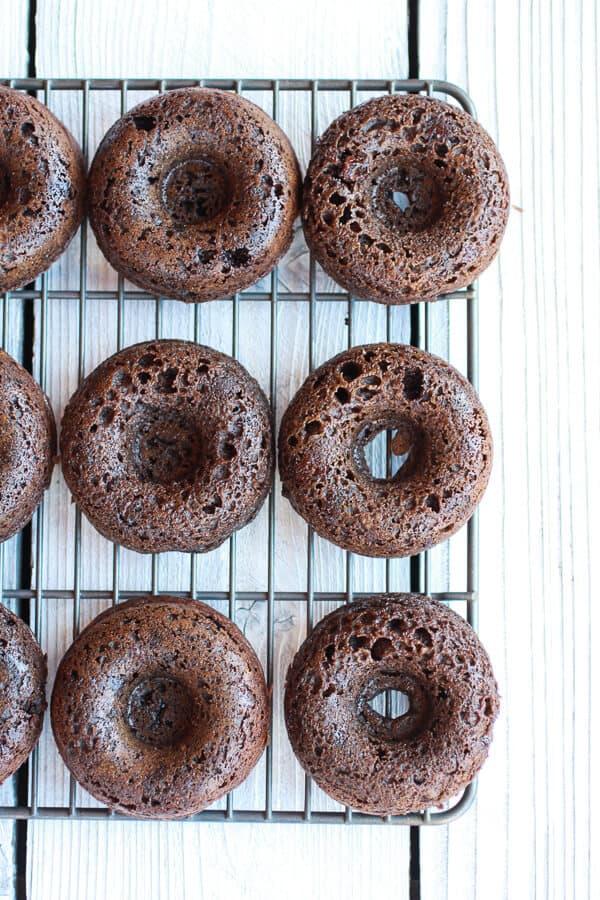 But back to these doughnuts.
Oh my gosh, I cannot say enough incredible words about these gooey (so gooey), chocolate (so chocolatey), vegan (seriously?), doughnuts (yes!).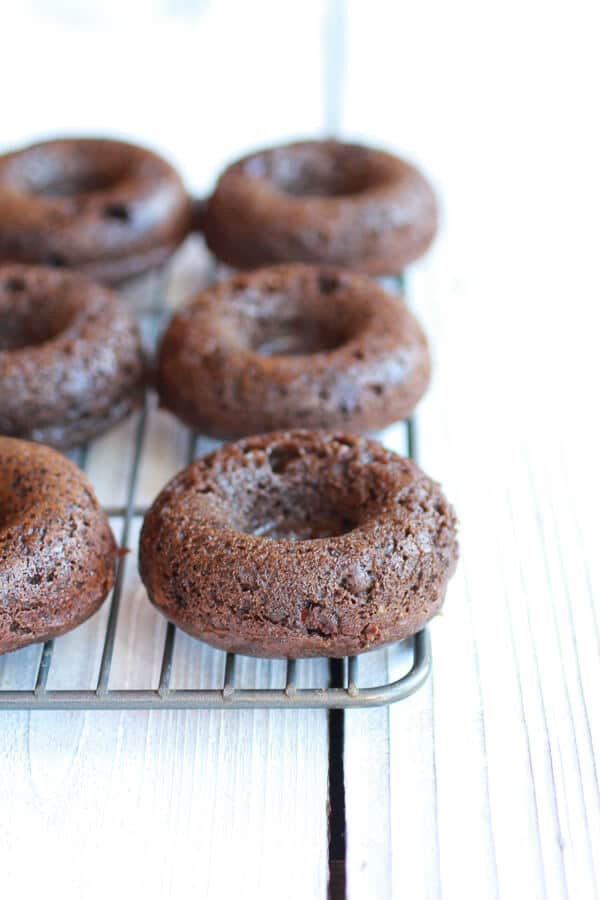 Let's put it this way, my brother Kai, you know they crazy picky one. The one who will not even touch ninety-five percent of the food I make.
Yeah, well Kai walked into the kitchen the day I made these doughnuts and just grabbed the spoon full of batter and went to town. But then he took a quick breath to say, "That's good, oh that's really good ." Then he went on and proceeded to frost the baked doughnut with the remaining batter. Yeah, I think he might have some closet talents here yet to be revealed.
After he did this I made him write down every last dessert idea he had in his brain. Be prepaid, it's good stuff!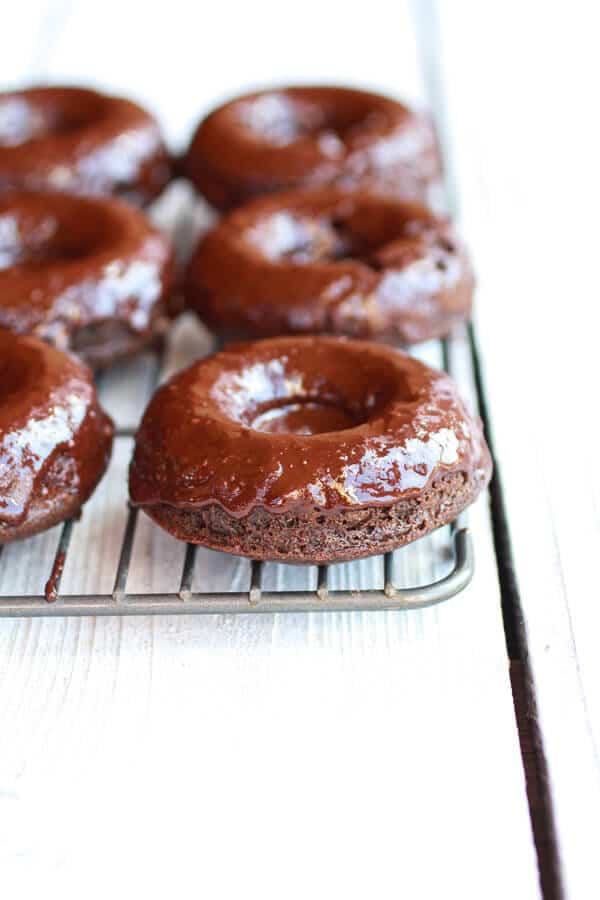 My point here though is that Ashley's recipe, her vegan gluten-free recipe, got off the chart reviews from the pickiest of the pickiest of eaters.
They also got an A++ score from my chocoholic of a mom.
These doughnuts? They just kind of blew everyone's mind, except mine.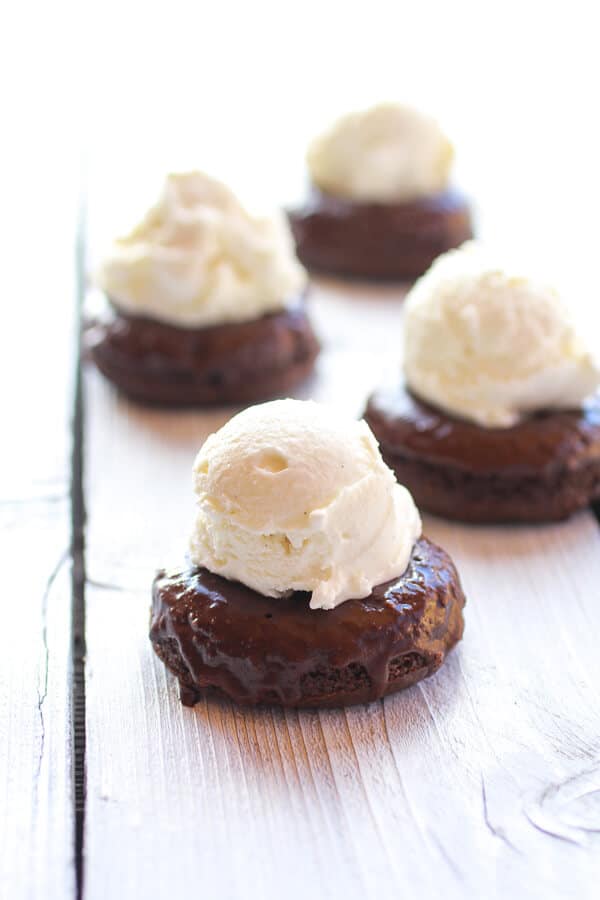 I had not a doubt in my mind that these doughnuts were going to be KILLER.
And they are just that, KILLER!
I think her secret is the pumpkin (oh yes!!)! It keeps things super moist and acts similar to an egg as a binder. The pumpkin combined with the flax-seed meal is an amazing thing! I still can't believe Kai ate pumpkin and flax seeds and loved all three doughnuts, plus the extra batter he slathered on top!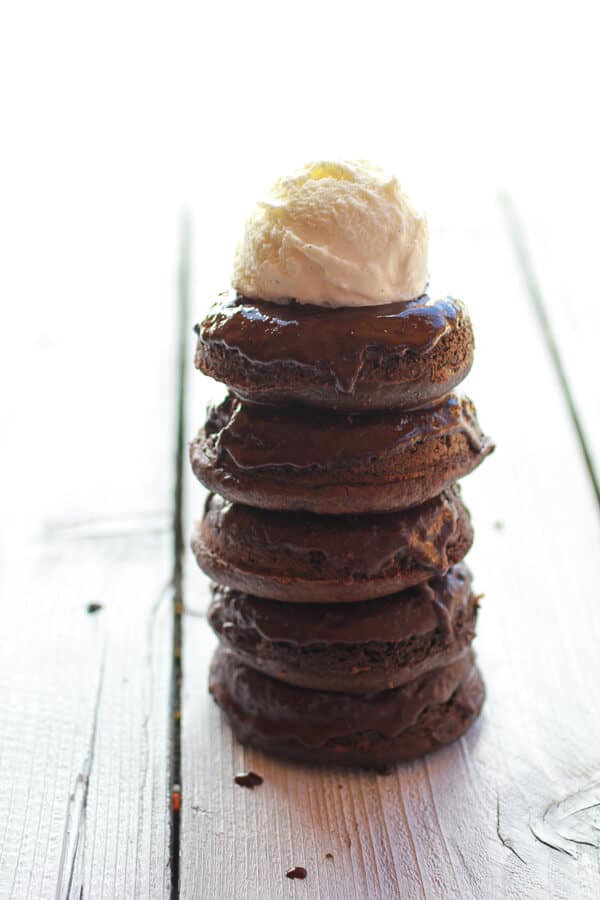 The book is loaded to the brim with every doughnut you can imagine.
From the most indulgent the to super healthy!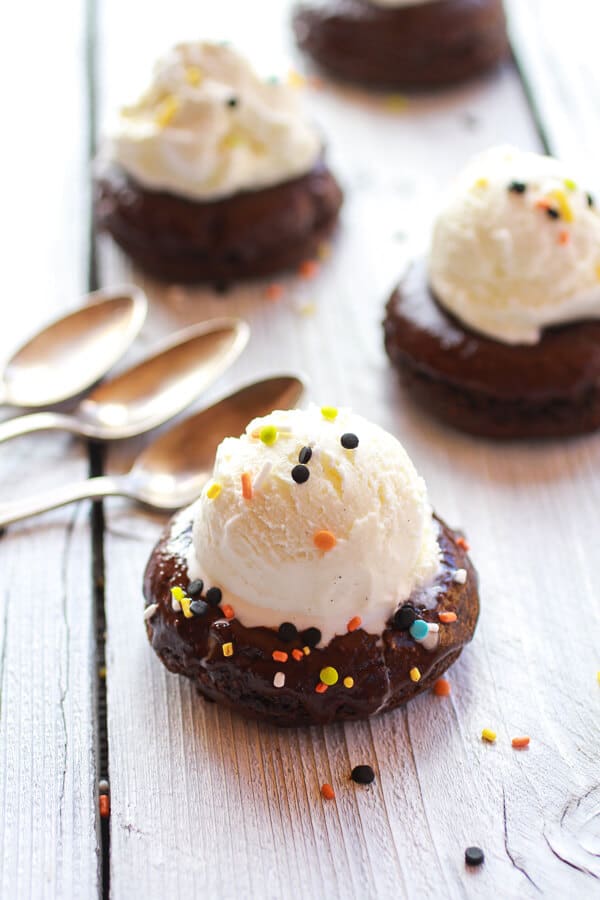 There are even savory doughnuts.
Yup, yup, yup savory doughnuts!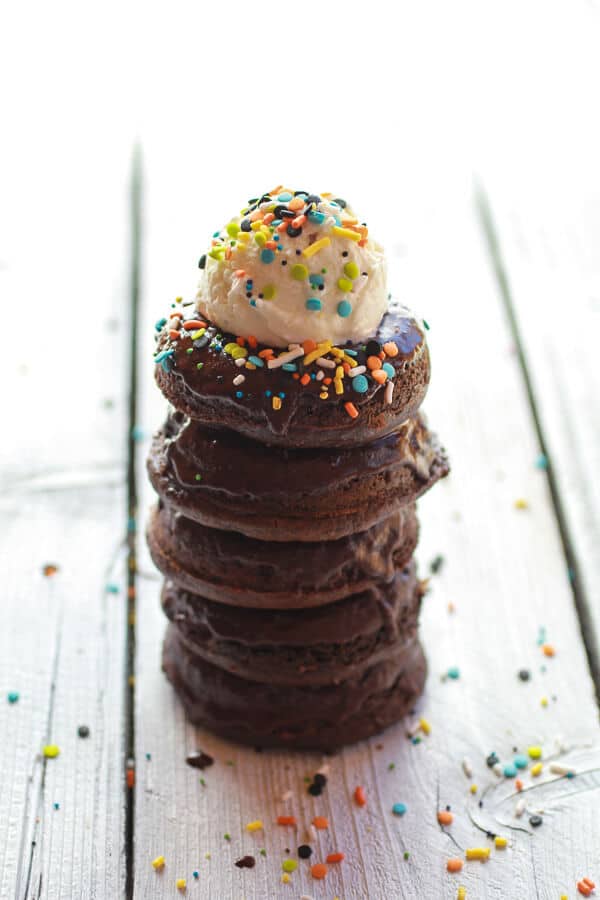 Oh and there may even be a special Birthday doughnut.
It's big and tall and EPIC – and so cute!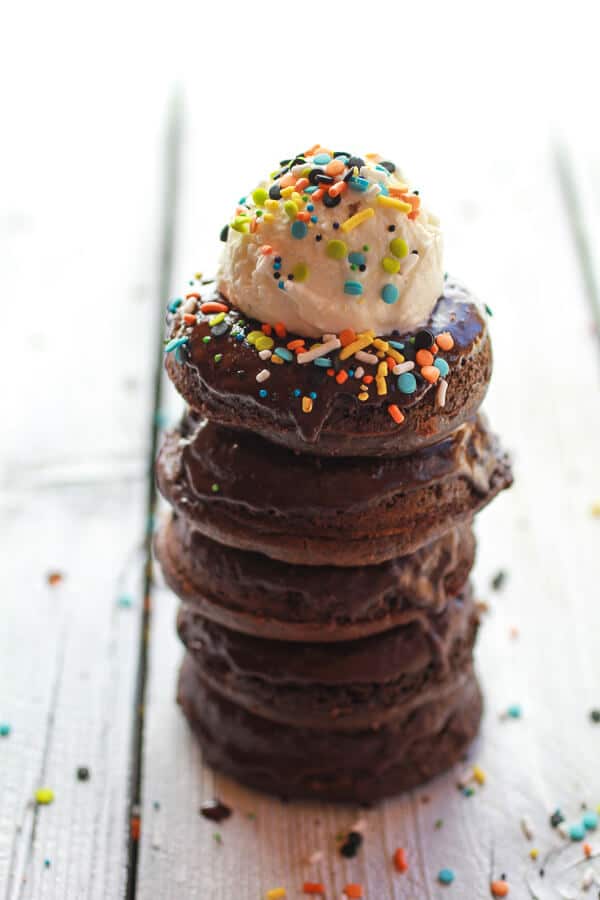 Want a copy? Plus a set of new measuring spoons?? YES, you SO do! All you have to do is answer this one question in the comments area below and you're entered to win! You can also follow me here, here, and here. Plus, Ashley here and leave separate comments on this post letting me know, but that's totally up to you!
My question IS: What is your favorite Halloween candy? 
(This giveaway is for U.S., U.K and Canadian residents only. I'll announce the winner Sunday morning.)
Now, doughnut time!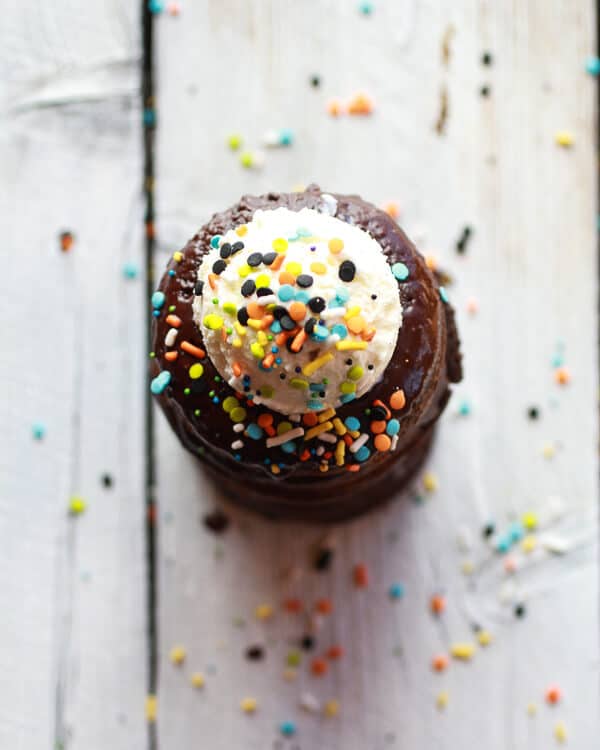 Nutritional information is only an estimate. The accuracy of the nutritional information for any recipe on this site is not guaranteed.
The Recipe
Vegan Gooey Chocolate Doughnuts
By halfbakedharvest
Course: Dessert, Snack
Cuisine: American
Keyword: doughnuts, vegan
I cannot say enough incredible words about these gooey (so gooey), chocolate (so chocolatey), vegan (seriously?), doughnuts (yes!).

Prep Time 10 minutes
Cook Time 20 minutes
Total Time 30 minutes
Servings 10 Doughnuts
Calories 251 kcal
Ingredients
1/2 cup oat flour 60 g
1/2 cup sweet rice flour 70 g
1/4 cup unsweetened cocoa 20 g
powder
1/4 cup pure cane sugar 50 g
2 tablespoons coconut flour 14 g
1 1/2 tablespoons ground flax meal 11 g
1 teaspoon baking powder
1/2 teaspoon baking soda
1/2 teaspoon salt
3/4 cup unsweetened almond milk 1/4 cup + 2 tablespoons brown rice 175 ml, 129 g
syrup
1/4 cup pumpkin puree 60 g
2 tablespoon oil 28 ml
2 teaspoons vanilla extract
1/2 cup vegan dark chocolate chips 88 g
For the glaze
2/3 cup powdered sugar 80 g
5 tablespoons unrefined coconut 70 g
oil melted
3 1/2 tablespoons unsweetened 18 g
Instructions
To make the doughnuts: Preheat your oven to 350°F (180°C, or gas mark 4) and grease your doughnut pan.

Combine the oat flour, sweet rice flour, cocoa powder, cane sugar, coconut flour, flax meal, baking powder, baking soda, and salt in a large bowl, mixing well. In another bowl, whisk together the milk, brown rice syrup, pumpkin puree, oil, and vanilla extract until well combined.

Pour the wet mixture into the dry ingredients and stir with a large wooden spoon until just combined, being careful not to overmix (stop when you no longer see dry flour). Gently fold in the chocolate chips. The mixture will be thick.

Spoon the batter into the doughnut molds, filling to just below the top of each mold, 1/8- to 1/4-inch (3 to 6 mm) from the top. Bake for 20 to 26 minutes until lightly golden brown around the edges. The cake is supposed to have a gooey center. Let cool in the pan for 5 minutes. Slide a thin spatula around the edges of the doughnuts to help loosen them out. Then place on a cooling rack and allow to cool for 5 to 10 minutes before glazing.

To make the glaze: Mix the powdered sugar and coconut oil together until smooth. Stir in the cocoa powder until combined. Invert the doughnut into the glaze and let the excess drip off. Serve warm, topped with ice cream.
Recipe Notes
*Recipe from [Baked Doughnuts for Everyone | http://www.amazon.com/Baked-Doughnuts-For-Everyone-Gluten-Free/dp/1592335667/ref=sr_1_1?ie=UTF8&qid=1381202372&sr=8-1&keywords=baked+doughnuts+for+everyone] *The flours should all be available at natural food stores or a health stores. Or you can order them off of Amazon: [Oat flour | http://www.amazon.com/Bobs-Red-Mill-Flour-22-Ounce/dp/B004VLVBUM/ref=sr_1_1?ie=UTF8&qid=1381203272&sr=8-1&keywords=oat+flour], [sweet rice flour | http://www.amazon.com/Bobs-Red-Mill-Flour-24-Ounce/dp/B004VLVMPG/ref=sr_1_1?ie=UTF8&qid=1381203308&sr=8-1&keywords=sweet+rice+flour], [coconut flour | http://www.amazon.com/Bobs-Red-Mill-Organic-16-Ounce/dp/B000KENKZ8/ref=sr_1_1?ie=UTF8&qid=1381203223&sr=8-1&keywords=coconut+flour], [flax meal | http://www.amazon.com/Bobs-Red-Mill-Flaxseed-16-Ounce/dp/B000EDBQ6A/ref=sr_1_2?ie=UTF8&qid=1381203341&sr=8-2&keywords=flax+meal].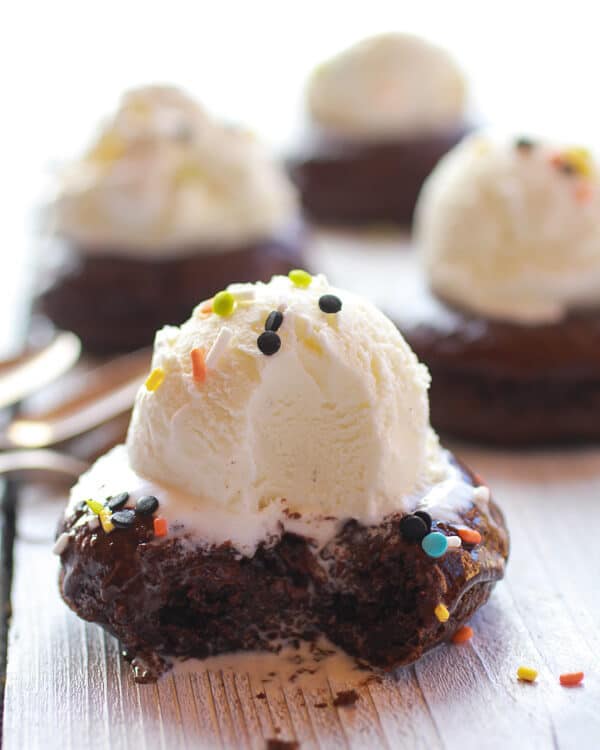 Best baked doughnut I have EVER had.