The 12 Most Popular Thanksgiving Drinks.
Sharing The 12 Most Popular Thanksgiving Drinks today to help you find the perfect drink for your holiday gathering this year. This list has everything from pitcher style drinks like my Thanksgiving sangria, to festive cranberry spritzers, to warming Chai White Russians, and just about everything in between. If you're looking for the perfect cocktail to serve, I'm pretty sure you'll be able to find it here.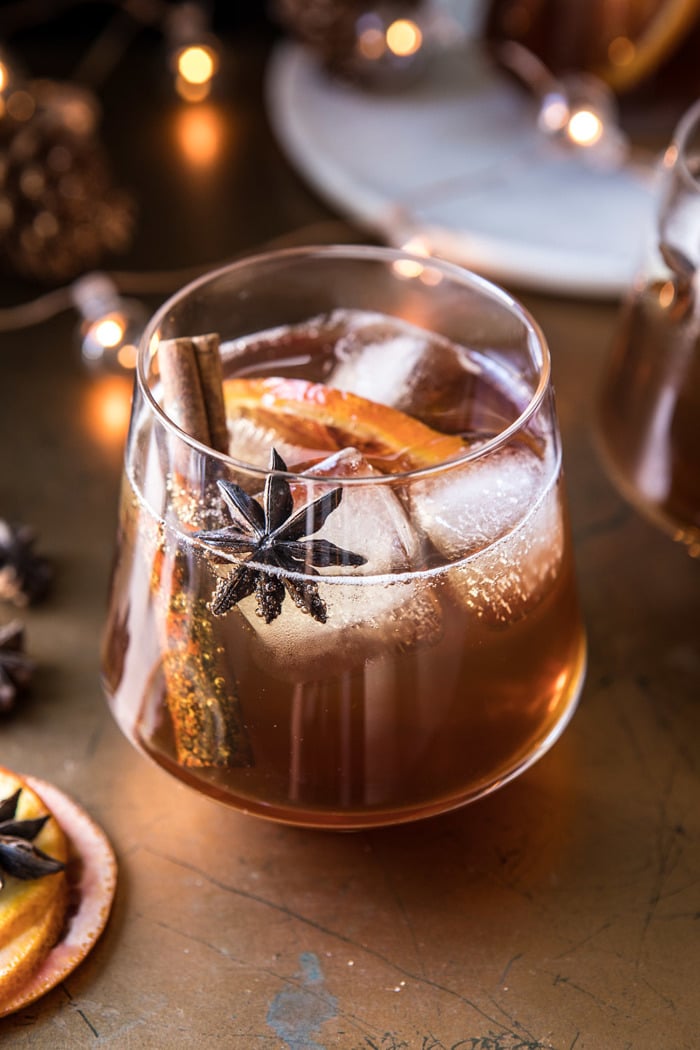 Happiest Saturday everyone!
I had big plans to share a new cocktail with you all today, but then it hit me that I have SO MANY cocktail recipes from years past. I wanted to shine some light on those drinks before everyone's Thanksgiving menus are set in stone. Most of you have not been following HBH since back in 2012. You only see the new recipes, but there are so many of my older recipes that I really LOVE as well. There are so many holiday cocktails that are just too good (and pretty…and easy) to not bring them back to your attention.
So, today I'm sharing all the most popular Thanksgiving cocktails that have been featured on HBH. It's a VERY good list. These recipes are without a doubt some of my favorites…I truly love making these drinks for you guys and for my family. Something about the holidays requires a good drink in hand. I love entertaining my family while mixing up cocktails in the kitchen. It's kind of my "safety blanket", it keeps me moving and talking away. Plus, I just have fun a lot of fun making them!
I hope you enjoy this round-up of oldies, but goodies. Some of my favorite HBH cocktails are listed here. Please let me know YOUR personal favorites. Also, let me know what you might like to see coming up for the rest of November and into December. I have so many cocktails planned. Already so excited!!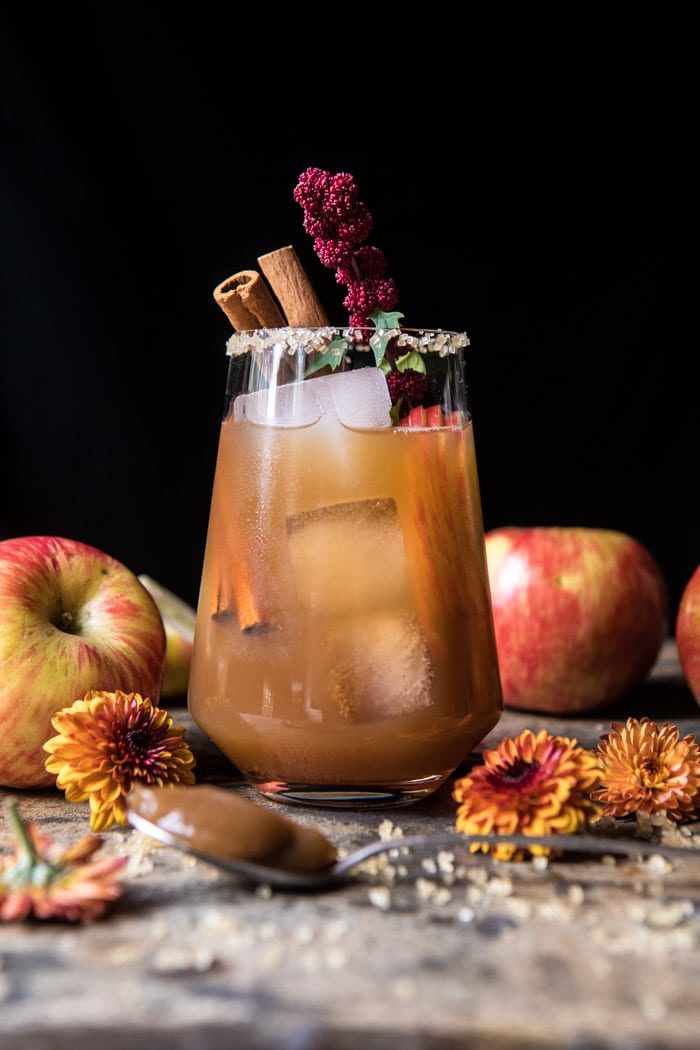 If there was ever a fall cocktail to love, this has got to be it. It's loaded with all things warm and cozy…hello to homemade apple butter, cider, lemon, orange bitters, bourbon, and ginger beer for topping.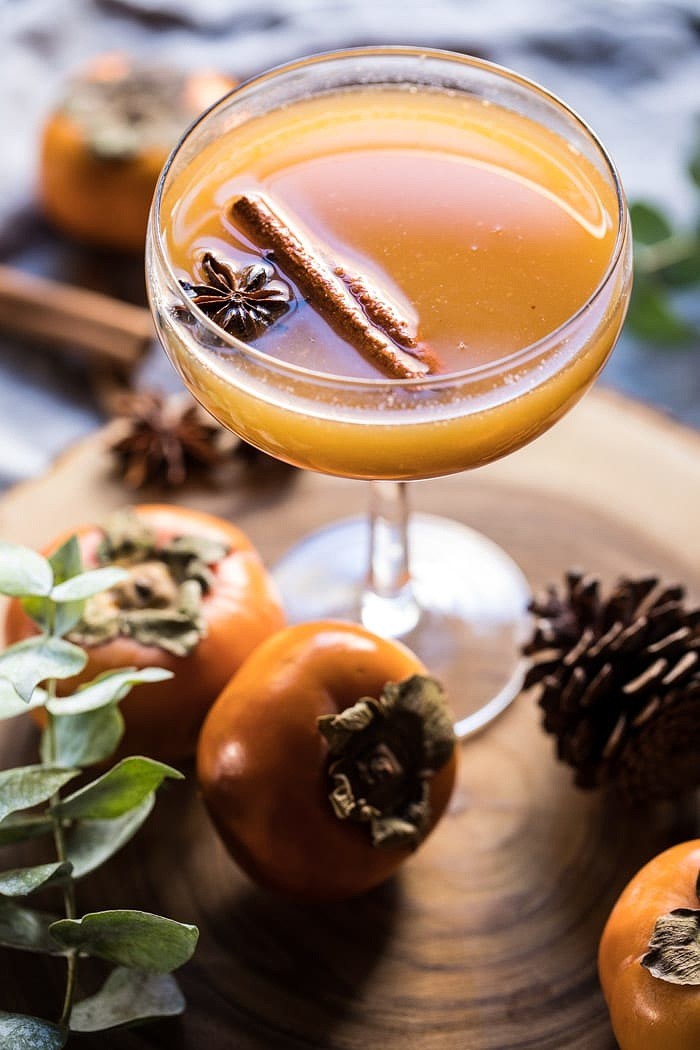 Spiced Persimmon Bourbon Old Fashioned
Spiced maple persimmon puree, bourbon, sweet clementine juice, and a couple of dashes of bitters. If you'd like to make this as a pitcher style drink for Thanksgiving, just quadruple the amounts for the old fashioned.

Naughty and Nice Cinnamon Toddy
Best for trimming the tree over Thanksgiving weekend or just snuggling by the fire.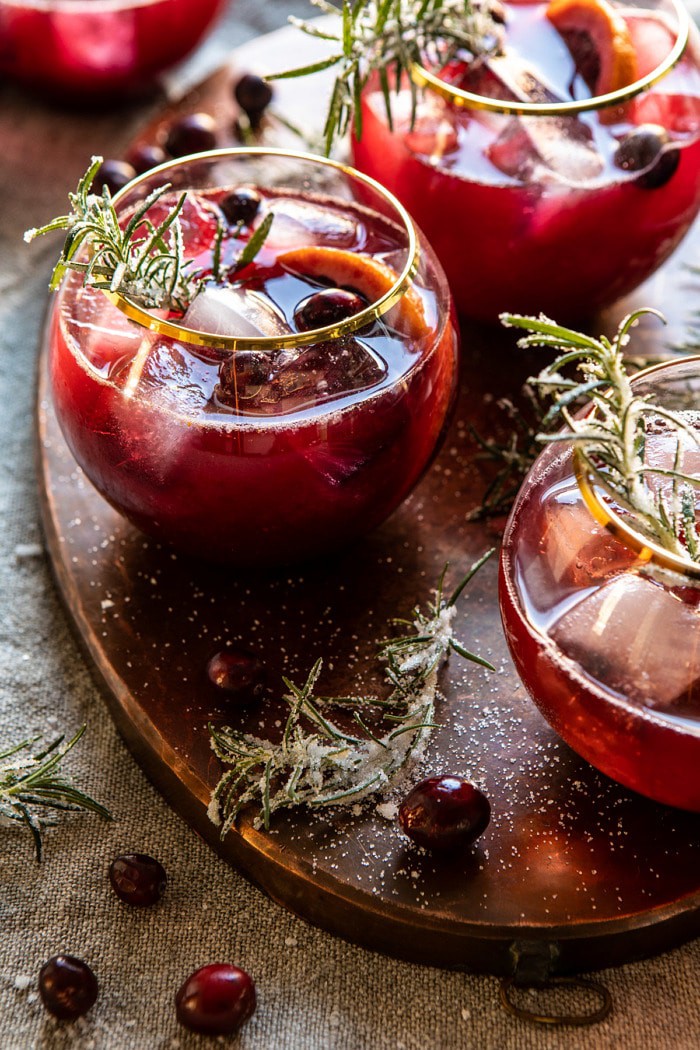 Homemade cranberry-orange syrup, warming bourbon, fresh citrus, and sweet candied rosemary. This drink is so easy to create. Simply mix everything together for a merry cocktail that's perfectly sweetened, and so delicious!

White wine mixed with cider, brandy, pumpkin butter, citrus, spices, and a splash of ginger beer. It's a touch sweet, refreshing, so easy to make, and perfect for both Friendsgiving and Thanksgiving gatherings!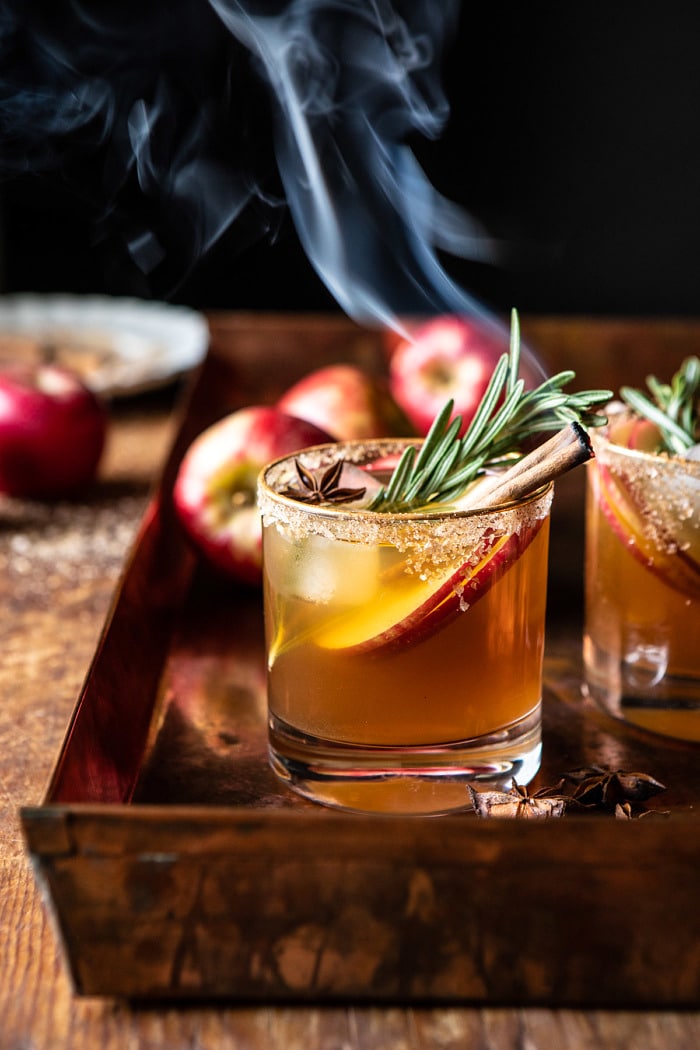 Smoky Harvest Apple Cider Margarita
A quick and easy, but oh so warming fall margarita. Smoky mezcal (or tequila) mixed with a splash of orange liquor, spiced apple cider, a touch of citrusy lime, and sweet maple.

Vodka mixed with fresh lime juice, a squeeze of grapefruit juice, pomegranate juice, spicy jalapeños, and topped off with ginger beer. It's both festive and warming, perfect for holiday parties and cold nights.

This old fashioned makes for the most perfect cozy fall and winter cocktail that everyone will love. Make the syrup ahead of time and keep in the fridge to mix up a quick drink at a moment's notice.

Spiced Cranberry Rosé Spritzers.
Homemade spiced cranberry jam, woodsy rosemary, fruity rosé, sweet elderflower liquor, fresh citrus, and spicy ginger beer. The festive red color doubles as a gorgeous decor piece on any table!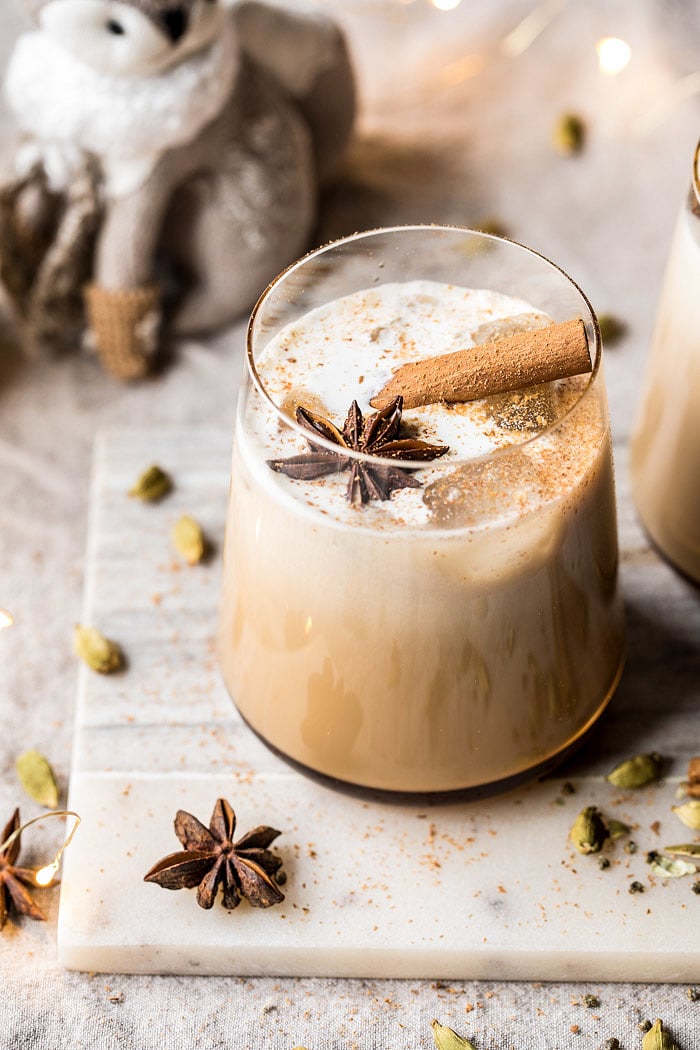 Vanilla Chai Tea White Russian
This warming + cozy drink is best for after-dinner Turkey Day nightcaps. I'm already excited to hang out after dinner and share it with the fam!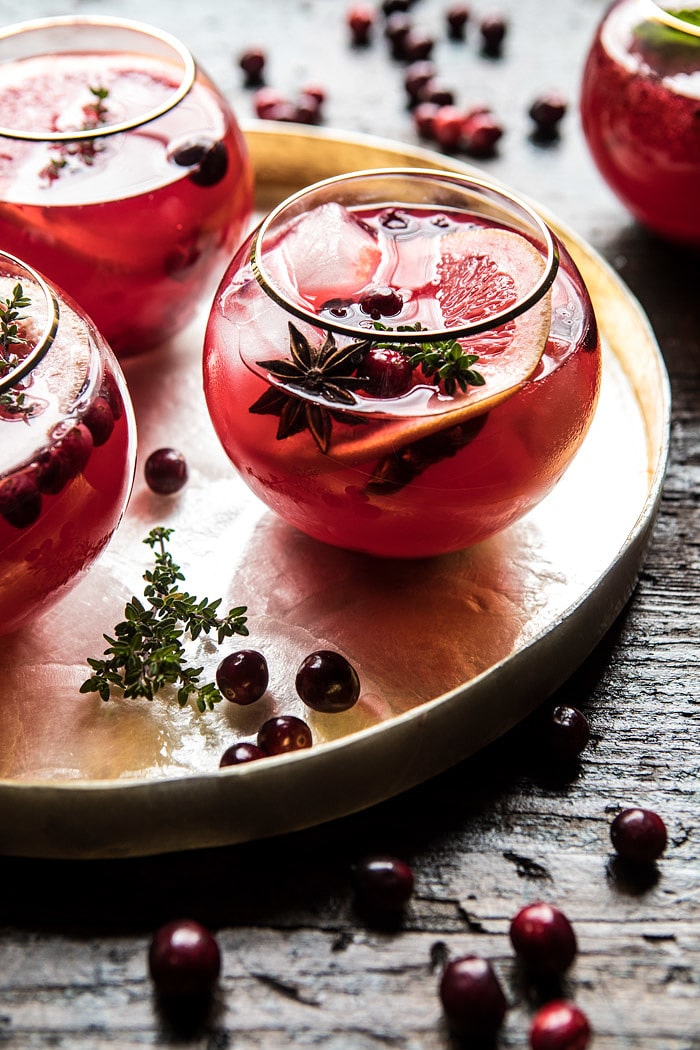 Not only is this drink extra festive and pretty, but it's sweet, hinted lightly with flavors of thyme, spiked with a little vodka, and made with my very favorite, elderflower liquor. Basically the perfect holiday drink.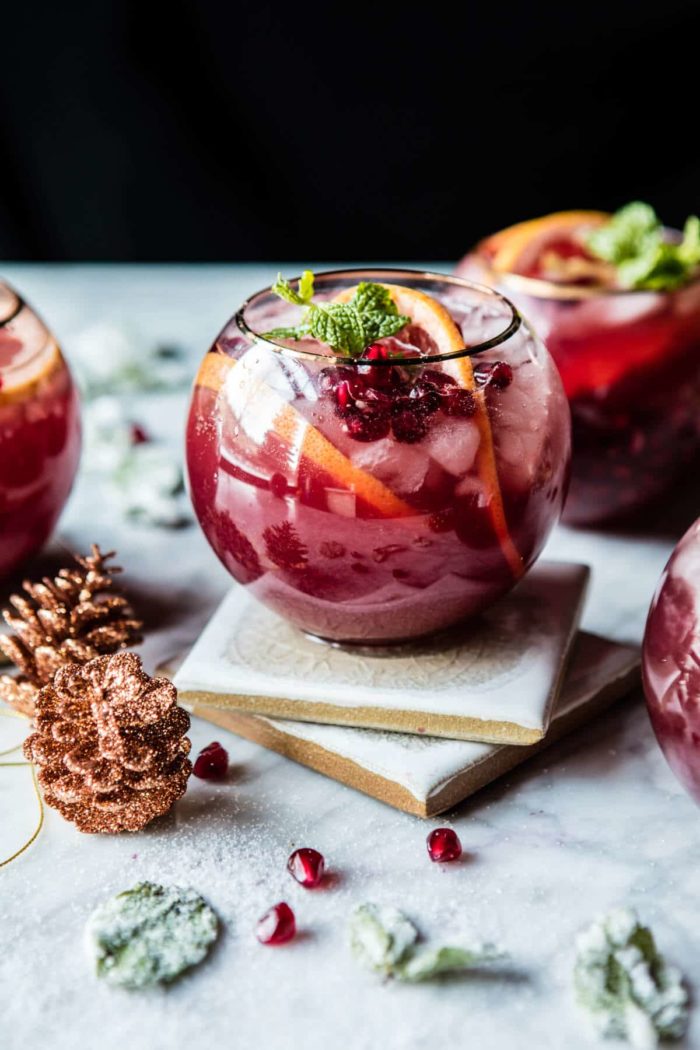 A true oldie, but also everyone's favorite. Fizzy, minty, gingery, full of sweet pomegranate, and um tequila too! The simple syrup makes enough for at least four drinks, but can easily be doubled, or tripled, for a large batch. Great for Thanksgiving…and Christmas.

Bonus: Vanilla Mocha Hot Cocoa
If you're looking for something to kick off Thanksgiving morning with, try this hot cocoa. It's my favorite. Steamed milk, sweet chocolate, hints of coffee, and spiced with real vanilla. This cocoa is creamy, rich, perfectly sweet, and best enjoyed with a large helping of homemade whipped cream.