Thai Grilled Corn and Peach Quinoa Salad.
It's official, my salad game is going strong.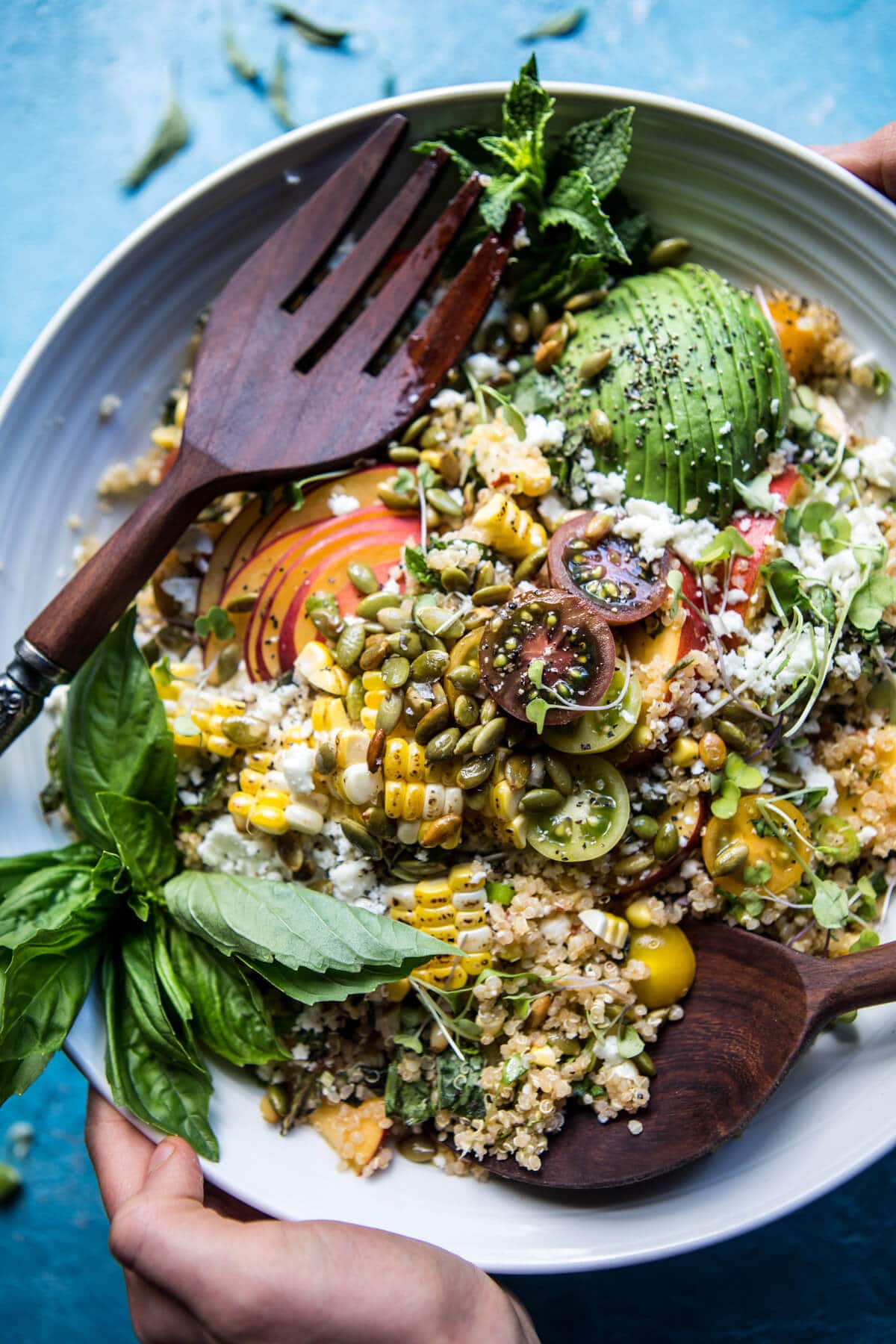 I blame it all on these oddly warm days that we are having here in the mountains. Typically it doesn't go too much above seventy during the summer months and cools to the forties (or lower) at night. There's always a cool breeze so it's very tolerable (no AC in houses or businesses up here). But this whole week it's been in the eighties, ninety plus down in Denver. That's totally normal for Denver, but eighties in the mountains with sunshine is warm. I am LOVIN it to say the least, but it totally has me craving, lighter foods that require zero oven time. My kitchen has been HOT, so any chance I get to not turn on the oven, I'll take.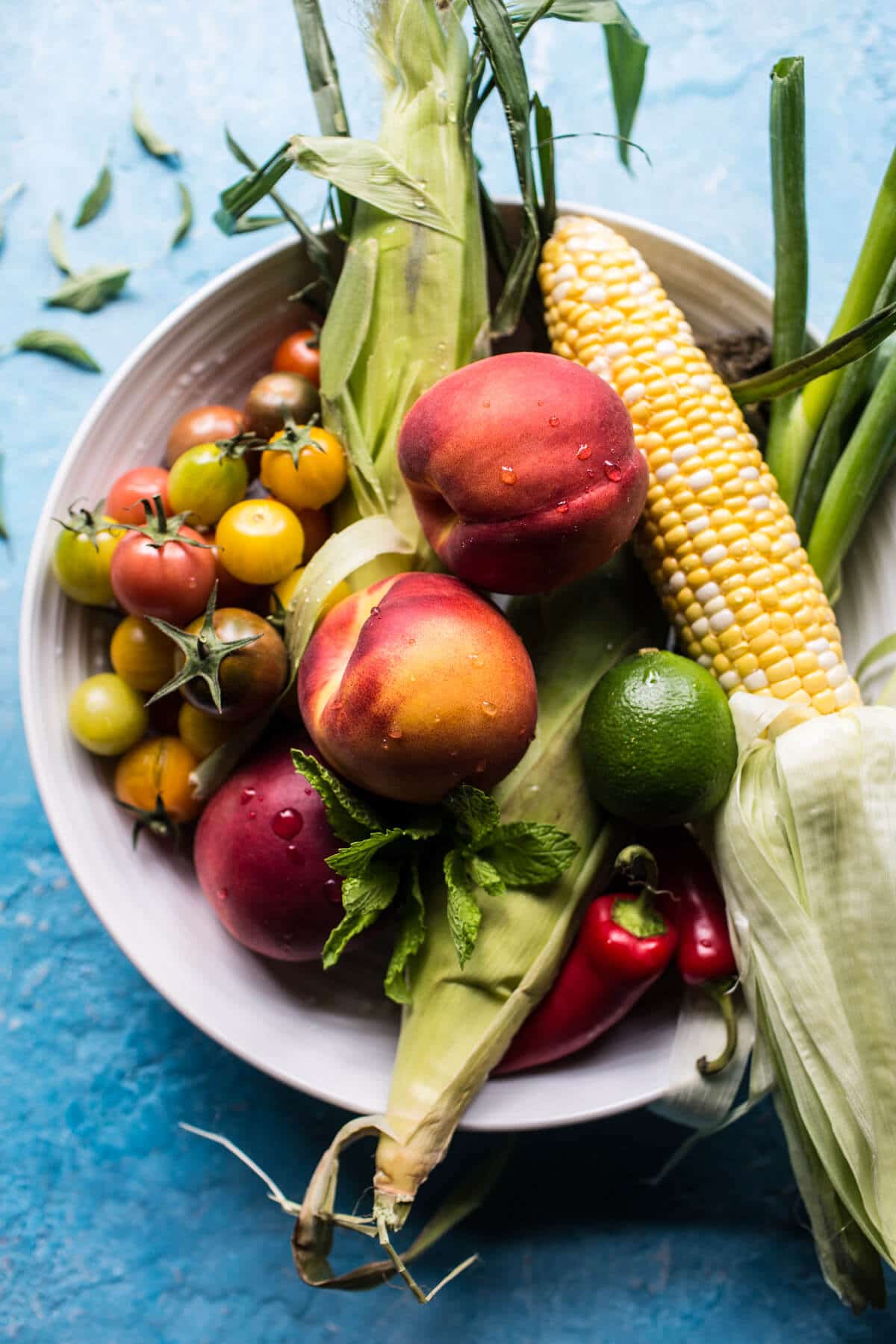 Enter this Thai grilled corn and peach quinoa salad, basically summer in a bowl. 🙂
Like I mentioned yesterday, I am in full on planning mode for the fourth of July. I'm not totally sure as to whether or not I will be here in Colorado or in Mexico with my family, but either way, I'm making a killer cookout menu, and obviously all good BBQ's need really good sides!
Here is my two cents on summer sides. They should be simple, full of fresh ingredients, and able to be made in advance to make entertaining crazy easy.
Obviously, not all sides can be this way, but I try to make a point to have a few on hand that are. It just makes life so much easier when you can check a whole bunch of dishes off your list before the party even starts, you know? And hey, it's summer, life should be easy breezy!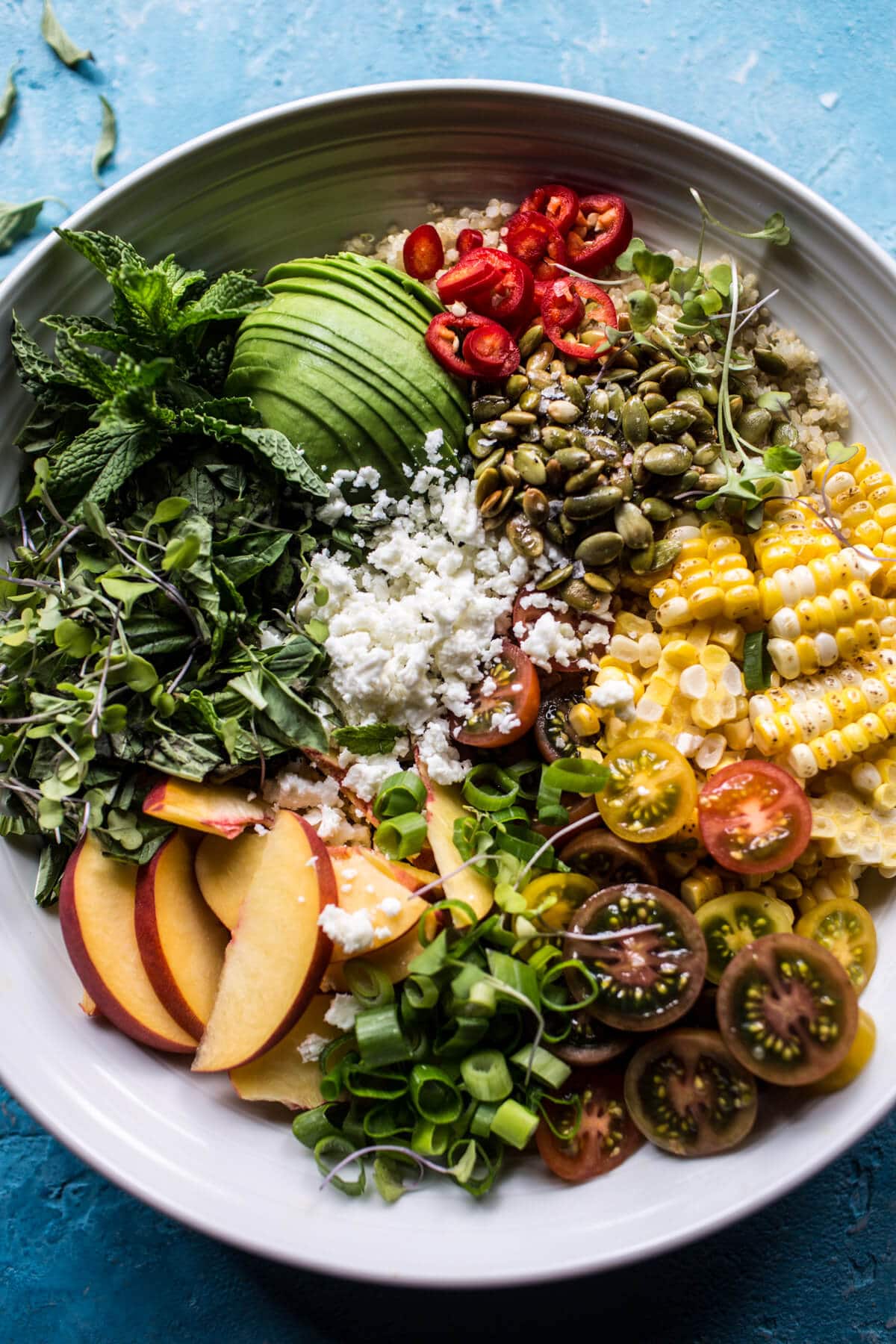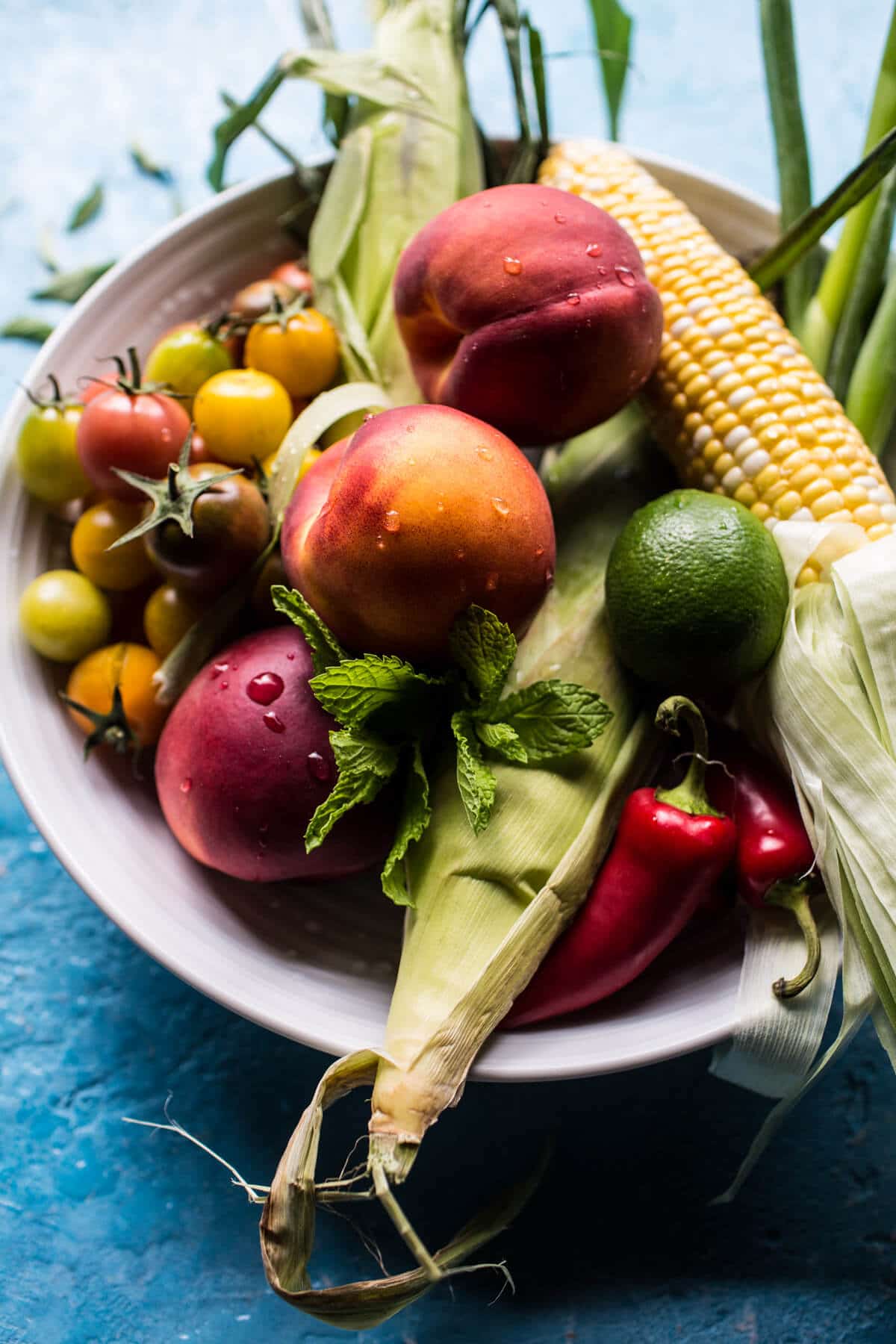 Alright, so remember last week how I mentioned some posts might be a bit shorter over the next couple weeks while I finish up the cookbook? Well, today's post is going to have to be one of those shorter post. I feel like it fits anyway since this is such a simple recipe, so I'm going with it.
Here's quick run down on this salad.
To make things fast and easy, whisk together all the ingredients for the Thai vinaigrette right in the bottom of your salad bowl. I LOVE this vinaigrette, it's slightly sweet, a tinsy bit spicy and perfectly tangy. It really works with the flavors and textures of this salad. Once you have the vinaigrette ready, just add in all the remaining ingredients…quinoa, sweet grilled corn, ripe peaches, garden tomatoes, fresh basil, mint, cilantro, avocado and a whole bunch of crumbled feta. Finish off with toasted pepitas for crunch and a handful of micro greens.
DONE.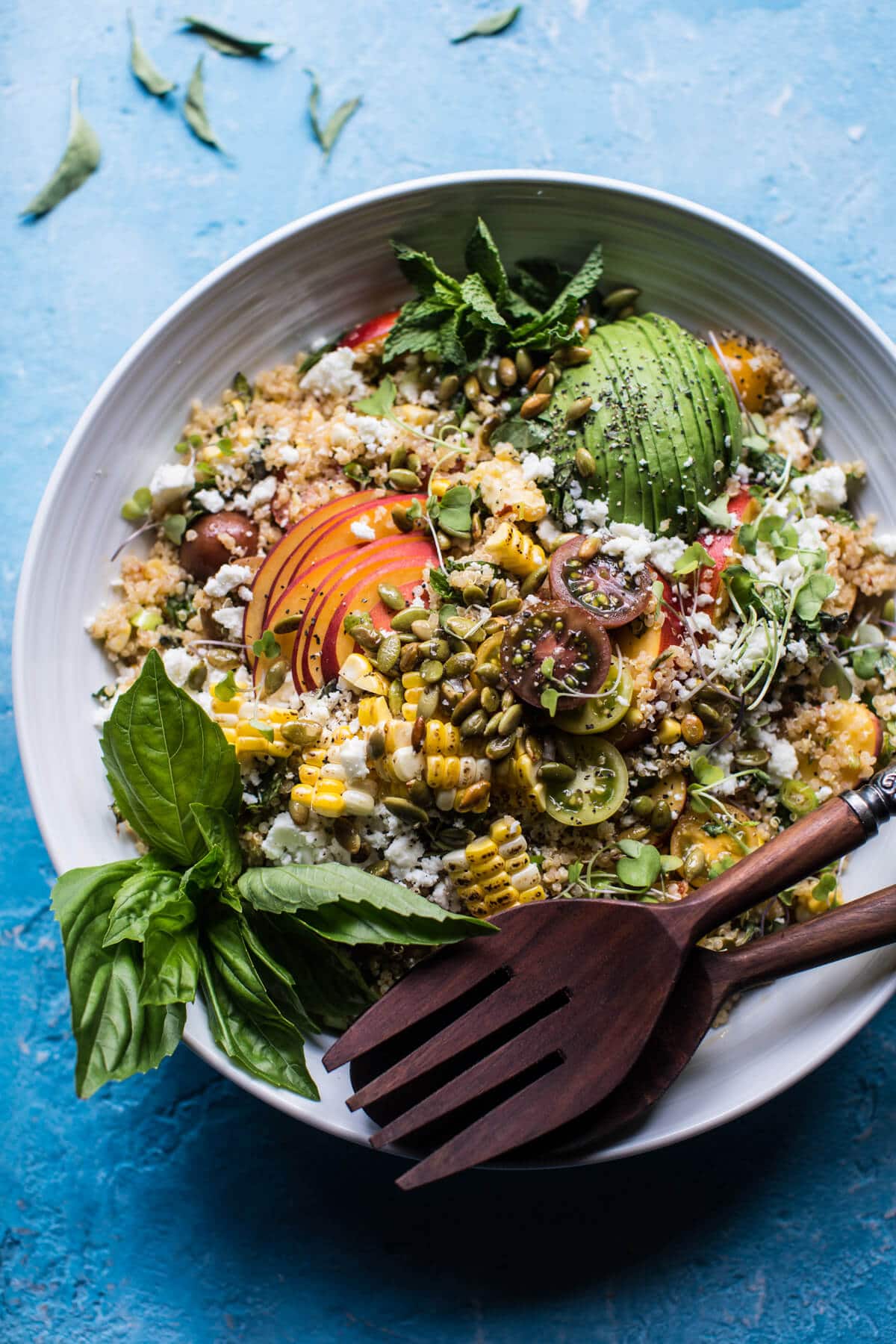 Simple, fast, fresh, healthy and SO GOOD.
Leftovers made for a most awesome lunch for a good two days…piled high over a bowl of hummus,,,scooped up with naan…gimme all the carbs…of course…so predictable.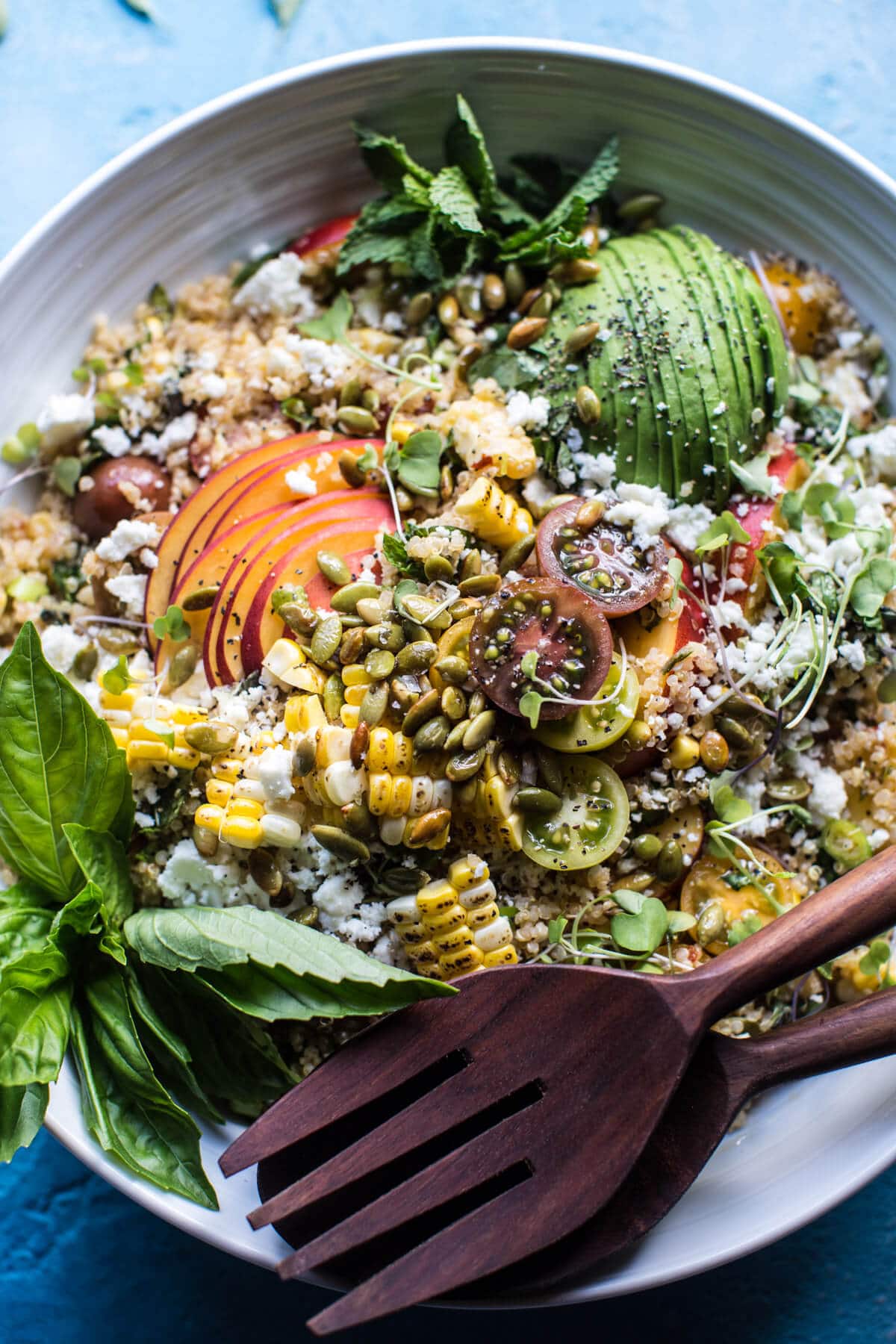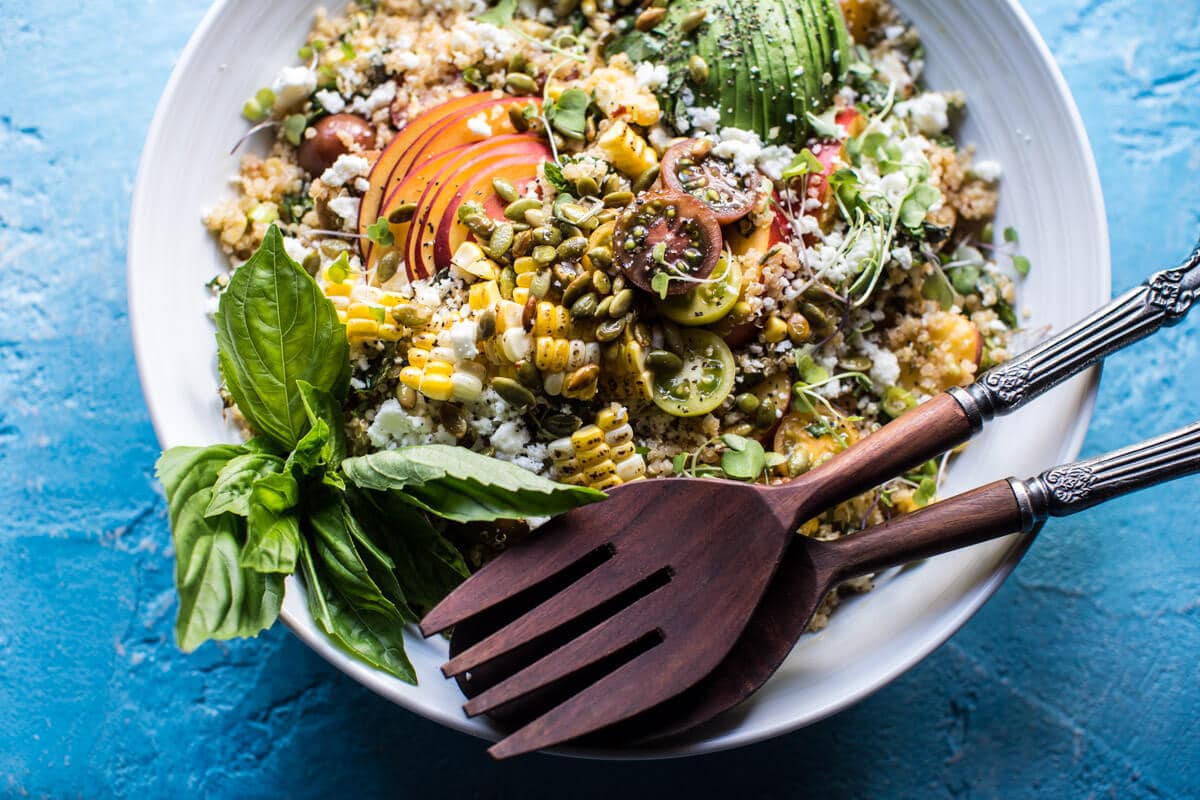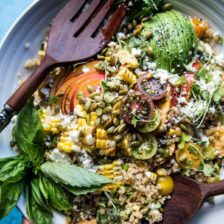 Nutritional information is only an estimate. The accuracy of the nutritional information for any recipe on this site is not guaranteed.
The Recipe
Thai Grilled Corn and Peach Quinoa Salad.
By halfbakedharvest
Course: Main Course, Salad
Cuisine: American, thai
Keyword: corn, peach, quinoa
Simple, fast, fresh, healthy and SO GOOD.
Prep Time 15 minutes
Cook Time 20 minutes
Total Time 35 minutes
Servings 6 Servings
Calories 318 kcal
Ingredients
1 cup uncooked quinoa
1/3 cup olive oil
3 tablespoons rice vinegar
2 tablespoons low sodium soy sauce
1 tablespoon sambal oelek chili paste
1 tablespoon honey
2 teaspoons fresh ginger grated
2 teaspoons finely chopped lemongrass optional
4 ears grilled or roasted corn kernels removed
2 ripe peaches thinly sliced
1 cup fresh basil roughly chopped
1/2 cup fresh mint roughly chopped
1/4 cup fresh cilantro roughly chopped
2 green onions chopped
2 Fresno chilies seeded + chopped
1 cup cherry tomatoes halved
6-8 ounces feta cheese crumbled
1 avocado sliced
1/2 cup toasted pepitas shelled pumpkin seeds
handful of microgreens
Instructions
Cook the quinoa according to package directions.

Meanwhile in the bottom of a large salad bowl, whisk together the olive oil, rice vinegar, soy sauce, sambal oelek, honey, ginger, lemongrass and pepper.

To the dressing, add the cooked quinoa, corn kernels, peaches, basil, mint, cilantro, green onions, fresno chilies, tomatoes and feta cheese. Gently toss everything together until combined. Top with sliced avocado, toasted pepitas and a handful of micro greens. Serve warm or cold.

? <–me when my salad game is on point.