Summer Grilled Mexican Street Corn Quinoa Salad.
You know, I am actually happy it is Monday.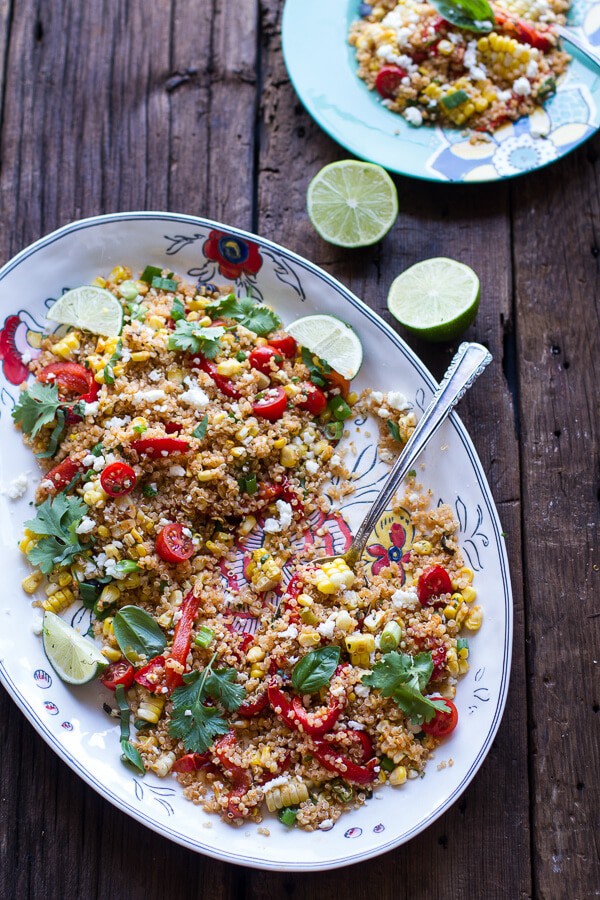 Last week was just a long week and it carried on through to Sunday. But with Monday comes the start of a whole new week, a fresh start and a new look. Or at least that is me "trying to be positive".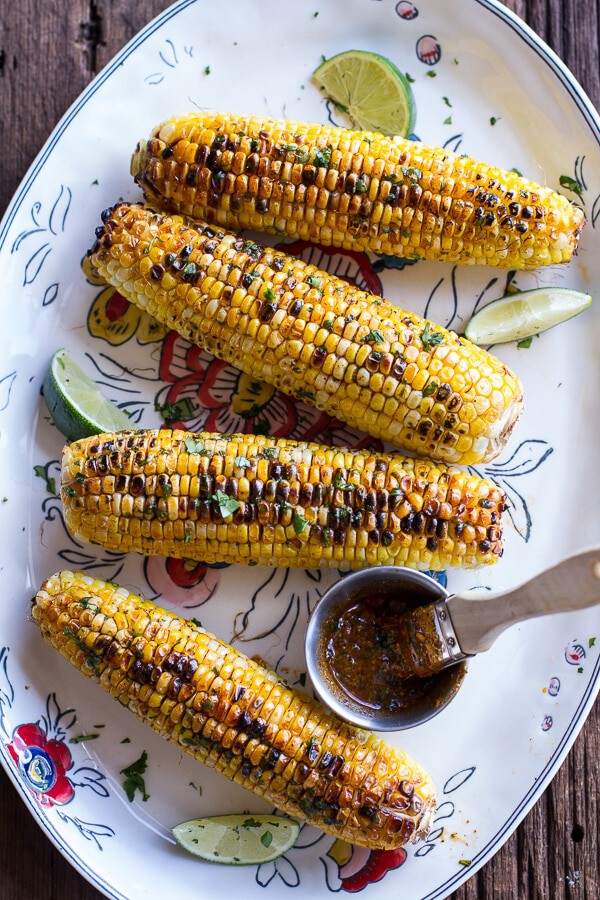 Actually, it is going to be a really busy week. It is my last full week before I head to Florida with my grandma. This means I am going to be running around all week trying to finish things up before I leave a week from today. I am both excited and nervous. Excited because, well I am going to Florida, and I know I am going to get a lot done this week (positive thinking again). I am nervous because, well a lot of things, but I am always nervous so that is really nothing new.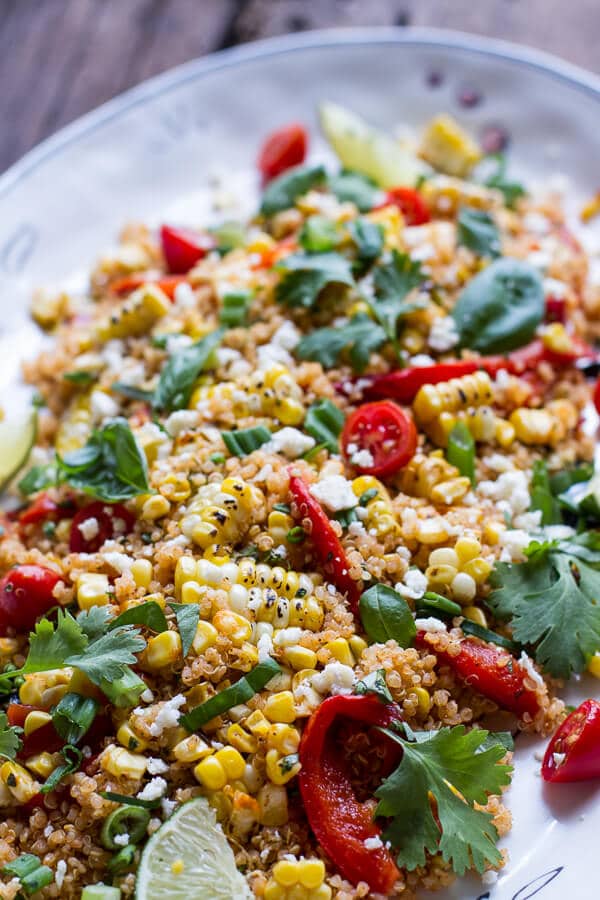 My grandma (not the one I am headed to Florida with) left yesterday, and let me tell you, having your eighty-three year old grandmother is well, interesting…and now I know how my dad grew up.
No but really, it was nice that she got to see where we live and the mountains. I think it made my dad really happy and the boys definitely had some fun with her. Somehow they got her on the four-wheeler and drove her up the road. Oh my gosh you guys, you should see this photo, actually you should see all the photos we took over the last six days. Some of them are just plain hilarious.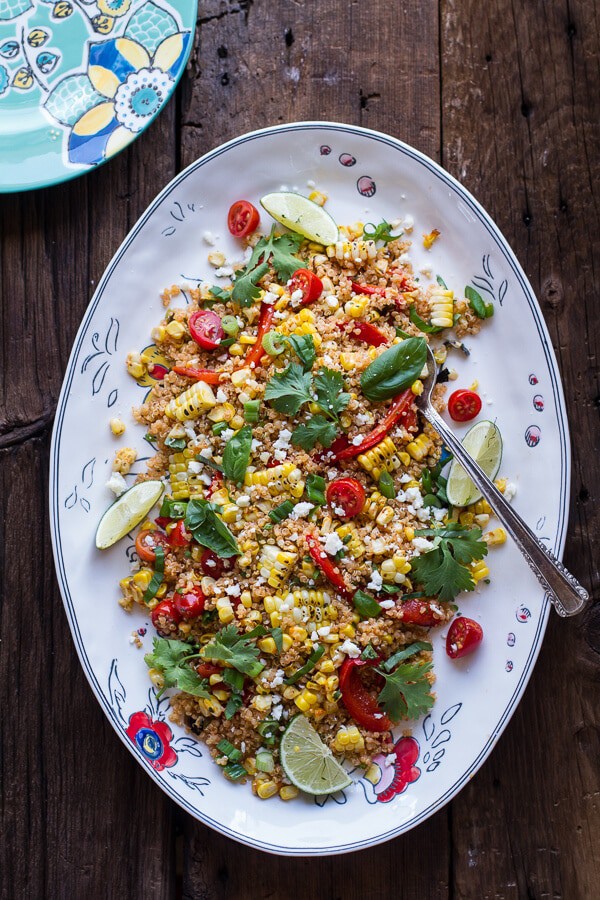 My brothers and dad are insane. I mean, she is eighty-three. Not sure going for a ride up the hill (we already live above 9000 ft) was such a great idea, but she survived, and at least she's living life!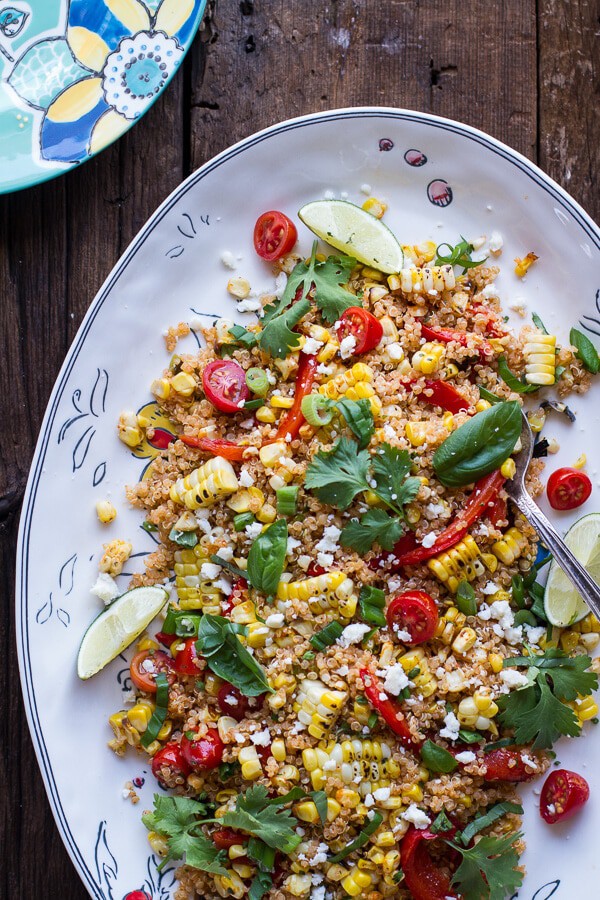 I think she is happy to be heading home though. Six days with my family made her need a glass, or two, or three of wine.
In her defense there was eleven people in this house at one point and that is not even including her, or the cat that she dislikes, or the mouse that she REALLY disliked (we had to tell her the cat chased the mouse out the front door last night or she wouldn't have gone to bed. Thankfully, Kai found the poor scared mouse this morning and got it to go into a bag and took it outside).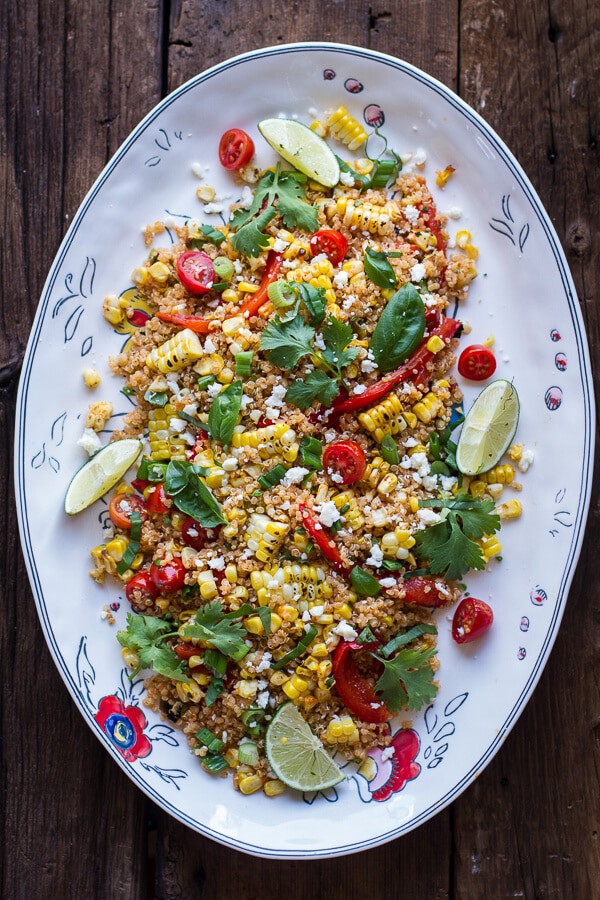 Alright, enough about my family craziness for a Monday, let's talk about this salad already.
This salad is so simple and its Mexican flavors make it one you will crave every week this summer.
It's perfect to keep on hand for an easy lunch, light dinner or side, but I think it's especially great it for cookouts. People really love the flavors and it is a dish that everyone can eat (if you leave the bacon out). Plus, it happens to be pretty healthy, so there is that bonus too!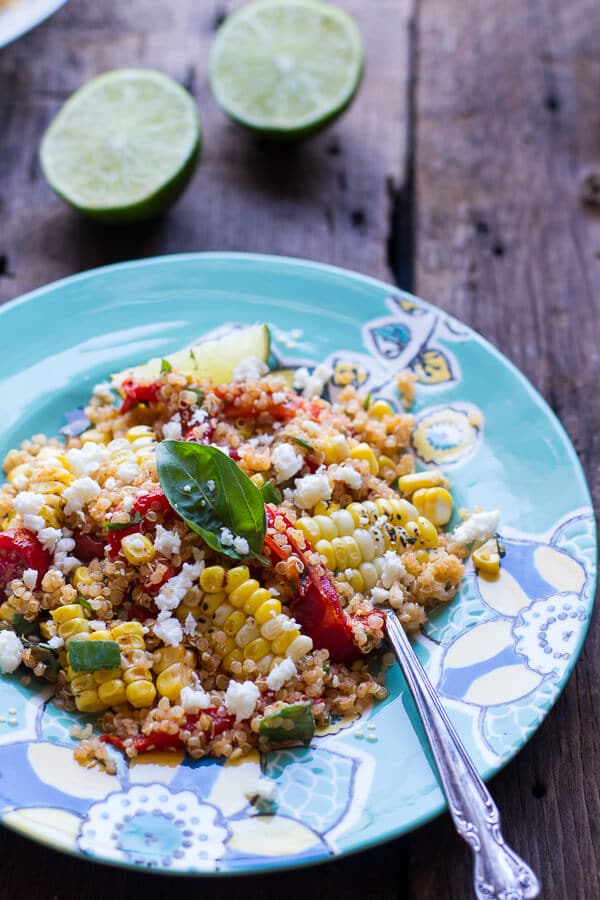 Double bonus, you do not even have to heat your kitchen up to make it. YES! Well actually for me, I kind of want to heat my kitchen up. Yesterday it was cold and raining here (and snowing just above us). We had some really awesome weather the last week, but Sunday it turned on us. It's early though, forecast says sunshine, so I'm hoping for a return to the warmth and sunshine!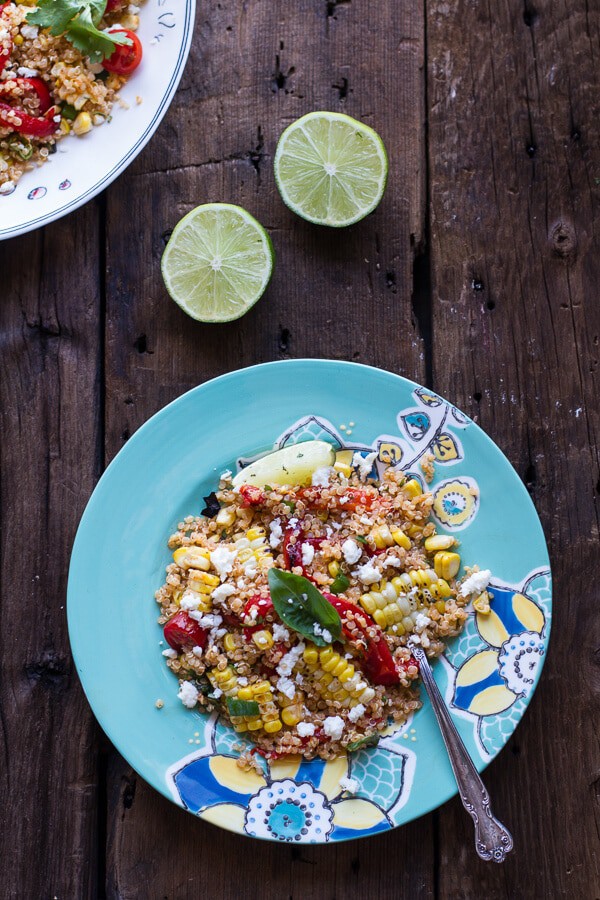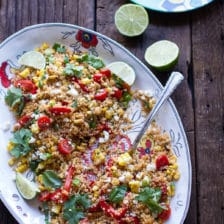 Nutritional information is only an estimate. The accuracy of the nutritional information for any recipe on this site is not guaranteed.
The Recipe
Summer Grilled Mexican Street Corn Quinoa Salad.
By halfbakedharvest
Course: Main Course, Salad
Cuisine: Mexican
Keyword: corn, quinoa
This salad is so simple and its Mexican flavors make it one you will crave every week this summer.
Prep Time 20 minutes
Cook Time 10 minutes
Total Time 30 minutes
Servings 6 Servings
Calories 368 kcal
Ingredients
1 cup uncooked quinoa rinsed
4 ears corn husks removed
1 tablespoon olive oil
2 tablespoons butter softened
1 lime juiced, plus extra for garnish
1/4 cup + 2 tablespoon fresh cilantro chopped
2 teaspoons smoked paprika
1 teaspoon chile powder
1/4 teaspoon salt + pepper
2 red peppers
2 jalapeños
2-4 green onions chopped
1 cup tom-tom tomatoes halved, grape/cherry tomatoes
1/4 cup fresh basil sliced
4 slices thick bacon cooked + chopped (optional)
1/2 cup cotija cheese crumbled
Instructions
Prepare quinoa according to directions, which will most likely call for 1 cup of liquid.

While the quinoa is cooking preheat the grill to the highest setting. Remove the husk from each ear of corn. Brush the corn with olive oil and season with salt and pepper. Wrap the corn in one layer of aluminum foil. Grill for about 5 minutes each "side" – rotating corn 4-5 times during grilling. At the same time, also place the red peppers and jalapeño peppers on the grill. Lightly charr the peppers on all sides. Remove from the grill and allow to cool.

Meanwhile combine 2 tablespoons cilantro, smoked paprika, chile powder, salt and pepper. In another bowl add the 3 tablespoons butter and half the seasoning mixture.

Once the corn is finished brush with just enough of the butter to coat all around the it. Allow the corn to cool and then, slice off the cob using a sharp knife. Slice the peppers as well and add everything to a big bowl.

To the bowl add the warm quinoa, remaining seasonings, 1/4 cup fresh cilantro, basil, green onions, tomatoes and 2 tablespoons olive oil. Toss well. Add the bacon if using and then the cotija cheese, toss again and serve warm or at room temperature.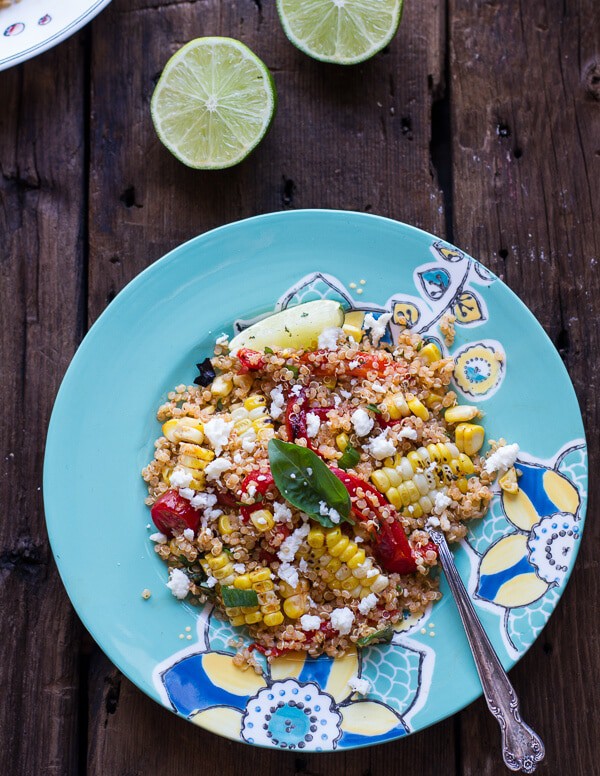 No better way to kick Monday off if you ask me!