Spicy Corn and Peaches with Burrata.
Grilled corn, peppers, fresh basil, sweet peaches, and burrata cheese all come together in this delicious, quick, and easy summer salad. This salad has all the fresh flavors of summer that everyone loves, but with a kick! Plus a ball (or two) of creamy burrata cheese. I like to call it the perfect summer salad, that's equally great as an appetizer, side dish, or light lunch.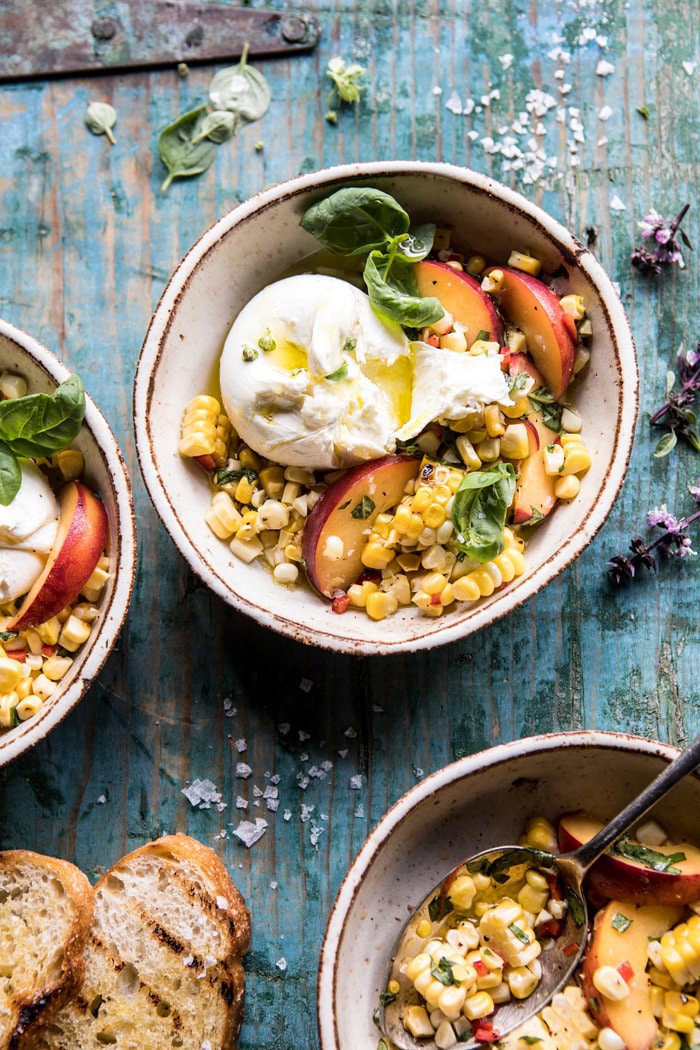 This salad might be jumping the gun a bit on summer flavors. I am aware it's only the end of May, but I figured it's OK, because Memorial Day is Monday, and a salad like this should be an item on everyone's upcoming menus. Plus, if I'm being honest, I just really couldn't wait to share this. It's so fresh, light, flavorful, and an all-around great warm weather dish.
Speaking of warm weather, I am in LA this week for work, and while it's not quite as hot as I'd like (where are the eighty degree temps?!), LA is definitely in summertime mode. It's always fun coming here, and never feels all that much like work. Spending the day in and out of meetings, but hoping to get out into the sunshine for a little bit sometime this afternoon!

So let's talk about this spicy corn, peach, and burrata situation.
It's really no secret that I love burrata cheese. For those of you who have not been long time readers, burrata cheese looks just like a ball of fresh mozzarella, but the inside is more like an extra creamy ricotta cheese. If you have yet to try it, you need do so as soon as possible. This is dramatic, but I do think it's kind of life changing, and you need to experience it.
And that's my burrata cheese cheer.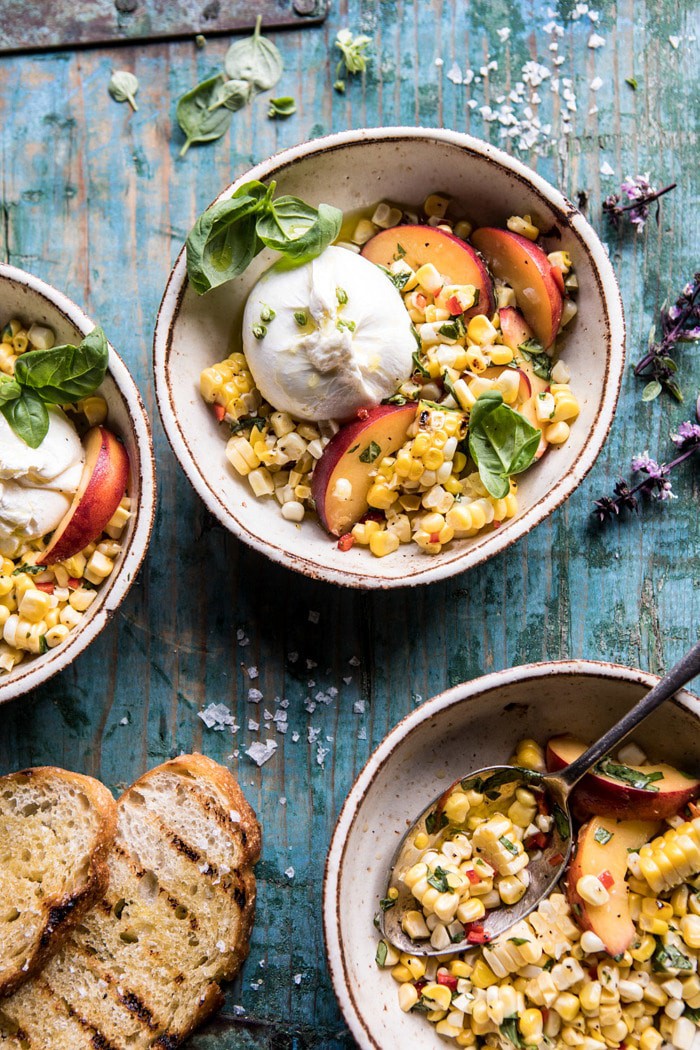 This is one of those recipes that I was never planning on sharing, but after devouring it by the spoonful, I realized it was too good not to share.
It's definitely very early in the peach season, but I found some fresh California peaches at the grocery store the other week and couldn't help but grab a few. I wasn't sure how they would taste, but they ended up being so delicious. I knew I had a few ears of fresh corn on hand, so I decided to make a simple salad using the corn and peaches and a few other ingredients from my fridge and pantry. It made for the best quick and delicious meal on a boring "computer" day when I wasn't cooking anything up in the kitchen.
Even on days when I am not cooking, my fridge is normally pretty full of food, so I was probably luckier than most to have some fresh ears of corn, a couple of spicy Fresno peppers, lots of basil, lemons, limes, peaches, and I even got really lucky with a ball of fresh burrata cheese.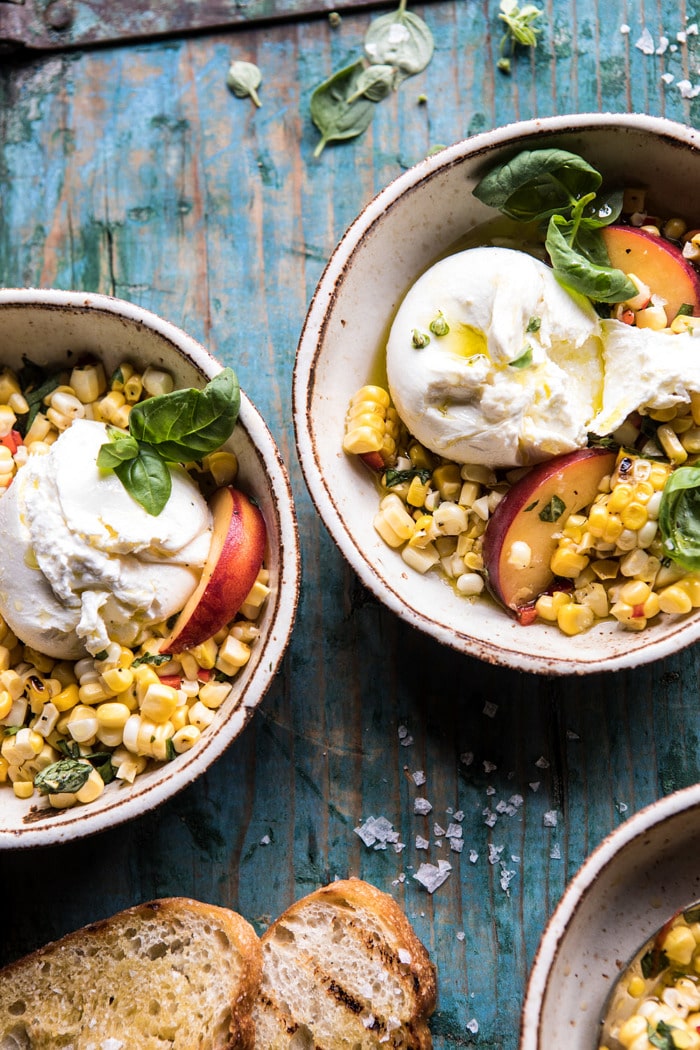 My secret to this salad is simple, grill some of the corn, but leave one ear raw for a nice burst of sweetness with every single bite. People always seem confused when I use raw corn in recipes, but it's actually so delicious, and I love mixing it with grilled corn to give a dish a mix of flavors and textures.
To balance the sweetness of the corn and peaches, I threw in a couple of spicy red Fresno peppers. I love the kick of heat they add. If you're not a huge fan of spicy foods, just reduce the amount of peppers to one or however much you feel you can handle.
For the herbs and citrus. I used fresh basil and oregano, because those are the herbs that have already started to grow in the green house. Plus, fresh basil is hands down my favorite herb to use in the summer.
For the citrusy component, I couldn't decide between lemons and limes, so I used a little of both and found it to be perfect. Why not use both, you know?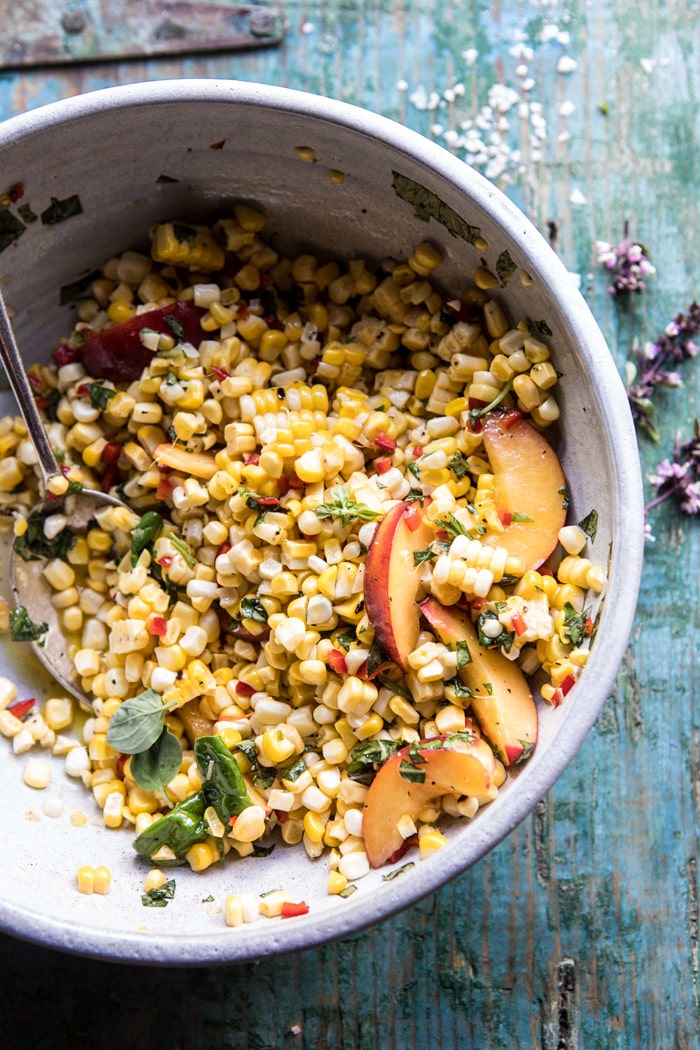 As I said, this simple dish comes together really quickly and it's great both warm or cold.
I love serving this with a side of grilled bread for scooping, but I also ended up using the leftovers as a topping for some grilled chicken, which yes, was beyond good.
What I really want to stress about this salad is that it's so much more than a salad. You can serve it as an appetizer with a side of bread, enjoy it as a light lunch, serve it as a topping for grilled chicken, steak, seafood, etc. or even toss it with pasta for a fun pasta dinner.
The options are really endless, so have fun with this.
And of course, plan to add it to that Memorial Day menu that we have been working on all week (remember Monday's potato salad?).
OR be like me, and enjoy this salad for dinner with a generous side of bread for scooping, and an entire ball of burrata…also known as the single girl's dinner…for those nights when a girl just doesn't feel much like cookin'.
Not complaining.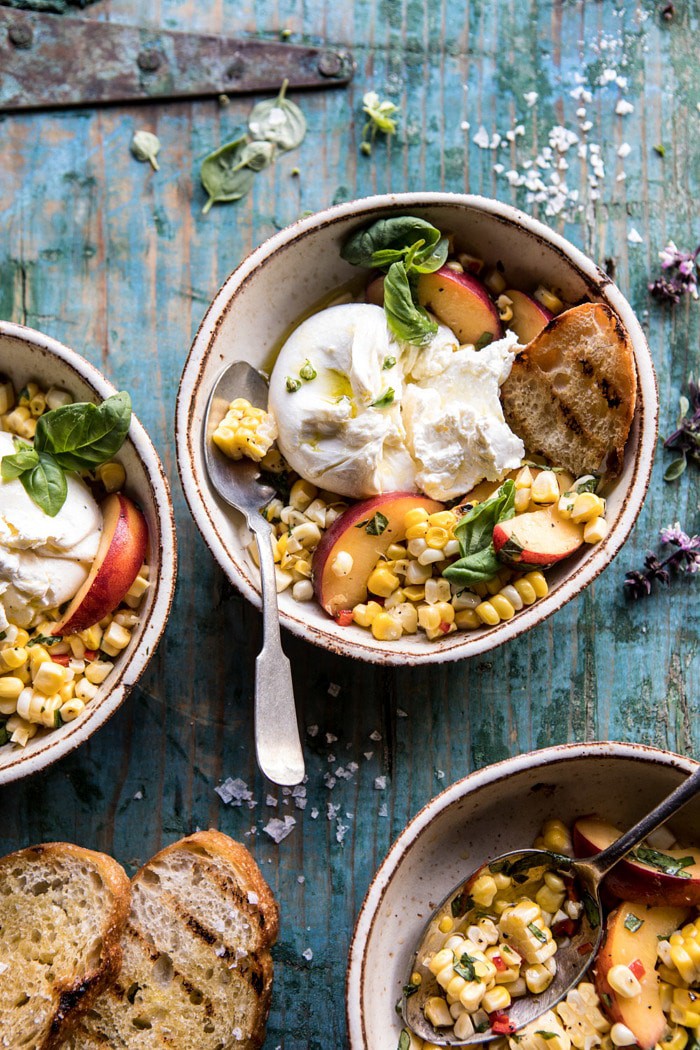 If you make this summer salad, please be sure to leave a comment and/or give this recipe a rating! I love hearing from you guys and always do my best to respond to each and every one of you. Oh, and of course, if you do make this salad, don't forget to also tag me on Instagram so I can see! Looking through the photos of recipes you all have made is my favorite!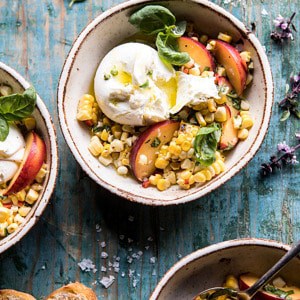 Nutritional information is only an estimate. The accuracy of the nutritional information for any recipe on this site is not guaranteed.
The Recipe
Spicy Corn, Peach, and Burrata Salad
By halfbakedharvest
Course: Salad
Cuisine: American
Keyword: fruit salad, quick recipe, vegetarian salad
Grilled corn, peppers, fresh basil, sweet peaches, and burrata cheese all come together in this delicious, quick, and easy summer salad. This salad has all the fresh flavors of summer that everyone loves, but with a kick! It's the perfect summer salad, that's equally great as an appetizer, side dish, or light lunch.
Prep Time 10 minutes
Cook Time 10 minutes
Total Time 20 minutes
Servings 4 servings
Calories 324 kcal
Ingredients
4 ears yellow corn, husked
2 tablespoons extra virgin olive oil, plus more for serving
2 jalapeños, or red fresno peppers, seeded and diced
1/3 cup fresh basil, chopped
2 teaspoons chopped fresh oregano
zest and juice of 1 lemon
juice of 1/2 a lime
flakey sea salt
2 peaches, cored and sliced
8 ounces burrata cheese
Instructions
1. Preheat the grill or grill pan to high. Grill 3 ears corn, turning every 2-3 minutes until lightly charred all over. Remove from the grill and let sit until cool enough to handle. Remove the kernels and add to the salad bowl. During this same time, remove the kernels from the remaining ear of raw corn and also add to the salad bowl.

2. To the salad bowl, add the olive oil, peppers, basil, oregano, lemon juice and zest, lime juice, and a large pinch of salt. Stir in the peaches.

3. Break the burrata cheese over the salad and drizzle with olive oil. Serve with grilled bread or chips for scooping or as a side salad.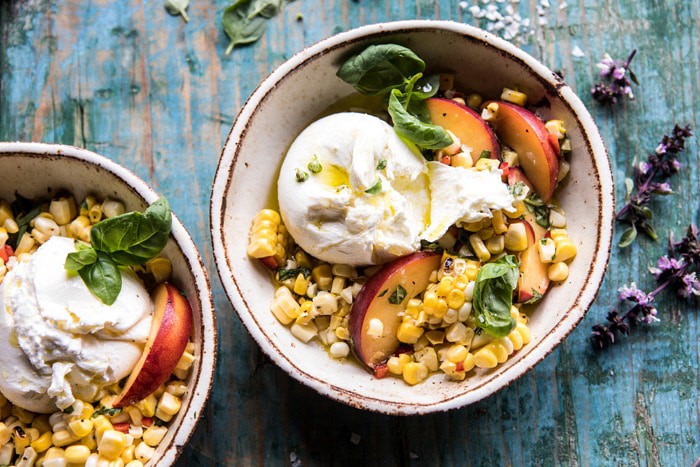 I could live on this.