Sweet Thai Chile Chicken Swiss Chard Wraps with Peanut Ginger Sauce.
Excuse me, I have your new favorite wrap recipe right here.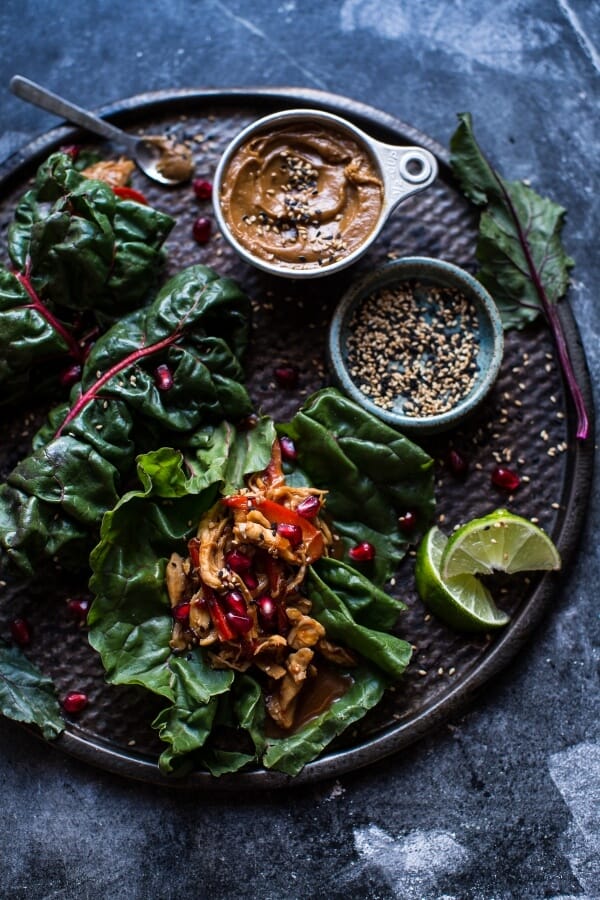 Yup, this will be your new go-to wrap. It's fresh and light, quick and easy, and oh so pretty! Basically, it's the ultimate chicken wrap, full of flavor and made on the lighter side… and even made without cheese. WHOOAAAAA. I didn't know I would be one to like a wrap minus cheese, but I do. I will be the first one to admit I didn't miss the cheese at all.
Don't fear, cheese will be back on the menu very soon. 🙂
Until then we're talkin' Sweet Thai Chile Chicken Swiss Chard Wraps!! Promise, they're so good.
First though? Random question time.
Do you guys ever mess up so bad in the kitchen that it's almost scary?
I do, all the time, and with all the recipes I've been making between freelance work, the blog and the cookbook it feels like fifty percent of my attempts are complete fails. I haven't talked much about the cookbook on the blog, but today I have some words. My cookbook recipe testing/photographing have been kicked into overdrive this month as I have realized that I have way too much to do and not enough time. Story of my life, right?
Therefore, I am cooking, cooking, cooking, photographing, possibly shedding tears or cheers – depending on how the day is going, photographing some more and then writing into the wee hours. I'd like to say I am exaggerating, but I'm not. It's all A-OK though, I love what I do and the more I do it, the better I become. Or at least I hope that's how it is working. Fingers crossed.
I've decided to start document all the kitchen fails and plan to share them with you guys, maybe before or after the book comes out. They should be pretty funny… I think. I also have grand plans to show you guys some sneak peaks into the process of creating a cookbook. So far though, I have zero photographs to back up all my thoughts on cookbook writing. I promise that post will be coming within the next month or so and then I hope to continue them throughout the rest of cookbook making process.
Does that totally bore you or make you excited to see some behind the scenes? I am nosey little person (I think because my life is so beyond boring), so personally, I love behind the scenes stuff. Whatever, like it or not, it's totally coming your way. Or at least I hope it is! Again, fingers crossed. But telling you all about it now sort of holds me accountable, so the odds are looking good.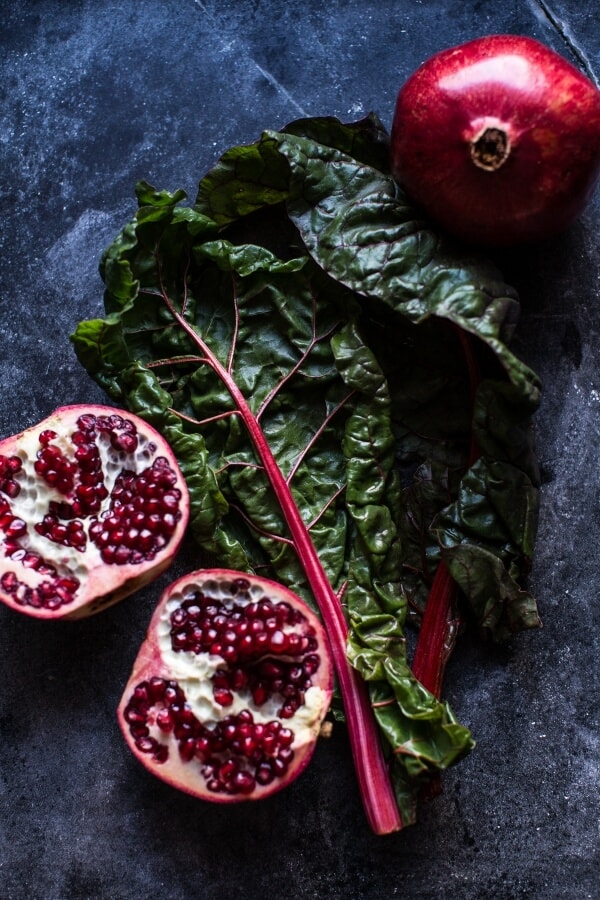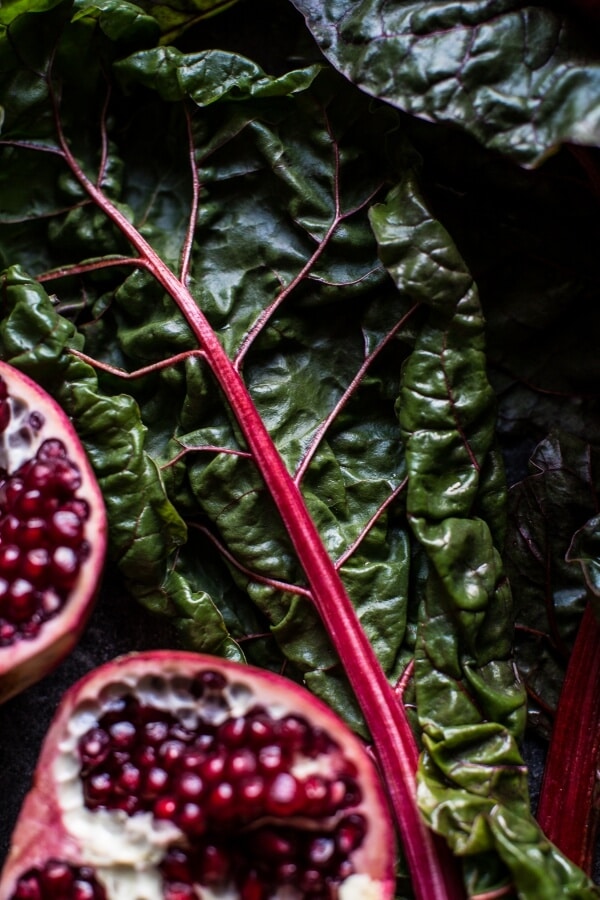 The weird thing is, even with all the food I've been making, I have still have needed to come up with easy dinner recipes. You'd think I would have food out the Yazoo, and most of the time I do, but then there are those odd days that happen every so often when my fridge is actually cleared of leftovers. This means, one – the obvious, they all the got eaten, two – they were too gross to consume and were thrown out, three – my parents had a surplus of visitors one week and there was never enough food, or four – my brother's girlfriend Lyndsie came over opened my fridge, felt stressed about the clutter and just threw out the super old food that had surely seen better days. Week old tuna, I am talking to you.
So when that happens, and food is needed, I've gotten into the habit of making this Thai chicken. It's sweet and spicy and so easy to assemble. You can serve it in these pretty collard wraps, like I have shown here with maybe a side of steamed rice or quinoa, OR you can simply serve over rice and make one yummy as heck rice bowl. You could even get super creative and make things like tacos, enchiladas, quesadillas, salads – really all sorts of things can be made with this chicken. It's a solid recipe. Meaning it's delicious, easy and healthy.
One thing though, you cannot skip the ginger peanut sauce – this is everything. <–truth.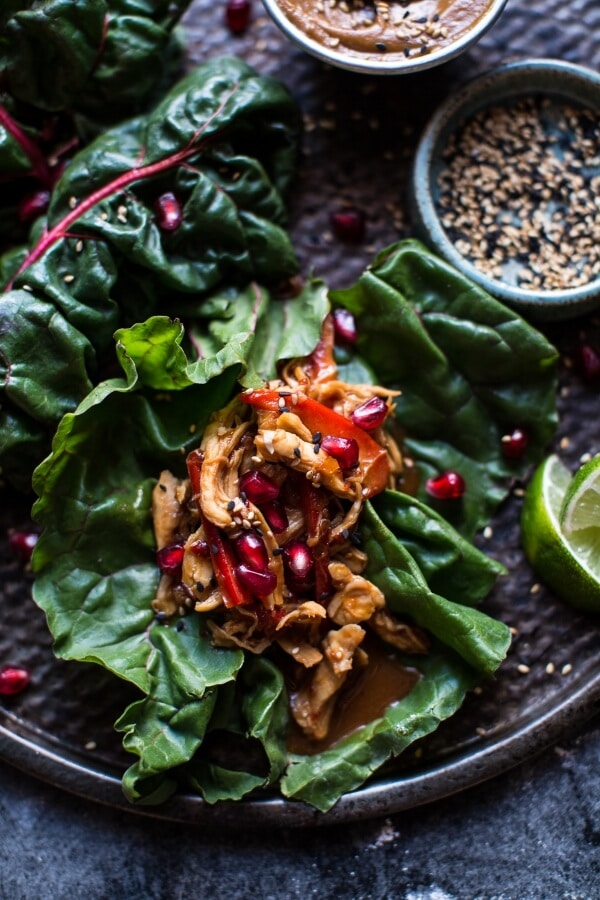 Also, these wraps are great for packing for lunch. I obviously love when the chicken is warm, but even cold it's still delicious. So basically what I am saying is that you should make these tonight for dinner, eat them warm and then pack them up and take them to work or school or wherever you will be tomorrow for lunch. Double duty meal!
The BEST.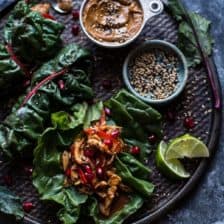 Nutritional information is only an estimate. The accuracy of the nutritional information for any recipe on this site is not guaranteed.
The Recipe
Sweet Thai Chile Chicken Swiss Chard Wraps with Peanut Ginger Sauce.
By halfbakedharvest
Course: Sandwiches
Cuisine: Asian, thai
Keyword: chile, ginger, peanut, swiss chard, wrap
Excuse me, I have your new favorite wrap recipe right here.
Prep Time 20 minutes
Cook Time 10 minutes
Total Time 30 minutes
Servings 4 Servings
Calories 334 kcal
Ingredients
3/4 cup sweet Thai Chile sauce
1/4 cup soy sauce
1 tablespoon creamy peanut butter
2 tablespoons pomegranate juice
1 tablespoon rice vinegar
juice of 1 lime
1 teaspoon fish sauce optional
1-2 cloves garlic minced or grated
2 teaspoons fresh ginger grated
2 cooked chicken breasts shredded*
1 red bell pepper sliced thin
8 leaves large Swiss char
ariels from 1 pomeganate
fresh cilantro + toasted sesame seeds for serving
Peanut Ginger Sauce
1/3 cup cream or chunky peanut butter
2 tablespoons soy sauce or tamari
2 teaspoons fresh ginger grated
1 tablespoon rice vinegar
Instructions
Combine the sweet thai chili sauce, soy sauce, peanut butter, pomegranate juice, rice vinegar, lime juice, fish sauce (if using), garlic and ginger in a medium sauce pot. Bring the sauce to a boil, reduce heat and simmer 5-10 minutes or until sauce has thickened slightly. Remove from the stove.

Add the chicken and bell pepper to a bowl and toss with the thai chile sauce. Remove the thick stems from the Swiss char leaves. Spread a tablespoon or so of the peanut ginger sauce (recipe below) down the center of the leaf. Place a spoonful of the chicken mixture in the middle of the leaf. Add a handful of pomegranate arils and sprinkle of cilantro + sesame seeds. Roll up to enclose the filling. Serve the wraps with the peanut ginger sauce for dipping.
Peanut Ginger Sauce
In a bowl, combine the peanut butter, soy sauce, ginger and rice vinegar. Add 2-4 tablespoons of water to thin the sauce out. Keep any leftovers covered in the fridge for up to 2 weeks.
Recipe Notes
*You can use a rotisserie chicken, leftover grilled chicken or grill/bake fresh chicken breasts for this recipe. **Peanut Ginger Sauce adapted from Donna Hay Fresh and Light.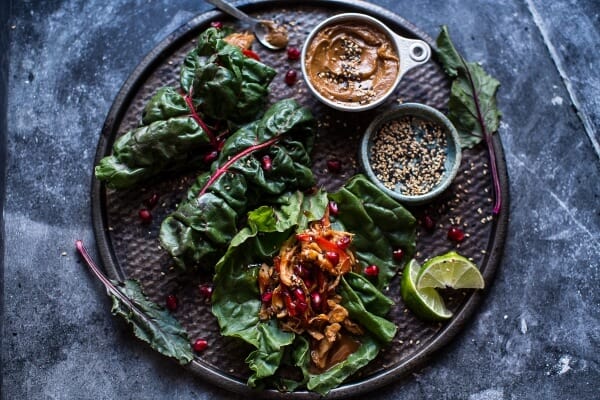 Seriously… the peanut sauce? It's heaven.