Strawberry Avocado Pesto Pasta Salad.
Clearly I am all about strawberries this week…strawberry cornmeal cake anyone?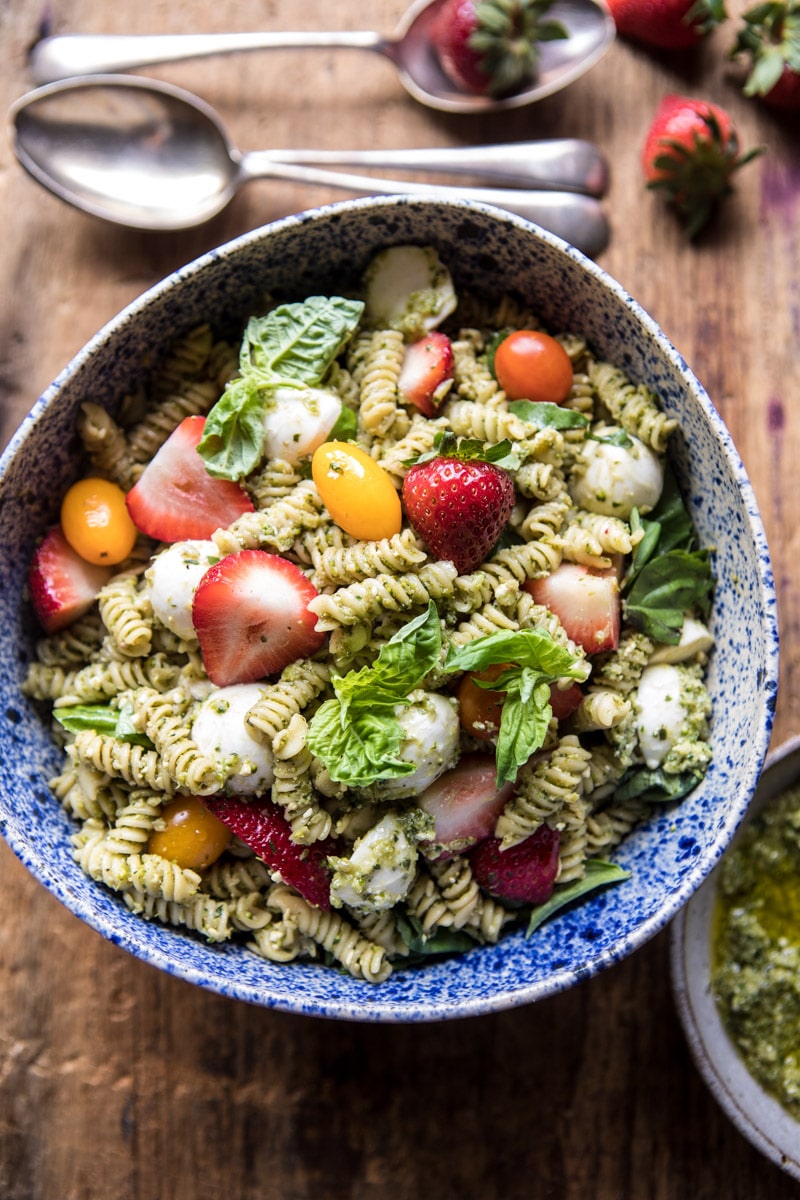 Which, I am loving. Strawberries are at their peak of deliciousness right now and I cannot get enough. But umm, you guys? Does the idea of strawberries in your pasta kind of freak you out?? I am so very much hoping you can be open-minded to the idea and give it a try because it's a game changer, and honestly just a really fun savory way to eat up all the these late spring strawberries.
For years now you guys have known me to come up with some pretty crazy combos, a lot of those combos involve fruit (hello to everyone's favorite Peach Burrata Pizza with Honey Balsamic). <– because I am fruit obsessed, and a true believer that cooking with fruit is just as delicious, if not more so, than baking with fruit.
For the longest time though, I've wondered about putting strawberries in pasta. It was just a combo I was always a little too afraid to try, but something changed this year when the thought of strawberries in a pasta salad with pesto and mozzarella came to mind. I mean, how could a flavor combo like that not be just delicious?
I was still a little unsure of how I'd like strawberries paired with pasta. But you know, the bottom line is that pasta is a carb, just like toast, and just like strawberries on toast is delish, strawberries tossed with pasta is also delish. Trust me, I promise…so good.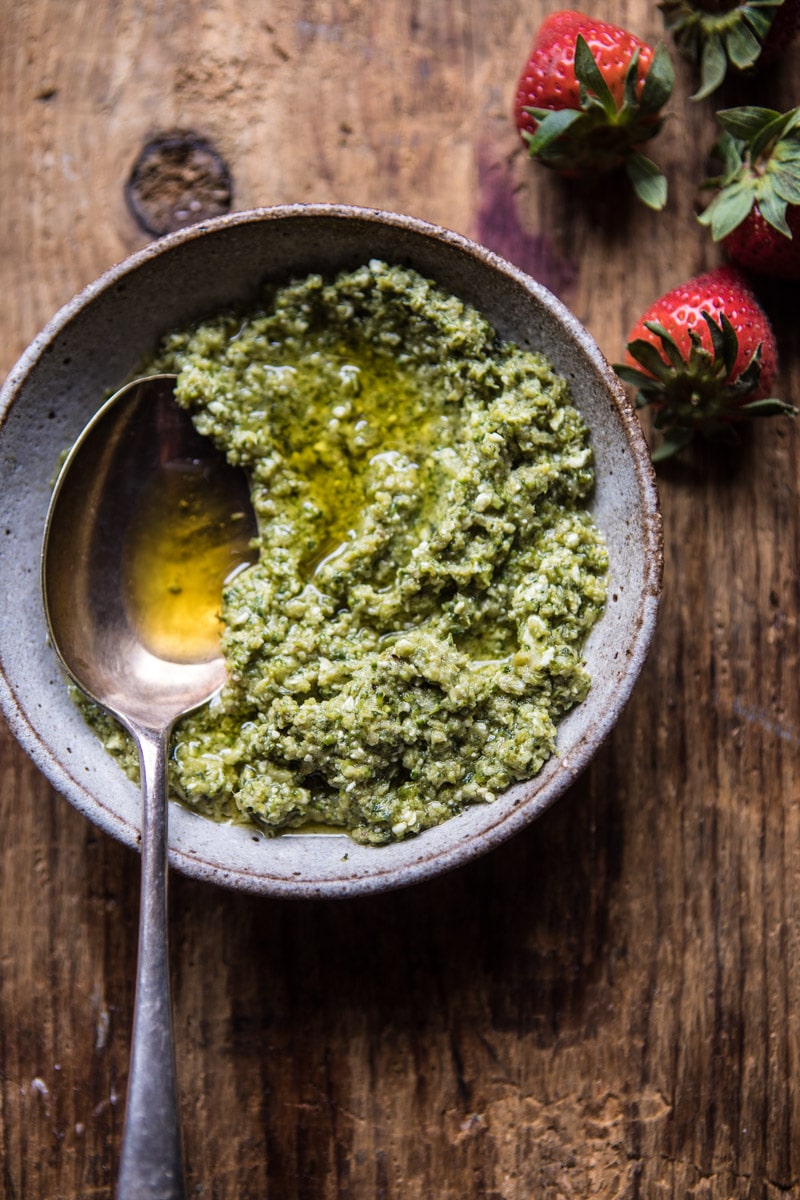 Because I wanted this pasta to be packed with savory flavors to help really highlight the sweet strawberries, I decided on making a different kind of pesto. Instead of the traditional basil, pine nut, parmesan, olive oil combo, I went with steamed broccoli (for a super green color and added veggies), avocado (for creaminess, plus I love avocado and strawberries together), fresh basil, lemon juice, and feta cheese. Totally not traditional, but perfect for this non-traditional pasta salad.
The creamy pesto is amazing tossed with pasta, and the salty feta balances out the sweet strawberries so well. I love the combo.
This salad is the perfect lunch, light dinner, or side dish for any upcoming picnics or parties. Basically Memorial Day and just about every other weekend after that. Because summer is all about pasta salads. Or at least that's my thinking since pasta salads were a staple my dad used to make all summer long…they were always a favorite.
ps. look out for his pasta salad recipe in the Half Baked Harvest Cookbook.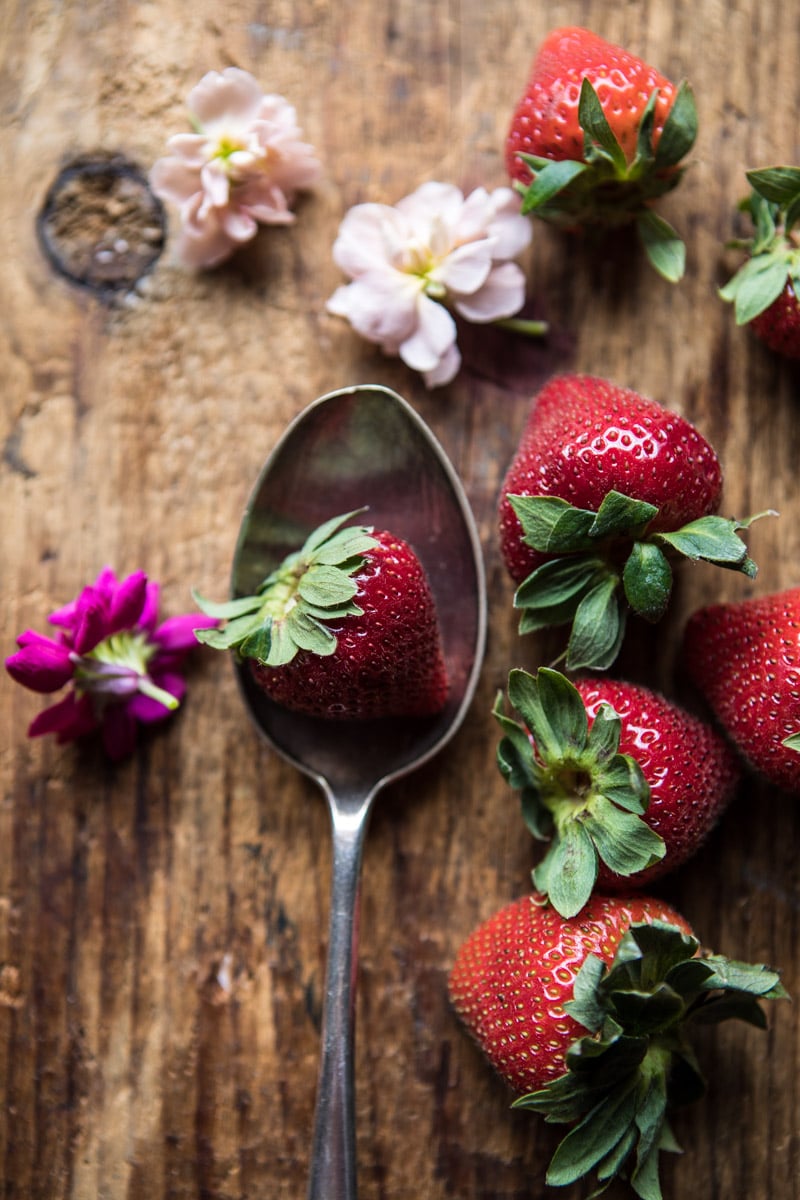 And of course, like most pasta salads, this one is EASY. The base of the work goes into making the pesto, which takes maybe fifteen minutes tops. Then just toss everything together and DONE.
Also, I used fresh mozzarella balls, but I think if you threw on a few balls of fresh burrata cheese that would be kind of amazing too. It's just a suggestion…but I mean, it is burrata so you should prolly give it a try.
Just sayin'.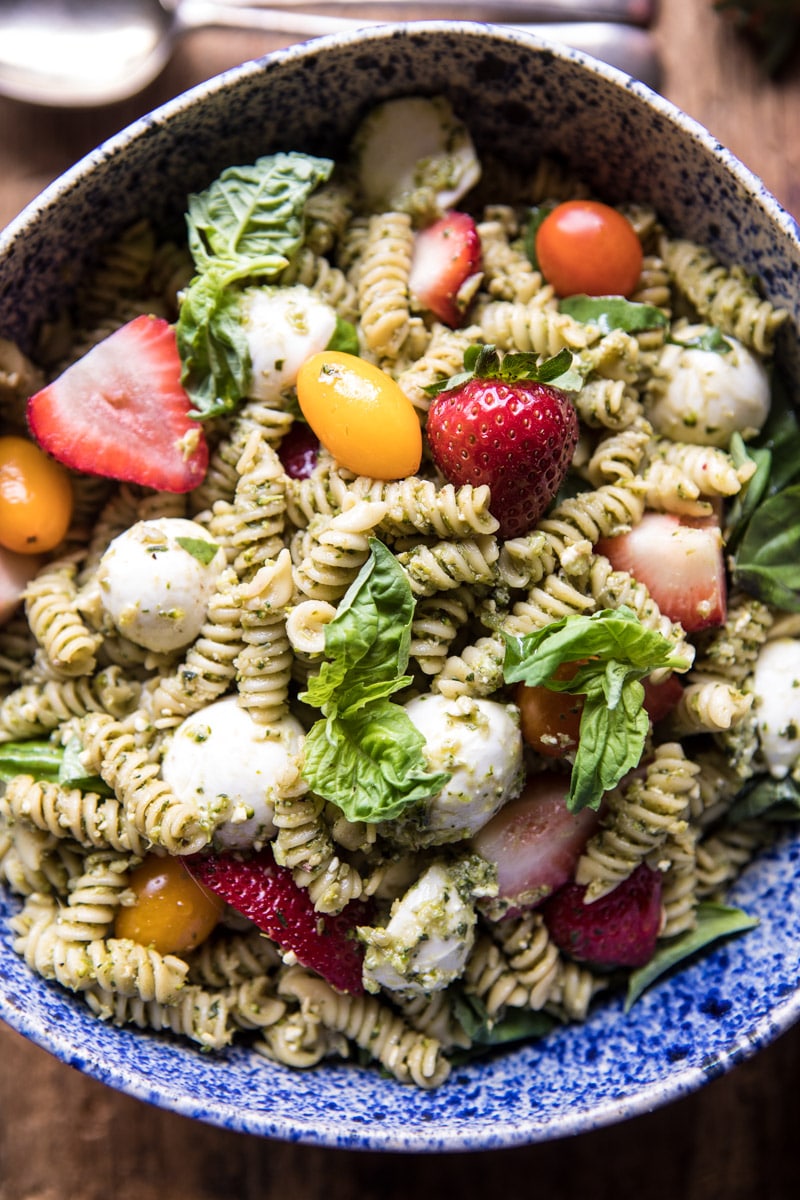 Thursdays just kind of seem like a pasta salad day? Maybe that's because I'm completely in the mood for pasta today. It's been a bit of a hectic week and pasta just sounds good.
Anyone else in the same boat? I have been filming, photographing, chatting on the phone, and writing basically non-stop this week. I kind of just need a Thursday night of serious CHILL. Then I'll be ready for tomorrow's Facebook live…
Speaking of which, any suggestions for tomorrows LIVE video? I'm thinking Memorial Day recipes for sure. What do you guys want to see? LET ME KNOW. 🙂
While I'm waiting for your responses, I'll be eating this pasta salad. Yes and yum!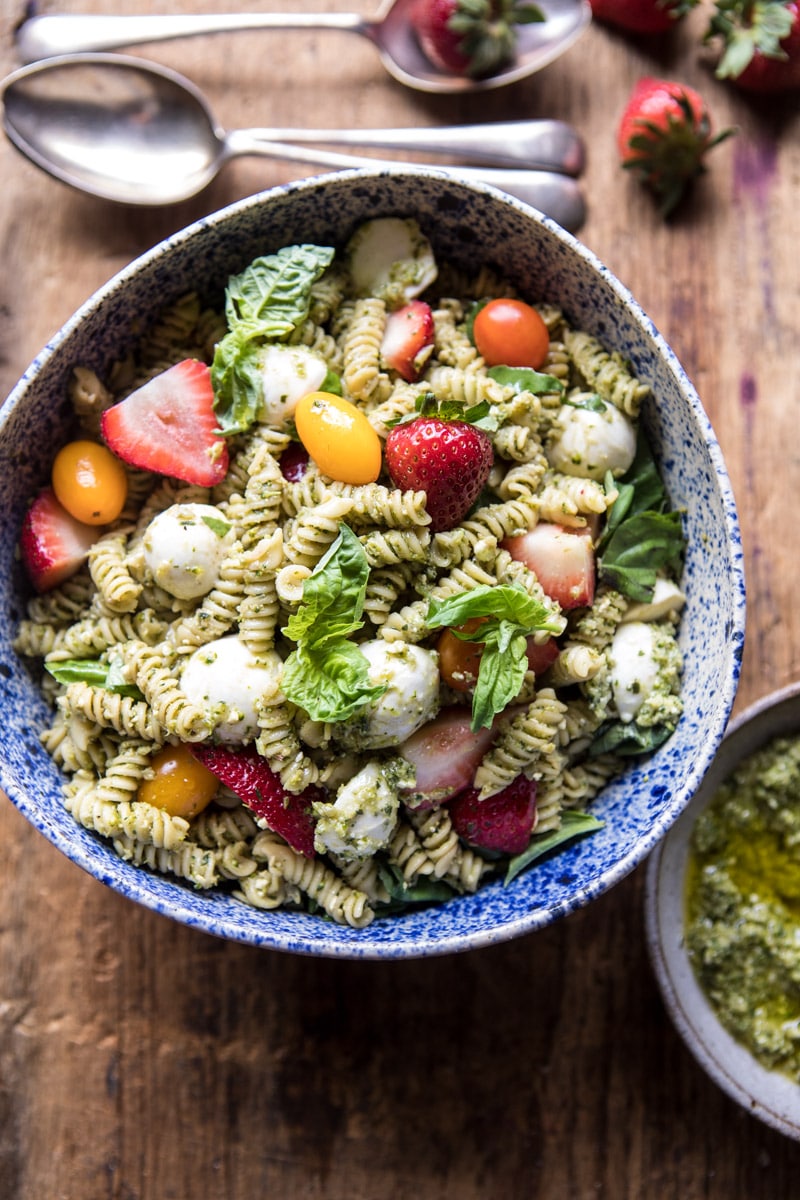 Nutritional information is only an estimate. The accuracy of the nutritional information for any recipe on this site is not guaranteed.
The Recipe
Strawberry Avocado Pesto Pasta Salad
By halfbakedharvest
Course: Main Course
Cuisine: American
Keyword: avocado and strawberry, pasta salad, pesto pasta
This pasta salad is full of fresh and fruity flavors
Prep Time 20 minutes
Cook Time 10 minutes
Total Time 30 minutes
Servings 8 servings
Calories 358 kcal
Ingredients
Broccoli Avocado Pesto
1/2 cup broccoli florets
1 small avocado, pitted
1 cup fresh basil
2 tablespoons olive oil
juice of 1/2 lemon
1/4 cup feta cheese, crumbled
Pasta Salad
1 pound pasta
2 tablespoons balsamic vinegar
1 cup mozzarella
2 cups fresh strawberries
1 cup cherry tomatoes
1 handful fresh basil
Instructions
Broccoli Avocado Pesto
1. Steam the broccoli until tender, about 5 minutes.

2. In food processor or blender, combine the broccoli, avocado, basil, olive oil, lemon juice, and a pinch of salt. Pulse until combined, adding olive oil if needed to thin. Add the feta cheese and pulse until combined. Taste and season with salt, if needed.
Pasta Salad
1. Bring a large pot of salted water to a boil. Boil the pasta according to package directions until al dente. Drain.

2. Add the pasta to a large salad bowl and toss well with the pesto. Add the balsamic, mozzarella, strawberries, tomatoes, and basil and gently toss to combine. Serve cold or at room temperature. Enjoy!

Thursday is looking pretty good…killin' it with the strawberry recipes this year!