Strawberry Bourbon Shortcakes.
Strawberry Shortcakes, a classic dessert dating all the way back to 1588. Well today I've updated the classic with bourbon infused strawberries, whipped mascarpone, and homemade buttery biscuits, to create the most perfect spring/summer dessert.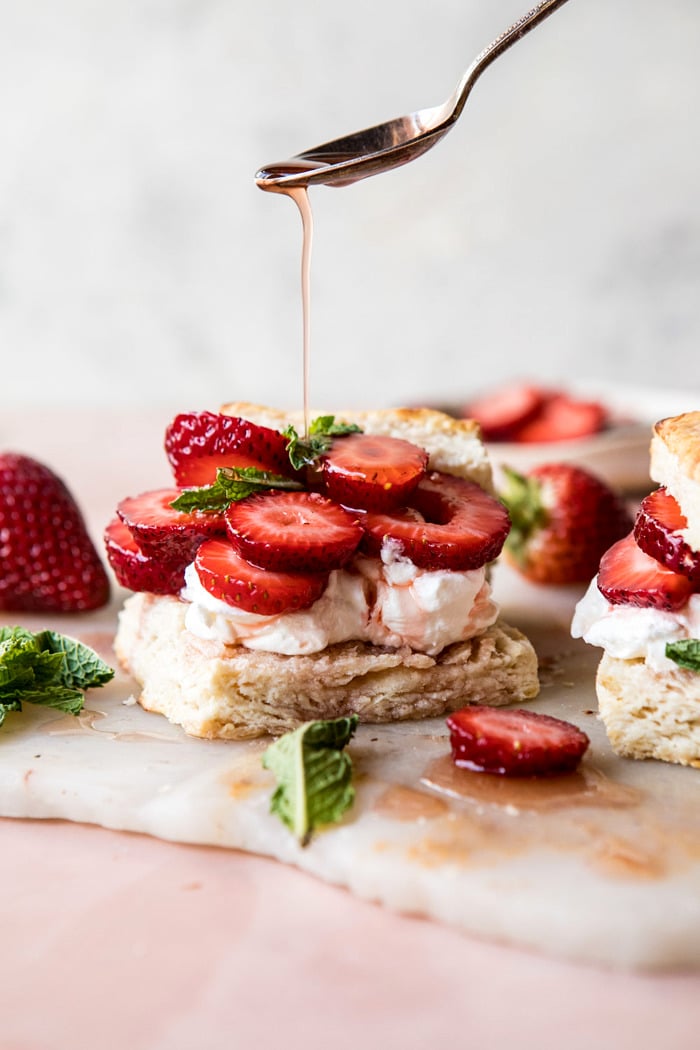 Happy May everyone! I really can't express how happy I am that it is May. Summer is so close I can almost feel it. Well, not really since it's forecasted to snow today, but I think you guys know what I mean. It's slowly starting to thaw out around here. The days are getting longer, we are finally starting to see some signs of growth outside, with flower buds popping up out of the ground, and the grass is slowly beginning to regrow.
Very exciting things.
This coming month we have so much happening. First, we are scheduled to finally finish up the studio barn, which is obviously so very exciting. Still feel like we have a lot to do, but it's getting closer and closer to being done every day. Second, I am heading to LA yet again for a couple of fun shoots later in the month. And of course at the end of the month we have Memorial Day weekend, which to me is the official, unofficial start to summer.
So much to look forward to. What are you guys excited for this month?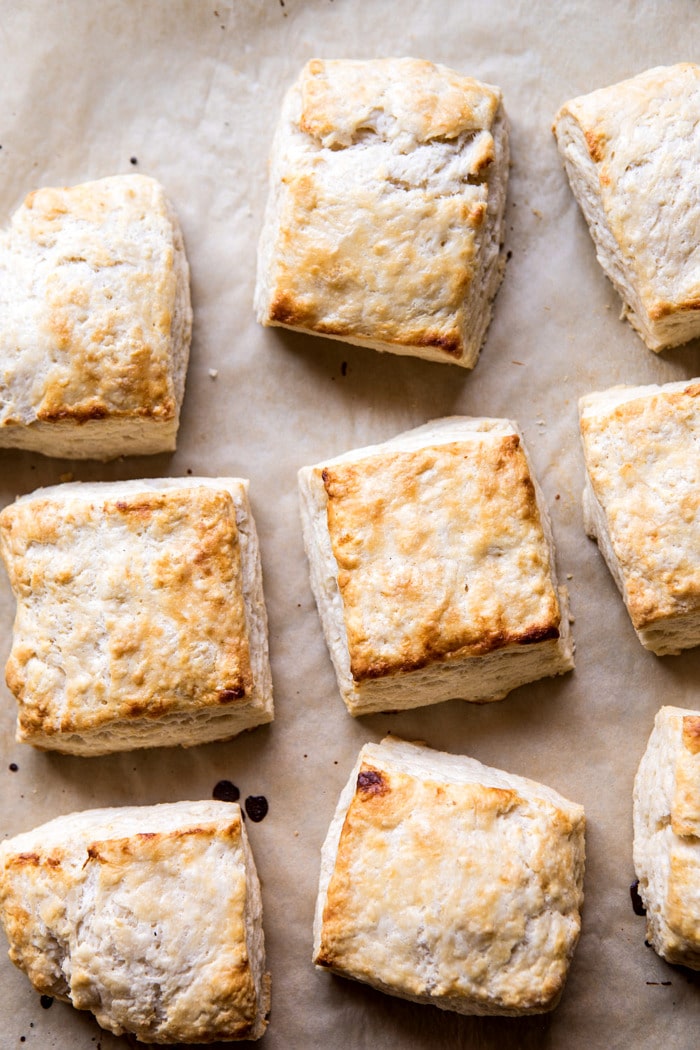 OK. Moving along…
I say this every single year at this time, but the start of May always makes me crave southern style food. I know that shortcakes are classic, and not really "southern", but they feel that way to me. Either way, I cannot wait to share this easy recipe with you guys.
This is one of those recipes that you should have in your back pocket from now until summer's end. If you have strawberries on hand and don't know what to do with them, you need to make these shortcakes. You just do.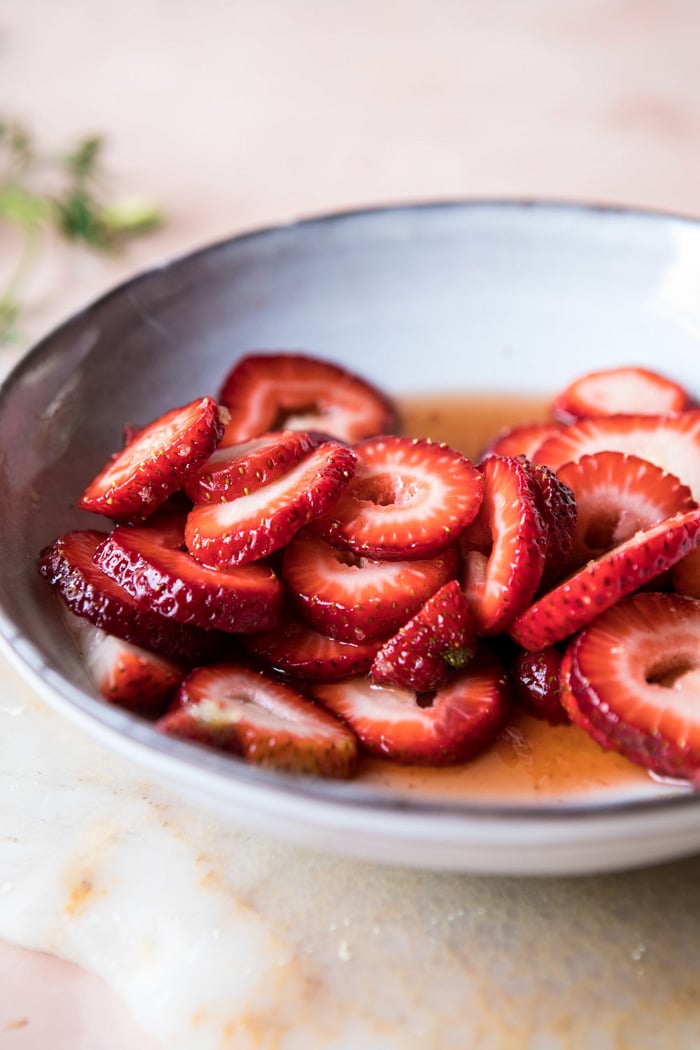 Everything starts with the biscuits. I am a huge fan of an extra flakey, all butter biscuit. Nothing fancy, but all things good and delicious. My biscuit recipe calls for some butter, a good amount, and salted. I've said this before, but I really really love salted butter, even when baking. It adds a special touch to almost all baked goods and takes recipes to a new level. Yes, I am serious about my butter. Go with me on this.
PS. thank you mom for teaching me about good, salted butter. Got to love her for that.
That's the biscuits, but now let's talk about the strawberries. The inspiration for this recipe was really the upcoming Kentucky Derby (will you guys be watching?). I'm going to be honest, I don't really watch the Derby in full, but I love celebrating it every year, as it's just a fun event. Plus, I love any excuse to sneak some bourbon into my recipes.
Fun Fact: I have a lot of fun creating cocktails, but I take a sip or two and I am done. Not a huge drinker, but yet I still love cocktails. Odd, but true.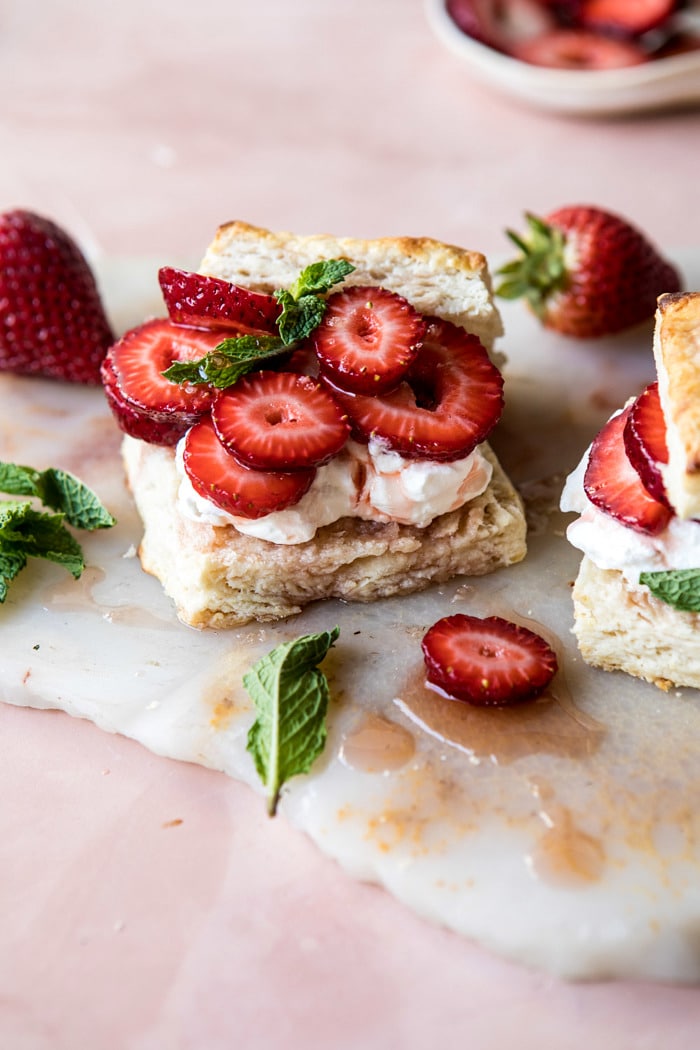 Anyway, since Derby Day is this Saturday, I decided to infuse my strawberries with just a touch of bourbon. Now you guys, even if you don't like bourbon, I really think you will still LOVE these strawberries. We are only adding a splash of bourbon, and it's really just highlighting the deliciously sweet strawberries. I love the slight hint of amber flavor that the bourbon adds, and when paired with a little honey, it's pretty much perfect.
Of course, if you prefer to not use any alcohol you can omit the bourbon and use a splash of vanilla extract instead.
No shortcake is complete without a little cream, but mine is fancied up a bit. I love adding mascarpone to cream to give it a kick of flavor and a little more body too.
Put everything together and you have the perfect Southern inspired strawberry shortcake, perfect for any day of the week.
Meaning, we should all run home from work today and make these shortcakes. Because let's be real, our Tuesday needs something fun to liven things up a bit. Again, go with me on this. You will not be disappointed.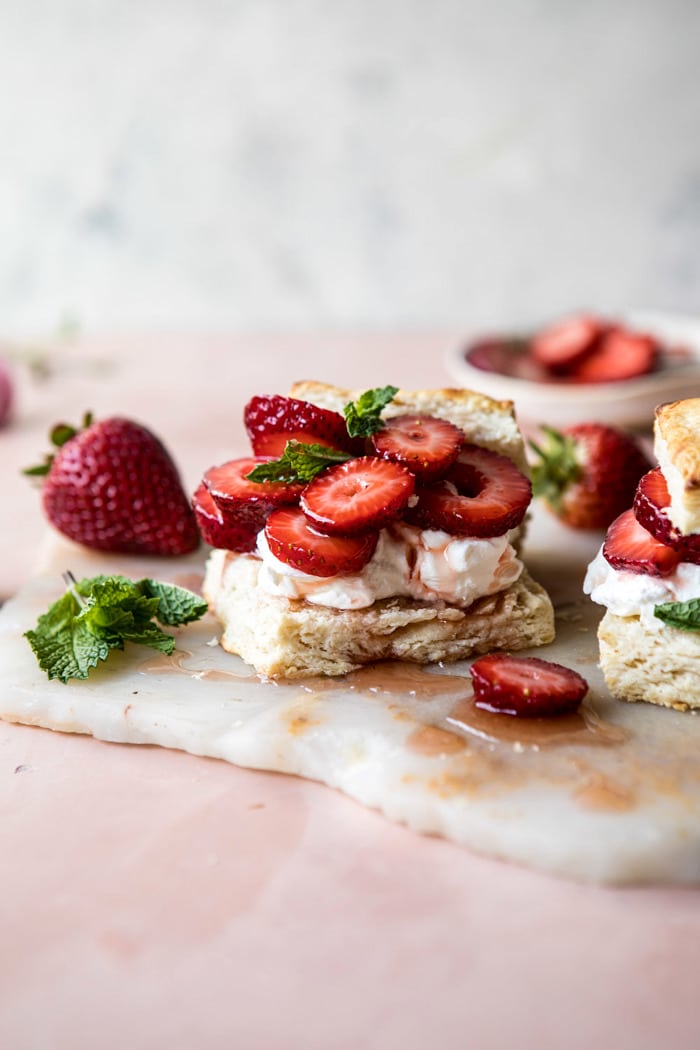 If you make these Strawberry Shortcakes and love them, please be sure to leave a comment and/or give this recipe a rating! I love hearing from you guys and always do my best to respond to each and every one of you. Oh, and of course, if you do make these Shortcakes, don't forget to also tag me on Instagram so I can see! Looking through your photos of recipes you all have made is the best part of the day!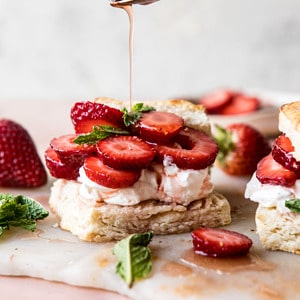 Nutritional information is only an estimate. The accuracy of the nutritional information for any recipe on this site is not guaranteed.
The Recipe
Strawberry Bourbon Shortcakes
By halfbakedharvest
Course: Dessert
Cuisine: American
Keyword: classic dessert, easy dessert, fruit dessert
Strawberry Shortcakes, a classic dessert dating all the way back to 1588. Well I've updated the classic with bourbon infused strawberries, whipped mascarpone, and homemade buttery biscuits, to create the most perfect spring/summer dessert.
Prep Time 15 minutes
Cook Time 20 minutes
Total Time 35 minutes
Servings 6 servings
Calories 700 kcal
Ingredients
Biscuits
3 1/2 cups all-purpose flour
1 tablespoon honey
1 tablespoon baking powder
2 sticks (1 cup) salted butter, grated on a box grater just like cheese
1 cup buttermilk, plus more for brushing
Bourbon Strawberries
6 cups fresh strawberries, sliced
3-4 tablespoons honey
1-2 tablespoons bourbon
1 pinch flaky sea salt
fresh mint, for serving
Whipped Mascarpone
4 ounces mascarpone cheese
1 cup heavy cream
2 tablespoons honey
Instructions
1. Preheat the oven to 400 degrees F. Line a baking sheet with parchment paper.

2. In a mixing bowl, combine the flour and baking powder. Add the butter and toss with the flour. Add the buttermilk and honey, and mix until just combined, adding more buttermilk if needed.

3. Roll the dough out into a 1 inch rectangle and cut into 9-12 biscuits. Place the biscuits on the prepared baking sheet. Brush each with buttermilk. Transfer to the oven and bake until golden brown, 15 to 18 minutes. Cool slightly before filling.

4. Meanwhile, toss together the strawberries, honey, and bourbon in a medium bowl. Let sit 15-30 minutes.

5. To make the cream. Whip the mascarpone and cream together until stiff peaks form. Fold in the honey.

6. To assemble, slice each biscuit in half. Add a dollop of cream and spoon the strawberries overtop. Add mint and finish by adding the top of the biscuit. Enjoy!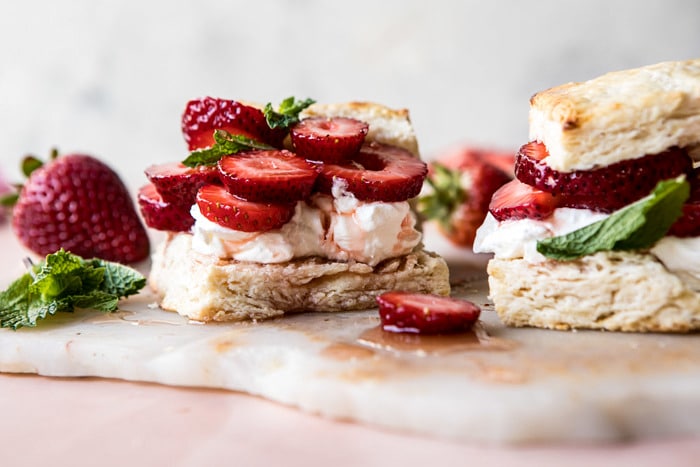 One word. YUM.