Spicy Chipotle and Cheddar Pumpkin Soup.
Sometimes I do not know what to make.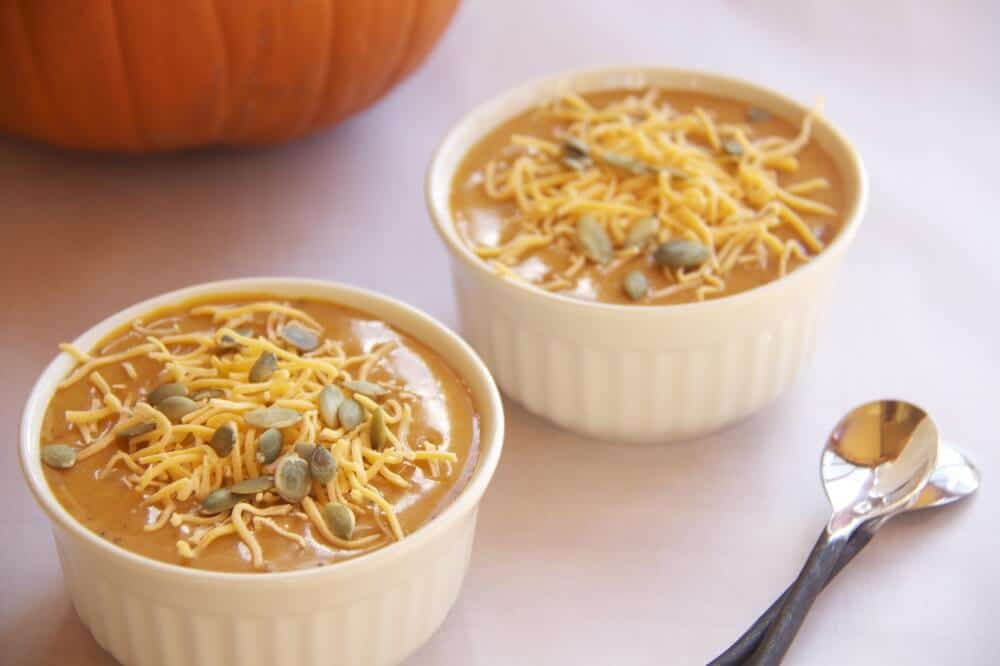 I really hate when that happens.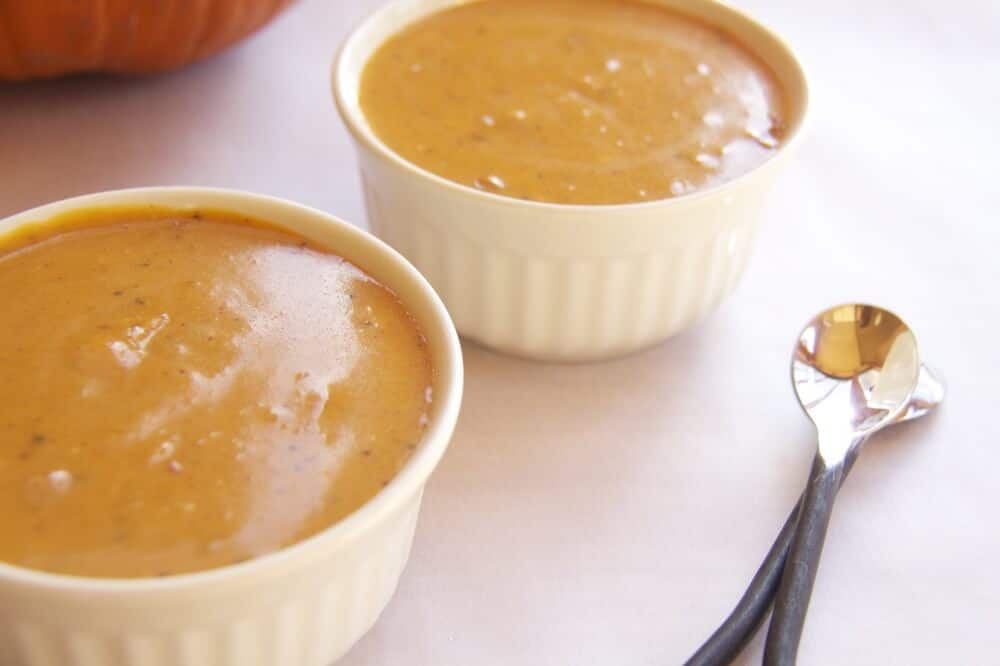 It is not that I do not have ideas, I have plenty! Way too many actually…….It is overwhelming! Not enough time to make them all!
When I do not know what I am making, I create a new dish…..and I make a giant mess while doing it. I mean giant. Pots and pans everywhere, flour on the floor, flour on me, soup burned on the stove, soup on my face. Yeah you get the picture.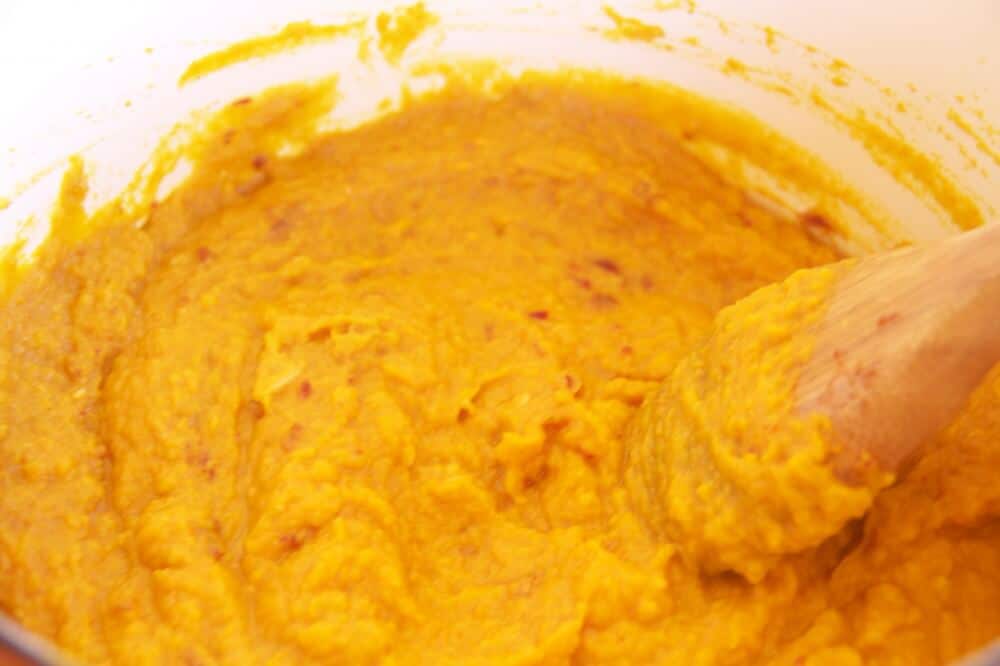 Sometimes my creations turn out really bad, like um Tieghan what were you thinking? I am not sure I can finish this bad.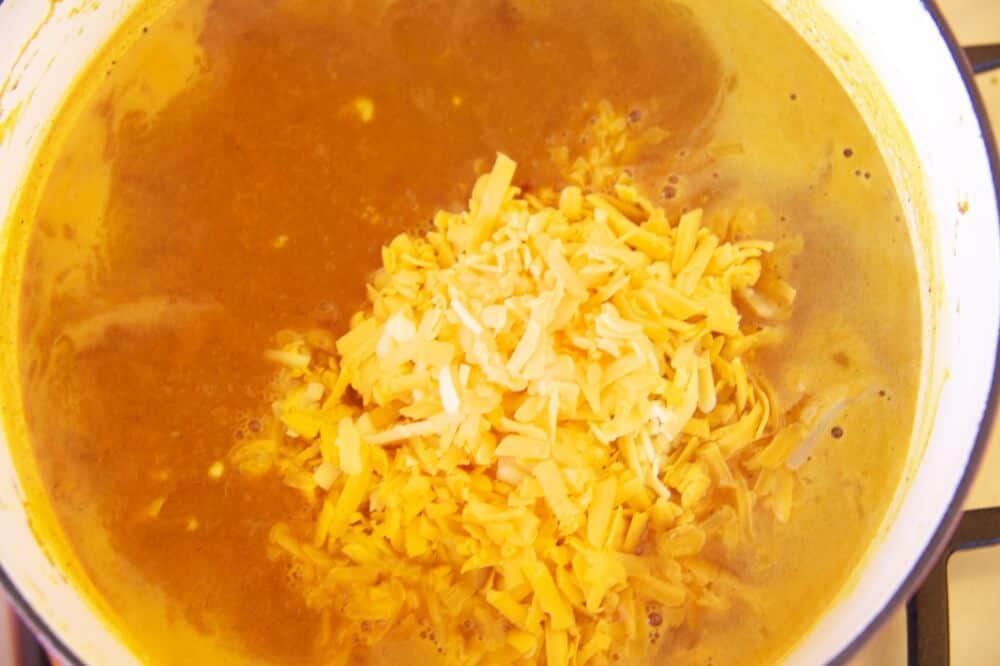 But then there are times when they turn out amazing! Like lick your bowl clean, delicious!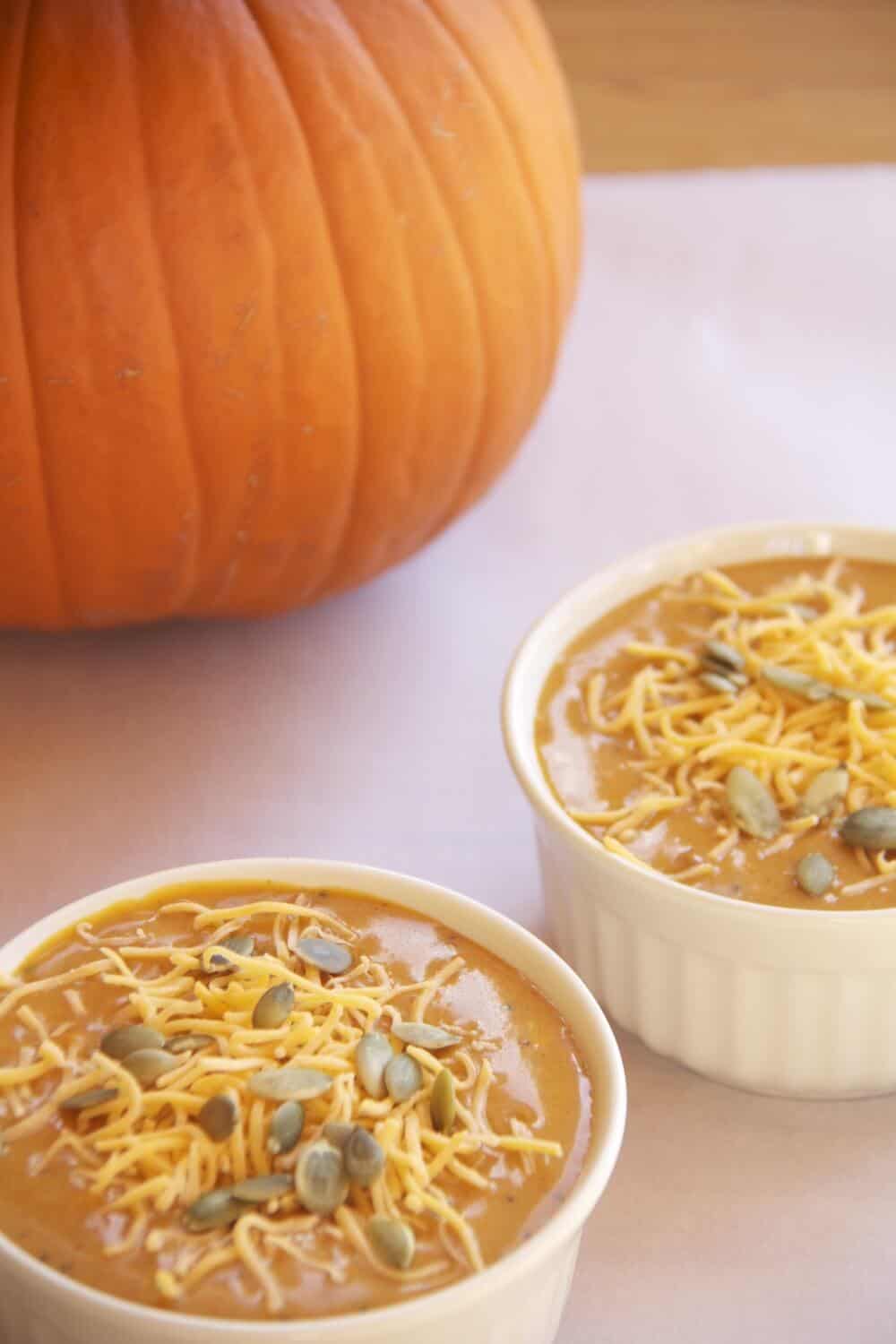 Yeah ,this soup is definitely one of those good creations! It is not your typical pumpkin soup. Chipotle peppers and smoked paprika give the soup a spicy kick with a hint of smoky flavor. Top it of with some sharp cheddar cheese and you have one flavorful bowl of soup.
I think I just made this our first course for Thanksgiving this year! You could even serve it as the main course for the non Turkey eaters attending. Everyone will love a nice bowl of hot soup, especially if it is snowy and 13 degrees. Wait it is snowy an 13 degrees, I think I need to go make some more soup now!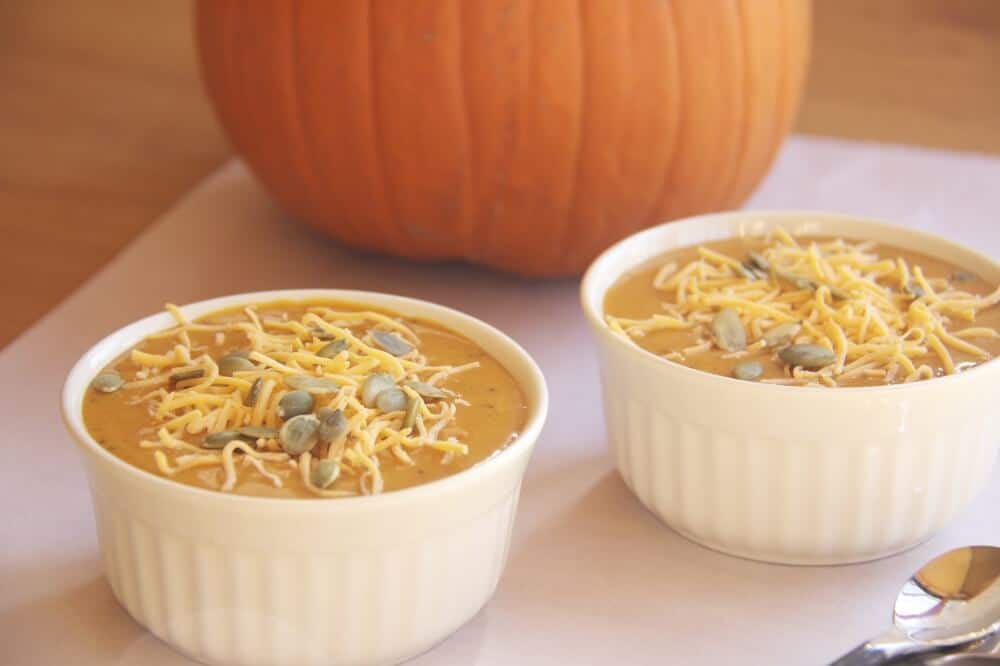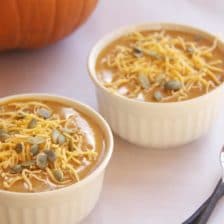 Nutritional information is only an estimate. The accuracy of the nutritional information for any recipe on this site is not guaranteed.
The Recipe
Spicy Chipotle and Cheddar Pumpkin Soup
By halfbakedharvest
Course: Soup
Cuisine: American
Keyword: chipotle, pumpkin
It is not your typical pumpkin soup. Chipotle peppers and smoked paprika give the soup a spicy kick with a hint of smoky flavor.

Prep Time 10 minutes
Cook Time 25 minutes
Total Time 35 minutes
Servings 6 Servings
Calories 180 kcal
Ingredients
1 tablespoon Butter
1 small Onion minced
2 cloves Garlic minced
2 in Chipotle Chiles Adobo Sauce minced
2 teaspoons Adobo Sauce
3 cups Pumpkin Puree
2 teaspoons Chili Powder
1 teaspoon Smoked Paprika
1 teaspoon Cumin
pinch of Salt
1 teaspoon Pepper
3 cups Low Sodium Chicken Broth
2 cups shredded Cheddar Cheese plus more for topping
1/4 Pumpkin Seeds toasted (optional)
Instructions
In a large pot, melt the butter over medium heat. Add the onion and cook until soft and translucent, about 5 minutes. Add the garlic and cook anther 5 minutes.

Add the chipotle peppers and the two teaspoons adobo sauce, stir and cook another minutes or so.

Add the pumpkin puree and stir together with the onions, garlic, chipotle peppers, adobo sauce and butter.

Add in the chicken broth and stir well.

Stir in the chili powder, smoked paprika, cumin, salt and pepper.

Simmer about 5 minutes over medium-low heat.

Puree the soup with an immersion blender or transfer to a blender and blend until very smooth.

Add the cheddar cheese and stir until melted.

Season to taste with salt and pepper.

Serve with extra cheddar cheese and pumpkin seeds.
Recipe Notes
*If you do not want to have to puree the soup you can grate the onion and garlic into a paste or finely mince. *To Freeze: Allow the soup to cool and transfer to a gallon size ziplock bag. Freeze up to six months. When ready to eat thaw and reheat on the stove. Serve as directed.

I guess sometimes you just have to make a mess!