Roasted Garlic Sage Pesto Pumpkin Soup with Spicy Fried Pumpkin Seeds
I almost forgot about this soup.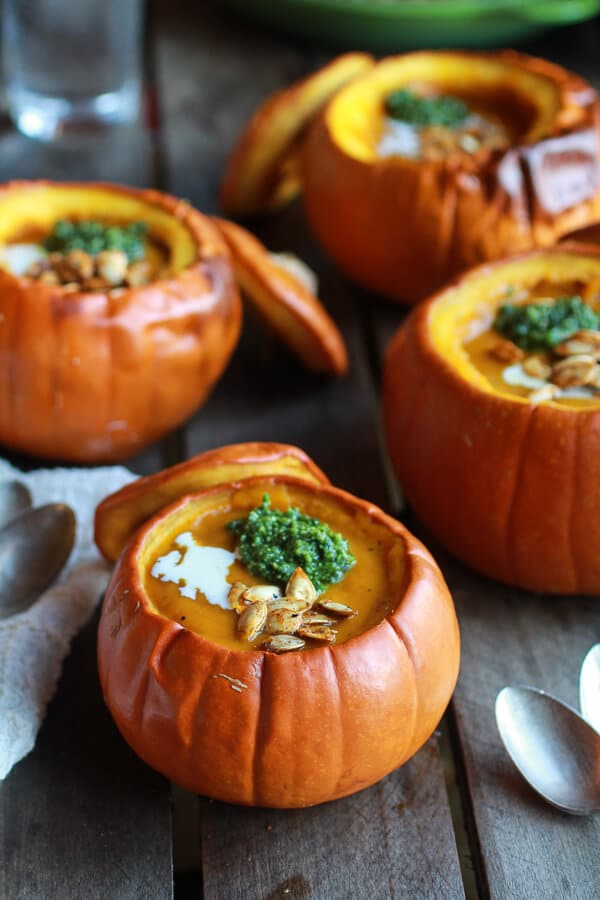 Well, not really I just realized that I better get it posted.
Time is a running out. I mean jeez (or geez?? I never know), Thanksgiving is a week from Thursday! Yikes.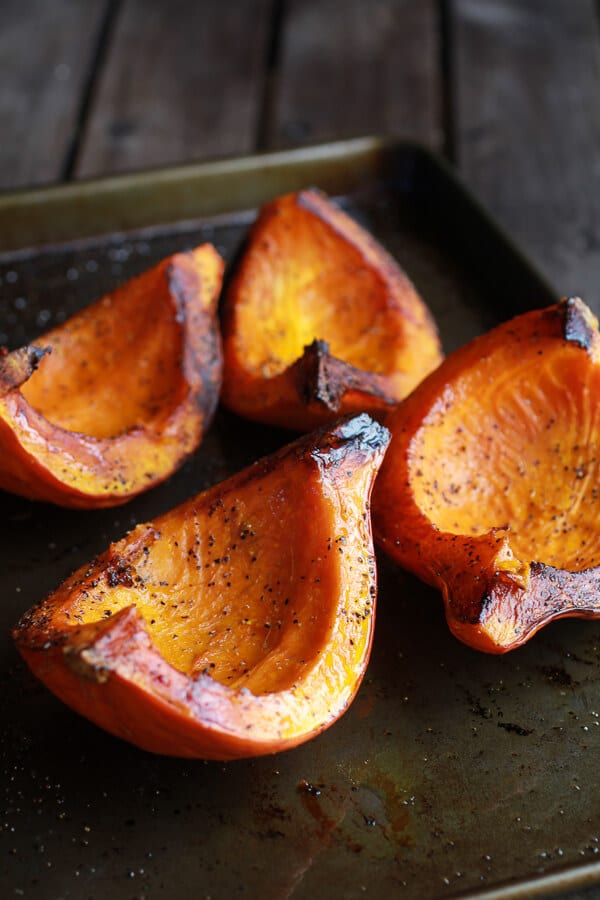 Do you guys have you menus planned yet?
I kind of hope they are not totally planned since I have a few more Thanksgiving recipes coming your way. I feel so late to the game, especially since my family has somehow completely skipped over Thanksgiving and moved on to Christmas. I think it's the weather.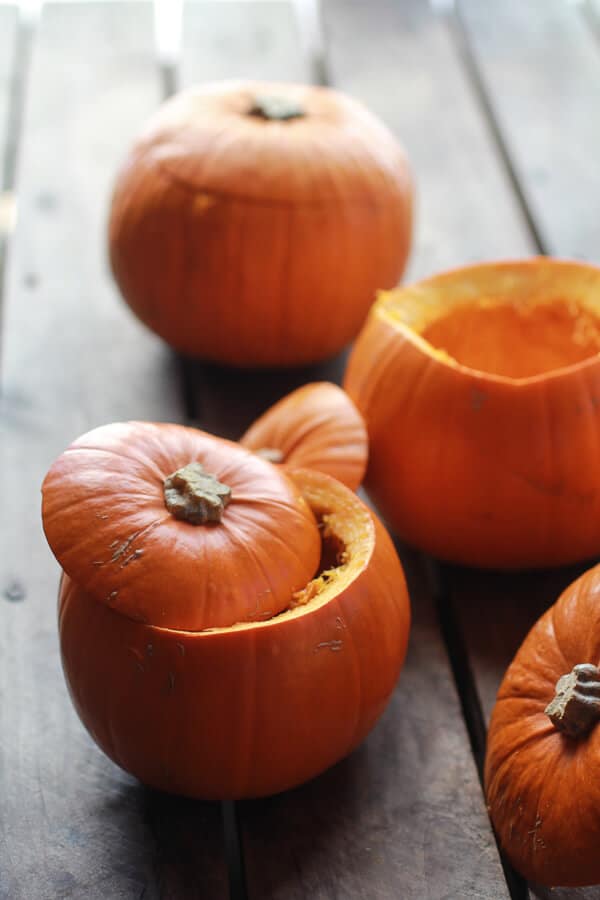 But today were are talking soup. And Thanksgiving!
I have always wanted to make soup and serve it in roasted pumpkins. It's kind of the cutest Thanksgiving recipe ever if you ask me. I mean really, pumpkins were made for serving soup out of them.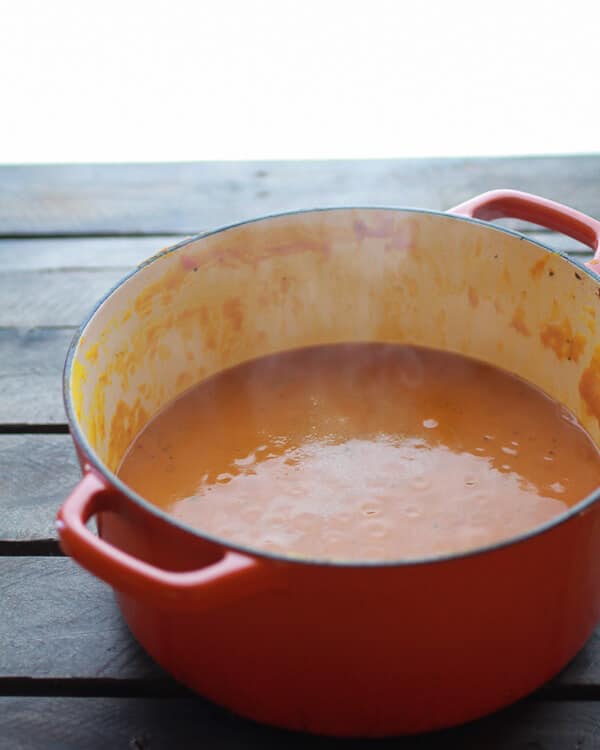 I realize this soup has a lot going on, but it is all good stuff.
There is sage pesto that is maybe one of the tastiest pestos ever. Sage + roasted garlic + pistachios + blue cheese = one darn good pesto. I was a little worried the sage would be too strong in pesto, so I also added parsley and I think it was the perfect ratio. And it is so festive. It would be perfect for crackers and cheese or even over pasta for Christmas.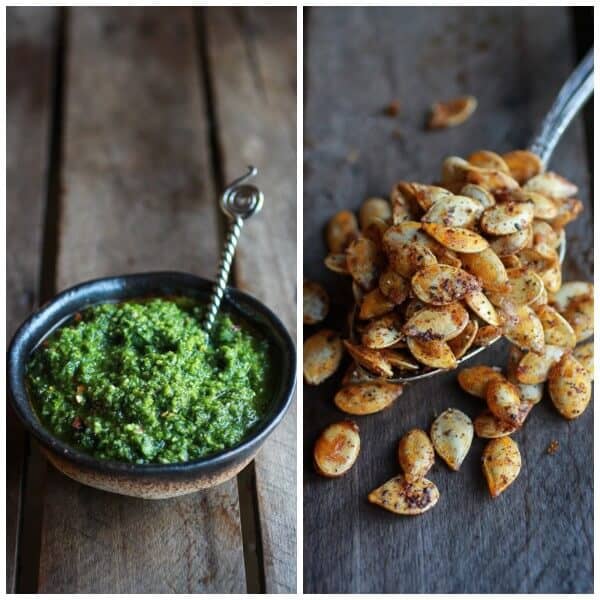 And then there is the pumpkin seeds, which should be added as a topper to almost everything.
Seriously, these salty seeds are so good… and addicting. You will not be able to stop after just one handful, which is kind of ok since they are pretty healthy. Don't fret about the word fried because they are not fried at all. Really they are just toasted in a skillet. It's a little faster than roasting, but just as good.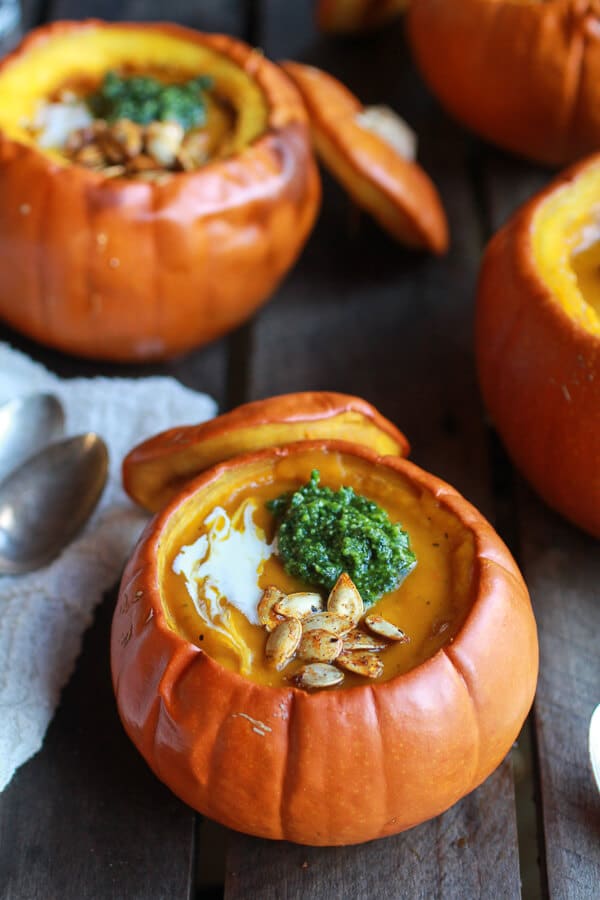 Now, I know that if you are having like twenty people for Thanksgiving that giving each person their own pumpkin bowl is not really realistic. Unless of course you are super Thanksgiving woman and rule the kitchen. In this case, I totally envy you.
Obviously you can serve the soup in regular old bowls and it will still taste just as good, but if you are doing a smaller Thanksgiving, do the pumpkin bowls. People will be SO impressed and trust me, impressing people is a good thing. Especially at Thanksgiving. Not easy to do with my crowd!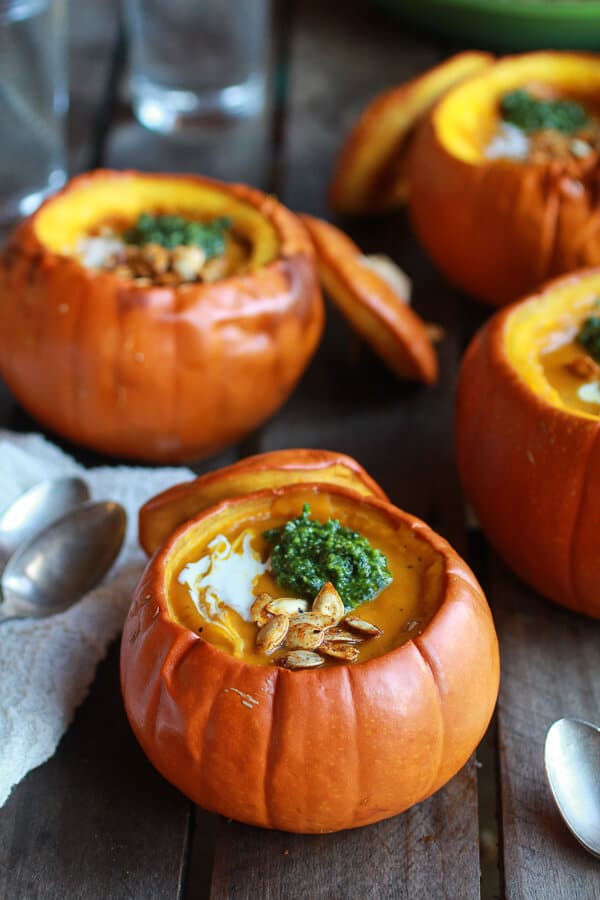 But really, what are you guys making?
I have not planned a single thing yet.

Do you guys do traditional or something new every year?
I am kind of for tradition believe it or not. When it comes to the holidays traditions rule for me.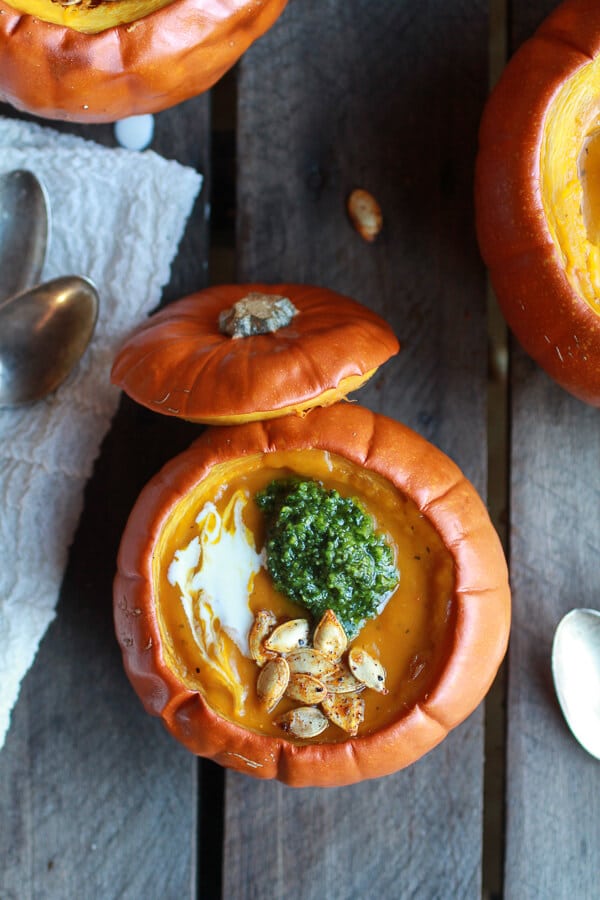 But I do like putting a twist on things, which my family hates.
One year I tried to make roasted garlic mashed potatoes and boy was that a giant mistake. Let's just say I will never again mess with any of the boys "Thanksgiving foods".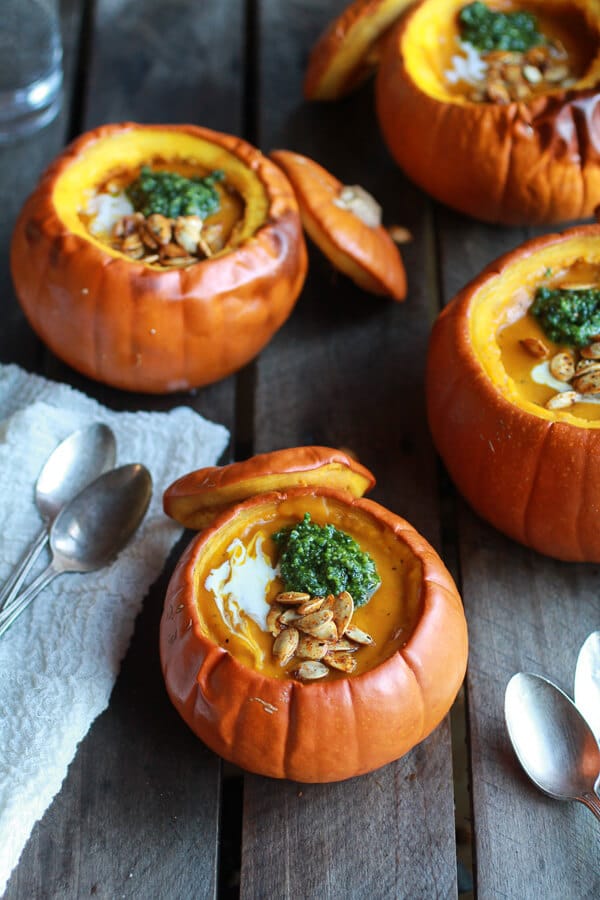 I still hear about those roasted garlic potatoes, which by the way were awesome in my opinion.
Anyway, this soup is Thanksgiving in a bowl, and so festive and cute. And cute food that is actually good, score!
These could be served as the perfect first course (wow them right off the bat!) Or as an appetizer served in shot glasses. Or just let them shine in all their orange glory as a full fledge side dish.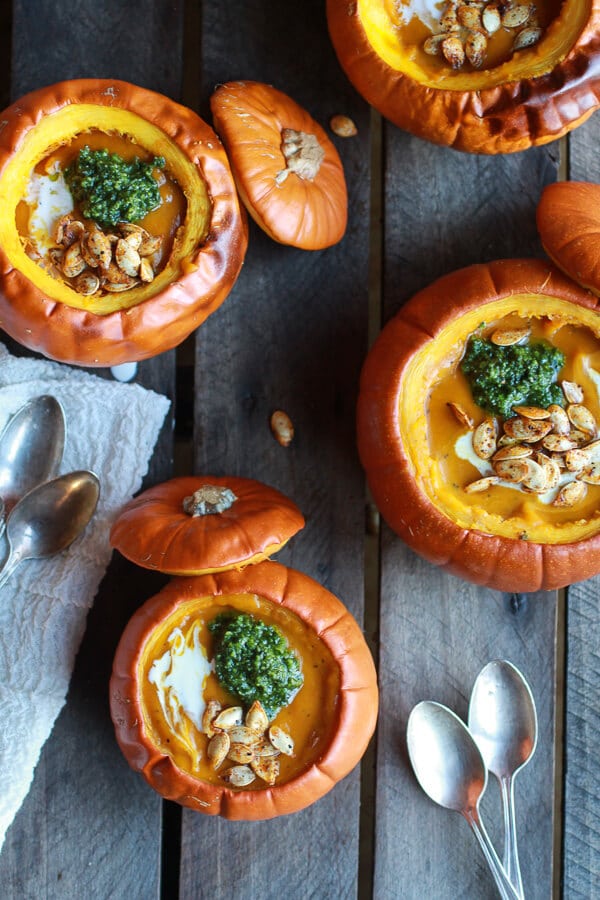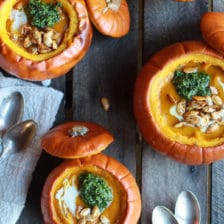 Nutritional information is only an estimate. The accuracy of the nutritional information for any recipe on this site is not guaranteed.
The Recipe
Roasted Garlic Sage Pesto Pumpkin Soup with Spicy Fried Pumpkin Seeds
By halfbakedharvest
Course: Soup
Cuisine: American
Keyword: garlic, pumpkin, thanksgiving
This soup is Thanksgiving in a bowl, and so festive and cute. And cute food that is actually good, score!
Prep Time 15 minutes
Cook Time 1 hour 35 minutes
Total Time 2 hours
Servings 4 Servings
Calories 638 kcal
Ingredients
1 large sugar or pie pumpkin cut half and seeds removed and reserved (plus 4 small ones if you are making the pumpkin bowls)
1 tablespoon olive oil
salt and pepper
6 tablespoons unsalted butter
2 small shallots chopped
1 teaspoon fresh thyme chopped
4 cups chicken broth
1 cup coconut milk + 1 cup water or 2 cups water
1 teaspoon cayenne pepper or more or less to your liking
1/4 teaspoon nutmeg
1 tablespoon pure maple syrup
pinch of crushed red pepper flakes
Sage Pesto
Instructions
Preheat the oven to 400 degrees F.

Cut your pumpkin in half or into fourths and reserve the pumpkin seeds for later. Place the pumpkin on a baking sheet and rub the pumpkin with 1 tablespoon olive oil and sprinkle with salt and pepper. Chop off the top portion of the garlic head to reveal cloves. Peel any excess paper/skin off from the bulb of garlic. Pour about a teaspoon of olive oil on top the garlic cloves and cover with foil. Roast both the pumpkin and garlic together on the same baking sheet for 45 minutes, or until the pumpkin is fork tender and the garlic golden brown and soft. Remove from the oven and allow everything to cool five minutes. Squeeze garlic out of the paper skin into a small bowl and mash well with a fork, set aside.

Grab the pumpkin and add it to a food processor (or mash extremely well) and puree with 1 cup of the chicken broth, puree until completely smooth.

Heat a large pot over medium heat and add the butter and shallots. Saute the the shallots until soft, about 5 minutes. Add the thyme and cook another 30 seconds. Add the pumpkin puree, remaining chicken, coconut milk, water, cayenne, nutmeg, maple syrup and crushed red pepper. Bring the soup to a low simmer and simmer 15-20 minutes.

While the soup cooks make the pesto. Add the roasted garlic, parsley, sage and pistachios to the bowl of a food processor. Pulse until finely chopped and then stream in the olive oil. Add the cheese and pulse a few more time until combined. Season with salt and pepper.

To fry the pumpkin seeds. Add the reserved pumpkin seeds to a bowl and toss with 1 tablespoon coconut milk and 1 tablespoon flour. In a small bowl combine the chipotle chili powder, pepper and brown sugar. Place a skillet on the stove top and set to medium heat, add the olive oil. Once the oil is hot, add the pumpkin seeds into the pan, but be careful! Stir the pumpkin seeds around in the skillet with a spoon or spatula continuously until they expand and start to brown. Once the seeds are browned remove from the skillet and place on a paper towel to drain. Toss with the chili powder and a good pinch of salt. Taste and season accordingly.

To assemble the soup, ladle the soup into bowls (or your roasted pumpkins) and top each bowl with a dollop of pesto, a sprinkle of pumpkin seeds and if desired drizzle with coconut milk. Start slurpin!

To make the roasted pumpkin soup bowls. Remove the tops of the pumpkin and scoop out the seeds. Rub the insides of the pumpkins with olive oil, salt and pepper. Place on a baking sheet and bake for 20-30 minutes or just until soft to touch but not falling in.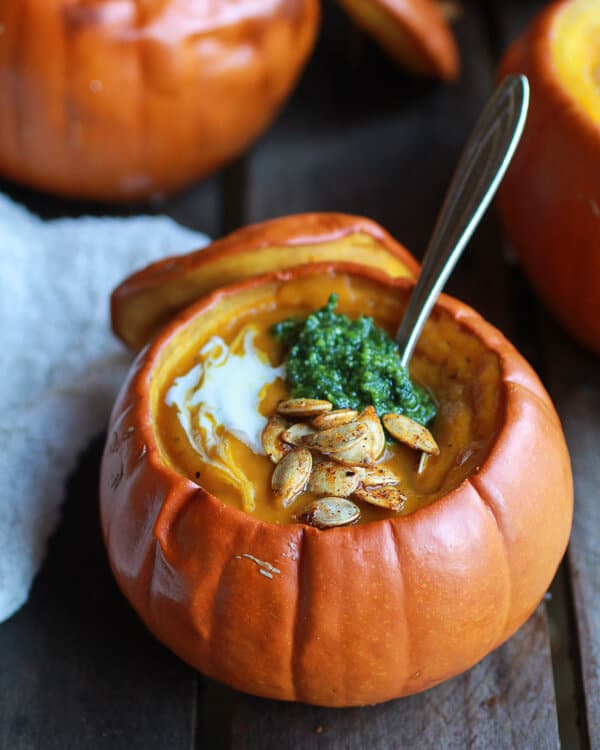 What ever way you choose you won't go wrong.