Thanksgiving Turkey Gumbo.
Are you guys ready to eat A LOT of food??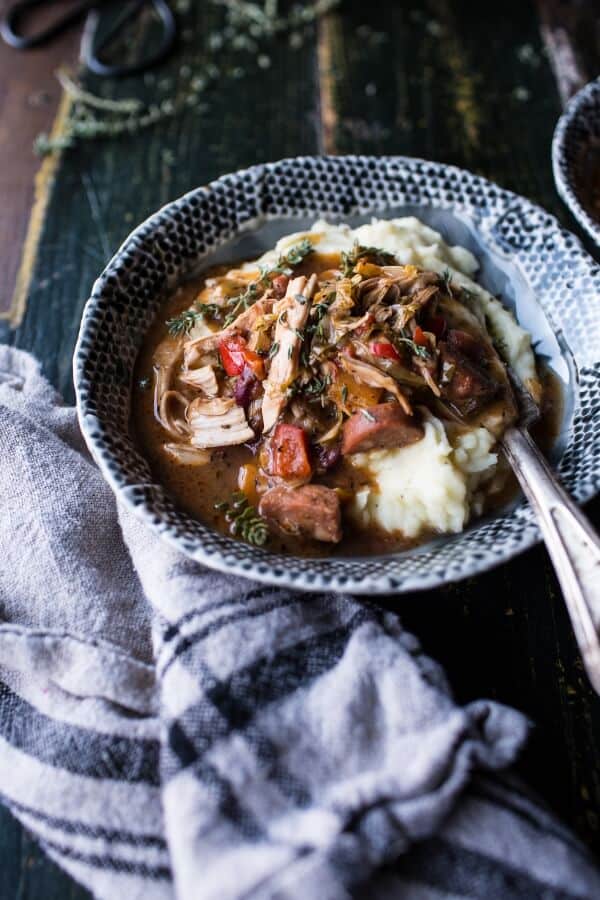 Are you ready for the leftovers?!
I mean tomorrow is the day, it's here! Do you have your game face on or what? Believe it or not I am so unprepared… but yet, I already have my leftovers planned? Wait, what?
Shouldn't I have the dinner planned first? Probably, but I never have Thanksgiving planned. Probably because I am very traditional when it comes to Thanksgiving. I pretty much serve the same thing ever year and to be honest, up until this year my mom has always cooked the turkey. This year though, I am taking on the task of the turkeys! Yes, that's plural, cause umm, I decided it would be a good idea to cook not one, but two turkeys.
Am I out of my mind?!
For sure.
The only reason I am cooking the turkeys is because I have some serious recipe testing to do for the book, and me being me, decided it would be a good idea to squeeze in just a little work on Thanksgiving. But hey, I figured I'll have a lot of people to eat my two turkeys so at least the food will not be wasted!
Also, I do not recommend testing recipes for the first time on Thanksgiving, but since I never seem to listen to my own advice, I am doing just that.
Oh boy.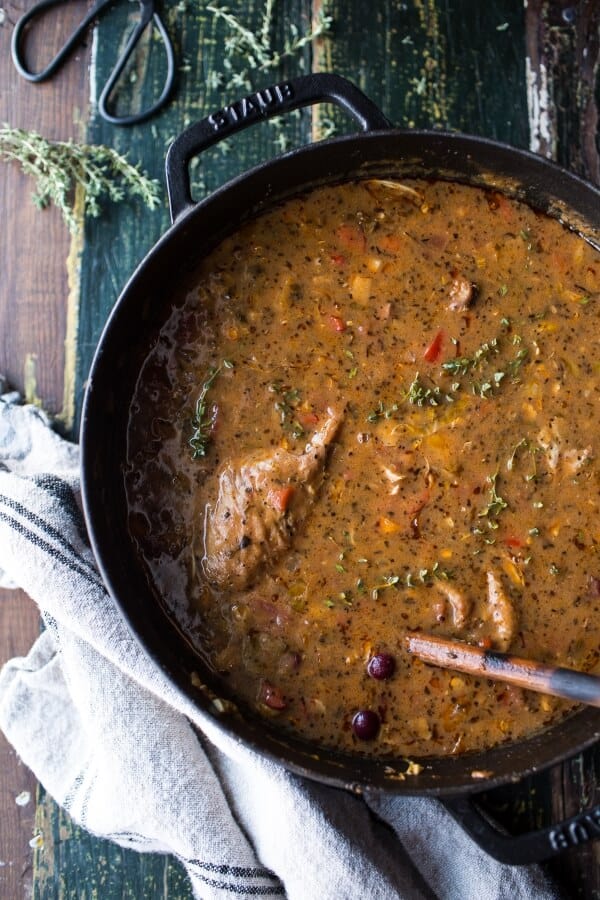 We'll be lucky if I get everything on the table by seven. We'll also be lucky if everything is edible. I hope I remember to remove all the nasty stuff inside the birds. I have heard horror stories.
Yikes.
Should be interesting. Good news is that I plan to make the most simple mashed potatoes in all the land. Meaning the brothers cannot be disappointed since the mashers are their favorite. Okay well, they'll be pretty mad if the turkeys and gravy don't turn out, but I am hopeful! Fingers crossed.
Ahh man, I totally just stressed myself out. All the sudden I am feeling the pressure here. Thanksgiving normally is not a pressure inducing meal for me. Normally I look forward to making it, but umm, the turkeys? A new recipe??
Ugh.
Tieghan, STOP thinking. STOP talking.
For real though, mom is so taking back turkey duty next year. Just sayin.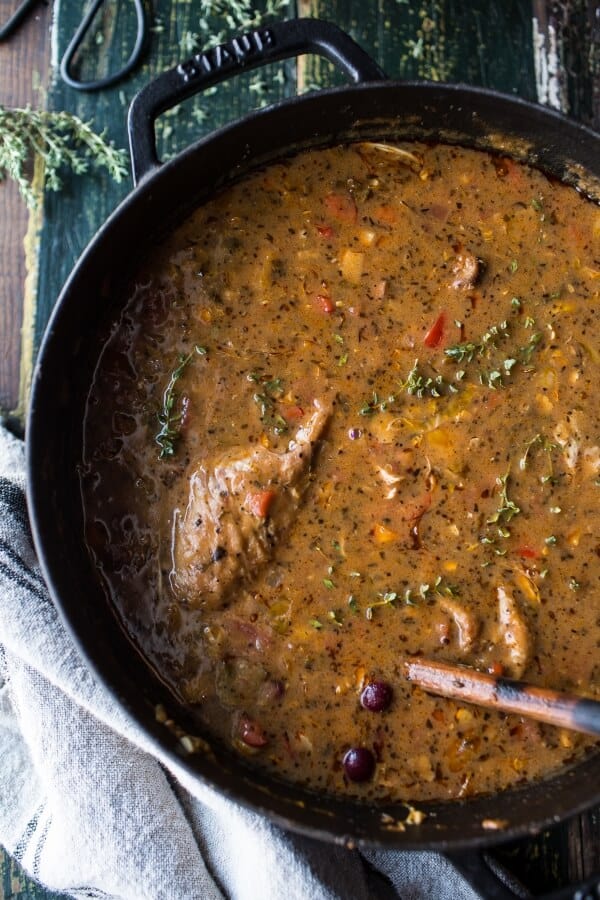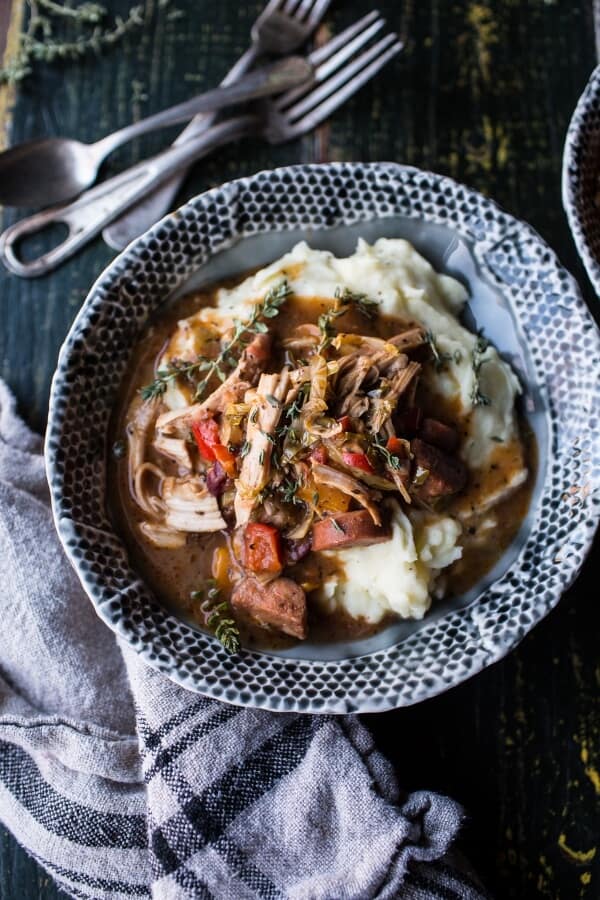 So anyway, do you remember back in the beginning of November when I made this Butter and Herb Roasted Turkey? Are any of you making it tomorrow?!? I really hope so cause it's honestly one of the best and easiest turkey recipes. Like you'll love it, you really should make it! <–DO IT.
BUT when I made that turkey, I obviously had leftovers. The best part of the turkey, right?! So I created these Enchiladas, and… THIS killer Thanksgiving Turkey Gumbo. Oh this gumbo, I love it. It's kind of like the ultimate turkey day leftovers. It reinvents the turkey and creates a meal fit to feed all your lingering guests… or family. It's also cozy, easy and full of so much great flavor!!
AND… I totally served my gumbo over leftover mashers. I know rice is traditional with gumbo, but this is a Thanksgiving Gumbo, and a Thanksgiving Gumbo needs mashers! You could obviously do rice if all your mashed potatoes get eaten, OR you could also use leftover wild rice. That would be delish as well!
Let's see, what else. Oh yes, I also swapped the green bell pepper for shredded brussels sprouts, added leftover gravy for ample flavor and creaminess, and even stirred in just a little leftover cranberry sauce to balance out the spice a bit. It's honestly the perfect stew.
Okay, so here's the game plan.
Start the gumbo today while you have time. You can make it while you are prepping other things for Thanksgiving. If you start it today, this gives the gumbo ample time to sit and build its flavor. I swear, the longer it sits, the better.
Then on Friday, just stir in the turkey + gravy and eat!! Leaving you plenty of time to shop till you drop (anyone hitting up the Black Friday deals??) or to just chill on the couch with a good Christmas movie or maybe even to decorate your tree (this will be me!)!
Of course you can make it Friday too, if today is just not happening. Either way though, MAKE IT!
Finally, I feel like I have to add that this was one of my family's favorite meals of the month, so that's saying something.
Hope you all have an awesome Thanksgiving!! Don't forget to take photos of the recipes you make and tag me on social media, OR just email me! I would really love to see what you guys make!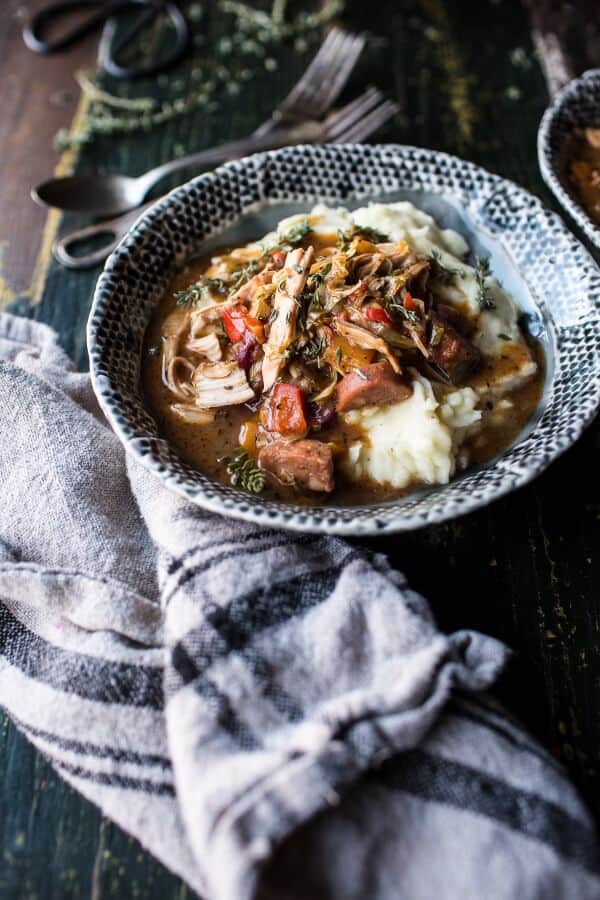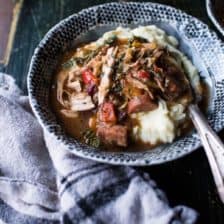 Nutritional information is only an estimate. The accuracy of the nutritional information for any recipe on this site is not guaranteed.
The Recipe
Thanksgiving Turkey Gumbo.
By halfbakedharvest
Course: Main Course
Cuisine: American
Keyword: gumbo, thanksgiving, turkey
A perfect meal for leftovers
Prep Time 45 minutes
Cook Time 3 hours
Total Time 3 hours 45 minutes
Servings 6 Servings
Calories 583 kcal
Ingredients
1 cup canola oil
1 cup all-purpose flour
1 large red pepper diced
1 large yellow pepper diced
1 cup brussels sprouts thinly sliced/shredded
2 celery stalks diced
1 tablespoon garlic minced or grated
1 onion diced (optional, original recipe does not call for it)
1 ounce large can diced tomatoes 14, I like to use fire roasted
1 tablespoon dried oregano
1 tablespoon dried thyme
1 tablespoon dried basil
1 tablespoon creole seasoning rounded
1 teaspoon chili powder
1-2 teaspoons cayenne pepper (less if you do not want it too hot more if you do)
1 tablespoon black pepper
1 teaspoon salt + a teaspoon more if needed
8 cups turkey or chicken broth two 1 quart cartons
1 1/2 pounds andouille sausage sliced + halved again into half circles (NO substitutions)
1 1/2 -2 cups leftover shredded turkey
1/2 cup leftover gravy optional
1/2 cup leftover cranberry sauce optional
leftover mashed potatoes or rice for serving
Instructions
In a large bowl combine the chopped peppers (red and orange), shredded brussels sprouts, chopped celery, garlic and onion, set aside.

In a small to medium size bowl combine the oregano, thyme, basil, creole seasoning, chili powder, cayenne pepper, pepper and salt, set aside.

Before you begin the next step, make sure you have completed steps 1 and 2. It is very important to have all your ingredients prepped and ready go. Grab a seat. No literally, grab a sit. You cannot walk away from the roux over the next 20-30 minutes. Heat a large heavy bottom soup pot over medium-low heat. Add the canola oil and flour to the pot and whisk to combine. Stir the roux EVERY 60 SECONDS. You will be able to smell the flour starting to brown. Continue to gently brown the flour without burning it until the mixture turns the color of peanut butter or a dark caramel. This can take 30 minutes or so but it is the heart of the recipe. If you burn it, start over. This time just keep stirring and keep an eye on it! It took me 25 minutes to achieve a dark peanut butter color. Once you have your roux made, add all your vegetables (everything in the bowl). The roux will bubble and thicken up immediately into a paste which coats the vegetables. Let the veggies cook over medium heat for about 10 minutes, stirring every couple minutes or so. Sprinkle spice mixture over the vegetables, stir and cook 3-5 minutes longer. Add turkey broth, canned tomatoes and sausage to the pot. Bring the gumbo to a boil, reduce the heat and simmer, covered, for at least 3 hours or up to all day (the longer the better for flavors to blend). Stir in the turkey, gravy and cranberries (if using). The gumbo should be the consistency of stew. If too much of the liquid evaporates add water to thin and if there is too much liquid leave the top off the soup and cook 30 minutes longer. Serve over leftover mashed potatoes or rice.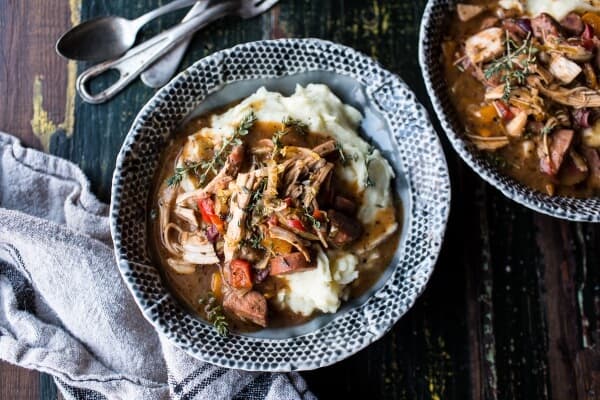 Happy Thanksgiving! See you Friday for some serious Christmas sweetness!