Mrs. Mooney's Secret Gumbo.
And I really do mean secret.

Or at least it was before today anyway, but it's time to share this recipe.
We'd be selfish if we didn't. And I say we because I asked Mrs. Mooney about sharing this recipe way back when I started the blog. Not sure why I took so long to share it, but here it is. Just in time for Mardi Gras too!

I know I have talked about Mrs. Mooney before, but this is one of her tried and true recipes that is truly and utterly amazing. Every single time I make this gumbo my family says, over and over again, how good it is.
The reason this recipe is a secret? Well… sorry, that has to remain a secret, but at least you get the recipe.

I cannot actually remember the first time I tried Mrs. Mooney's gumbo, but I sure do remember the first time I ever made it.
I was pretty young, maybe fourteen or fifteen and I was so nervous. I remember having no idea what a roux was and I was totally freaking out that if I burned it,  I would then have to start all over again. Not only that, I actually had to sit and stir the roux for forty-five minutes and not walk away. Like not even take my eyes off the pot for more than fifteen seconds at a time. Yeah, I was scared.

I still remember sending photos of the roux throughout out the process to Mrs. Mooney, just to make sure things where looking good and I was not screwing everything up. Just about every other minute I thought I had burned the roux and needed to start over.
And geez, when I finally got the roux to the color needed and I added the veggies? Yikes. Everything bubbled up and made noise. Loud sizzling noises. I thought for sure I screwed it up there too, but it turns out that is totally normal.
FYI, Mrs Mooney spent practically the entire hour or so it took me to make this on the phone with me talking me through every step. I may not have ever gone to cooking school, but at least I have Mrs. Mooney, and really, that's better. If you knew her, you would agree.

Long story short, the gumbo got made, turned out better than I ever thought it could and in five years of making her gumbo I have yet to burn the roux. YES.
Although, I still get a little nervous every time I make the gumbo. Old habits die hard.
If you are wondering, a roux is flour and butter, bacon fat and flour or in this case, oil and flour. You mix together the flour and oil and cook it over the stove to help thicken and flavor things like sauces, soups and stews. If you have ever made mac and cheese than you have made a roux.

As Mrs. Mooney says, "The roux is the heart and soul of this recipe. If you burn it, start over and do not take your eyes off of it."
I know it may sound scary, but it is honestly a super easy recipe and I scaled her original recipe down by half because the original recipe literally fed like sixteen people, so the roux took more like forty-five to sixty minutes to cook. This one will take thirty minutes tops because there is less to cook.

Here is my little tip. Grab a stool, turn the TV on if you can or grab your phone. Then glue your butt to that seat right in front of the stove. Seriously, I am not messing around when I say that you have to whisk the roux every fifteen to twenty-five seconds. It is mandatory.
You know the roux is done when it turns a deep dark caramel or peanut butter color. I let mine go pretty dark because I think the darker the better, but just make sure you are not burning it.
Oh, and it is also mandatory to have all your ingredient prepped and ready to go before you start making the roux. Trust me, it helps so much.

Okay, with all that said, please do not get scared off. I promise this recipe is very easy and simple to make. Once the roux is made all you need to do is let the gumbo simmer for a few hours. I let mine cook low and slow all day long. The longer it cooks, the better the flavor.
You must serve this over rice because rice is just the best, it is also very traditional. Beer bread is also delicious with it, but technically not traditional. BUT – you would be a little crazy not to serve it with some bread. Just sayin.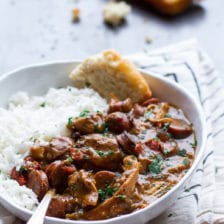 Nutritional information is only an estimate. The accuracy of the nutritional information for any recipe on this site is not guaranteed.
The Recipe
Mrs. Mooney's Secret Gumbo
By halfbakedharvest
Course: Main Course
Cuisine: American
Keyword: gumbo
The gumbo recipe is the ultimate comfort food!
Prep Time 25 minutes
Cook Time 3 hours 20 minutes
Total Time 3 hours 45 minutes
Servings 8 servings
Calories 450 kcal
Ingredients
1 cup canola oil
1 cup all-purpose flour
1 large red pepper diced
1 large green pepper diced
1 large yellow pepper diced
2 celery stalks diced
1 tablespoon garlic minced or grated
1 onion diced (optional, original recipe does not call for it)
1 ounce large can diced tomatoes 14, I like to use fire roasted
1 tablespoon dried oregano
1 tablespoon dried thyme
1 tablespoon dried basil
1 tablespoon creole seasoning rounded
1 teaspoon chili powder
1-2 teaspoons cayenne pepper (less if you do not want it too hot more if you do)
1 tablespoon black pepper
2 teaspoons salt
8 cups chicken broth two 1 quart cartons
1 1/2 pounds andouille sausage sliced + halved again into half circles (NO substitutions)
3 boneless skinless chicken thighs may sub chicken breast if desired
file powder for serving
white rice for serving
beer bread for serving
Instructions
In a large bowl combine the chopped peppers (red, green and orange), chopped celery, garlic and onion, if using (I typically leave the onion out). Set aside.

In a small to medium size bowl combine the oregano, thyme, basil, creole seasoning, chili powder, cayenne pepper, pepper and salt. Set aside.

Before you begin the next step, make sure you have completed steps 1 and 2. It is very important to have all your ingredients prepped and ready go.

Grab a seat. No literally, grab a sit. You cannot walk away from the roux over the next 20-30 minutes. Heat a large heavy bottom soup pot over medium-low heat. Add the canola oil and flour to the pot and whisk to combine. Stir the roux EVERY 15-25 SECONDS. You will be able to smell the flour starting to brown. Continue to gently brown flour without burning it until the mixture turns the color of peanut butter or a dark caramel. This can take 30 minutes or so but it is the heart of the recipe. If you burn it, start over. This time just keep stirring and keep an eye on it! It took me 25 minutes to achieve a dark peanut butter color.

Once you have your roux made, add all your vegetables (everything in the bowl). The roux will bubble and thicken up immediately into a paste which coats the vegetables. Let the veggies cook over medium heat for about 10 minutes, stirring every couple minutes or so. Sprinkle spice mixture over the vegetables, stir and cook 3-5 minutes longer.

Add chicken broth, canned tomatoes, chicken thighs and sausage to the pot. Bring the gumbo to a boil, reduce the heat and simmer, covered for at least 3 hours or up to all day (the longer the better for flavors to blend). The gumbo should be the consistency of stew. If too much of the liquid evaporates add water to thin and if there is too much liquid leave the top off the soup and cook 30 minutes longer. Once the meat has cooked through, skim fat from top and lightly shred the chicken. Serve over rice and sprinkle with file powder (sassafras powder) if you have it. [Beer Bread | https://dev.halfbakedharvest.com/5-ingredient-beer-bread/] is great with this meal!

Oh and gumbo kicks Monday in the butt.

HEY GUYS, I NEED YOUR HELP!!
Better Homes and Gardens has nominated Half Baked Harvest as one of the top 5 Food: Family/Everyday Eats blogs. Between now and March 5 voting will take place to decide who is number one. Here's the catch, you can vote every HOUR until 3/5/14.     I would be so appreciative if you could take the time to check out all the bloggers and vote for your favorite… as often as you can between now and then. Thanks for all your support, you guys are why I love doing what I do!       VOTE HERE