Spicy BBQ Chickpea and Crispy Polenta Bowls with Asparagus + Ranch Hummus.
Kind of a weird post today.

And not just because this is one giant bowl of health you are looking at, but more because of that giant scar on the guy in the photo above.
You know how some people hate their scars and try to cover them or do their best to make sure they heel as pretty as possible? Well, I am not like that. Personally, I love scars. I think they tell a story, give you character and memories. Bad or good.

However, I am in no way a tattoo person. Actually I really do not like them, mostly because I have a fear of getting super old and having this faded + ugly thing on my skin that I totally regret. Not to mention that I am a person who goes through phases and every few weeks I get sick of something. For me that means a food or a bowl or a color,  you get the point.
Scars are different. I promise that this post was not meant to be about scars, but as I was staring at that first photo it kind of got my thoughts turning, so here I am telling you all about why I love them.

If you have ever met any of my siblings than you know that they have scars on multiple parts of their body, some a lot more than others. Red and Asher are the exceptions. Brendan and Malachi (also known as Kai) take the lead. They are also the two toughest kids I will ever meet.
The arm in the above photo is actually not even a sibling, but more of an adopted one. BUT I was sort of with him when that he got this scar and all I have to say is that it was gross. It had to have hurt like hell and well… bones where showing. Not pretty.

With every scar there is a story. Like the one above my eyebrow that I got when I was baby or Kai's scar the size of a large foot running across his hip and up his butt or Brendan's scars on his knees, his face and… ok, just all over.
While most of the stories are really kind of scary they are still memories that separate you and make you, you. Not sure that makes any sense at all, but it's the way I think and I personally love hearing about how people got their scars.

Also, since I am almost constantly around snowboarders that are training for things like the Olympics, I tend to see a lot of crazy scars.
Still though, my younger brother Kai has beat them all out. The whole, having to have his hip replaced at thirteen, kind of takes the cake every time. Hoping it stays that way since the scary stuff is NEVER fun to live through.

Oh and you should know, that while I can be daring, I have almost zero scars compared to my brothers. Most of the ones I do have are from the oven. It always wins.
Ok, that and I should probably use an oven mitt a little more, but I forget and I sort of have hands of steel now.

Ok, but let's talk about pretty things now.

Like these bowls.
I am in love with these bowls.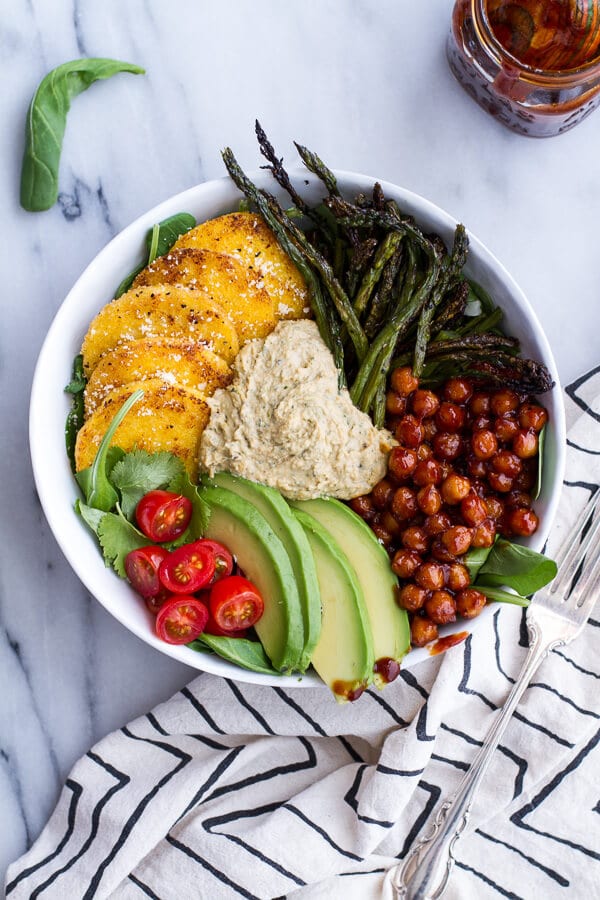 Alright fine, obviously I am in love with the food in the bowls, but I know you guys know that by now.

This is everything I could want in a meal. It's colorful, easy, quick, ridiculously healthy, a little spicy and I mean… there is pan-fried polenta going on. So good.
The BBQ sauce is heavy on the Cajun spices because lately I am really feeling those, but if you want to tone down the heat just a tad, reduce the spices a bit. If chickpeas are not your thing, shrimp would be so good, as would chicken. I gave the chicken version to everybody who does not eat beans, which is basically everyone but me. The ranch hummus adds the perfect bit of coolness to the bowls and the asparagus? Well, I am just really feeling springy these days. Like all I want is Spring. Spring colors, spring food, spring weather!
Bring it on… too bad it won't actually be HERE for 3 more months.


Nutritional information is only an estimate. The accuracy of the nutritional information for any recipe on this site is not guaranteed.
The Recipe
BBQ Chickpea and Crispy Polenta Bowls with Asparagus + Ranch Hummus.
By halfbakedharvest
Course: Main Course, Salad
Cuisine: American
Keyword: bbq, chickpeas, polenta, ranch
This is everything I could want in a meal. It's colorful, easy, quick, ridiculously healthy, a little spicy and I mean... there is pan-fried polenta going on. So good.
Prep Time 5 minutes
Cook Time 25 minutes
Total Time 30 minutes
Servings 4 Servings
Calories 829 kcal
Ingredients
Ranch Hummus
1 1/2 cups cooked cannellini/great northern beans (or 1 can drained and rinsed)
2 tablespoons tahini sesame paste
2 tablespoons greek yogurt or sour cream I like greek yogurt, leave out for vegan version
1 lemon juiced
1 clove garlic minced or grated
2 teaspoons dried parsley
3/4 teaspoon dried dill
1/2 teaspoon onion powder
1/2 teaspoon dried chives
1/2 teaspoon pepper
1/2 teaspoon salt
1/3 cup olive oil
Bowls
1 bunch asparagus ends trimmed
2 tablespoons olive oil divided
Good pinch of salt and pepper
1 1/2 cups of [your favorite BBQ sauce | https://dev.halfbakedharvest.com/homemade-barbecue-sauce-just-like-sweet-baby-rays/]
1 tablespoon rounded creole seasoning
1 tablespoon rounded cajun seasoning
Pinch of cayenne pepper
1 pound tube polenta cut into 1/2 inch slices (use 2 tubes for a hungrier crowd), 1
1/4 cup parmesan cheese grated (leave out for vegan version)
3 cups cooked chickpeas or 2 cans of rinsed + drained chickpeas
4 cups fresh arugula spinach or your favorite greens
1 pint grape tomatoes halved
1 avocado sliced
2-4 ounces sharp cheddar cheese shredded (leave out for vegan version)
Instructions
To make the hummus add the beans, tahini, greek yogurt, lemon juice, garlic, parsley, dill, onion powder, chives, pepper and salt to the bowl of a food processor. Puree the mixture until smooth, scrapping down the sides if necessary. With the machine running stream in the olive oil until smooth. Taste and season with salt and pepper if desired. Place in the fridge until ready to use.

For the bowls, preheat the oven to 400 degrees.

Place the asparagus in a roasting pan or on a baking baking sheet and toss with the 1 tablespoon olive oil, salt and pepper. Roast in the preheated oven for 25-30 minutes or until tender and crisp. Remove and chop into thirds.

While asparagus are roasting, add the BBQ sauce, creole seasoning, cajun seasoning and a pinch of cayenne to a glass measuring cup. Place the chickpeas in a medium bowl and toss with half the BBQ sauce or enough to completely coat the chickpeas. Reserve the remaining sauce.

Heat a medium sized skillet over medium heat. Add 1 tablespoon olive oil and the polenta slices. Let them sit undisturbed for 5 minutes. Flip and sear another 5, or until lightly crisped and golden on both sides. Remove and keep warm.

To the skillet add the chickpea mixture and cook for about 5-10 minutes or until the BBQ sauce has a thick + sticky coating over the chickpeas. Remove from the heat and stir in one more tablespoon of the BBQ sauce.

To assemble place some arugula in the bottom of you bowls. Add the warm + crispy polenta rounds. asparagus, tomatoes, warm BBQ chickpeas and avocado slices. Add a dollop of the Ranch Hummus and sprinkle the cheddar cheese or parmesan cheese on top. Serve with the remaining BBQ sauce.

So for now, and probably for a while, this is as close as I am going to get. But hey, I'll take it.