Saucy Indian Spiced Chicken with Naan.
Serious question.

What do you do when things in you mind are just not properly flowing?
I ask because I am currently clueless about what to say here right now, how I should plan my day, and just generally how to organize my thoughts. If you could see my thoughts, they would look like the scrambled eggs you serve super old people. Just think extra scrambled, not chunky in the least, more the like confetti. Yeah, it's bad.

I mean, I know these phases are bound to happen, but can I just say they are frustrating, not fun and time-wasting.
It makes me pretty grateful for the days when things are just flowing and rolling along, tasting good and looking good.

Oh well, many times I find that my best comes after my worst, so I am actually pretty excited for today.
And really, it's all about your attitude, right? Well, at least that is what I am telling myself. Over and over again until it sticks.

Praying it sticks hard today because I need to snap out of this. It is annoying.
Ok, but maybe I should talk about the food a little here. This chicken is so good. Warm, cozy and super easy. It just simmers on the stove, and basically all you need to do is combine some spices and brown some chicken. Make this naan (<– favorite bread recipe on this site), cook some rice, grab lots of mint and greek yogurt for topping  – and enjoy. Perfect mid-week dinner and most likely the whole family will enjoy it. Mine did and you guys know how hard that is to achieve, so this meal was, and will continue to be, a huge success for me.
Hallelujah!
Oh and hey it's Wednesday. Wednesdays are always good days. It means we are almost to Thursday which is basically almost Friday.
.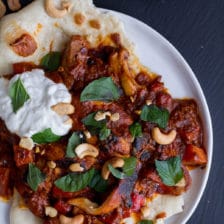 Nutritional information is only an estimate. The accuracy of the nutritional information for any recipe on this site is not guaranteed.
The Recipe
Saucy Indian Spiced Chicken with Naan.
By halfbakedharvest
Course: Main Course
Cuisine: Indian
Keyword: chicken curry, naan bread
I delicious curry with a little kick
Prep Time 30 minutes
Cook Time 3 hours
Total Time 3 hours 30 minutes
Servings 6 Servings
Calories 952 kcal
Ingredients
3 tablespoons coconut oil
3 pounds chicken thighs or a mix of thighs and breasts
Kosher salt and freshly ground black pepper
1 medium onion finely chopped
4 cloves garlic minced or grated
2 tablespoons ginger peeled + grated
2 tablespoons tomato paste
1 teaspoons garam masala
2 teaspoons ground cumin
1/2 teaspoons ground turmeric
1/2 teaspoon ground coriander
1 teaspoon cayenne pepper
1/4 teaspoon ground cardamom
8 cups low-sodium chicken broth
1 ounce can tomato purée 15
1/2 cup heavy cream or coconut milk
1 pound sweet potatoes chopped
[warm naan | https://dev.halfbakedharvest.com/homemade-naan-step-step-photos/] for serving
steamed rice for serving
greek yogurt for serving
torn fresh mint for serving
salted cashews for serving
Instructions
Heat coconut oil in large heavy bottom pot oven over medium heat. Season chicken with salt and pepper. Working in batches, cook chicken, until golden brown, about 8-10 minutes. Flip and cook another, 5 minutes. Remove the chicken from the pot and transfer to a plate.

Add onion, garlic, and ginger to the pot and cook, stirring occasionally until onion is very soft and golden brown, about 8-10 minutes. Add tomato paste, garam masala, cumin, turmeric, coriander, cayenne, and cardamom and cook, stirring often, until tomato paste begins to darken, about 4 minutes.

Add the chicken back to the pot. Add the broth, tomato purée, and coconut milk (or cream) to pot. Season the dish with salt and pepper. Bring to a boil, reduce heat, and simmer, partially covered, skimming occasionally if needed, until chicken is almost falling off the bone and liquid is slightly thickened, about 1 1/2 to 2 hours.

Add the sweet potatoes to the pot and cook, partially covered, until potatoes are fork-tender, chicken is falling off the bone, and liquid is thick enough to coat a spoon, about another 30-45 minutes. Remove skin and bones from chicken, if desired, and lightly shred the chicken. Add the chicken back to the pot and season the stew with more salt and pepper.

Divide the stew among bowls and serve with rice and [warm naan | https://dev.halfbakedharvest.com/homemade-naan-step-step-photos/]. Dollop each bowl with greek yogurt and garnish with fresh mint and cashews if desired.
Recipe Notes
*Adapted from Bon Appetit Magazine

Yup, I am already liking they way I am thinking today.

HEY GUYS, I NEED YOUR HELP!!
Better Homes and Gardens has nominated Half Baked Harvest as one of the top 5 Food: Family/Everyday Eats blogs. Between now and March 5 voting will take place to decide who is number one.  I would be so appreciative if you could take the time to check out all the bloggers and vote for your favorite… as often as you can between now and then. Thanks for all your support, you guys are why I love doing what I do!       VOTE HERE