Salsa Verde Chicken and Rice Tortilla Soup + Video.
Salsa verde chicken and rice tortilla soup, aka cozy, healthy, happy food… aka my favorite kind of food!!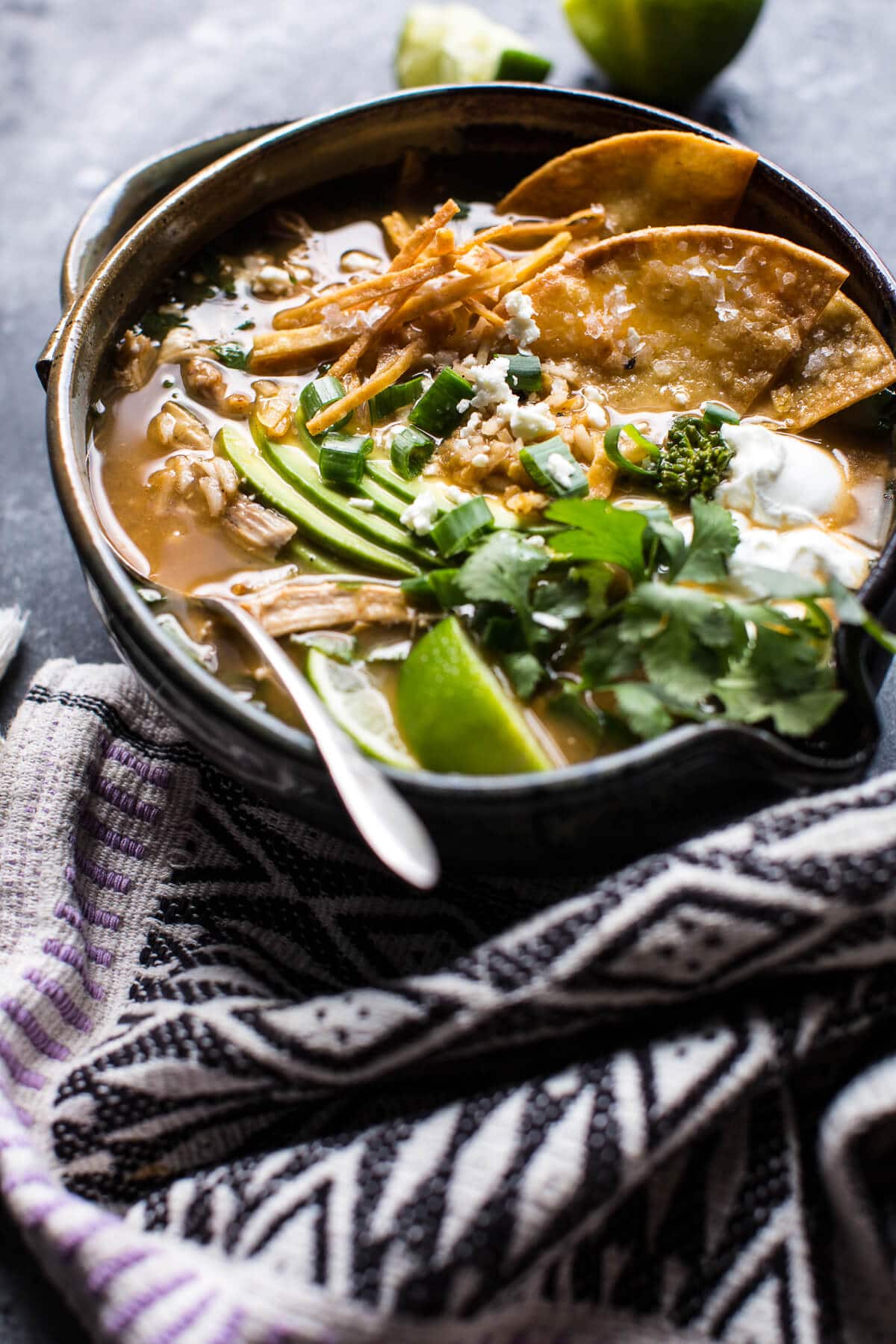 Ok, so sorry for that lame first line up there, but you see, I have Asher sitting literally in the same chair with me begging for my attention. We have t-minus two hours until the parents return home and she says we NEED to spend the last two hours of sister-time talking all about her Girl Scout Daisy meeting that she just returned home from.
Oh, and important note, just like her big sister, Asher has declared the Samoa her favorite Girl Scout cookie… with Tagalongs coming in a very tight second. She also says that we must make homemade versions.
I am SO down with that. 🙂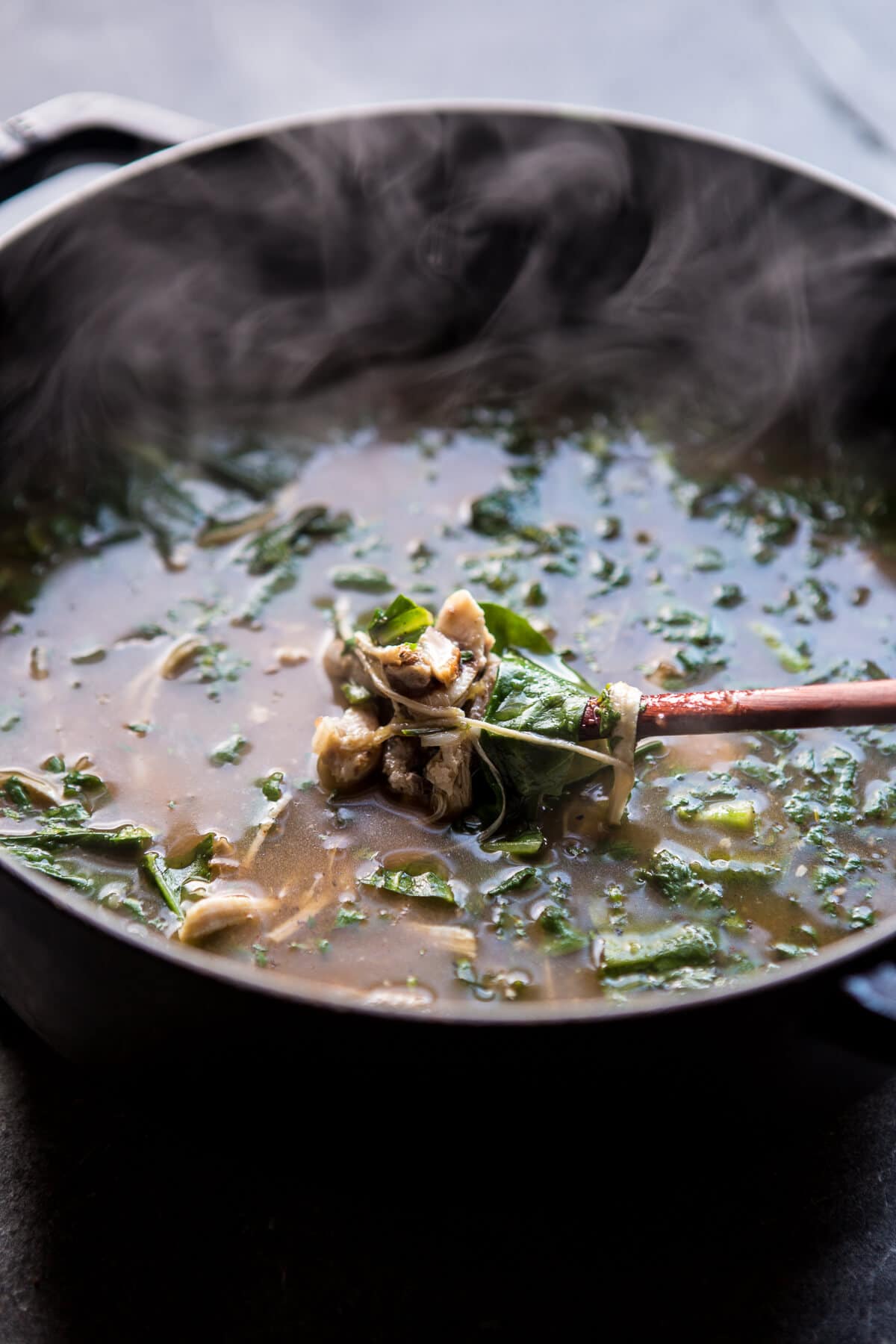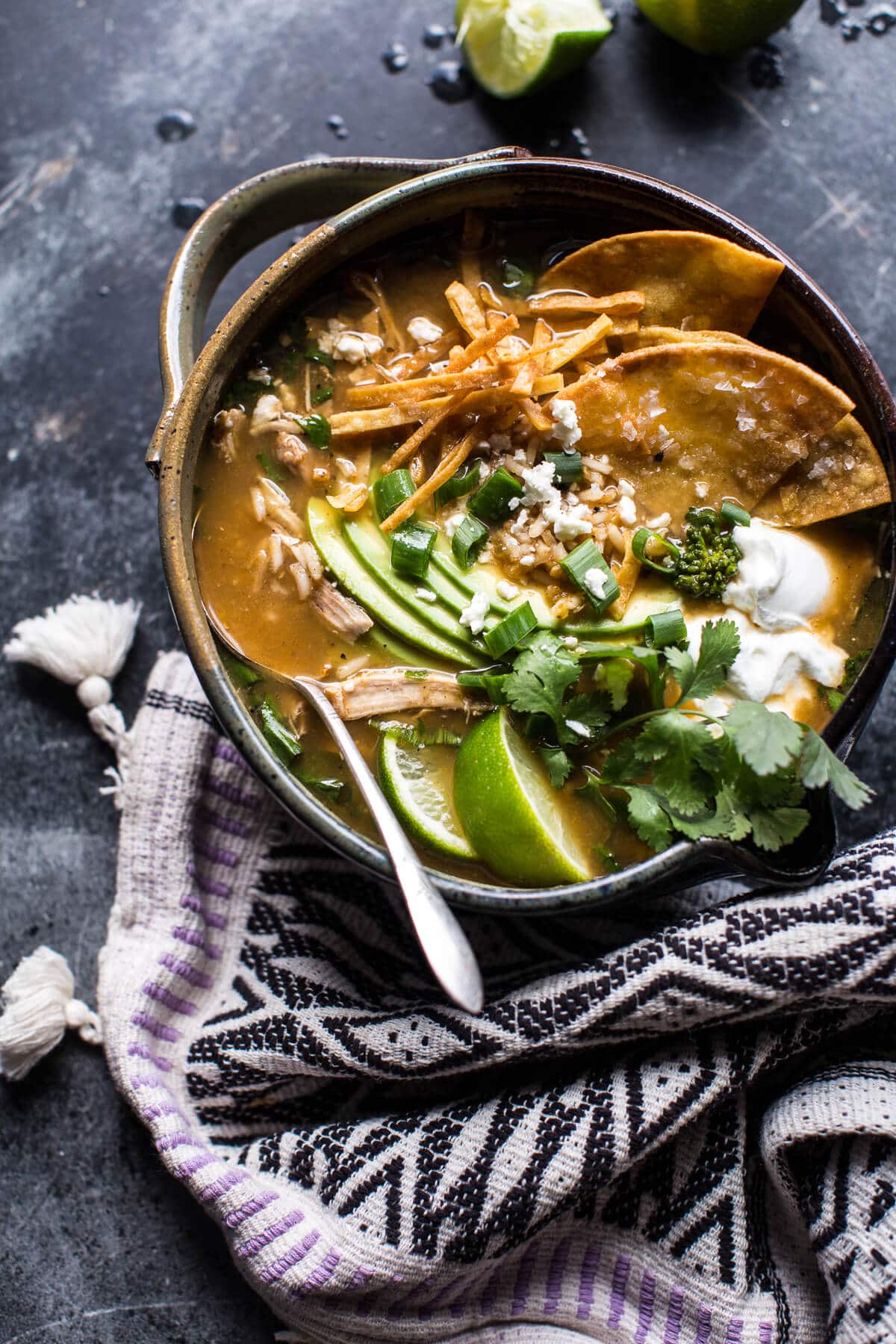 Quickie post today since I need to spend these last few hours with the little sister before our time is up.
So lets talk Salsa Verde Chicken and Rice Tortilla Soup!!
Oh this soup, it's kind of my world right now. I've been making it weekly all month-long. It's totally my kind of flavors, my kind of cozy and my perfect blend of everyday healthy. Or mostly healthy since I completely broke down and fried those tortilla strips. You can for sure bake them, but I don't know, I was just feeling the fried chips for this soup. I can't lie, the fried ones beat the baked by a land side, you just can't deny it.
When I set out to create this soup, I knew I wanted something cozy and full of flavor, BUT yet still full of healthy ingredients… plus something that was QUICK. Sometimes you just need a quick soup, you know? Not a soup that needs to simmer all day long or a soup with a billion and one ingredients. Thing is, this can be kind of tricky to accomplish, but umm not with fresh Mexican ingredients.
Basically I let the salsa verde (I used the leftover salsa verde from this recipe, but you can use store-bought) add all the flavor to this soup. I added a few simple seasonings and pretty much called it a day. SO simple and fast, but so so good.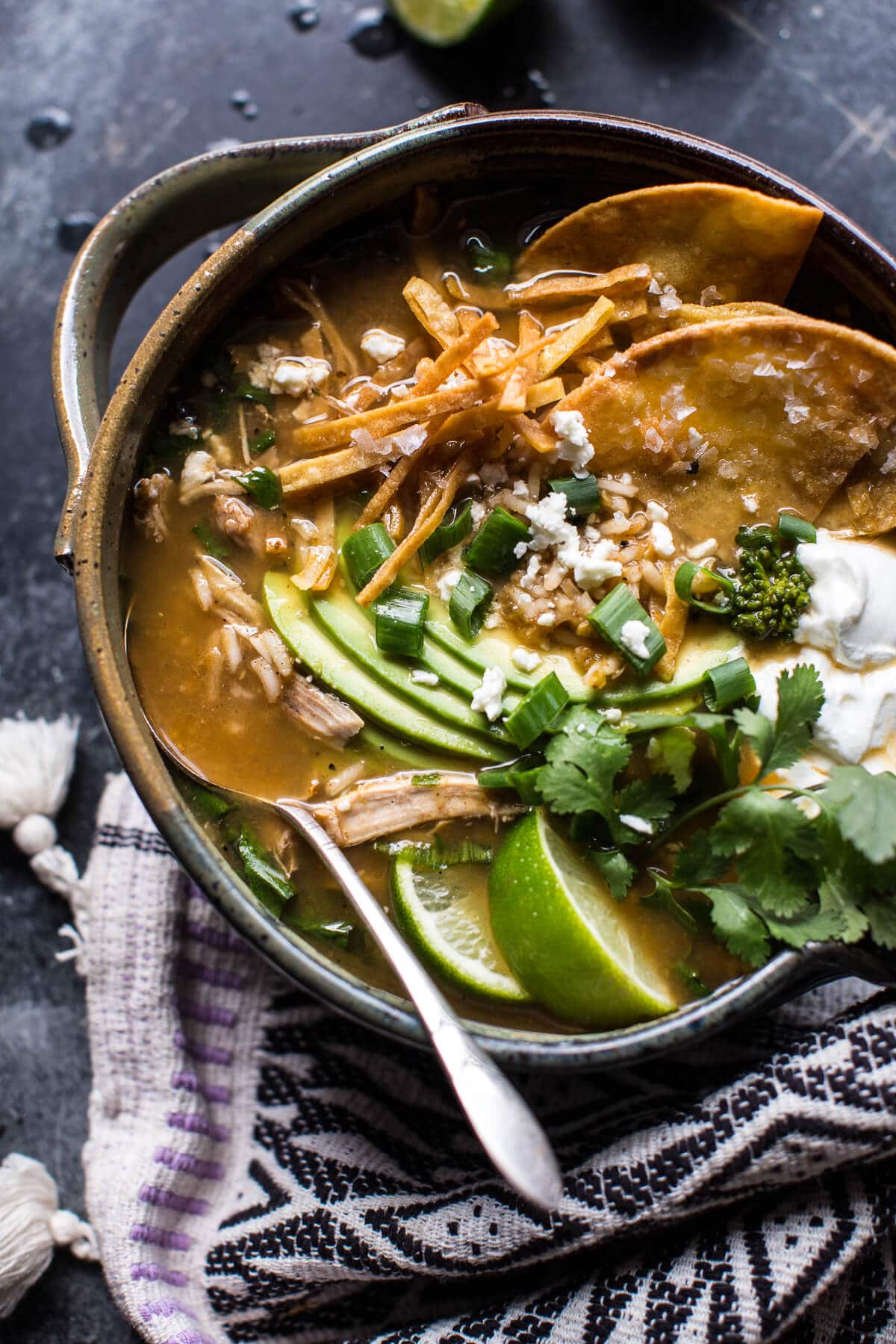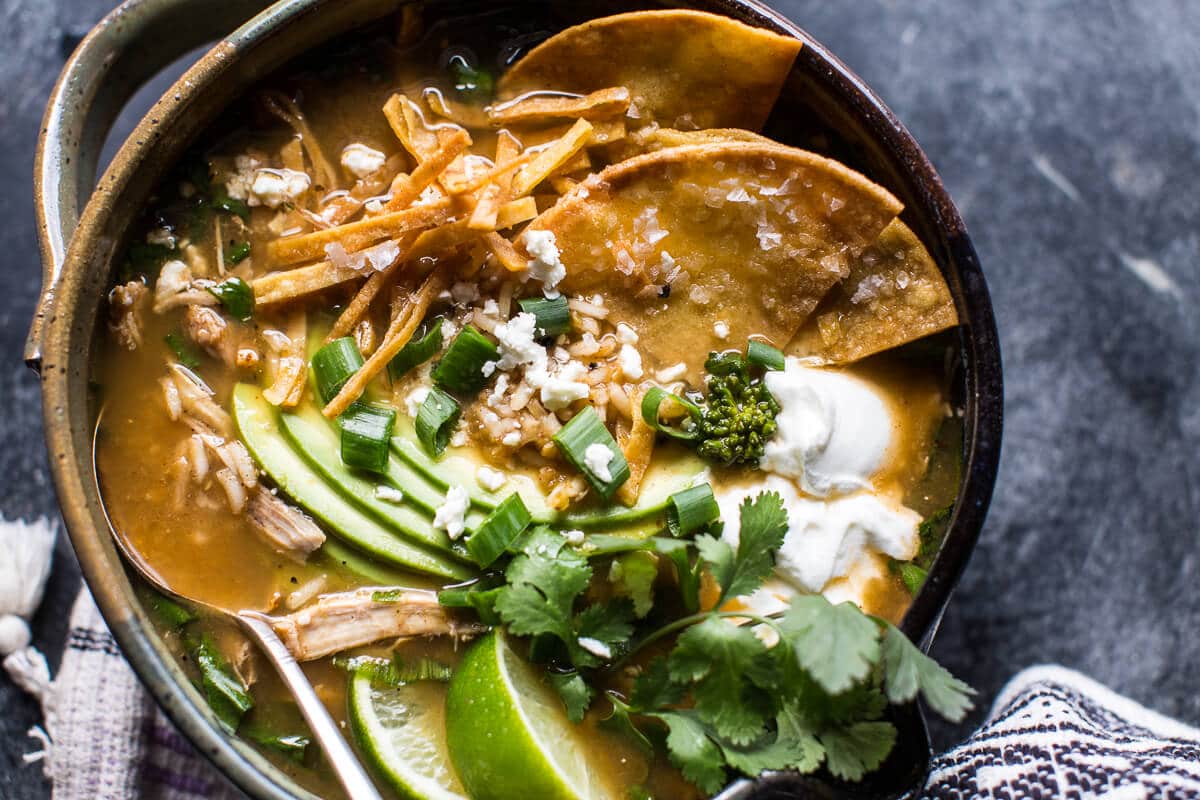 I knew I wanted some hearty greens in this soup from the start. Actually, I was originally thinking about calling this a super green chicken tortilla soup, but then it turned out to be kind of a wonky green color so I nixed that. I had a huge bunch of broccoli rabe just sitting in my fridge…wilting…so I used that. It was SO good in this, but you could also use collard greens, kale or even broccoli florets. So basically whatever you have on hand will work. Just make sure it's hearty and super green! 🙂
And then the rest is very basic. Well, I guess rice isn't traditionally in chicken tortilla soup, BUT my mom taught me to LOVE rice in soup. Noodles or rice, either works, but for this soup rice works best!! You can make it two ways. Way one, add raw rice to the soup + a little extra water, cover and simmer 25 minutes. This works great, but only if you are eating the soup right away. The first time I made this I made the mistake of letting the rice sit in the soup for an hour and then yup, the rice soaked up all the broth. Then I had soupy rice…which was actually delish, but not what I was going for. Way two, add the already cooked rice to the soup just before serving. Personally, I like this way best, and I seem to always have cooked rice on the ready! 🙂
And that's it. Quick, yummy tortilla soup, and full of greens. Yes, please!
OH, and of course, don't forget all the toppings. The toppings are the best!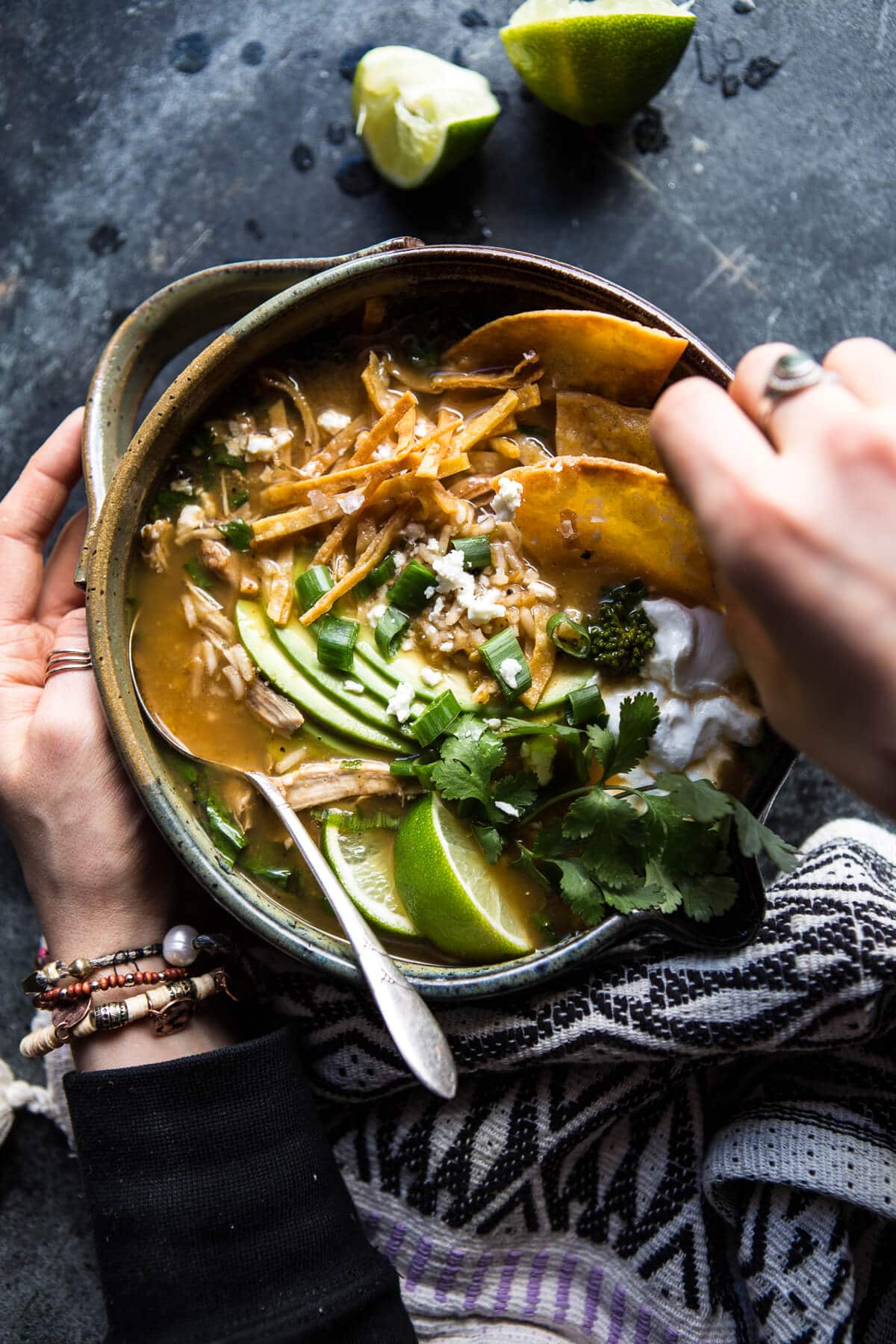 WATCH THE HOW-TO VIDEO: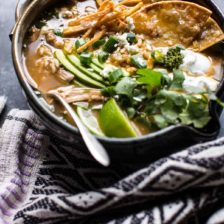 Nutritional information is only an estimate. The accuracy of the nutritional information for any recipe on this site is not guaranteed.
The Recipe
Salsa Verde Chicken and Rice Tortilla Soup.
By halfbakedharvest
Course: Soup
Cuisine: American, Mexican
Keyword: chicken, chicken tortilla, rice, salsa verde
Salsa verde chicken and rice tortilla soup, aka cozy, healthy, happy food... aka my favorite kind of food!!

Prep Time 15 minutes
Cook Time 25 minutes
Total Time 40 minutes
Servings 4 Servings
Calories 533 kcal
Ingredients
2 teaspoons chili powder
2 teaspoons cumin
1 teaspoon Mexican oregano
1 teaspoon smoked paprika
1 tablespoon brown sugar
salt + pepper to taste
2 tablespoons olive oil
1 pound boneless skinless chicken thighs or breast
4 cups low sodium chicken broth
2 cup broccoli rabe or kale chopped
2 cups cooked white or brown rice OR quinoa*
1/2 cup fresh cilantro chopped
juice of 1 lime
8 slice corn tortillas quartered or thinly
oil for frying
sliced avocado plain greek yogurt, fresh cilantro, sharp cheddar cheese + green onions, for topping
Instructions
In a small bowl, combine the chili powder, cumin, oregano, paprika, brown sugar and a large pinch of salt + pepper.

In a large heavy bottom soup pot, heat the olive oil over medium heat. Sprinkle half the seasoning mixture over the chicken. Once hot, sear the chicken until browned on about sides, about 3 minutes per side. Once the chicken is browned, lower the heat to LOW and slowly pour in the the chicken broth. Add the remaining spice mixture, salsa verde, broccoli rabe or kale and season the soup with salt + pepper. Cover and simmer 25 minutes or until the chicken is tender and cooked through.

Meanwhile, heat about an inch of oil in a high sided skillet over medium heat. Once the oil is hot (if it sizzles when a wooden spoon is placed into the oil it is ready) add a few tortillas at a time and fry until golden, about 1 minute for the triangles and 30 seconds for the strips. Remove using a spider spoon and drain on paper towels. Sprinkle generously with salt and lime zest. Repeat with the remaining tortillas.

Once the chicken is cooked though, remove the soup from the heat and stir in the rice + fresh cilantro + lime juice.

Divide the soup among bowl and top with avocado, a dollop of plain greek yogurt, fresh cilantro, green onion and cheese. Add a large hand full of the tortilla chips. EAT!
Recipe Notes
*Alternately you can add 1 cup of RAW rice + 2 cups of water to the soup when you add the chicken broth. Allow the rice to cook NO LONGER than 25 minutes. If you let it sit longer, it will soak up all of the broth.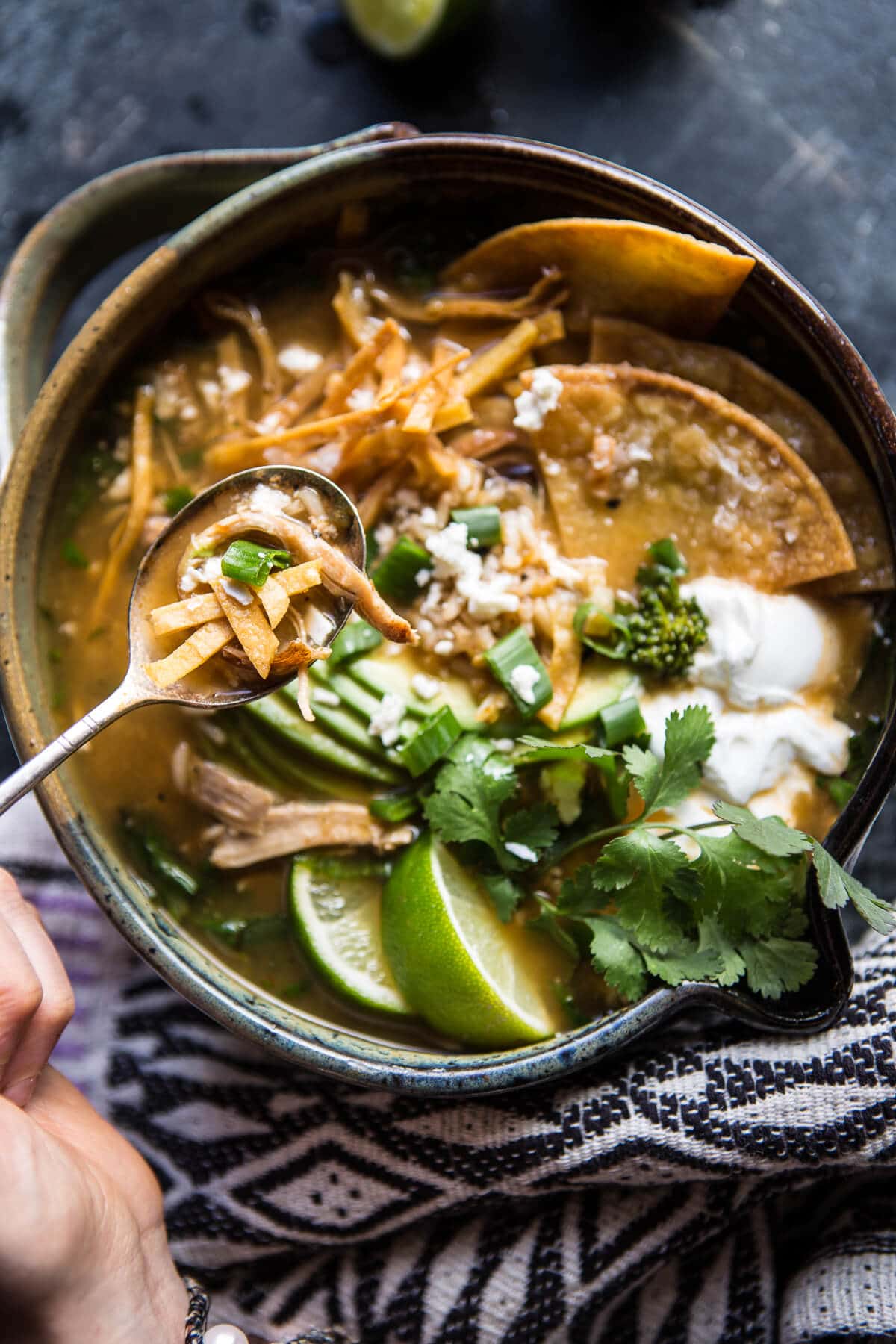 Soup for all…or maybe just me…with double the chips…and cheese!