Roasted Mixed Potatoes with Spring Herbs and Burrata.
These Roasted Mixed Potatoes with Spring Herbs and Burrata are kind of all you need in life today.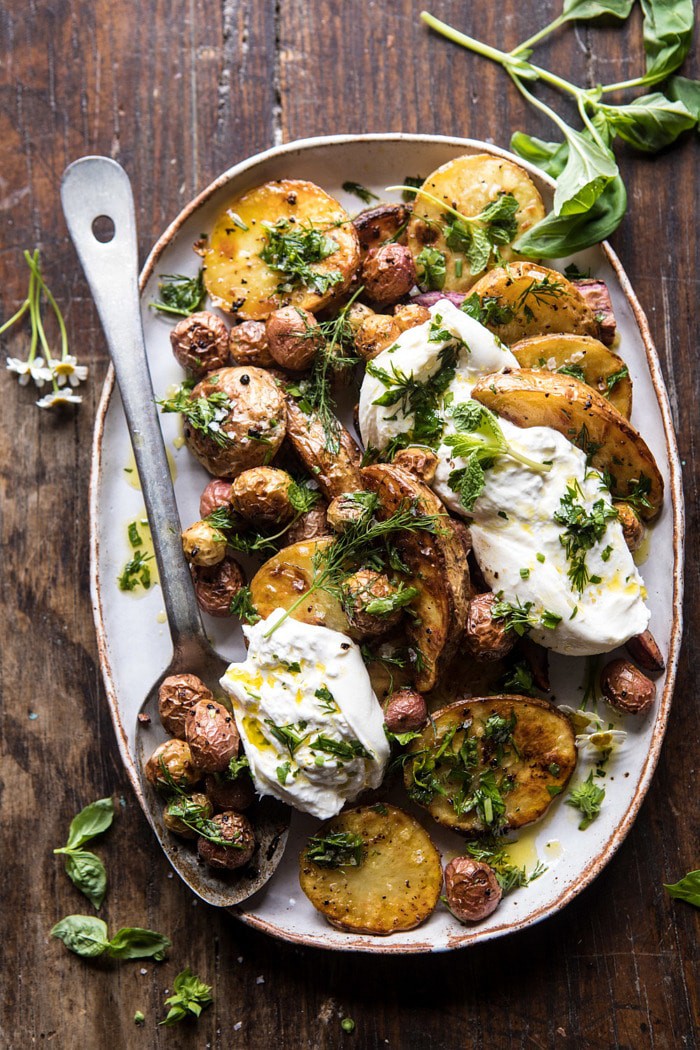 So very dramatic, but so very true, because let's just be real, we all know that potatoes are possibly one of the best foods around. Especially when roasted…and especially when paired with burrata cheese.
Basically this recipe needs no introduction. Just reading the title, makes my mouth water. These are potatoes, but slightly elevated and dressed up for spring and this is maybe one of my favorite recipes to come out of my kitchen this month.
Did I say that yesterday? Probably, but it's always true.
Just like yesterday's tart, this is yet another failed recipe turned into to something amazing. Not sure what's up with all the recipe fails this month, but I'm happy to say I was able to take the fails and make something new, fresh, and better from them. I guess I really do learn from my failures…well sometimes anyway.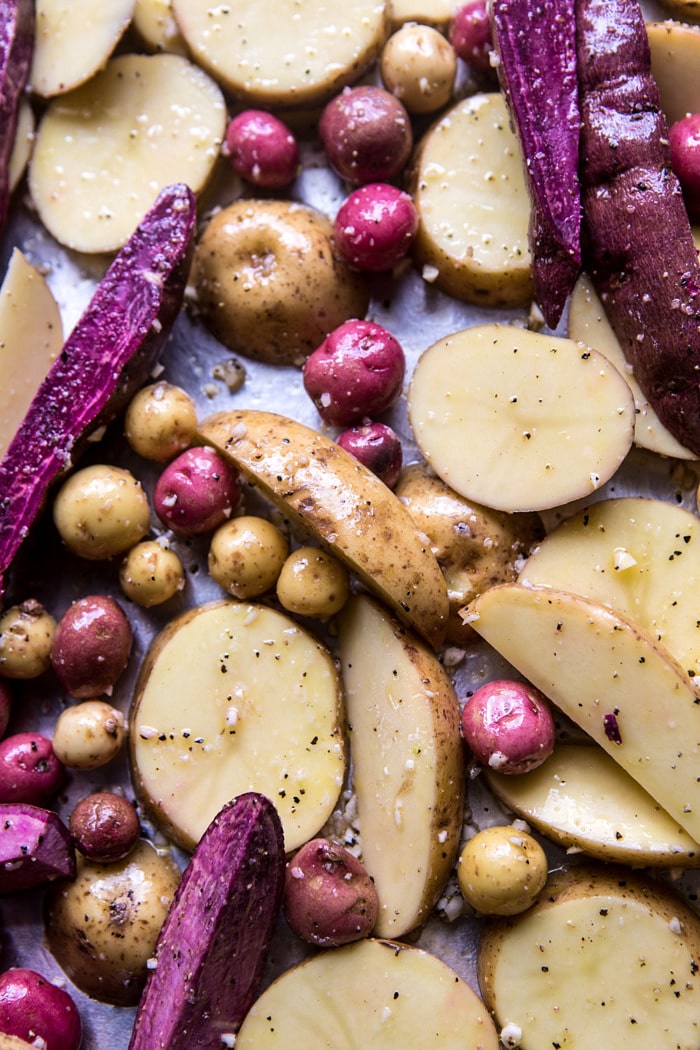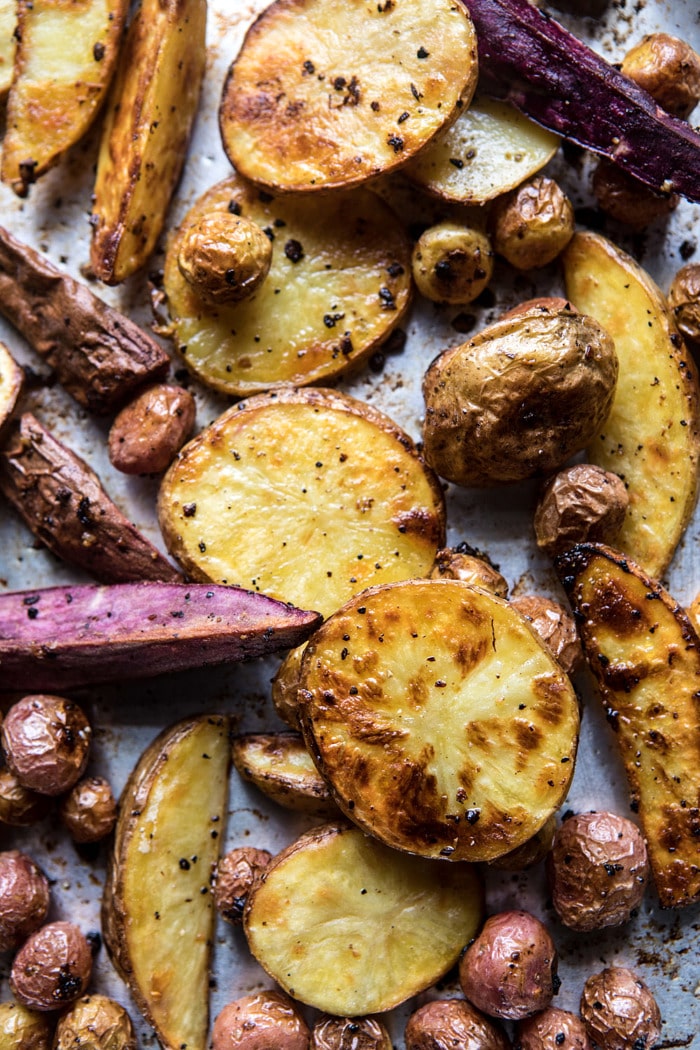 And moving along…
When my family and I were in South Korea, we headed to Seoul for a couple of days of exploring. We actually did this in batches as some of us left earlier than others, but either way, we all had the opportunity to try the incredible street food that Seoul has to offer.
If you didn't know, Buzzfeed recently gave Seoul the title of The Best Street Food In The World and while I really can't say if this is true or not, seeing as I have not been to all that many places, I can say that Seoul's food scene is pretty insane. The dumplings? Noodles? Soups? PANCAKES?! All so good! I knew I would want to try and recreate some when I returned home, and the first thing on my list was potato croquettes.
Potato croquettes are oddly a French food, but we found a bunch of crazy flavored croquettes on the streets of Seoul. When I attempted to make croquettes at home however, it really didn't go so well. For one, I'm just not a huge deep fry person, so that part wasn't fun. And two, they just weren't that awesome. I was over them pretty quickly, and already on to brainstorming new potatoes ideas while still working on the croquettes…

And that's where these potatoes come in.
They have nothing to do with Korean food, but oddly, that is what inspired them. Makes zero sense, but then when do I ever actually make sense? Not too often…especially when texting. Yikes.
OKAY. SO.
I knew I wanted a potato recipe for spring and for upcoming Easter. It needed to be simple and I knew I wanted to use lots of herbs. I also knew I had two balls of fresh burrata cheese in my fridge that practically had the words "serve me with roasted potatoes" written all over them. Promise, they did.
And then these happened with mixed potatoes, lots of lemon, fresh herbs, and a very generous amount of fresh burrata cheese. If that doesn't sound good to you, I am not sure we can be friends.
Kidding, but I mean, not really.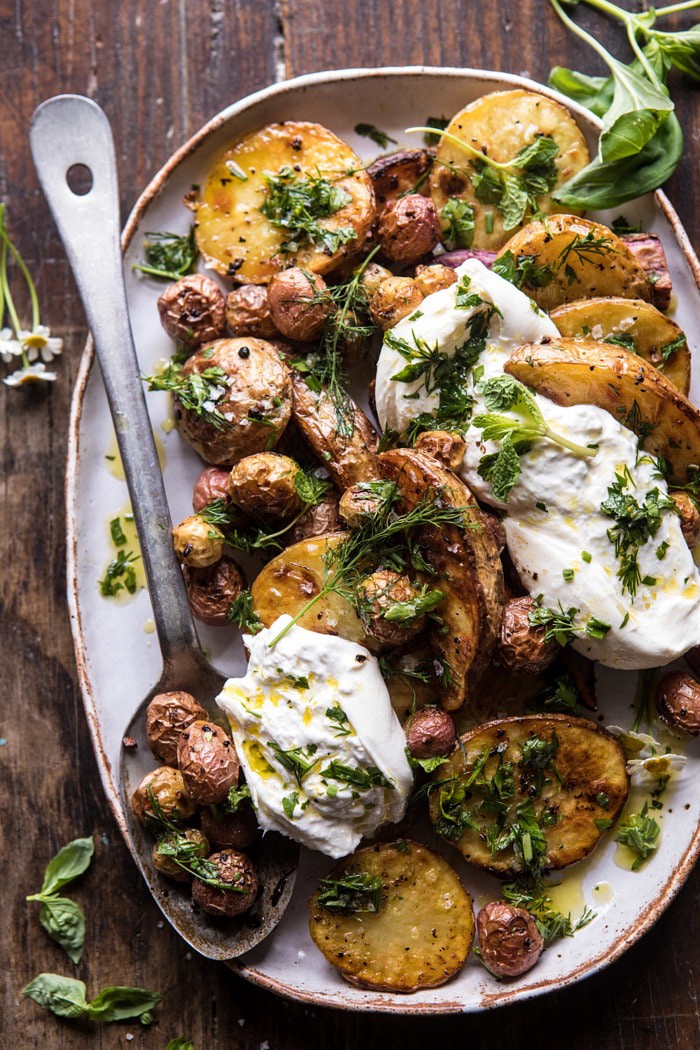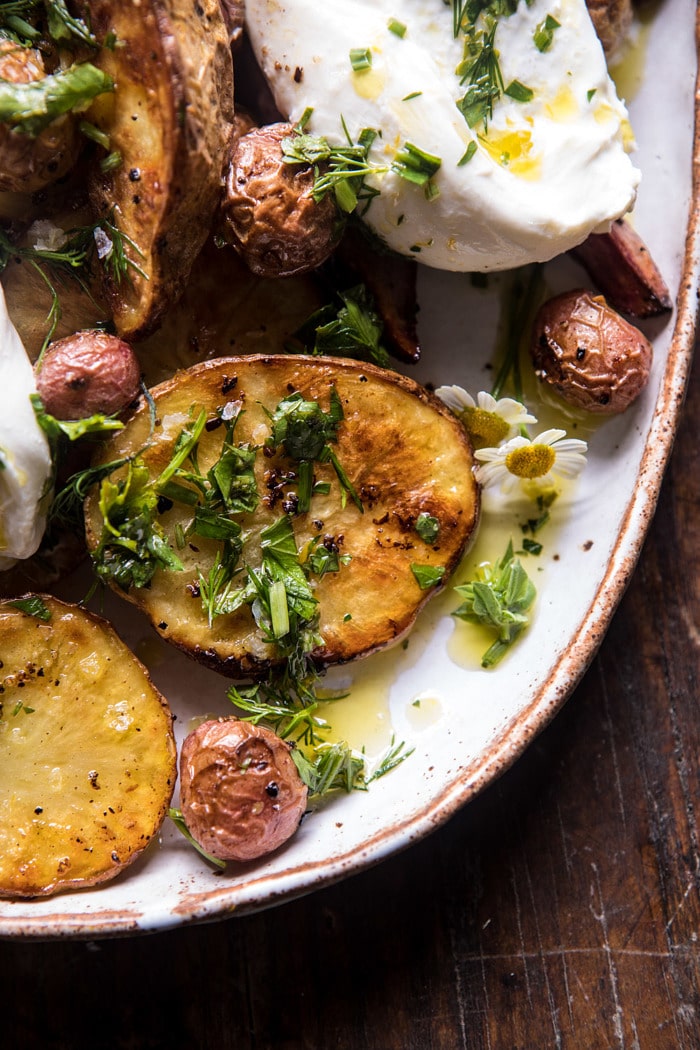 I used a mix of potatoes, mostly because that's what I had on hand and didn't feel like heading to the store. At first I thought using all baby potatoes was what I wanted, but in the end I loved the variety of shapes and textures from the different potatoes. It makes every bite slightly different and exciting (yes, potatoes are exciting).
For my herbs, I used fresh dill, basil, and chives. Very light and springy, but they pack an herby punch. I also threw in some lemon for a little zing and then piled on the burrata, which is of course my favorite part. The pairing of the crispy roasted potatoes with the creamy burrata cheese is one that's too good not to try. It's the perfect mix of crispy to creamy and it's so good.
Serve these as side dish, maybe even an appetizer, or hey, just be like my family and eat them for dinner. That works too.
To sum it up, if you need a new potato recipe, this needs to be it…end of story.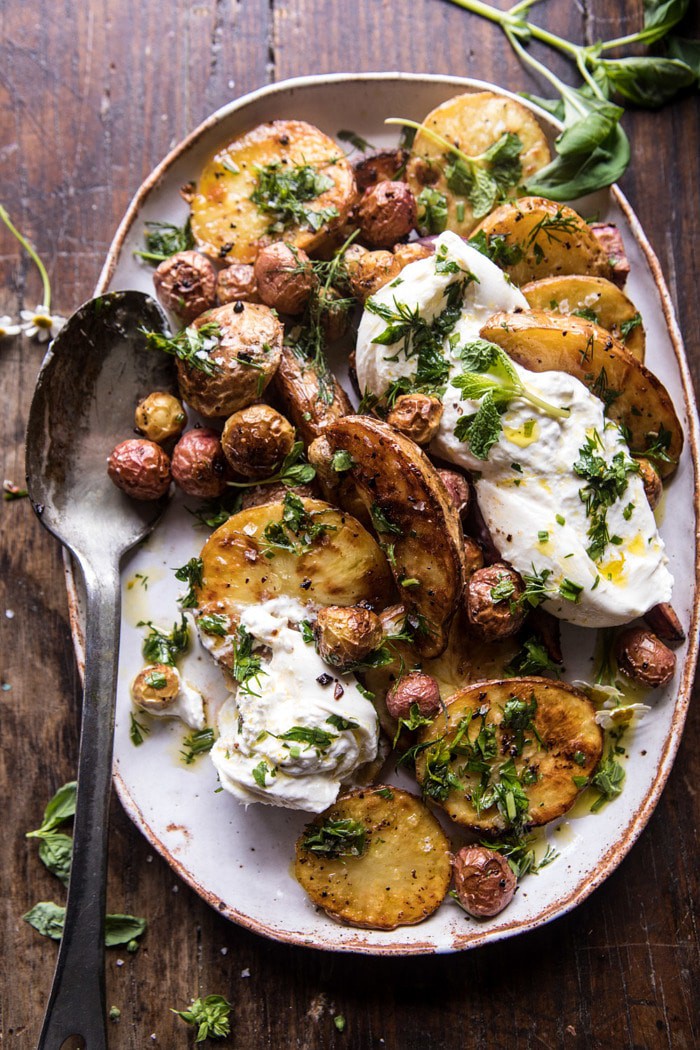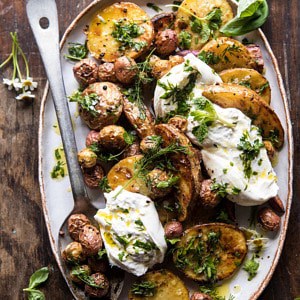 Nutritional information is only an estimate. The accuracy of the nutritional information for any recipe on this site is not guaranteed.
The Recipe
Roasted Mixed Potatoes with Spring Herbs and Burrata
By halfbakedharvest
Course: Side Dish
Cuisine: American
Keyword: easy recipe, potato side dish, roasted potato
These are potatoes, but slightly elevated and dressed up for spring. If you're in need of a new potato recipe, this is it...end of story.
Prep Time 15 minutes
Cook Time 45 minutes
Total Time 1 hour
Servings 6 servings
Calories 269 kcal
Ingredients
4 tablespoons extra virgin olive oil, plus more for drizzling
2 pounds mixed potatoes, chopped into similar size chunks (I used baby Idaho potatoes and purple potatoes
1 lemon, juice plus zest
2 cloves garlic, minced or grated
1/4 cup fresh dill, roughly chopped
1/4 cup fresh basil, roughly chopped
2 tablespoons chopped fresh chives
8 ounces burrata cheese, torn
Instructions
1. Preheat the oven to 450 degrees F.

2. On a large baking sheet, toss together 2 tablespoons olive oil, the potatoes, garlic, lemon juice, and a small pinch each of salt and pepper. Transfer to the oven and roast for 20 minutes, toss and continue roasting another 20-25 minutes or until golden and crisp.

3. Meanwhile, in a small bowl combine remaining 2 tablespoons of olive oil, dill, basil, chives, and lemon zest. Season with salt and pepper.

5. Remove the potatoes from the oven and transfer to a serving plate. Break the burrata over the potatoes and then drizzle with the lemon herb mix. Eat!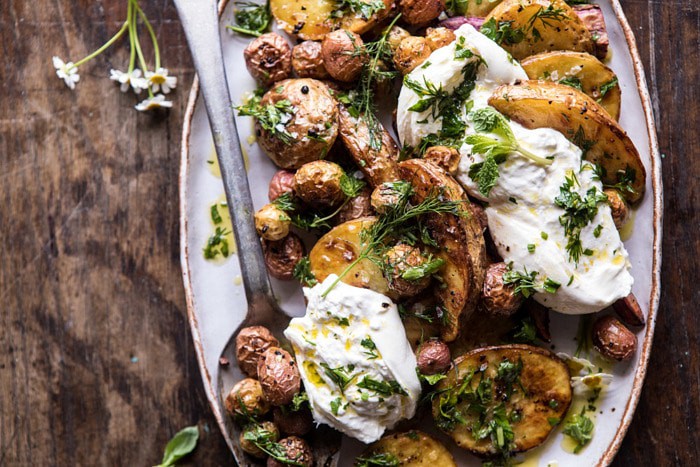 Potato perfect!
PS. definitely make these for Easter this year, these have Easter Sunday written all over them.