Spring Skillet Roasted Lemon Chicken and Veggies.
Spring Skillet Roasted Lemon Chicken and Veggies.

If there's one thing that every home cook should know how to make it's a good roasted chicken, and one for every season. Roasted chicken is a classic, it's easy, and it's delicious.
It's also what I consider healthy comfort food, and really it doesn't get better than that. Especially on a busy (and very snowy) Monday night.
Speaking of Monday, who else is excited for the start of a new week? You guys all know me, so you know I'm very excited for the week to begin! This week has so much promise and I cannot wait. From cooking, to photoshoots, to exciting meetings, to brand new studio barn installations, this week should be crazy and fun all at the same time.
Do you see what I am doing here?! POSITIVITY.
I'm one hundred percent being honest when I say I'm excited for the new week. But the last couple weeks haven't been all that easy, and I've been doubting myself way too much, which has caused some of my anxiety to creep back into my life. It's cool, I'm fine, I'm used to it, but I am going into this week with a brand new attitude. Sometimes I just have to remind myself to be positive, to always look at the bright side, and always to remember all the good that I have in my life. As soon as I do that, my mood changes almost immediately.
Well, that and talking to my mom, because moms cure-all. Especially mine.
So what are you guys excited for this week?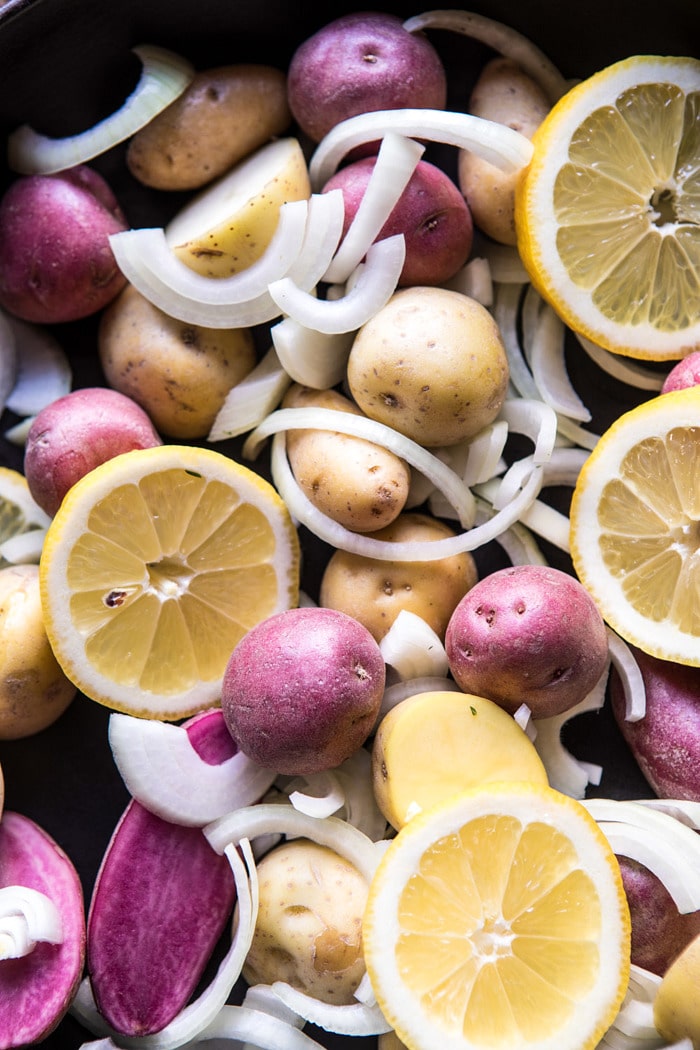 OK. OKAY.
This is one of those meals you need to have in your back pocket. It's a recipe loved by all, and the best part? It honestly could not be easier to make. You need simple ingredients, one skillet, and about an hour or so of time. If you make this on a Sunday or Monday, you'll potentially have leftovers for the week. So you see, there's no denying it, you need to make this chicken tonight.
YOU DO.
I definitely channeled my inner Ina Garten with this recipe, but in my own Tieghan way. She's big on simple roasted chickens, and I'm big on lots of flavor, lots of color, and sharing complete meals with you guys. So I did my best to put my own spin to Ina's amazing roasted chicken and came up with a dinner complete with all the veggies and a pan sauce that's mouth wateringly good. Trust me when I say, everyone will love you for making this. It's complete comfort food.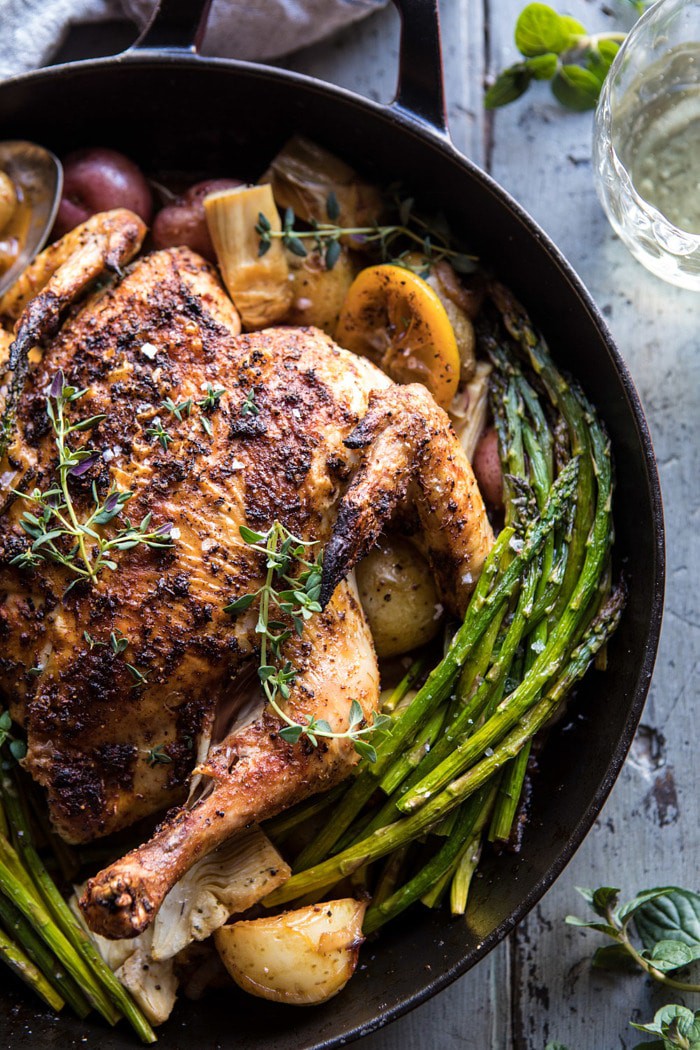 To start, you'll need a butterflied chicken. If I were you I would just ask the butcher to remove your chicken's backbone for you. It's a very easy thing to do, but if I'm being honest, I really just hate, hate, hate (said in my best Eloise voice) dealing with raw chicken. Like it's not my thing and I try to avoid it at all cost.
Anyway…
Have your butcher remove the backbone for you, it will also save you about ten minutes of time. That said, you can also use chicken pieces with this recipe, but I love the using a whole chicken.
OK. So once your chicken is butterflied (the backbone has been removed), it's time to assemble and roast. Layer your lemons, onions, and potatoes in the bottom of a heavy cast iron skillet (this is my favorite one), add the chicken, season it well, and then roast. As the chicken is roasting, its juices drip down over the veggies and create so much flavor. BUT wait, there's more! Just before the chicken is done cooking, add in a splash of white wine. Yes, white wine on Monday, it's a good idea.
The wine adds just a touch more flavor while also creating a pan sauce, it's delicious.
And done. You see? It really doesn't get easier or more hands off. No standing at the stove stirring, minimal mess, and zero stress. Just what we all need on a Monday night.
Plus, maybe add that glass of wine if you're into it.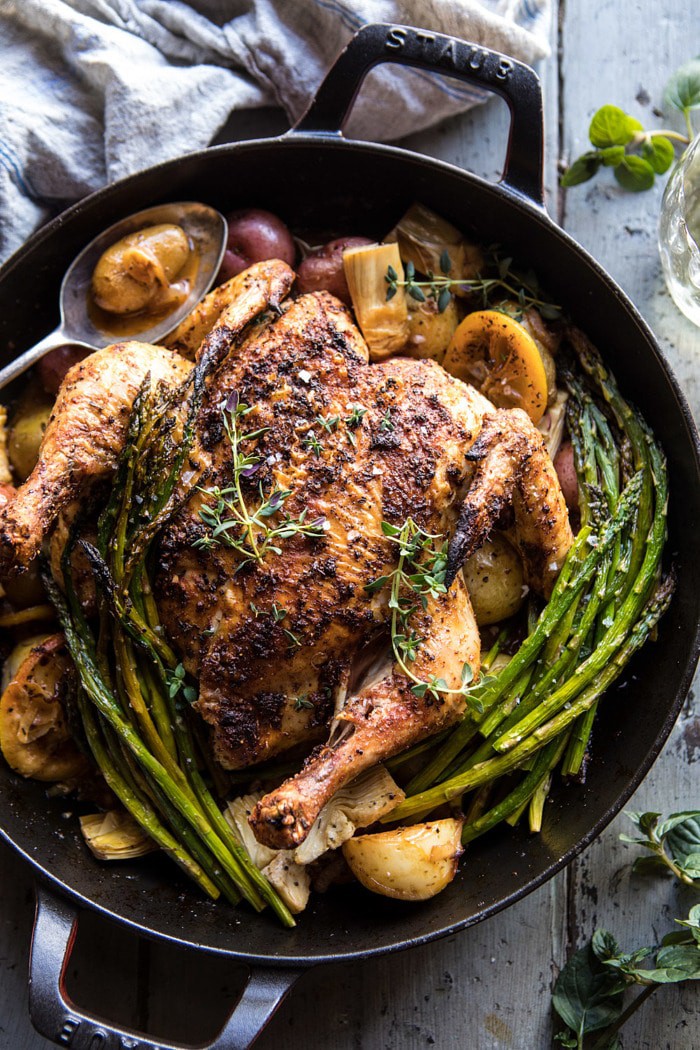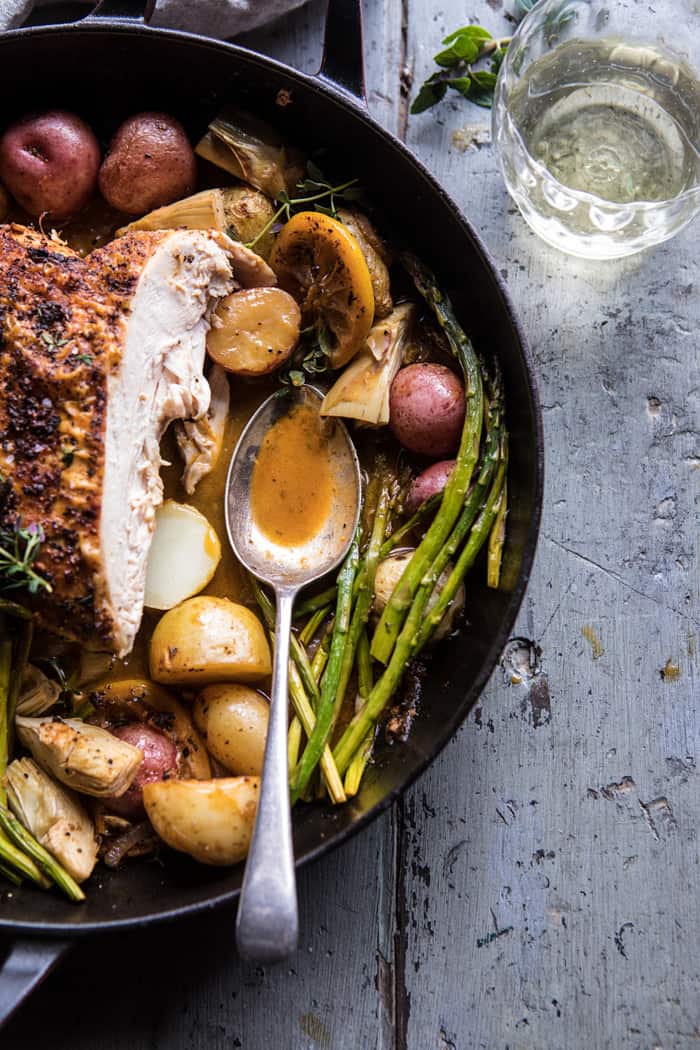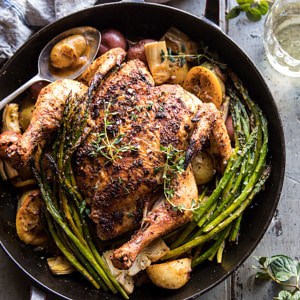 Nutritional information is only an estimate. The accuracy of the nutritional information for any recipe on this site is not guaranteed.
The Recipe
Spring Skillet Roasted Lemon Chicken and Veggies
By halfbakedharvest
Course: Main Course
Cuisine: American
Keyword: chicken dinner, roasted dinner, skillet dinner
No standing at the stove stirring, minimal mess, and zero stress. Just what we all need on a Monday night!
Prep Time 20 minutes
Cook Time 40 minutes
Total Time 1 hour
Servings 4 servings
Calories 710 kcal
Ingredients
1/4 cup extra virgin olive oil
1 tablespoon chopped fresh thyme
1 inch fresh ginger, grated
1 tablespoon smoked paprika
1-2 teaspoons cayenne pepper
kosher salt and pepper
1 (3 1/2 to 4) pound whole chicken, backbone removed and butterflied*
2 lemons, 1 sliced and 1 for juicing
1 yellow onion, sliced
2 cloves garlic, smashed
1 pound mixed baby spring potatoes, halved if large
1/2 cup dry white wine
1 bunch asparagus ends trimmed
1/2 cup marinated artichokes
Instructions
1. Preheat the oven to 450 degrees F.

2. In a small bowl, combine the olive oil, thyme, ginger, paprika, cayenne, and a large pinch each of salt and pepper.

3. In a large 12-inch skillet, layer the lemon slices, onions, garlic, and potatoes. Drizzle lightly with olive oil and season with salt and pepper. Place the chicken, skin side down, over the potatoes and brush with half of the herb oil. Flip the chicken skin side up and coat in the remaining oil, being sure to cover the chicken completely.

4. Transfer to the oven and roast for 25-30 minutes. Pour the wine around the chicken. Add the asparagus and artichokes. Return the chicken to the oven and roast another 15-20 minutes or until the chicken is cooked through. Drizzle with lemon juice. Cut into pieces and serve. Enjoy!
Recipe Notes
*You can ask the butcher remove the backbone and butterfly the chicken or do it yourself. Start by removing the chicken giblets. Pat the outside dry. Place the chicken on a cutting board, breast side down, so that the chicken's back is facing up. Using a pair of sharp kitchen scissors, cut closely along either side of the backbone. Remove the bone and discard. Turn the chicken over so the breast is now facing up and press down firmly on the breast and flatten the chicken. 
*Alternately, you can use a mix of chicken pieces (breast and thighs are best) equalling around 3-4 pounds. Cooking time will be a little less, so keep and eye on the chicken.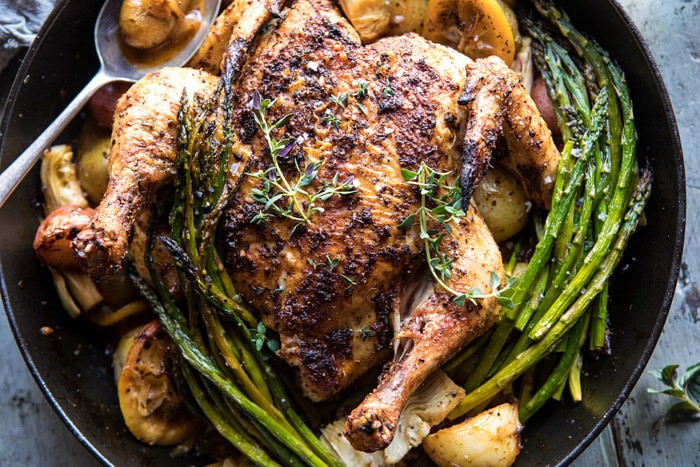 Now, let's do Monday dinner.