Spanish Tortilla with Burrata and Herbs.
Sharing my take on a Spanish tortilla with potatoes, eggs, fresh garden herbs, prosciutto, and burrata cheese. This easy Spanish inspired opened faced omelet topped with fresh greens is a great Sunday brunch item or simple weeknight dinner. Either way you serve it, everyone is going to love these Spanish Tortillas. Bonus? You can even make them ahead of time for easy entertaining.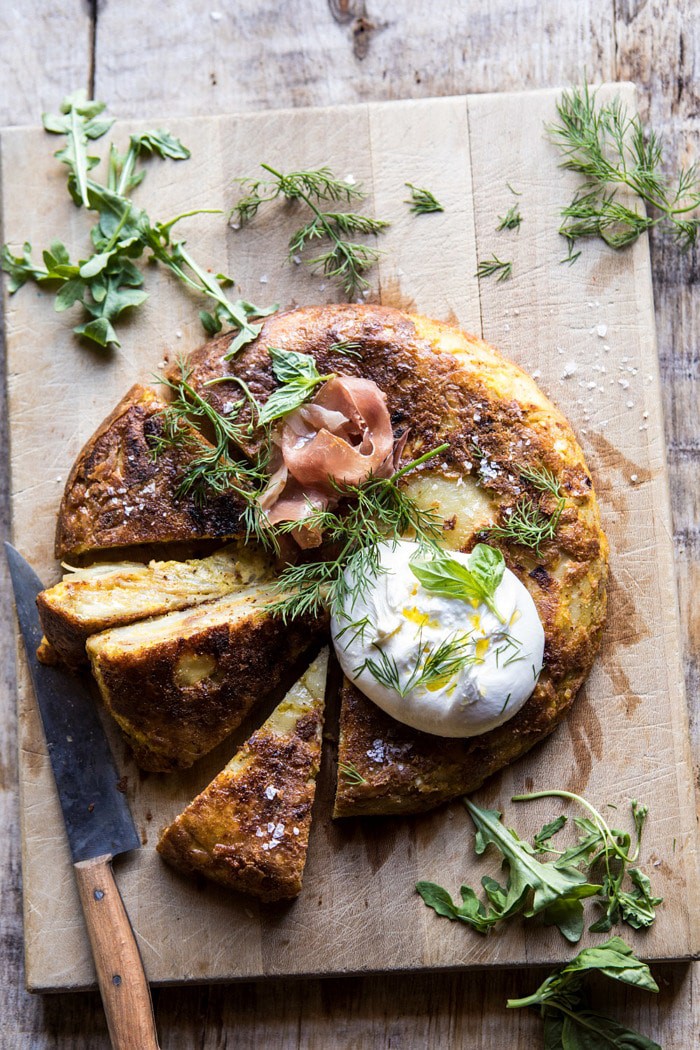 For those of you who follow along with HBH on Instagram, you may recall the story I put up a couple of weeks ago showcasing all of our chicken eggs. I am not joking when I say that I am up to my ears in fresh chicken eggs. I literally have one whole fridge full of eggs. No messing around, an entire fridge. I'm definitely not complaining, it's amazing to not have to cook and bake with store bought eggs. Nothing beats fresh eggs and I feel pretty grateful that we are able to care for our own chickens (we have a total of 13 right now).
All of these eggs mean that I've really been putting a focus on using eggs in recipes. Last Tuesday I shared my go-to breakfast grilled cheese with scrambled eggs and pesto and on Friday I shared my favorite creamy mocha custard. Both recipes have the same star ingredient, eggs!
And today's recipe? Yup, you guessed it, the star ingredient is again, eggs, and lots of them. Eight to be exact!
If you're unfamiliar with a Spanish tortilla, it's simply just an opened faced omelette filled with olive oil infused potatoes. Traditionally it is very simple, but I added a few fresh ingredients, like prosciutto, garden herbs, and burrata cheese (some of my all time favorites) to really make this colorful, extra flavorful, and of course delicious.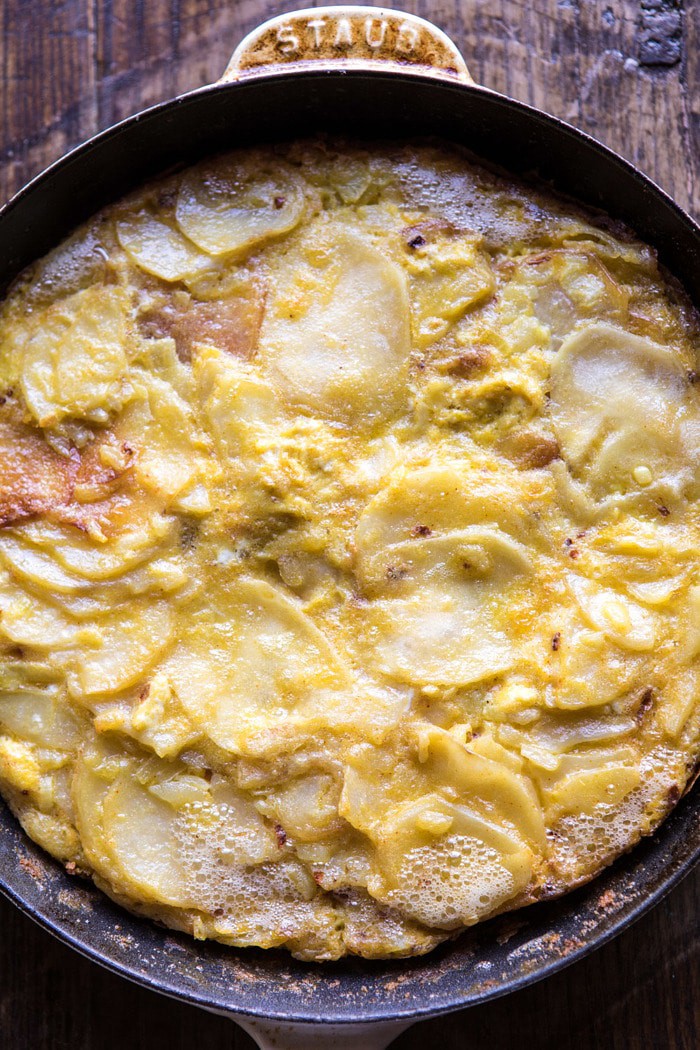 When I set out to make this Spanish tortilla, I had a million ideas on different ways to flavor this up and make it exciting, but in the end, I stuck with the fresh flavors of herbs to brighten the dish. I've found that sometimes it's really great to have recipes that are packed full of many flavors, and other times, it's great to have recipes that are simpler and focus more on one ingredient versus lots of different ingredients.
This Spanish tortilla is really all about the potatoes and eggs, so I let them shine by highlighting them with a few herbs…and a little burrata, because I really just couldn't resist. It sounded way too good.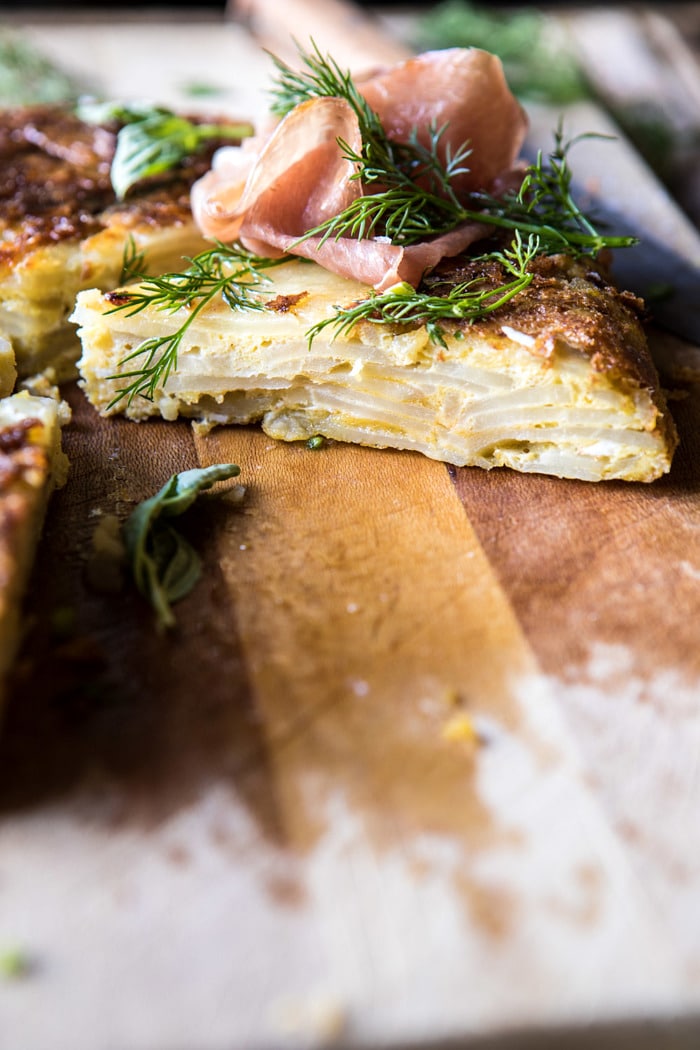 Here are the details.
This recipe requires a lot of extra virgin olive oil. You're going to think that an entire cup of olive oil is a lot, and while it is a lot, it's not all being cooked into the recipe. Let me explain. Because we are mixing the potatoes with eggs, it's important to precook the potatoes to ensure that they are not hard in the final product. Potatoes take much longer to cook than eggs, so pre cooking them in olive oil is a must. But why so much oil? Well, for one, we are using a lot of potatoes, so a good amount of oil is needed to submerge the potatoes. And two, the extra virgin olive oil infuses the potatoes with amazing flavor while cooking them at the same time.
You'll drain off almost all of the oil once the potatoes are precooked and in the end you'll only end up actually using about three to four tablespoons of oil.
SO. To sum that all up, don't stress about the amount of oil being used. It's all needed, but yet, you will not be consuming all of it.
Go with me on this.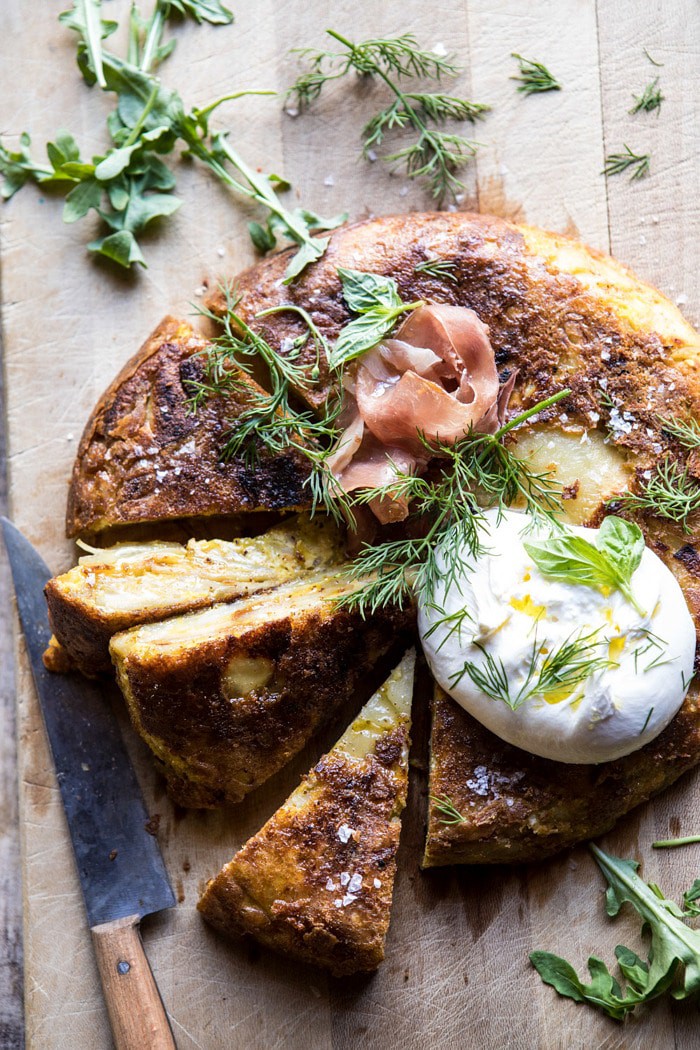 Moving along..
Once the potatoes are precooked, everything else happens pretty quickly. You'll toss the potatoes with lots of eggs, herbs, and black pepper, then cook this mix up as you would a frittata. It's finished off in the oven with a quick browning under the broiler and then topped with fresh arugula, prosciutto, and burrata cheese.
Breakfast, brunch, lunch or dinner, this Spanish Tortilla is simply perfect. The potatoes are crisp, the eggs are cooked just right, and the toppings are the perfect finishing touch to it all.
And you guys? if you think you might not need that ball of burrata cheese, think again. It's creamy insides are too good for words when paired with the crisp potatoes, herbs, and eggs. Don't doubt me on this, just do it.
Cool. Now that the important stuff has all been taken care, let me urge you to make this for dinner tonight. It's a little longer on the cooking time than a lot of recipes I've been sharing recently, but it's worth every last-minute spent in the kitchen.
Promise.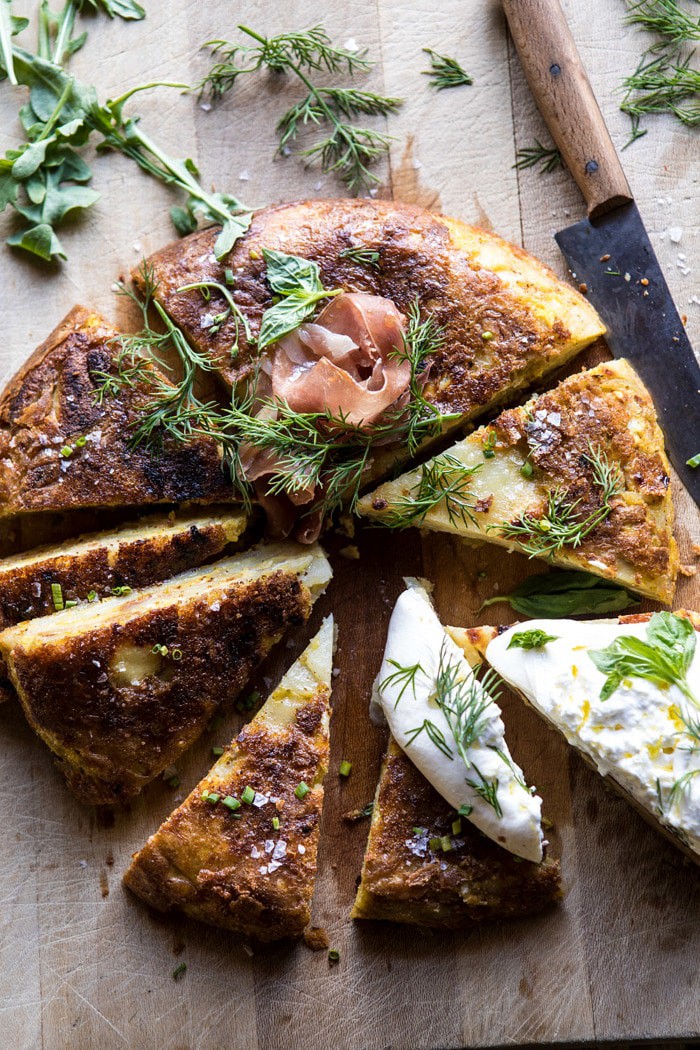 If you make this Spanish Tortilla, please be sure to leave a comment and/or give this recipe a rating! I love hearing from you guys and always do my best to respond to each and every one of you. Oh, and of course, if you do make this, don't forget to also tag me on Instagram so I can see! Looking through the photos of recipes you all have made is my favorite!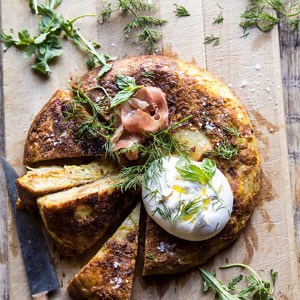 Nutritional information is only an estimate. The accuracy of the nutritional information for any recipe on this site is not guaranteed.
The Recipe
Spanish Tortilla with Burrata and Herbs
By halfbakedharvest
Course: Main Course
Cuisine: spanish
Keyword: egg tortilla, herb tortilla, potato tortilla
This tortiila is too good not to share!
Prep Time 15 minutes
Cook Time 45 minutes
Total Time 1 hour
Servings 8 servings
Calories 197 kcal
Ingredients
1 cup extra virgin olive oil
3-4 Yukon gold potatoes, cut into 1/4 inch slices
1 onion thinly, sliced or chopped
2 teaspoons kosher salt
8 eggs
2 tablespoons chopped fresh basil, plus more for serving
1 tablespoon fresh chopped dill, plus more for serving
1 tablespoon chopped fresh chives, plus more for serving
3 ounces thinly sliced prosciutto (optional)
1 ball burrata cheese, broken
fresh arugula, for serving
Instructions
1. Preheat the broiler.

2. In a large, oven safe skillet, heat the olive oil over medium heat. Add the potatoes, onion, and salt. Bring the oil to a gentle bubble, then reduce the heat to medium-low and cook, stirring often, until the potatoes are fork tender, about 20-25 minutes.

3. Using a slotted spoon, transfer the potatoes and onion to a bowl. Add the the eggs, basil, dill, chives, and a large pinch of pepper, gently stir to combine, being carful not to break the potatoes.

4. Strain the oil out the skillet and wipe the skillet clean. Heat 2 tablespoon of the reserve oil over medium high heat. Add the potato and egg mix and cook, stirring gently until the eggs just begin to set, about 2-3 minutes. Spread the mix into an even layer and reduce the heat to medium-low. Cook, shaken the pan occasionally to prevent sticking until the eggs are set and just cooked through, about 15-20 minutes. Transfer to the oven and broil 2-3 minutes.

5. Remove from the oven, run a spatula around the edge of the skillet to help release the tortilla, then carefully invert onto a serving plate. Let sit 10 minutes. Top with prosciutto, burrata, arugula, and fresh herbs. Slice and serve warm or at room temperature. Enjoy!