Pastry Wrapped Baked Brie with Maple Butter Roasted Apples + Video
{This post is sponsored by Land O'Lakes}
Starting the first full week of autumn with one truly special recipe, pastry wrapped baked brie with maple butter roasted apples.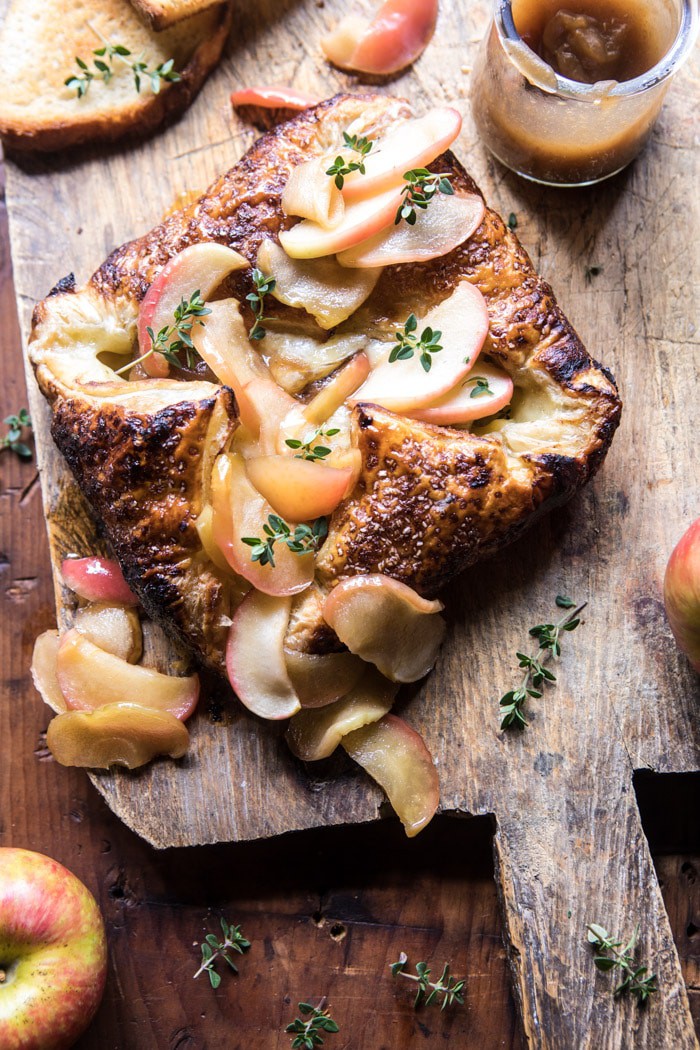 I mean, doesn't that title alone just make you want to get up right now and go make this brie? Because that's currently what my brain is telling me, "go make brie!" I think this thought process is perfect for a Monday because as you guys know I love making Mondays something to look forward to.
Trust me, this brie is definitely something you can look forward to all day long.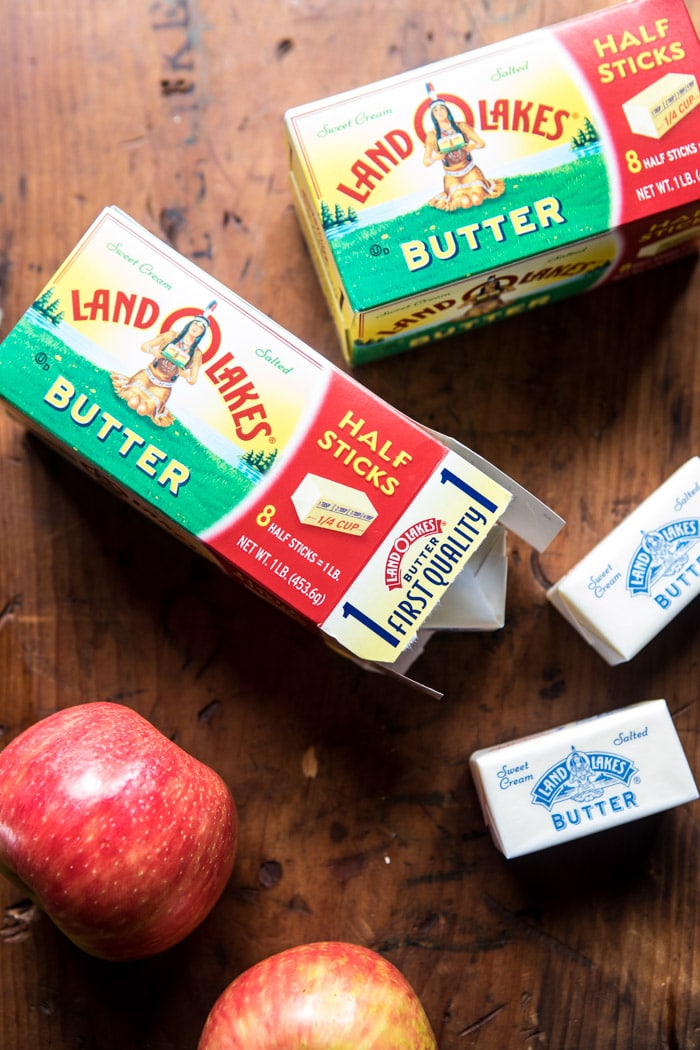 With October just days away, I felt it was the perfect time to share this extra cozy, extra delicious, autumn appetizer…or if you're me…dinner for one (highly recommend).
One of my goals this fall is to share with you guys more recipes that are perfect for entertaining. Autumn is such a huge season for hosting friends and family for dinner and I want to bring you all not only great recipes to serve for dinner, but recipes to snack on as well. With Halloween and the big holiday season upon us I'm excited to kick things off with this brie.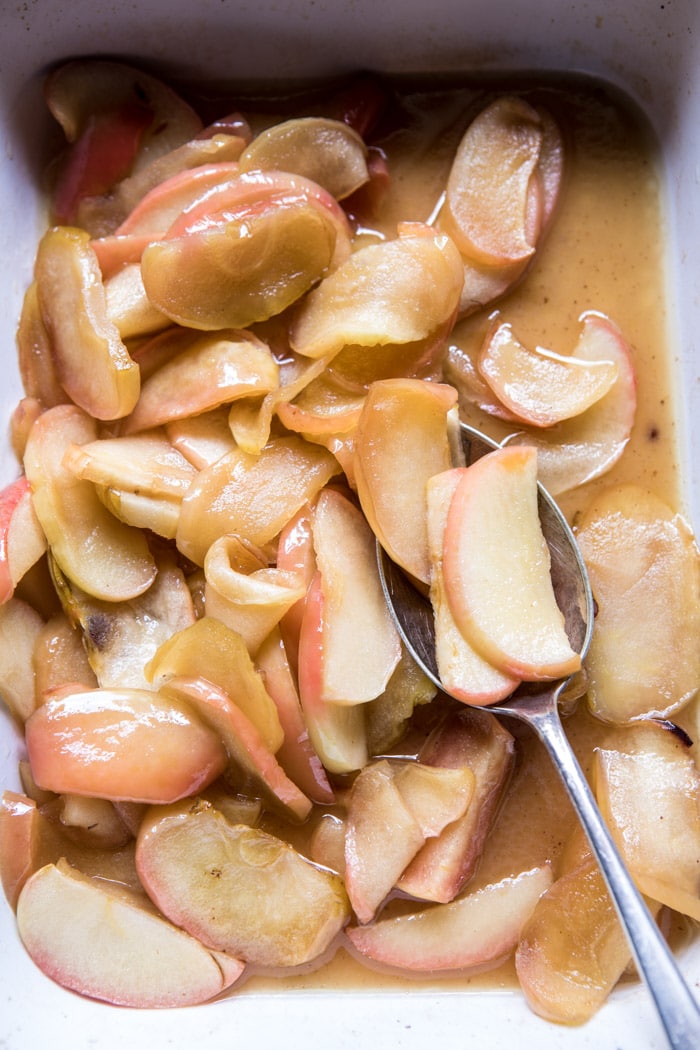 Oh this brie, words really cannot describe just how incredibly delicious it is. It's truly one of my very favorite recipes I have created, which probably comes to no one's surprise as it contains all the things I love. It's cheesy, buttery, and loaded with roasted honeycrisp apples.
Best part? Like most baked brie recipes, this is incredibly easy to make, uses very minimal ingredients (and pantry staples), and can be prepped in advance for stress free entertaining.
Really, what more could you ask for?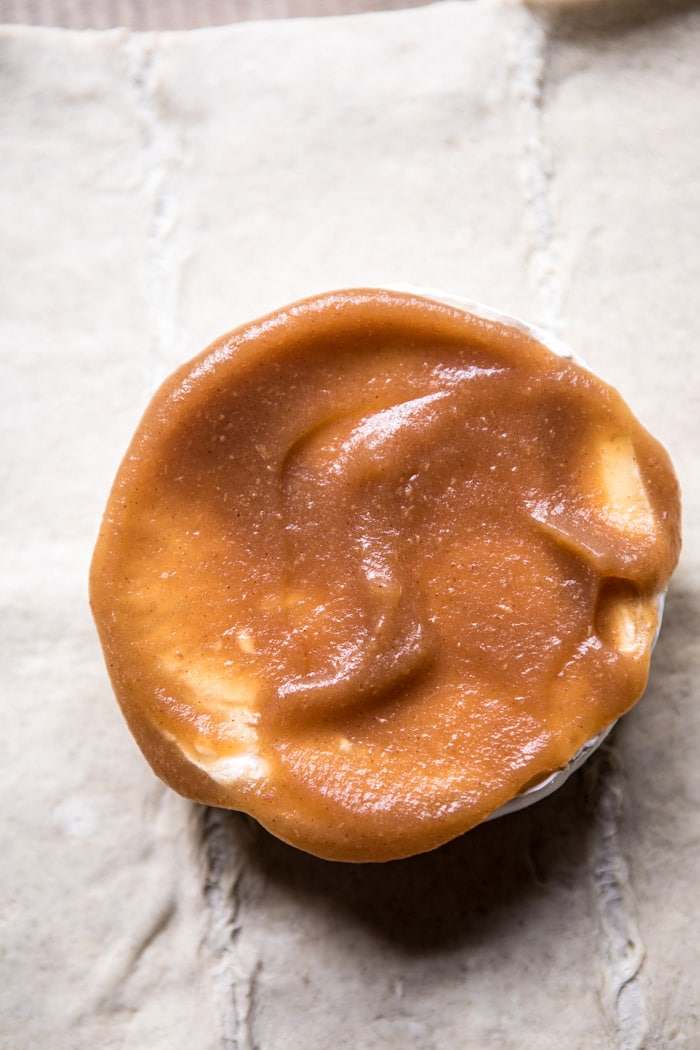 Here is how we make this brie…
You'll want to start off by roasting the apples. I paired my honeycrisp apples with Land O Lakes® Salted Butter in Half Sticks plus a touch of real maple syrup. The Land O Lakes® Butter in Half Stick Butter is my secret weapon for two reasons.
Reason One: the half sticks are the perfect size for appetizer style recipes or recipes that serve two. They measure a fourth cup per stick and are so convenient.
Reason Two: the salt in the half sticks is just the right amount to highlight all those sweet flavors from the apples and maple. It's the most perfect pairing.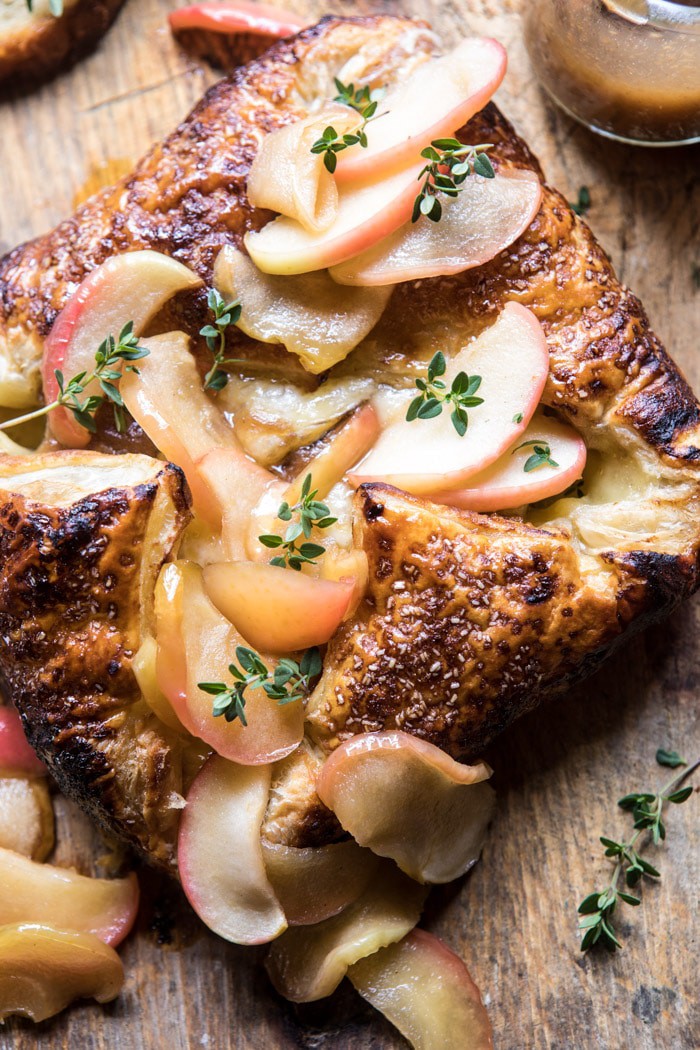 While I do think the maple butter roasted apples are the star here (I could literally just eat these roasted apples all autumn long), obviously the pastry wrapped brie is a pretty key player here as well. It's made up of three very simple ingredients: puff pastry, brie, and apple butter. The apple butter is spread over top of the brie, then the pastry gets wrapped around the brie, creating the most perfect bundle of buttery, flakey, cheesy goodness.
While baking, the pastry turns a deep, deep, golden brown, some parts may even start to burn, but this is OK. I promise, the brie is trapped inside that flaky pastry and as it melts the apple butter sinks into the cheese making everything ooey and gooey. Again, SO GOOD.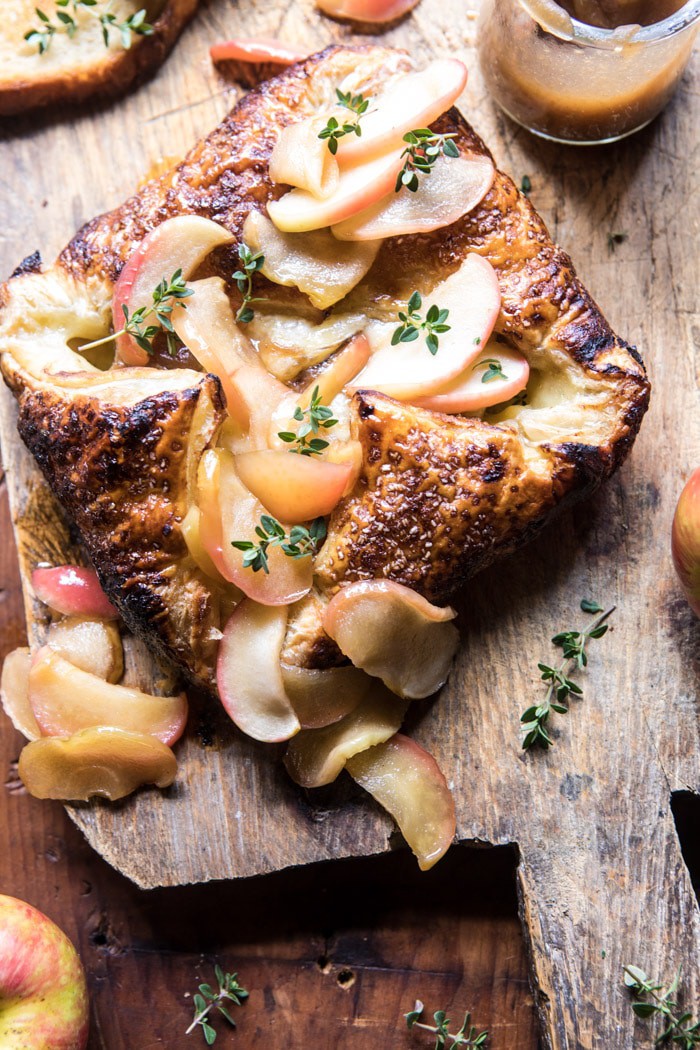 And the apples? As they slowly roast, the maple and butter simmer down to create an almost caramel-like sauce. Yes, caramel-like. YUM.
Spoon the apples over the baked brie…perfection.
It's just beyond words good.
And now you see why your Monday needs to include this baked brie…it just does.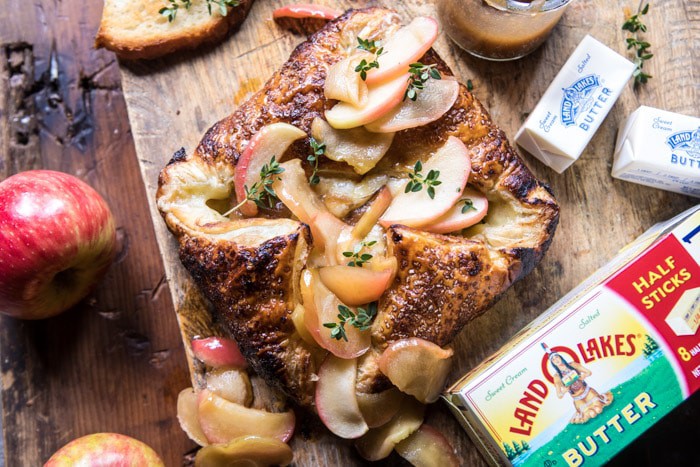 Watch the How Here:
Pastry Wrapped Baked Brie with Maple Butter Roasted Apples from Half Baked Harvest on Vimeo.

Nutritional information is only an estimate. The accuracy of the nutritional information for any recipe on this site is not guaranteed.
The Recipe
Pastry Wrapped Baked Brie with Maple Butter Roasted Apples
By halfbakedharvest
Course: Appetizer
Cuisine: American
Keyword: baked brie, brie and apple, sharing cheese
Starting the first full week of autumn with one truly special recipe, pastry wrapped baked brie with maple butter roasted apples.
Prep Time 10 minutes
Cook Time 30 minutes
Total Time 40 minutes
Servings 6 servings
Calories 499 kcal
Instructions
1. Preheat the oven to 425 degrees F.

2. In a medium baking dish, combine the apples, butter, and maple. Transfer to the oven and roast for 25-30 minutes or until the apples have softened and the sauce thickened.

3. Lay the puff pastry flat on a parchment lined baking sheet. Place the brie in the center of the pastry and remove a little of the rind from the top of the brie, I leave the rind on the bottom and sides intact. Spread the apple butter over top the brie and then fold the corners of the pastry over the brie. Brush the pasty with beaten egg and sprinkle lightly with sugar. Bake for 20-25 minutes or until the pastry is deep golden brown.

4. To serve, spoon the apples over the brie. Top with fresh thyme. Enjoy!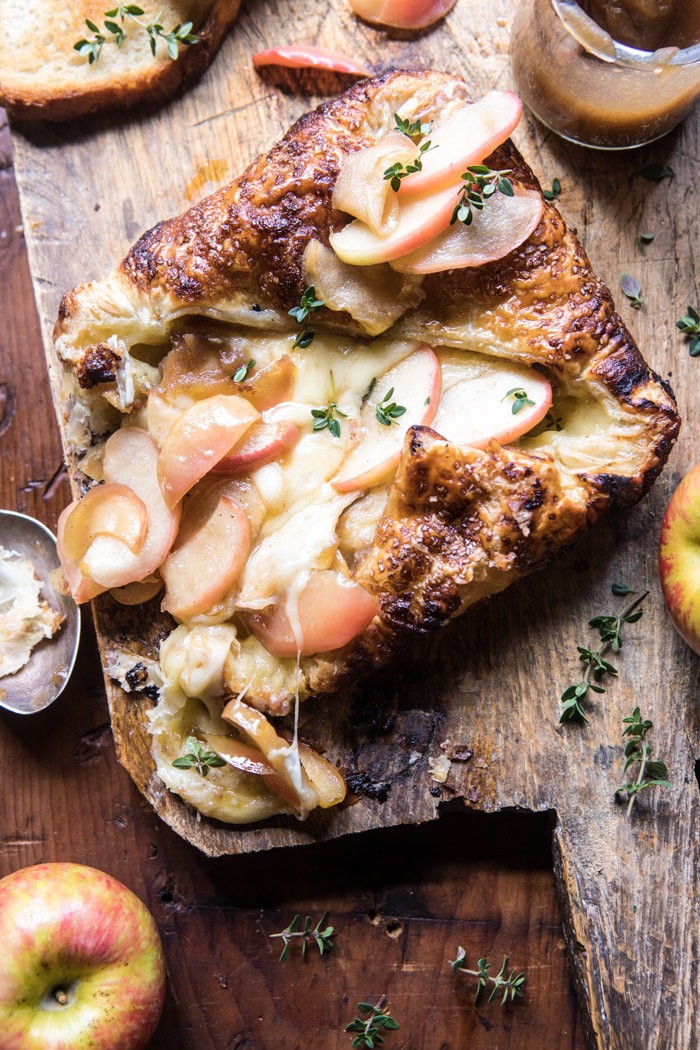 {This post is sponsored by Land O'Lakes. Thank you for supporting the brands that keep Half Baked Harvest cooking!}