Our 2018 Thanksgiving Menu.
So excited to be sharing our 2018 Thanksgiving Menu. This year I've created a traditional Thanksgiving menu with a few twists and updates on the holiday classics. I'll be sharing fun cocktails, colorful side dishes, updated sauces, my favorite popovers, sweet pumpkin and chocolate desserts, and so much more. It's going to be DELICIOUS!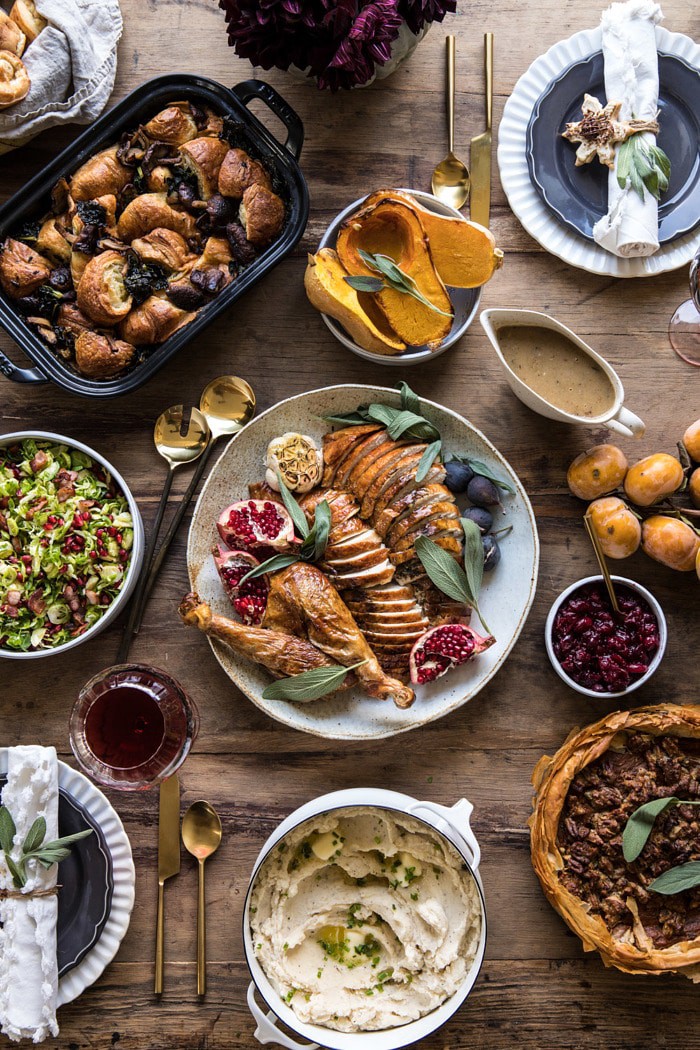 It's finally November and that means Thanksgiving is quickly approaching. Today I'm sharing the HBH 2018 menu with you all and I am so very excited about it. This is now the third year I've shared our full menu (see year one and two…lots of good tips in this post). Hands down, this year's menu is my favorite. It's traditional, but with twists, and I've really made an effort to make each recipe incredibly flavorful, but at the same time simple.
If you've already read over my make ahead gravy post, then you know that last year's Thanksgiving after my Nonnie's passing was a bit of a struggle for me (in many ways). I totally messed up the gravy…ok and I maybe slightly burnt a couple of side dishes too. I took on more than I could handle for sure. But in my defense, I was cooking in my grandma's kitchen. Which wasn't really equipped to cook a Thanksgiving dinner for thirty plus people. It honestly makes me cringe when I think about it. Of course everyone said everything was delicious, but I don't plan to repeat it.


Anyway, the point is that this year I knew I needed to be realistic with what I could handle. I wanted to create delicious recipes, many of which could be created ahead. Including a make ahead gravy recipe that would save me from mass amounts of last-minute stress. Happy to say that I perfected the gravy and developed a menu that I love!
The recipes below are a mix of both old and new. The older recipes are some of my favorites…the ones I just have to remake every single year. The new recipes are ones that I'll be sharing over the next couple weeks leading up to Thanksgiving. So many delicious recipes to come!
Hope you all find some inspiration from our HBH menu! Happy Turkey Day planning!

Half Baked Harvest 2018 Thanksgiving Menu
breakfast
Every good holiday meal starts with breakfast…so don't skip it. 
Extra Sticky Maple Pecan Sticky Buns
Cocktails
These are some of my favorites. Each can be made ahead for super easy entertaining…because no one wants to play bartender all night.
Appetizers
My tip? Don't do too many appetizers…you want to save room for the mains and all the sides!
Cranberry Brie Pull Apart Bread
Holiday Cheese Board…with a fun twist (new and coming soon)
Cheesy Bacon Wrapped Puff Pastry Twist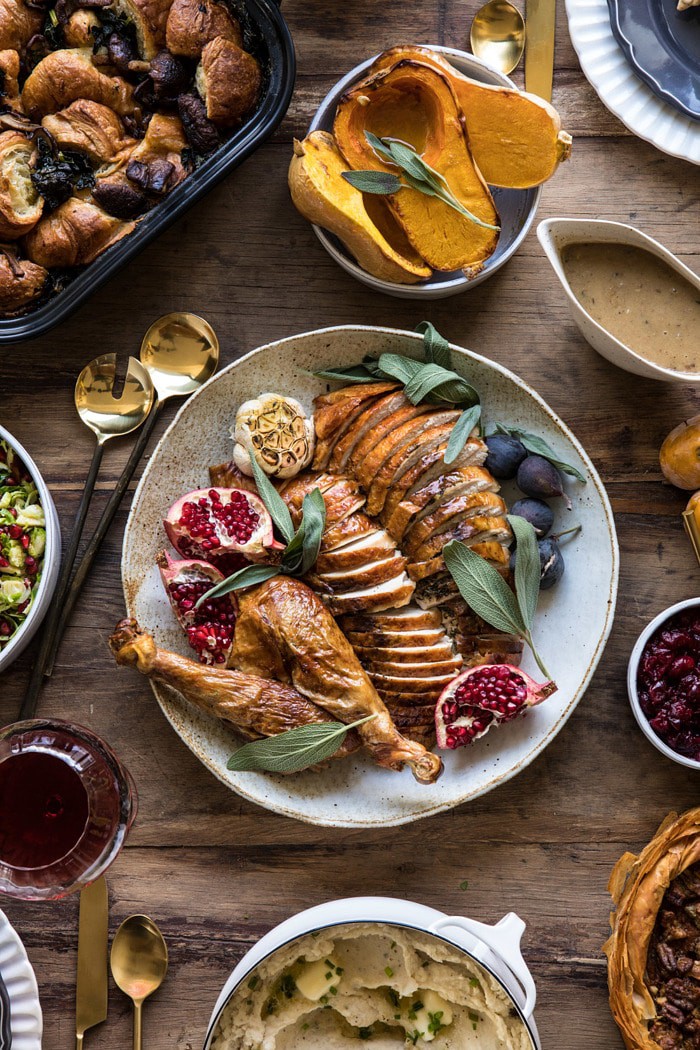 MAINS
I always love to have a veggie option on the menu…this year's is a new favorite.
Herb and Butter Roasted Turkey (my go-to turkey recipe that never fails)
Spaghetti Squash Pesto Lasagna (the perfect vegetarian main)
SIDES
You can never have too many sides…so make them all (most can be prepared in advance)!
Cranberry Pomegranate Salsa
Buttery Herbed Mashed Potatoes
Herby Mushroom Croissant Stuffing
Brussels Sprout Bacon Salad and Warm Cider Vinaigrette
Sweet Potato Soup with Burrata and Sage Pesto
Perfect Popovers with Cranberry Butter 
Easy Flaky Pull-Apart Dinner Rolls
DESSERT
A variety of pumpkin and chocolate…because it's Thanksgiving and you can never have too much.
Pecan Pie Cookies with Butter Pecan Frosting
Chai Pumpkin Cake with Maple Browned Butter Frosting
Gooey Chocolate Chip Cookie Pie

What recipes are you most looking forward seeing in the upcoming weeks? Excited to hear your favorites!