Everything But the Kitchen Sink Pasta Salad.
This is what I make pretty much every week in the summertime.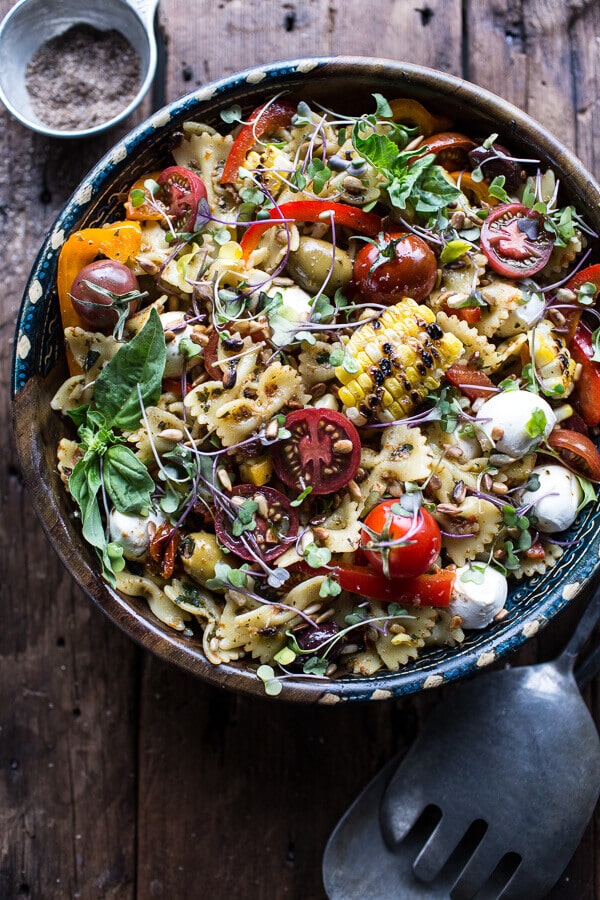 Please do not hate me for talking about summer in mid May (I used to hate those people who did, especially when I live in a climate that still snows in May, but now I am one of those people…oops). I know we still have a good month until summer, but Memorial Day is about ten days away and I am exited. Plus, my grocery store has had things like corn, watermelon, peaches and tomatoes in for a good week now, so umm, I had to buy them! I know that they are not at their best yet, but again, it just leaves me really excited for what is to come!
And ok, I am a major planner, prepper, preparer, whatever you want to call me. The truth is I want to start preparing you all for an extra awesome summer filled with good food.
I also really want to share this Everything But the Kitchen Sink Pasta Salad recipe. Well, this recipe that isn't really a recipe, but then it sort of is. Yeah, I just really want to tell you about it. You know what kind of recipe I am talking about right??


The kind where you throw everything together, hope for the best, and end up with delicious!! Yes, that kind.
This is the dinner I make when sauces, veggies and cheeses start piling up in the fridge, which if you are me, is at least a weekly occurrence. The salad is honestly just a little bit different every time I make it, but today I am sharing my base version, which also happens to be my favorite version.

It's really just a simple mix of pesto, veggies, pasta and cheese. Nothing too special, except for some smoked salt (if you have it…or want to get it).
Here's the thing though, you can really add anything to this salad. Just pick a sauce that's sitting in your fridge (I pretty much always have some homemade pesto and sun-dried tomato pesto, so I normally use a combo of the two). It can really be any sauce though, just something with some good flavor. Basil based sauces are my favorite, but leftover salad dressings, tomato sauce or even peanut sauces can also be used. Just be sure to know what flavors you have going on so that you can add other ingredients accordingly.
Typically, I go heavy on the mediterranean flavors, fill the bowl up with veggies and then add lots and lots of cheese. I mean, of course.

I do have to say, I make a mean pasta salad and I think I learned it all from my dad. Growing up he'd make this pasta salad for dinner with literally just pasta, broccoli, red peppers and cheddar cheese. So maybe not really a true pasta salad, but still, I loved every bit of that salad, especially the raw broccoli cause I was a freak kid.
Anyway, the point is, I learned two very important things from my dad's pasta salad.

>>>ONE: Use cubed cheddar cheese no matter what other flavors you have going on. You can just never go wrong with cheddar (unless it's a peanut based sauce…oh wait, I still add the cheddar to those too…it's good, I swear!)
>>>TWO: Add the cheese to the bowl, with the sauce and other ingredients BEFORE adding the pasta, and when you add the pasta, make sure it's HOT. Hot pasta = melty cheese, which equals extra freaking delicious.

Another major bonus to this recipe – takes no time at all to come together. AND you get to clean out your fridge.
Win. WIN!



Nutritional information is only an estimate. The accuracy of the nutritional information for any recipe on this site is not guaranteed.
The Recipe
Everything But the Kitchen Sink Pasta Salad.
By halfbakedharvest
Course: Appetizer, Main Course, Salad, Side Dish
Cuisine: American
Keyword: cheese, pasta, tomatoes
Prep Time 10 minutes
Cook Time 10 minutes
Total Time 20 minutes
Servings 8 Servings
Calories 458 kcal
Instructions
Bring a large pot of salted water to a boil. Boil the pasta until al dente, drain.

Meanwhile, in a large serving bowl, combine the basil pesto, sun-dried tomato pesto, juice of 1 lemon, olives, red peppers, corn kernels, peach or nectarine, cheddar cheese, mozzarella cheese and a pinch of smoked salt, pepper and crushed red pepper. Add the hot pasta and a little drizzle of olive oil. Toss well to combine. Top with toasted sunflower seeds and fresh sprouts. Serve warm or at room temperature, but my family personally loves this warm. The salad can be kept in the fridge for up to 4 days. I have found that the longer it sits, the more flavorful it gets.

Also, those cute little tomatoes… taste just like sweet candy to me. So good!