California Rainbow Veggie Sub with Goddess Dressing + BBQ Kale Chips.
I am kind of California dreaming right now.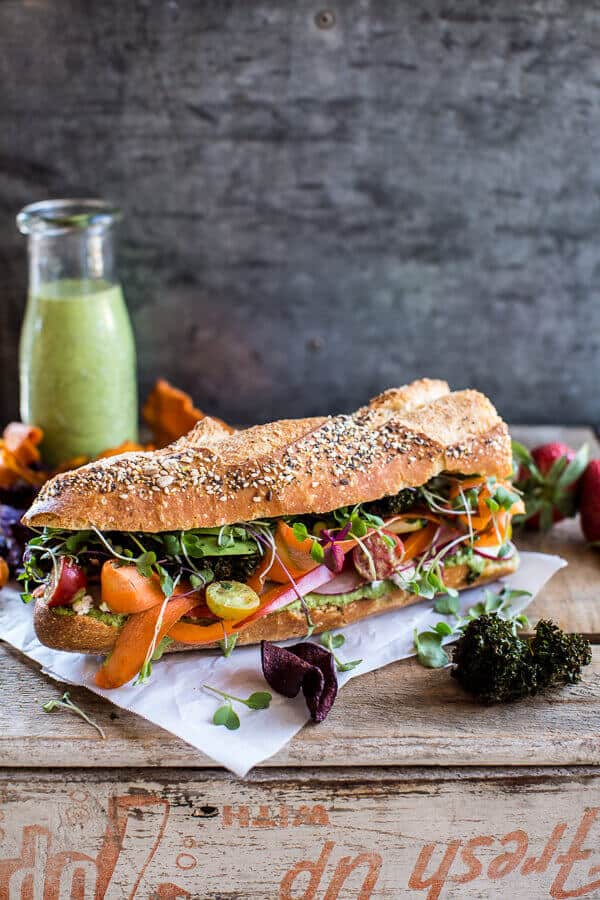 It's my last full day in Florida and that means it's my last day of REAL warmth for a while. To say I am bummed would be an understatement. I have been soaking up every last-minute of the sunshine, it just feels SO good.
Colorado gets a ton of sun, but it's just completely different from the Florida sun. If you live where I live then you probably understand what I am talking about. The sun in CO feels awesome too, but it isn't a moist tropical feeling. It is a dry warmth, and as soon as that sun goes down, well it's a who;e different ballgame. Did you know that there are only 60 days a year when the temperature in Summit County, where I live, doesn't go below freezing? Yeah, like I said, a whole different ball game.

Anyway, lately I have been dreaming of a California lifestyle (ahh, isn't everyone these days?). Compared to my cold temperatures and snow until May or June (even July is not out of the question), southern California just sounds so nice.
I am sure I am picturing it way better than it would actually end up working out for me, but still, it's always fun to dream.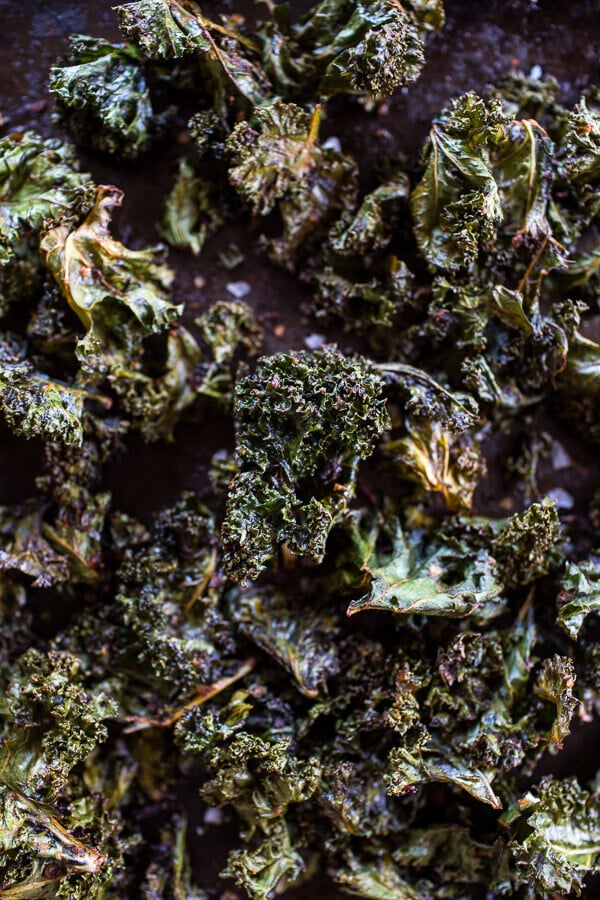 Plus, when I dream about places, I get inspired to make new recipes…which, is always pretty fun.
So today, I am telling you guys all about this California rainbow veggie sub, my version of a California sub.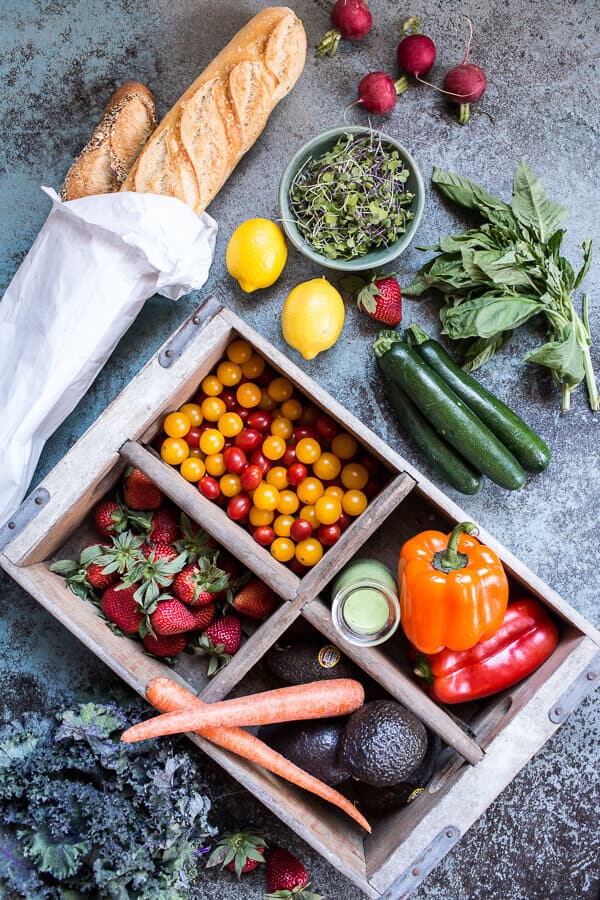 It's basically a sandwich piled high with veggies.
UGH. I know, veggies? Really?
Yeah, really, but don't freak, I promise it's so good, and so filling.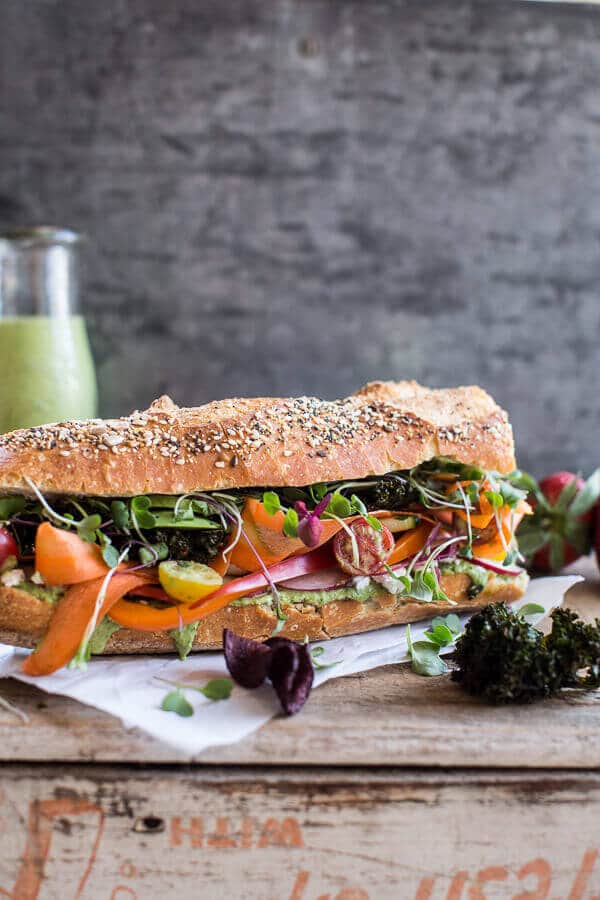 This sub started off with some really awesome sourdough baguettes. I searched high and low for these baguettes and ended up finding them about thirty minutes away in Vail, CO.
Thankfully I have my parents, who are always up for a good adventure. They decided they would head over to Vail and make a day of it. Meaning they went for a giant hike in Vail, went to the bread shop for lunch, ordered some sammies and picked up my baguettes.
Cool!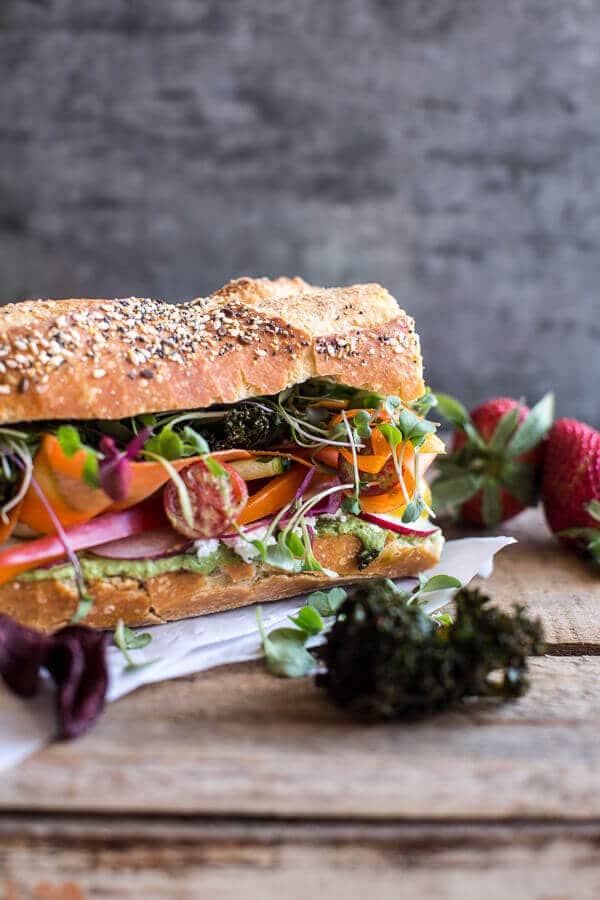 So once you have the baguettes, you are going to NEED to make some quick green goddess dressing. It's maybe the best thing ever. I blame its deliciousness on the loads and loads of basil. I love basil.
Once you have the goddess dressing made, you simply layer the bread with goat cheese and a bunch of veggies. Then just make some spicy chipotle kale chips and your picnic lunch is complete. Perfect for a spring afternoon don't cha think?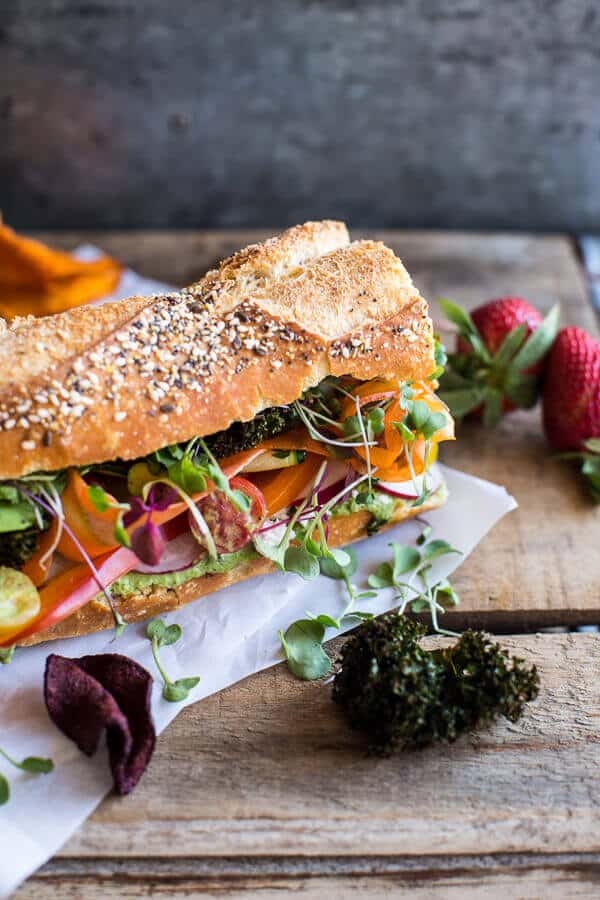 You can really use whatever veggies you prefer, but I love the mix I used. And you can of course leave out the goat cheese to easily make this sandwich vegan (and fix a couple of things in the dressing too).
Either way, it's just a really good and really colorful spring (and summer!!) sandwich.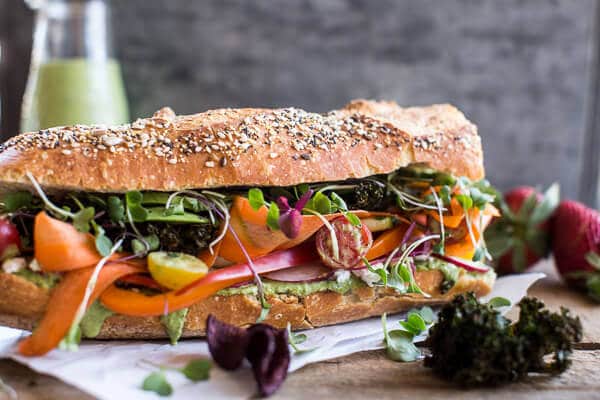 But first, you really need to get some awesome sourdough bread. It totally makes the sandwich.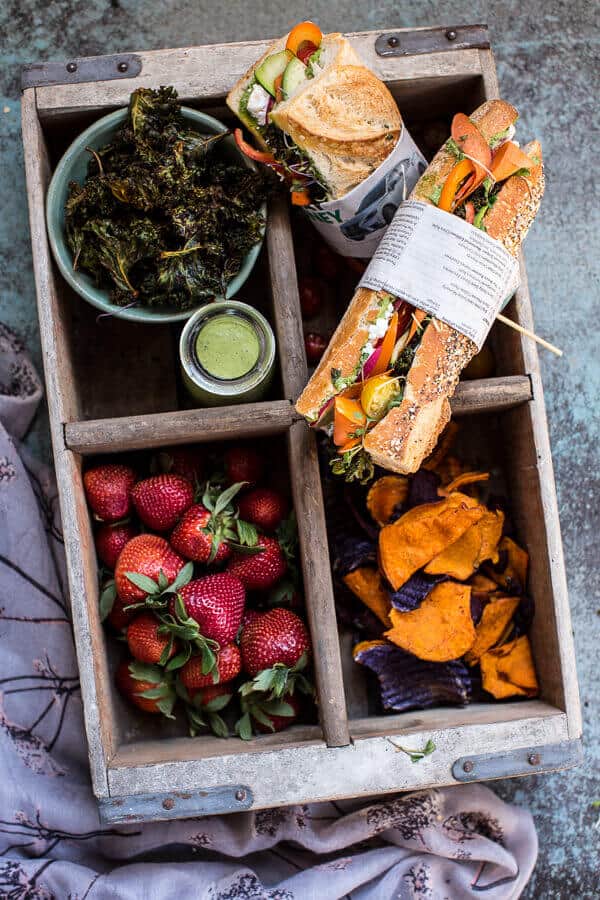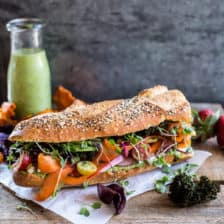 Nutritional information is only an estimate. The accuracy of the nutritional information for any recipe on this site is not guaranteed.
The Recipe
California Rainbow Veggie Sub with Goddess Dressing + Chipotle BBQ Ranch Kale Chips.
By halfbakedharvest
Course: Sandwiches
Cuisine: American
Keyword: chipotle, sub, veggie
Perfect for a spring afternoon don't cha think?
Prep Time 30 minutes
Cook Time 20 minutes
Total Time 50 minutes
Servings 4 SUBS
Calories 654 kcal
Ingredients
Kale Chips
1 leaves bunch kale torn or roughly chopped
2 tablespoons olive oil
1 in canned chipotle chile pepper adobo chopped (just 1 chile not the whole can!)
1 clove garlic minced or grated
2 teaspoons dried parsley
1 teaspoon dried dill
1/2 teaspoon dried chives
1 teaspoon salt + pepper
Goddess Dressing
1 cup fresh basil
2 green onions
1 jalapeno seeded if desired
2 cloves garlic
1 anchovy filet (optional omit if vegan)
1/4 cup fresh lemon juice
1/2 cup plain greek yogurt omit or use vegan may id vegan
1/2 cup olive oil
1/2 teaspoon salt + pepper or to taste
The Sandwich
1 cup cherry tomatoes halved
1 cucumber or zucchini sliced thinly
2 radishes sliced thin
1/2 of each of a red + orange bell pepper
2 carrots shaved or sliced thin
1 avocado sliced
2 cups fresh sprouts
4 ounces goat cheese omit if vegan
1 large sourdough baguette sliced into fourths and halved
Instructions
Kale Chips
Preheat the oven to 350 degrees F.

In a bowl, combine the olive oil, chipotle chile, garlic, parsley, dill, chives, salt and pepper. Add the kale and massage for a good minute or two until the kale is completely coated in the olive oil mixture. Spread on a greased baking sheet in a single layer and roast for 10 minutes. Toss well and roast for 5-10 minutes more, until slightly crispy but not burnt.
Goddess Dressing
In a blender or high powered food processor, combine the basil, green onions, jalapeno, garlic, anchovy (if using), lemon juice, greek yogurt and olive oil. Blend on high for 1-2 minutes or until the sauce is green and smooth. Season with salt and pepper. Taste and adjust if needed. Store in the fridge for up to 1 week.
Sandwiches
Add the tomatoes to a bowl with 2 tablespoons of the goddess dressing and let sit 10 minutes.

Spread more dressing on a split sourdough loaf. Add a little crumbled goat cheese. Now layer on the veggies, lightly salting each as you go, starting with the marinated tomatoes, thinly sliced cucumbers (or zucchini), radishes, bell peppers, carrots avocado, sprouts and kale chips. Add the top half of the baguette and give the sandwich a good smush. Enjoy with a side of veggie chips, strawberries and seltzer...what, it's it's how you do it in CA!
Recipe Notes
*Inspired by Food Network Magazine January February Issue.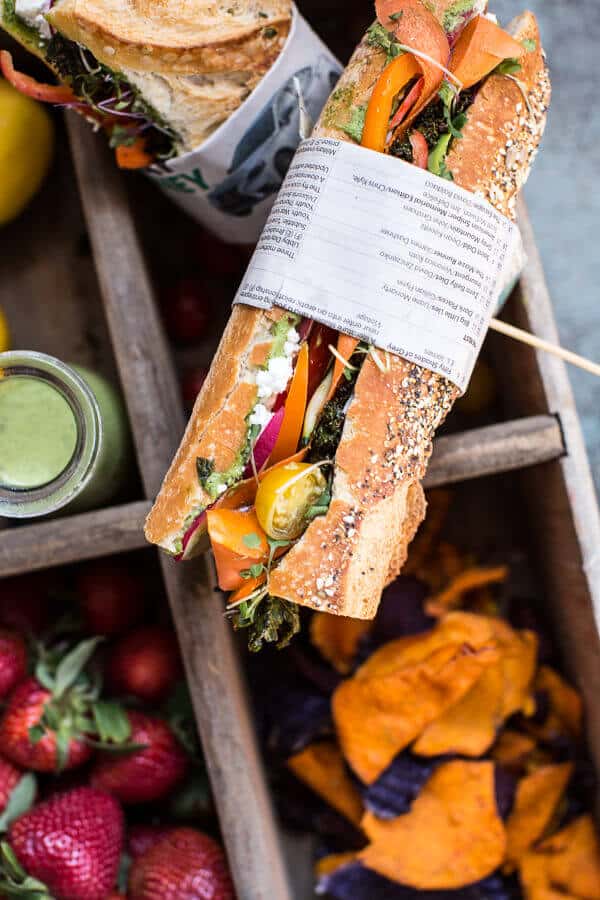 And don't forget a side of veggies chips. Gotta have some chips with you sandwich!