Buffalo Cheddar Beer Bread Stuffing
I know this is a little last-minute.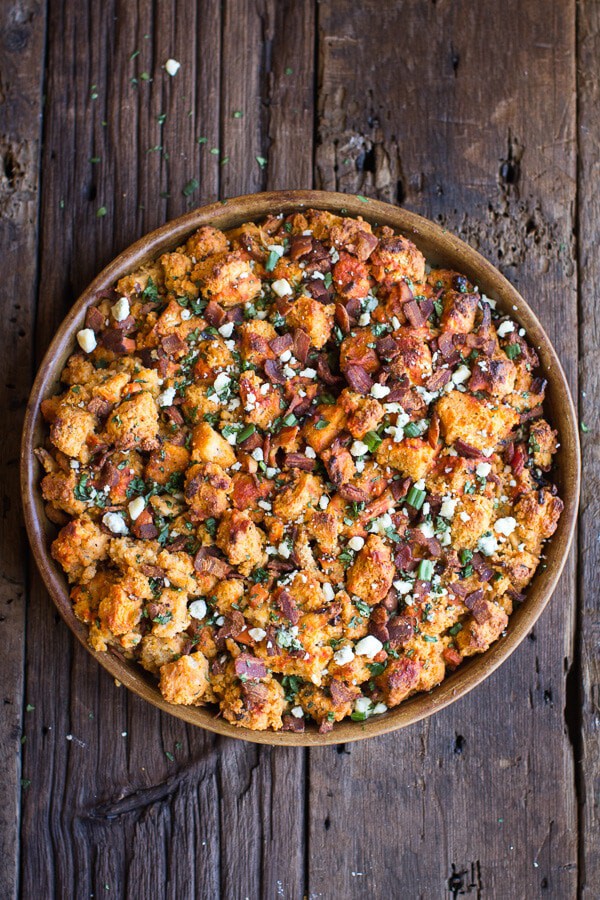 And I also know it is a little out there. Buffalo sauce in stuffing and with beer bread?
Well, I know it's weird, but it works.
And if you are into it, there is bacon too. Bacon and stuffing work, right?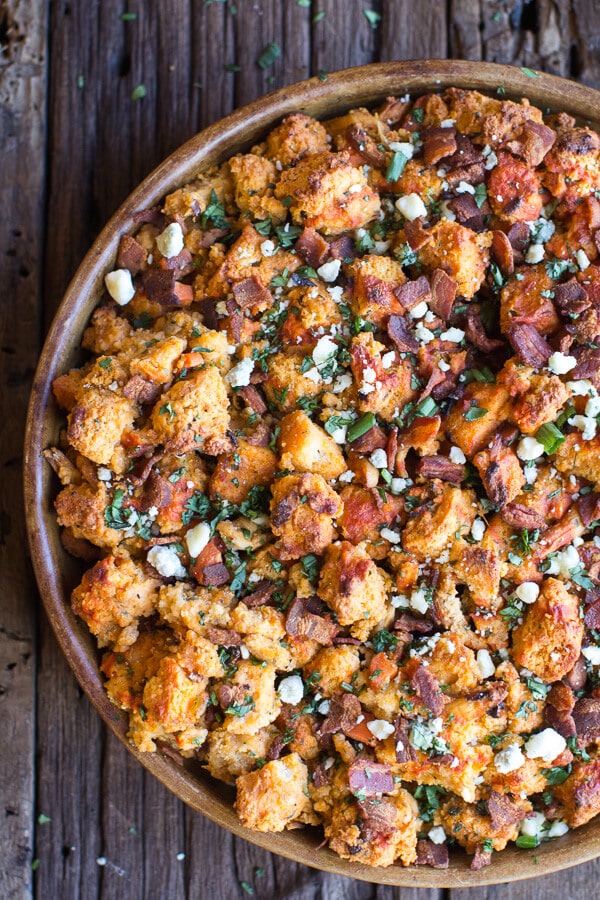 My family does not really like stuffing. Every year I try to make a new version, but still no one goes for it. All they want is the turkey, gravy, buttery mashed potatoes and buttered rolls. Take note that there is not an ounce of color on that plate? Brothers.
At least mom, dad and I go for the sweet potatoes. Plus, dad and I are all about the roasted veggies and cranberry sauce, but still no one wants the the stuffing. I really do not get why. I mean I have made spicy sausage, chorizo and cheesy stuffing. I have tried cornbread, ciabatta and sourdough bread. Nothing. No one wants it.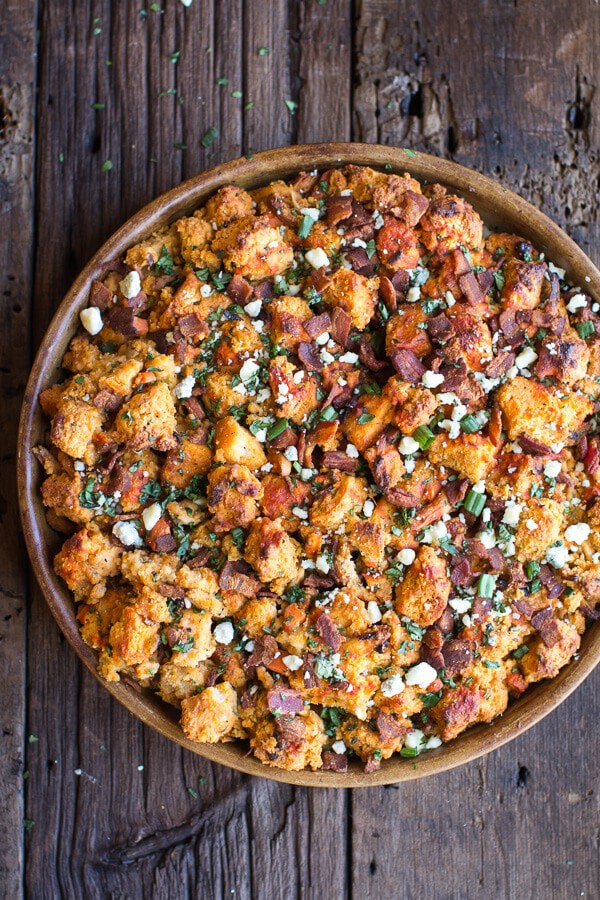 Until now.
The secret to my family's stomach?
Buffalo sauce. Just put it on pretty much anything and they will eat it. Alright, not anything. No one but my dad and I would touch fish, and the boys are pretty picky, but come on, this is beer bread, buffalo sauce and bacon. These are their kind of foods.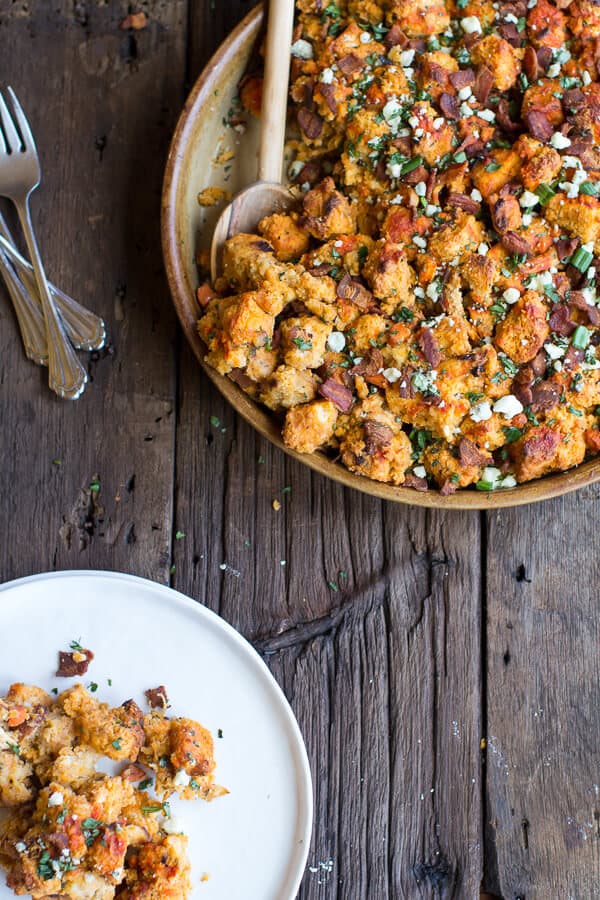 Anyway, what I am trying to say is, everyone loved this stuffing.
And the cheesy beer bread is SO good with the buffalo sauce and bacon. Oh, and you will notice that I left the chicken out of this. I just did not feel it needed it. I mean isn't stuffing supposed to be served with poultry? But hey, if  you want to throw in some shredded or chopped chicken go right ahead!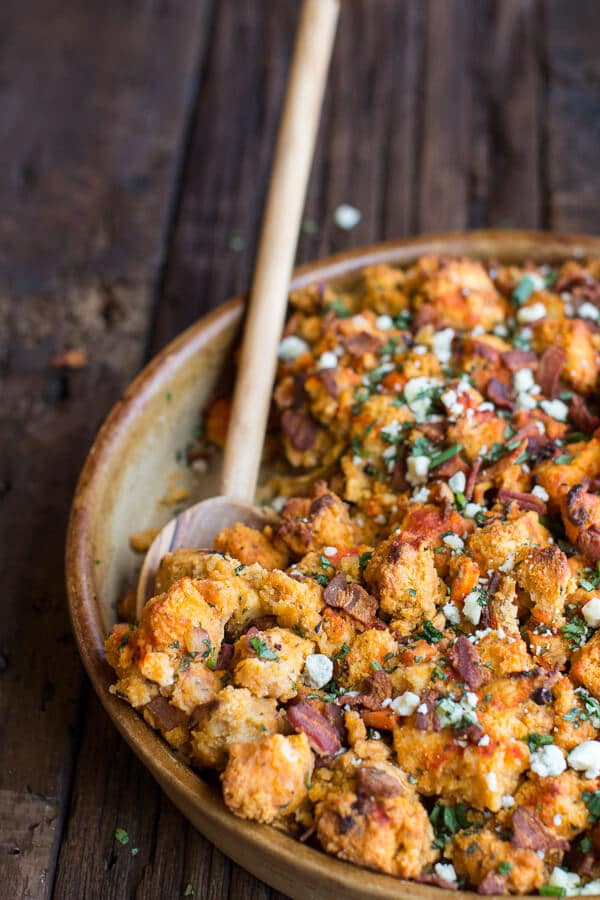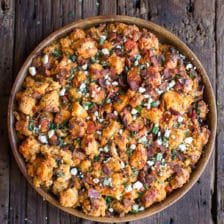 Nutritional information is only an estimate. The accuracy of the nutritional information for any recipe on this site is not guaranteed.
The Recipe
Buffalo Cheddar Beer Bread and Bacon Stuffing
By halfbakedharvest
Course: Side Dish
Cuisine: American
A tasty twist on classic stuffing
Prep Time 20 minutes
Cook Time 1 hour 15 minutes
Total Time 2 hours 30 minutes
Servings 12 servings
Calories 395 kcal
Ingredients
Stuffing
1 onion diced
2 large carrots peeled and diced
2 cloves garlic minced or grated
10 tablespoons butter divided
1 1/4 cups hot sauce I use Franks Red Hot
3 cup chicken broth or veggie broth
2 eggs
1/2 teaspoons seasoned salt
8 sliced cooked thick cut bacon crumbled (optional)
4 ounces blue cheese crumbled
fresh cilantro chopped for garnish
4 green onions chopped, for garnish
Instructions
To make the beer bread. Preheat the oven to 375 degrees F. Spray a 9x5 loaf pan with nonstick spray.

Add the flour, brown sugar, baking powder and a pinch of salt to a mixing bowl. Pour in the beer and stir with a mixing spoon until just combined. Fold in the shredded cheddar cheese. Pour the batter into the loaf pan. Bake for 45-55 minutes or until the top of the bread is lightly browned and the middle is set. Let the bread cool 30 minutes to an hour, In a small bowl combine the parsley, dill, chives, pepper and salt. Cut the bread into one inch cubes. Place the cubes on a lightly greased baking sheet and very lightly and carefully sprinkle/toss with the herbs. Place in the oven and toast the bread for 8-10 minutes. You want the bread to get sort of stale and a little golden brown around the edges. Remove and allow the bread to cool and then place the bread in a very large bowl.

To make the stuffing. Grease a 9x13 inch baking dish (something a little larger or smaller also will work) Melt 2 tablespoons of butter in a heavy large skillet over medium heat. Add the onions, carrots and garlic. Saute until the onions are very tender, about 12 minutes. Remove from the heat and place in the bowl with the bread.

Melt the remaining 8 tablespoons butter in the microwave and add the melted butter to a clean large bowl. To the butter add the hot sauce, chicken, broth, eggs and seasoned salt. Whisk to combine and then pour the mixture over the bread cubes and gently toss to coat. Transfer to the prepared baking dish and bake 35-45 minutes or until just golden on top. Remove and top the stuffing with crumbled bacon, blue cheese, cilantro (or parsley) and green onions. Serve!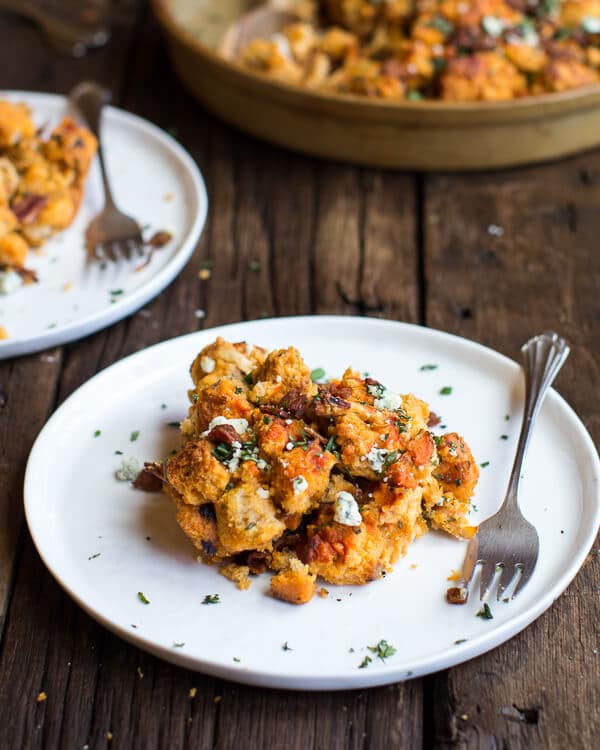 And we are now stuffing people!